This post may contain affiliate links. Full disclosure policy
The old adage of "when it rains, it pours," holds true when it comes to the delightfully small cherry tomato. As if by their very nature, you never just have a couple. They come in droves – either a big container from your supermarket or a bucket-full from a green thumb friend or farmer.
Wherever you get yours, this is the time of year when those tomato plants just go crazy but in a very good way! While I would be perfectly happy just snacking on them throughout the afternoon, enjoying that juicy taste of summer on my tongue, why not give these tomatoes the glory they deserve?
But what to do with them? There are just so many options…
I could make a Summer Gazpacho to enjoy now and No-Peel Tomato Sauce to freeze for later! Genius, right? I thought so. These balsamic roasted cherry tomato crostini from EasyHealth Living also caught my eye, as did this Cherry Tomato Corn Salsa from Your Homebased Mom. 
But I'm still left yearning for more. I want something so spectacularly tomato-ey that takes advantage of all the ways I love tomatoes. I love them fresh and sweet with a sprinkle of salt. They're also equally satisfying oven-roasted to supercharge their flavors.
Enough gushing about my unabashed love for tomatoes. Let's move on to another (related) topic.

Summer Salad For The Win
Between the circus that was Amazon Prime day, the conference calls, the blogging, the walking of the dog, and furious typing when ideas come to mind for my next book, I don't have a lot of time for long, leisurely lunches at home that require an hour of prep work. It's just not the reality I find myself in. And trust me, I'm not complaining! With the help of my Living Well Spending Less planner (it's on sale for $39, by the way!), I get the important things done and at the end of the day, I put my feet up and pat myself on the back. It feels good to be productive.
While I love food, I just have too much going on to make such an event of it in the middle of the day. So having a delicious summer salad on hand throughout the week takes the guesswork out of what I'll have for lunch, and it also ensures that I don't have a breakdown and run through the drive-thru for a burger. (Side note: there is a time and a place for impulse burgers, but it's just not every day life, thankfully.)
Plus, tomatoes in particular have all kinds of health benefits.  The antioxidant lycopene reduces risk of heart disease and cancer, plus tomatoes are also bursting with vitamin C, potassium, folate, and vitamin K. See? All good things. You don't have to try very hard to love these, either. No need to dip them in cheese, or deep fry them, or smother them in cream sauce. They are deliciously healthy on their own.
Easy summer salads like my delicious carrot salad, watermelon feta coconut salad, or this tomato orzo salad are still delicious the next day (especially if you hold off on the dressing until you plan on eating it). This tomato orzo summer salad, in particular, can last a few days because there is no lettuce to get sadly soggy – just a few cheerful snips of herbs that don't mind a little time in the fridge and the oxidation.
A Tomato Summer Salad That Has It All
Let's talk about this tomato summer salad for a second. All of the ingredients sing together like the choir at church. The toasty Israeli couscous (also called Pearl couscous) complements the sweet fresh tomato slices as well as the roasted ones. The tangy lemon and herb dressing further bring out the flavors, and the salty feta hits the high notes.
It's unbelievable, gang. Herby, healthy, and hearty.
Make it for lunch, dinner, snacking, picnicking, book club, or easy entertaining for when your friends come over last minute. Everyone is going to love this one. Promise.
As a side note, I just found out that my favorite place for sauces, jams, and deliciously fancy food products – Stonewall Kitchen – is having a "Dog Days" sale this coming weekend, July 20th and 21st! That means 20% off everything site wide with the code WOOF19! I'll be stocking up on that delicious rosemary citrus sauce that really made my chicken Marbella recipe sing!

Print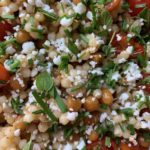 Tomato Couscous Summer Salad (Herby, Healthy, and Hearty!)
---
Description
Fresh and light, this make-ahead healthy summer salad can stand on its own or accompany a delicious summer meal. The tomatoes – two ways – is what makes this dish. Half are roasted and caramelized and oh-so-sweet, and the other half remains in their natural state: sweet and busting with the flavors of summer.
---
4 cups cherry tomatoes, sliced in half and divided
3 TSB olive oil
1 cup dry Israeli couscous (the big "Pearl" variety)
1 can cooked chickpeas (aka garbanzo beans), drained and rinsed
¼ teaspoon smoked paprika
Juice of 1 lemon juice
2 garlic clove, minced
¼ assorted herbs, plus more for garnishing (I used a combo of basil, thyme, parsley and chives from my herb garden)
⅓ cup crumbled feta cheese
Sea salt and freshly ground black pepper
Other optional additions to consider: avocado slices, grilled corn kernels, or cucumbers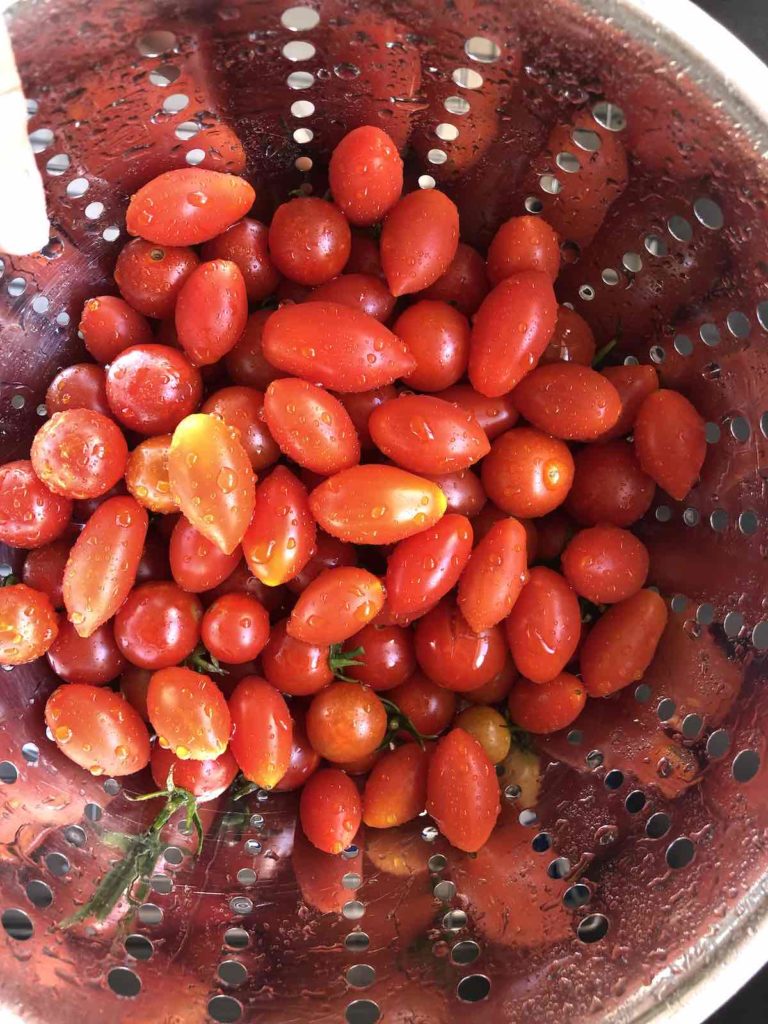 ---
Instructions
Preheat oven to 300 degrees.
Drizzle the olive oil on a sheet pan and shake a bit of salt and pepper into the mix. Take half of the sliced cherry tomatoes and place cut side up on the baking sheet. Roast for about an hour, or until the tomatoes are shriveled and picking up a little color. Remove from oven.
In a medium sauce pan, cook the couscous according to package instructions, usually around 9 minutes. Drain, set aside and let cool.
Crank that oven up to 400 degrees. On a baking sheet covers with parchment paper (you'll thank me later when cleanup is a breeze), roast chickpeas with a bit of olive oil, salt, and pepper. Let them sizzle in there until they are beautifully golden brown and crispy. Cut the heat, remove from oven, and toss with the smoked paprika.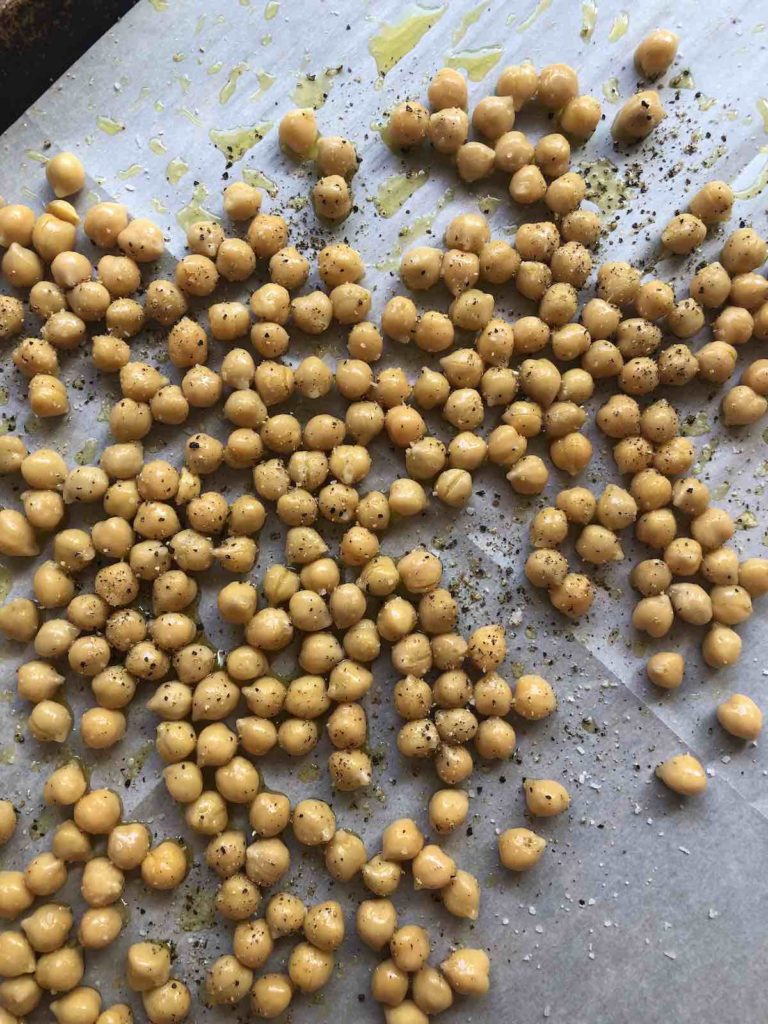 In a large bowl, combine a tablespoon of olive oil with the inked garlic, lemon juice, a the chopped fresh herbs, and 1/4 tsp salt and 1/4 tsp pepper.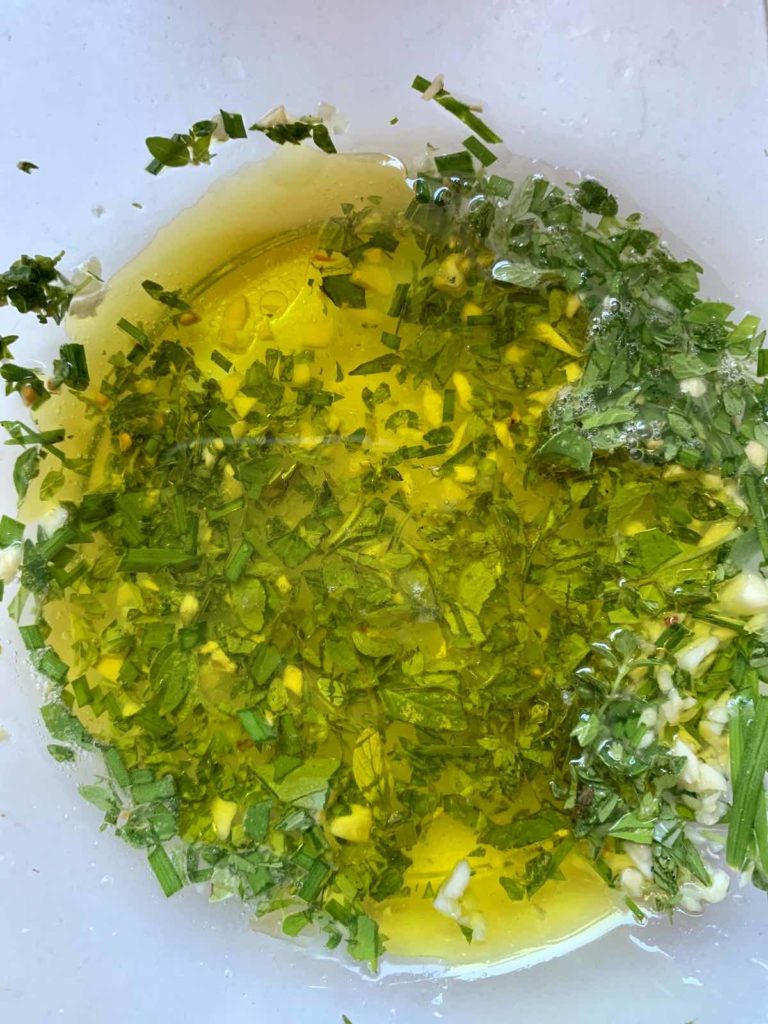 Add all of the rest of the things to the party: the chickpeas, the fresh tomatoes, the cooked tomatoes, the feta. Top with a sprinkle of extra herbs.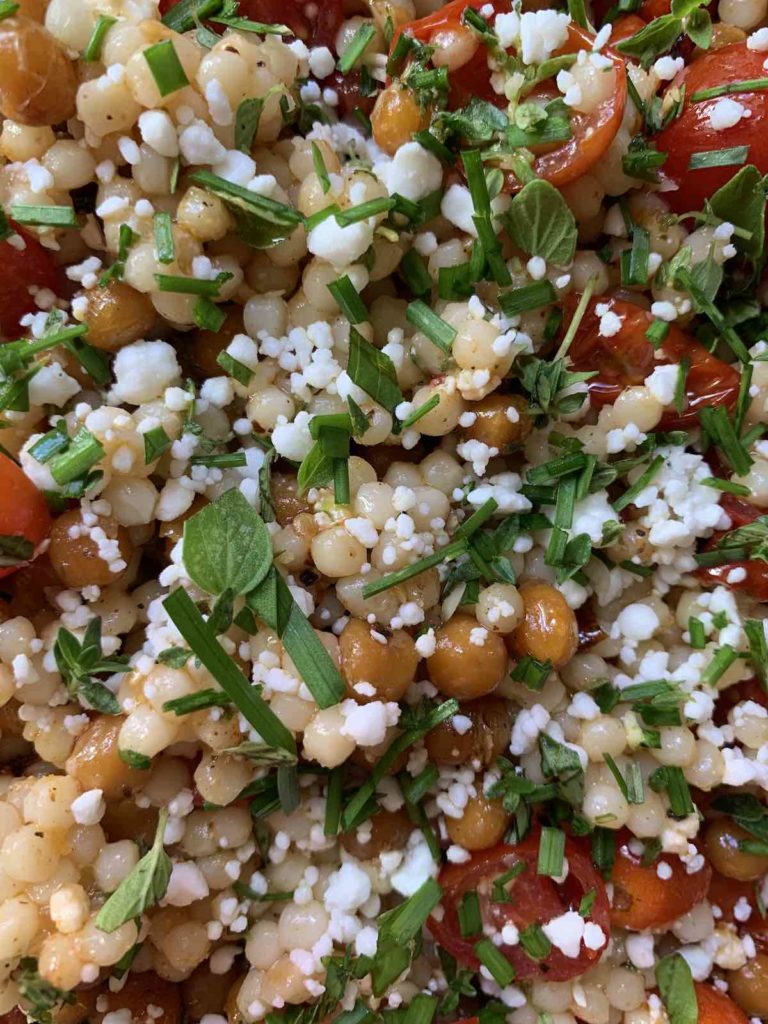 Tada!!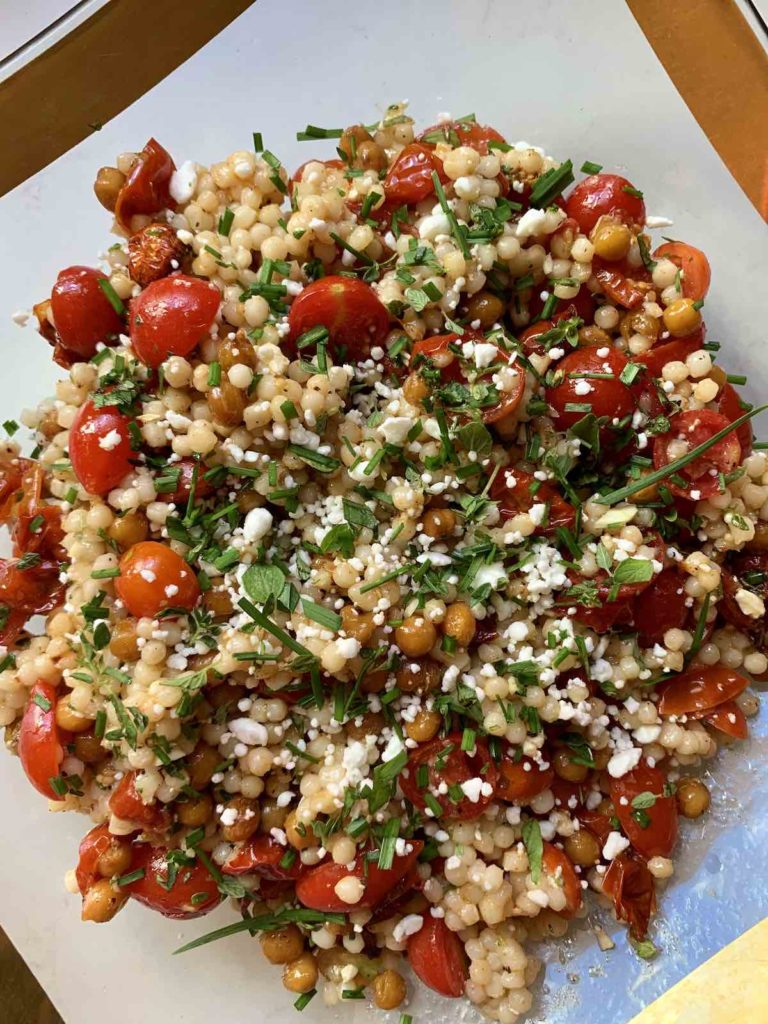 THIS POST MAY CONTAIN REFERRAL LINKS. IF YOU CLICK THROUGH AND TAKE ACTION, I MAY BE COMPENSATED, AT NO ADDITIONAL COST TO YOU.