This post may contain affiliate links. Full disclosure policy
If you've been reading this blog for any length of time, you know that I'm a big proponent of planning ahead and managing priorities.  That's why I've become such a huge fan of the Living Well Planner.
(By the way, if you've been on the fence about purchasing one, do it now! The pre-order period for the new version is nearly over. That means this is your last chance to order yours for $10 off the regular price AND get another $10 worth of free gifts with your order.  So, really, order yours now. You'll be glad you did. )
But here's the thing. The best planner on the planet won't do you any good if you don't actually write in it.
(Sigh.)
Last Minute Lunch for 6 (with a Side of Panic)
A few weeks ago, I agreed on a date for a film crew to come interview me in my home.  Since they'd be driving seven hours back and forth to do so, I offered to make lunch for everybody.  The offer was happily accepted.
Guess what happened then? Yup. I forgot to write the appointment down in my planner and completely spaced about the whole thing. Until this morning.
Turns out, I'm having six guests for lunch tomorrow, one of whom is a vegetarian.  Really, this is not that big a deal. I like to cook and entertain.  Serving six guests, even on short notice, isn't that hard for me.
But I had a date with my dehydrator this week. And I really couldn't break it.  There were 20 pounds of peaches, 25 pounds of tomatoes, and a flat of strawberries sitting on my counter, waiting to be processed.
Time was of the essence, especially for the strawberries.  I simply didn't have time to plan a menu, go grocery shopping, and cook a company meal!
About the time panic was beginning to set in, I realized I didn't have to drive into town and go shopping. Everything I need to make a delicious lunch for six was either in the refrigerator or sitting on the counter.
Here's what we'll be having tomorrow…
Garden Gazpacho
Healthy Frittata (Minus the Canadian bacon, as one of my guests is a vegetarian)
Fresh Strawberries and Vanilla Ice Cream
Shop Local, Shop Seasonal
I already shared the recipe for the Frittata, and the strawberries are simple. Just slice them up, add a teaspoon of sugar and perhaps a dash of orange liqueur, and use them as a topping for vanilla ice cream.
And these strawberries, fresh picked about 50 miles from my house, are amazing!  It's so, so worth the effort to buy fresh, locally grown fruit and vegetables. There's just no comparison when it comes to flavor.
That's why I know my guests are going to adore my Garden Gazpacho.  It's made with fresh picked tomatoes that were garden grown locally and allowed to ripen naturally – no hothouses involved.
These are tomatoes that taste like tomatoes!  That, my Fierce Friend, is the key to a good gazpacho.
I lived in Mexico for several years and I developed a taste for good gazpacho. The Spanish inspired version, which is more like a juice than a soup, is probably my favorite. But there's a reason it tastes so amazing; it normally has a ton of olive oil. And a ton of calories.
In the US, gazpacho is usually kind of chunky, almost like a salsa. That can be good too but I really like the melding of light, fresh flavors that come from pureeing the veggies and extracting the liquid.
My gazpacho draws from the best of both worlds. The base is flavorful puree but includes diced veggies for a texture and just a little heat that lingers on the tongue.
Here's the recipe…
Print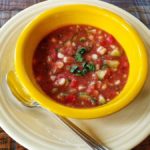 Last Minute Garden Gazpacho
---
Author:

Total Time:

10 minutes

Yield:

6

servings

1

x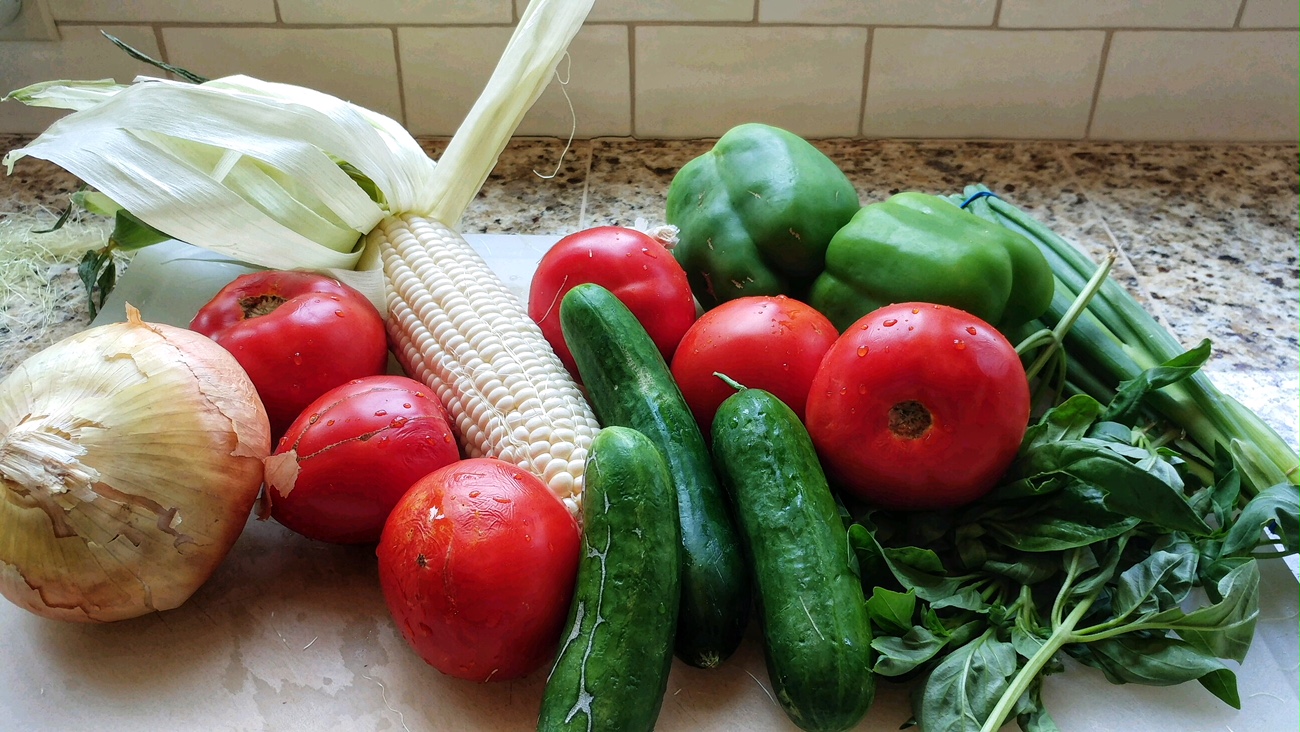 3 pounds fresh, ripe, local tomatoes (reserve 2 smallish tomatoes to dice)
1 large green pepper (reserve 1/3 to dice)
1/2 cup basil, loosely packed (reserve a few leaves to dice)
3 small, thin-skinned cucumbers (reserve one to dice)
Half a large sweet onion
1 ear of fresh corn
2 cloves garlic
1 bunch scallions
1 Tablespoon olive oil (use an herb flavored oil if you have it) (4 Points)
1 Tablespoon balsamic vinegar                                                       (2 Points)
A few dashes of hot sauce to taste (Tabasco, Cholula, or Sriracha)
Salt and pepper to taste
---
Instructions
Wash all the produce, setting aside reserved veggies (2 tomatoes, one third pepper, 1 small cucumber, a few basil leaves) including scallions and corn.
Remove corn husk and silk, cut kernels from cob. Briefly boil corn in a little salted water, for about three minutes, just to remove the starchiness. Take off heat, drain liquid, and set aside.
Cut the unreserved tomatoes, green pepper, basil, cucumber into chunks. Place in food processor or blender.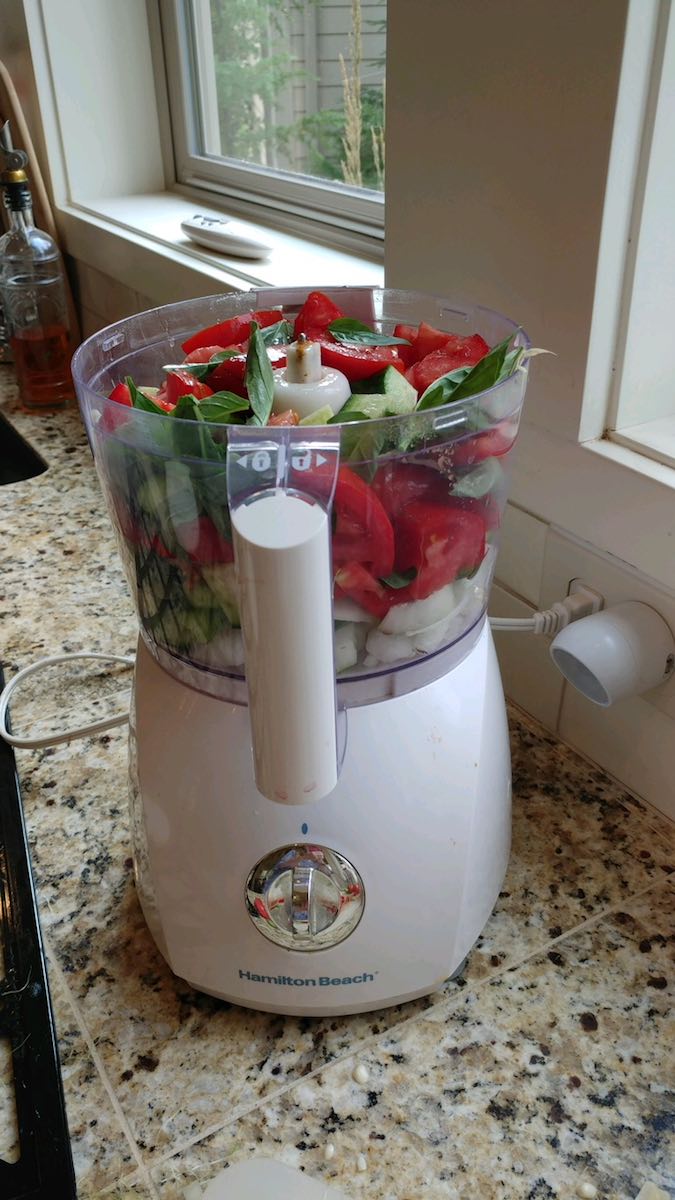 Dice onion and garlic, add to the vegetable mixture.
Puree the vegetables thoroughly.
Place a colander over a large bowl. Pour the vegetable puree into the colander.  Using a spatula or wooden spoon, stir puree and press against colander sides to drain the liquid, leaving solids in the colander.
(Tip: the vegetable solids mix nicely into a meatloaf.  But I added spices, sesame seeds, and a little tapioca flour to mine, then put them in my food dehydrator to make vegetable leather.)
Add olive oil, vinegar, hot sauce, salt and pepper to gazpacho liquid. Adjust seasonings to your taste.
Dice reserved tomato, green pepper, and cucumbers. Slice scallions. Add to vegetables to the gazpacho, along with the corn.
Slice basil into thin ribbons and use for a garnish.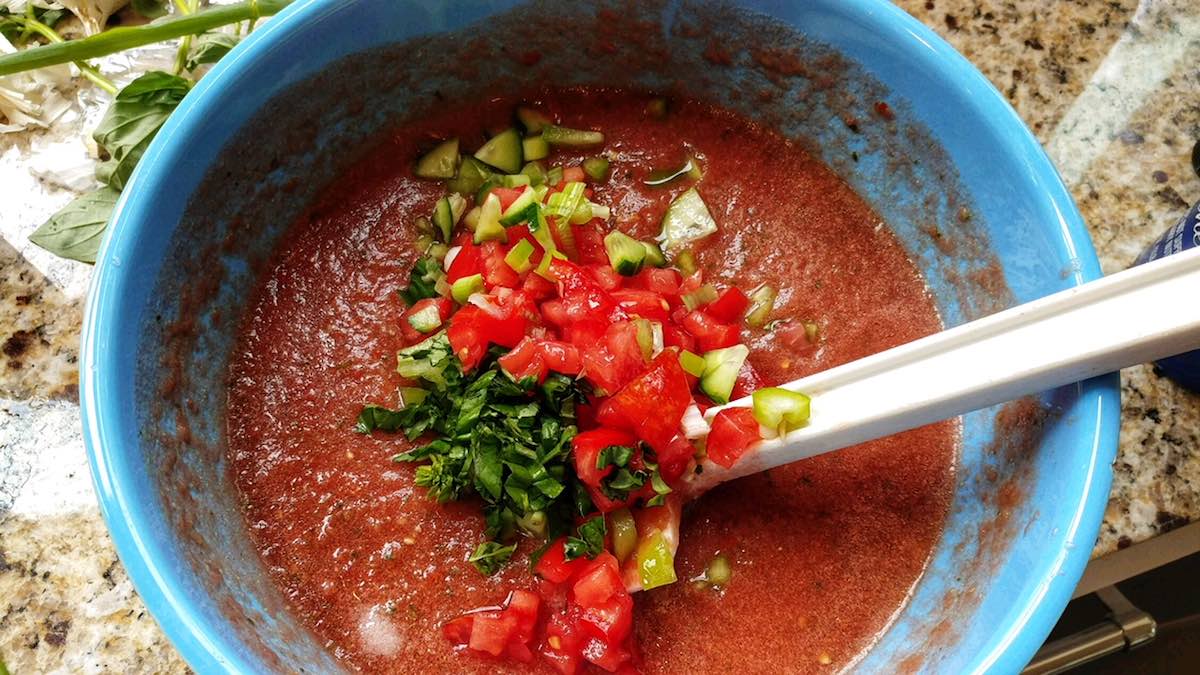 Notes
Only 1 WW Freestyle point per serving!
Prep Time:

10

Category:

lunch

Method:

no cook
Keywords: weight watchers recipes, WW freestyle, healthy lunch, gazpacho