This post may contain affiliate links. Full disclosure policy
This past Saturday marked the premiere of Christmas Everlasting, a Hallmark Hall of Fame production based on one of my novels, The Second Sister.
(If you haven't read the book yet, I think you should. Really.  Here's a link.)
It was a pretty big night for me, one I wanted to share. And I did, with about 5,000 cyber friends who joined me for my online Virtual Watch Party.  I also hosted a watch party in my home for about 25 non-virtual friends.
This was our first large get together in this house. Given that, I wondered if we might run into some glitches but everything went smoothly. My guests had a great time. And even though this was one of the busiest weeks of my life, so did I.
Entertain Like a Pro
I'm always surprised at how many people are intimidated by the idea of entertaining at home. That's such a shame.
Opening your home to friends and family, and showing hospitality to people you care about can be incredibly satisfying.  It needn't be difficult or stressful. In fact, it can even be fun!
I've always loved entertaining.
When I was in the eighth grade, one of my teachers offered extra credit for doing something you'd never done before.  For my extra credit project, I decided to give a formal dinner party for my entire class. (I was always a bit precocious. And nerdy.)
I still remember the menu – London broil and twice-baked potatoes with a green salad, and floating islands for dessert.  It was an ambitious undertaking for a thirteen year old, especially since I'd never made any of the recipes before.
Perhaps it was beginner's luck –  heaven knows I've had plenty of recipe fails since then – but everything went off without a hitch.
My mother, who is a prodigious party-giver to this day but always has a lot of anxiety about the process, asked me how I managed to pull it off and stay so calm.  My answer, "I had a plan."
Forty years later, I still enjoy entertaining. And I still have a plan.
By following these 3 tips for easy entertaining, I insure that entertaining is an enjoyable experience for me, and for my guests.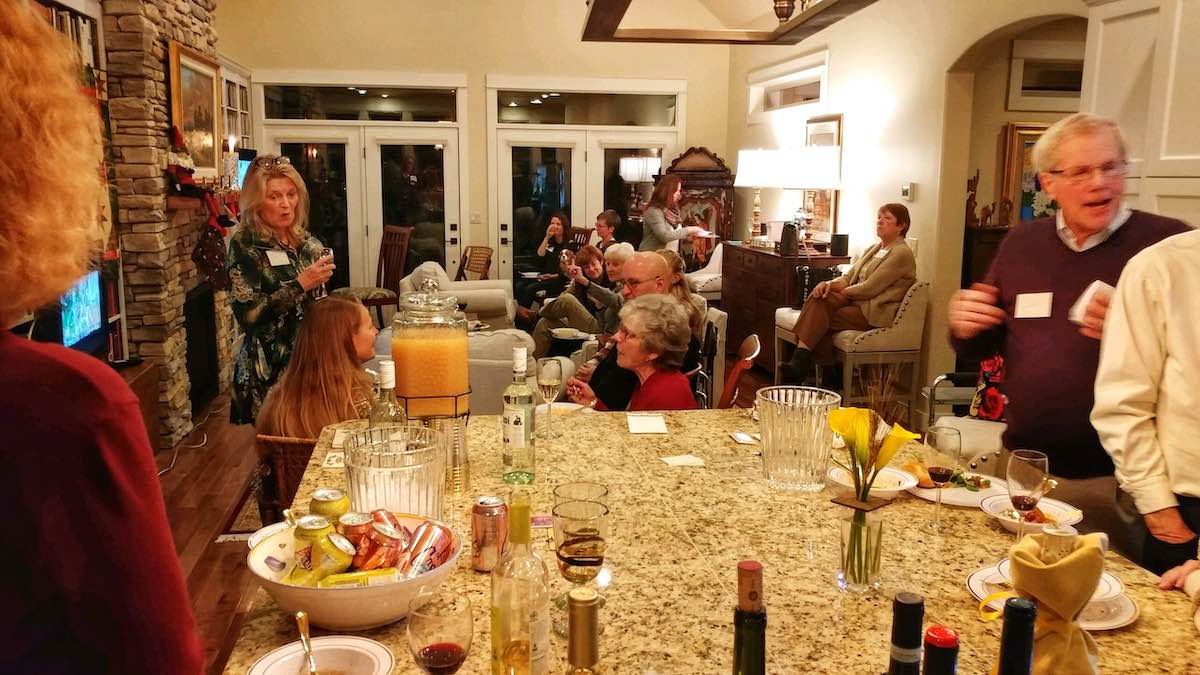 1. Have A Plan
Planning ahead is the most important part of pulling off a perfect and stress-free dinner party.
Sharpen your pencil, get out a notebook, and write out your plan. The first thing on it should be your proposed menu – including beverages. Next, write out your grocery list, liquor or beverage list, and decorating list.  Make a list of any equipment you'll need to use, purchase, or borrow.  (I had to borrow extra folding chairs and slow cookers for our party on Saturday.)
Finally, pull out your calendar. Think about the things can cook, decorate, or do ahead. Assign a few items to each day for the week before your party. It will make everything so much easier!
For our party, I bought the beverages a full week before, my groceries the day after that, and made my three soups (chicken stew, vegetarian chili, and the best mushroom soup ever), salad dressing, and desserts ahead of time.  On the day of the party, all I had to do was bake the dinner rolls, dress the salad, and mix up a batch of punch.  Easy.
On the day of the event, it's a good idea to set out all the bowls, platters, and serving pieces you will be using early in the day. This will give you a clear visual map of what still needs to be done. It will also ensure that none of the appetizers, side dishes, or dessert you labored so hard over accidentally gets left in the refrigerator when your guests arrive.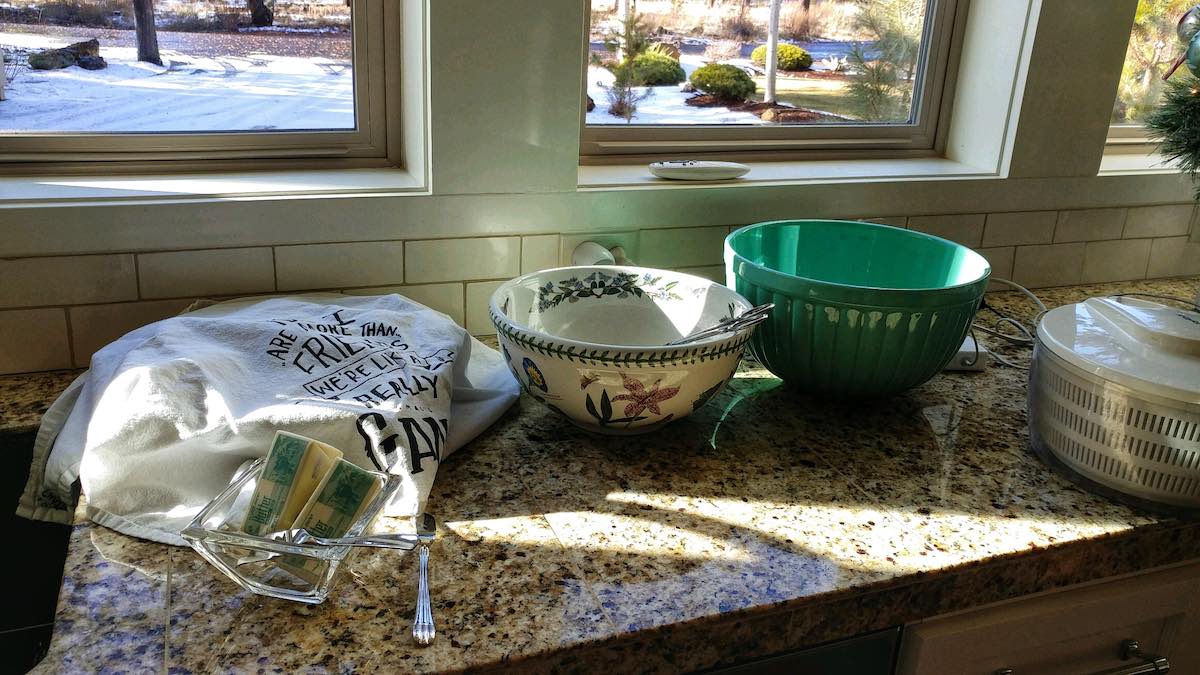 2. Don't Do Dishes (Unless You Have To)
I do enjoy formal entertaining. There's something so lovely about a table set with my best china, crystal, and freshly polished silver.  But formal entertaining is something I reserve for small parties of six to eight guests.
For a big crowd, leave the china in the cabinet and go with disposable dishes. I'm not talking about those flimsy white paper picnic plates we all grew up using, the kind that would end up seeping baked beans onto your jeans.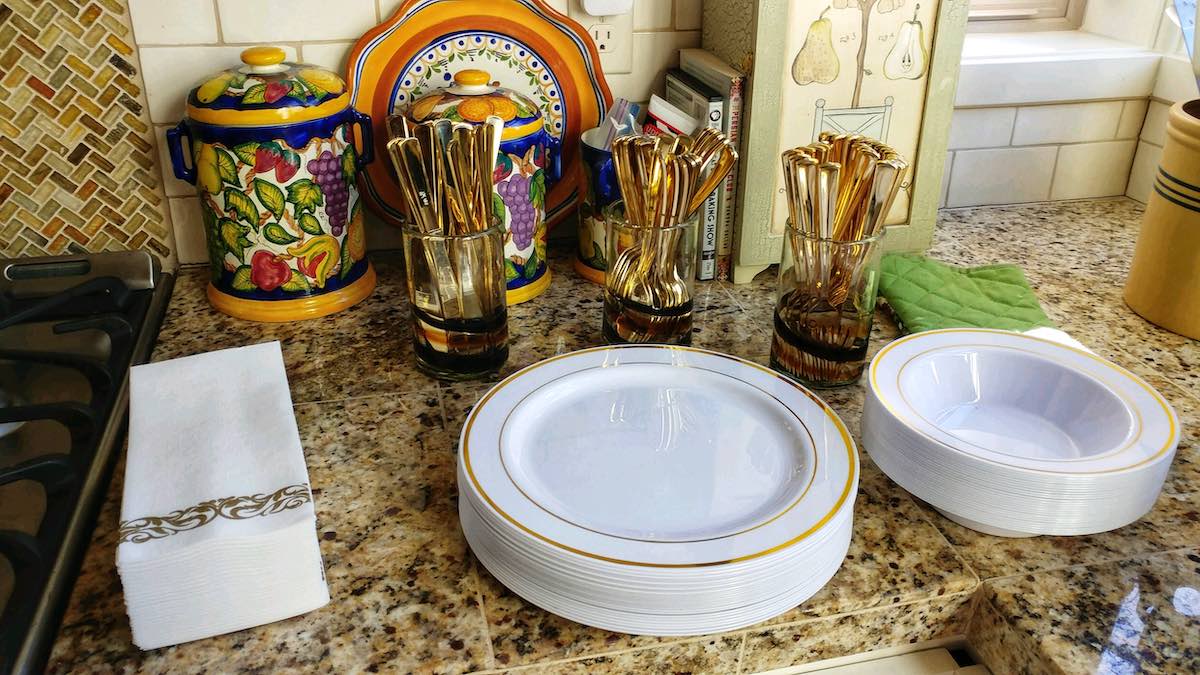 These days, disposable dishes can be sturdy and elegant.  For Saturday's party, I ordered a complete set of gold- rimmed disposable dinnerware. It had everything I needed in one box, from sturdy plates and bowls to plush napkins and gold disposable cutlery.
Another option I like is this biodegradable dinnerware made from palm leaves. The pretty, wood-look plates have a rustic elegance and are environmentally friendly to boot!
3. Keep It Simple
If you love making complicated dishes and are a confident enough cook to do so, then fine. Go for it.  But if I'm cooking for a crowd, I prefer to choose a simple menu.
What I've learned is that if you want to get all fancy, just show off with one dish. Does the dessert involve setting it on fire or 24 steps and reading French? Then serve a simple roast chicken. Just make one thing that requires a lot of attention, let it be the star of the show, then use your tried and true – and simple – recipes for the rest.
My premiere party was delicious and hearty, but I planned for simple implantation and a quick cleanup. In fact, the Chairman and I were in bed by 11 that night. The reason for that was three make-ahead main dishes and a simple seasonal salad (more on that next week!).  That pretty disposable dinnerware helped a lot as well.
Remember, the most important thing is that you and your guests have meaningful time together. That can't happen if you are in a frenzied, hot-flashed, stress tornado in the kitchen, worried about every little detail. Everyone will have wonderful memories of the evening – even if you overcook the steak or forget to salt the main course.

Don't let the pursuit of perfection get in the way of enjoying your friends and the time you spend together. You've got this!