This post may contain affiliate links. Full disclosure policy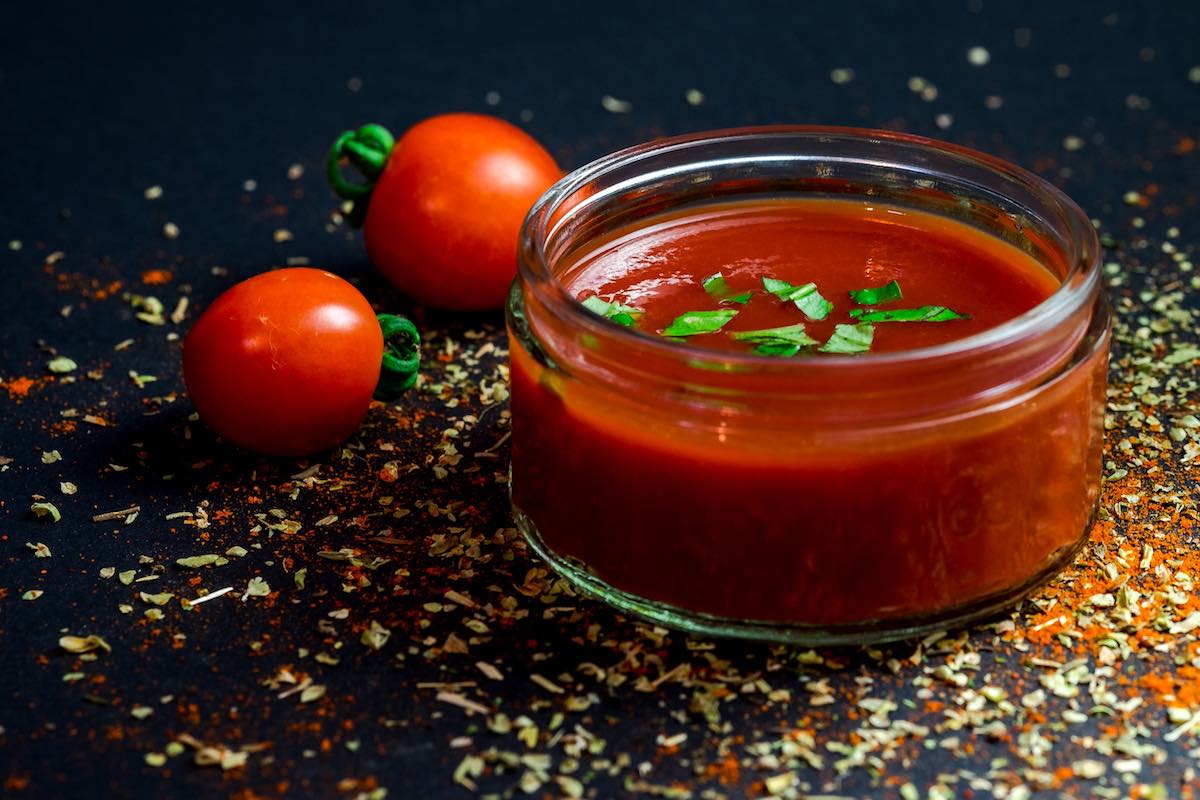 In case you hadn't guessed by now, it's Tomato Week here at Casa de Bostwick. Enjoy this easy Tomato Sauce Recipe with Fresh Tomatoes (No Peeling Required!) recipe!
Tomato Sauce Recipe with Fresh Tomatoes
The gazpacho earlier this week was the kickoff.
I imagine it's the same at a lot of casas around the country. When the tomatoes are ripe, everything else comes to a standstill.
Well, okay. Not quite everything.
I did turn in the final copyedits for my next book last night. I tried to tell my editor that I didn't have time for editing because the tomatoes were ripe and there was sauce to be made.
He was not sympathetic.
This is probably because, living in New York City, he doesn't grow tomatoes. Or make fresh tomato sauce.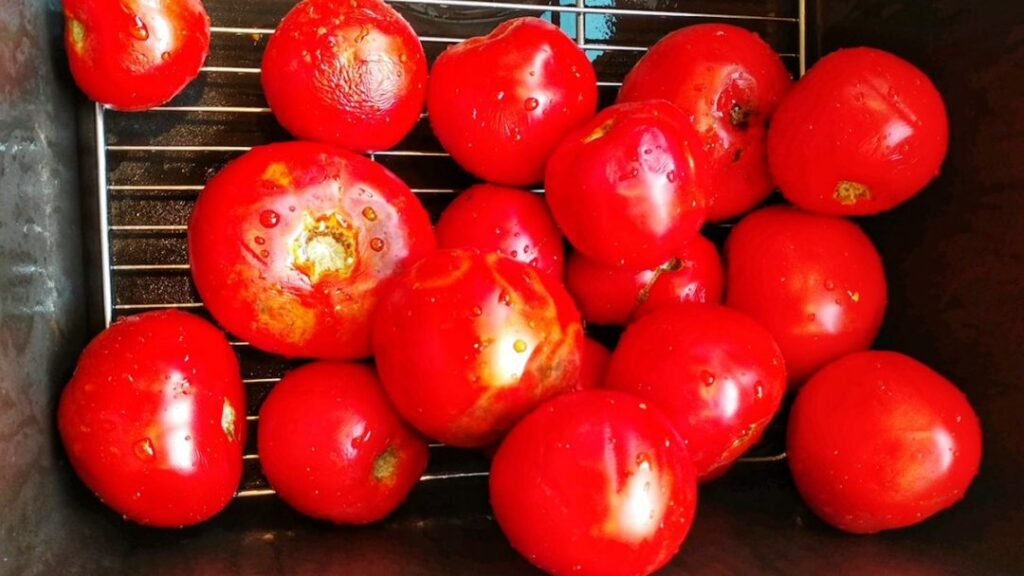 These days, sadly, I don't grow tomatoes either. My new home in Central Oregon is short in terms of garden space and growing season. Next year, I plan to experiment more with container gardening. But for now, I have to content myself with purchasing tomatoes.
Lucky for me, I scored a 25-pound box of the most gorgeous, decadent, delicious tomatoes, garden-grown in the Willamette Valley. The valley is basically a tomato-growing Eden.
'Tis the Season
We ate a couple of pounds fresh (groaning with pleasure the whole time), used three pounds for gazpacho, and put another ten pounds in the dehydrator. (Thanks to my head start on a prepared pantry, those peak-of-perfection dried tomatoes will add tons of flavor to my winter cooking.) The last ten pounds were reserved to make sauce.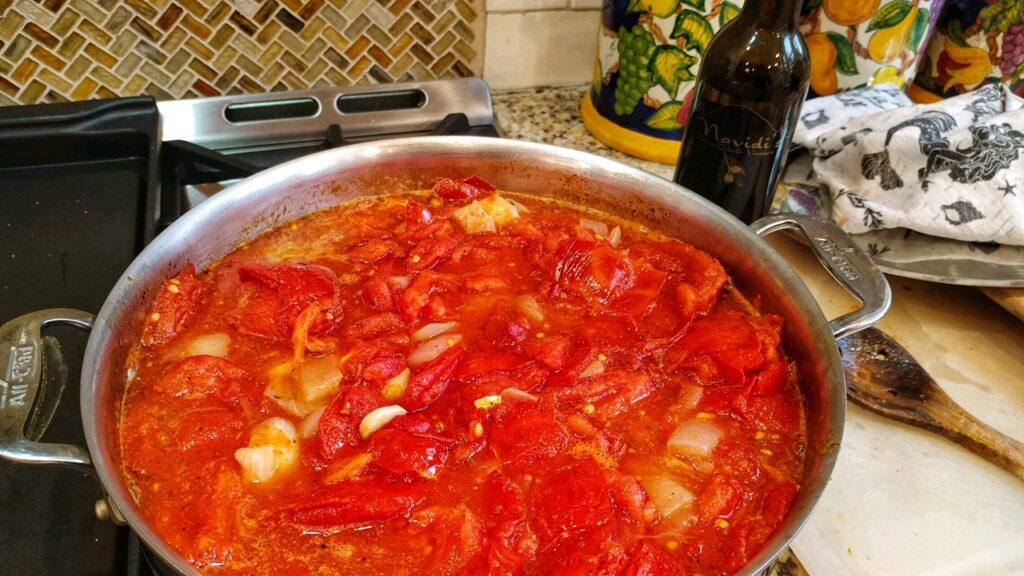 Honestly, I could have used an additional 25 pounds for sauce. If not for my editor actually expecting me to do my job, and the hours I'm spending on training for my upcoming triathlon, I would have.
But my editor would not wait. Neither would the tomatoes.
At 8pm last night, after a long, mind-numbing day of editing, I pulled out the stockpots and started making tomato sauce.
Under normal circumstances, I'd devote a whole day to this. I'd blanch the tomatoes to split the skins, then peel them, then carefully remove the seeds, then cook them for hours. Then I'd put it all through the food mill to make sure the sauce was totally smooth and seed-free.
However, it was already getting dark and I was tired. Also, I cannot for the life of me find my food mill. I don't know if it got lost in the move or it's just hiding in a closet or box somewhere. Where it is not is in my kitchen! I know because I tore the place apart looking for it.
And so, short on time and minus a food mill, I had to come up with a Plan B.
No Peel, No Problem
I've long had a saying, "When the going gets tough, the tough lower their standards." That was the principle I applied when I decided just to toss the tomatoes in a pot and not worry much about the skins or seeds.
I'm really glad I did! Not only did I save a ton of time, fuss, and mess, the results are simply delicious.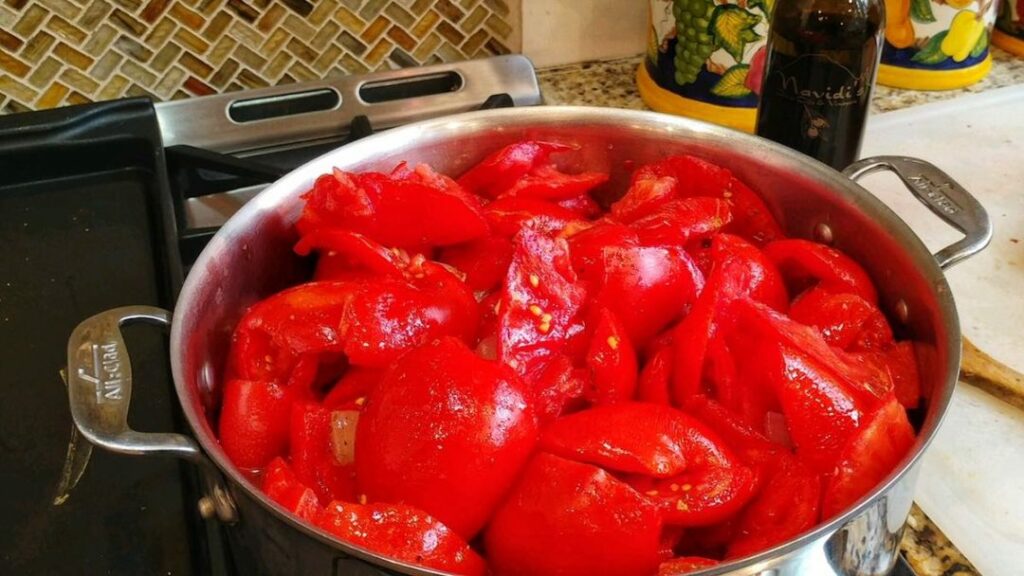 Yes, there are a few seeds to be found but who cares? When it comes to what matters, taste, this sauce scores a perfect ten. It's as good a batch of tomato sauce as any I ever made. And so much easier! I can't see going back to my old method, ever again.
Here's my Easy Tomato Sauce Recipe with Fresh Tomatoes!
Print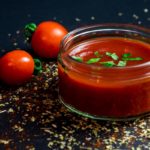 No-peel Tomato Sauce
---
Author:

Total Time:

1 hour 45 minutes

Yield:

Makes approximately

6

to

8

cups of fresh tomato sauce.

1

x
10

lbs perfectly ripe, fresh, locally grown tomatoes

2 cups

water

1

pound of sweet onion, chopped

4

cloves of garlic, peeled and sliced

¼ cup

of good olive oil (herb flavored if you have it)

1

T dried Italian seasoning

1

t. dried oregano

1

t. red pepper flakes

2

T balsalmic vinegar

2

t. sugar
Salt and pepper to taste
---
Instructions
Wash tomatoes. Cut in half and cut out the butts. Squeeze each tomato half to roughly squash out the seeds. (Don't worry about removing every seed).
Heat olive oil in a saucepan. Add onion, garlic, and dried herbs to pan. Cook over medium heat until veggies are soft and fairly translucent. Set aside.
Place prepared tomatoes along with cooked vegetables into a large, wide, heavy bottomed stock pot. Add water and pepper flakes. With heat at medium-high, bring to a boil. Then lower heat so sauce is simmering.
Simmer for about 90 minutes (no lid on pot). Check sauce after the first thirty minutes, stirring and removing any loose tomato skins. Repeat the process again in another thirty minutes.  By then, you should be able to remove nearly all of the skins.
During the last 30 minutes, add sugar and balsamic vinegar to sauce. Check and stir more frequently to prevent burning or sticking. When the sauce is medium thick and reduced by almost half, turn off the flame.
Use an immersion blender to break up any remaining pieces of vegetables, creating a fairly smooth sauce. (You can also use a food processor or regular blender, processing in batches. But let the sauce cool a bit first! Take care not to spill hot tomato sauce on yourself!)
Place a colander (with medium holes, not a sieve) over a medium-sized pot. To remove some (but not all) of the remaining seeds, pour in the sauce into the colander. Shake colander gently so the sauce will run through. Discard the seeds.
Season sauce to taste (start with a teaspoon of salt, taste, then add in quarter teaspoon increments until you achieve desired flavor) while cooking over low heat for an additional ten minutes.
Serve fresh, freeze, or can sauce as desired. (I like to can mine in pint jars. Perfect size if you're cooking for one or two people.)
Notes
Makes approximately 6 to 8 cups of fresh tomato sauce.
Prep Time:

15

Cook Time:

90