This post may contain affiliate links. Full disclosure policy
For me, half the fun of camping is the cooking.
Now, I'm not talking about heating up something on the stovetop or in the microwave of a motorhome or trailer.  I mean real campfire cooking, out of doors and over an open flame, like the pioneers did it.
Okay, well. Maybe not quite like the pioneers.  You're not going to find any salt pork, hardtack, or squirrel on my campfire menu. As I explained in my earlier post I don't camp, I glamp.  And when I glamp, food is the star of the show.
My carefully planned and executed menus feature delicious dishes made from fresh, flavorful ingredients, served on real dishes with real silverware, a tablecloth, flowers, and candles. Think of it as rustic chic – emphasis on chic.
But the rustic part applies too. When I'm glamping, I can't cook quite the same way I would at home. I need to make some concessions for the limitations of storage space, equipment, and refrigeration (or lack of it).  That's why, when it comes to campfire cooking, one-pot meals are definitely the way to go!
Crazy for Cast Iron
During my recent glamping trip with my mom, all of our campfire cooked meals required only one pot or pan. It made everything so much easier.  And though they'll definitely add some weight to your luggage, there is nothing better for campfire cookery than good, old, reliable cast iron. A love of cast iron is where the pioneers and I are in total agreement!
A good cast iron Dutch oven like this one will last you the rest of your life and is just as useful in your home kitchen as it is at the campground. I also highly recommend getting cast iron skillet too, for all the same reason.  Both are an excellent investment. Once it's been properly seasoned, cast iron cookware is practically non-stick. Just be sure you care for it properly. This video explains how to care season, clean, and care for cast iron.
Cast iron is a clear winner for campfire cooking. But the best skillet in the world won't do you any good if you don't have something delicious to put in to it. Don't worry, fierce friends, I've got your back on that score too!
Why this is the Best Tamale Pie Recipe Ever
My campfire tamale pie is easy to pack (thanks to my genius meal kit hack), easy to prepare, and loaded with tasty veggies, lean ground chicken, and just a touch of spicy. It's so, so good, a definite nod to those comfort foods I loved most during camping trips with my mom. It's also substantial enough to satisfy the heartiest appetite. This last part is VERY important when it comes to campfire cuisine. Being in the great outdoors makes everybody hungry, right?
Believe me, no one will leave the table hungry after you make the Best Tamale Pie Recipe in the world. Give it a try during your next glamping trip!
I will definitely have this recipe in my back pocket for next time, and I've been eyeing a couple more options to add to the repertoire, like this Campfire French Toast or these Campfire Pizza Nachos (yum yum!). There's so many delicious recipes on Pinterest for camping that it sounds like I need to go ahead and reserve a rental RV for the next adventure.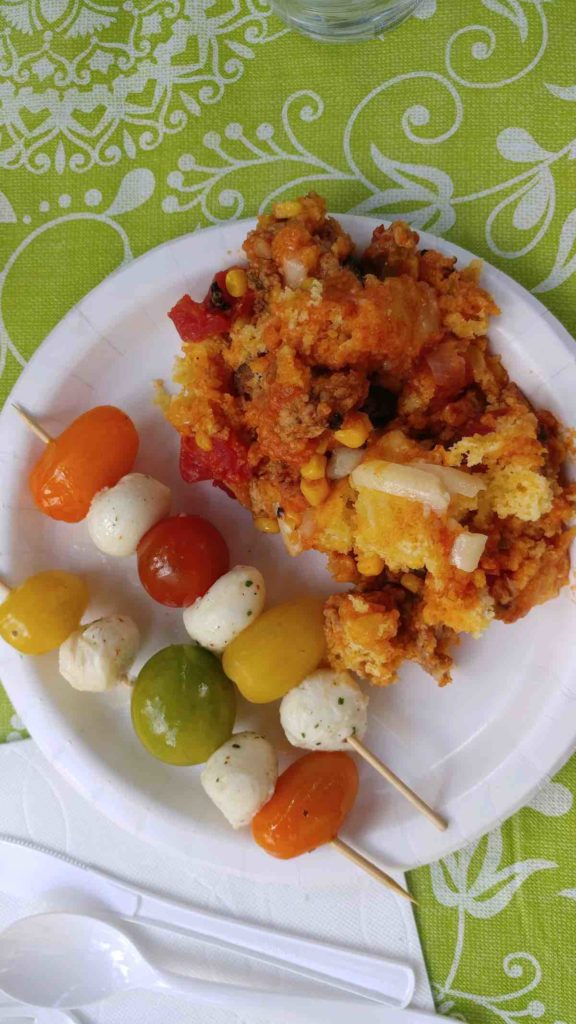 And remember, if you find yourself having mad cravings for this but lightyears away from a campfire, there's always my slimmed down of healthy tamale pie that you can make at home. What it lacks in ambiance it makes up for in flavor.
Print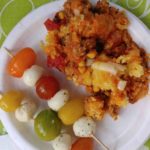 Best Tamale Pie Recipe for Your Next Campout
---
Author:

Total Time:

45 minutes

Yield:

4

servings

1

x
1 lb ground chicken breast
2 T olive oil
1 small red onion, peeled and diced
1 small green pepper, diced
1 garlic clove, minced
2 T chopped cilantro
1 15 oz. can corn
1 15 oz. can fire roasted tomatoes
1 8 oz. can tomato sauce
1 small can sliced black olives
1 packet seasoning (1 T chili powder, 1 t. smoked paprika, 1 t. sugar, 1 t. salt, ½ t pepper – putting them all into Ziploc bag or small plastic container saves space)
1 7 oz package corn muffin mix (such as Jiffy)
1 egg
1/3 cup milk
4 oz shredded cheese
---
Instructions
Start your campfire. When the flames die down a bit but the fire is still good and hot, place a cast iron Dutch oven on a grate over the fire.
Put oil in pan. Add onions and saute' for about three minutes, using a long-handled spoon.  Add green peppers, cook for another three minutes. Add garlic, cook one minute more.
Stir in ground chicken, breaking up any large pieces with edge of spoon, cooking until there is no more pink visible in the chicken. Add chopped cilantro. Cook another minute or two.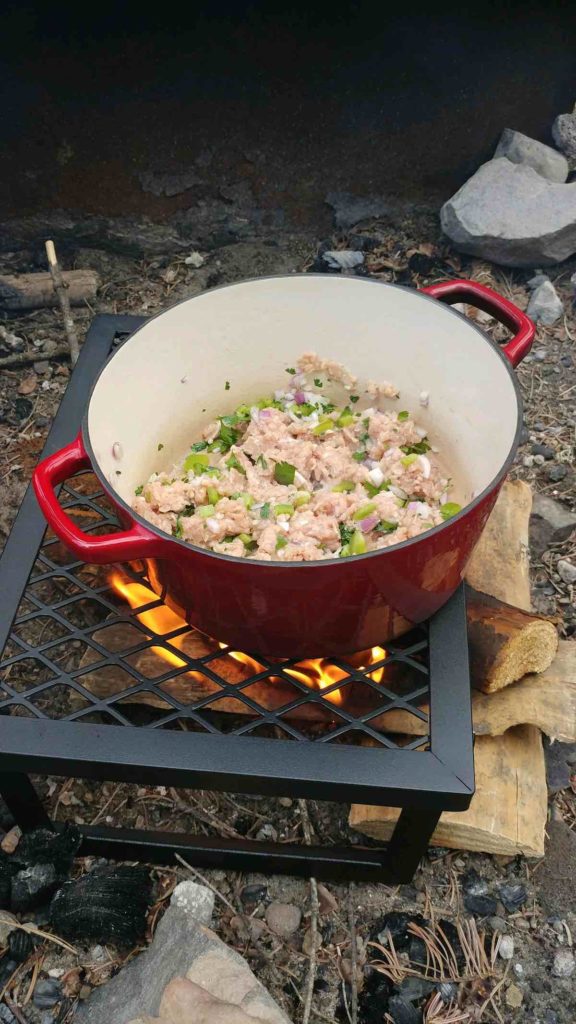 Add canned tomatoes, tomato sauce, corn, olives, and seasoning packet. Stir to mix ingredients.
Let mixture simmer for 15 minutes, to allow flavors to meld. (If the flame is too hot, move pan to the edge of the grate, away from the hottest part of the fire.)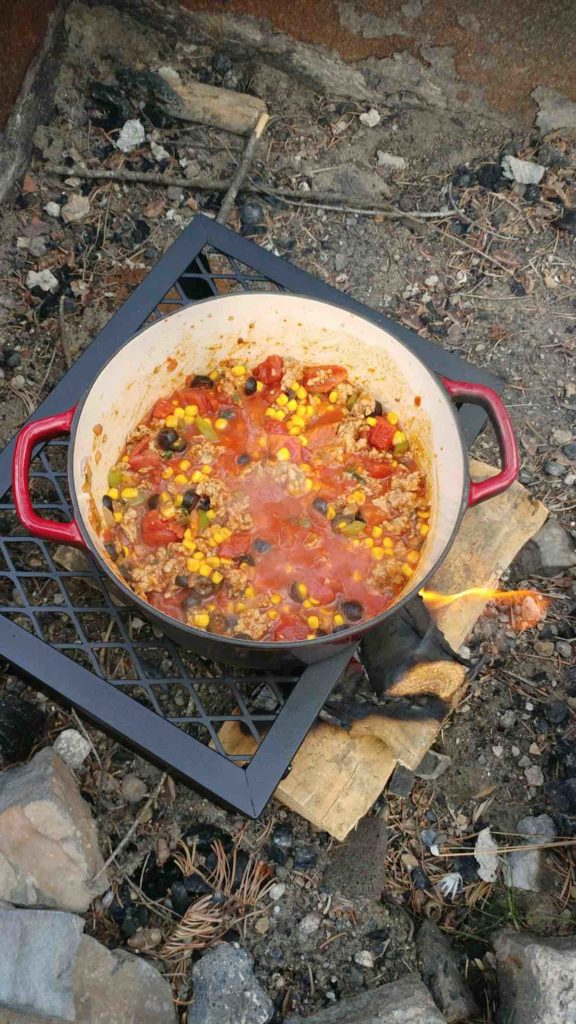 Place muffin mix in a medium-sized bowl. Add egg and milk to the mix. Stir vigorously, until muffin batter is smooth. Stir half of the cheese.
Spoon batter on top of the tamale filling, spreading it evenly to the edges of the Dutch oven. Place lid on the oven and leave the pie to cook for approximately 15 minutes more, until the corn muffin top is baked through. (Campfire temperatures can vary, so you'll need to check the pie to see if it needs more or less time over the fire.)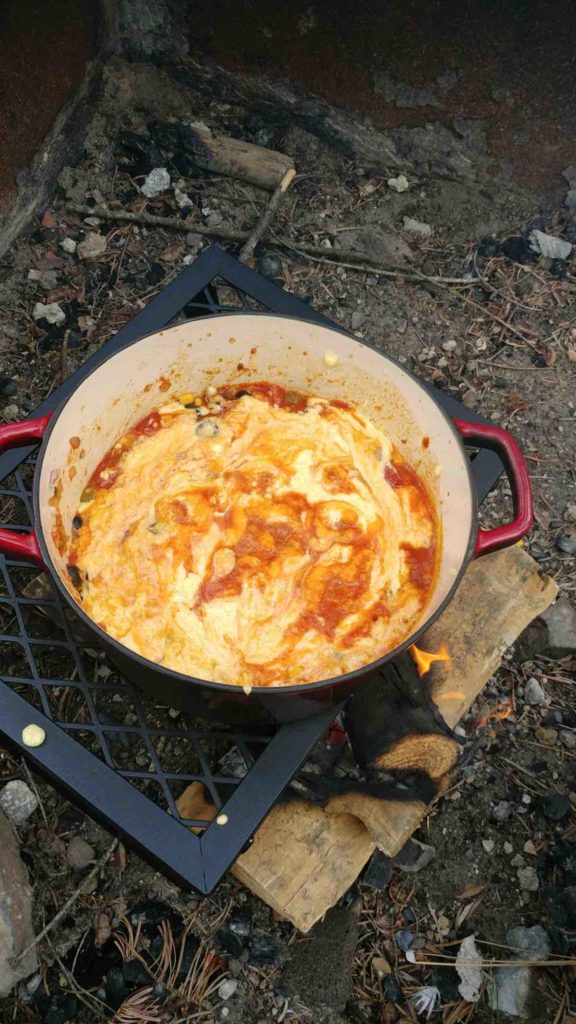 Remove lid from Dutch oven. Sprinkle remaining cheese over top of pie and allow it to melt.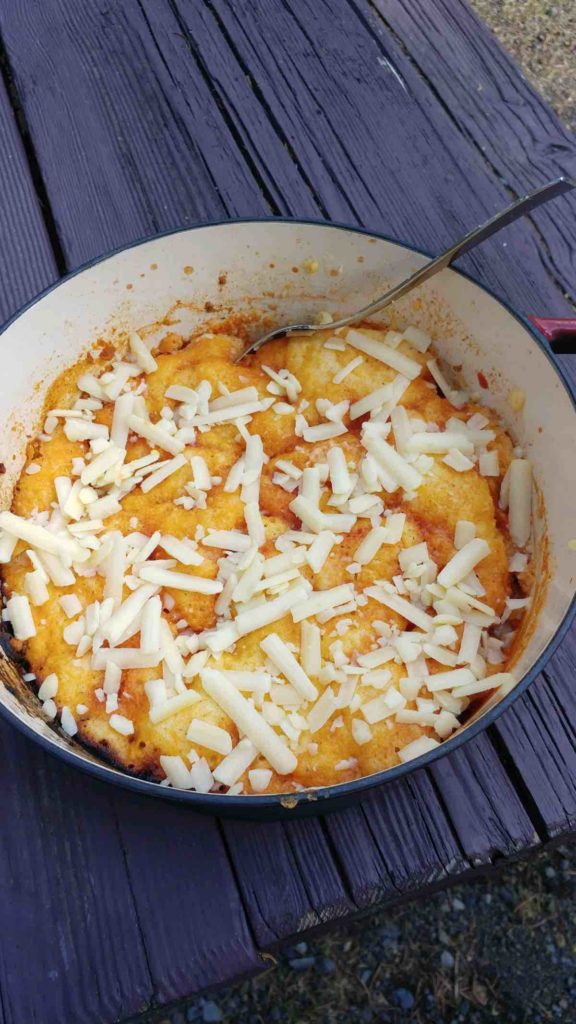 Serve immediately.
THIS POST MAY CONTAIN REFERRAL LINKS. IF YOU CLICK THROUGH AND TAKE ACTION, I MAY BE COMPENSATED, AT NO ADDITIONAL COST TO YOU.