This post may contain affiliate links. Full disclosure policy
Sheet pan dinners are all the rage these days. It's easy to see why.
What cook doesn't love a meal that requires no more cleanup than crumpling up a sheet of foil and tossing it in the trash? Especially if the resulting recipe is loaded with healthy ingredients and full of flavor?
My Sheet Pan Chicken Marbella with Garlic Rosemary Citrus Sauce fits that description to a tee. It's a delectable, hearty, easy to prepare dinner that makes weeknight meal making a breeze but looks and tastes good enough to serve to company. In fact, I particularly like preparing this for company because once it goes into the oven I don't have to do a thing until the last few minutes of cooking, leaving me lots of time to visit with my guests.
Make it Simple
If you plan to serve this to company, I recommend putting the pans into the oven the moment your guests arrive.  The 30-minute cooking time is ideal, giving you just enough time to share a glass of wine and a few appetizers with your friends before putting dinner on the table. Don't serve too many appetizers  – just an appetite whetting nibble or two is plenty.  The portions on this recipe are generous, which is a good thing. This sweet and savory sheet pan dinner is so good that people are definitely going to want seconds!
Make it Flavorful

My inspiration for this dish began in my prepared pantry with a bottle of Stonewall Kitchen Garlic Rosemary Citrus Sauce.  If you've spent much time in New England, as I did for so many years, you probably know all about Stonewall Kitchens. They're probably best known for their amazing selection of jams, so good that they rival (and often beat) homemade. However, Stonewall Kitchen also offers a huge selection of award winning sauces, ketchups, condiments, baking mixes, and other goodies.  Their products can be found in grocery stores or their online shop.
Make it Exciting
So there I was, standing around the kitchen, trying to figure out how to turn the ten thousandth chicken I've ever prepared in my life into something interesting.  Gotta say, friends, after the nine thousandth chicken, the thrill was pretty much gone. But when I saw that bottle of Garlic Rosemary Citrus Sauce on the pantry shelf, I actually felt a little twinge of excitement. I knew that I was looking at the basis of a dinner that had the potential to be pretty terrific.
Of course, I could have just poured the sauce onto the chicken, let it sit for a while, and then put it on the grill. I have no doubt the results would have been very tasty. But I wanted to make something a little more interesting.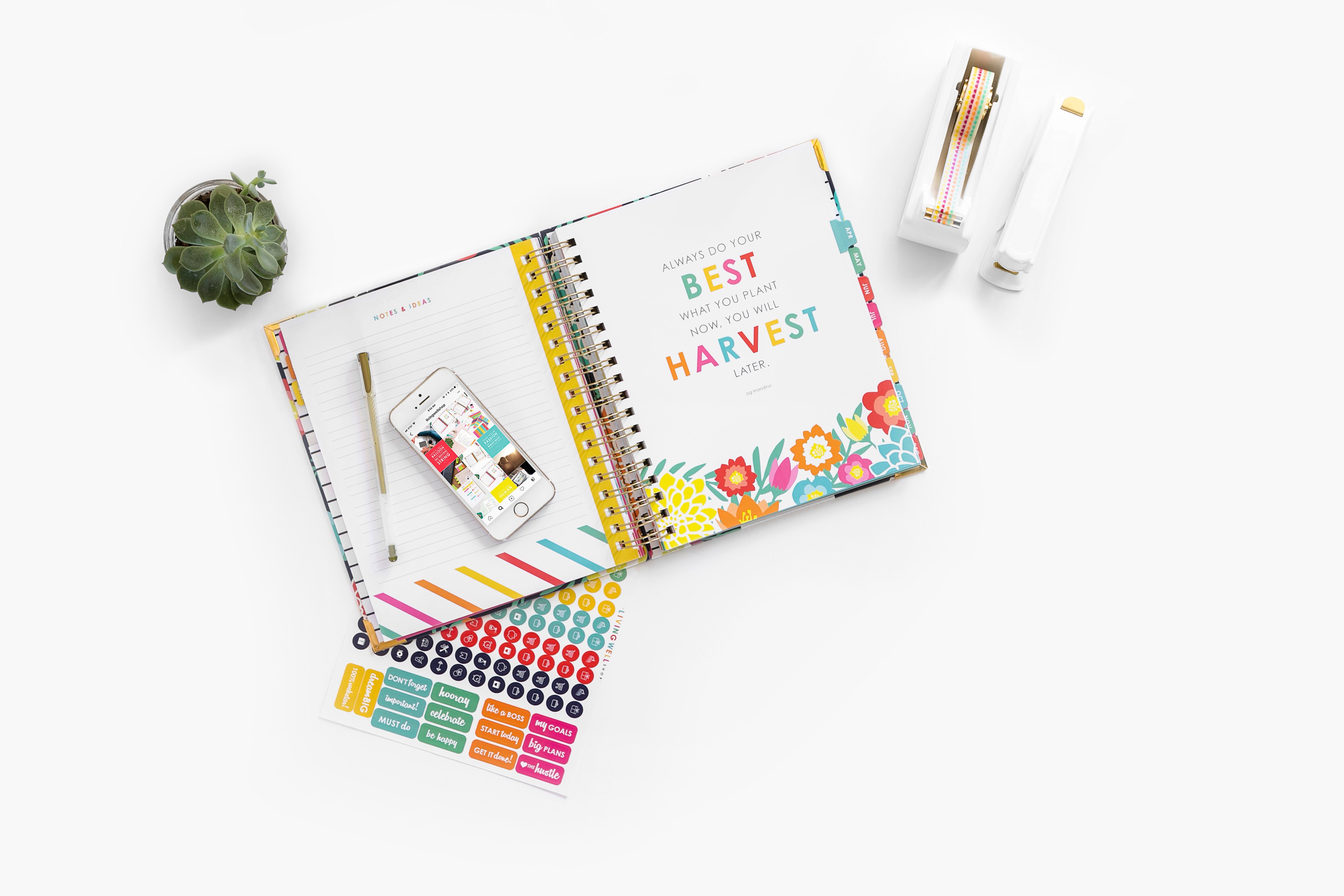 Make it Seasonal
This week, my CSA farm share included some beautiful rainbow carrots and a fennel bulb. While I was tempted to make another knock-your-socks-off salad with those carrots, I knew that if I roasted them along with the chicken, the mellow sweetness of the vegetables would be an excellent complement to that sweet-but-savory garlicky citrus sauce with the hint of flavorful rosemary.  I decided to roast an orange as well, just to take the citrus flavor up a notch.  (Fresh pineapple works well here too.)
I felt sure I was onto something good but I wanted to add a little more depth to the dish, bringing in flavors that were just a bit out of the ordinary but would pair well with the other ingredients.
That's when I remembered the Silver Palate Girls and their recipe of Chicken Marbella.
Make it Marbella
If you were cooking (or eating) in the 90s, chances are good that you remember this dish. It was everywhere. And so good! What made the Silver Palate recipe so fabulous was the addition of olives and prunes to what might otherwise hum-ho chicken dish, transforming it into a meal to remember.
Those ingredients have the same effect on my Sheet Pan Chicken Marbella with Garlic Rosemary Citrus Sauce. Adding olives and prunes to an already yummy combination of ingredients takes this recipe to a higher plain of sweet and savory deliciousness, all in one easy to prepare, easy to clean up after sheet pan meal.
Try this Sheet Pan Chicken Marbella tonight!
Print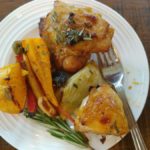 Sheet Pan Chicken Marbella with Garlic Rosemary Citrus Sauce
---
Author:

Yield:

6

servings

1

x
Description
Simple, seasonal, and perfectly Marbella. Enjoy!
---
4 to 6 pounds bone-in chicken pieces
1 bottle Stonewall Kitchen Garlic Rosemary Citrus Sauce
1 lb carrots, peeled
1 or 2 large fennel bulbs
Navel orange or fresh pineapple, peeled, cored and sliced
12 large green olives
12 prunes or dried plums
4 garlic cloves, peeled
2 T fine diced rosemary
2 T Extra Virgin Olive Oil
1 t. kosher salt
½ t. fresh ground black pepper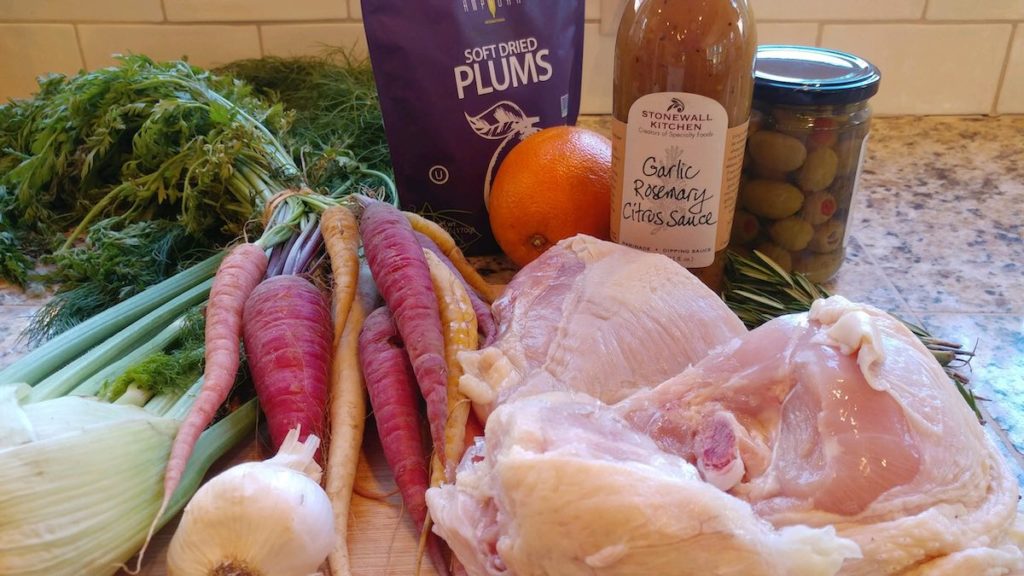 ---
Instructions
Pour three quarters of Stonewall Kitchen Garlic Rosemary Citrus Sauce into large bowl. Add 2 T olive oil, 1 T of the rosemary, salt, and pepper. Whisk to blend thoroughly.
If using chicken breasts, cut each half breast into 2 or three pieces.  Slice any carrots more than ¾ inch in diameter lengthwise and then into pieces about 3 inches long. Cut fennel bulb into chunks. If using orange, cut into 8 wedges. If using fresh pineapple, cut slices into halves or quarters. If the garlic cloves are large, cut in half.
Place chicken, carrots, orange or pineapple, olives, prunes into the bowl. Stir with large spoon, making sure vegetables, fruit, and all the chicken pieces are coated with the sauce. Cover bowl with plastic wrap and place in refrigerator for 4 hours or overnight.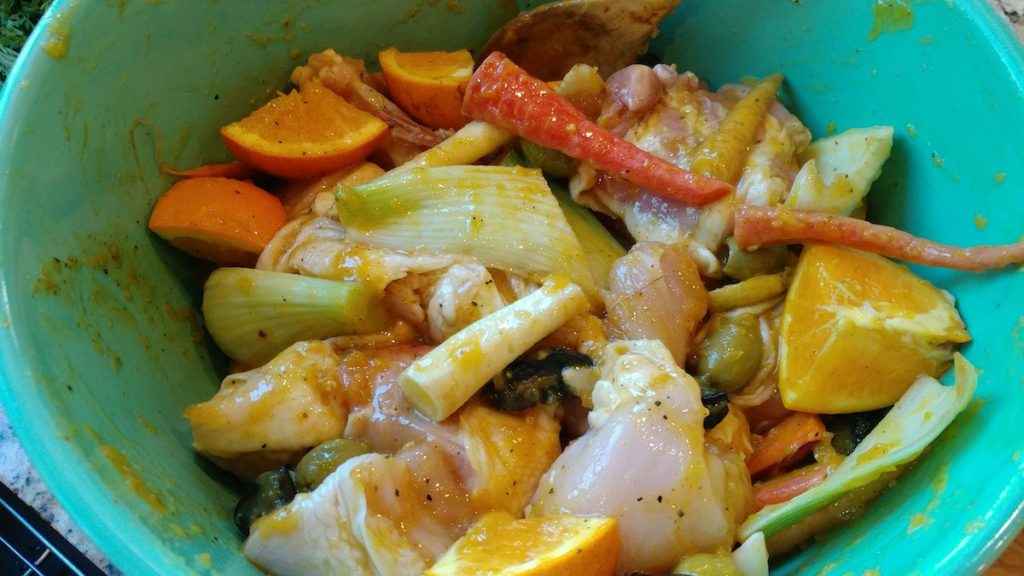 Preheat oven to 425 degrees.
Line two sheet pans with aluminum foil.  Spread chicken mixture evenly onto each pan.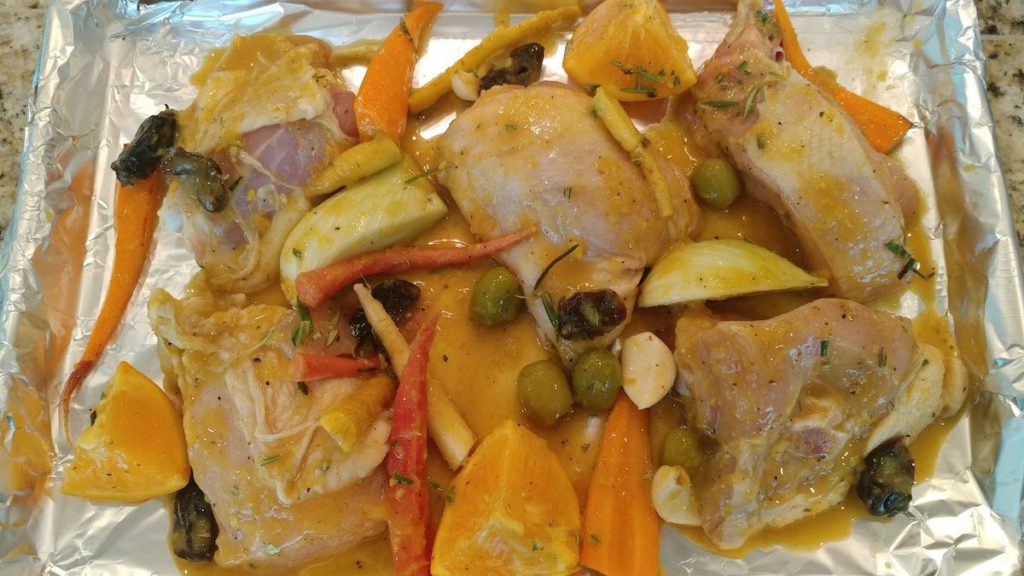 Cook for approximately 30 minutes, rotating pans to different racks halfway through. Remove pans from oven. Using a pastry brush to glaze the chicken pieces with the remaining Stonewall Kitchen Garlic Rosemary Citrus Sauce.  Place pans back in oven for an additional 3 minutes. Remove from oven and serve.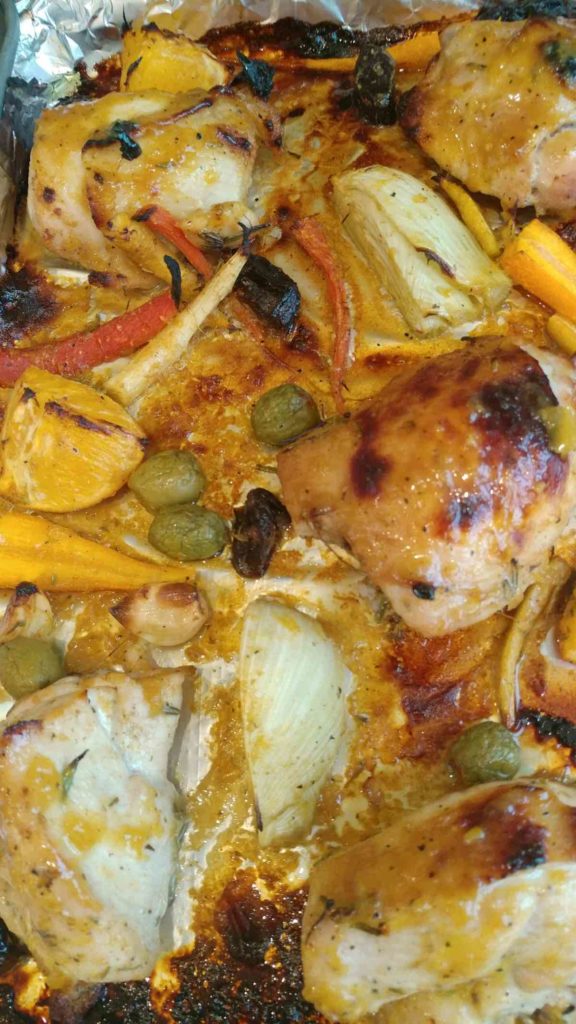 THIS POST MAY CONTAIN REFERRAL LINKS. IF YOU CLICK THROUGH AND TAKE ACTION, I MAY BE COMPENSATED, AT NO ADDITIONAL COST TO YOU.