This post may contain affiliate links. Full disclosure policy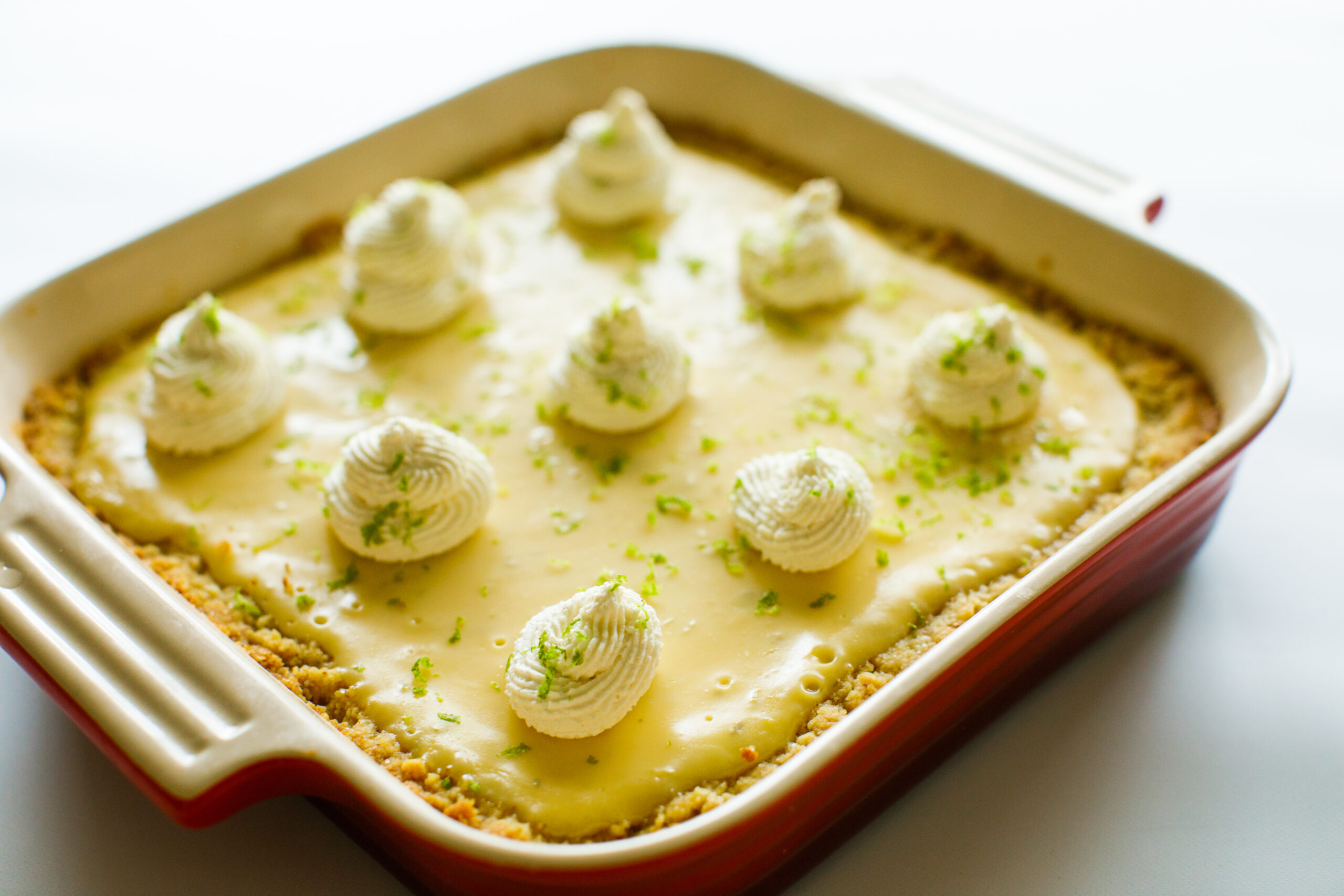 Searching for a truly memorable dessert? Look no further than my Key Lime Pie Bars with Cornmeal Crust. Inspired by the scenes and settings of my latest novel, it's the perfect finish for a special family meal or company dinner party. It's also perfect to serve when your book club gathers to discuss The Restoration of Celia Fairchild.
Celia, Friends, and Key Lime Pie Bars
For the last few weeks, I've been sharing a series of recipes inspired by the events, characters, and setting of my new novel, The Restoration of Celia Fairchild.
Good food has often played a cameo role in my books, and I've always enjoyed creating recipes inspired by my novels to share with readers. This time, I've come up with a quartet of delicious, southern-inspired recipes – appetizer, salad, main course, and dessert.
They're all pretty terrific, if I do say so myself. And if it's your turn to host the book club, think what fun it would be to serve an entire Celia-themed meal! But if you're only going to try one of my Celia Fairchild recipes, make it Key Lime Pie Bars with Cornmeal Crust.
The rich, decadent filling is pucker-up tart and just sweet enough with a buttery crust of cornmeal and ground.
And oh-so southern.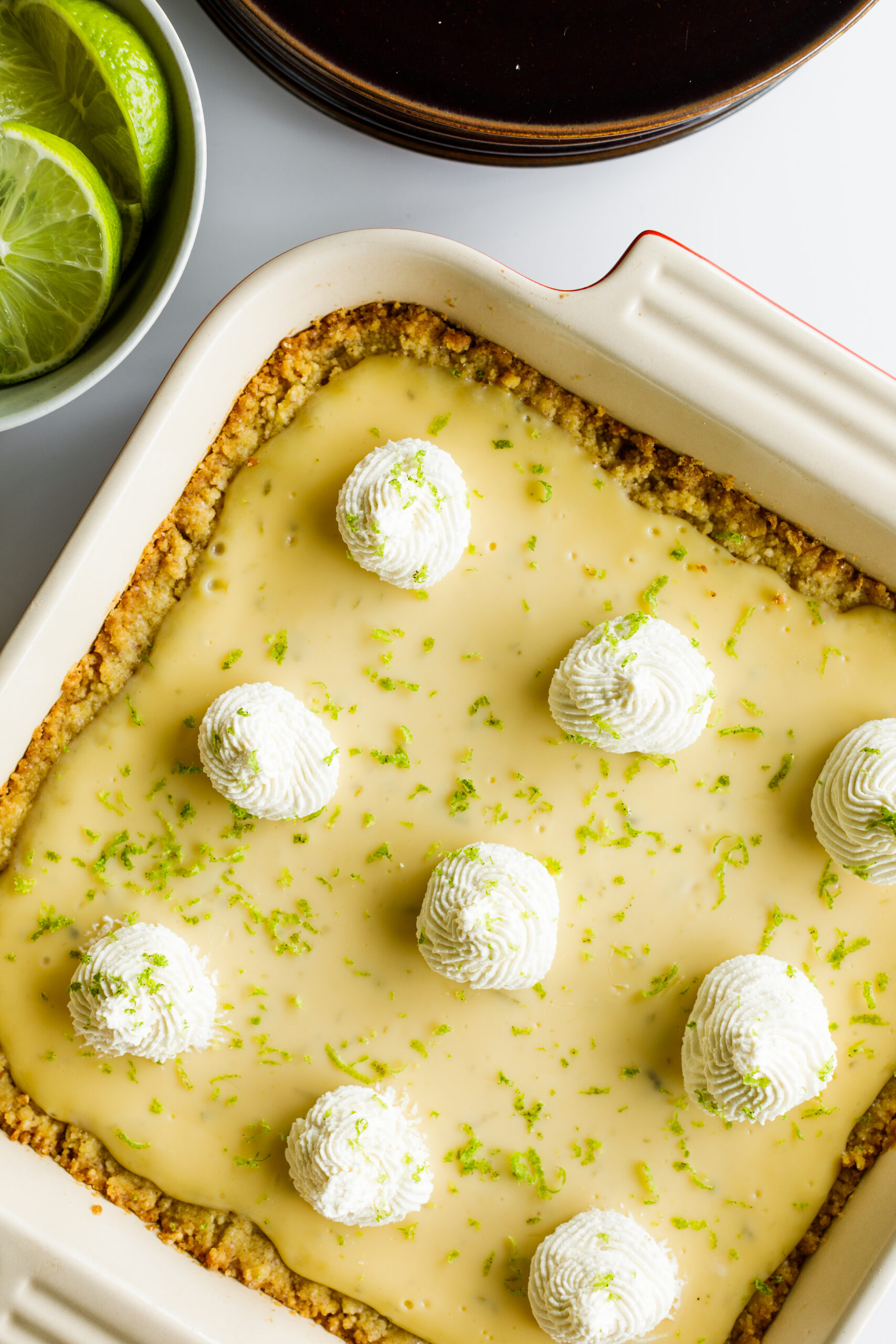 As Southern As Southern Can Be
Southern cuisine is known for some really incredible desserts – hummingbird cake, banana pudding, red velvet cake, and pie – really all kinds pie – but pecan in particular.
However, Key Lime Pie may well be the most southern of all desserts. Why? Because from a geographical standpoint, key lime is about as southern as an ingredient gets.
But what is a key lime anyway? So glad you asked.
Key limes are so named because they were originally grown in the Florida Keys. They are significantly smaller than the standard limes you find in most supermarkets. They're also less tart and acidic but much more aromatic, with a somewhat more floral flavor.
That makes the juice absolutely perfect to use in desserts where you want a nice balance between tart and sweet – including my Key Lime Pie Bars with Cornmeal Crust.
Key Lime Juice When You Aren't in the Florida Keys
I'm always a fan of fresh-squeezed citrus. But unless you live in the South, your grocery store may not carry fresh key limes.
Not to worry, bottled key lime juice will work just fine. You should be able to find it in just about any supermarket. And isn't it nice that you don't have to live in the South to enjoy this quintessentially southern treat? I think so too.
One tip; even if you use bottled key lime juice you should pick up at least one fresh regular lime when you do your shopping. Adding two teaspoons of fresh lime zest really makes the rich, decadent, and totally worth the calories filling sing!
And sprinkling a little more lime zest on the top makes these Key Lime Pie Bars look beautiful!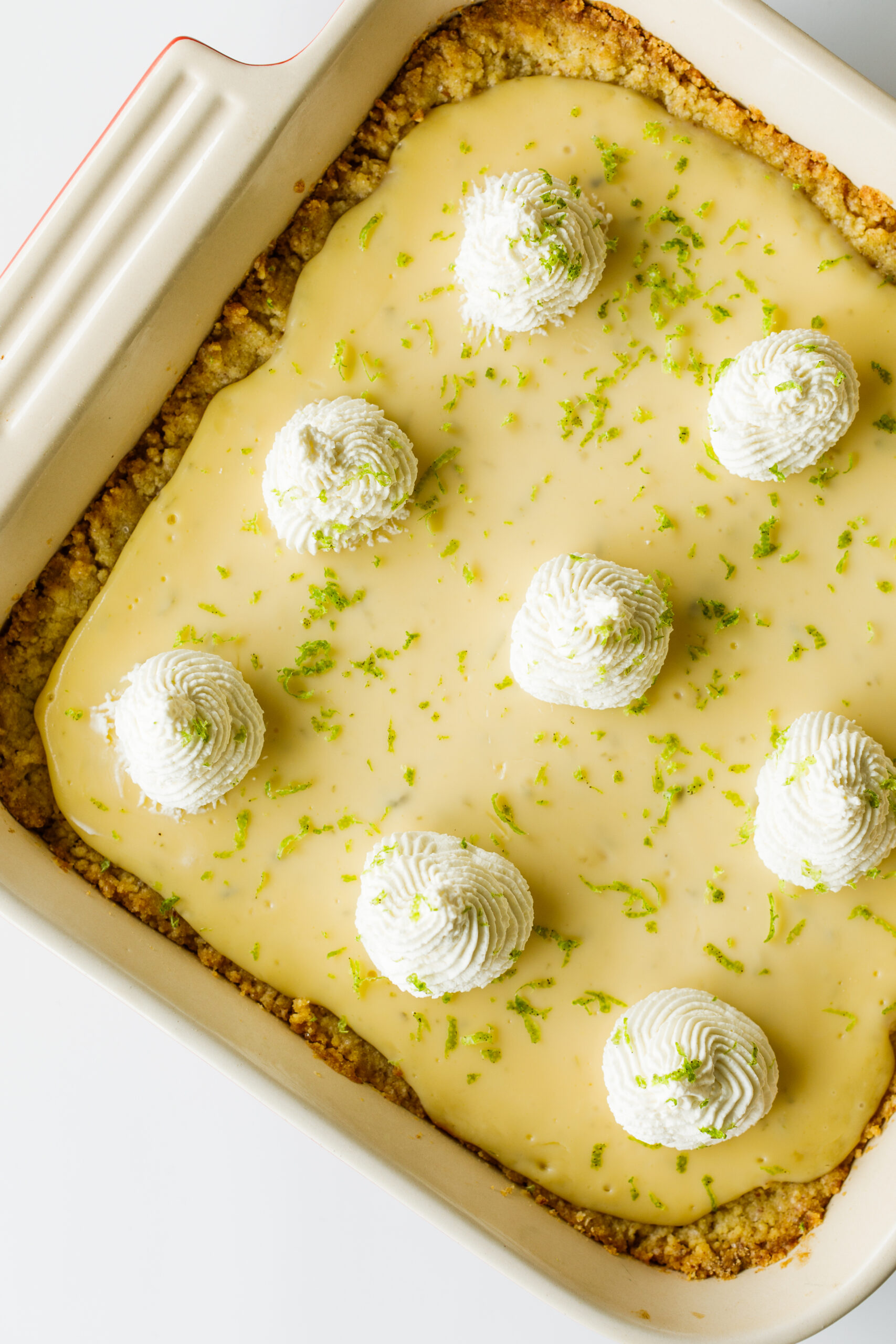 A Fabulous Crust that's Fabulously Easy to Make
Key Lime Pie is often served in a graham cracker crust.
I decided to kick the southern flavors up a couple of notches by creating a fabulously buttery, crispy crust with a couple of unusual ingredients – cornmeal and pecans.
Cornmeal gives the crust a bit of extra crunch and texture. The pecans – which should be toasted to bring out the nutty flavor, then ground in the food processor – bring a rich, savory flavor to an already terrific crust.
Making the crust is really easy, the whole thing comes together quickly in the food processor. But make sure the butter is well chilled before you add it. Also, be sure to let the crumbly, sandy-textured dough cool in the refrigerator for at least 20 to 30 minutes before pressing it into the pan prior to baking.
You'll bake the crust first, then pour the filling and return the pan to the over. Resist the temptation to overbake – the center of the filling should be just set. After baking and cooling to room temperature, place the pan in the refrigerator for at least 3 hours or overnight.
The Taste is Worth the Time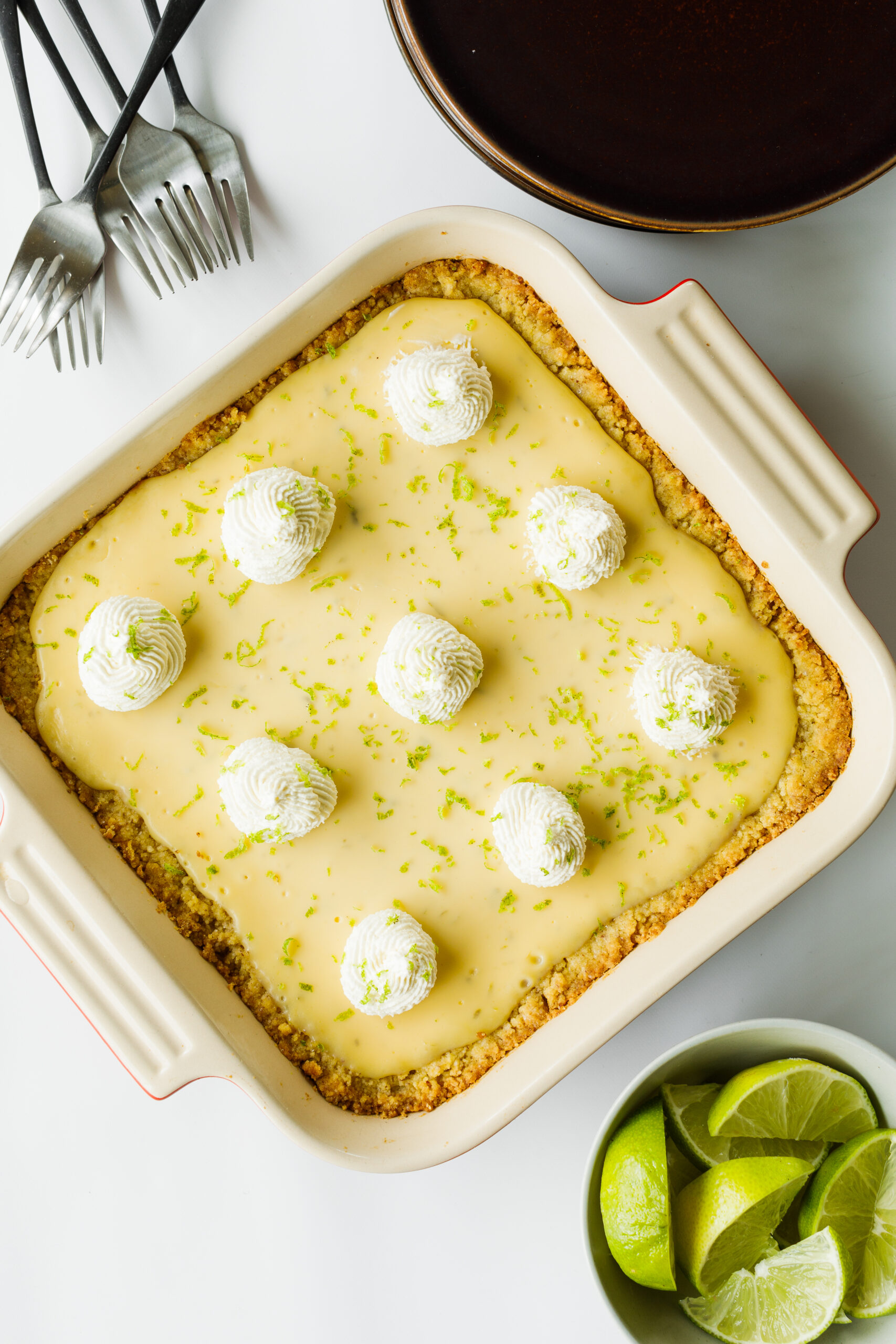 Don't let the list of ingredients and instructions intimidate you! Key Lime Pie Bars with Cornmeal Crust is really pretty easy to make!
However, because of the amount of post-baking chilling that's required, you should plan ahead before making this dessert. I'd really recommend making it the day before if possible. Just cover with plastic wrap and store overnight in the refrigerator, then decorate with whipped cream and lime zest right before serving.
Key Lime Pie Bars with Cornmeal Crust does require a little time and pre-planning. But the taste is totally worth the effort!
Give it a try next time you want a memorable and truly special dessert for a family celebration, dinner party, or book club meeting.
Print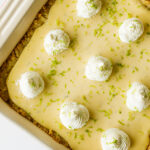 Key Lime Pie Bars with Cornmeal Crust
---
Cornmeal Crust: 
7 Tbsp

unsalted butter, cut into

1

'' cubes, chilled

1/2

c fine cornmeal

1/3

c toasted, ground pecans

1/2

c flour

1 Tbsp

corn starch

3 Tbsp

white sugar

1/2 tsp

kosher salt
Key Lime Filling
1

(14 oz) can sweetened condensed milk

1/3

c crème fraîche or sour cream

4

egg yolks

2 tsp

lime zest, plus more for garnish

2/3

c key lime juice

1/2 tsp

vanilla

1/2

c whipped cream for serving
---
Instructions
Preheat the oven to 350 degrees. Grease an 8×8 dish with butter or cooking spray. Set aside.
In a food processor, pulse together the cornmeal, ground pecans, flour, corn starch, sugar, and salt. Once combined, pulse in the chilled butter until the dough resembles wet sand—it will be fine in texture, but still crumbly and loose. Transfer the dough into a small bowl and refrigerate for 20-30 minutes, don't compact the dough.
When the dough is chilled, press it into the prepared pan so that it comes up to the sides of the pan about 1'' high and is about 1/2'' thick. Use your knuckles to press the dough flat. Bake for 18-23 minutes, or until lightly golden.
While the crust bakes, make the filling. In a medium bowl using a wooden spoon or a hand mixer, combine the crème fraîche, egg yolks, sweetened condensed milk, lime zest, vanilla, and key lime juice until smooth. Pour the filling into the crust then return to the oven for 15-20 minutes until the center is set—don't over bake.
Remove the bars from the oven and allow them to cool to room temperature in the pan. Once cooled, transfer to the refrigerator to chill for at least 3 hours before serving with whipped cream and lime zest.