This post may contain affiliate links. Full disclosure policy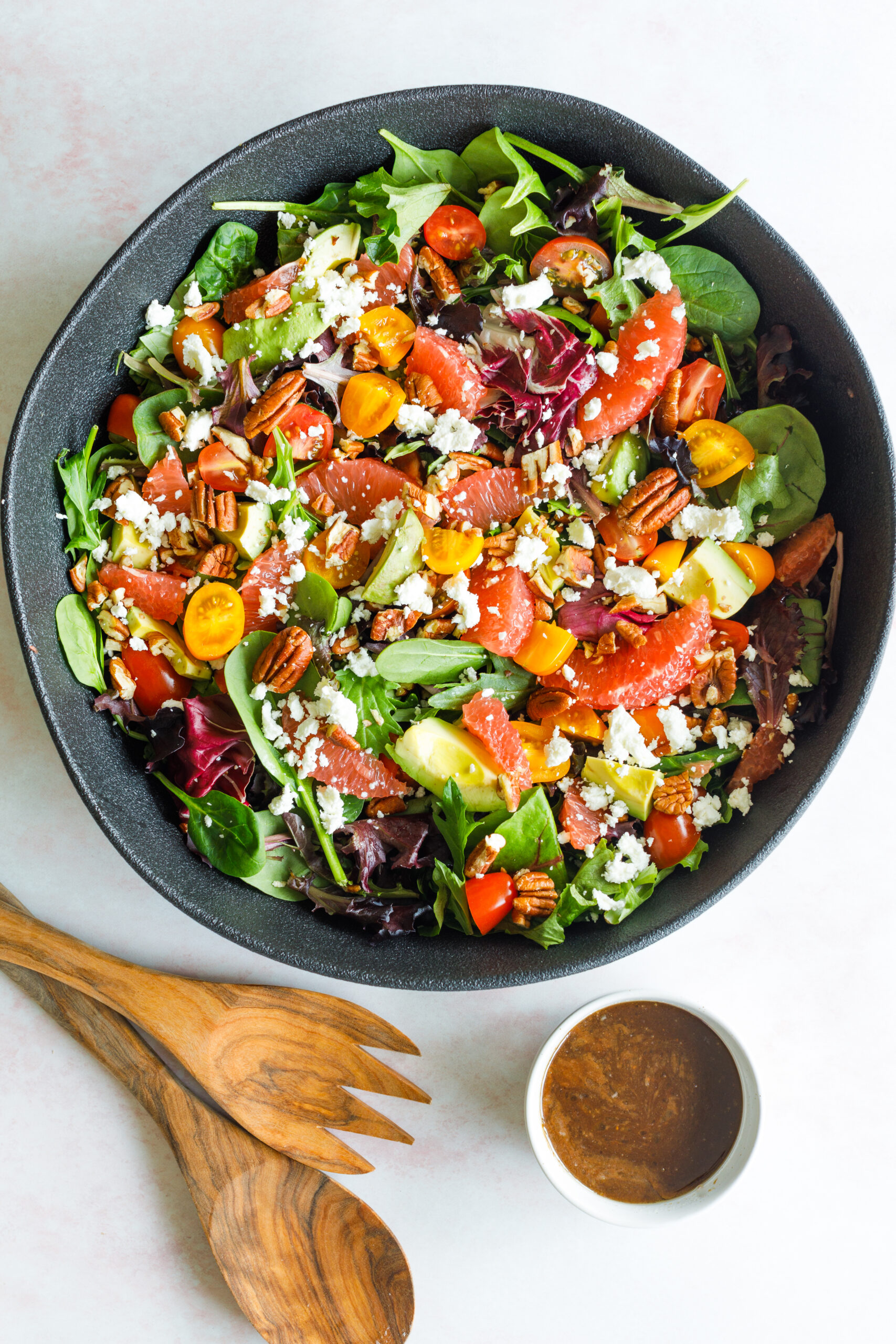 Juicy grapefruit, crunchy pecans, luscious avocados, and creamy goat cheese add up to a deliciously fresh salad that's almost too pretty to eat. This Grapefruit, Pecan, and Goat Cheese salad is a fabulous first course for a family dinner, girlfriends' lunch, or book club gathering.
Two Celia Inspired Salads
When girlfriends come together for a luncheon or dinner party, it's almost a given that salad will be on the menu.
That's what happens when Celia Fairchild and her new friends and neighbors have their first get-together in chapter 25 of my new novel, The Restoration of Celia Fairchild.
Since it's the first party Celia has held in her new home, tossing together any old salad simply won't do. Celia wants everything to look beautiful and taste fantastic! My Grapefruit, Pecan, and Goat Cheese salad is definitely all that – and it's simple to prepare.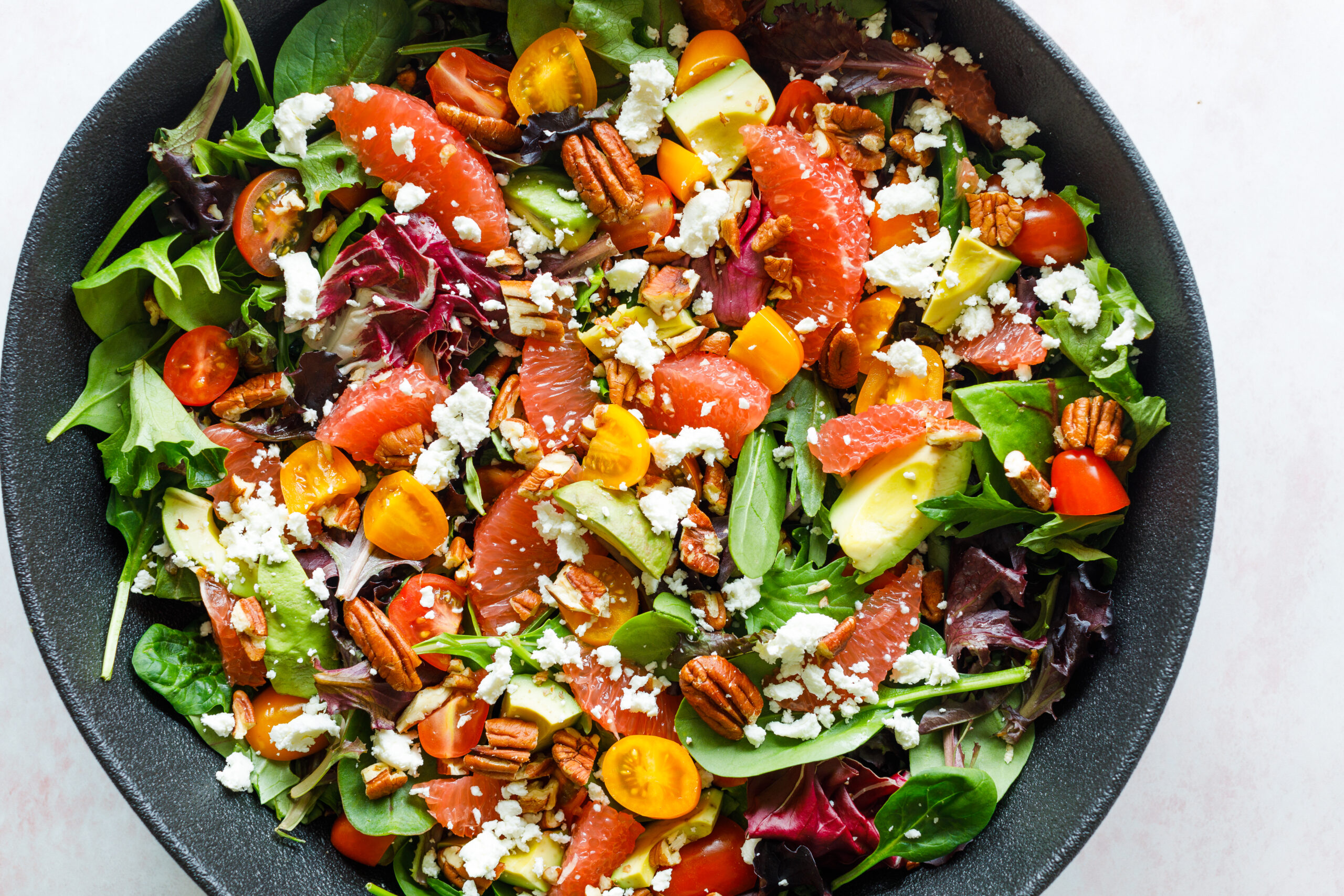 However, if you've read the book, you may realize that my Grapefruit Pecan Goat Cheese Salad is not the salad that Celia serves to her guests. When I was writing that scene, I had Celia serve a salad I've shared on my blog in the past.
If you're hosting a book club gathering to discuss The Restoration of Celia Fairchild and are determined to stay true to the storyline, you can certainly serve my Kale, Fennel, and Butternut Squash Salad with Orange Vinaigrette. It is delicious and absolutely beautiful!
But my Grapefruit, Pecan, and Goat Cheese Salad is just as pretty as well as tasty – and is much easier to make. Plus, the ingredients are easy to find year-round in all parts of the country. Since I know readers from all regions of the country would be making these Celia-inspired recipes, I figured using simple-to-find ingredients would make life easier for all y'all.
You're welcome.
A Slightly Southern Sensibility
Honestly, there are only two things I consider specifically Southern about this salad. First is the pecans.
When I lived in Georgia, pecans were used in all kinds of recipes, including salads. Most pecans are grown in the south, so they're a staple of Southern cuisine. And a scrumptious one!
What else helps my Grapefruit, Pecan, and Goat Cheese Salad tap into the Southern sensibility?
It's elegant, beautiful, and bountiful – and when Southerners entertain, those are qualities that matter.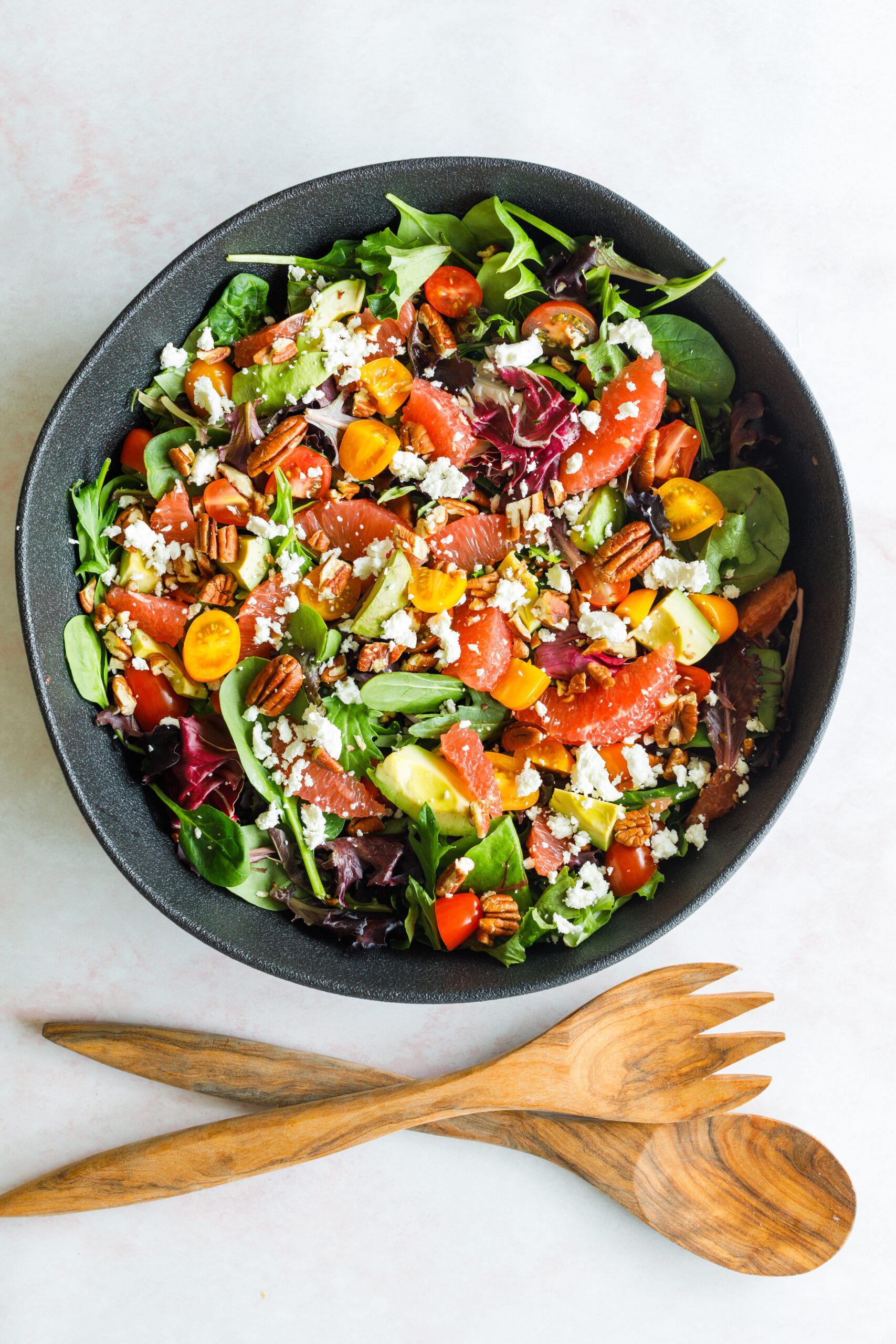 Make It Easy? Or Up Your Game?
This salad is so good and has so many wonderful flavors but it's also very easy to make. You simply wash the greens, cut or slice the other ingredients, and toss it with the dressing.
The only thing that requires a little time is prepping the grapefruit supremes. But don't let that intimidate you! Sectioning and making the supremes is really easy! If you've never done it before, watch this one-minute tutorial on YouTube.
If you're in a hurry, you can just toss the pecans into the salad as is. They'll add a lovely crunch and a subtle, savory flavor that balances out the brighter, tarter flavors of the grapefruit. But if you've got a little extra time, toast the pecans in a single layer on a baking sheet for about 10 minutes at 350 degrees. Toasting the pecans really adds to their rich, nutty flavor.
If You Have More Time…
And if you've got a little more time and love a sweet and tart flavor profile, you might want to try making candied pecans for your salad. Here's an easy recipe that I like from the Cookies & Cups blog.
You can absolutely use any good bottle of balsamic dressing for my Grapefruit, Pecan, and Goat Cheese Salad. It will taste terrific. But if you'd like to up your game a little bit, making your own balsamic dressing is worth the effort. This Lemon Balsamic Dressing from the Reluctant Entertainer has a herbs and bright citrus note that would work well with my salad.
Whether you stick the basic recipe for up your game with toasted pecans and homemade dressing, my Grapefruit, Pecan, and Goat Cheese Salad is a beautiful first course that your guests will enjoy!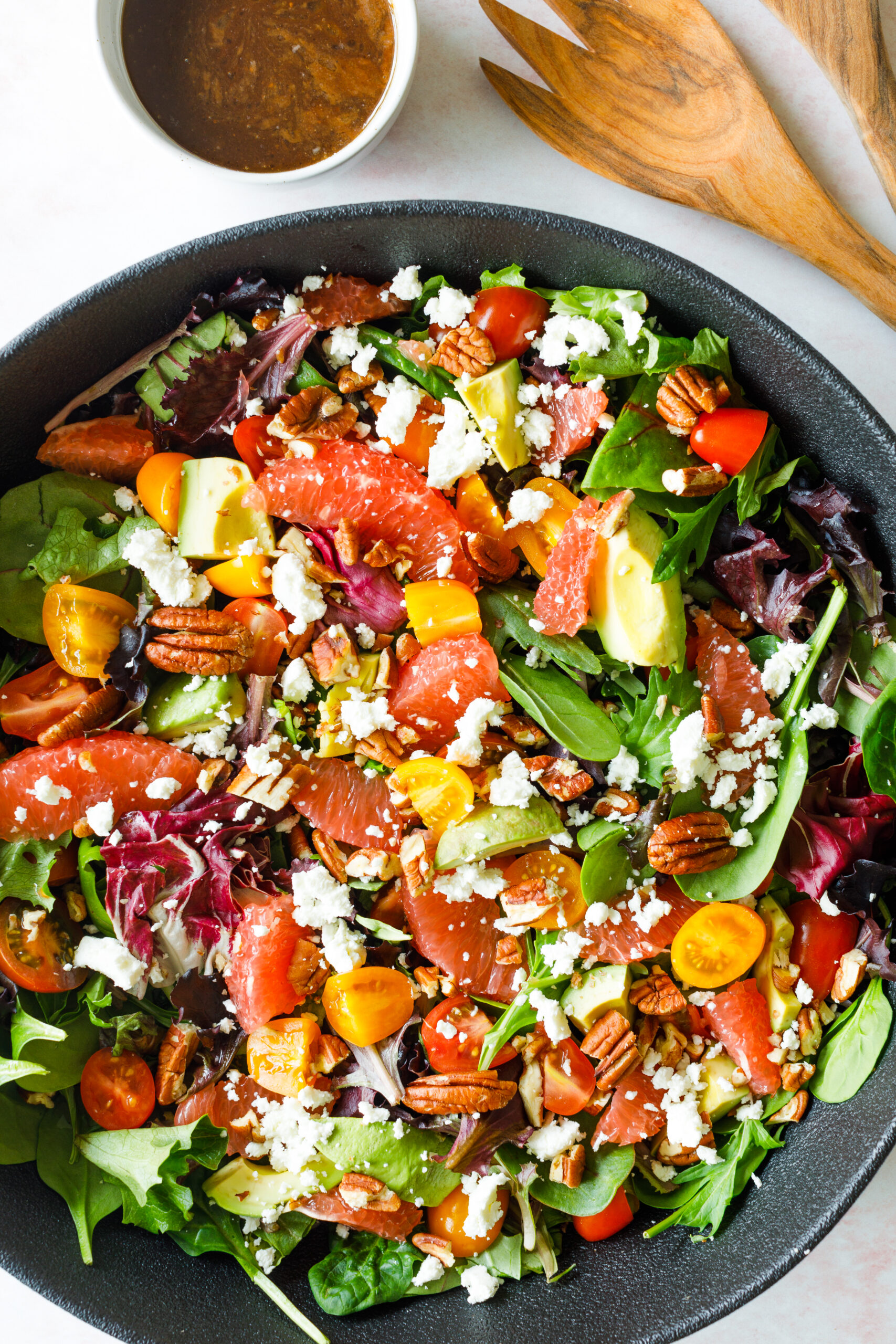 Look for my other "Celia Fairchild" recipes on the blog this month, and make an entire Celia-inspired meal to serve when your book club meets to discuss The Restoration of Celia Fairchild!
Other Celia-inspired Recipes:
Print
Grapefruit Pecan Goat Cheese Salad : "Celia Fairchild" Recipe #2
---
Author:

Yield:

6

-

8

servings

1

x
5

–

6

c mixed baby greens

3/4

c cherry tomatoes, halved

2

small avocados, cubed

1

grapefruit, cut into supremes

1/3

c toasted pecans, roughly chopped

2 oz

goat cheese, chilled and crumbled

1/3

c balsamic dressing
---
Instructions
To cut the grapefruit into supremes, cut the top and bottom of the grapefruit just so the rind and the white pith are removed and the pink is exposed. Stand the fruit upright, then cut down the sides in sections, following the curve of the fruit so that no rind or pith remain, be careful not to cut too deep. Once the peel and pith are removed, the membranes will be visible. Use a sharp paring knife to cut along the edges of the membrane and remove the center. Repeat until all supremes are removed. (There are tutorials for this on YouTube as well). 
In a large salad bowl, spread the mixed greens into a single layer. Top with the tomatoes, avocado, grapefruit supremes, toasted pecans, and goat cheese. Serve with balsamic dressing.