This post may contain affiliate links. Full disclosure policy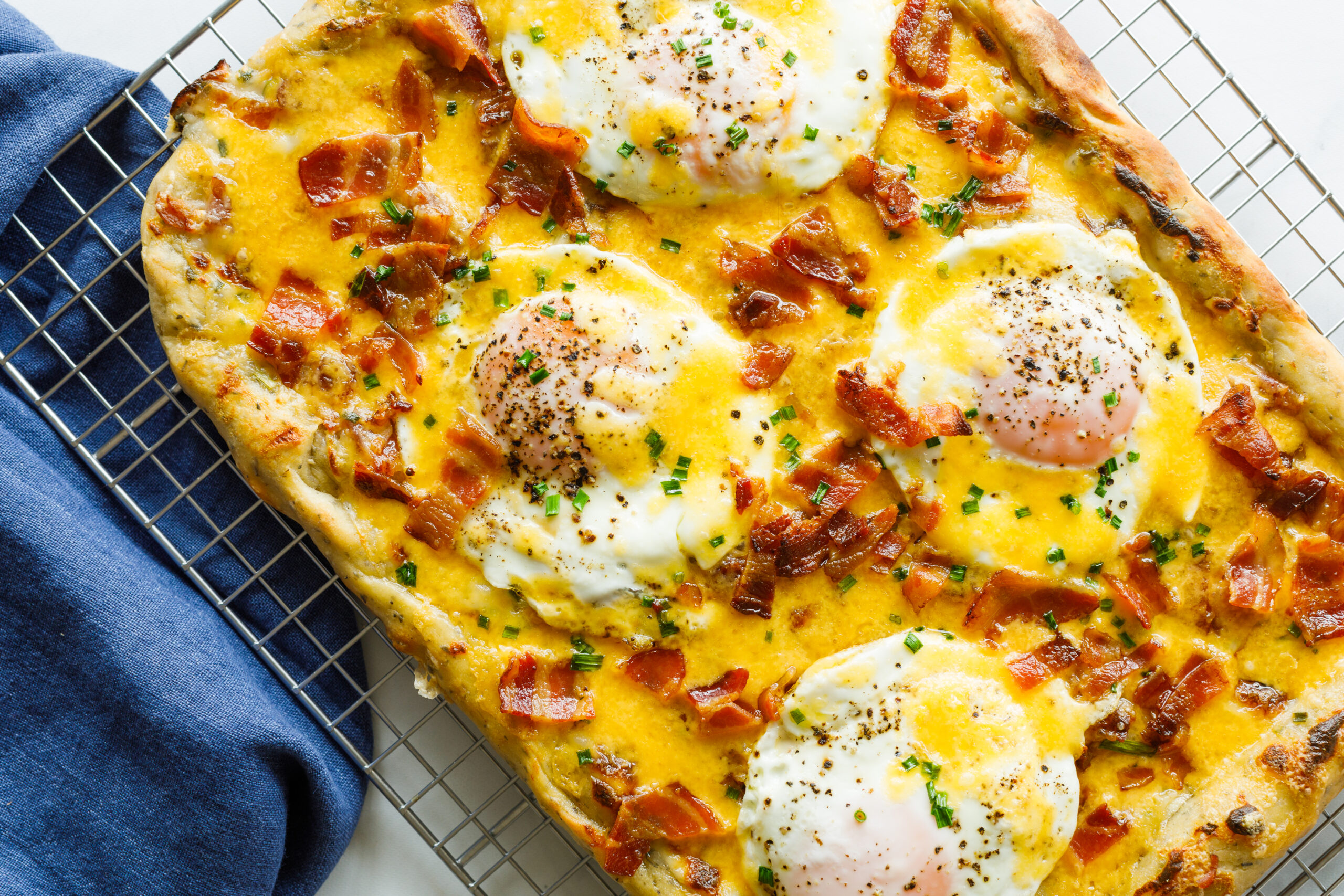 This Easy Bacon and Egg Pizza is a beautiful, mouth-watering main dish for your next family dinner, girlfriend's luncheon, or book club meeting! And since it's made with store-bought dough, it's easier than it looks!
How Celia's Duck Dinner Turned into a Pizza Night
My Easy Bacon and Egg Pizza is the third of my four "Celia Fairchild" recipes, a quartet of delicious dishes inspired by the setting, events, and characters of my newest novel, The Restoration of Celia Fairchild!
Many book clubs enjoy serving food that's linked to some aspect of the title they're reading, and I created these recipes with that in mind.
If you haven't already done so, be sure to look for my other Celia Fairchild recipes, including Parmesan and Sharp Cheddar Cheese Straws and Grapefruit, Pecan, and Goat Cheese Salad. They're perfect for book clubs who have decided to discuss Celia's story, but they're also perfect for a family or company dinner.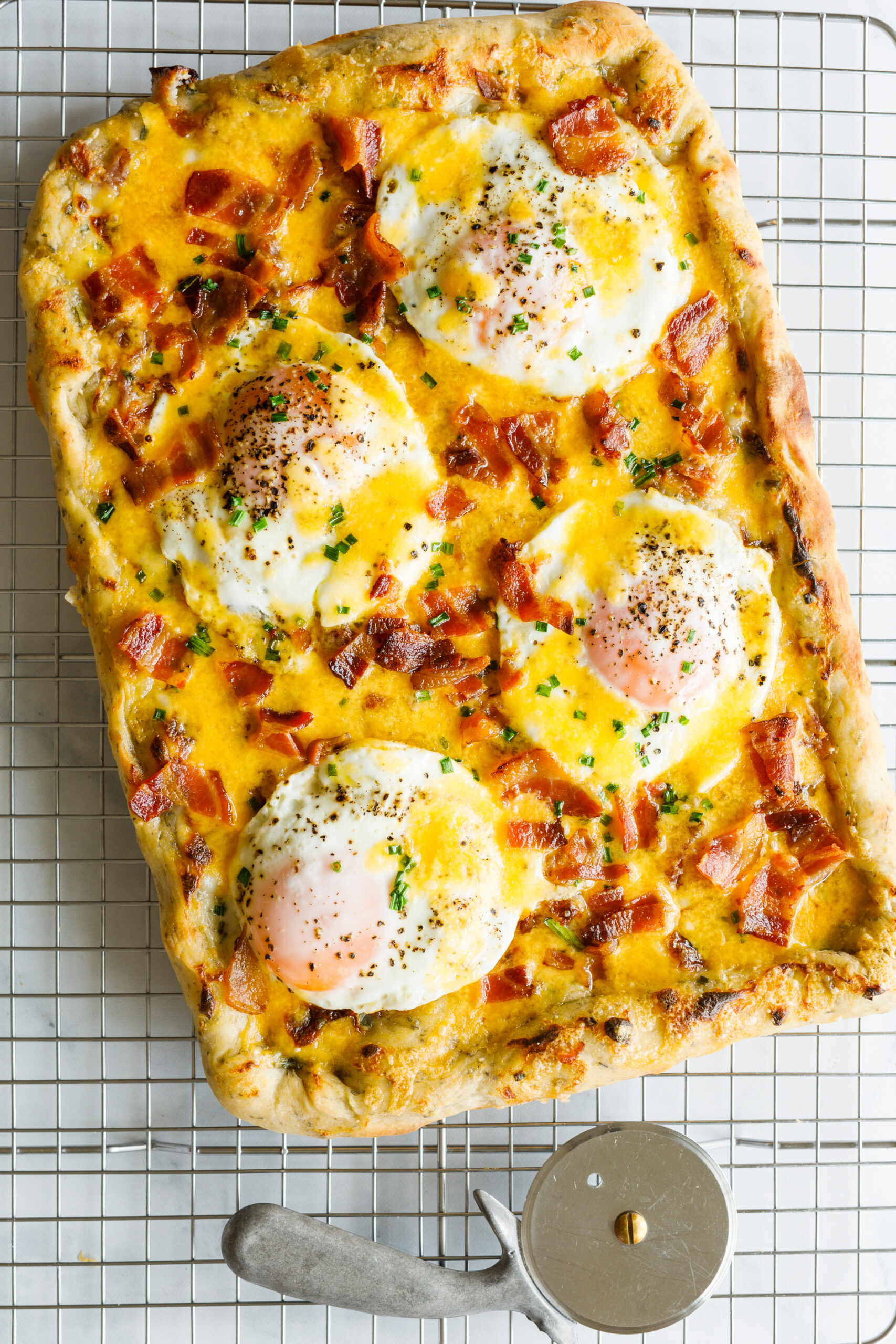 This Easy Bacon and Egg Pizza is one that I lifted almost entirely from a scene in the book. When giving her first dinner party for new friends in her new home, Celia decides she wants to keep things simple and prepare a salad, breadsticks, and roast chicken.
But her best friend from back in New York, cookbook editor Calvin LaGuardia, says chicken's not festive enough for a party and that she should make roast a duck instead, assuring her that it's not that much harder than making a chicken.
Calvin was wrong.
The duck is a disaster and Celia almost sets the kitchen on fire trying to make it. Fortunately for Celia, and her dinner guests, her young assistant, Pris, comes up with a plan to turn the breadstick dough into pizza crust, and raids Celia's refrigerator for possible toppings.
Thus, Easy Bacon and Egg Pizza was born!
(By the way, the "festive duck" storyline was inspired by an event in my own life, one my family has never let my mother live down! If you see me during one of my live or virtual Celia Fairchild tour stops, ask me to tell the story. It's a good one!)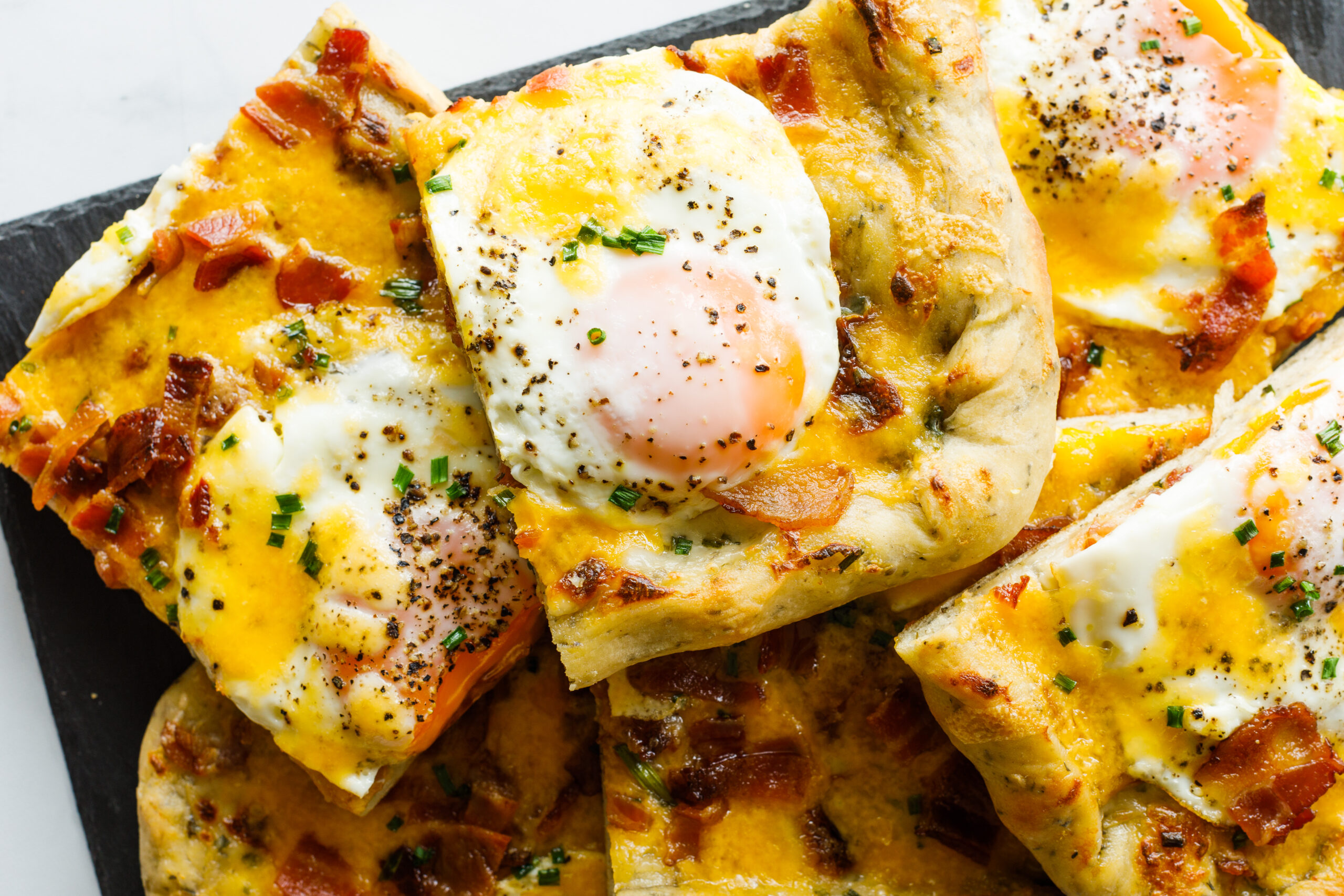 Not Just Festive and Beautiful, But Delicious to Eat and Easy to Make!
If you've never made pizza at home, you might find the prospect intimidating. But, believe me, my Easy Bacon and Egg Pizza is simpler to make than you think.
Why? Because the trickiest part of preparing a pizza is making the dough. Now, if you've got a good homemade pizza dough recipe and like making your own, go for it.
But store-bought dough can be just as good and it'll make your life easier, and I'm all about that! You can find unbaked pizza dough in just about any supermarket. I really like Trader Joe's brand.
Most pizzas use tomato sauce. But a creamy, cheesy white sauce tastes better with the bacon and egg topping, and looks just gorgeous! Especially after you sprinkle some pretty chopped chives over the top.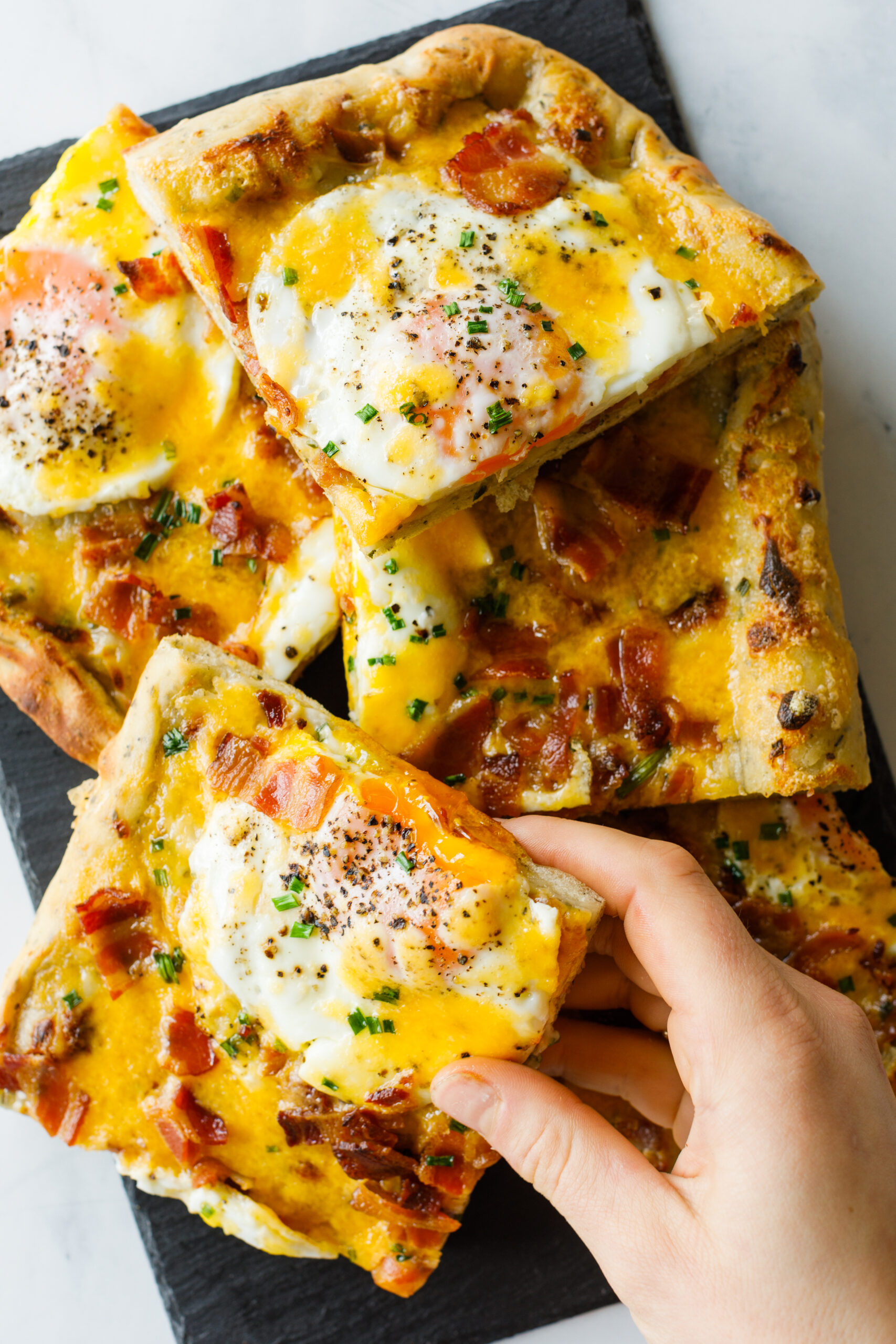 The white sauce is easy too. Just be sure to use medium heat, whisk the flour into the butter a little bit at a time and thoroughly, and add the warmed milk in a slow stream. If you do, you'll have a beautiful, creamy, cheesy, delicious-to-die-for sauce. So good!
The rest is really just baking the dough piling on the toppings. And what could be easier than that? When it comes to the eggs, you just cook them on the stove however you like them – fried, coddled, or even scrambled.
I like mine sunny side up, with the yolks slightly soft, so make that gorgeous white sauce even more decadent. Yum!
Try my Easy Bacon and Egg Pizza for a family supper, company dinner party, or book club gathering. It's a mouth-watering main course that everybody will love!
Print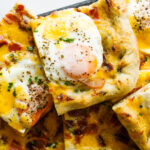 Easy Bacon and Egg Pizza with White Sauce: Celia Fairchild Recipe #3
---
Author:

Yield:

6

servings

1

x
Pizza and Toppings
1

lb pizza dough, plain or herb and garlic, store bought

8

strips cooked bacon, roughly chopped

4

eggs

1/2

c sharp cheddar

1 Tbsp

chives, finely chopped
White Sauce 
1 1/2 Tbsp

unsalted butter

1 1/2 Tbsp

flour

1/2

c whole milk, warmed
pinch of nutmeg

1/4 tsp

ground black pepper

1/2

c gruyere, shredded

1/4

c chives, finely chopped
---
Instructions
Preheat oven to 475 degrees.
Make béchamel sauce 
In a small skillet, melt the butter over medium heat, then whisk in the flour. Cook, stirring semi frequently, until the sauce begins to foam and is fragrant, 2-3 minutes. Stream in the warmed milk, stirring constantly, until the the sauce is smooth, 3 minutes. Remove from the heat, then add the nutmeg, black pepper, gruyere, and chives. Press a sheet of parchment onto the top of the sauce and set aside.
Using a rolling pin, roll the dough out to about a 15'' x 10'' rectangle. If you have trouble rolling the it out, allow the dough to rest for a few minutes, this allows the gluten to relax which makes shaping easier. Spread onto a lightly greased 15.5×10.5 (or similar sized) baking sheet. Stretch the dough into the corners as best as possible, but be gentle and avoid tearing. If desired, fold over the edges 1/2'' to create a small crust.
Spread the béchamel onto the pizza dough in a single layer. If the sauce is too thick, stir in a generous splash of warmed milk to loosen. Reserve 2 Tbsp bacon to garnish, then sprinkle on the remaining pieces in a single layer over the sauce. Bake 10-12 minutes until the crust is barely golden.
While the pizza bakes, fry or coddle your eggs sunny side up—cook to your liking, you can even scramble them if desired.
Remove pizza from oven and add the eggs on top of the pizza. Sprinkle with the cheddar cheese and remaining 2 Tbsp of bacon, then broil under high for 2-3 minutes until cheese melts. Remove from the oven and serve warm.