This post may contain affiliate links. Full disclosure policy
This cute, modern knitted baby blanket, designed by Rohn Strong and inspired by my new novel, The Restoration of Celia Fairchild, would look great in any nursery. And thanks to the super bulky Lion Brand Yarn, the Celia Fairchild Knitted Baby Blanket knits up quickly and is wonderfully soft!
A New Book, A New Friend
One of the things I love about releasing a new book is the opportunity it gives me to meet new people and make new friends.
Today, I'm excited to introduce a friend I made recently, Rohn Strong.
Rohn is a renowned knitwear and crochet designer, author of several books, an in-demand instructor, JoAnne's Ambassador, and all-around good human being. And I got to know him because of my new book, The Restoration of Celia Fairchild.
If you've read my novels, you know that crafting and creativity often factor into the story. Frequently, the crafting involved is quilting, which is something I love and turns out to be a great way to bring a cast of characters together.
But here's the thing – I never met a fiber art I didn't love. Quilting is the thing I'm most skilled at, but I also love knitting, crocheting, and embroidery. (If my house was bigger and it wouldn't give my husband apoplexy, I'd have a floor loom too.).
That's why, in this book, I decided to branch out a little. Some of Celia's friends do quilt in this book. Others crochet. Still others enjoy embroidery. And Celia? She's a knitter. A beginner for sure. But she's hoping to adopt a baby and wants to knit her a blanket for her Maybe Baby.
As I have with so many quilting patterns in the past, I wanted to gift my readers with a knitted baby blanket that was inspired by Celia's story. To give them even more ways to enter Celia's world and connect with her story.
But, to do that, I needed to find myself a knitting designer.
Knitter, Crocheter, and Avid Reader
I started asking around, seeing if any of my friends knew someone who might be a good choice to design the Celia Fairchild Knitted Blanket. Rohn Strong's name came up, so I checked him out.
Rohn does a lot of work with Lion Brand Yarn and his professional biography sounded very impressive. Here's what it says:
"Rohn Strong is a crochet and knitwear designer who resides and works in Raleigh, North Carolina. He is the author of four books, including the bestselling, Step Into Crochet. A sought-after instructor, Rohn travels the country teaching workshops and is also the knitting instructor on the popular television show, Knit and Crochet Now. He is also a member of Love Across the USA, a community-based art project promoting positive women's voices and creating change through the art of crochet."
A Fellow Crafter
But the thing that got me really interested in the possibility of working with Rohn was something I read on the "About" section of his website. Here's what that said:
"I started my first business when I was just twelve. Mowing lawns to pay for crochet hooks and yarn. No kidding.
The summer of my eighth grade year I discovered this channel on television called HGTV. That was the first time I saw Carol Duvall. That was when I knew I wanted to be just like her. I was a 15-year-old boy who wanted to spend his life crafting.
I dropped out of college in 2007 and discovered knitting the next summer. Within a month I'd rented out a studio space to house all my yarn, looms, needles, and books. It was the first time I'd felt like me. It was when I knew I'd make a living doing this crafting thing."
Oh, yeah. I could tell already that Rohn was somebody I wanted to get to know.
But when I learned that he is an avid fiction reader, and loves all kinds of books, including women's fiction and romance – I knew it was meant to be!
A Little Let-Down, and A Big Wow!
Rohn and I have been communicating via email, telephone, and Instagram for a while now. Some of our exchanges centered around the design for the Celia Fairchild Knitted Baby Blanket, but a lot has also just been getting to know each other. (I really love his Instagram stories, especially the ones that include his sweet dog.) And the more I got to know about him, the more I liked him.
So I was thrilled when my publicist arranged for us to do a joint event at Quail Ridge Books in Raleigh, NC. In fact, on my schedule that I share with my PR team, I wrote, "Really looking forward to this one!" next to that event.
But, alas. It was not to be.
The Quail Ridge event pivoted to a virtual event, which was a little disappointing. But happily, we were able to get together for dinner after the virtual event. We talked, and talked, and talked. If we hadn't been eating outdoors and it hadn't been so cold, we probably would have closed down the restaurant. It was such fun!
But the biggest thrill of all was when Rohn gifted me with the Celia Fairchild Knitted Baby Blanket. I absolutely loved it! And so will you!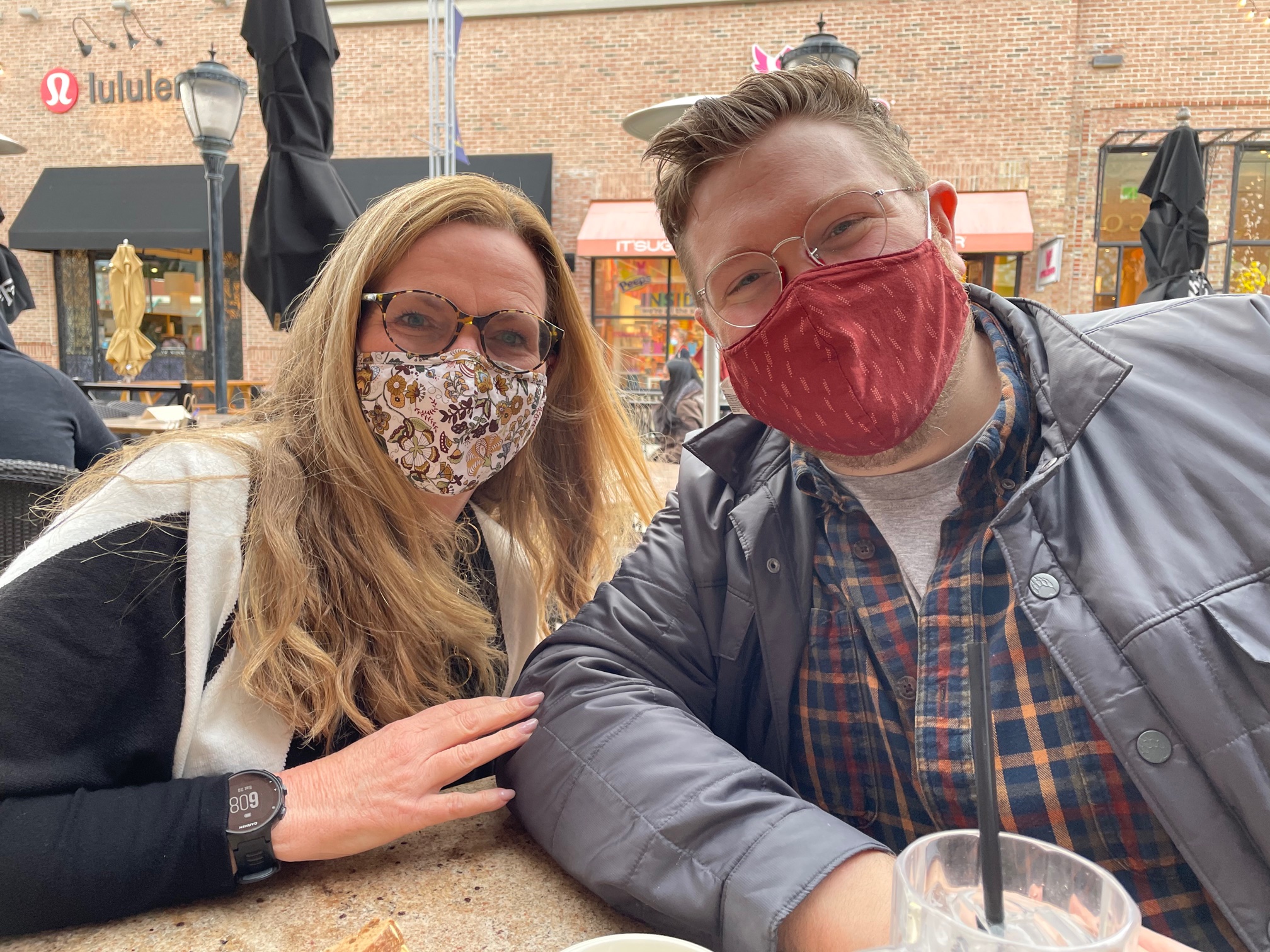 Inspiration Realized
In the story, Celia is knitting a beautiful, color-blocked baby blanket that has about nine different colors of very expensive yarn. It was fun to write about a blanket like that. But I wanted a baby blanket that would be more accessible to more of my readers who knit.
Rohn came up with an original design that, like the blanket in the story, was also color-blocked. However, the colors of the Celia Fairchild blanket were inspired by the blue and yellow palette of The Restoration of Celia Fairchild's cover.
Rohn used striping to add more interest and variety to the design. Also, the blanket is composed of knitted blocks, which are joined together – not unlike quilt blocks.
I loved that because it makes the blanket easy to take along if you're traveling or to stash in a handbag. You can knit a few rows whenever you're waiting for an appointment and have a little time to kill. And if you want to make an afghan or throw instead of a baby blanket, all you have to do is add blocks. Genius!
Something else that I just love about this design is that it uses super bulky-sized yarn, so it knits up really quickly. And who doesn't love starting a project that you actually KNOW you can finish? And since this Celia Fairchild Knitted Baby Blanket was created with Lion Brand Yarn, which is readily available in so many places at a reasonable price, this is a project that is affordable, accessible, and fun!
Materials and Pattern for the Celia Fairchild Knitted Baby Blanket
Of course, you can change the colors to make it your own, but if you would like to recreate the Celia Fairchild Knitted Baby Blanket in the same colors show in the photos, Lion Brand Yarn has created a kit you can purchase directly from them here.
To get the FREE download of Rohn Strong's fabulous pattern for the Celia Fairchild Knitted Baby Blanket, just follow this link.
Happy knitting! And reading!