This post may contain affiliate links. Full disclosure policy
(This post is part 2 of of a series, Walking The Cotswolds – part 1 can be found here)
Before I continue my earlier post about our walking holiday in the Cotswolds, I thought It would be a good idea to talk about equipment you'll need for a cross country walking tour.
Because the Cotswolds Walks company booked our rooms and arranged for luggage transfers from one hotel to the next, we did not have to carry heavy backpacks. This made our walks easier and much more fun. However, as we were walking an average of eight miles per day, we did need some equipment for safety and comfort.
What to Pack for a Cross Country Walking Tour
Obviously, good walking shoes are a must. Hiking boots would be great but I wore my running shoes. Anything with a good tread on the sole will work. Many walkers that we encountered while walking The Cotswolds used walking poles, which can be a good idea, especially if you have any concerns about balance.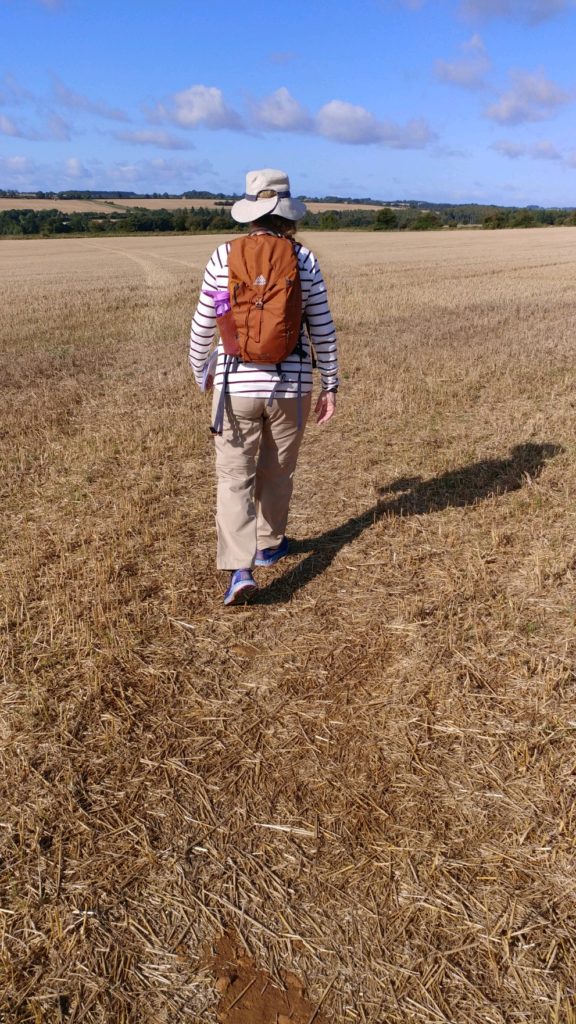 I carried a lightweight day pack with a few essentials – two water bottles (blue for him, pink for me), sunscreen, energy bars for between pub snacking, lightweight waterproof jackets in case of rain, and a travel-sized first aid kit. That turned out to be very handy when The Chairman cut his hand climbing over a stile. We also had a printed guide with detailed direction supplied by our tour company, and my phone with an app that included a detailed GPS map of our trail.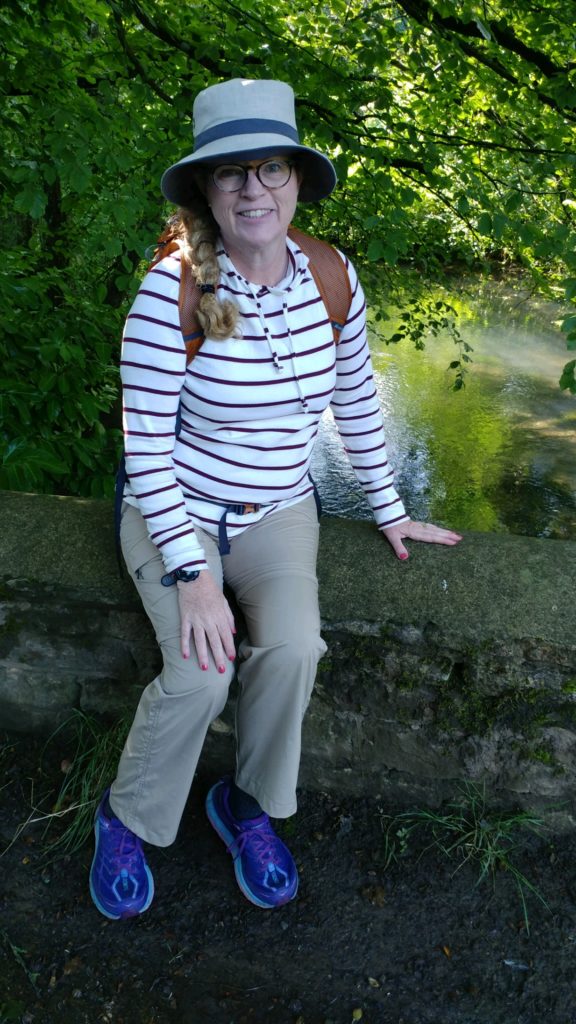 On our first day out, I purchased a fairly fabulous National Historic Trust trekking hat that I wore every single day. Not only did it help shield my face and eyes from the sun and rain, it was pretty darned adorable. (Having the right accessories, as we all know, makes walking miles and miles and miles easier.)
WALKING THE COTWSOLDS DAY FOUR – WINDRUSH WAY AND WARDEN'S WAY
By the fourth day, our bodies had become so accustomed to long walks that five miles felt like nothing more than a good stretch of the legs. So we weren't the least bit daunted by the idea of a ten mile loop to the village of Naughton. It was another beautiful day and after the usual enormous English breakfast at our hotel, The Slaughters Country Inn in Lower Slaughter, we set off.
The theme of the day was gardens. I'd always heard that the English were avid gardeners. Let me tell you, seeing is believing. It seemed that the garden of each fairytale cottage and farmhouse we passed was even lovelier than the last.
Another theme was getting lost. Somehow or other, we veered off course onto private land. When I looked at my map app in my phone, I could see that the trail we should have been on was perhaps a quarter mile to the east, so we bushwhacked through some forest and brush to get back on track. This was easier said than done. Emerging from the woods, we had to climb over a very high fence, only to find ourselves at the top of a steep hill. As we slalomed back and forth across the hill, I posited to The Chairman, "man, were we in one of my books this would be the moment when we were confronted by an angry bull!" The Chairman was not amused.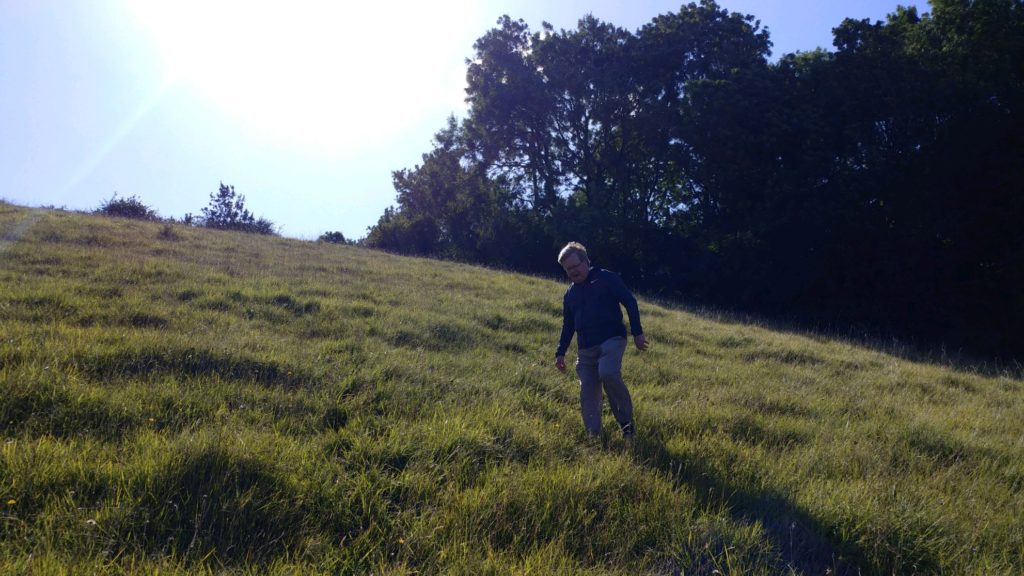 However, his mood lightened considerably when we got to the  charming village of Naughton and the Black Horse Pub. We had a delicious and simply enormous lunc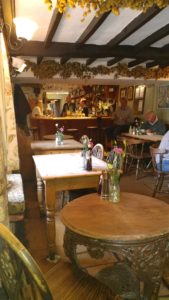 h. When I apologized for not being able to eat even half of my lasagna, the waitress said, "That's all right. We're used to feeding those farm boys." The Black Horse is the only pub in Naughton but their monopoly status doesn't stop them from serving great food and offering good service. I'd go back in a heartbeat.
The Chairman had an afternoon conference call so we called for a taxi to take him back to the hotel after lunch. I continued on my own, looping back to our hotel through still more beautiful scenery. When I returned, his conference call was ongoing so I decided to walk to nearby Bourton-on-the-Water.
Known as the Venice of the Cotswolds, Bourton-on-the-Water is one of England's most popular tourist destinations. It was late in the day and a weekday when I got there, so the crowds weren't too overwhelming. I did a little window shopping and had some locally made ice cream, but mostly I just enjoyed walking alongside the canals and taking in the scenery before heading back to the hotel. I'd walked 15 miles that day and so, as you can imagine, I slept very well that night.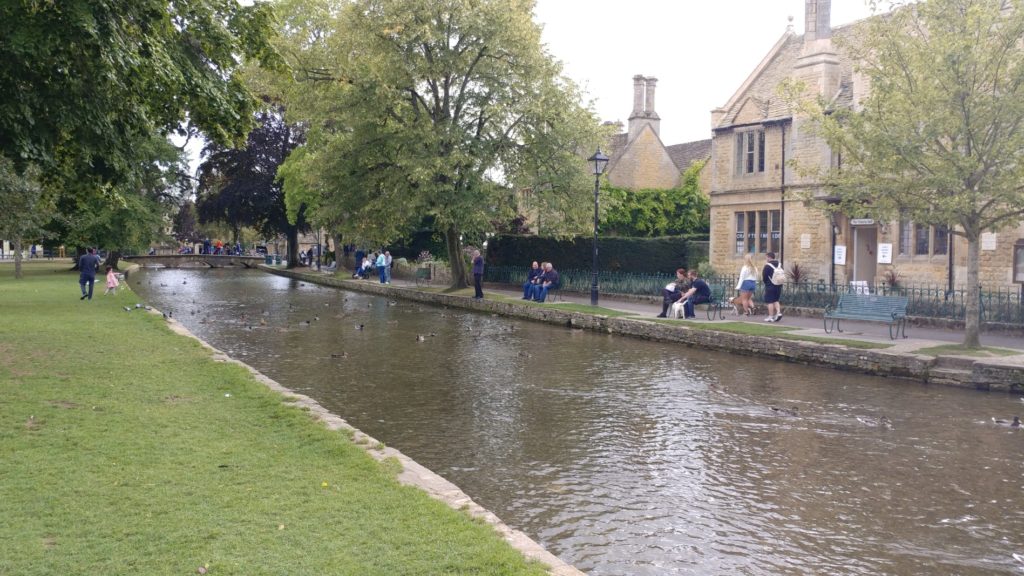 COTWSOLDS DAY FIVE
The next morning, we transferred by taxi to The Swan Hotel in Bibury, our final stop on the tour. Like all the hotels on our trip, the Swan was a five-star property. But they definitely took the prize for most luxurious bathroom!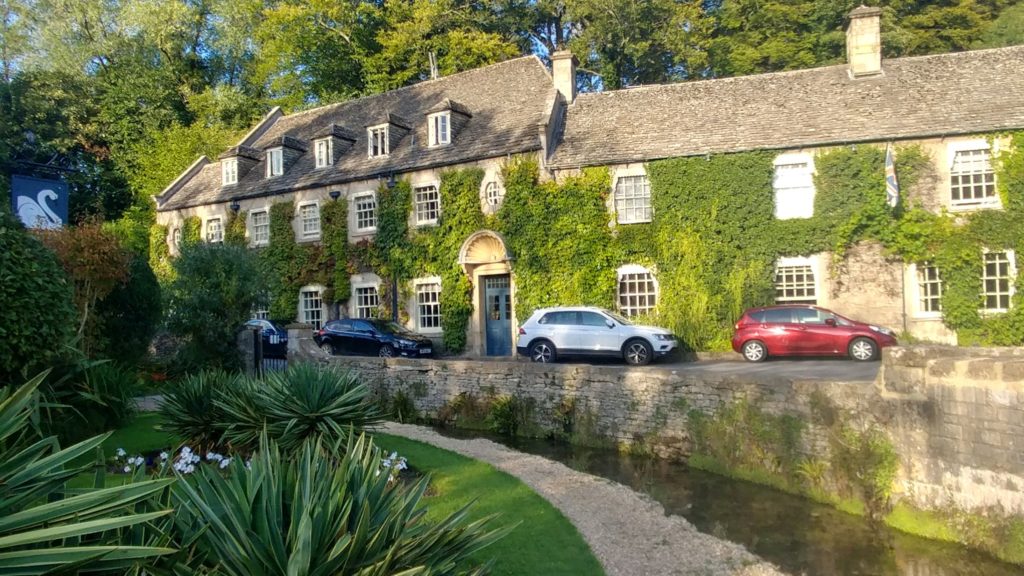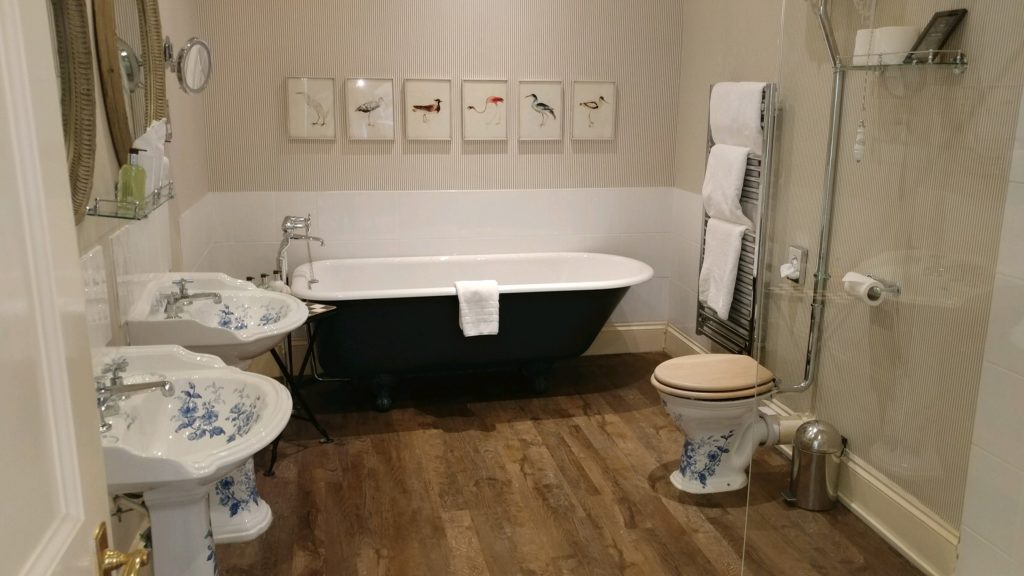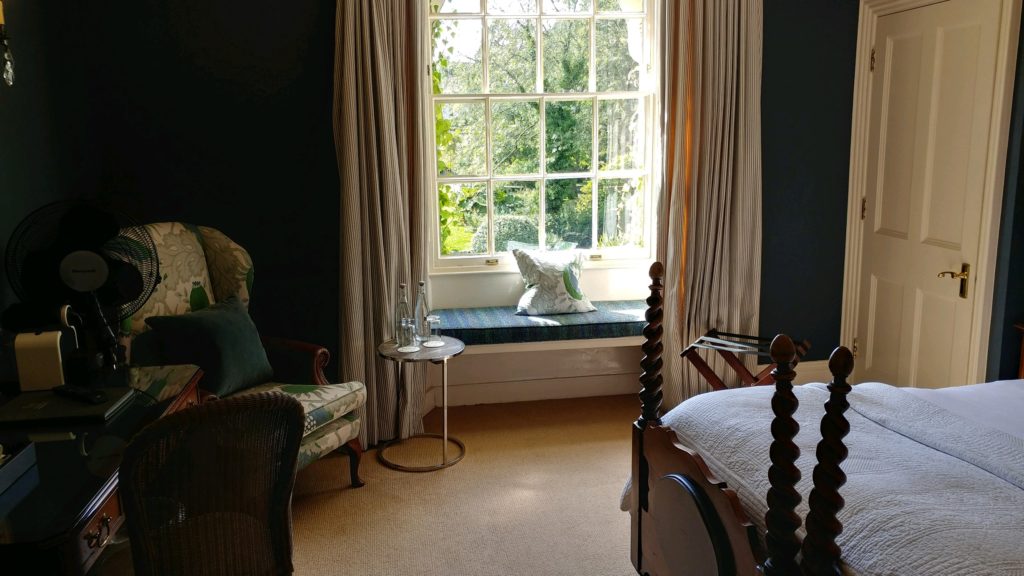 Bibury is another very popular Cotswolds tourist destination. William Morris described it as "the most beautiful village in England" and it's hard to argue with his assessment. In 1921, Emperor Hirohito (then the Crown Prince) visited Bibury and sang its praises. Consequently, it continues to be a favorite destination of Japanese visitors today. The many busloads of tourists coming in every day do somewhat mar the experience but Bibury is still a charming spot.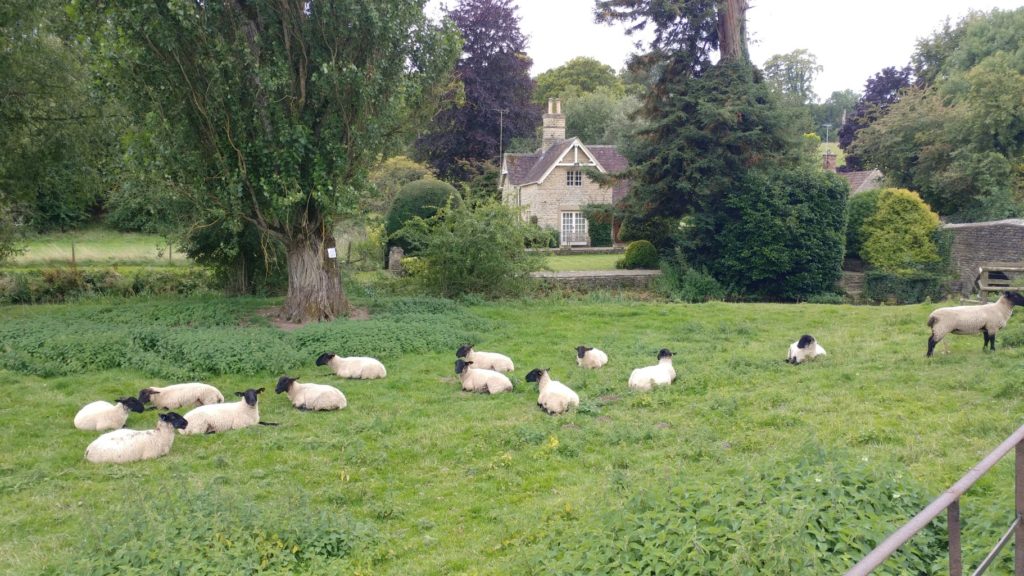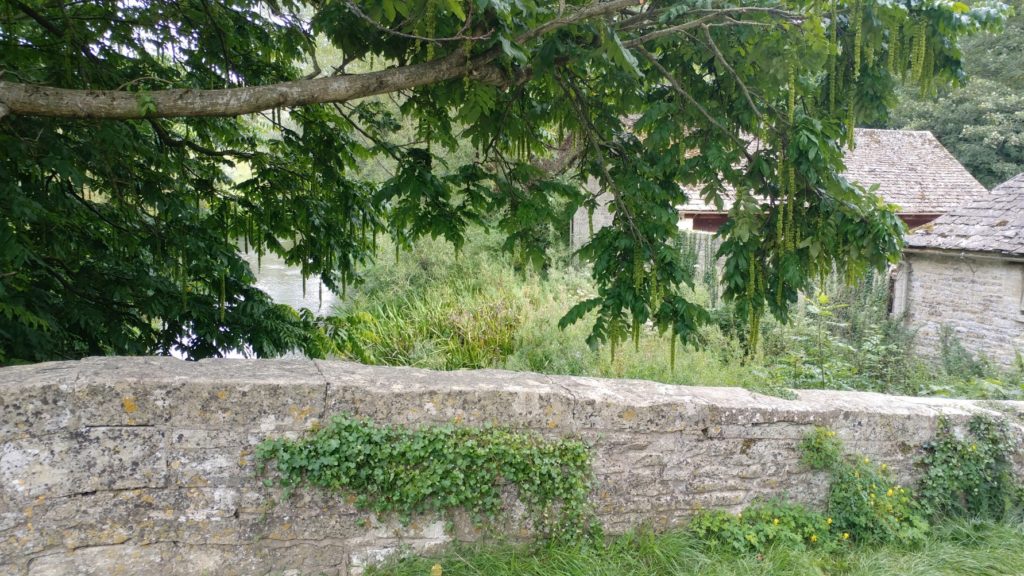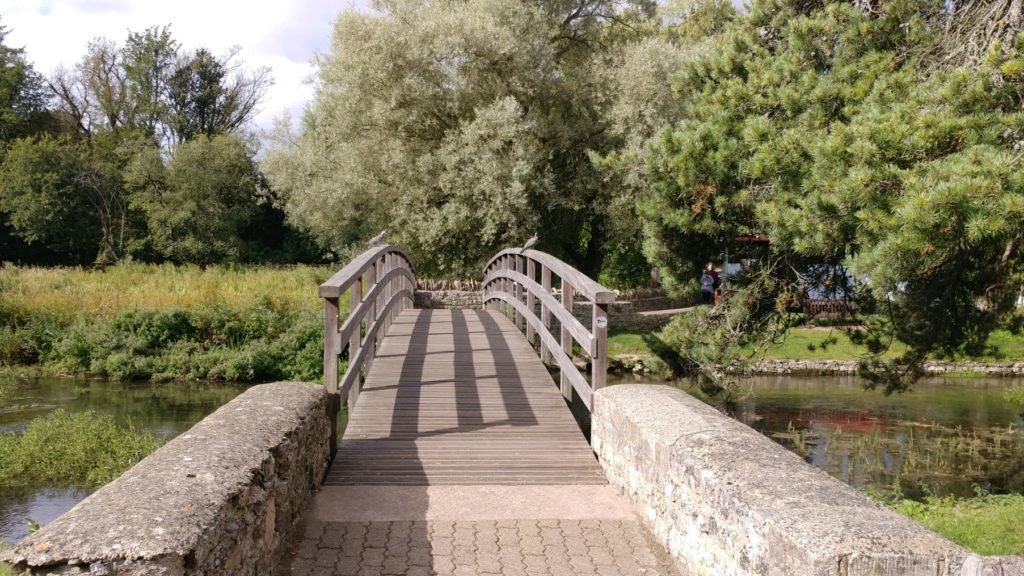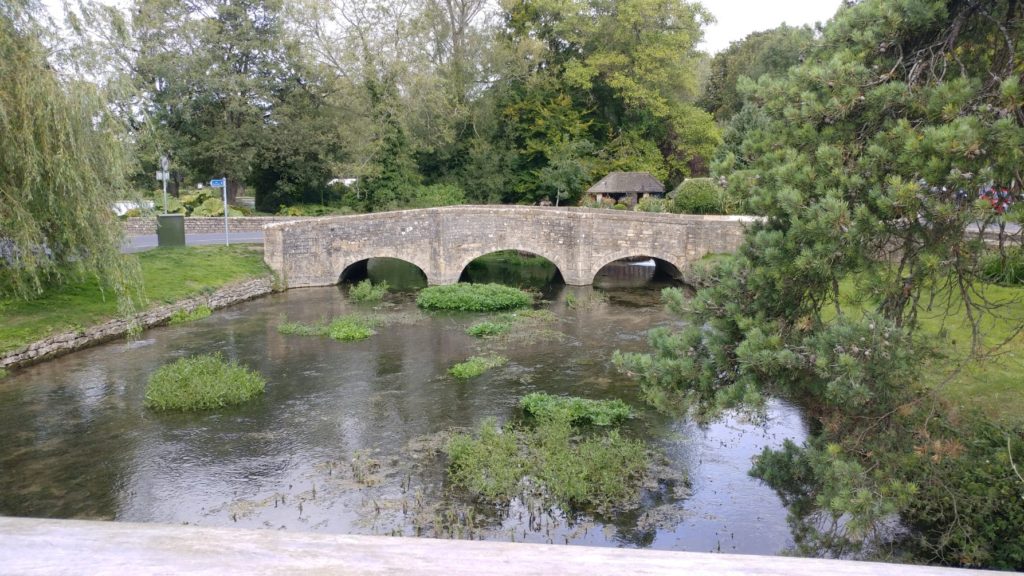 We took a relatively short, six-mile circular walk to Coln Saint Aldwyn. We passed Bibury's famous Arlington row, cottages that once housed the town's weavers, and walked through lots of lovely farmland along the way. After returning to Bibury, we visited the village's famous trout farm, located right next to our hotel.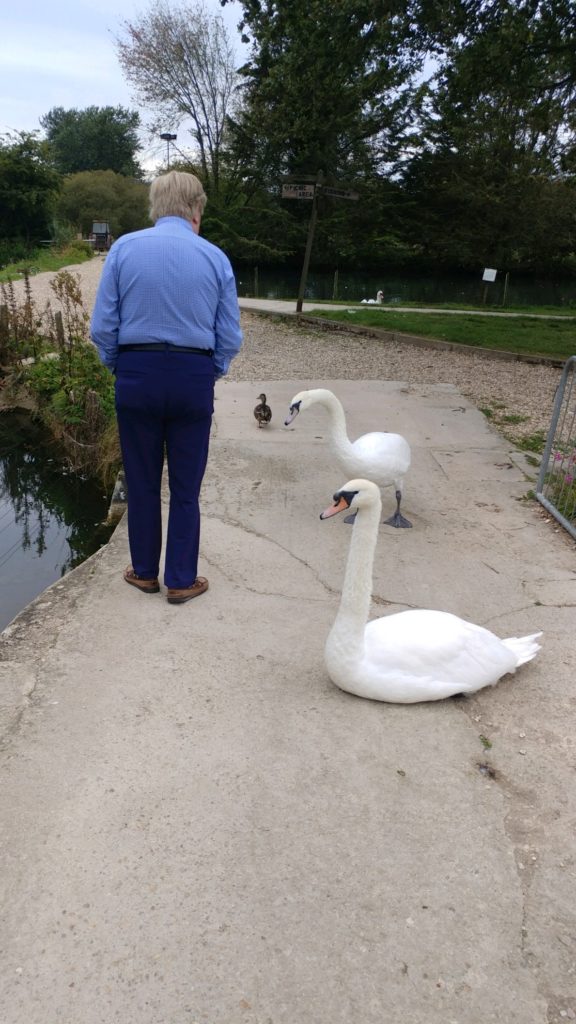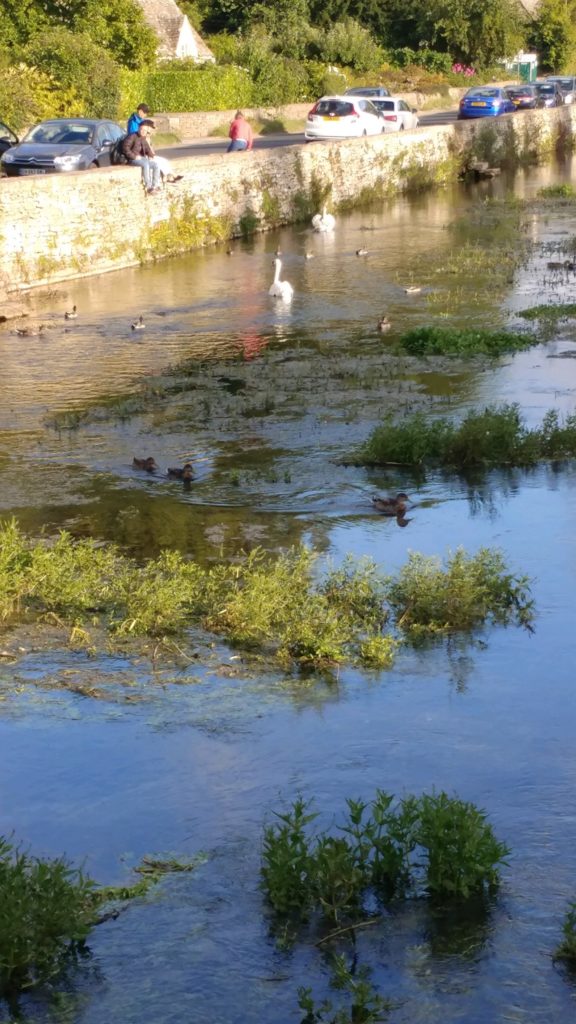 This was one of the Chairman's favorite parts of our trip because, as he said, "it was just so simple." I agreed. After paying a small entrance fee and purchasing fish food, we strolled along the many, many trout ponds, tossing food and laughing at the resulting feeding frenzy. We also ended up feeding quite a few ducks and some rather demanding swans. It was simple and peaceful and fun, and reminded me of childhood pleasures.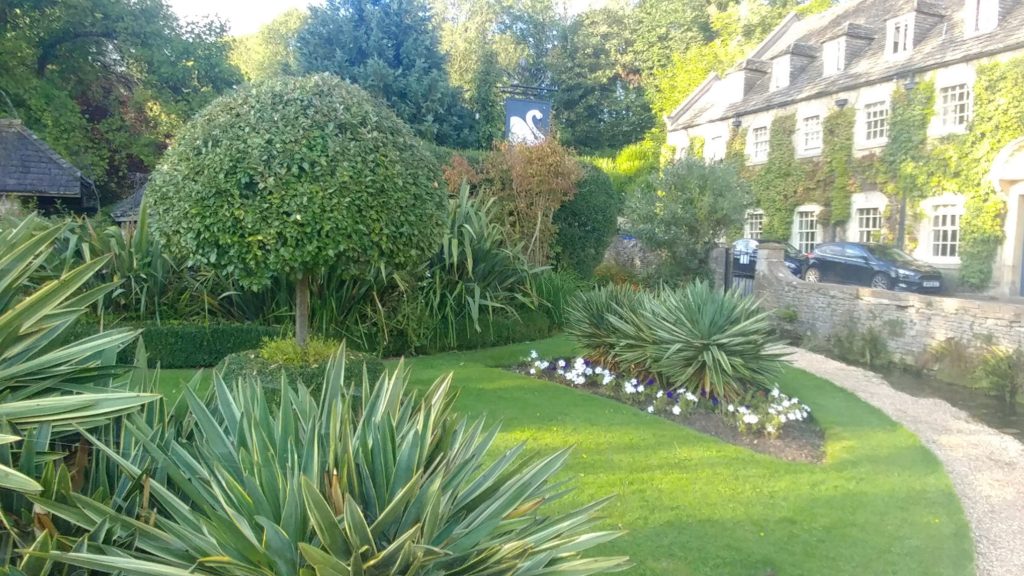 COTWSOLDS DAY SIX
On the final full day of our tour of walking The Cotswolds, we chose to forgo a walk and visit the market town of Cirencester, England's second biggest Roman city outside of London. We started with a visit to the Church of St. John the Baptist, which dates from early 1100. The day was chilly so we didn't mind being inside and enjoyed learning about the history of the church and seeing the beautiful architecture and artifacts, including a silver cup given to Dr. Richard Masters by Anne Boleyn.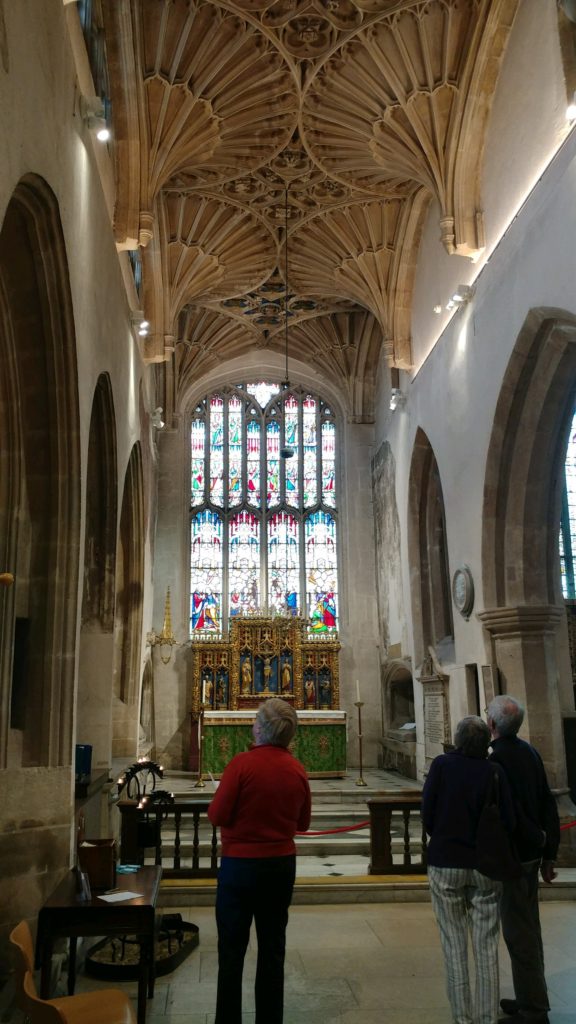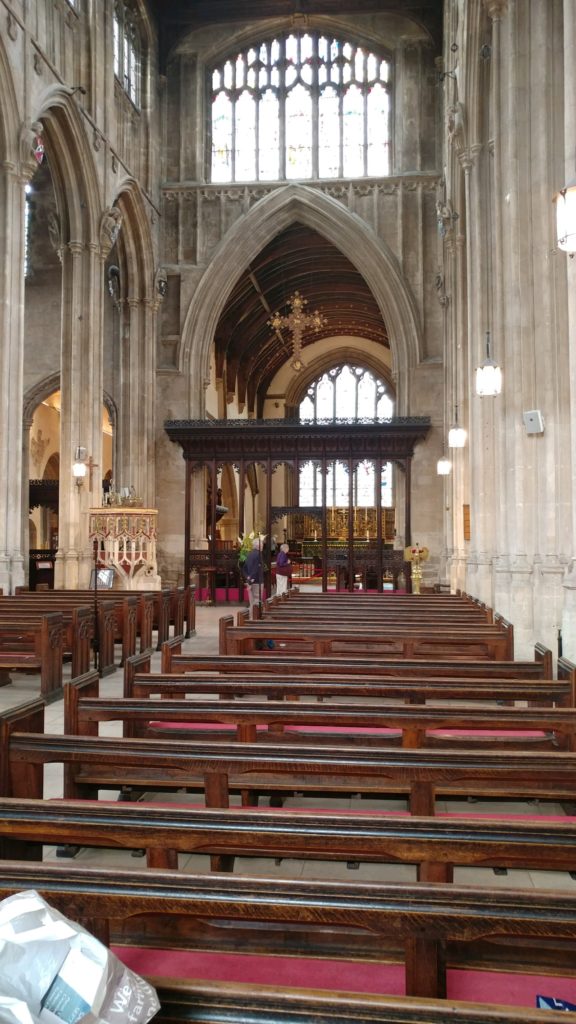 Next, we went to the fascinating Corinium Museum, where we learned about the city's Roman roots, dating back to 80AD, and about Roman civilization and occupation in general. It's an excellent museum and I was especially impressed by the huge, original mosaic tile floors. They were discovered in the mid-1800s, by workmen who were digging a sewer. My imagination was working overtime as I envisioned what a thrill it must have been for them to stumble upon such a momentous historical find! We spent a good two hours in the museum, then did a bit more exploring and shopping in Cirencester before taking a taxi back to the hotel.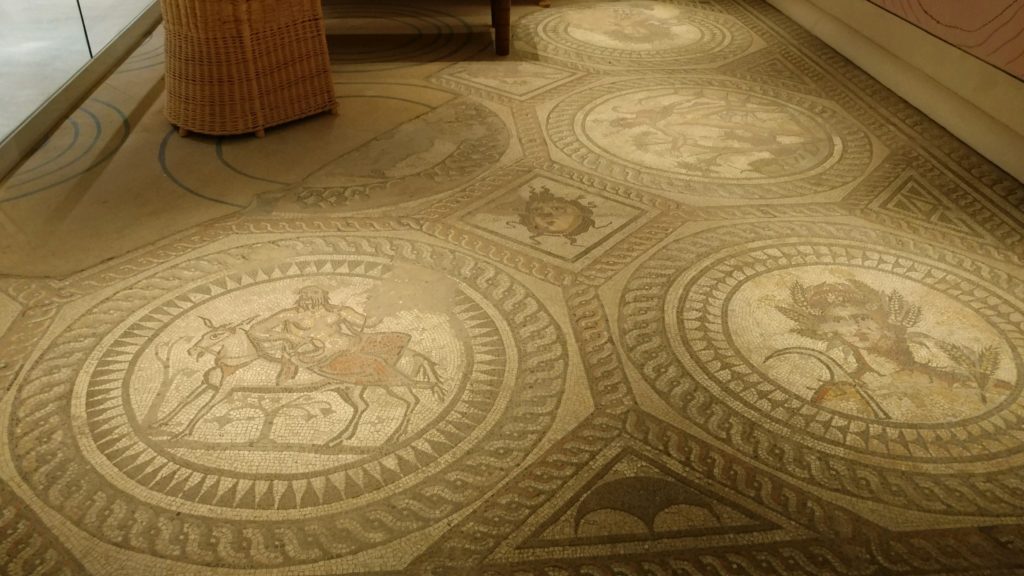 The Chairman had another conference call that afternoon. Having gotten so used to walking miles each day, I was feeling a little antsy being stuck inside. And so, in spite of cold and cloudy weather, I set out to walk on my own.
I planned to go six miles. Two miles in, when it started to sprinkle, I realized that I'd left my hat at the hotel and turned around. This was a good decision because quickly turned to downpour. By the time I got back to the hotel, I was soaked to the skin.
Being deprived of my last walk on my last day of walking the Cotswolds was a bit disappointing, but disappointment turned to contentment after I changed into dry clothes and went downstairs to the cozy bar to enjoy a book and a delicious cream tea. (I learned all about proper English Tea etiquette here!)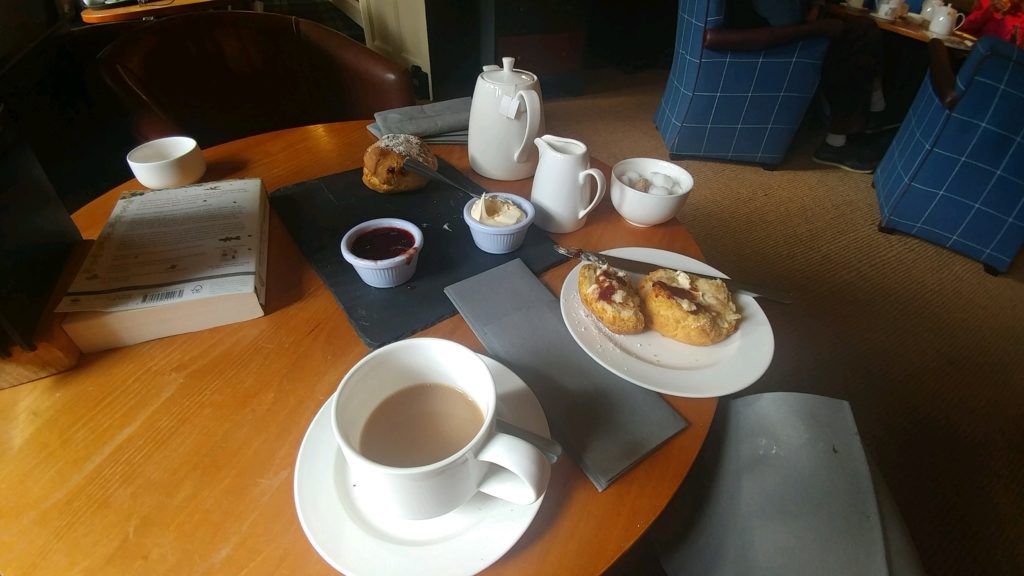 The Chairman joined me before long. We exchanged tea pots for gin and tonics and toasted the end of a truly magical journey to the Cotswolds, a place we hope to return to very, very soon.
Don't miss my notes on the rest of my trip, from sightseeing in Paris to textile shopping in Paris to a visit to Highclere Castle. Oh, what fun!
THIS POST MAY CONTAIN REFERRAL LINKS. IF YOU CLICK THROUGH AND TAKE ACTION, I MAY BE COMPENSATED, AT NO ADDITIONAL COST TO YOU.