This post may contain affiliate links. Full disclosure policy
Many people have a travel bucket list. Taking a walking holiday in the Cotswolds has long been at the top of mine. 
In 1968, the Cotswolds was designated An Area of Outstanding Natural Beauty. That makes it the second largest protected landscape in England. Encompassing more than 750 square miles in south central and south west England, the Cotswolds is home to picturesque villages that could have been plucked out a fairy tale and mile upon mile of bucolic, unspoiled scenery. It is also home to the Cotswolds Way, a 102-mile National Trail that goes from Bath to Chipping Campden.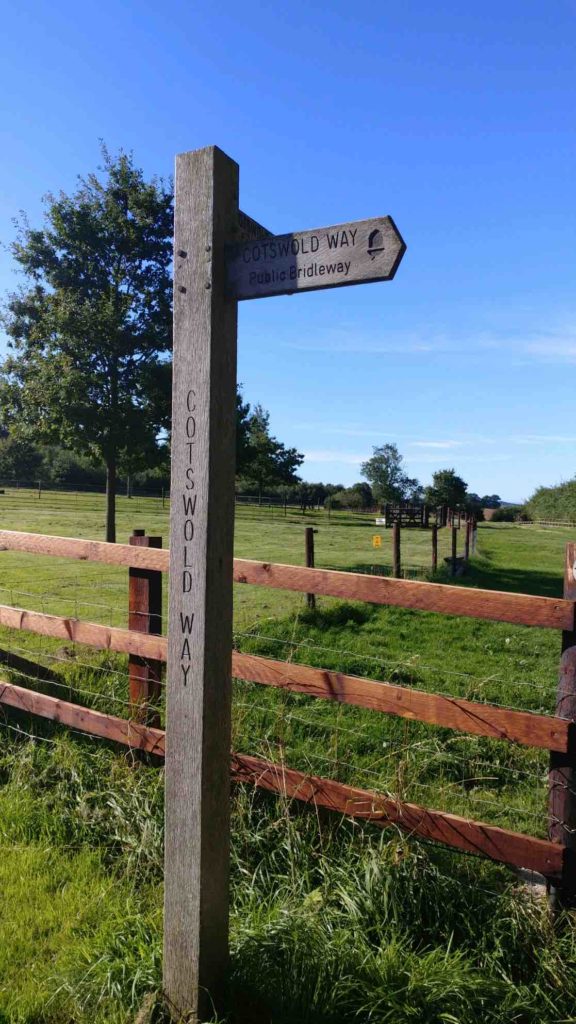 A thriving tourist industry has sprung up around people who want to walk the entire length of Cotswolds Way, with tour companies that book walkers into B&Bs and transfer luggage from one village to the next along the route. Though taking a hundred-mile hike and staying a rustic little B&Bs along the way sounded like heaven to me, the same couldn't necessarily be said of my husband. 
ROUGHING IT ISN'T FOR EVERYBODY
Don't get me wrong, The Chairman is a terrific travel companion. But his interest in the great outdoors is minimal. And his idea of roughing it is staying at a Hampton Inn instead of The Four Seasons. Getting him on board for my bucket list trip to the Cotswolds was going to require some compromise on both our parts and a bit of research for me.
An Internet search for "Cotswolds luxury walking tours" brought me the Cotswolds Walks website, a tour company that offers a variety of guided or self-guided walks in the region, everything from short, two-night breaks to full Cotswolds Way walks that last from 6 to 11 days. 
After looking at options and consulting with The Chairman, I booked a "6 night/5 day Luxury Tour" in early September, after my epic textile shopping excursion in Paris and just before our spectacular visit to Highclere Castle (aka Downton Abbey).  My husband perked up considerably when he saw the list of elegant hotels we would be staying in. The walking portion of our Cotswolds tour would total 38 miles of walking instead of the whole hundred-plus. Also, we would stay two nights in each hotel rather than transfer every day. This interesting but somewhat less ambitious itinerary was a good compromise; I'd get my long, scenic walks and he's get his high thread-count sheets. Everybody was happy.
DAY ONE – WALKING THE COTSWOLDS BEGINS
We took a train from London to Moreton on Sunday afternoon. A taxi driver, arranged through the tour company, met our train and loaded our bags. We then arrived at the Cotswolds House Hotel in Chipping Campden, our home for the next two nights. 
Like all the hotels we stayed in, The Cotswolds House is a historic property. So while it didn't necessarily have all of the creature comforts of a modern hotel, each room came with its own set of charming quirks. "See if you can guess how this shower works" became our favorite game at each new hotel. The elegance and unique character of each property more than made up for the quirks. So did the helpfulness of the staff, who couldn't have been kinder or more professional. The Cotswold House Hotel, as well as all the other places we stayed, were definitely 5-star.
After we settled into our charming suite with the gable windows enormous bathtub, we went downstairs for a pre-arranged meeting with Andrew Guppy, owner of Cotswold Walks. Andrew and I exchanged many emails and some phone calls in the months before our trip. He was always cheerful, flexible, superbly helpful, and had a really cool British accent. Since I'd already mentally turned him into a character for one of my books, I was looking forward to meeting him.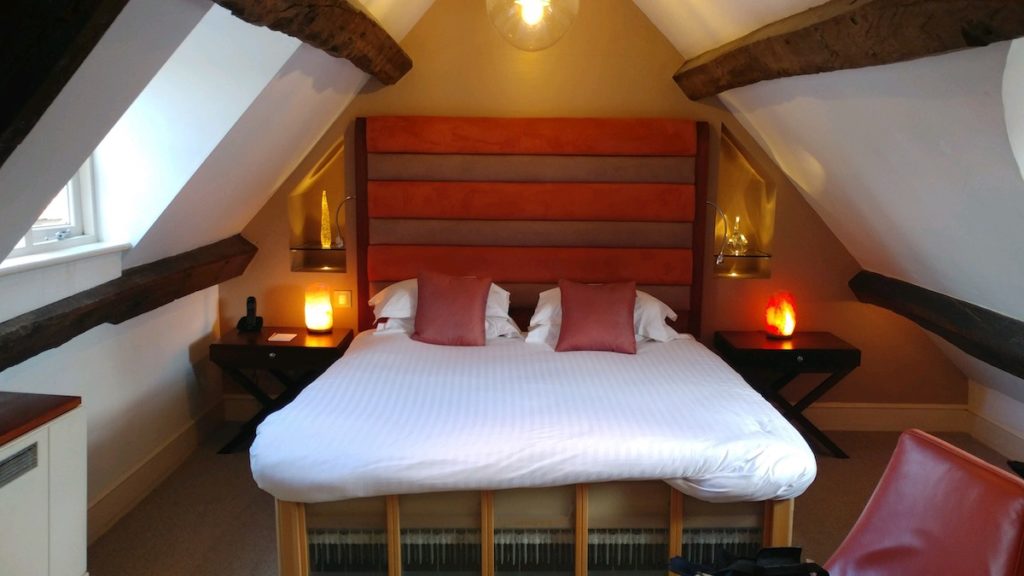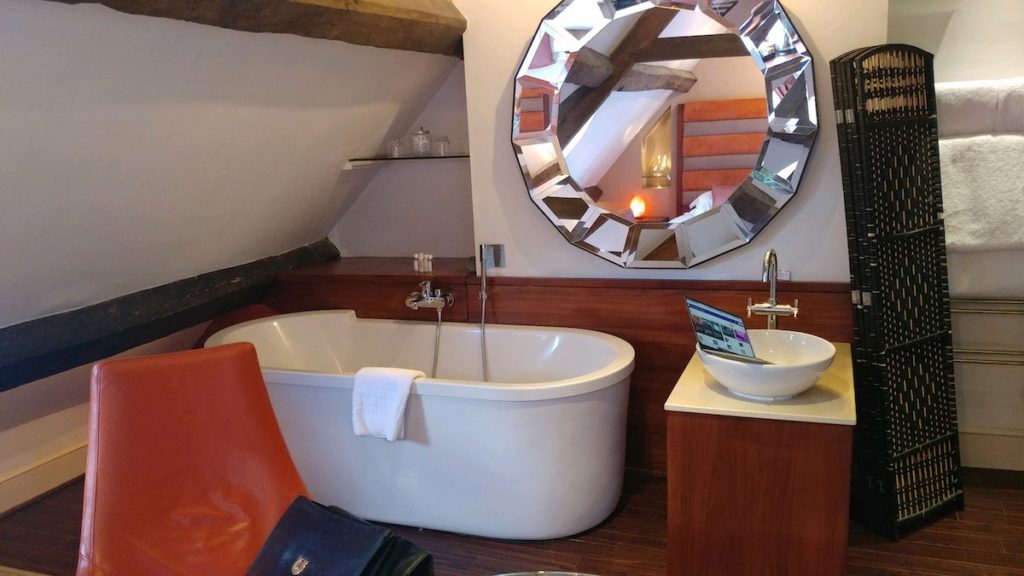 OUR TOUR GUIDE FOR WALKING THE COTSWOLDS
Andrew was taller than I'd imagined, but just as nice. He took time to answer all my questions and help me download and learn to operate a very accurate GPS trail map. He even gave us a coffee-table type book with photos of The Cotswolds to take home. And after he learned that we didn't yet have plans for dinner, he made us a reservation at the Jackrabbit Restaurant.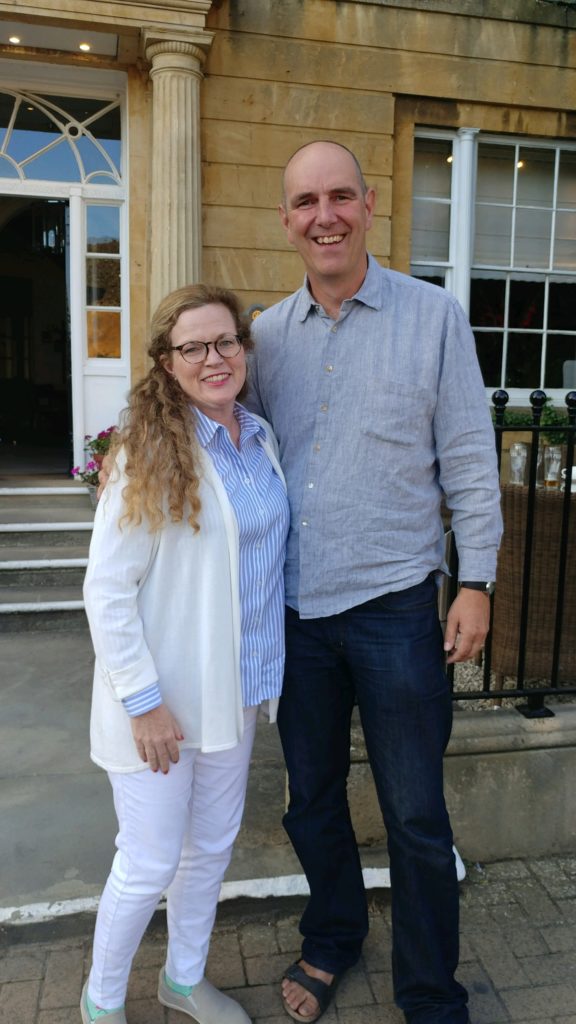 It was a brilliant suggestion! The atmosphere was elegant but very cozy and the food was exquisite. We generally avoid carbs but the phenomenal house made rolls were so good that we couldn't resist a second helping. We justified the rolls, and the sticky toffee pudding at the end of the meal. After all, we'd be doing so much walking on this trip, we were entitled to a small indulgence. This soon became a recurring theme.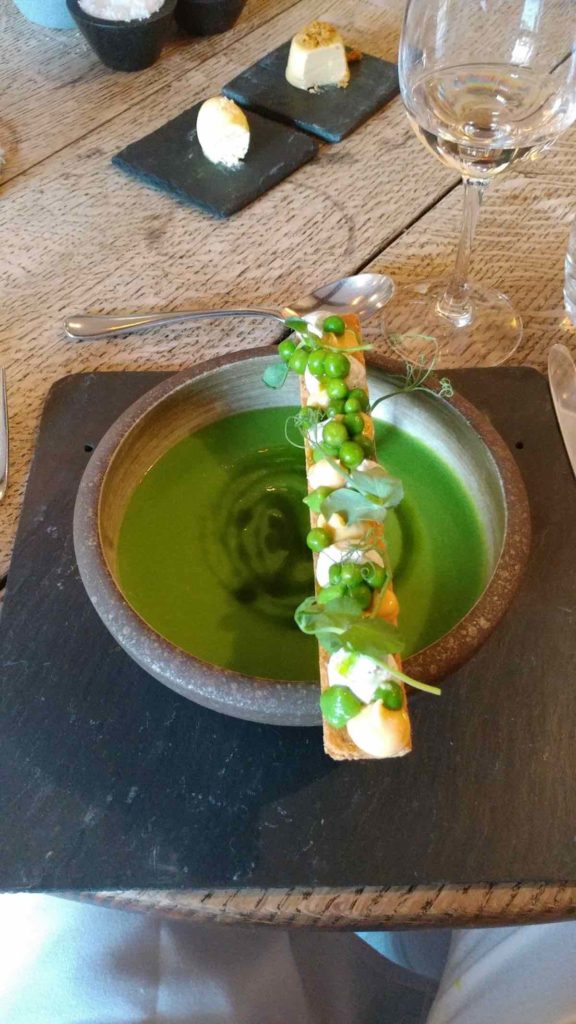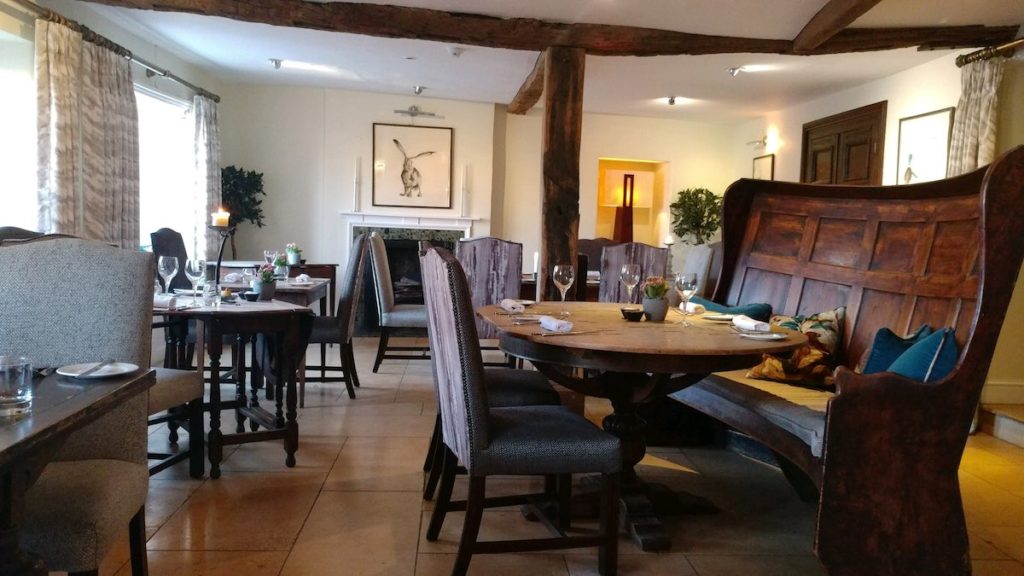 But it really would have been a crime to skip the bread, and everything else. The fresh pea soup I had for my appetizer was so divine and so beautifully presented. I couldn't stop myself from texting photos to friends! It was a wonderful, romantic meal and the perfect way to kick off our Cotswolds adventure. 
DAY TWO – CHIPPING CAMPDEN TO HIDCOTE GARDENS
Excited to embark on our first day of walking, we woke up bright and early and went down to the hotel dining room. We became acquainted with the joys of a proper English breakfast, which was included in the tour price. Every day, we were given the opportunity to begin the meal with porridge and/or a trip to a buffet with fruit, pastry, yogurt, and a selection of cereal. This, we soon learned, was just the appetizer. Our main course was ordered from the menu and included dishes such as eggs benedict and omelettes. Or we could order the "full English" with eggs, sausage, bacon, and grilled mushrooms and tomatoes, all accompanied by coffee or tea and juice.
As we waddled out of the dining room, I couldn't help but reflect on all the sad, carb-heavy breakfast buffets with underripe melon and rubbery powdered eggs I have endured during my many years of hotel travel in the U.S. I felt quite embarrassed when I considered what English tourists must think about our dreadful excuses for breakfast in America. But there wasn't too much time for such pondering; we had seven and a half miles of walking ahead of us.
If the idea of walking miles and miles every day doesn't sound like fun to you, there's something you need to know about walking in the UK. It's interesting. And completely different than hiking in the US. Let me explain.
Americans don't really walk, not the sense that Europeans do. Instead, we hike, usually in state or national parks. There's nothing wrong with hiking, I do it all the time. But when you go on a hike here, what you're mostly going to see most of the time, is trees. Yes, there are sometimes rivers, lakes, or waterfalls. I often pick hikes that lead to some water feature because that's the payoff for all that hiking through all the trees which, while beautiful, are usually kind of similar.
WALKING THE WALK
But walking in the Cotswolds, and other places is Europe, involves walking through an ever-changing landscape. Why? Because you aren't walking in a park, you're frequently walking through or near privately owned land and that means visual variety.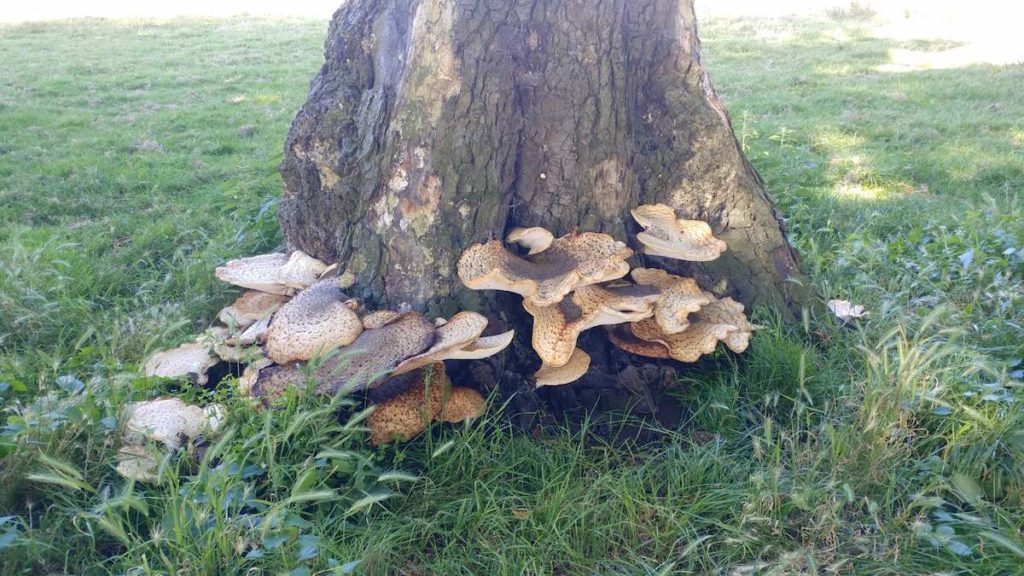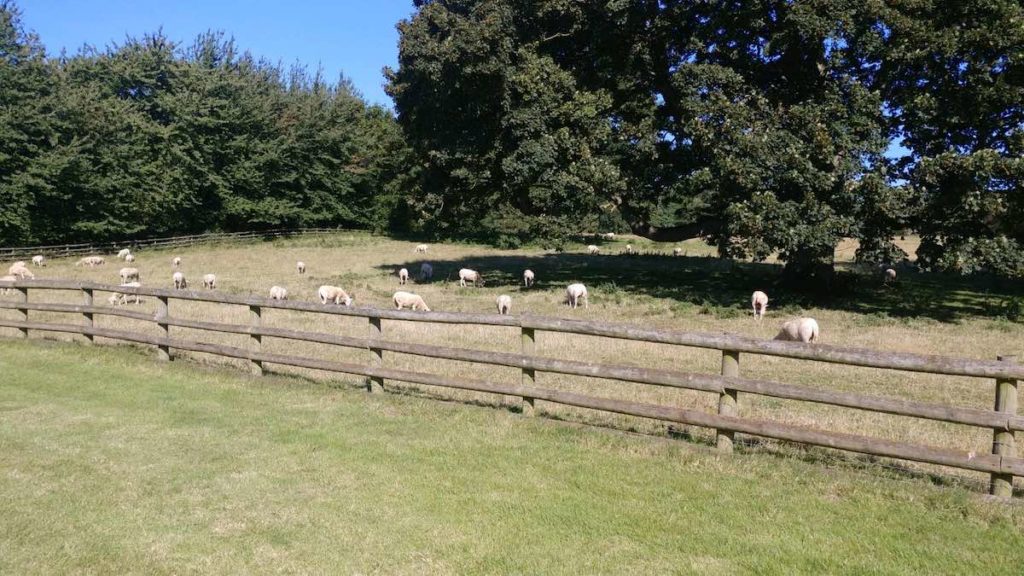 Passing through a gate, you might enter a field of bright orange pumpkins, then cross into another field with the biggest parsnips you've ever seen. Another few turns and you climb over a stile and find yourself in a meadow populated with fluffy but disinterested sheep. Then you go through another gate into a woodland, then cross a bridge onto a country road. The road will lead you into a village of three hundred year old, thatched roof cottages, which, inevitably, will lead to a lovely little pub that features inexpensive beer and delicious lamb pie.
Listen, I am a proud and patriotic American. Hiking in some of our state and national parks is an awe-inspiring, soul-expanding experience. But when it comes to walking, the U.S. really doesn't hold a candle to the U.K. 
THE VIEW
Our first day of walking took us through farmland, woodlands, and villages and led us to lovely Hidcote Gardens. This National Historic Trust property was created by American horticulturist, Major Lawrence Johnson. Hidcote Gardens is known for its Arts and Crafts movement influences and has many outdoor "rooms" that have been intricately designed.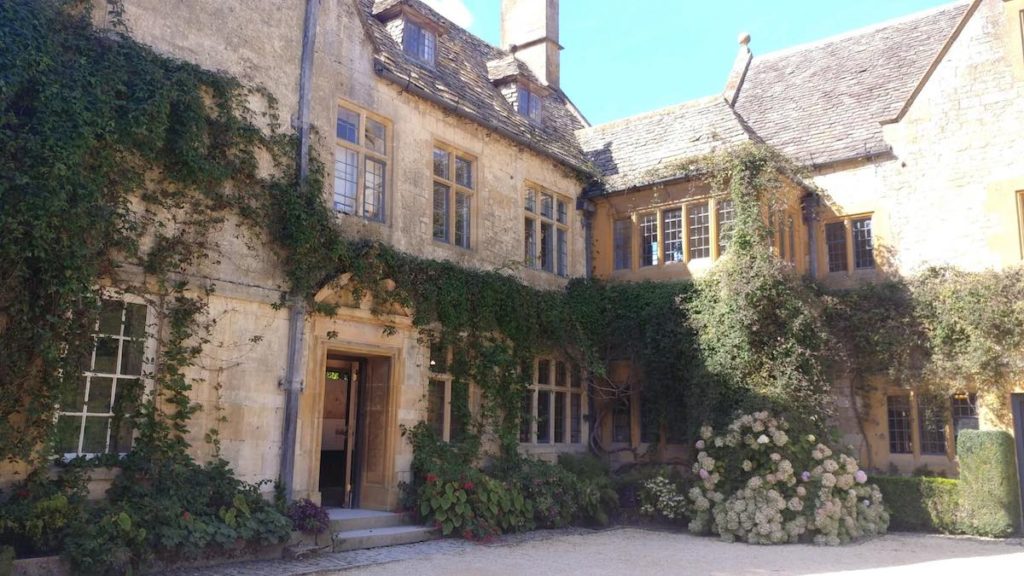 We spent a good hour and half enjoying the gardens and going through some of the exhibitions on displays in the manor house, including a very interesting explanation of the Arts and Crafts movement in the Cotswolds. We also enjoyed a well-priced lunch in the tearoom, featuring produce grown at Hidcote. Before we left, I made trip to the gift shop and found some really good hiking socks and a National Historic Trust hat that I love and wore on every day of our trip.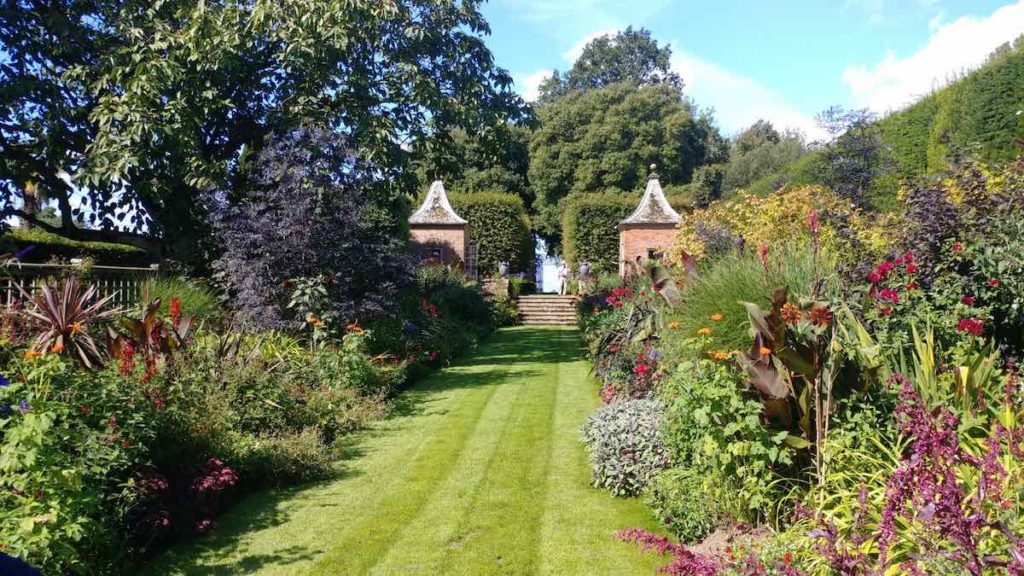 After lunch and shopping, we looped back to our hotel by a different route. We were following directions in the book provided by Cotswold Walks, which was quite helpful. The directions were very detailed and accurate but it took time to fully grasp the terminology – lane versus road versus path, for example. Getting lost and retracing our steps a couple of times made our seven and a half mile walk closer to nine, but that was all right.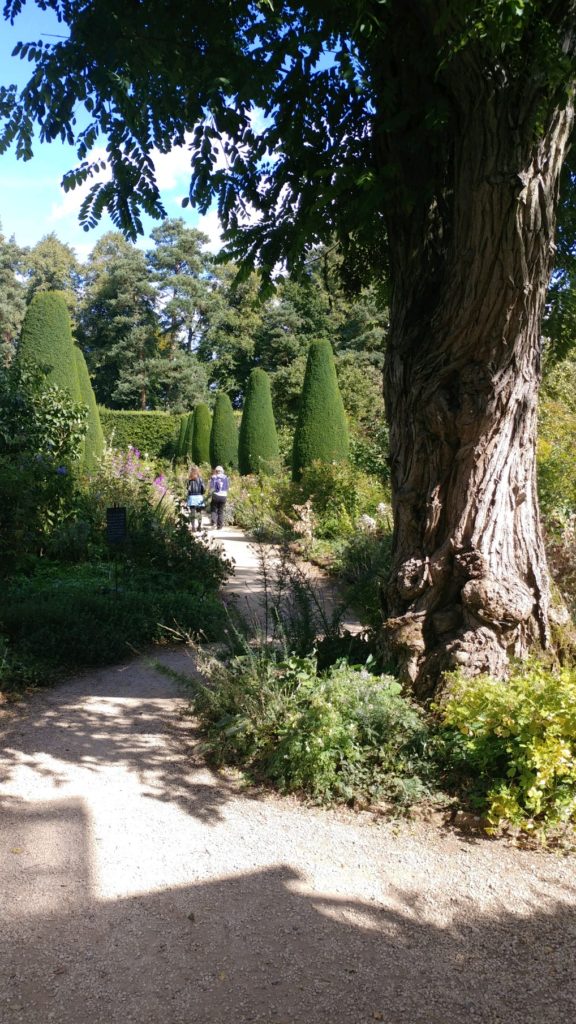 More walking the Cotswolds meant that we felt even less guilty about the delicious chicken, bacon, and leek pie we enjoyed in the bar at Eight Bells, a traditional and very cozy pub. Something interesting about English restaurants, nearly all of them allow dogs inside! Next time we come to England, I hope we can bring our little Cavalier King Charles along.
DAY THREE – STANWAY TO WINCHCOMBE
On this day we were to change hotels, so we packed before partaking in another sumptuous breakfast. Our taxi driver was supposed to take us on a short sightseeing visit to Broadway Tower before dropping us off in Broadway. We would then have departed on an eleven mile walk on the Cotswolds Way to Winchombe. 
As it turns out, our driver was pressed for time and we were a bit sore from the previous day's exertions. Instead we simply drove through Broadway and let the driver drop us at Stanton, which cut around 3 miles off the walk. The weather was perfect for walking, with clear skies and temperatures in the high sixties. We enjoyed more beautiful scenery. In Stanton we took some time to admire Stanton Manor and walk through the grounds of the nearby church.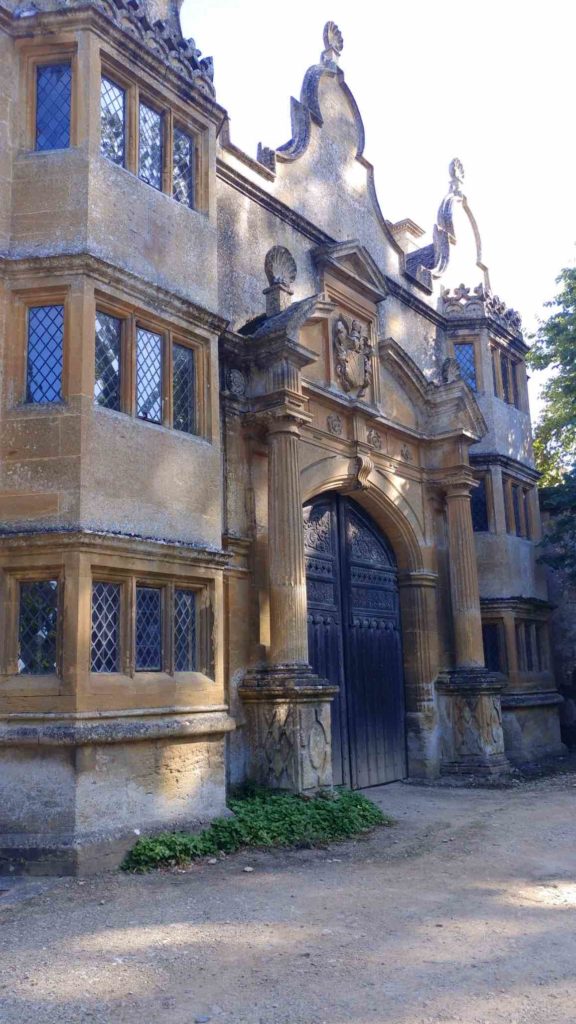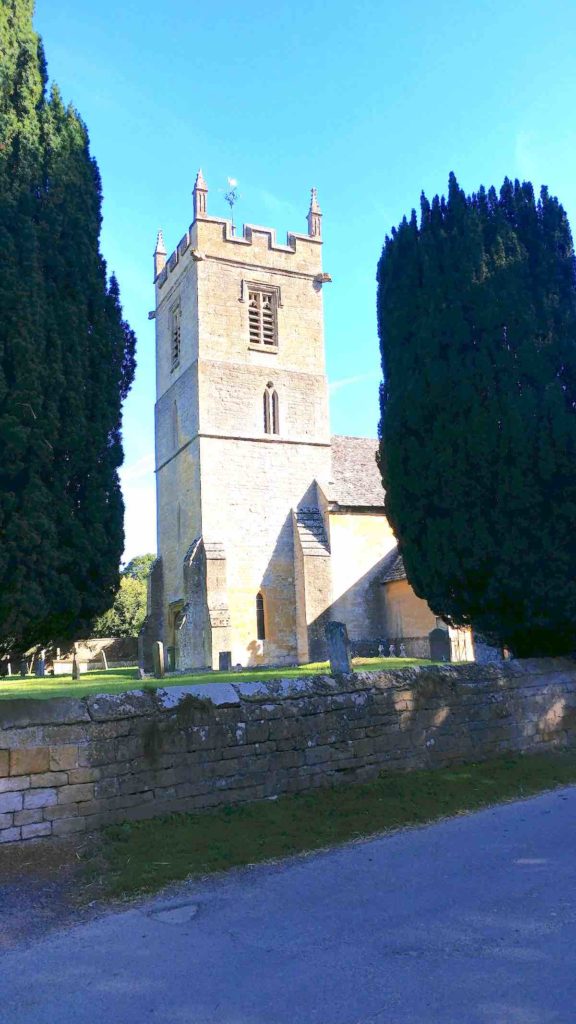 A little more walking brought us to Hailes Abbey, which was home to an order of Cistercian monks. It  was founded in 1245 by Richard, Earl of Cromwell, a younger brother of King Henry III. When Henry VIII ousted the Catholic Church and declared himself head of the church in England, Hailes Abbey was dissolved along with numerous other religious institutions. 
Sadly, today the abbey is little more than a ruin. The foundation outline and a few walls of the original structure remain so it's possible to get a sense of the size and grandeur of the building. There is also a very interesting exhibit inside the visitors center, which gave us a better understanding of the abbey's operations and the history of the period.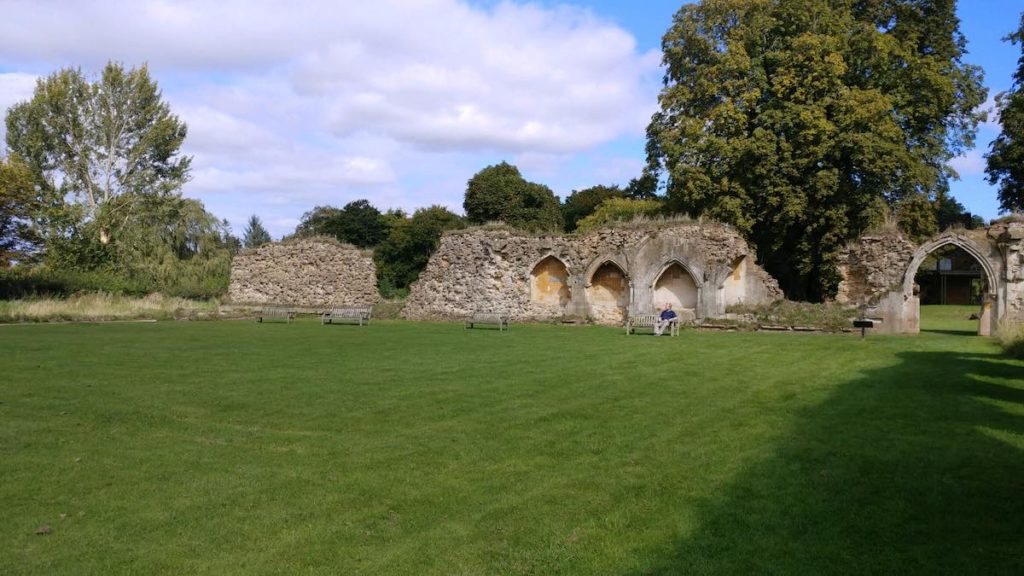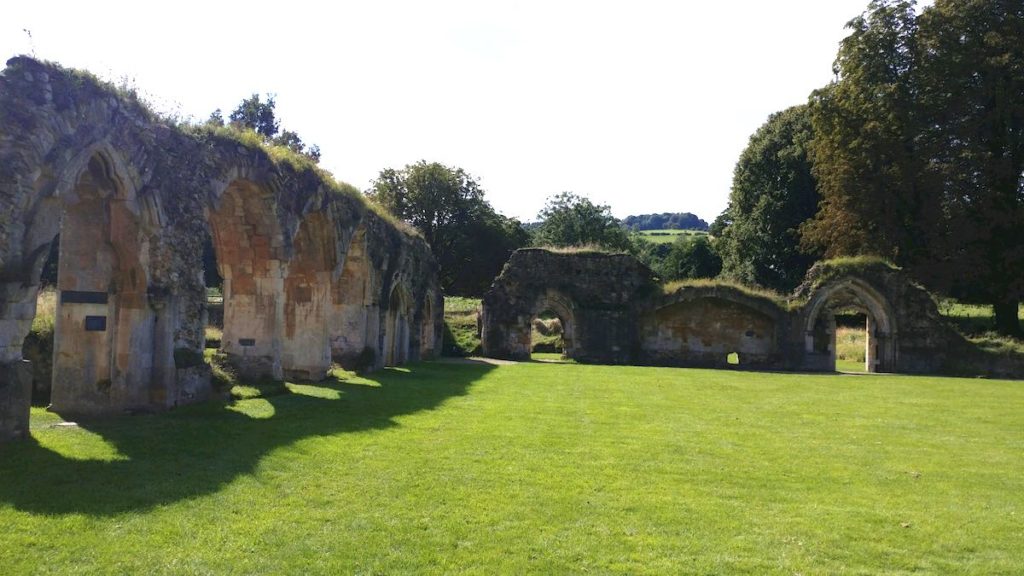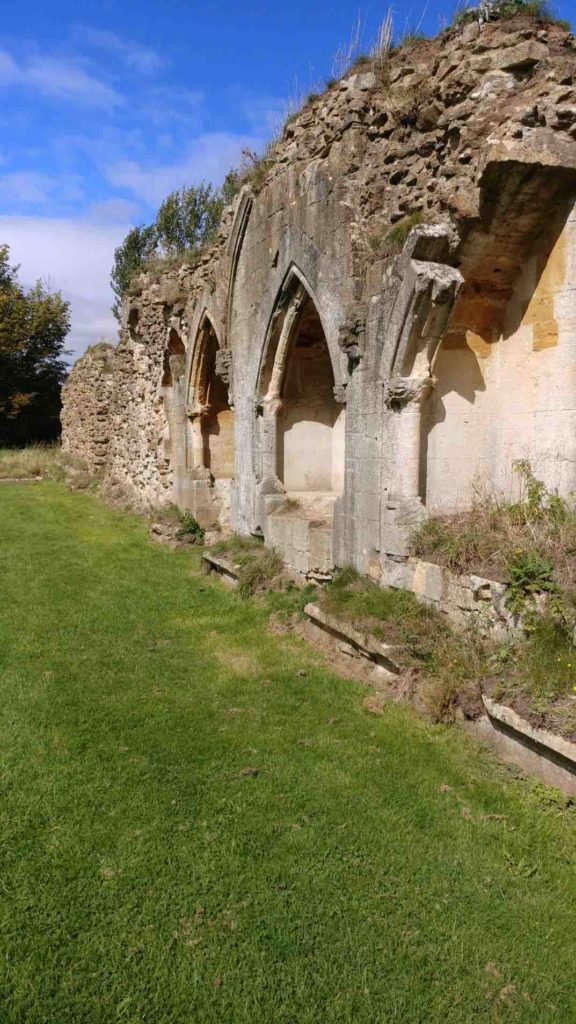 A MISSED OPPORTUNITY
We were still a little tired so rather than go to Sudley Castle, we walked two more miles directly to Winchombe. We shared a late lunch at a local pub before meeting our taxi driver. In retrospect, this was a mistake. We had failed to read up on the castle ahead of time and so we didn't realize what a fascinating place it is. For example, Henry VIII, Anne Boleyn, Lady Jane Grey, Queen Elizabeth I and Richard III had all played a part in Sudeley's story.
I hope that we'll be able to return to the Cotswolds in the future. If we do, a visit to Sudley Castle will definitely be on the itinerary. As it was, we were happy to meet our driver for the ride to Lower Slaughter and check into a large, beautiful, well-appointed room at the Slaughter's Country Inn, another five-star property. 
Our luggage was waiting for us, so after a quick shower and change of clothes, we went to the bar for a snack. We were introduced to our adult beverage of choice for the rest of our trip – Cotswolds Gin with an elderberry tonic and a twist of grapefruit. The Chairman and I raised our glasses to toast another wonderful day walking the Cotswolds. We felt tired but happy, and settled down to discuss the next day's itinerary.
Part 2 of my story of Walking the Cotswolds is continued here. 
THIS POST MAY CONTAIN REFERRAL LINKS. IF YOU CLICK THROUGH AND TAKE ACTION, I MAY BE COMPENSATED, AT NO ADDITIONAL COST TO YOU.