This post may contain affiliate links. Full disclosure policy
My itinerary was too ambitious. I knew that even before we left. Three days simply wasn't enough to see all the many, many must-see sights and attractions of Paris, or acquire all the many delightful and oh-so-French items on my shopping list.
But I made the list just the same. A little aspiration never hurt anybody, oui?
Those shopping aspirations included perfume, macarons, chocolate, lingerie, fabric and craft items and, if possible, six grandchild-sized berets in assorted colors. I hoped to visit at least three shops in each category so I could share my discoveries with you.
Though I quickly decided to save my perfume purchase for the duty free shop just before my flight home and jettisoned lingerie shopping entirely, I did make progress in most of the other categories. Visiting three shops apiece was a pipe dream but I'll have a nice Paris shopping and window shopping roundup for you in a future post.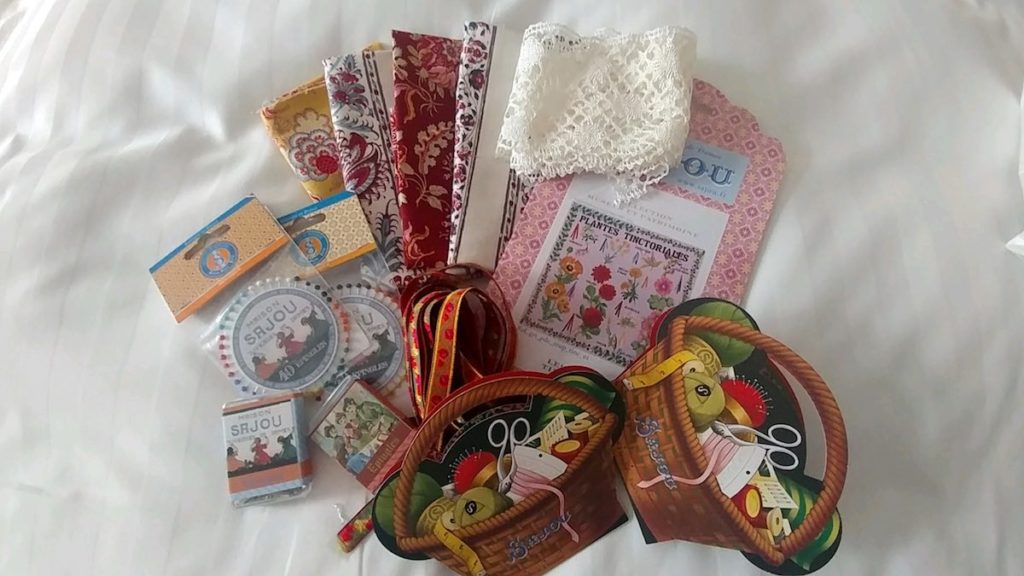 There was, however, one category in which I simply would not and could not skimp. Fabric, fiber, and crafts are always a first priority for me (because, after all, crafting is the secret to a happy life). And so it was with a great deal of excitement that I left The Chairman to rest in our hotel (experience has taught me that husbands are best left behind on these occasions) and headed off to explore the crafty wonders of belle Paris.
For sewists who enjoy making their own clothing, Paris has an actual fabric district located in the 18thArrondissement. This post from Seamwork.com offers an extensive list of fabric shops in that area. The fabrics one can find there are reported to be very fine and the shops carrying them numerous. I hope to visit the area on a future trip but as my time was limited and I lacked a car, I stuck to the 2ndArrondissement and shops that were within a 30-minute walk to my hotel.
(ProTip: While in Paris, walk as much as possible. I averaged 8 miles a day, which allowed for guilt-free indulgence in macarons and patisserie.)
My first stop was Toto, a chain with locations all over Paris. This no-nonsense, serviceable spot offers a good variety of affordably priced fabrics – everything from upholstery fabric to dress goods. It's as much a variety store as fabric store; a wide selection of bedspreads, towels, and inexpensive curtains were also available.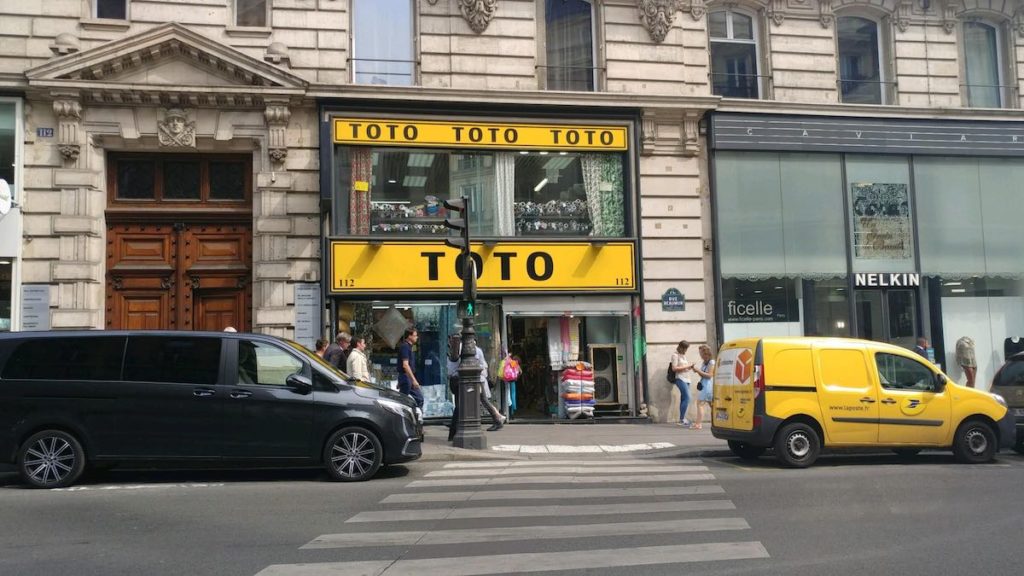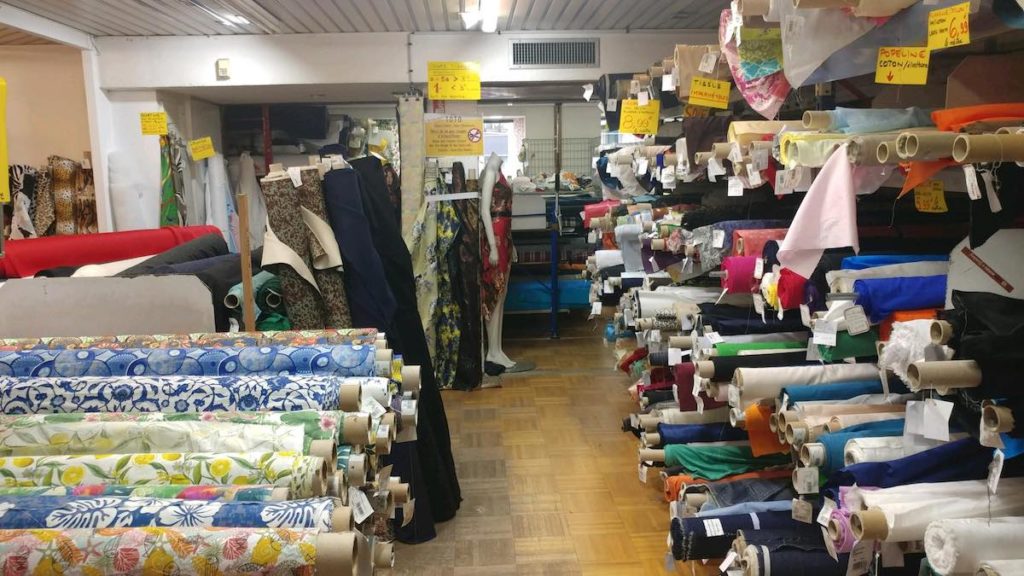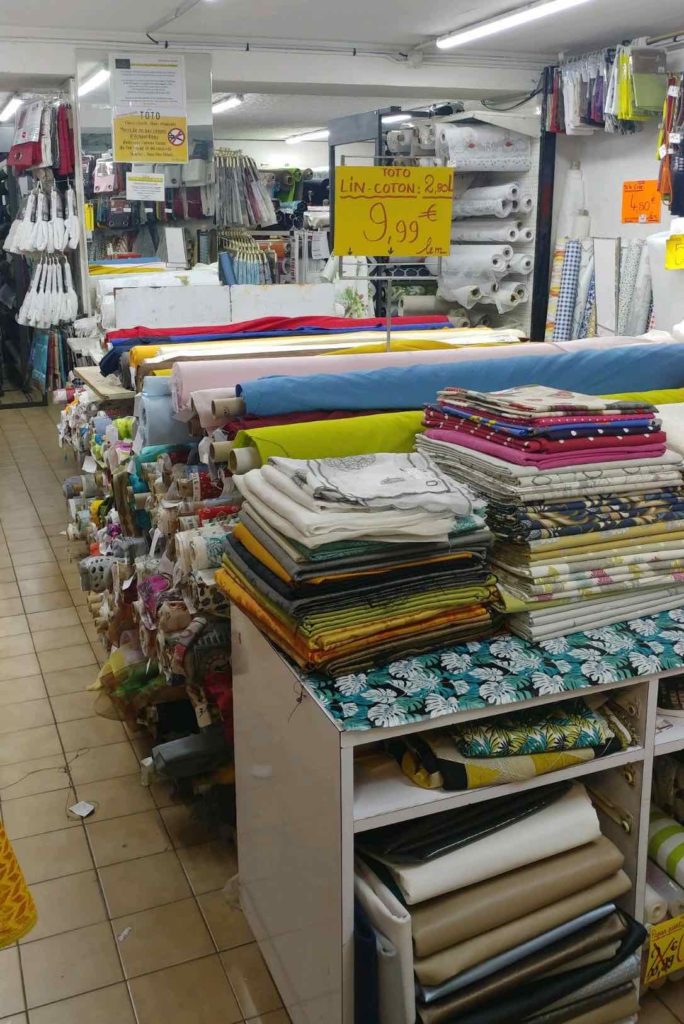 Toto reminded me of the old Woolworth's stores of my youth; a pleasant jumble of goods that invite bargain hunters to search for hidden treasures. The treasures are certainly there! I was particularly intrigued by the scrap bin offering fabric by the kilo. I also found some pretty, open weave, flax colored fabric with red embroidery – perfect for table runners or placemats – that was very tempting. However, with limited suitcase space in mind, I reluctantly passed on both and headed off to see what the rest of the 2ndArrondissement had to offer.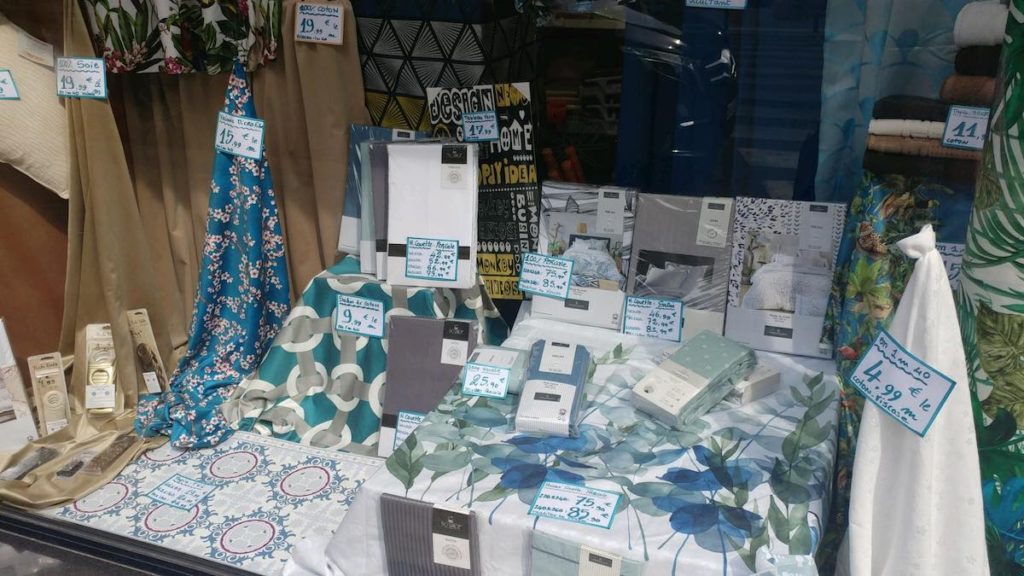 The display windows of Maison Sajou, 47 rue du Caire, made me clap my hands with eager, childlike delight. The windows, as well as the exterior of the building itself, are alive with bright, carnival colors that hint of the wonders inside and draw you to the door in breathless anticipation. My pre-Paris research moved Maison Sajou at the top of my list and it more than lived up to its reputation. If you've only got time for one crafty destination in Paris, get thee to Maison Sajou.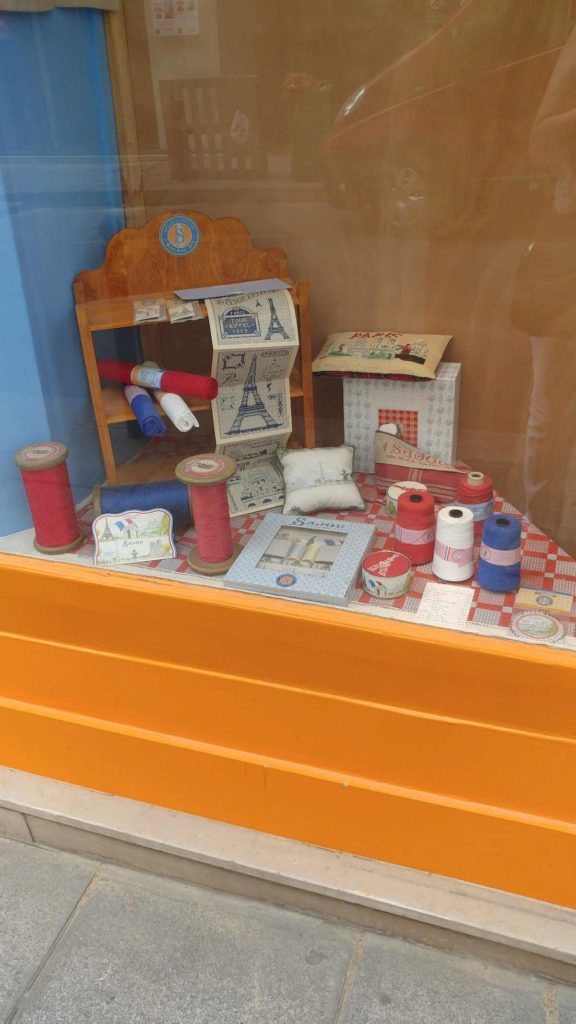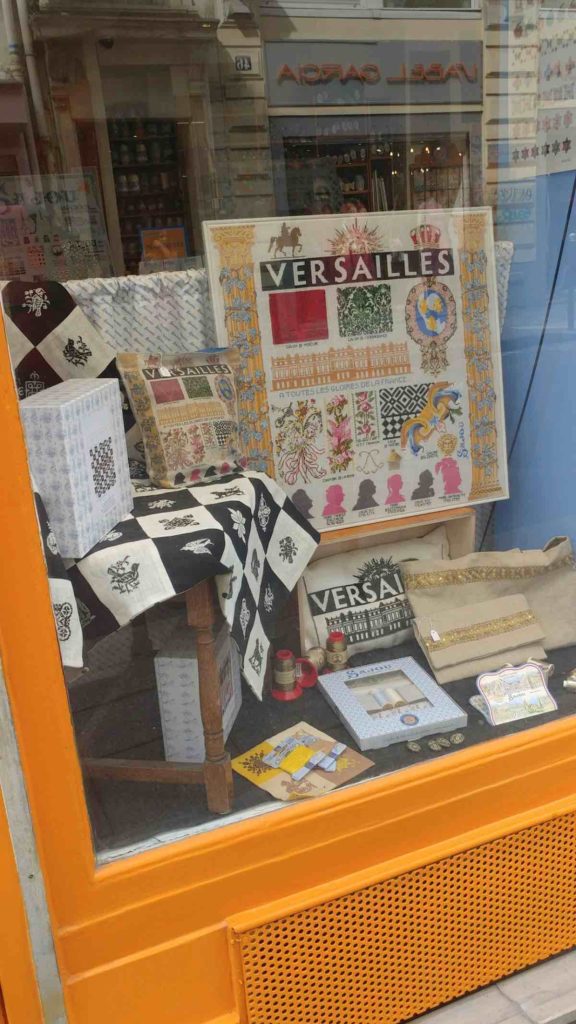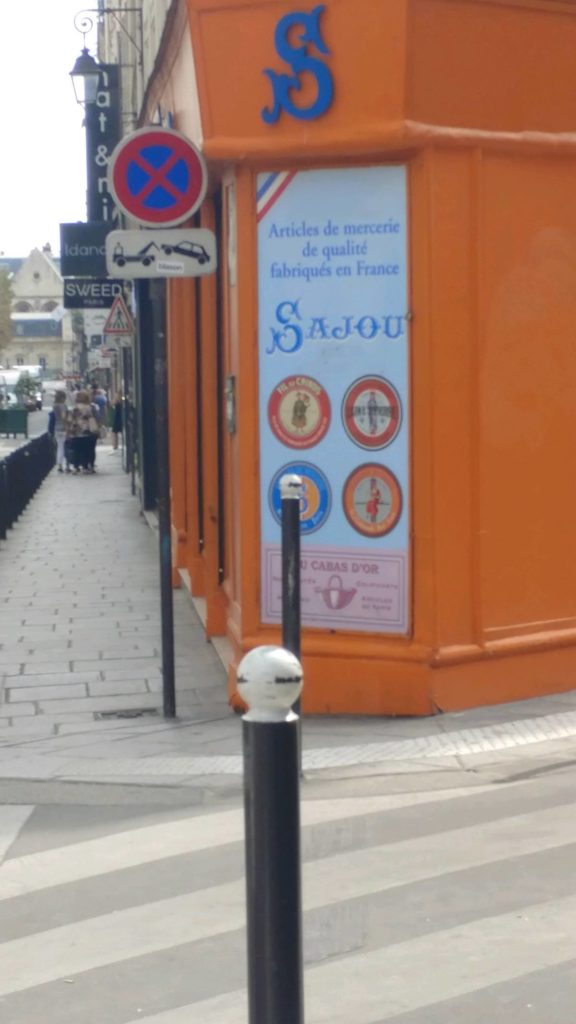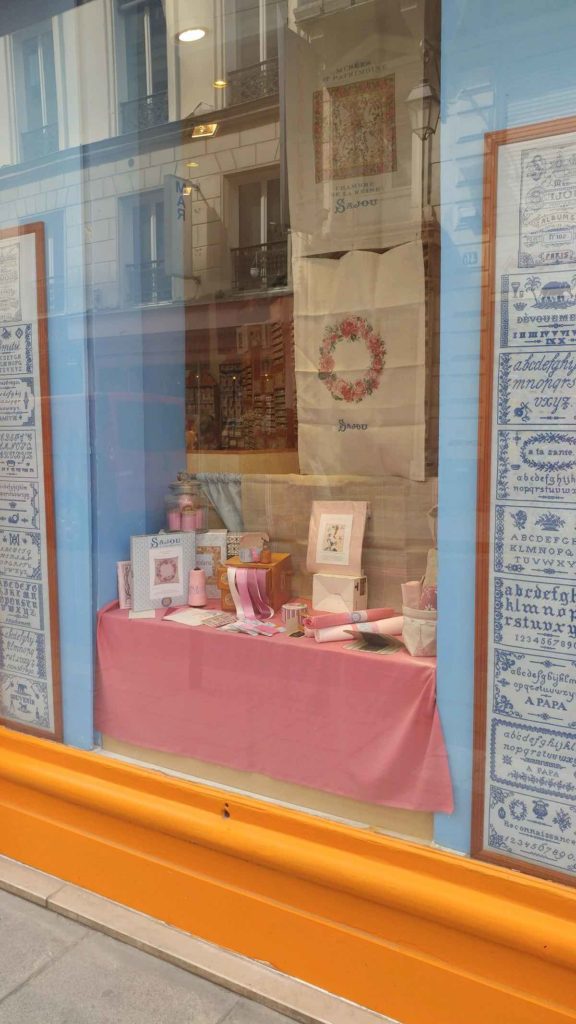 You'll find a little bit of everything within the confines of this small, artfully arranged shop – fabric, yarn, trim, buttons, sewing notions – but the emphasis is on fine, oh-so-French hand embroidery and perfectly exquisite threads in every shade imaginable. What better souvenir of your trip to Paris could there be than an Eiffel Tower embroidery sampler to stitch over the next few months, recalling the pleasures of your visit to belle France?
There was so much to see in these few square meters and I wanted it all. But suitcase and budget limitations forced me to choose carefully. In the end, I bought a lovely pattern for floral embroidery sampler, some beautiful lace and ribbons, some souvenir boxes of various pins and needles to give as gifts (perhaps to myself?), and several cuts of beautiful fabric in colors and patterns that were as French as can be.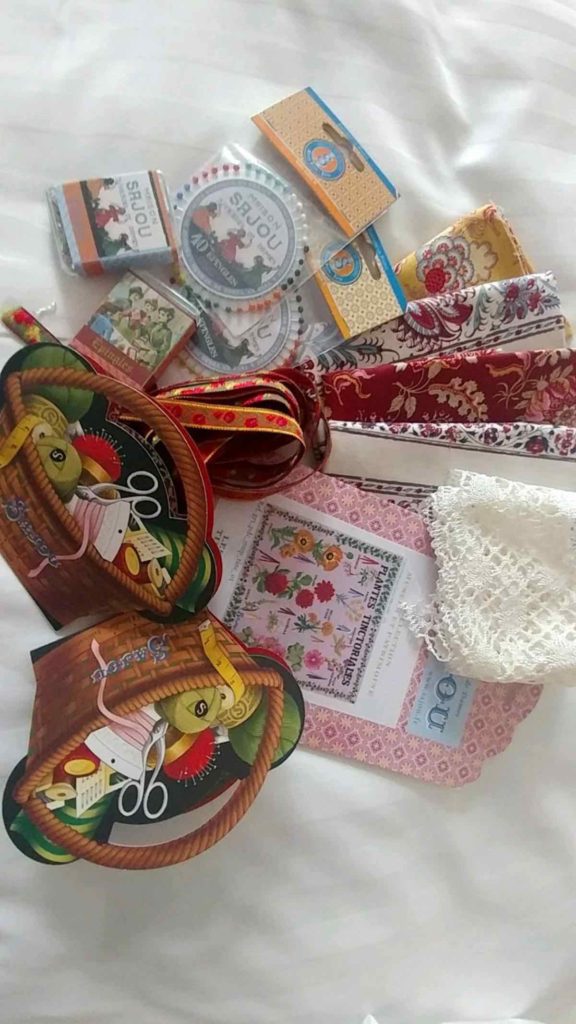 It all added up very quickly – it's easy to spend a lot in a short time at Maison Sajou – so I only purchased one meter total of three different fabrics, but I'm sure I can use these as focus fabric in a future quilt and augment them with yardage from my stash at home.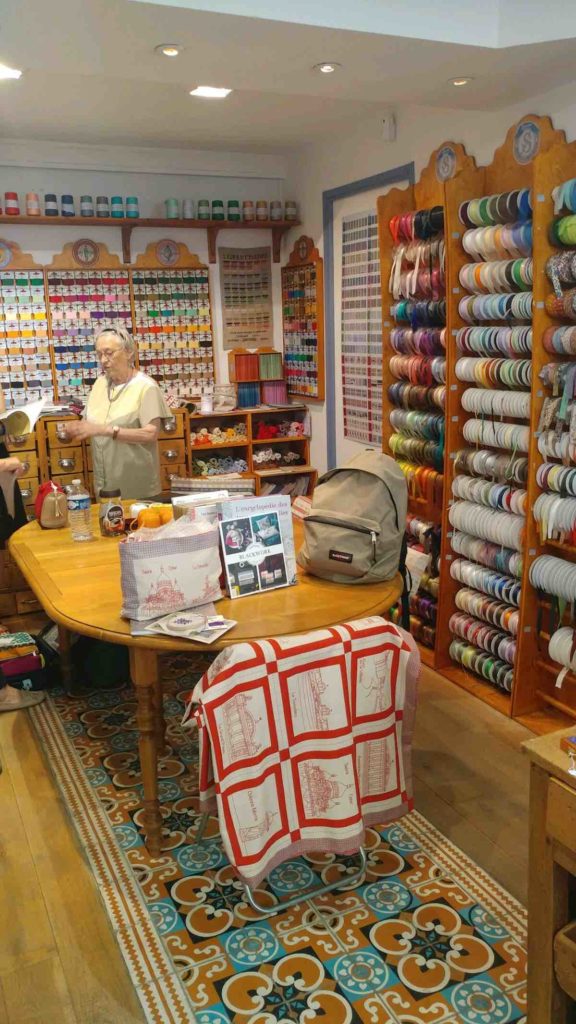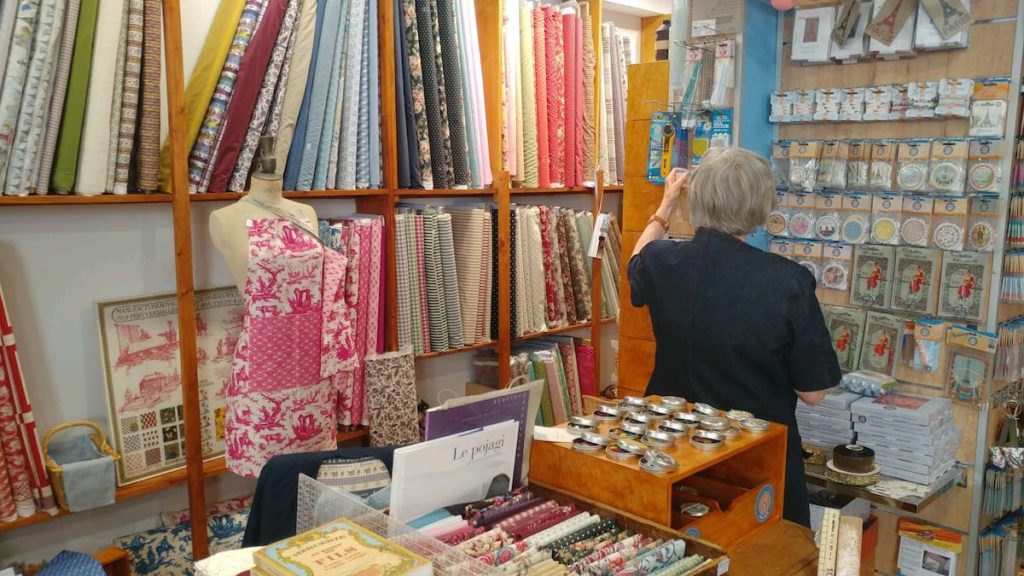 My last stop, Lil' Weasel was only a short walk from Maison Sajou. It's located at 1-4 Passage du Grand, a small, cheery shopping promenade between Place Goldman and Rue Saint-Denis. Lil' Weasel is actually composed of two shops located opposite one another on the passage. Once again, you'll find a little bit of a lot of things inside but if you're a yarn enthusiast, Lil' Weasel should be a must-stop part of your Paris itinerary.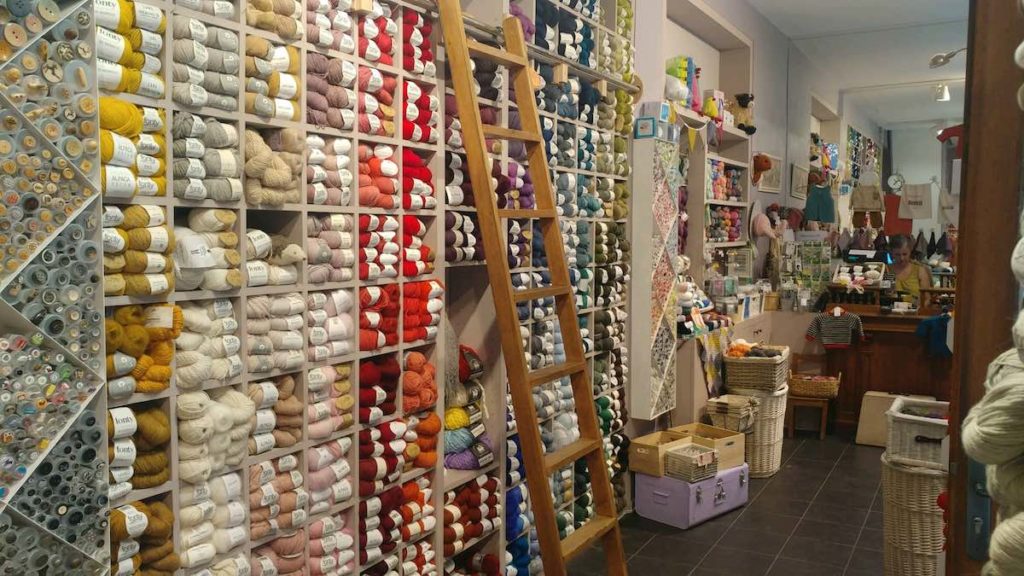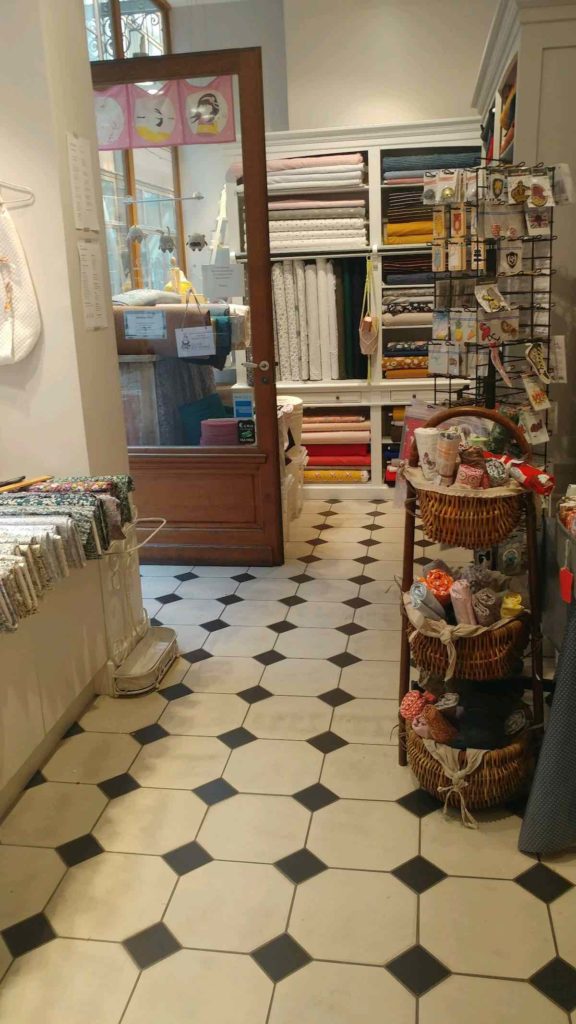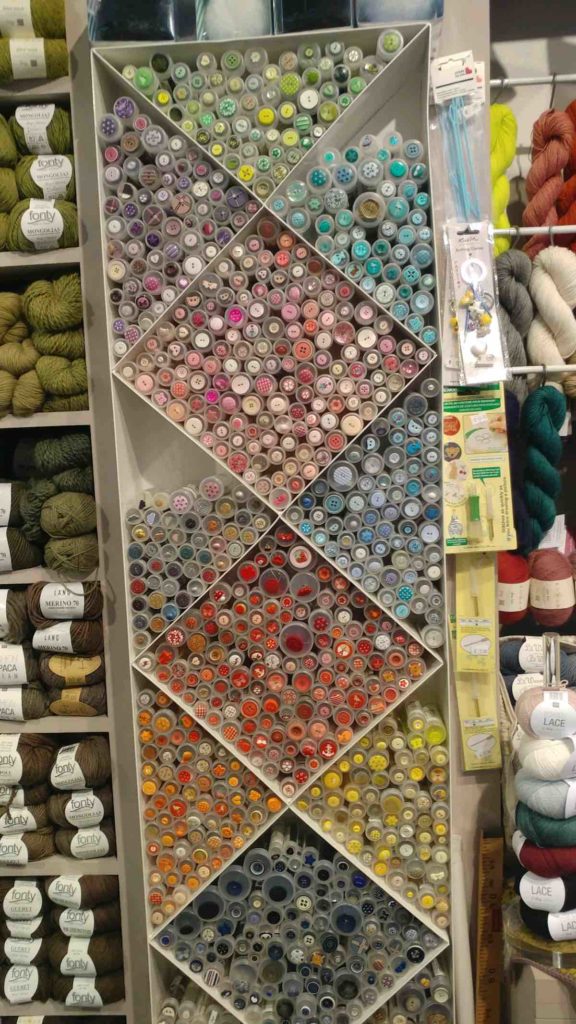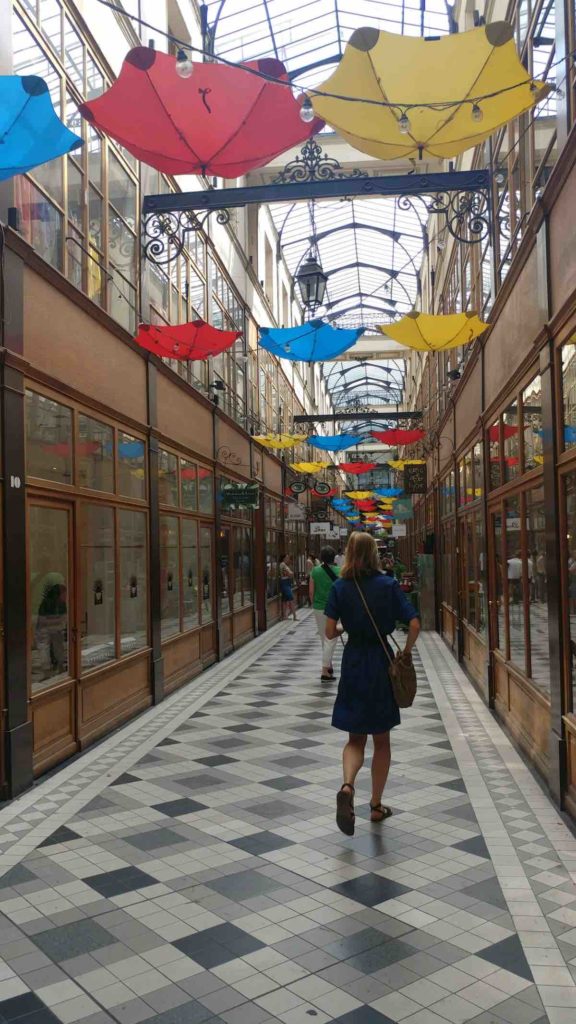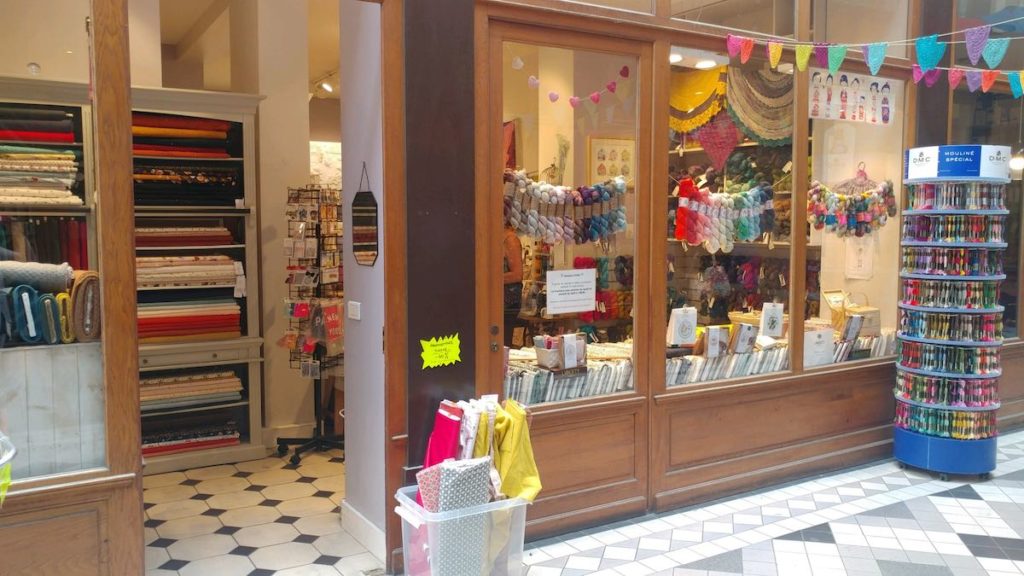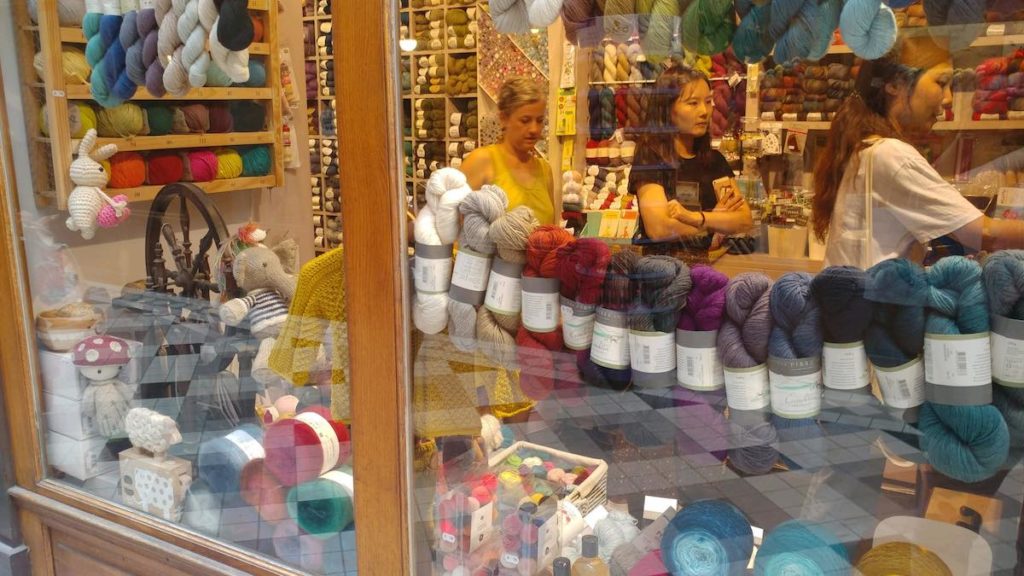 The staff was very helpful and spoke English when I apologetically explained my lack of French (this was true in all three shops). There was a wide variety of price points on yarn, from affordable to splurge, but all of it was lovely. If I'd come with a particular project in mind, I could easily have bought a lot more but in the end I settled for some small, 62 meter skeins of soft cotton yarns in a rainbow of pinks and purples. At just 1.5 Euros each they were a good buy and will knit up into some fun, as-yet-undetermined girly gifts for my granddaughters.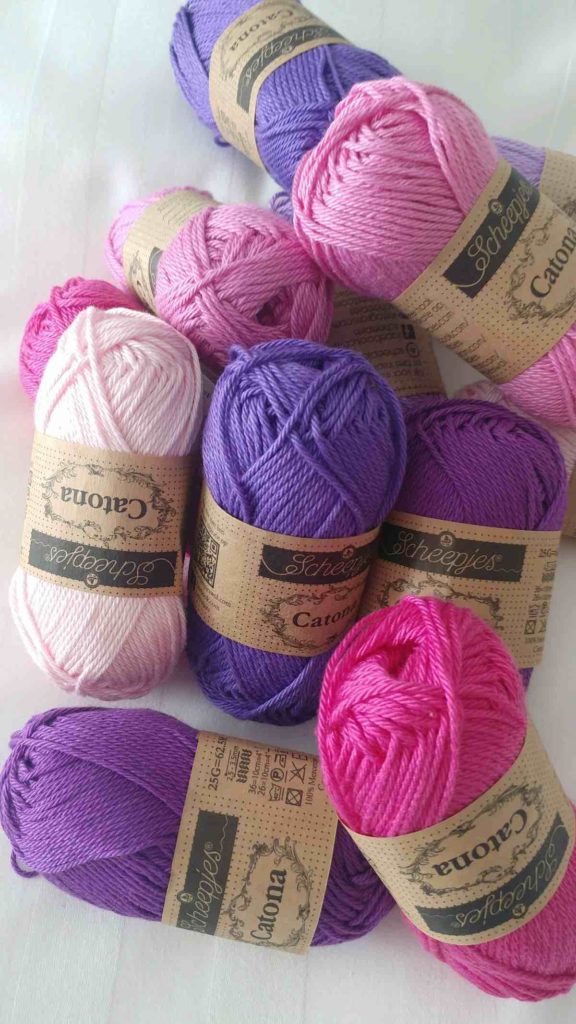 Other tempting items at Lil' Weasel included a large and varied selection of buttons, colorful and whimsical ones to adorn baby or children's garments as well as unique, artisan quality buttons to give an elegant finish to adult sweaters. The smaller of the two shops offers a carefully curated selection of beautiful dress fabrics, including a variety of cotton lawn Liberty of London prints. I came very close to purchasing a couple of yards for myself but decided to wait until the London portion of our journey. (It just seems like Liberty of London should be cheaper IN London, right?)
With a little more time, money, and luggage, there's no doubt that I could have found many more spots to indulge my fiber fantasies during my far too brief sojourn in France. But, all things considered, I feel like I experienced a good sampling of the best of Paris.
And the best part of it all is that now I've got an excuse to return. And I plan on doing so as soon as possible.
Paris, I've discovered, is a lot like fabric. Once you've developed an appetite for it, you simply can't help yourself from wanting more!
Want to hear more about my travels to Europe? Check out my review of Highclere Castle (a.k.a. where Downton Abbey is filmed!