This post may contain affiliate links. Full disclosure policy
As I explained in my last post about shopping for fabrics and fiber, my Paris itinerary was far too ambitious for a 3-day visit. I knew that even before we arrived.
But the way I see it, no one has ever died from a surfeit of aspiration. And so, before we left home, I decided to make a very long list of all the things I wanted to do, see, and buy during my time there and simply do as much as I could.
All things considered, we ticked quite a few things off the list.
We started off with a sunset boat tour on the Seine with Bateaux Mouches. It was definitely touristy but this turned out to be one of our favorite activities while in Paris and gave me a good overview of the history and geography of the city, as well as some stunning photo ops!
They offer dinner and champagne cruises but we just went with the basic tour, which was quite reasonable, and saved our money for dinner at one of the city's many lovely cafes. (We never had a disappointing meal while in Paris; it's reputation for gastronomic excellence is well-deserved.)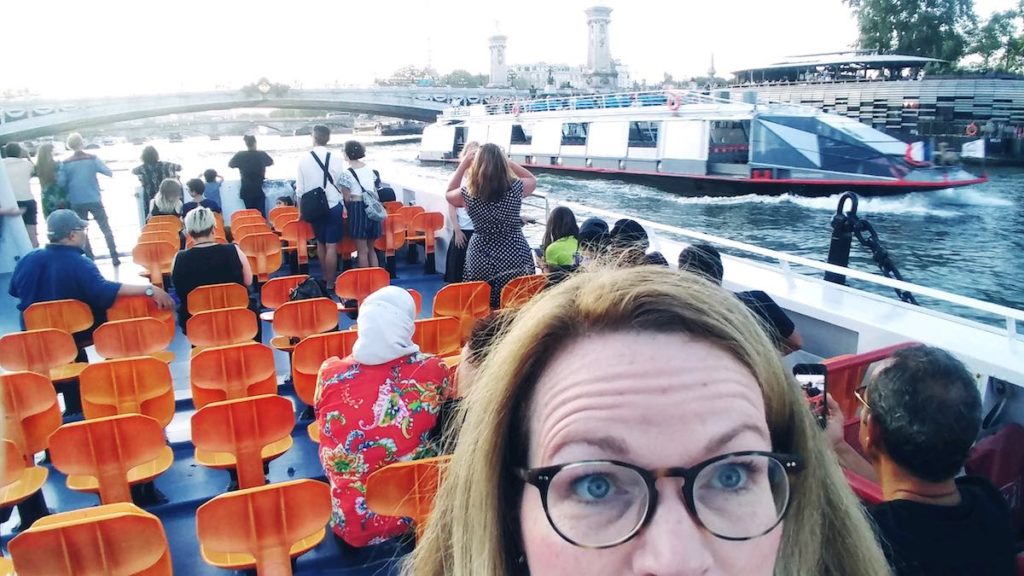 Museums Of Paris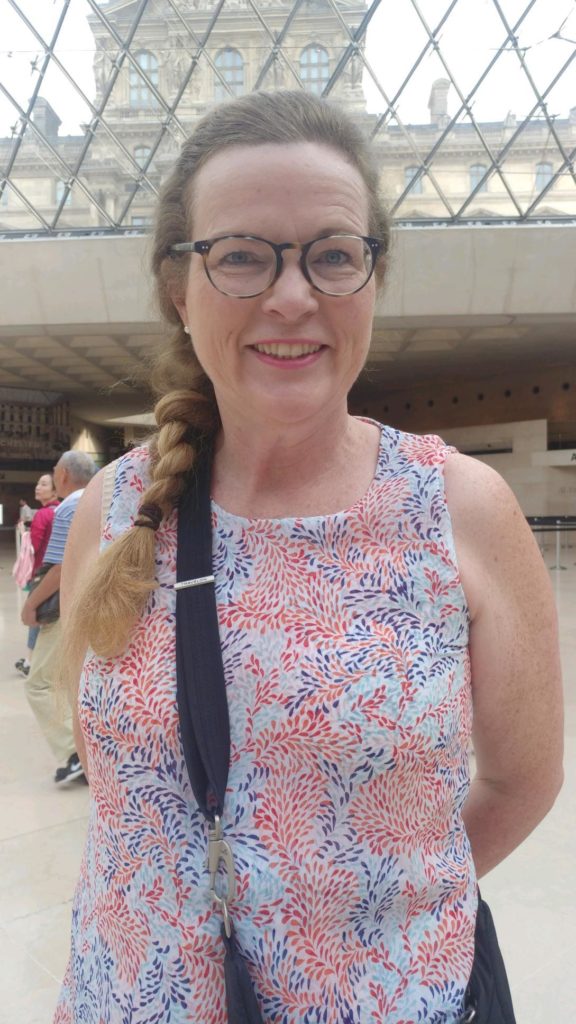 Paris has a museum for absolutely everything; I suspect you could spend a year in Paris and not see them all. We hit a few of the biggest.
At the Louvre, of course we saw the Mona Lisa. Really, there's almost no way to avoid it. As soon as we passed the ticket turnstiles we were thrust into a throng of people who were all heading one direction, around corners and up escalators in a long and inescapable line along a path lined with posters of the dear Mona and arrows pointing in the direction we were forced to head. It's a lovely painting, but small and hard to see with so many people.
Personally, I could have skipped that part because there are so many, many incredible paintings, sculptures and objects of art in the Louvre. I'd rather have had more time to see the rest of it.
Still, I suppose that waving at the Mona Lisa is one of those things you have to do. Now I have.
My favorite art museum was l'Orangerie. It's known for the two huge oval installations of Monet's water lily paintings, which are really beautiful. I enjoyed the exhibits on the lower floor as well, especially the substantial Renoir collection. This museum was far less crowded than the Louvre, so I was able to spend as much time as I wanted looking at each painting.
We had hoped to visit the Musee d'Orsay but it was closed on Monday and the lines on Tuesdays were just too daunting. But it's always good to have something on the list for next time, oui?
A Destination Befitting The Chairman
A visit to Les Invalides was at the top of my husband's list. Formally known as Hôtel national des Invalides, these magnificent buildings were built by Louis XIV in 1690 (finished in 1697) as a hospital and retirement home for veterans. Part of it still serves that purpose today but it also houses three different historical museums, as well as Napoleon's Tomb, which is fascinating.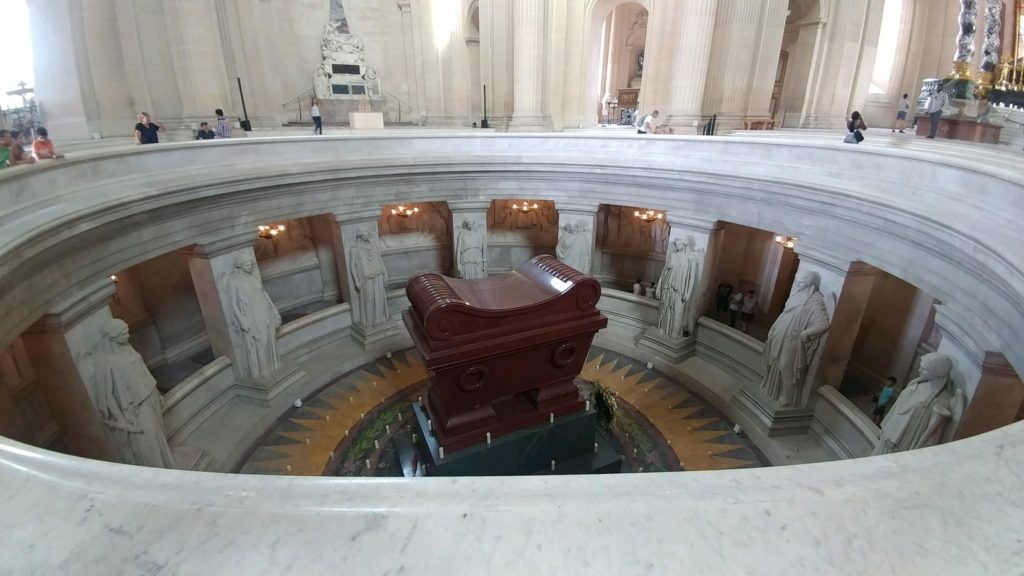 Is it weird that I spent much of my time at Napoleon's tomb photographing the floor tiles? The quilter in me just couldn't get over these gorgeous motifs. Think what stunning applique quilt blocks these would make! Suffice it to say, I really enjoyed my time at Les Invalides! Half a day gave us a good overview but, once again, I wished we'd had more time.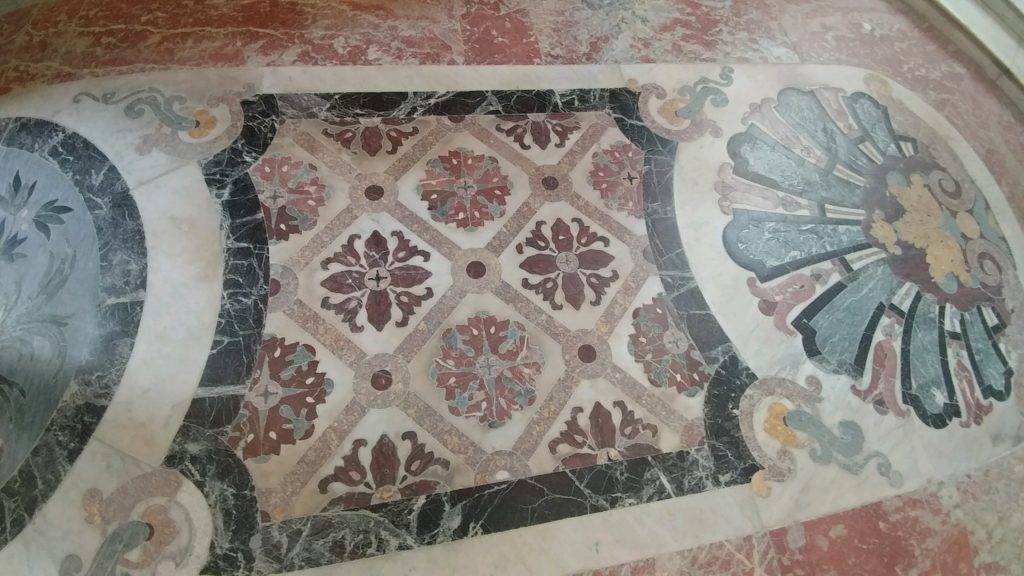 Paris By Foot
More than anything else during our trip we walked. And walked. And walked. Paris is a feast for the eyes – the architecture, the shop windows, and the Parisians themselves are simply lovely to see. (The instant we got there, I realized I should have brought more and fancier dresses!).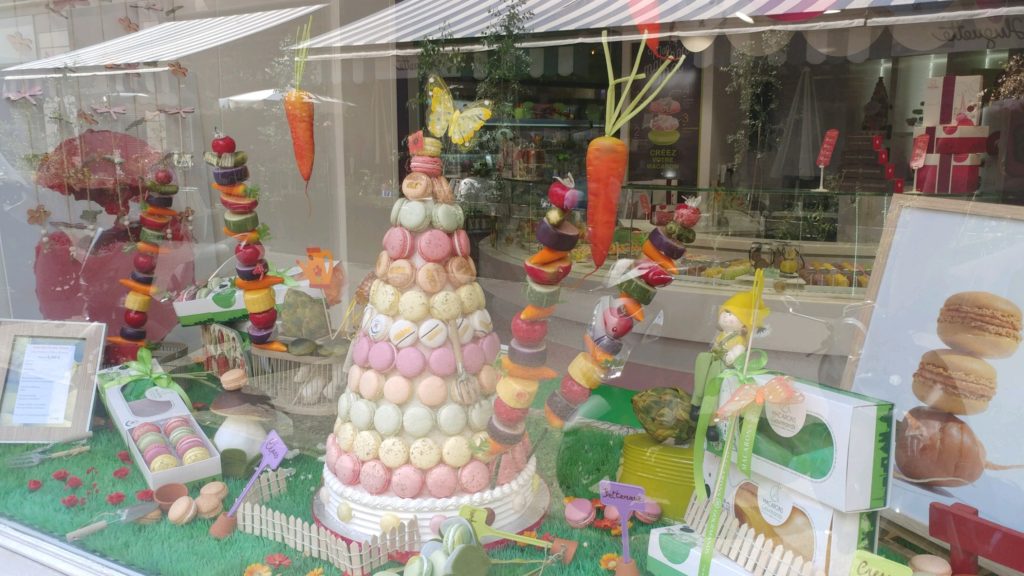 Of course, we walked through the enormous and exquisite Tuileries gardens and I went on my own to see the gardens at Luxembourg Palace. These famous, formal gardens were incredibly beautiful but the small pocket gardens I encountered every few blocks were a delightful and most welcome surprise.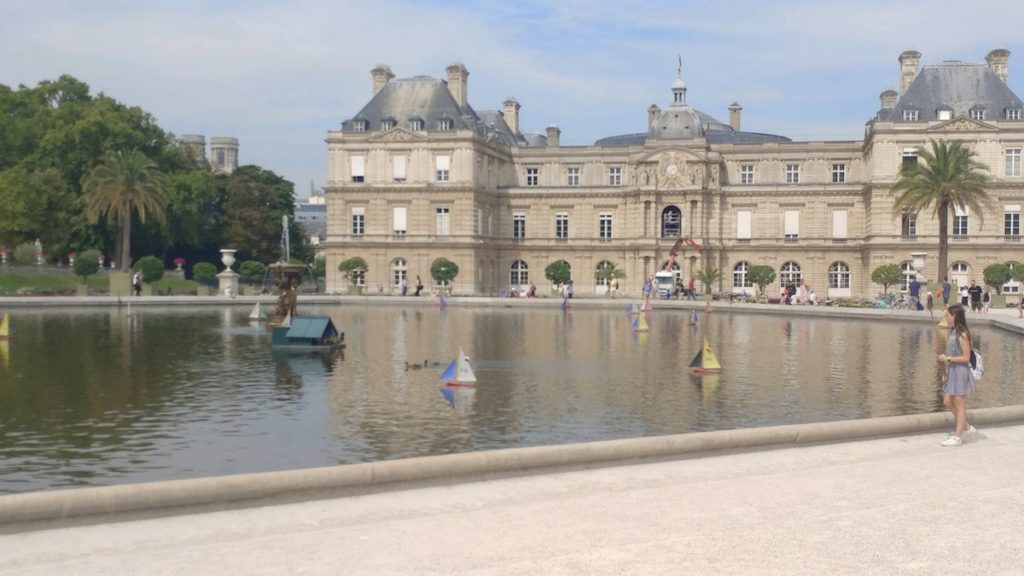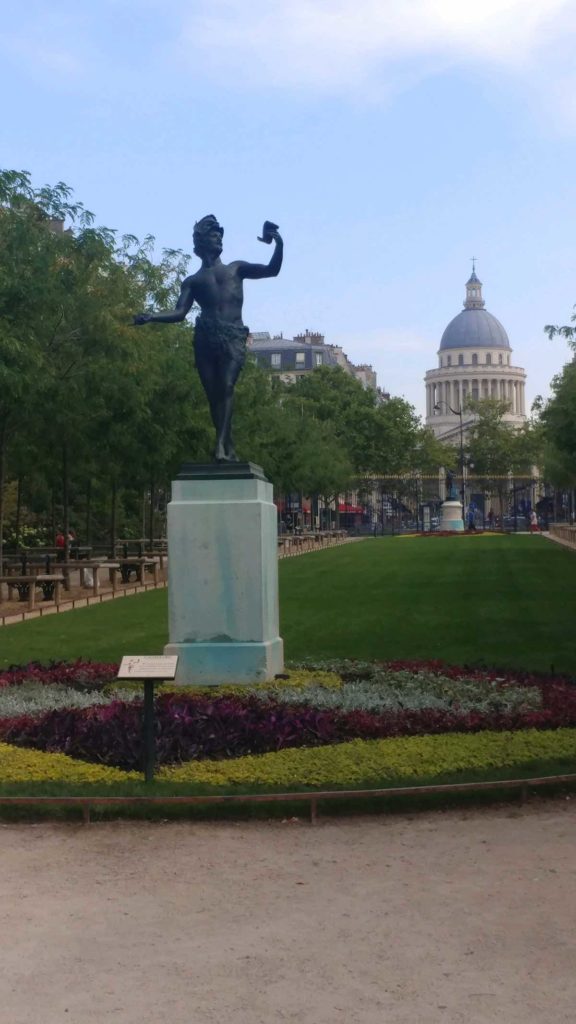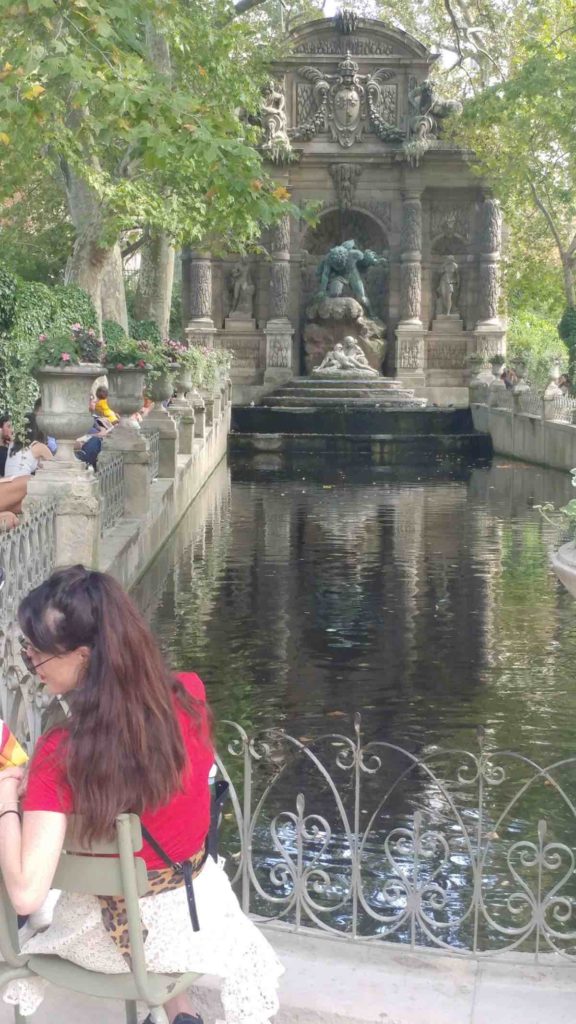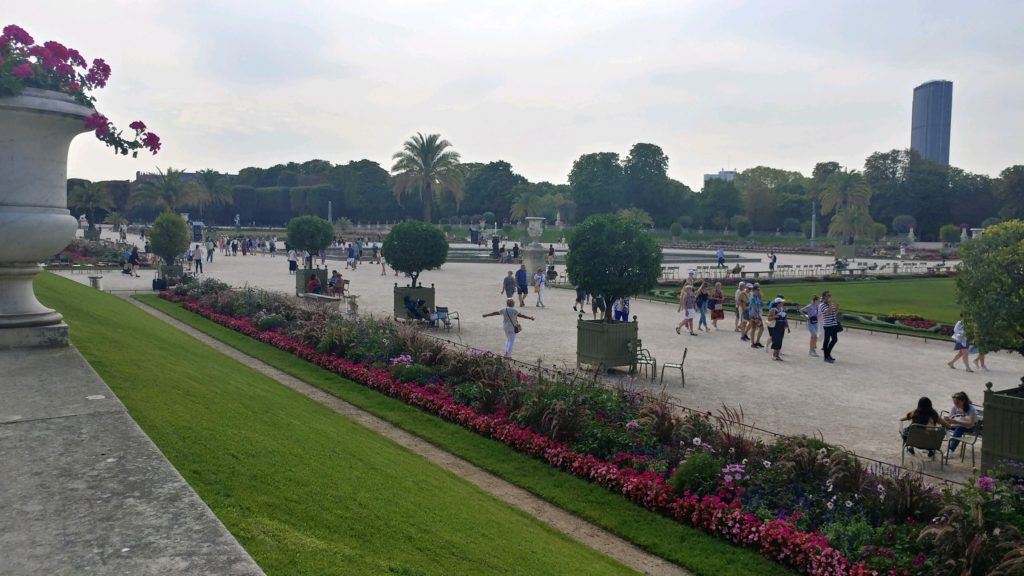 Usually, I'm ill-at-ease in big cities but I never felt that way in Paris. I think those charming little gardens, the Edenic corners that give rest to the eye and soul were the reason. Even in the busiest, most bustling parts of Paris, it's fairly easy to find a quiet bench in a green space to rest your feet and mind.
Of course, I left time in my schedule for shopping. As I said in my earlier post, fabric and fiber was one area where I refused to cut back on my aspirations. But when it came to the rest of it; I had to pick and choose.
Paris Shopping
First stop, Laduree for what are, arguably, the world's best macarons. (People have very strong feelings about macarons, I've discovered. Clearly, more research on this topic will be required on a future trip.)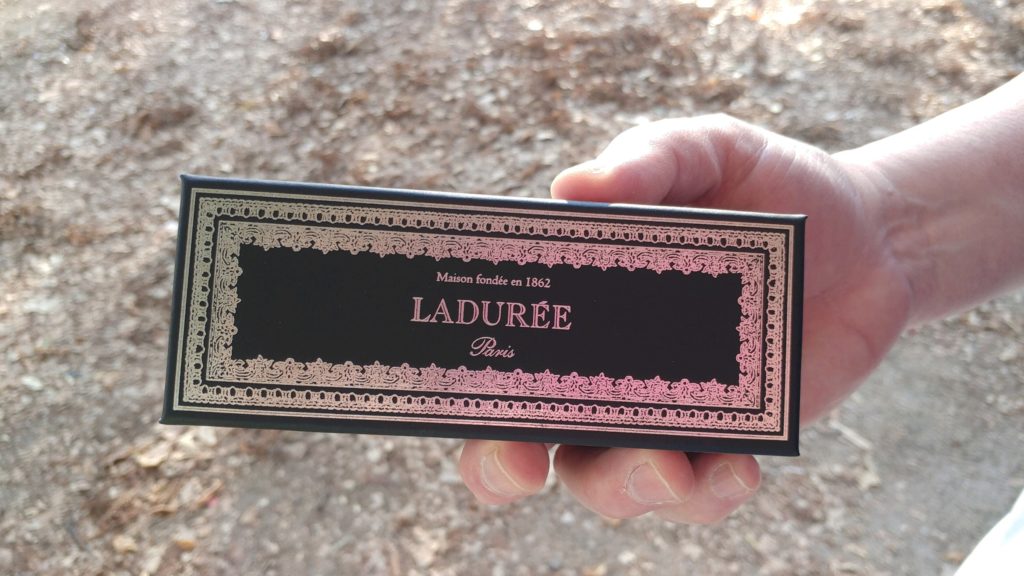 Following a tip from a friend, I steered clear of the busy Champs-Elysee store and found a shop on the Left Bank. There were so many flavors! Too many, actually, so I asked the sales girl to choose 6 of her favorites for me and was rewarded with a charming smile. Macarons from Laduree are something of an investment. The Chairman just couldn't see how 6 cookies could be worth 20 Euros. Then I gave him one. Big mistake. I had to fight to get my half of the box!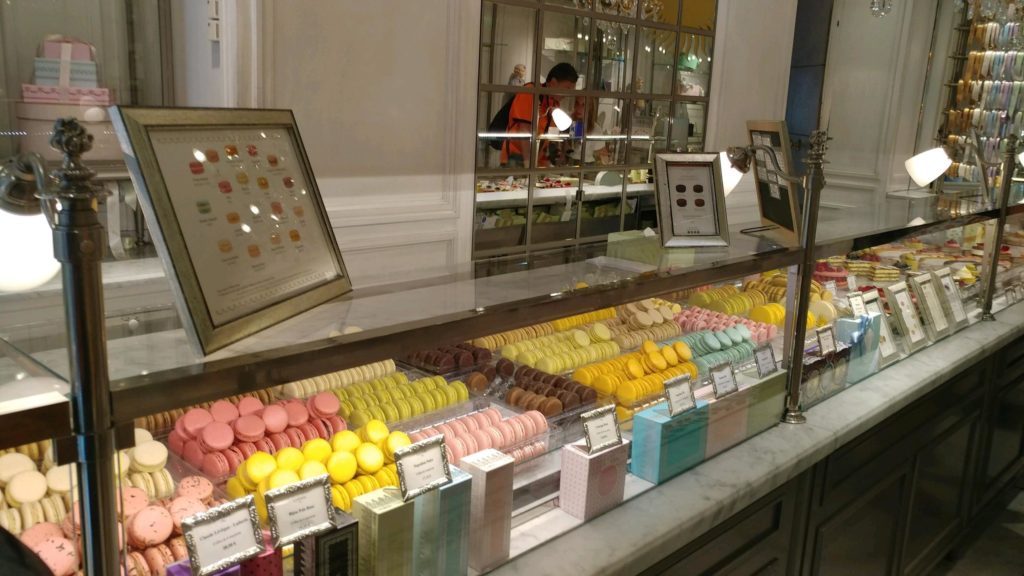 Chocolatiers are even more common than pocket gardens in Paris. I found a marvelous one near our hotel. As the name implies, the emphasis of these shops is chocolates but with the temperatures in the humid mid-nineties, I didn't want to risk buying gifts that would melt. So when I saw a display window with beautiful pastel colored nougat, I went inside and bought two small bags.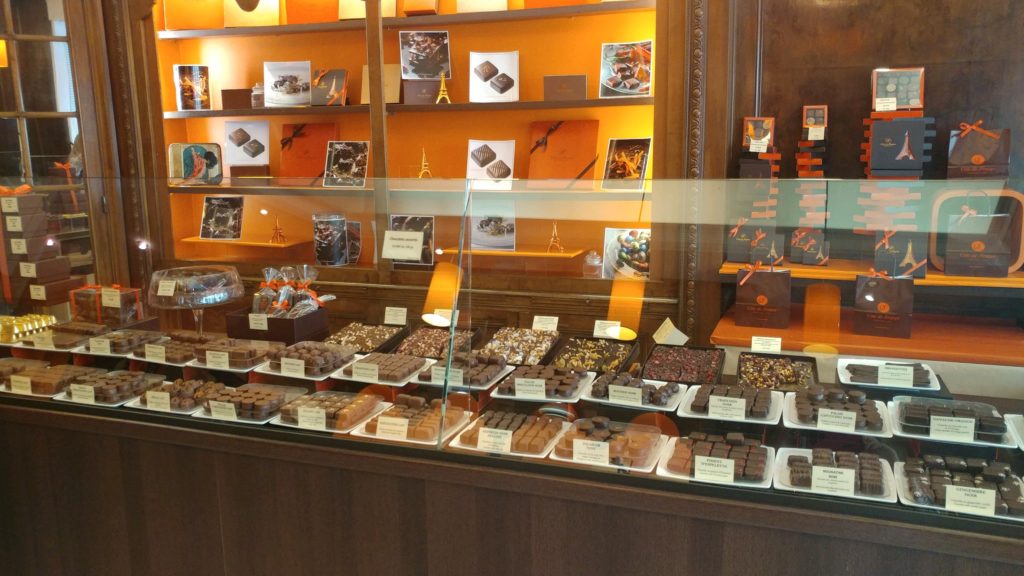 Nutty For Nougat
They were intended as gifts but I couldn't resist trying one. Nougat is a candy I remembered from my childhood but I hadn't had any for decades and, oh my! I never had any like this!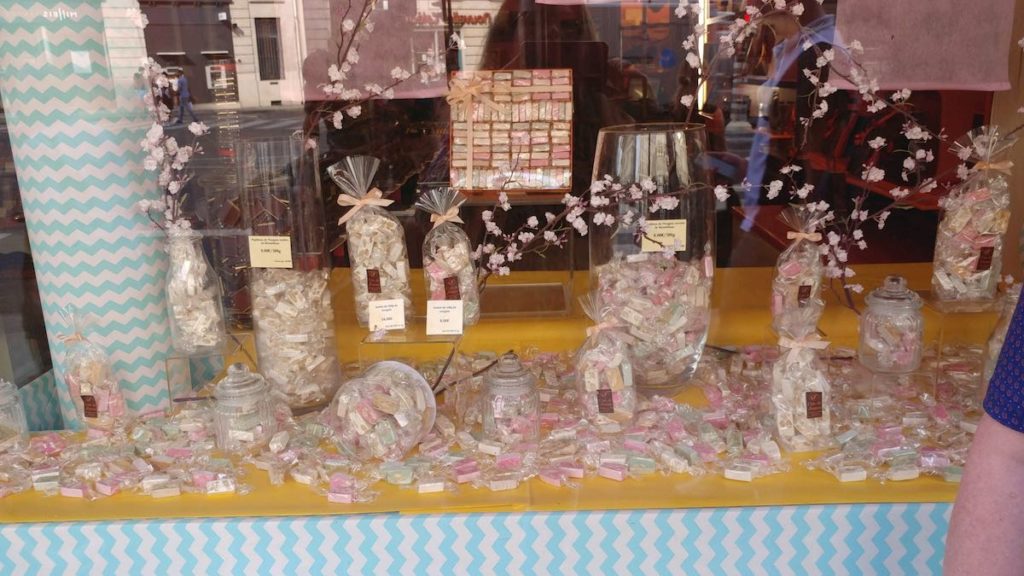 Those chewy, thin slices with delicate flavors of vanilla, pistachio, and almond were simply divine! I gave one to The Chairman with predictable results. The next morning, I retraced my steps to the shop and bought more nougat, a LOT more.
But even if we ration it, our supply is bound to run out before long. So I immediately began looking at a few recipes, hoping to make my own once we were home. I quickly realized that edible rice paper is a necessary ingredient of nougat. This isn't something I recalled seeing in the states so I popped into a little food shop to see if they had any in stock. What a lucky break that turned out to be! This jumbled little shop was a veritable treasure trove of culinary delights – beautiful jellies, jams, marmalades, and sweets at very reasonable prices. My luggage wouldn't allow me to buy all I wanted but I found my rice paper and bought some French candies for the granddarlings.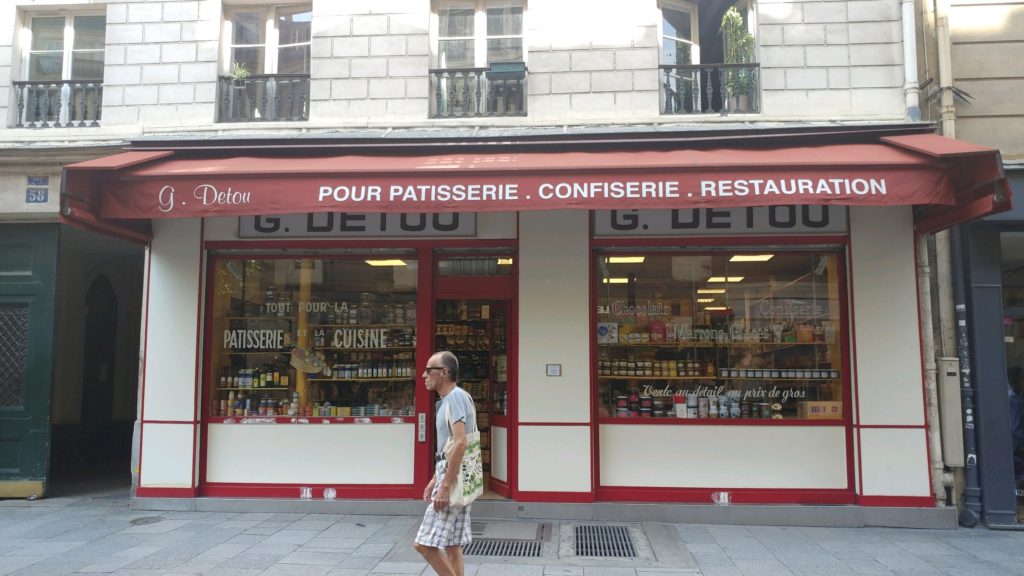 Oh, yes. The granddarlings.
Like most grammys I am a sucker for those sweet little dumplings. I'm so much more inclined to splurge on them than on myself. The moment I walked into Tartine et Chocolat, I was doomed. But, those little girls are going to look so precious, so adorable, so very, very French in their matching pinafores!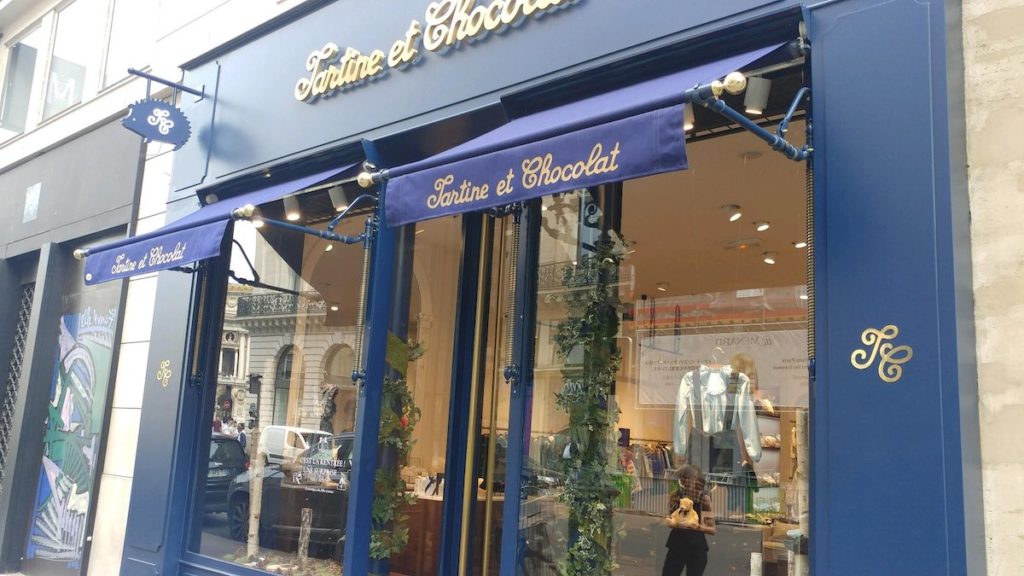 How could I resist?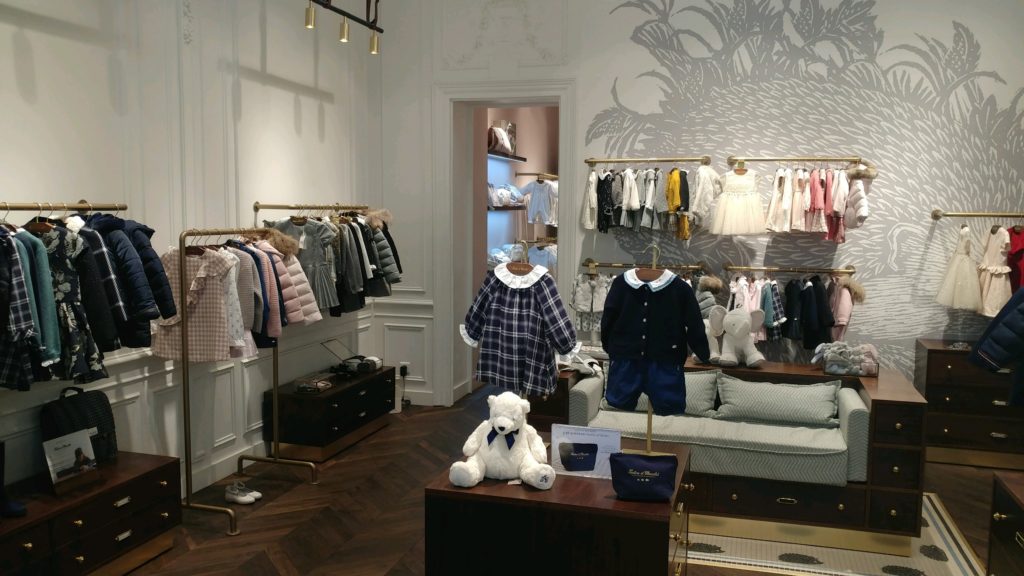 I couldn't. Not any more than, as an author, I could resist making two literary pilgrimages in the City of Lights.
Case in point, here's my almost three year old grand darling, dubbed The Macaroon, who is loving her fancy frock.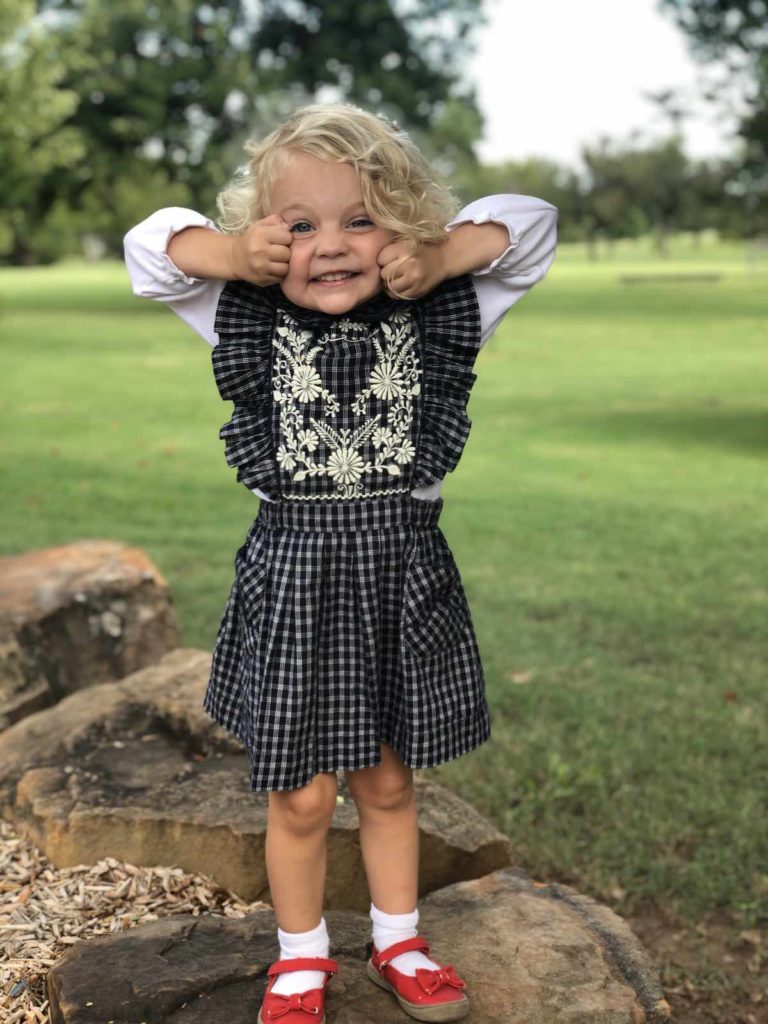 A Paris Pilgrimage
Shakespeare and Company has been selling English books in Paris since 1919, first at the Rue de l'Odeon, and since 1951 at the Rue de la Bucherie, near the Sorbonne. Though the shop is really quite small, they carry a good selection of classic books. Not wanting to carry heavy books in my luggage, I settled on two sweet little notebooks as souvenirs.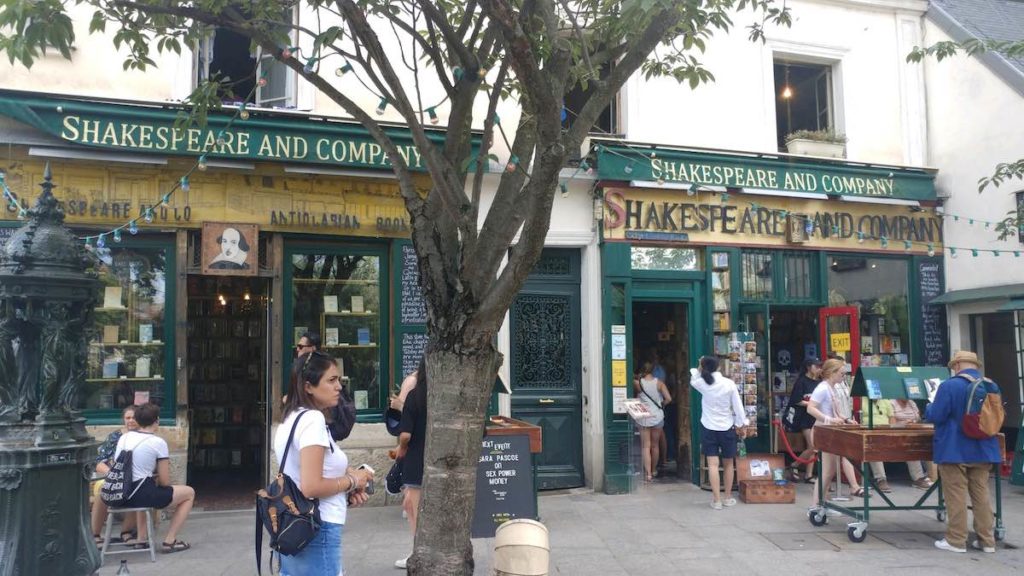 The last simply-had-to-be-done stop on our whirlwind tour of Paris was the iconic Hemmingway Bar in Ritz hotel, the favorite watering hole for "Papa" and so many other writers. After the Germans left Paris, he famously "liberated" the bar. (To learn the real story and more of the history of the fabulous Ritz, I highly recommend Melanie Benjamin's delightful new novel, Mistress of the Ritz.)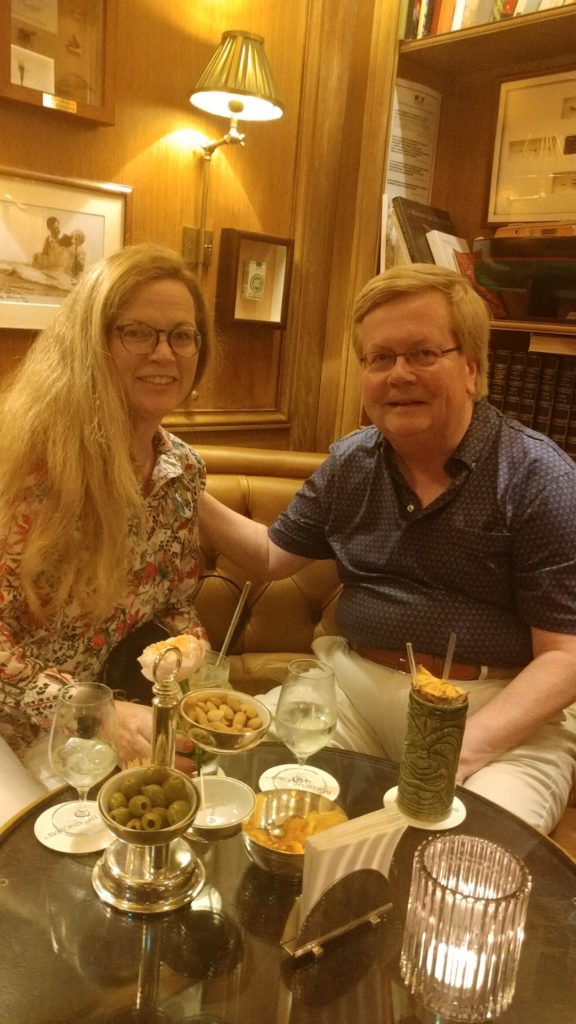 On our last night in Paris, The Chairman and I lifted a glass. We toasted in homage of Papa and of Paris and promised each other that we'll return to this magical city again.
THIS POST MAY CONTAIN REFERRAL LINKS. IF YOU CLICK THROUGH AND TAKE ACTION, I MAY BE COMPENSATED, AT NO ADDITIONAL COST TO YOU.