This post may contain affiliate links. Full disclosure policy
Our two magical weeks of European travel are now at a close. All that's left now are incredible memories and a lot of laundry. (SO much laundry…)
I already shared a bit about our adventures is Paris and have another post in the pipeline with plans for at least one or two posts on the second leg of our tour, our walking holiday in the glorious Cotswolds region of England.
But since the Downton Abbey movie premiers next week for United States audiences and many of us are counting the days until September 20th , I thought I'd write about the final, capstone event of our trip today. That's right, I'm talking about our visit to Highclere Castle, aka the REAL Downton Abbey.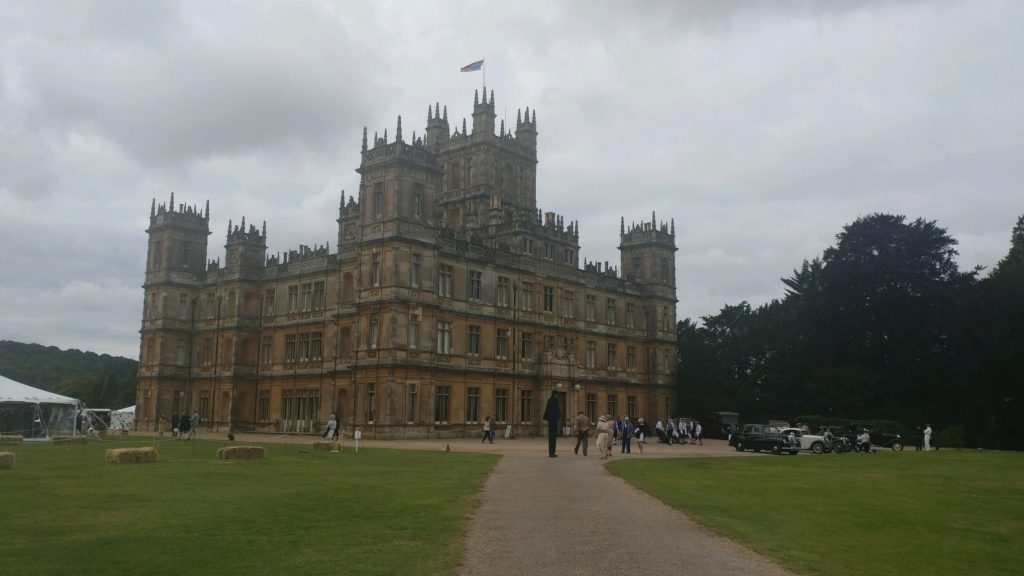 Downtown Abbey: Almost as Good as Christmas
The first thing I did after booking flights to the UK several months ago was to visit the Highclere Castle website to reserve tickets for a tour. Like so many fans of the Downton Abbey series, a visit to Highclere has been on my bucket list for years. So you can imagine my disappointment when I discovered that our trip to England would take place only days after the castle's public tours would close for the season. I felt like a kid who'd just been informed that Christmas had been cancelled!
But then I noticed a special event called Costumes and Cocktails that coincided with the last day of our trip. (Hooray! Christmas was back on!). I quickly reserved two tickets plus a "champagne tea hamper" before phoning The Chairman with the news of our good fortune.
Oddly, The Chairman wasn't quite as excited as I was.
This may have something to do with the fact that, though he was a big fan of Downton in the early years of the series, he never quite forgave Julian Fellowes for killing off Cousin Matthew. (And really, who can blame him? So many of us still carry scars from that episode.) Still, by the end of our visit, even The Chairman admitted that Costumes and Cocktails had been a delightful day and a truly memorable experience.
Downton Abbey: From The Outside
Though we wouldn't be allowed to enter the house until afternoon, our tickets permitted us to be on the grounds all day. This was exactly what I planned to do. But when the weather turned chilly, I started to wonder if we should arrive later in the day. Wandering around the grounds all day and shivering didn't sound like much fun.
I ended up sticking with my original plan and I'm so glad I did! There was so much to see
and do! It was a bit like walking onto the set of a Midsomer Murder episode where the entire
village is invited to a fete at the manor house. Fortunately, there no dead bodies were involved, just a lot of music, food, fun, and tons of wonderful costumes! People went all out with their 1920's garb and we really enjoyed seeing them.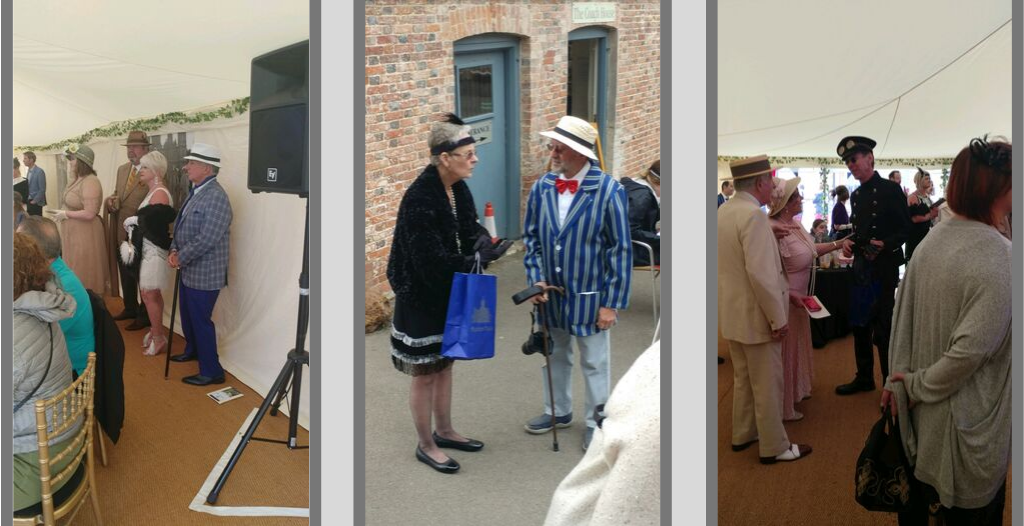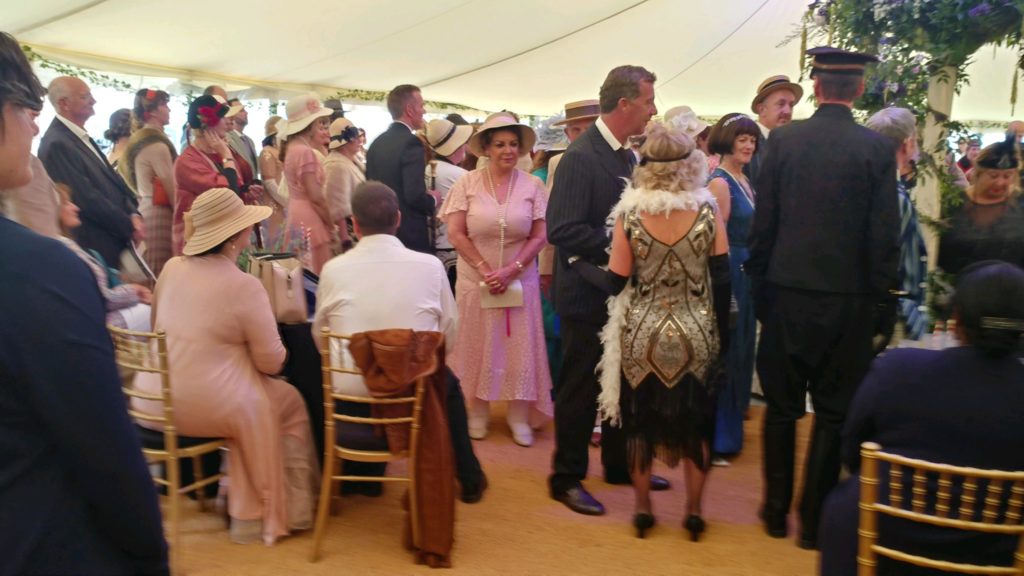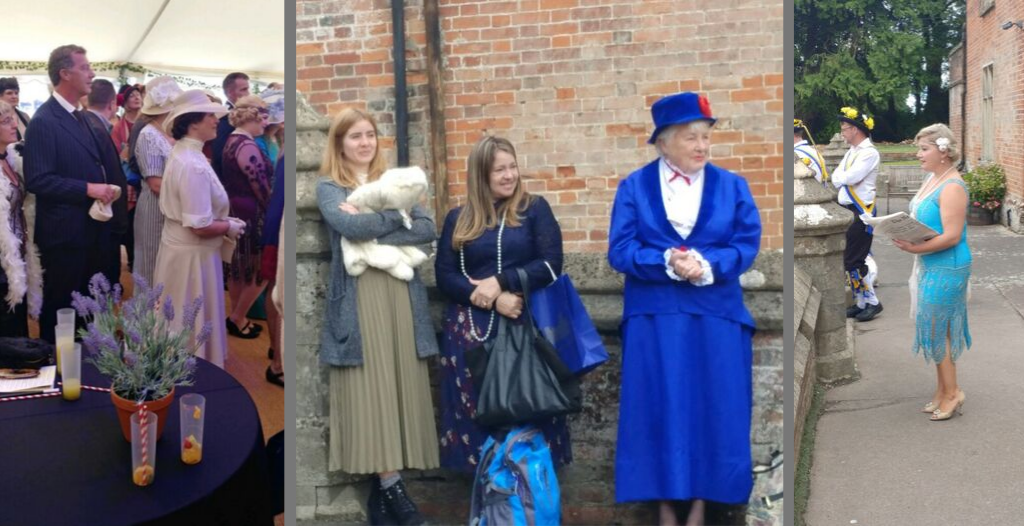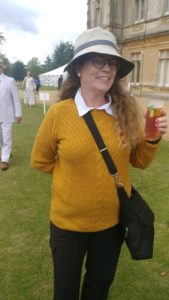 The Chairman and I did actually discuss dressing in costume but limited luggage space made that impractical. I did manage to look fairly English just the same, dressed in my woolly jumper (that's Brit for sweater) and a hat from the UK National Historic Trust, accessorized with that most British of Beverages, a Pimm's Cup. Cheers!
Downton Style Entertainment
A full agenda of entertainment was available in the main marquee (that's Brit for big white
tent). The Gatsby Girls wowed the crowd with energetic, choreographed versions of The
Charleston. Though Chairman and I sat on the sidelines when the Girls taught a few basic steps to the audience (rubber soled shoes are not ideal for dancing), when Alex Mendham and his Orchestra took the stage, I couldn't keep from tapping my toes. For a few minutes, I really did feel like I'd been transported in time to a 1920's speakeasy. I'll definitely be ordering a few of Mendham's CDs to play at home.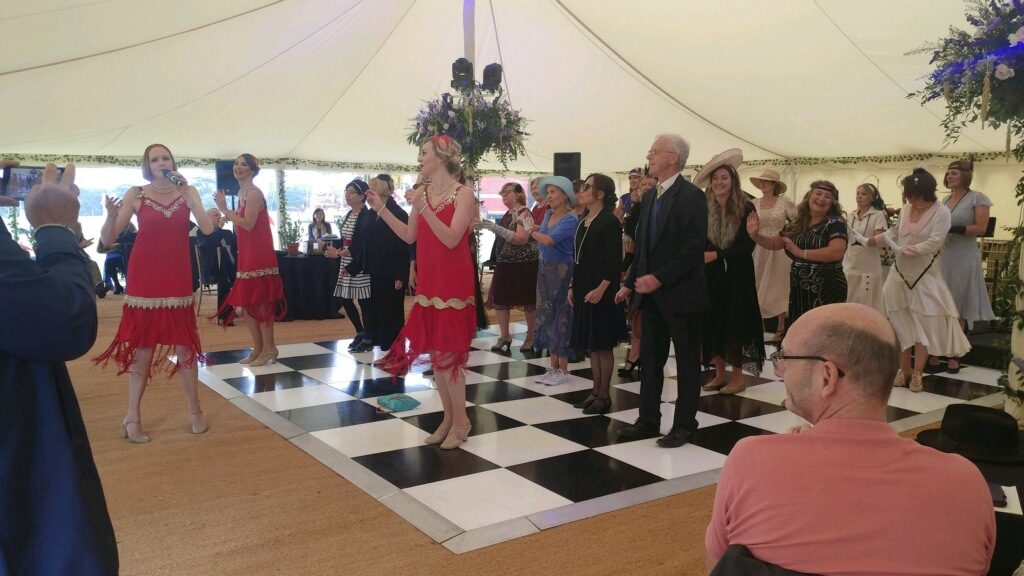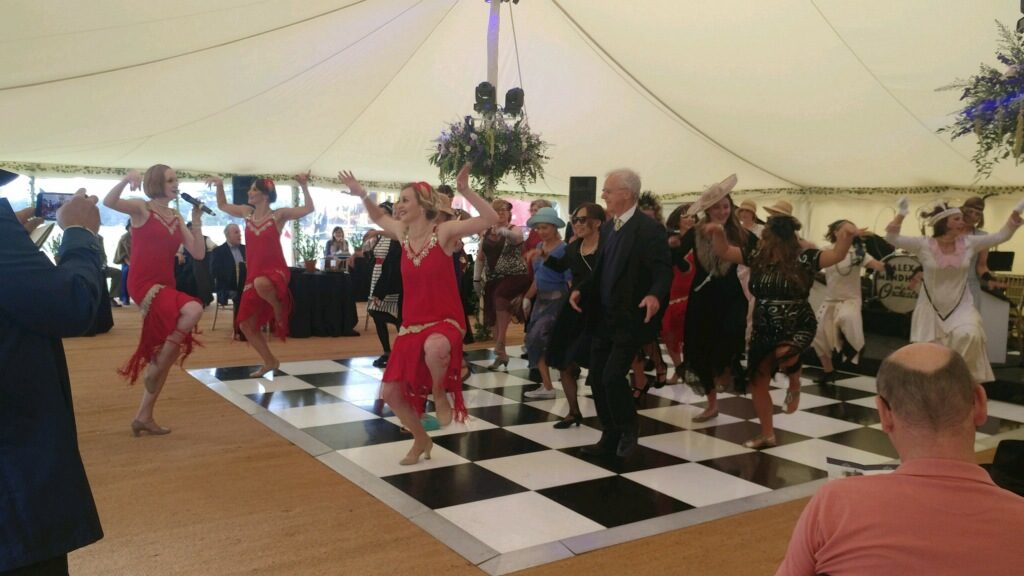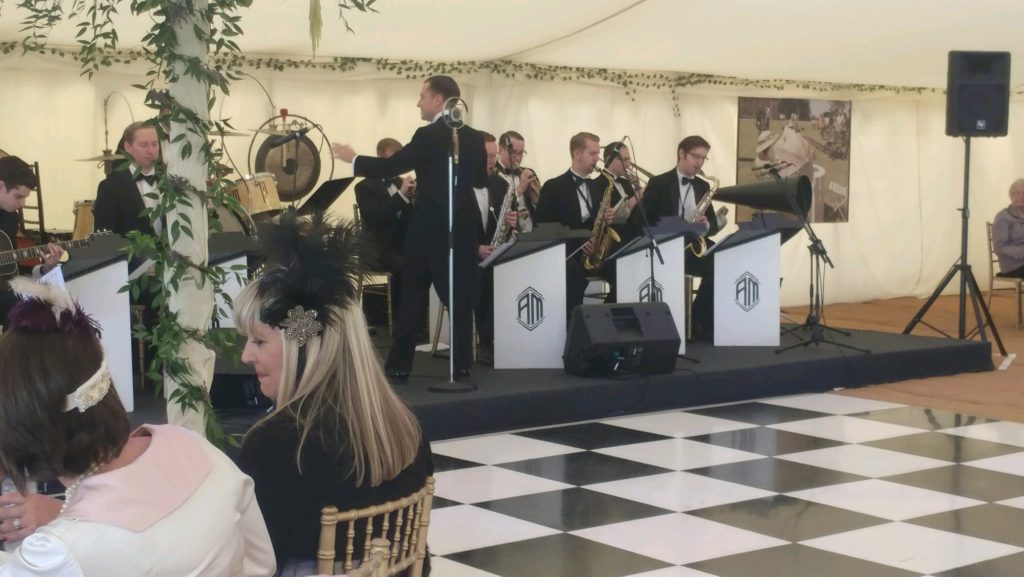 We also enjoyed music from Watership Brass, the Newbury Town Band, and a fun, slightly silly performance of Morris dancing. It's a type of traditional folk dancing that is meant to be a bit tongue in cheek.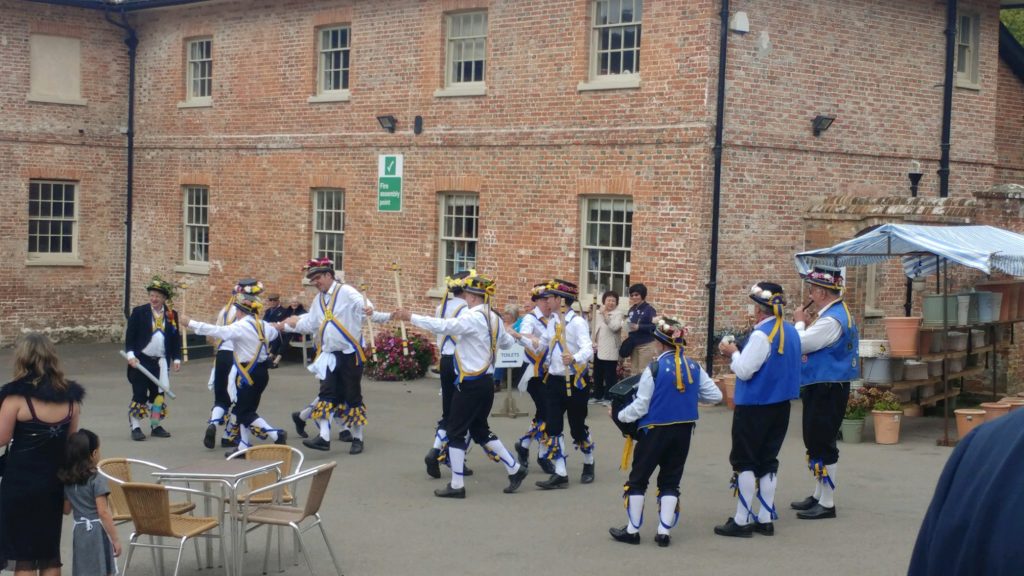 As if all that weren't enough, we took a ride on a vintage, steam-powered carousel, played a few lawn games, and checked out incredible displays of authentic vintage cars and clothing. The clothes had me absolutely drooling! I really think it might be time to bring back some of those fabulous 1920's fashions. I do love a good hat.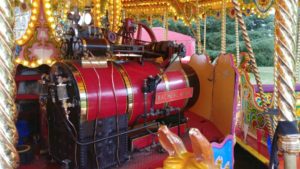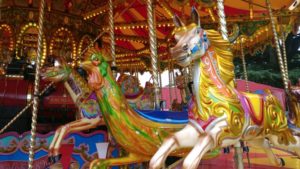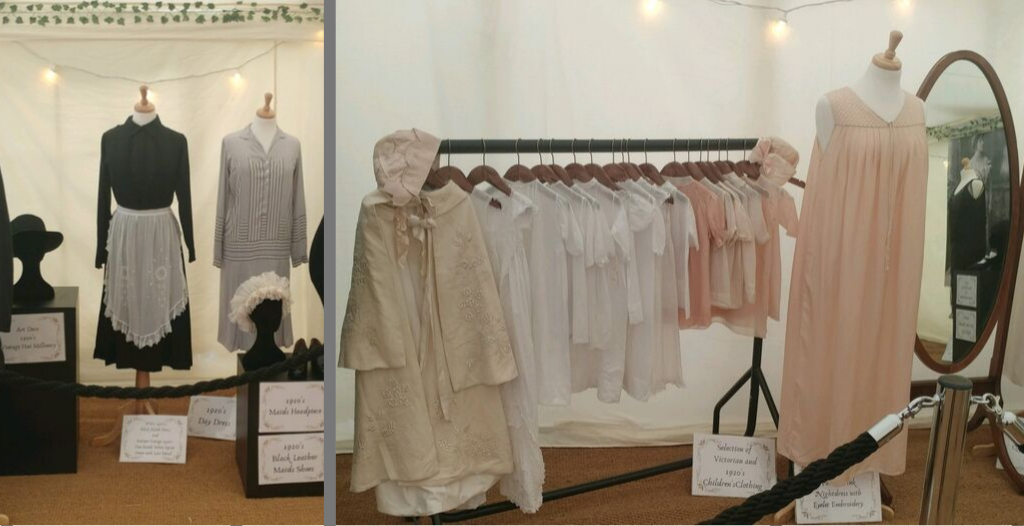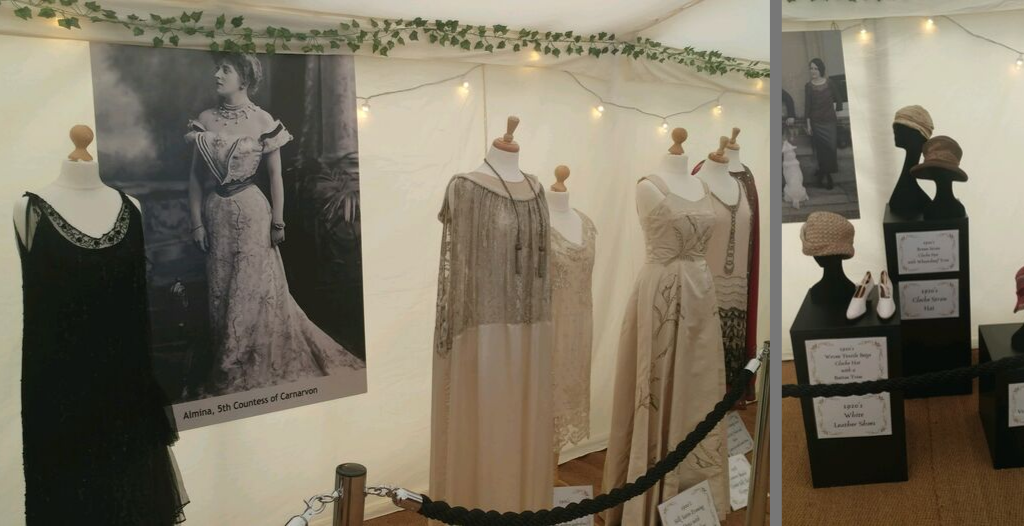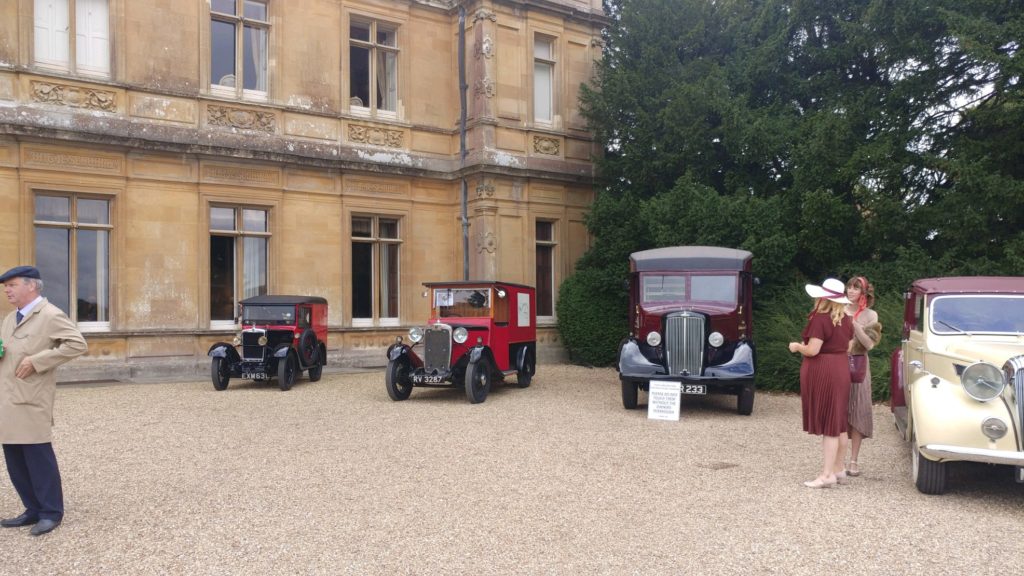 Not High Tea, But Highclere Tea
One of the highlights of our afternoon was a proper and truly spectacular tea.
It featured a dazzling and very filling array of savory sandwiches, scones with clotted cream, miniature desserts, and a half bottle of champagne. The food was all served up in a beautiful floral box embossed with the Highclere Castle logo. It was all delicious and so beautifully presented.
I really, really, really wanted to bring the box home but, sadly, there just wasn't room in the luggage. The suitcase was even more stuffed after my visit to the gift shop. I purchased presents for family and a signed copy of "Lady Catherine and the Real Downton Abbey", written by the Countess Carnarvon. I was also very tempted by copies of Christmas at Highclere and Entertaining at Highclere but, in the interest of luggage conservation, decided to order them when I got home.
(By the way, I perfected a recipe for this lemon blueberry tea cake to get in the spirit of all things British. I recommend baking it in preparation for the movie!)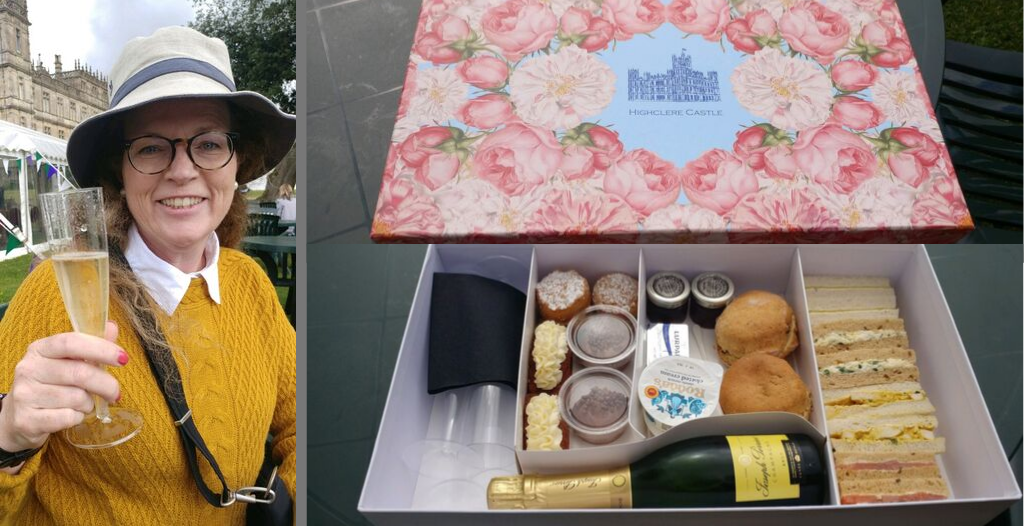 We also toured the fascinating Egypt exhibit, which told the story of the 5th Earl of Carnarvon's archeological expeditions. Until that moment, I hadn't realized that he and Egyptologist Howard Carter were the men who discovered the tomb of King Tutankhamun. Nor did I know about the Earl's tragic and untimely death, only weeks after the opening of the tomb. The history of Highclere Castle and the people who have lived there, both upstairs and downstairs, is simply fascinating.
Downton Abbey: Behind The Scenes
Finally, after a busy morning at the fete, it was time to tour the actual castle! Unfortunately,
the taking of photographs inside the house isn't allowed, so I can't share a pictures. But I can tell you that it was just as amazing as I had imagined it would be! We toured the library, salon, dining room, grand staircase, etc. And even the bedrooms that "belonged" to Ladies Cora, Sybil, Edith and even the room where the notorious Mr. Farouk met his demise, I could envision every character and relive every episode. It made me even more excited about the upcoming movie.
Our visit to Highclere really was a fantastic way to end a fantastic journey. Having been there in person has made me even more excited about the release of the Downton Abbey movie and eager to learn more about the real life residents of this grand, beautiful and historically significant home.
Whether or not you're a fan of Downton Abbey, if you're ever in England, I urge you to include a visit to Highclere Castle in your itinerary. It's a house, and a day, you'll never forget.
THIS POST MAY CONTAIN REFERRAL LINKS. IF YOU CLICK THROUGH AND TAKE ACTION, I MAY BE COMPENSATED, AT NO ADDITIONAL COST TO YOU.