This post may contain affiliate links. Full disclosure policy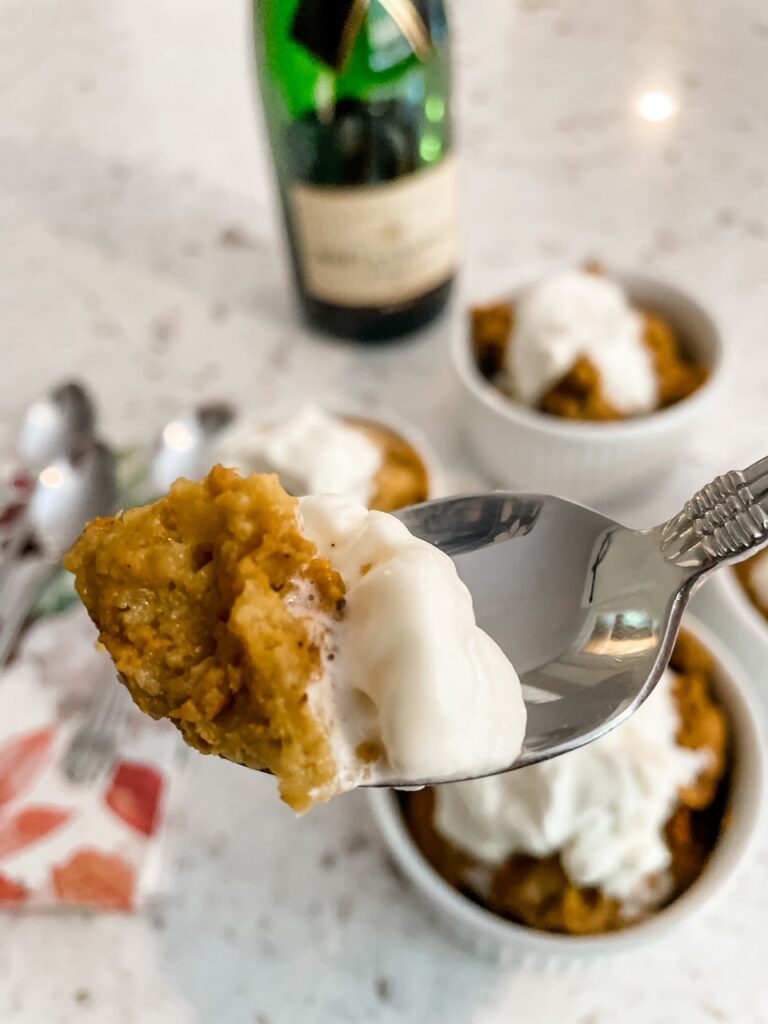 My Slow Cooker Pumpkin Bread Pudding is a delicious, easy-to-make dessert your family will love! Not too sweet and loaded with fragrant spices, this comforting, fix and forget it recipe tastes like home and smells like fall.
Slow-Cooked Love: Slow Cooker Pumpkin Bread Pudding
With my kitchen still in disarray in the wake of our remodel, I've been renewing my love affair with my slow cooker. Really, I've always been a fan. I mean, what's not to love about doing a little prep in the morning and coming home to a hot meal at the end of a long day?
Having no oven or stove has encouraged me to create a lot of new recipes for my slow cooker, including my Ginger Peach Chicken and Tamale Pie. However, until a recent trip to Trader Joe's, I'd never really thought about making dessert in the slow cooker.
They're calling it Pumpkin Palooza. But it really comes down to the aisles of my local Trader Joe's being loaded with pumpkin everything – muffin mix, waffle mix, coffee, ravioli. They've even got pumpkin spice hummus!
Sure, I could have just bought some coffee and been done with it. But fall and baking go hand in hand, and nothing says home, love, and autumn like a homemade, pumpkin spice dessert eaten hot from the oven.
Or from the slow cooker.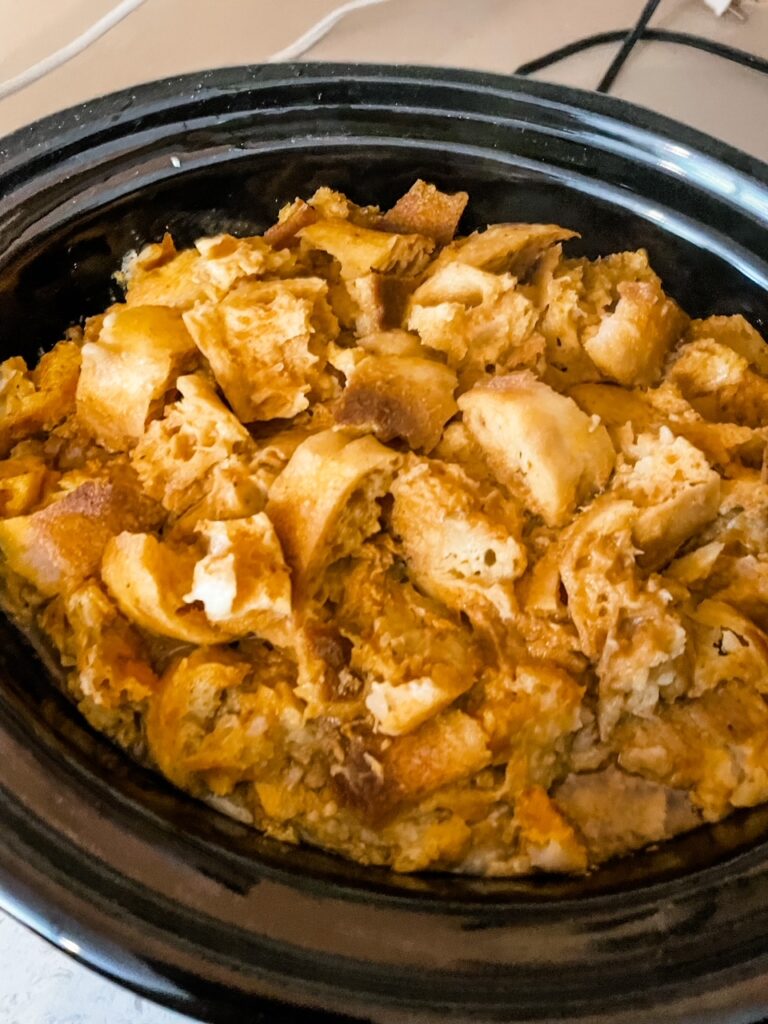 Slow Cooker Pumpkin Bread Pudding – A Keeper Fall Recipe
And though my Slow Cooker Pumpkin Spice Bread Pudding was born from necessity, it's earned rave reviews from everyone who's tried it.
Our contractors kept sniffing the air when the pumpkin spice bread pudding was cooking, commenting about how amazing it smelled. Taking the hint, I made sure they got the first servings and was informed that it tasted even better than it smelled, then was asked for the recipe.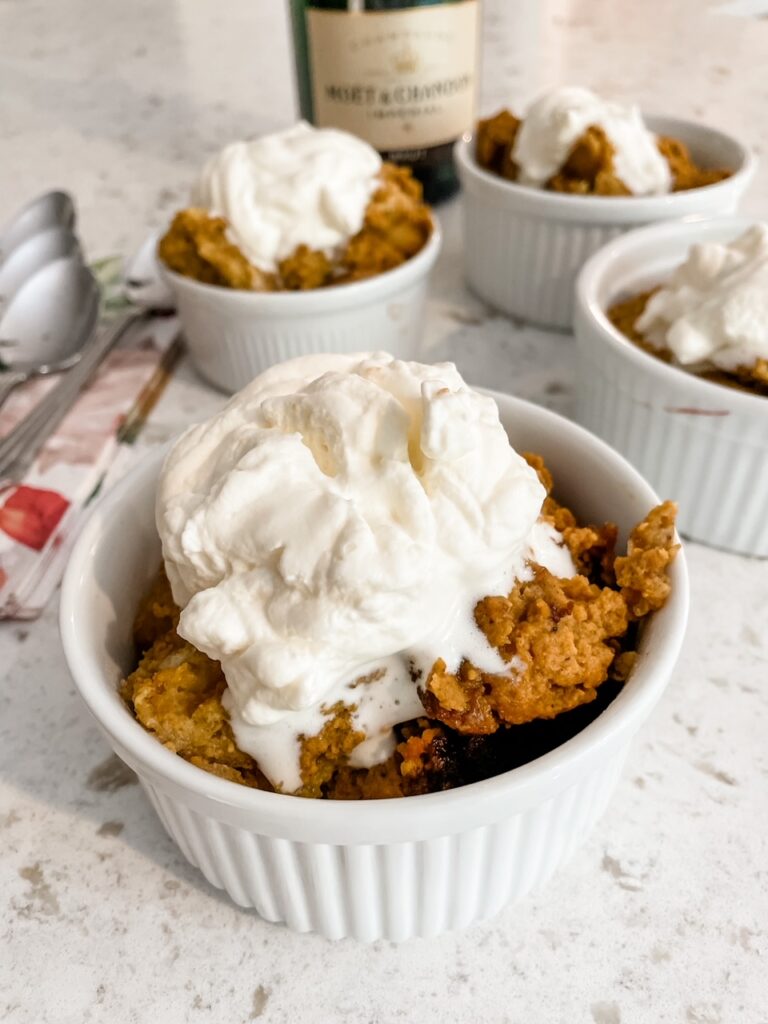 Some friends who came over for dessert and to see the remodeling progress said pretty much the same thing and grinned when I sent home some extra with them. My husband was a happy camper too, and so was I!
Bottom line: Slow Cooker Pumpkin Bread Pudding is a keeper. This is a recipe I'll be making again and again, even after I've got a working stove.
Fix It and Forget It – Slow Cooker Pumpkin Bread Pudding
Often, my slow cooker inventions require a little pre-cooking. But my Slow Cooker Pumpkin Bread Pudding really is a "fix it and forget it" recipe.
It begins with the bread. A nice artisan French bread would be perfect, or even some leftover panini. It's important to choose a bread that's a little chewy and will hold onto some texture during a long, slow cooking process.
You'll cut or tear the bread into approximately one-inch chunks and toss them into the slow cooker. Next, you'll whisk the eggs, sugar, spices, and other ingredients together in a mixing bowl, pour them over the bread chunks, and turn on the slow cooker.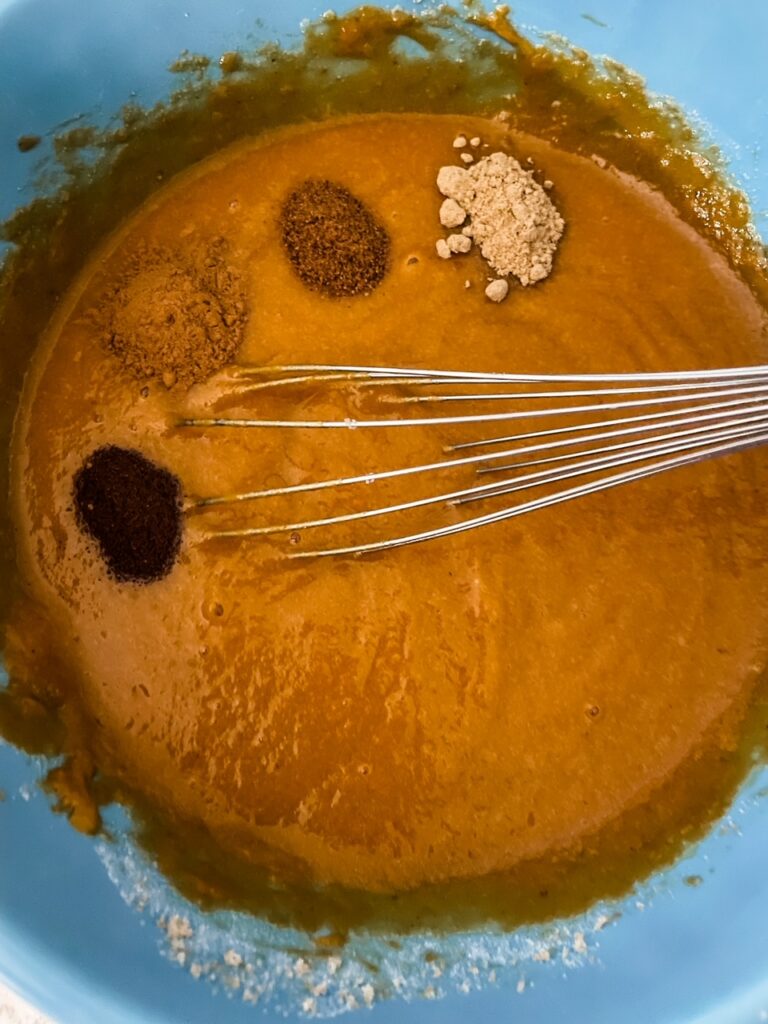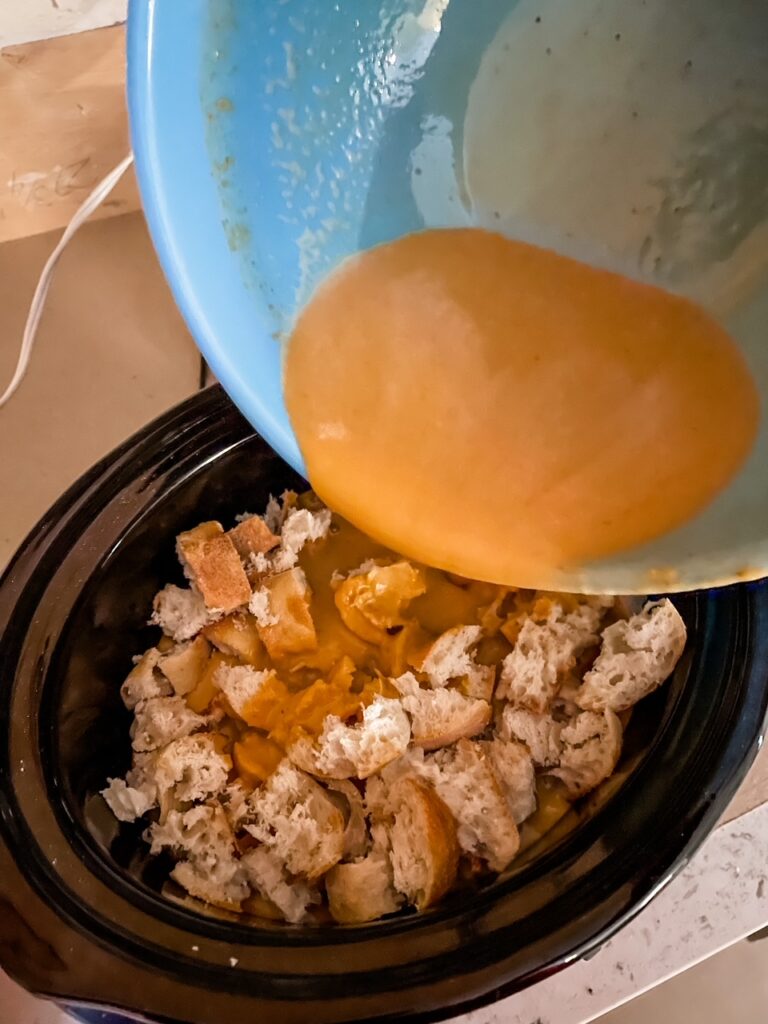 For the next six hours, your whole house is going to smell amazing and make everybody's mouth water. Breathe deeply and enjoy the anticipation
After that, all you'll need to do is put the pumpkin bread pudding into a bowl and collect the compliments.
Seriously, it's that simple. And that delicious.
Give my Slow Cooker Pumpkin Bread Pudding a try. You'll thank me. And so will your family!
Print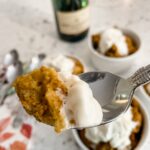 Slow Cooker Pumpkin Bread Pudding
---
Author:

Yield:

8

-

12

servings

1

x
8 cups

of 1-inch cubes of chewy bread (French bread, panini, etc.)

1

15oz. can pumpkin puree (or a little less than

2 cups

)

6

large eggs

2 cups

half and half

1 cup

whole milk

¾ cup

white sugar

¾ cup

brown sugar

2

T maple syrup

2

T bourbon (optional)

2 tsp

vanilla extract

2 tsp

ground ginger

1 tsp

ground cinnamon

¼ tsp

ground cloves

¼ tsp

ground nutmeg
Whipped cream for serving (optional)
---
Instructions
Cut or tear the bread into approximately 1-inch cubes and place in slow cooker.
In a large bowl, beat pumpkin puree and eggs together until smooth. Whisk in half and half, milk, sugars, syrup, bourbon if using, vanilla extract and spices until well combined.
Pour pumpkin mixture over the bread cubes. Stir gently, just to make sure that all the bread cubes are coated with pumpkin mixture.
Place lid on slow cooker. Cook on low for six hours.
Place pudding into bowls. Top each serving with a dollop of whipped cream, if using.