This post may contain affiliate links. Full disclosure policy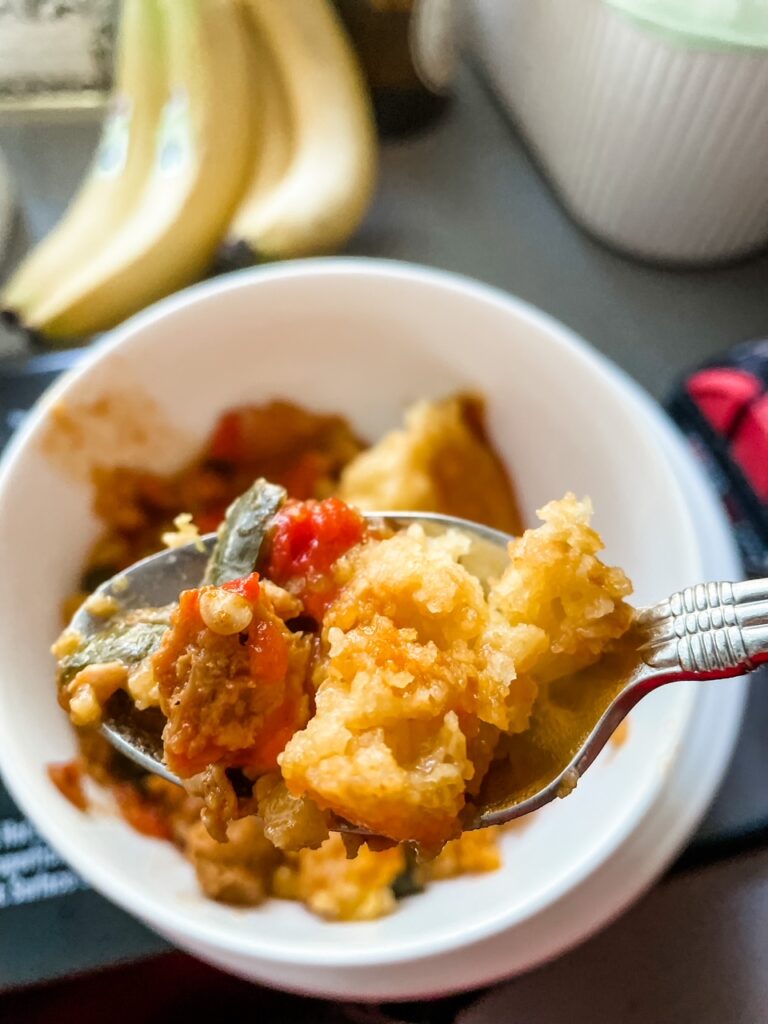 Cooler weather calls for cozy fires, warm socks, and comfort food. My Easy Slow Cooker Tamale Pie is as comforting as it gets. This fix-and-forget it tamale pie is a delicious, hearty dinner your family will love. So good. And so easy!
Falling for Comfort Food
The colorful leaves, the nip in the air, the bags of stale candy corn that didn't sell last year reappearing on drug store shelves, the return of pumpkin spice everything….It can only mean one thing.
Fall is most definitely here!
I can probably skip the stale candy corn. But when fall is in the air, something I can't get enough of is comfort food.
Hearty soups and chowders, savory stew and chilis, piping hot casseroles topped with gooey, melty cheese all make my list of must-make fall comfort foods. Topping the list is a childhood favorite that stands the test of time, tamale pie!
Easy Slow Cooker Tamale Pie – Better than Mom's (But Don't Tell Her I Said So)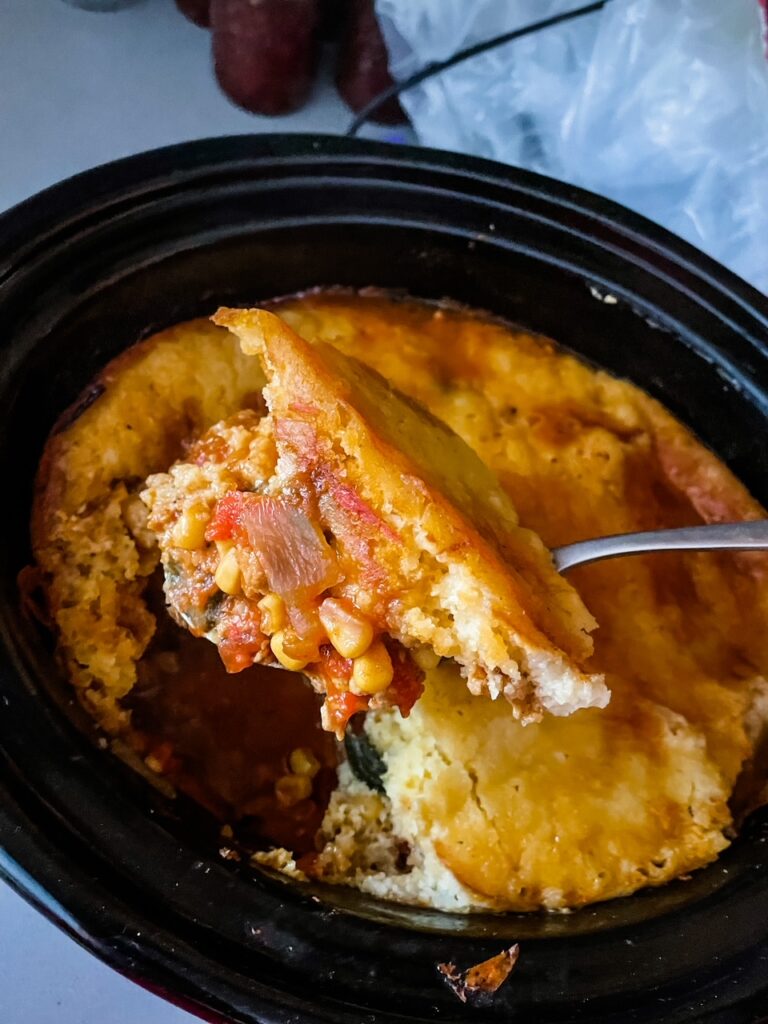 Tamale pie was a staple of my childhood. My mom served it at least twice a month but I never ever got tired of it. That rich, meaty filling topped with a thick layer of cornbread and melted cheese – yum! I mean, seriously. What's not to love about tamale pie?
The answer is – nothing.
Even so, I felt like my mom's tamale pie recipe was due for some updating. I wanted to make it a little healthier, and even easier.
Mom's tamale pie relied on pantry staples she always kept on hand. That made it easy for her to whip up a crowd-pleasing tamale pie at the drop of a hat. My version of Mom's classic does the same.
The Secret to My Easy Slow Cooker Tamale Pie
I use canned tomatoes, corn, and tomato sauce in my recipe, just like Mom did. However, I left out the black olives. Why a supposedly Mexican-inspired casserole included sliced black olives was beyond me, so I left the olives out of my Easy Slow Cooker Tamale Pie. However, if black olives play a role in your memories of tamale pie, go ahead and put them back in.
Mom made her cornmeal topping from scratch but I decided to save myself time by using a prepackaged Jiffy cornmeal muffin mix. It's inexpensive and something I always keep on hand.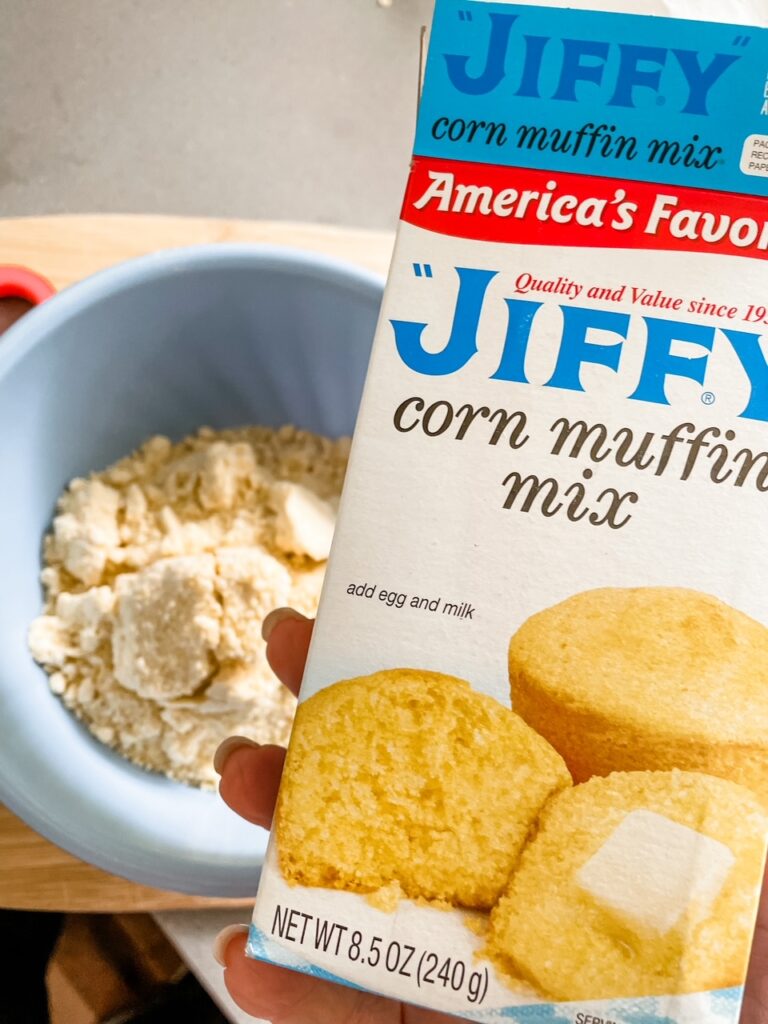 However, the secret that makes my Slow Cooker Tamale Pie even easier and more delish than Mom's is another of my favorite pantry staples, McCormick's Taco Seasoning.
Seriously, I love this stuff! It saves me time in mixing spices and gives my tamale pie filling a savory flavor with just enough spicy kick. People have very different tolerances for spice, so it's important to find a good balance between blazing and blah – especially if you're feeding a family.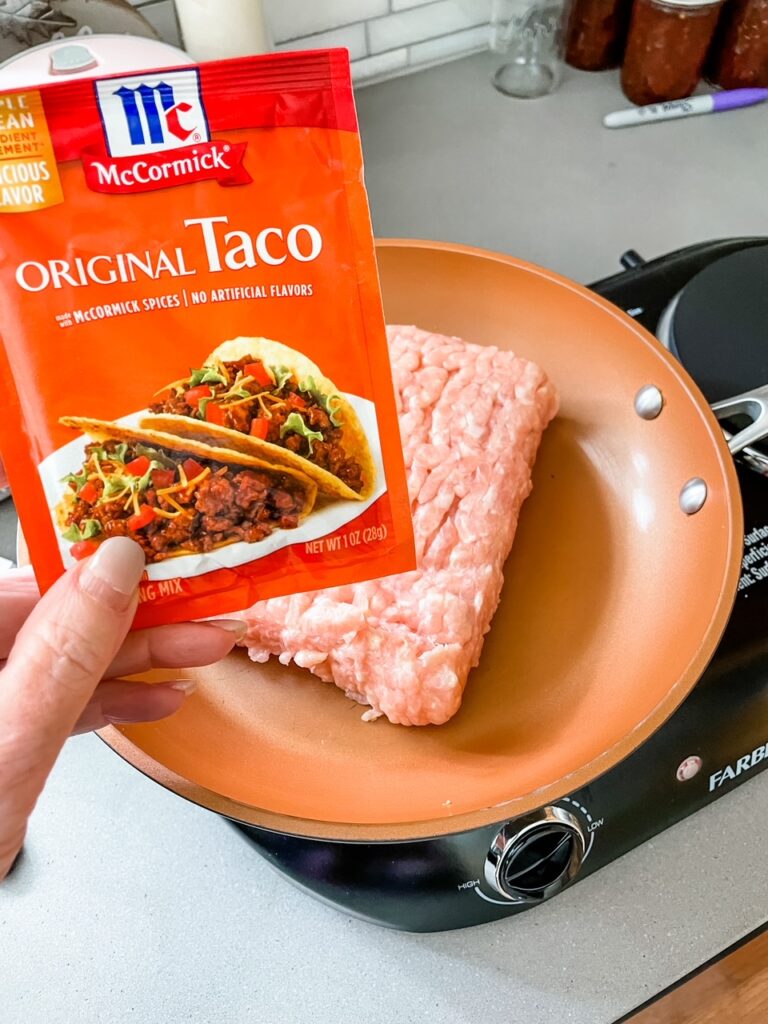 A Healthier Version of Slow Cooker Tamale Pie
I'm not going to say that my Easy Slow Cooker Tamale Pie is up there with my Superfood Kale Salad or Cedar Plank Salmon recipes. Still, it's definitely healthier than my mom's version of tamale pie.
To begin with, I replaced the fatty ground beef with one of my all-time favorite ingredients – extra lean ground chicken breast.
Why? Because extra lean ground chicken – which means it is 98% fat-free – is zero points on the WW blue and purple plans. That means I can have tamale pie and still stick with my eating plan. The brand I like best is Isernio's, which is available in many grocery stores.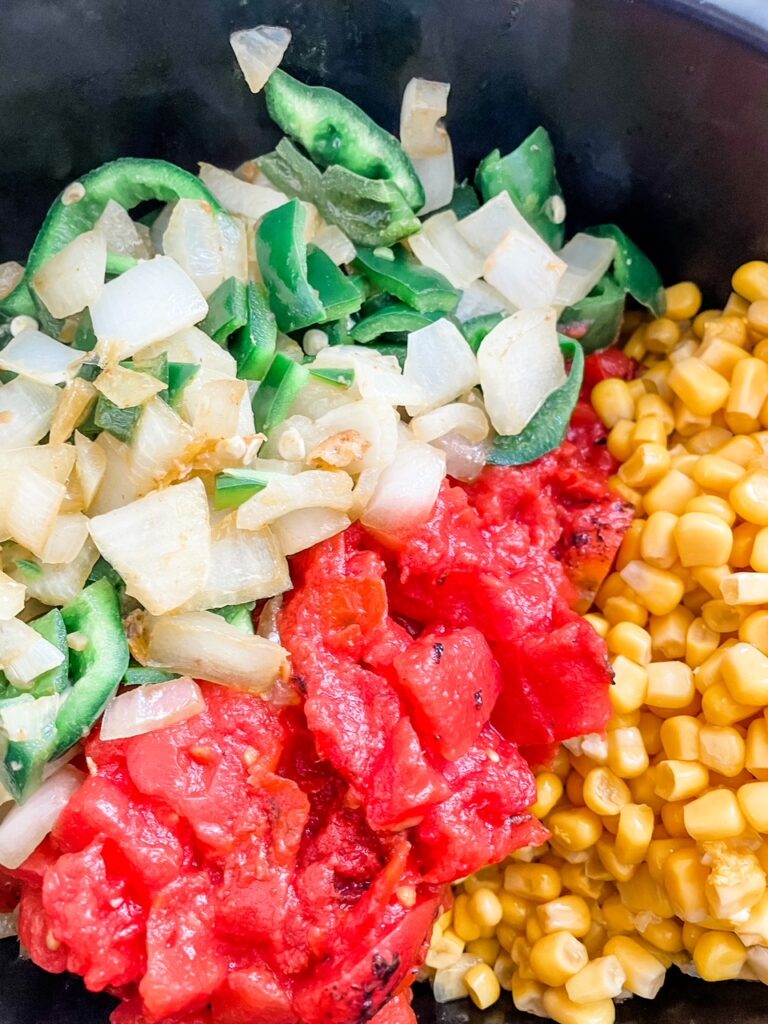 Something else I did to notch up the health score on my Slow Cooker tamale pie is add more vegetables. This recipes doubles up on the canned tomatoes, includes an onion and two big poblano peppers. Adding more vegetables amps ups the flavor and makes it more filling.
Finally, my Mom's classic tamale pie included a LOT of cheese. If you grew up in the 60s and 70s, you know just what I mean. Back in the day, when every family-friendly television special was sponsored by Kraft, pretty much every casserole included about four cups of cheese.
I've got nothing against cheese. In fact, I love it. My doctor is less enamored. I bet yours feels the same way.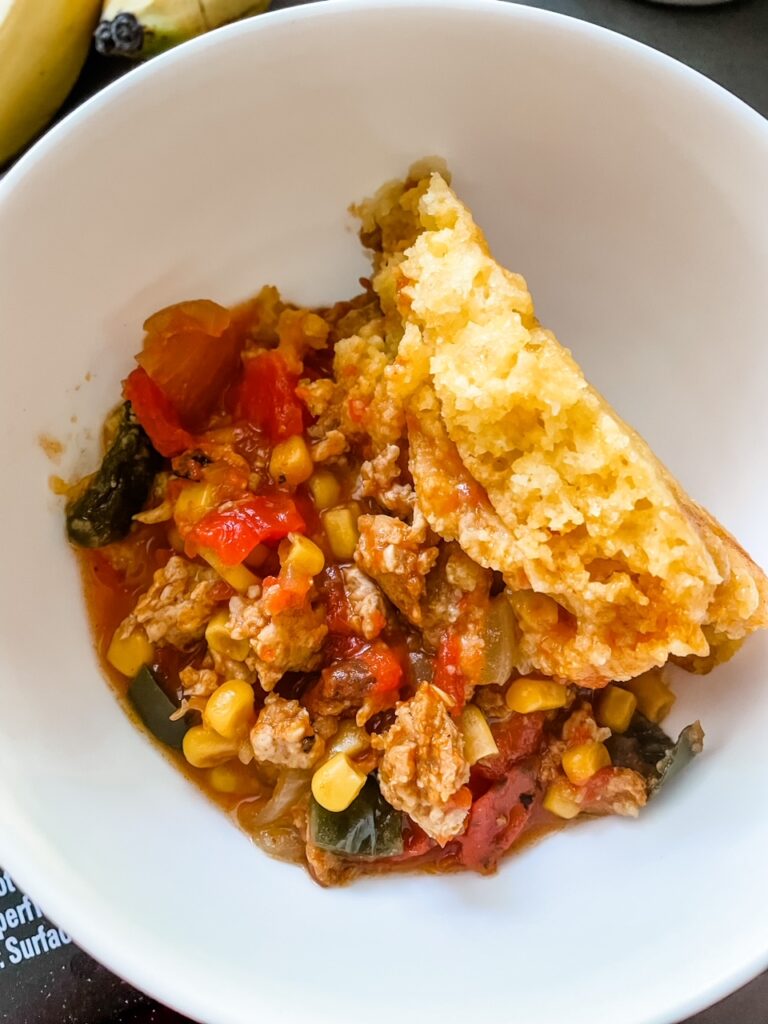 With that in mind, I tried to strike a balance between flavor and my preserving my arteries with the recipe. Instead of layering multiple cups of cheese on the cornbread topping, I stirred a moderate amount right into the muffin mix and before baking.
That way, I get the cheesy flavor in every bite without going overboard on fat, calories, or causing my cardiologist to break out in a cold sweat.
If you're looking for an easy, tasty, time-saving dinner that the whole family will love, give my Easy Slow Cooker Tamale Pie a try this week. It's a healthy, easy take on a classic fall comfort food.
Print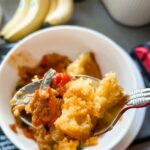 Easy Slow Cooker Tamale Pie
---
1

lb extra lean ground chicken (can sub ground beef or turkey)

4

T McCormick's Taco Seasoning, divided  (

4

T or

2

1-oz packets)

2 tsp

olive oil

1

small yellow onion, diced

2

medium poblano peppers, diced and seeds removed

1

15 oz can corn, drained

2

15 oz cans fire roasted diced tomatoes

½ cup

canned tomato sauce

1

8.5 oz package Jiffy Corn Muffin Mix

1

egg

1/3 cup

milk

½ cup

shredded sharp cheddar cheese
---
Instructions
Place ground chicken in a nonstick skillet. Sprinkle with 2 T (or 1 packet) of the taco seasoning. Cook over medium high heat, breaking up chicken with a spatula and mixing in the seasoning as you do, until chicken is fully cooked. Place cooked chicken in the slow cooker.
Place 2 tsp of olive oil in the same skillet you used to cook the chicken. Add the diced onions and pepper to the pan and cook for 4-5 minutes on medium high, until the onion is somewhat translucent. Add to slow cooker.
Add canned tomatoes, corn, tomato sauce, and remaining taco seasoning to the slow cooker. Stir all the tamale filling ingredients to combine.
Pour the muffin mix into a small mixing bowl. Add egg and milk to muffin mix and stir vigorously to combine. Stir shredded cheese into cornmeal mixture.
Spread cornmeal mixture evenly over the filling. Place lid on slow cooker. Cook for 8 hours on low or 5 hours on high.