This post may contain affiliate links. Full disclosure policy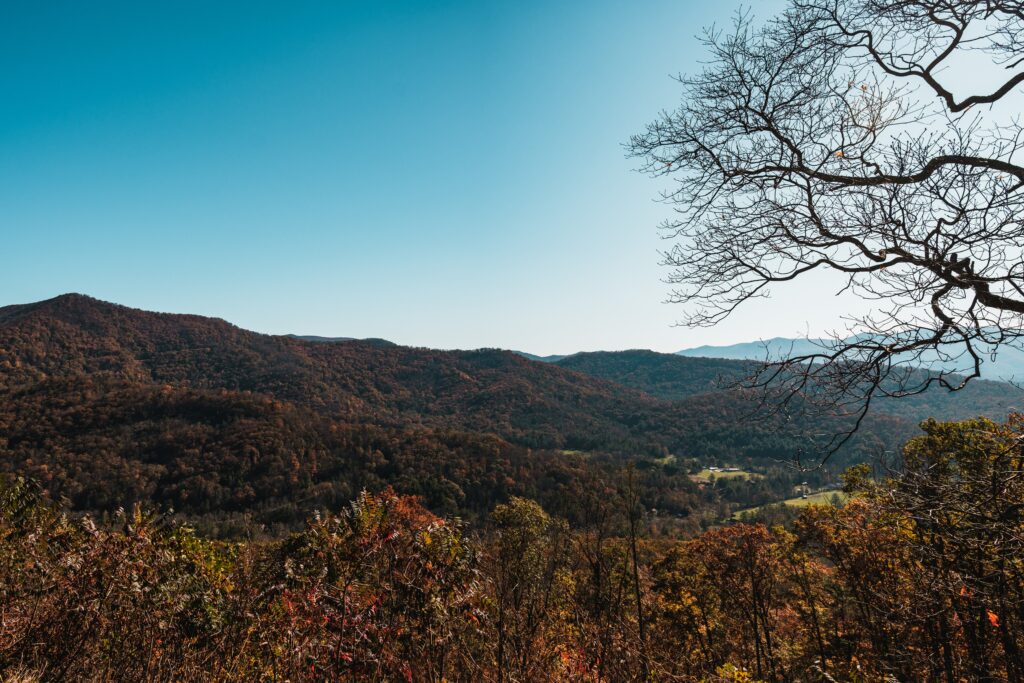 You could spend a week, a month, a lifetime in Asheville, North Carolina and still find more to do. But what if you only had one day to visit "the land of the sky"? Read on for my must-see recommendations for Asheville, NC in a Day.
My Own Two Reasons for Asheville, NC in a Day
I've just returned from a wonderful but too-brief visit to beautiful Asheville, North Carolina. It's a small city with a rich history and vibrant art scene, set in a breathtaking spot in the western part of the state, and surrounded by glorious green mountains on every side.
Gazing at those magnificent mountain vistas, it's easy to see how Asheville earned its nickname – the land of the sky. The city really does make you feel like you're standing on top of the world, or being in a world set apart. It's also easy to understand why George Vanderbilt chose Asheville as the spot to build his lavish home, The Biltmore.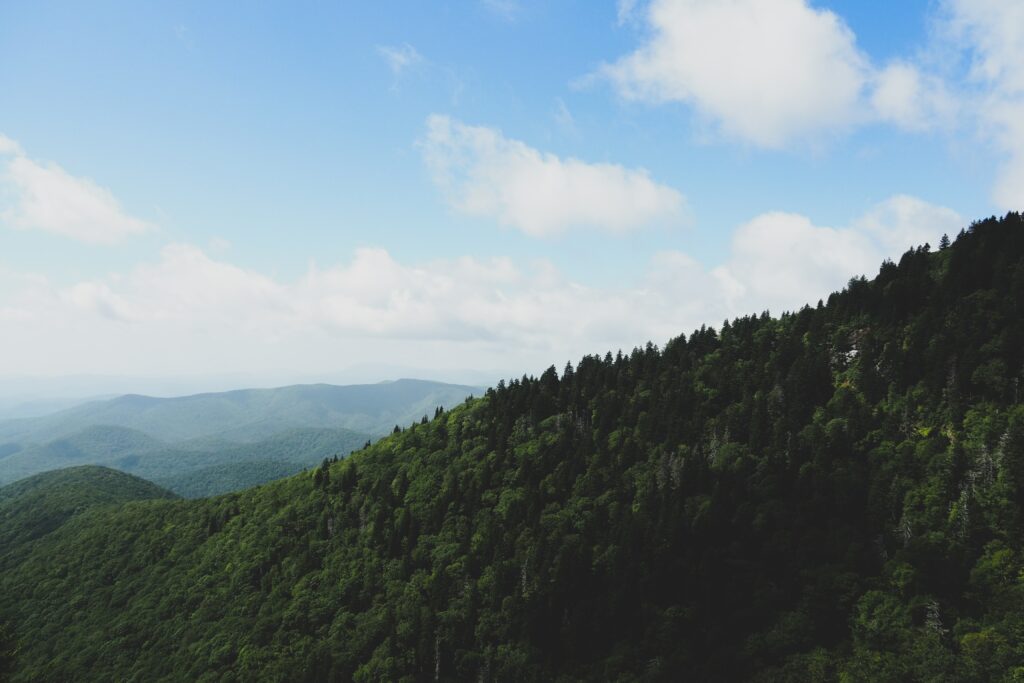 What brought me to Asheville was a research trip for my next novel. I didn't have as much time for my visit as I might have liked, but I covered a lot of ground in the time I did have. During my visit, I clocked close to ten miles on foot and over one hundred on my odometer as I drove to different neighborhoods in Asheville and the surrounding area.
Suffice to say, I learned a lot and left inspired! But as I was doing all this research, I realized that I was also hitting many of the city's tourist highlights.
That gave me the idea for creating an ideal (if ambitious) itinerary for Asheville, NC in a Day.
One Morning in Asheville
If you've only got one day to visit Asheville, get up early, put on your walking shoes, and get up close and personal with Asheville's Urban Trail for a free, self-guided walking tour.
This 1.7 mile walking tour takes you to thirty of downtown Asheville's most important sights and neighborhoods. Exploring at your own pace, you'll learn about the city's history, architecture, and culture. Each stop on the Urban Trail features original sculptures and informative plaques. You can learn more by listening to a recorded audio tour with in-depth insights at each stop. Find the interactive map and audio tour for Asheville's Urban Trail.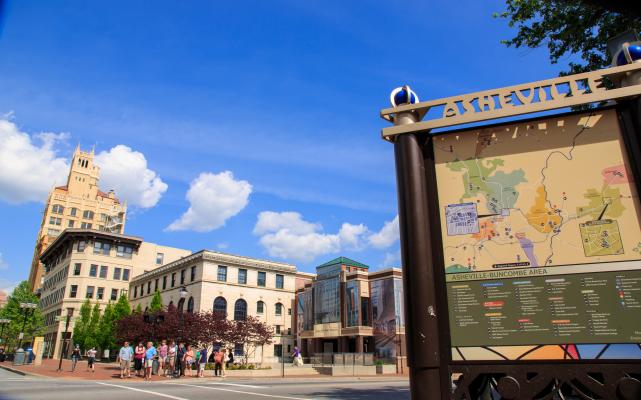 You can start the walking tour at any of the thirty stops. However, if you begin in Pack Square at stop number one, you'll have worked up a good appetite for the Flatiron Building, stop number eight.
Be sure to visit the nearby Early Girl Eatery to enjoy the best breakfast in Asheville. Whether you choose chicken and biscuits, a fluffy southwestern omelet, cinnamon biscuit French toast, or a healthy vegetarian breakfast bowl, you'll leave happy and well-fueled for the rest of your walking tour.
The tour can be accomplished in two hours but allow for three so you'll have time for breakfast and to stop in at some of Asheville's wonderful shops and boutiques.
A few of my must-stop shops include Malaprop's Bookstore, one of the best independent bookstores in the country, Asheville, NC Home Crafts for beautiful yarn and a fabulous selection of hats, the Earth Guild for a dizzying array of supplies for weavers, spinners, basket makers, woodworkers, and crafters of all stripes, and Chocolate Fetish for award-winning handmade chocolates, truffles, and caramels.
If you started your journey in Pack Square, you might want to visit Mast's General Store as you finish the circle. They carry a good selection of clothing, outdoor wear, and gifts.
One Afternoon in Asheville
After all that walking, you'll probably be hungry again! But rather than having lunch in one of downtown Asheville's terrific but crowded restaurants, hop in your car and drive to the elegant and historic Grove Park Inn.
The views from the inn's Sunset Terrace restaurant are incomparable and the food is excellent. If you're not in the mood for a big lunch, grab a seat at the Great Hall Bar. A cocktail, glass of wine or sweet tea plus a charcuterie board or pimento cheese toast is more than enough to make a meal.
After lunch, stop by the concierge desk and get a map of this historic hotel's self-guided tour and take some time to watch a ten-minute film about the history of this amazing property.
But don't linger too long! Your next stop is Asheville's most famous landmark, the magnificent Biltmore Estate.
The Biltmore Estate – An Essential Part of Asheville, NC in a Day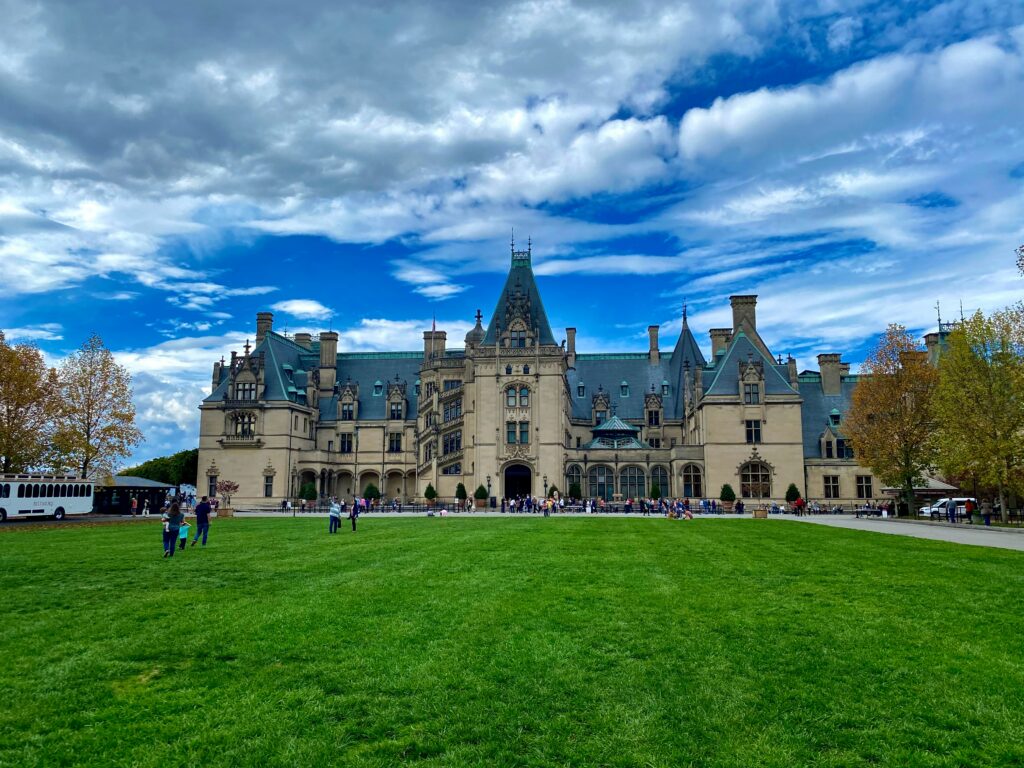 With 8,000 acres of garden and trails to explore, as well as the 175,000 square foot mansion that George Vanderbilt called home, you could easily spend a whole day, or several days, visiting the Biltmore Estate.
But if you've only got one day to visit, Asheville, you should plan to see The Biltmore in the afternoon. Crowds die down later in the day and that will make it easier to enjoy your self-guided tour of the house. If you've got time and energy, take a shuttle to the exquisite formal gardens.
Advanced reservations are required for entry to the Biltmore grounds, so be sure to get your tickets ahead of time. Starting at $76 for an adult ticket to the house and grounds, a visit to the Biltmore is fairly pricey. However, your local hotel may be able to arrange for discounted tickets.
One Evening in Asheville
If you've followed my itinerary for Asheville, NC in a Day – you have done a LOT of walking. By evening, you'll be ready to rest your feet and enjoy a good meal. After all, you've earned it!
The crowds will have thinned out a bit by now, so drive back to town for dinner. Asheville is known for talented chefs and farm-to-table cuisine, so you almost can't go wrong when it comes to picking a restaurant. However, if you're looking for the inside scoop on Asheville's best dining spots, check out these recommendations from the Carolinas Eater website.
End your Asheville, NC in a Day by taking one more stroll downtown to listen to some of the city's many talented street musicians.
As you toss some money in the nearest instrument case and go on your way, I bet you'll already be planning a return visit to quirky, intriguing, beautiful Asheville and the land of the sky.