This post may contain affiliate links. Full disclosure policy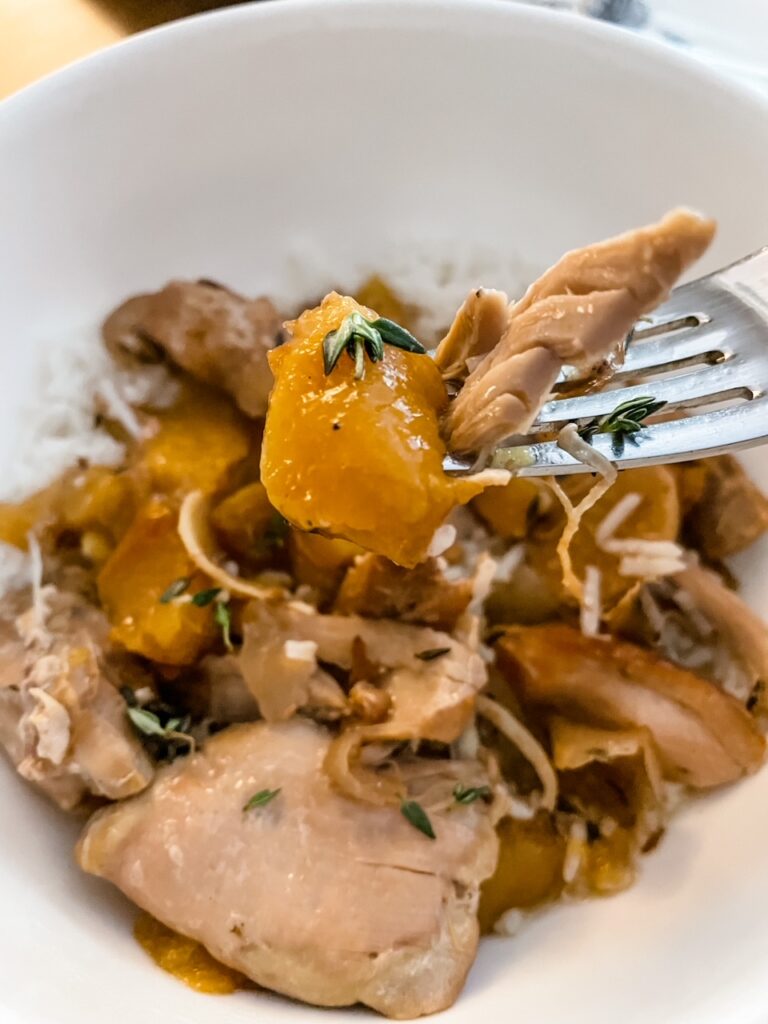 My Slow Cooker Ginger Peach Chicken is the dinnertime solution for busy days. Do a little morning prep and come home to a delicious, healthy meal. With juicy peaches, tender chicken, and fragrant fresh ginger, this is a dinner the whole family will love!
No Time? No Kitchen? No Problem!
When slow cookers came onto the market back in the 70s, working women and busy stay-at-home Moms everywhere rejoiced. And for good reason! What's not love about tossing some ingredients into a pot and coming home to a hot meal after a busy day?
These days, I appreciate my slow cooker more than ever. Our kitchen remodel is now well underway. This week, our contractor removed my stove and cooktop. And so, for the next few weeks, the slow cooker is our best hope for a hot meal!
That's no problem for me; I've always loved my slow cooker. But slow cooking can present some challenges.
Overcoming Slow Cooker Challenges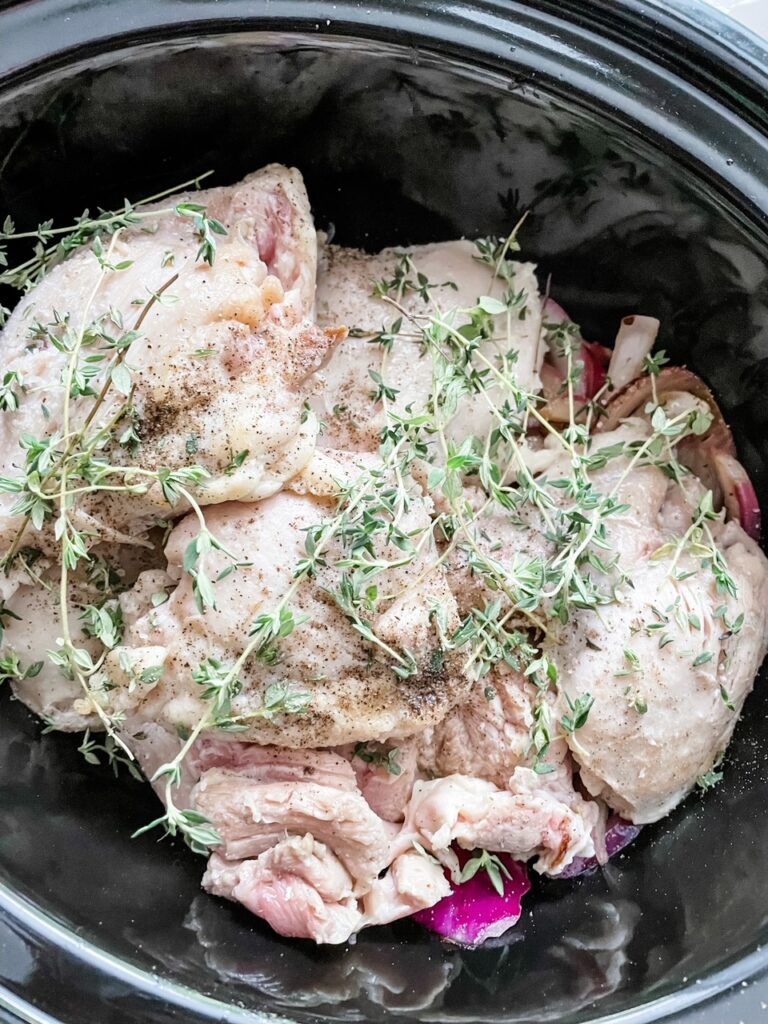 The process of cooking food in liquid for a long time and a low temperature can suck the flavor, freshness and color out of the ingredients. That's why some people complain that slow cooker foods all taste and look the same – blah and brown.
Over the years, I've picked up three tips for making slow cooked meals look good and taste good.
Kick up the flavor – WAY up.
Kick up the colors by using bright, colorful veggies and fruits.
Sear poultry or meat before slow cooking to seal in flavors and improve its texture and colors.
3 Tips for Delicious Slow Cooker Ginger Peach Chicken
As you'll see, I employed all three of those techniques in my recipe for Slow Cooker Ginger Peach Chicken.
I love fresh ginger root but it is a really, really strong flavor! For most recipes, I'd grate it to keep the ginger flavor in check.
But to make sure it came through in my Slow Cooker Ginger Peach Chicken, I peeled the ginger root and sliced it into coins. The result is a lovely, mellow bite of ginger that blends beautifully with slightly sweet peaches.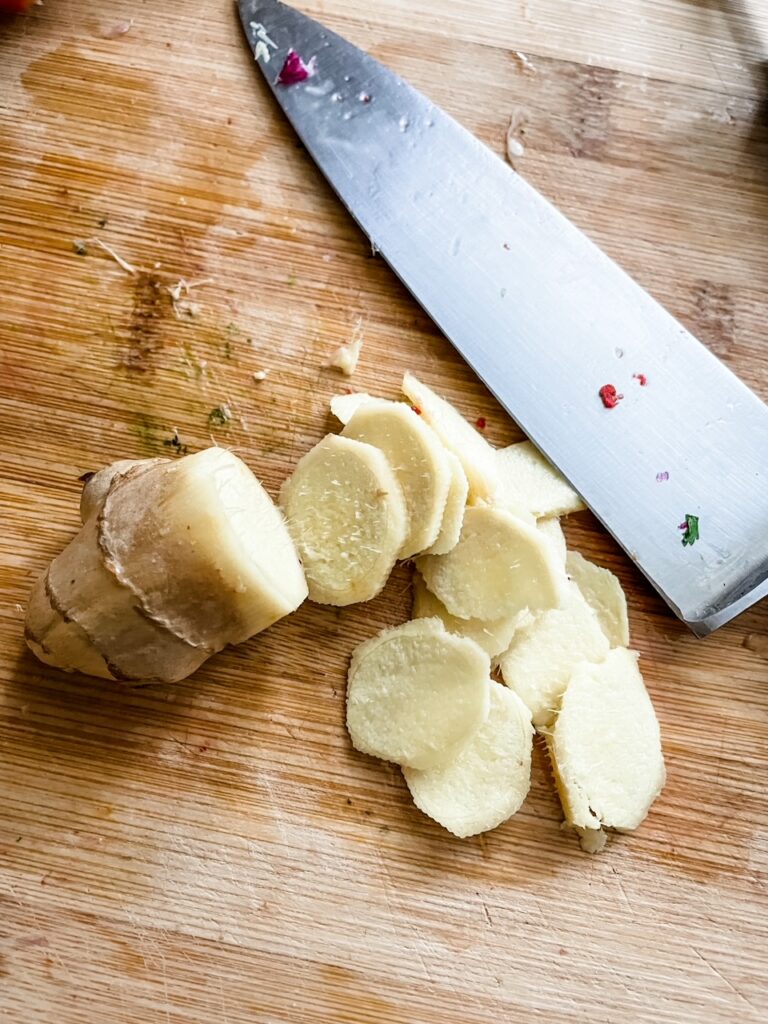 I also added a lot of fresh thyme. It's a perfect pairing for chicken and adds another layer of flavor to the dish. And while you can sub chicken breasts in the recipe, I really recommend using chicken thighs. They're tender and more flavorful than breast meat.
Red onion and bright yellow peaches add color, ensuring that my Slow Cooker Ginger Peach Chicken looks as good as it tastes. The onions do lose some pigment during the cooking process but still have a pretty color. Remember, we eat with our eyes as well as our mouths.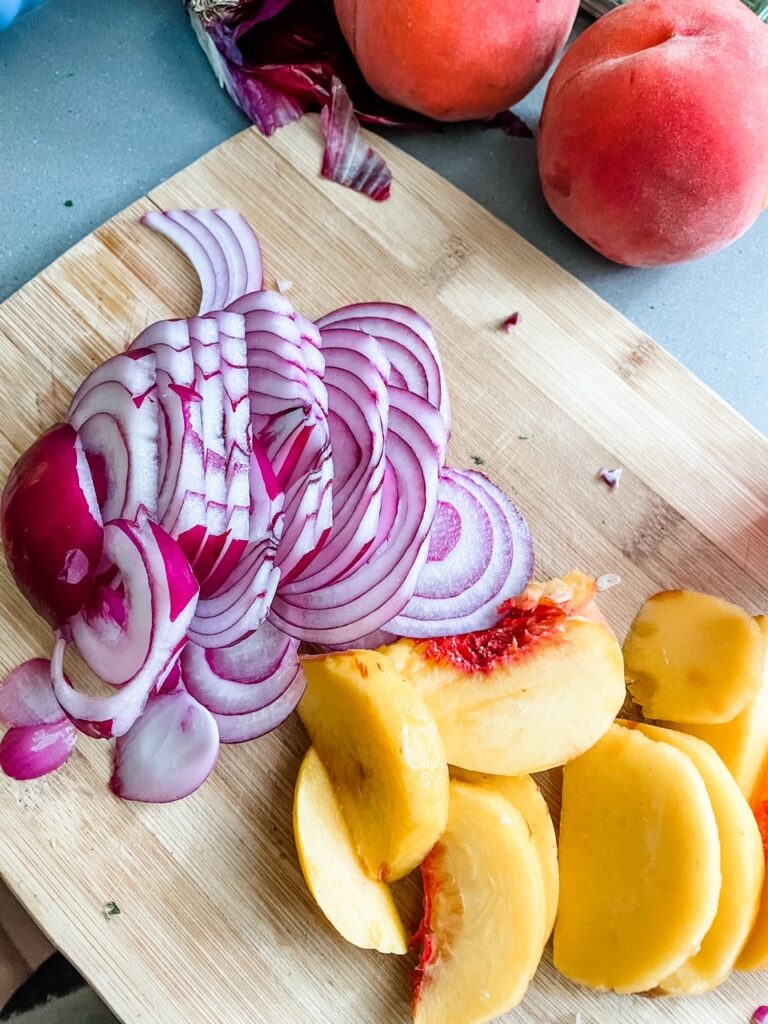 Also, I took the trouble of sauteing the onions before I put them in the slow cooker. Because when it comes to onions, a little caramelization is a good thing.
I also seared the chicken thighs before adding them to the slow cooker. It gives the chicken a nice color and helps seal in the juices and flavors. Yes, pre-cooking the onion and chicken is a little more work but I think the results are worth it.
However, if you're really pressed for time, you can just toss everything into the slow cooker and go on your merry way. It'll still taste good.
What To Serve with Slow Cooker Ginger Peach Chicken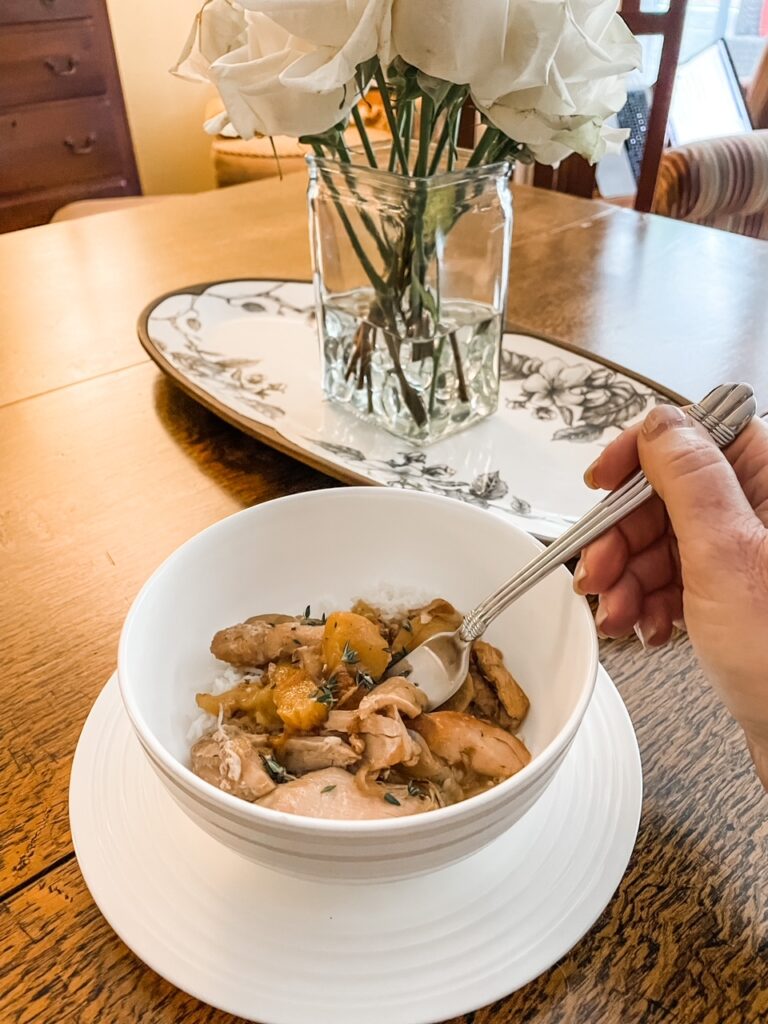 Slow Cooker Ginger Peach Chicken is a healthy and tasty dinner right out of the pot.
But I love to serve it over plain white rice. That yummy ginger peach sauce deserves to be soaked up and savored. Add a nice green salad on the side and some ice cream for dessert and dinner is served!
If you've got a busy week coming up (or even if you don't) put some Ginger Peach Chicken in your slow cooker this week. It's a terrific dinnertime solution that the whole family will love!
Print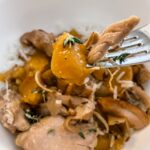 Slow Cooker Ginger Peach Chicken
---
Author:

Yield:

3

to

4

servings

1

x
3

large peaches, peeled and cut into

1

inch, half-moon slices

1

large red onion, peeled and sliced or diced

2

–

3

inches ginger root – peeled and sliced into

¼

inch coins

1

T fresh thyme leaves

6

chicken thighs, trimmed of visible fat

4 tsp

olive oil, divided
Salt
Pepper

2 tsp

cornstarch
---
Instructions
Sprinkle chicken thighs with salt and pepper. Place 2 teaspoons olive oil in a nonstick pan over medium-high heat. When oil is hot, working in batches, sear chicken thighs on both sides until just beginning to brown, about 2 minutes per side. Remove from pan and set aside.
Add remaining olive oil to the same pan you used to sear the chicken. Saute the red onion for 3-4 minutes, until soft and semi-translucent.
Place peaches in the bottom of the slow cooker. Layer ginger root and onion on top. Place chicken thighs on top of peaches, ginger, and onion. Sprinkle chicken with fresh thyme leaves. Put lid on the slow cooker. Cook for 8 hours on low, or 5 hours on high.
30 minutes before serving, remove approximately ½ of cup of the cooking liquid from the slow cooker and place in small bowl. Whisk cornstarch into liquid, making sure there are no lumps. Pour liquid back into the slow cooker. Stir with a wooden spoon to combine sauce, peaches, onions, and chicken, breaking up the chicken into bite-sized pieces.
Cook for an additional 30 minutes, allowing sauce to thicken, before serving.