This post may contain affiliate links. Full disclosure policy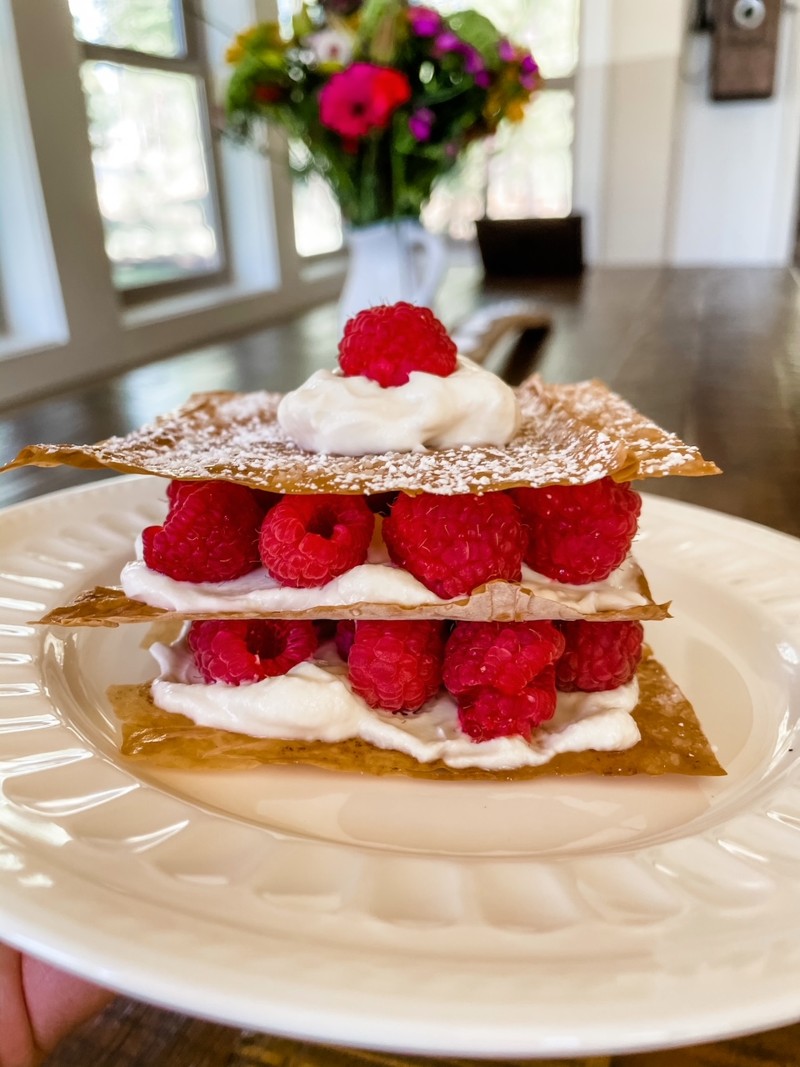 Searching for a healthy dessert that looks impressive and tastes divine? You've come to the right place! Each bite of my Raspberry Napoleons is a light, sweet, flakey, fruit-filled mouthful of heaven. Healthy, delicious, and pretty enough to serve to company!
Reviving an Old Recipe
Last week, while doing a little spring cleaning, I came upon a file folder of recipes I'd almost forgotten about.
Back in 2000, my family moved back to the United States after having spent five years living in Mexico. Though we were returning home, it was something of a rough transition. So much had changed while we were out for the country.
The kids were in school and my husband was working so they were busy and making connections but I was definitely at loose ends. To ease the transition and keep myself busy, I decided to go to cooking school. It was an act born of desperation but turned out to be such a good move!
I'd always enjoyed cooking but came at it in a rather haphazard way, making whatever recipes seemed good at the moment with varying degrees of success. But that six-month course designed for home chefs was a game-changer for me. I gained new skills week after week, starting with the basics and progressing to the point where I could tackle even complicated dishes with confidence and start creating my own recipes.
Too Good – A Need for Healthy Desserts
There was a lot of delicious homework involved. Unsurprisingly, everybody in my family ended up gaining weight. That's why, after I finished the basic course, I ended up enrolling in an additional healthy cooking class.
It taught me how to prepare lots of good and tasty food my family would love that was also good for us. One of the recipes I learned to prepare was Raspberry Napoleons. It was always a big hit with family and guests but I lost the recipe during one of our many moves.
When I opened that drawer and rediscovered my Raspberry Napoleons recipe last week, I couldn't wait to make it. And to share it with all of you! It's one of my very favorite healthy desserts.
Come to think of it, Raspberry Napoleons are one of my favorite desserts – period!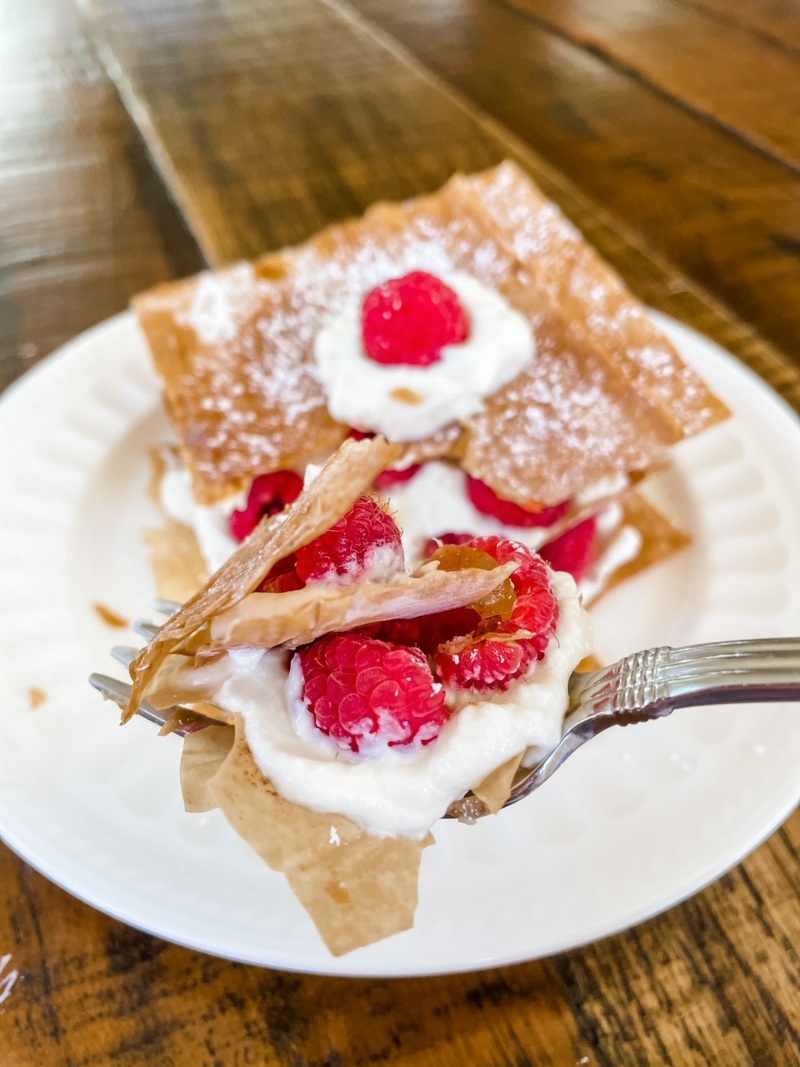 A Healthy Dessert That's Easier to Make than It Looks
Raspberry Napoleons aren't just a delicious and healthy dessert, they're pretty enough to come from a French patisserie shop! However, in spite of their elegant appearance, Raspberry Napoleons are surprisingly easy to make.
The filling is just fresh raspberries layered over a custard-like filling that's made with flavored low-fat yogurt that's been drained of liquid to become "yogurt cheese".
How to Make the Yogurt Cheese for the Raspberry Napoleons
Making yogurt cheese is super easy and a technique that I use over and over again to create healthier recipes, including healthy desserts.
To make it, you simply place the yogurt into a strainer suspended over a bowl or measuring cup, and then cover it and leave it in the refrigerator for at least an hour and up to overnight. The liquid will drain out, leaving a very thick yogurt that's almost the consistency of cream cheese.
I use a small yogurt strainer that I've had for years to make my yogurt cheese. It's a kitchen tool I couldn't live without. Here's a similar product that would do the job.
You could also line a regular strainer or colander with cheesecloth and suspend it over a bowl, but if you're interested in healthy cooking, a yogurt strainer is a worthwhile investment.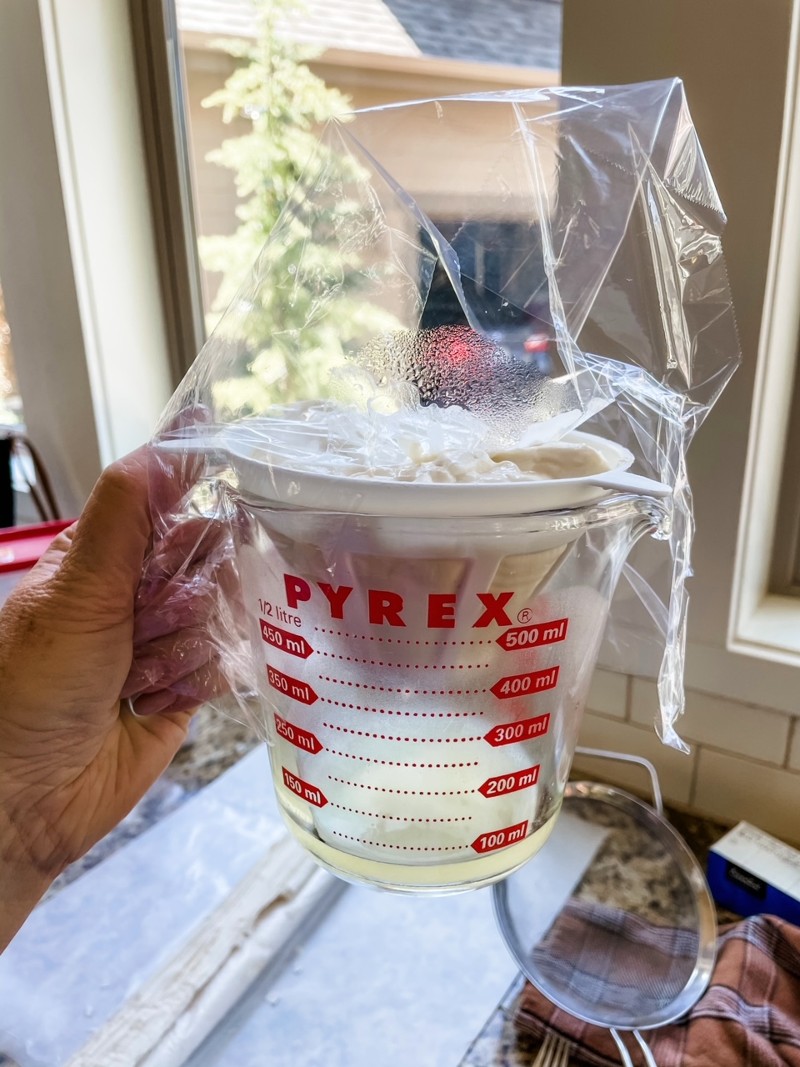 Making the Phyllo Dough Pastry for the Raspberry Napoleons
The pastry is the only tricky part of making Raspberry Napoleons, and it's really not that complicated. It's made from two layers of phyllo dough that are brushed with a little butter, sprinkled with powdered sugar, and baked.
It's really quite simple but here are a couple of tips if you've never dealt with phyllo dough.
You can purchase frozen phyllo dough at just about any grocery store. Take the package from the freezer and leave it out to thaw about half an hour before you try to handle it. Unfold the thawed dough carefully and handle it gently to avoid cracking.
Carefully peel off one sheet of phyllo dough and lay it on top of a sheet of baking parchment. Brush with melted butter and sprinkle with powdered sugar before layering with a second sheet of phyllo dough and repeating the process and cutting the dough into squares.
Lay another sheet of parchment on top of the prepared phyllo, and set a second baking on top to help weigh the dough down and keep it from getting too puffy during baking. If needed, you can return the pastry briefly to the oven to brown.
Finishing Touches on Your Raspberry Napoleons
Once the pastry is prepared, all you need to do is assemble your Raspberry Napoleons.
For each dessert, you simply lay a pastry square on a plate, top it with a layer of the yogurt cheese and a layer of raspberries. Then top with another square of pastry, repeat the layers, and top with a third pastry square.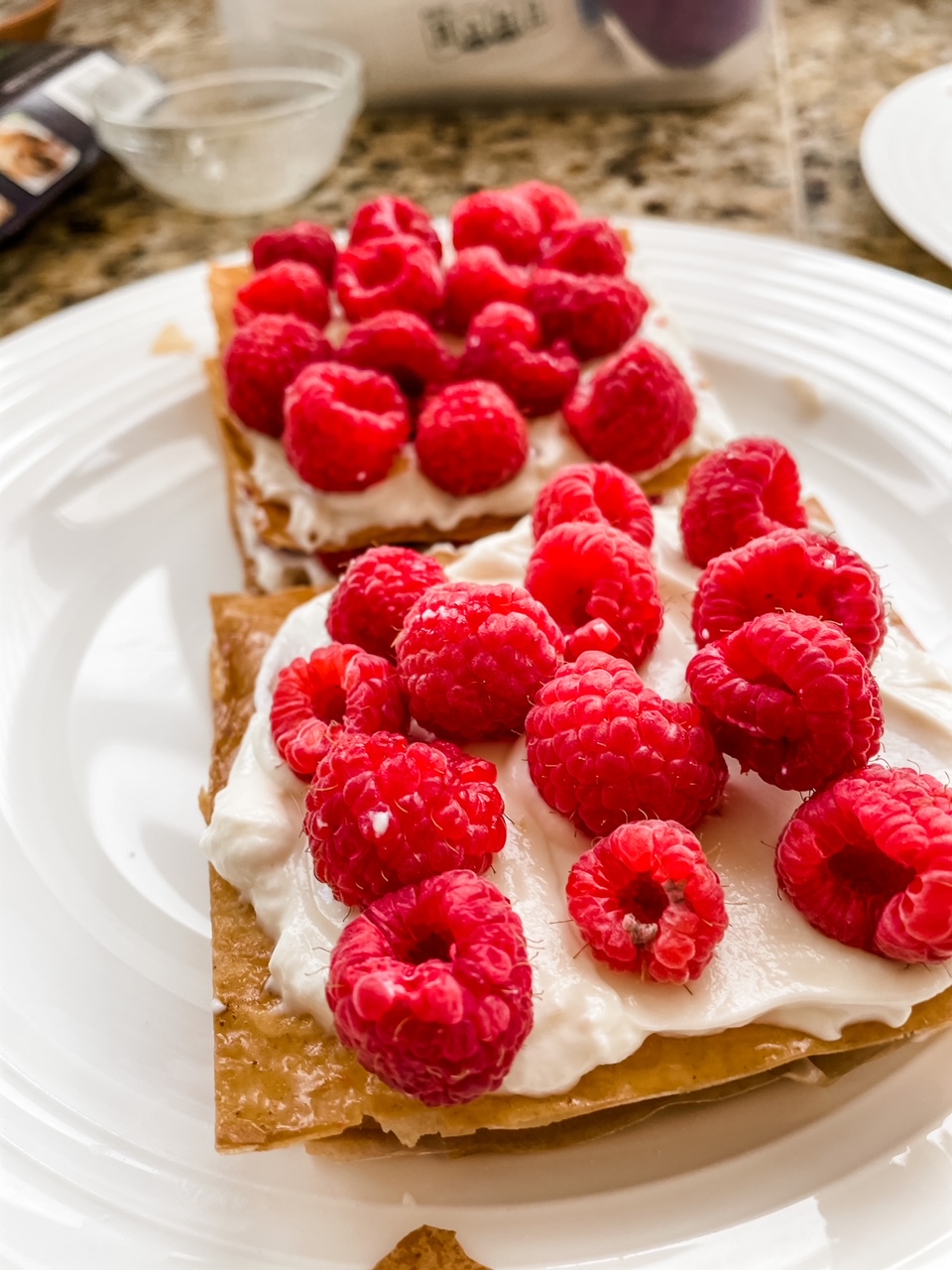 To make this gorgeous, healthy dessert look even prettier, dust with powdered sugar, then top with another dollop of yogurt cheese and a raspberry. If you had a little fresh mint, adding a sprig to the top garnish would be pretty.
Raspberries are wonderful in these napoleons but you could also use blueberries, blackberries, or strawberries. No matter what fruit you use, these napoleons are a healthy dessert your family and guests will love!
Looking for more healthy desserts? Try my Healthier Strawberry Rhubarb Cobbler, Maple and Almond Panna Cotta, Lighter Spiced Cranberry and Pear Crisp.
Print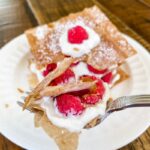 Raspberry Napoleons – A Healthy Dessert
---
Author:

Yield:

4

servings

1

x
Description
Preheat the oven to 350.
Lay a piece of parchment paper and lay one sheet of thawed phyllo dough onto the parchment. Use a pastry brush to spread half of melted over the phyllo. Sift half the powdered sugar over dough. Top with the second sheet of dough, then brush with the remaining butter and sift the leftover sugar over the top.
Use a very sharp or pastry wheel to cut the dough lengthwise into 3 strips of equal size. Then cut the dough crosswise into four equal strips, so you have 12 squares of prepared dough.
Transfer the pastry squares onto baking sheet lined with parchment. Lay another sheet of parchment on the top, then add another baking sheet on top to weigh it down.
Bake in preheated oven for 15 minutes. If needed, remove top baking sheet and parchment and return pastry to oven for a minute to brown. Transfer pastry squares to cooling rack.
To assemble, place a phyllo square onto a dessert plate. Top with 2 tablespoons of yogurt cheese and a layer of raspberries, evenly spaced. Top with a second phyllo square and repeat the layers before topping with a third phyllo square. Repeat process to make four Raspberry Napoleons.
To garnish, sift a little more powdered sugar over each dessert, then top with a teaspoon of the yogurt cheese and a single fresh raspberry. Serve immediately.
---
2

sheets phyllo dough, thawed

1

T butter, melted and divided

¼ cup

powdered sugar, plus extra for garnish

2 cups

lowfat lemon or vanilla yogurt, strained to make yogurt cheese (see post for instructions on making yogurt cheese Reserve

4

tsps for garnish)

1 pint

or 2 half pints of fresh raspberries (reserve

4

berries for garnish)
---