This post may contain affiliate links. Full disclosure policy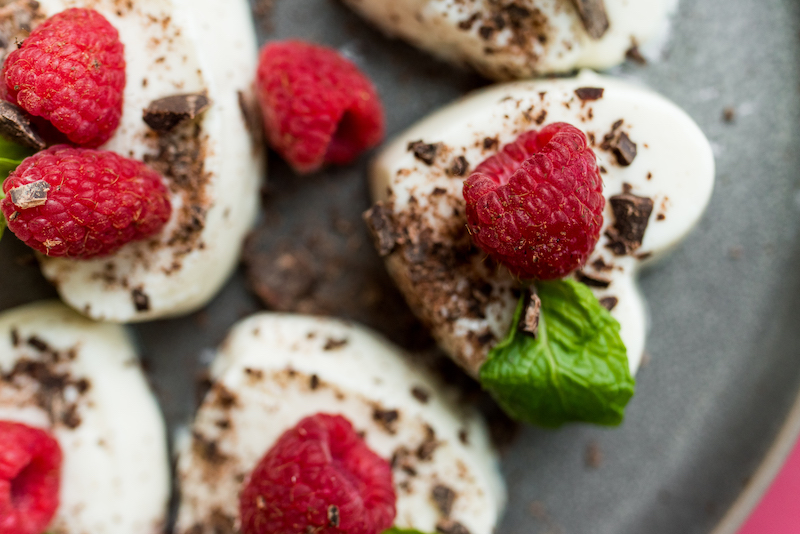 It is a known truth that Valentine's Day absolutely requires chocolate. Assorted truffles, chocolate roses, Hershey's kisses, and even my grandkids' favorite, Reese's' heart-shaped candies.
Of course, if you've been a reader of mine for any length of time, you won't be surprised to know that I tend to opt for homemade desserts for my Valentines. For example, last year's healthy chocolate desserts were a huge hit in my household.
And likewise, those of you who have been following me also know that I love to make (or at least attempt to make!) my desserts and recipes with a balance between sinful decadence and healthy deliciousness. But creating a healthy and tasty Valentine's dessert that doesn't burst the Weight Watchers point bank is no easy task. Thankfully, after experimenting with one of my favorite recipes from the SkinnyTaste, Yogurt Panna Cotta with Mascerated Berries, I found inspiration for exactly that – with the addition of a few key ingredients!
Simple Switches for a Healthy Valentine's Dessert
SkinnyTaste already did plenty of legwork for this healthy Valentine's Dessert, starting with using Greek yogurt in lieu of the traditional heavy cream. Greek yogurt is not only a healthy zero point food on Weight Watchers blue or purple plans, it maintains the creaminess desired in a panna cotta while adding a tart, tangy flavor.
In my own recipe version, I also opted to keep fresh raspberries instead of the sugary, mascerated ones in the original recipe. This helped remove some of the added sugar from the recipe as well as add a fresh, robust texture that contrasts nicely with the panna cotta's creaminess.
To help hammer home that fresh flavor, I also topped off each panna cotta with a small sprinkling of freshly-picked mint. But feel free to explore here! Other tasty tidbits might include candied orange peel or a dash of cinnamon.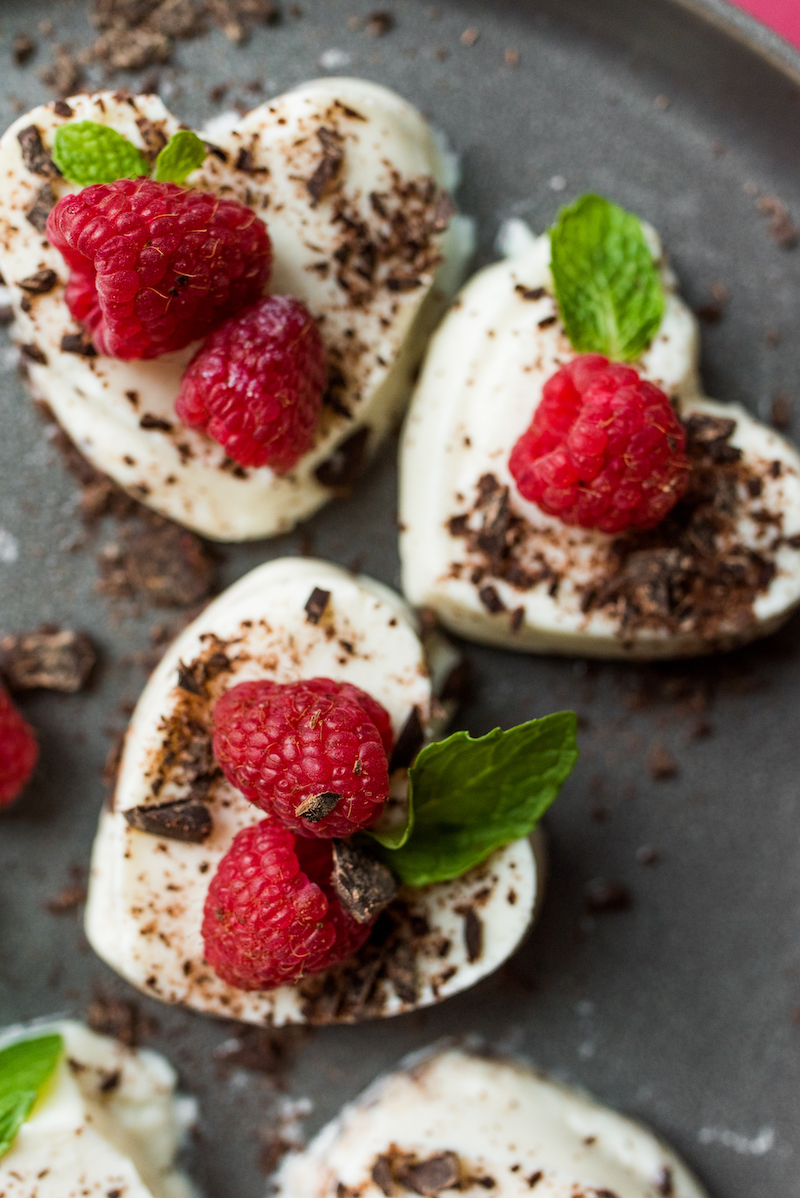 Bring in Bolder and Subtle Flavor Profiles
The base recipe is good but I opted to be a little bolder with my flavor profile. There's nothing wrong with vanilla, but I wanted to create a dessert with some sweet but subtle surprises.
To begin with, instead of sugar, I used maple syrup to sweeten the yogurt. I also decided to add just a little almond extract. This may seem like an easily missed element among so many hard-hitting ingredients, I think you'll find that the nuttiness from the extract plays beautifully with the maple syrup, adding a beautiful richness to each bite.
And last, but certainly not least, this creamy, tangy, and slightly earthy dessert screams for the addition of chocolate. We've already covered that no Valentine's Day is complete without some component of chocolate, and a touch of chocolate shavings adds that sweetness without overpowering the taste or blowing those Weightwatcher's points!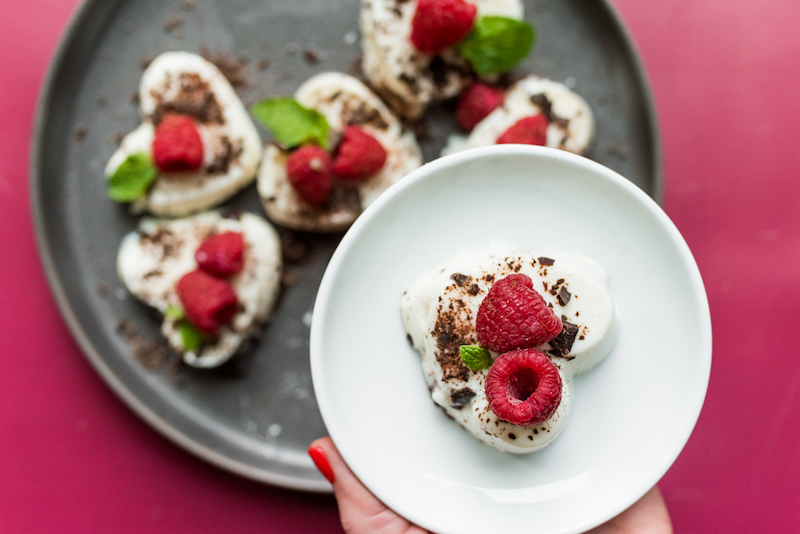 Speaking of, this decadent, healthy Valentine's dessert weighs in at a mere four points if you're on the Weight Watchers blue or purple plans. You read that correctly – four points. Which means there's room for seconds!
One last tip of mine – while these can be made in any mold you have on hand, heart-shaped molds help bring in the Valentine's Day theme even further! Here's the mold tray I used to mine. They add a fun and festive touch of romance that will make your Valentine feel extra loved.
Here's the recipe for my Maple and Almond Greek Yogurt Panna Cotta. Enjoy!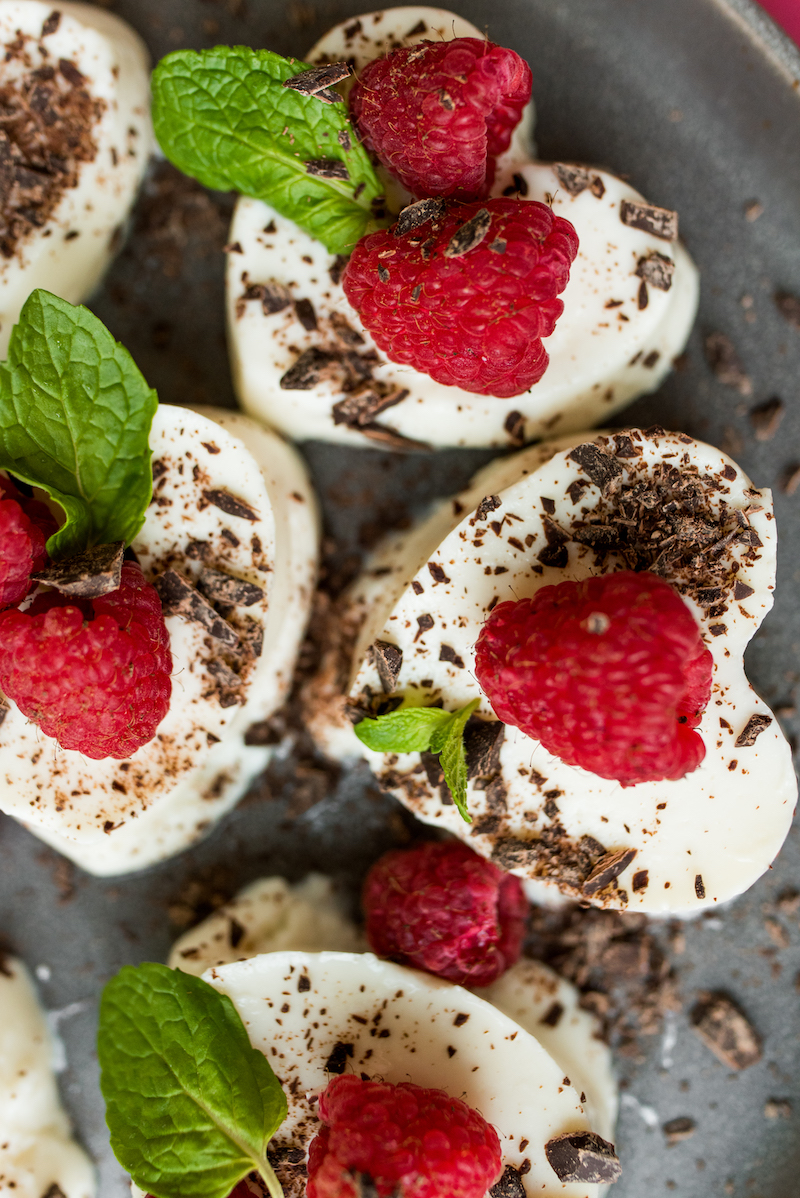 Print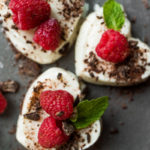 Maple & Almond Yogurt Panna Cotta
---
Author:

Yield:

8

servings

1

x
Description
Spray 8 (4-ounce) ramekins or silicon molds or with nonstick spray.

In a small bowl, combine 3 tablespoons of milk with the gelatin, don't mix and allow to sit for 10 minutes.

Heat remaining 1 1/4 cup milk and 4 tablespoons of maple syrup in small saucepan over medium low heat. Incorporate the gelatin mixture and stir until syrup and gelatin have completely dissolved, do not bring to a boil.

Turn off heat and and allow milk to cool for about 5 minutes, then whisk in yogurt, vanilla, and almond until smooth.

Divide mixture equally into the ramekins or molds. Cover with plastic wrap and chill in the refrigerator until firm—6 hours or overnight.

Unmold each panna cotta onto small plate; top each with 1/2 cup berries.

Garnish with fresh mint, dark chocolate, and raspberries.
---
Nonstick spray

3

T 1% fat milk

1 1/4

 cups 1% fat milk

1/2

T unflavored gelatin

4

T maple syrup

1

 cup plain nonfat greek yogurt

1/2

t vanilla extract

3/4

t almond extract

1 cup

raspberries

2 oz

chopped/shaved dark chocolate (70-85% dark)
mint leaves, for garnish
---