This post may contain affiliate links. Full disclosure policy
Many of you may already know that I'm a huge fan of the Weight Watchers program. But, I'm also a huge fan of sugar. And butter. And, of course, carbs. So it only makes sense that this Christmas season, while elbow-deep in baking holiday desserts, meals, and other treats, I constantly find myself in a tug-of-war between healthy choices and not so healthy, but delightfully delicious bakes.
As I'd like to both start the New Year right rather than ten pounds heavier, and still get the full holiday season experience of parties and gatherings, it's pretty clear that some sort of compromise needs to be made. What's a girl to do?
Luckily, this season I've come prepared with my lighter Spiced Pear and Cranberry Crisp.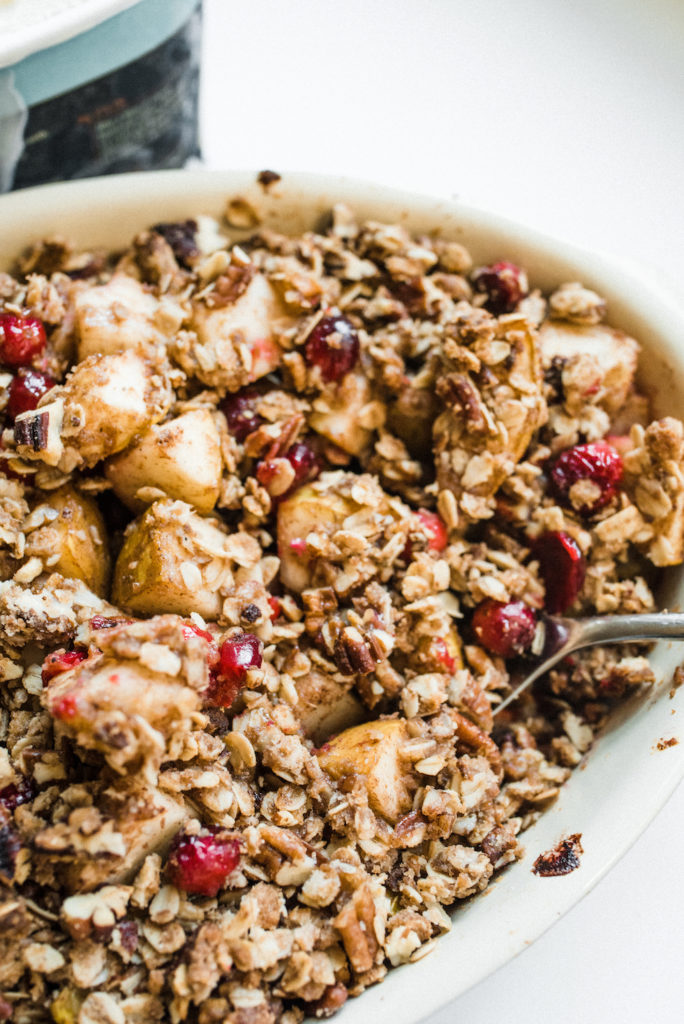 A BALANCING GAME
What I'm not a fan of is resolutions – I've experienced one too many years of coming up with a life-changing resolution to start the year off with that only lasted a measly few weeks (or even days). Instead, what I like to focus on is making goals and incorporating better habits into my lifestyle, and being aware of what I eat has always been a big one. And after hitting fifty, I've found that I need to take my health, and the scale, even more seriously and the holiday season is no excuse for me to slack off.
This doesn't mean that one has to miss out on sweet pecan pies, spicy gingerbread cookies, or piping hot chocolate. A part of what makes Christmas such a special time of the year is being able to come together with family and friends to bake and share goodies. Instead, what's key to maintaining these health goals is staying mindful of the choices one makes.
And by having my Spiced Pear and Cranberry Crisp in my arsenal, I'm giving myself a slightly healthier option to help balance out the other goodies I may indulge in.
A HEALTHY (-ISH) DESSERT THAT DOESN'T FEEL LIKE IT
My Spiced Pear and Cranberry Crisp gets most of its sweetness from the Barlett pears which are perfectly complemented by the tartness of the cranberries. And it all comes together with a classic Christmas spice mix of nutmeg, cinnamon, and allspice, as well as some crunch from the oatmeal and pecan crumble topping.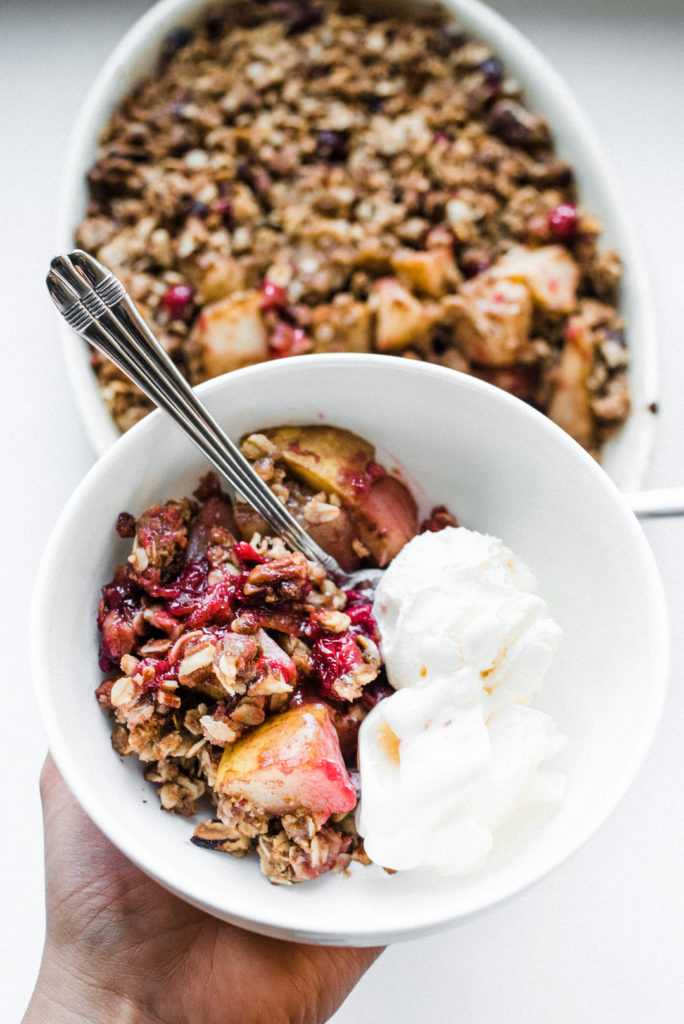 The best part? This festive crumble is a quick and simple recipe which basically has you mix up the ingredients, dump them in a pan, and then bake – but you'd never guess that once you take a bite! If you're not too fussed about the calories, I'd also recommend a hearty scoop of vanilla ice cream that will melt perfectly on top.
If you're looking for a dessert that hits all of those holiday cravings while still saving your waistline, look no further! Give my Spiced Pear and Cranberry Crisp a try, here's the recipe.
Print
A Lighter Spiced Cranberry and Pear Crisp
---
Author:

Yield:

6

-

8

servings

1

x
Crumble Topping
1/2 cup  flour 
3/4 cup old fashioned oats 
1/2 cup raw pecans, coarsely chopped
1/3 cup light brown sugar, packed
1 tsp cinnamon
1/4 tsp nutmeg
1 tsp lemon juice
6 tbsp unsalted butter, melted 
1/2 tsp kosher salt
Pear Cranberry Filling
2 pounds Bartlett pears (about 6)
2 heaping cups whole cranberries, fresh or frozen
1/3 cup cane sugar
3/4 tbsp fresh grated ginger (or 1/2 tsp ground ginger)
1 tsp cinnamon 
1/4 tsp nutmeg
1/4 tsp allspice 
1/4 tsp kosher salt
Vanilla ice cream
---
Instructions
Preheat oven to 375 degrees. Prepare a square 8×8 baking dish (or a pan of a similar size) with nonstick spray or butter.

Core your pears and cut them into 1'' chunks. In a mixing bowl, combine all ingredients for the filling; pears, cranberries, sugar, ginger, cinnamon, nutmeg, lemon juice, and salt. Mix to combine, then set aside. 

In a separate medium sized mixing bowl, combine the flour, oats, brown sugar, cinnamon, ginger, nutmeg, butter, pecans, and salt—the texture should be crumbly and coarse. There might be excess flour that is not mixed in, which is fine. 

Transfer pear and cranberry mixture into the baking dish, then, using your hands, spread the crumble on top. Place on the center oven rack and bake for about 40-50 minutes, or until the filling is softened and crumble topping has turned golden brown. 

Remove from oven and allow the dish to cool for about 10 minutes before serving with ice-cream or whipped cream. 
Keywords: christmas dessert, crumble, pears, cranberries, cranberry and pear crisp, bakes