This post may contain affiliate links. Full disclosure policy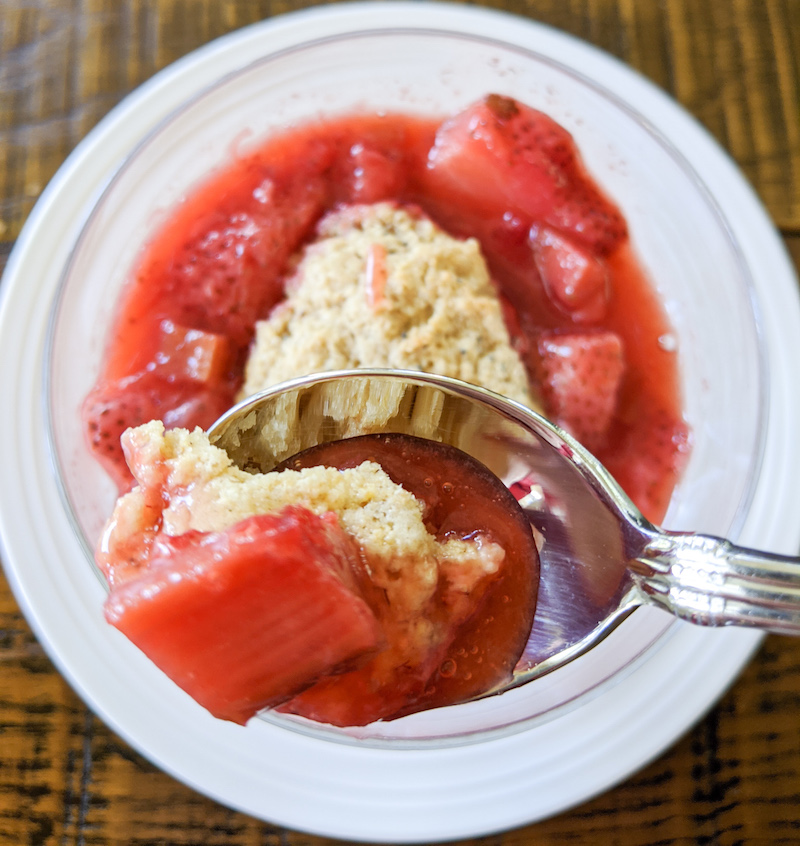 Raise your hand if you ever went on a diet, lost weight, and then gained it back.
I'm pretty sure that everyone who read this particular question is waving their hands over their heads right now. Because if you've ever gone on a diet, you already know that they do not work – at least not over the long haul. And that makes sense, doesn't it?
The fact that we even talk about "going on a diet" implies that we're changing the way we eat for only a period of time. If we "go on" a diet, it's sort of inevitable that, eventually, we will "go off" that diet. When we do, the chances are good that we'll go back to eating the way we did before and so gain back the pounds we lost. And those lost and found pounds might even bring some friends with them.
Incorporating Healthier Lifestyle Choices
If you're carrying extra pounds and want to maintain a healthy weight permanently, you have to make permanent lifestyle changes. That means getting regular exercise, eating lots of vegetables, fruits, lean proteins, whole grains, and healthy fats. It also means finding ways to treat yourself and enjoy life's celebrations without kicking healthy eating to curb.
My oldest son and his family are visiting this week. In my book, there is no better cause of celebration than when one of my chicks, and his chicks, come back to the nest. That's the kind of celebration which calls for and absolutely requires a dessert! And with summer fruits starting to come on strong, a dessert involving tangy rhubarb and luscious sweet strawberries sounded like a perfect idea.
Okay, so let's talk about rhubarb.
Small Changes for a Healthier Dessert
I'm saying "tangy" out of politeness. The truth is, on its own rhubarb is just plain sour. However, when you add sugar, the lip-puckering bite of rhubarb becomes a mouth-watering, tangy-sweet mouthful of heaven on earth. The problem here is that many rhubarb recipes use a LOT of sugar – which does not make for a healthier dessert. That's a problem if you're trying to maintain a healthy diet over the long haul.
My solution? Use twice as many strawberries as rhubarb in my strawberry rhubarb cobbler.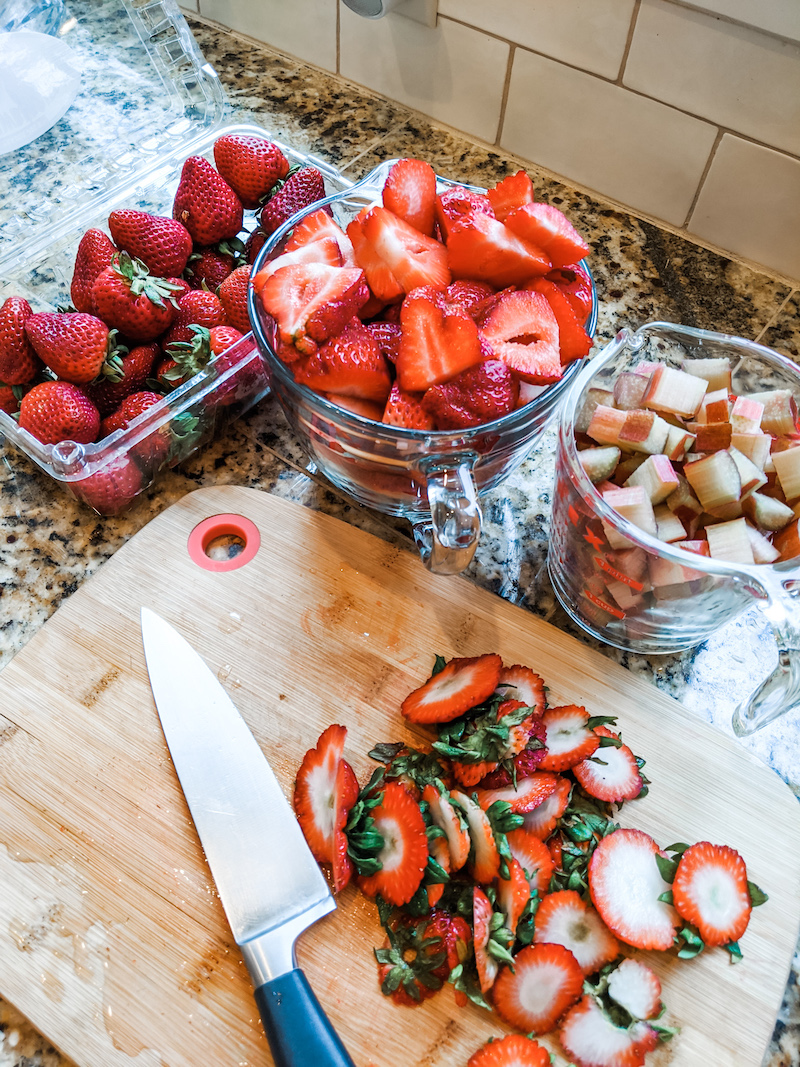 Adding an extra portion of sweet strawberries balances out the sour quality of the rhubarb. Doing so meant I only had to add a half cup of extra sugar to the recipe to achieve a delicious, sweet-tart strawberry rhubarb filling. That makes my strawberry rhubarb cobbler a much healthier dessert option compared to most desserts, and a lovely way to celebrate a special occasion. (The filling alone also makes a wonderful topping for vanilla ice cream.)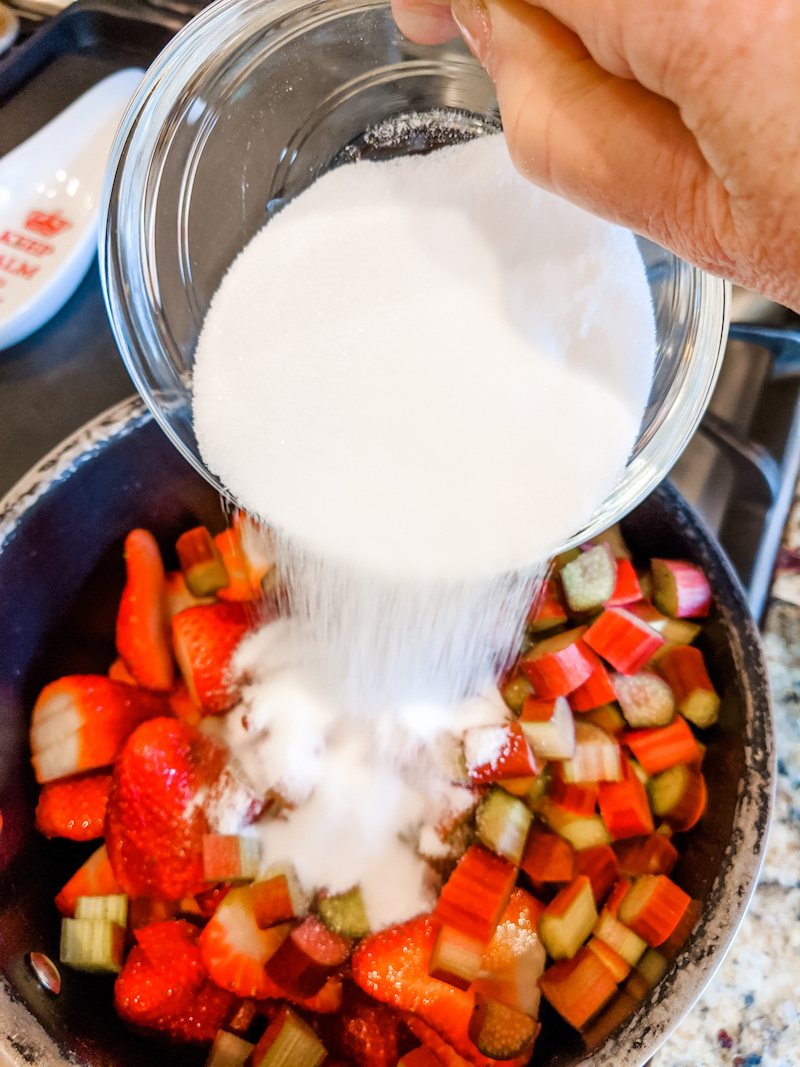 Tips and Tricks – from Top to Bottom!
The biscuit toppings for most cobblers are usually the farthest thing from healthy. They tend to be loaded with butter, refined flour, and lots of sugar. When I was thinking of ways to create healthier desserts out of strawberry rhubarb cobbler, the problem of the biscuit topping had me stumped at first. Then I remembered one of my favorite pantry staples – Kodiak Baking Mix.
Kodiak Baking mixes are made with whole grains with most also being high in protein. I first discovered them when I started making my Miracle Muffins, the muffin recipes that have brought tens of thousands of people to my blog. I was on the Weight Watchers Freestyle Program back then, and was thrilled to come up with delicious, full-sized muffins for just one WW Freestyle Point! (If you haven't tried them, you should. You can find the original version here. The savory version here. And updated versions of breakfast muffins here.)
Using a Kodiak Baking Mix, along with an egg and a little bit of extra sugar, gives my strawberry rhubarb cobbler a sweet, delicious, crumbly biscuit topping without kicking your healthy eating plan to the curb.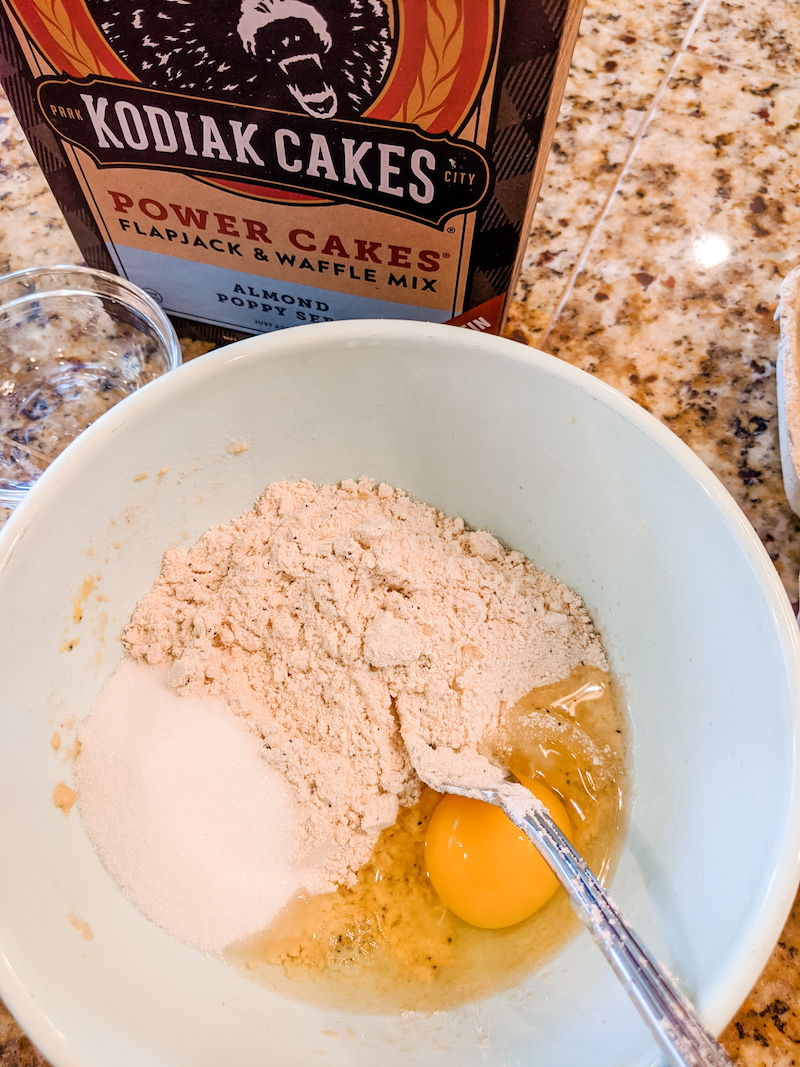 I decided to use the Almond and Poppy Seed Kodiak Mix for my healthier strawberry rhubarb cobbler. That just seemed like the ideal combination for a fresh fruit flavor profile and I was right. That particular mix isn't as readily available in grocery stores but you can order directly from Kodiak. That's what I do and it's the most affordable option. (Shipping is free if you spend $35 or more). But I suspect you could use just about any of Kodiak's high protein mixes in this recipe. Lots of grocery stores carry Kodiak mixes now, or you can order from Amazon.
Healthier, and Easier
In addition to creating a healthier, tasty, high-protein biscuit topping to my strawberry rhubarb cobbler, using Kodiak Baking mix makes this recipe incredibly simple to prepare! The filling only calls for four ingredients. The biscuit topping only requires 3 ingredients.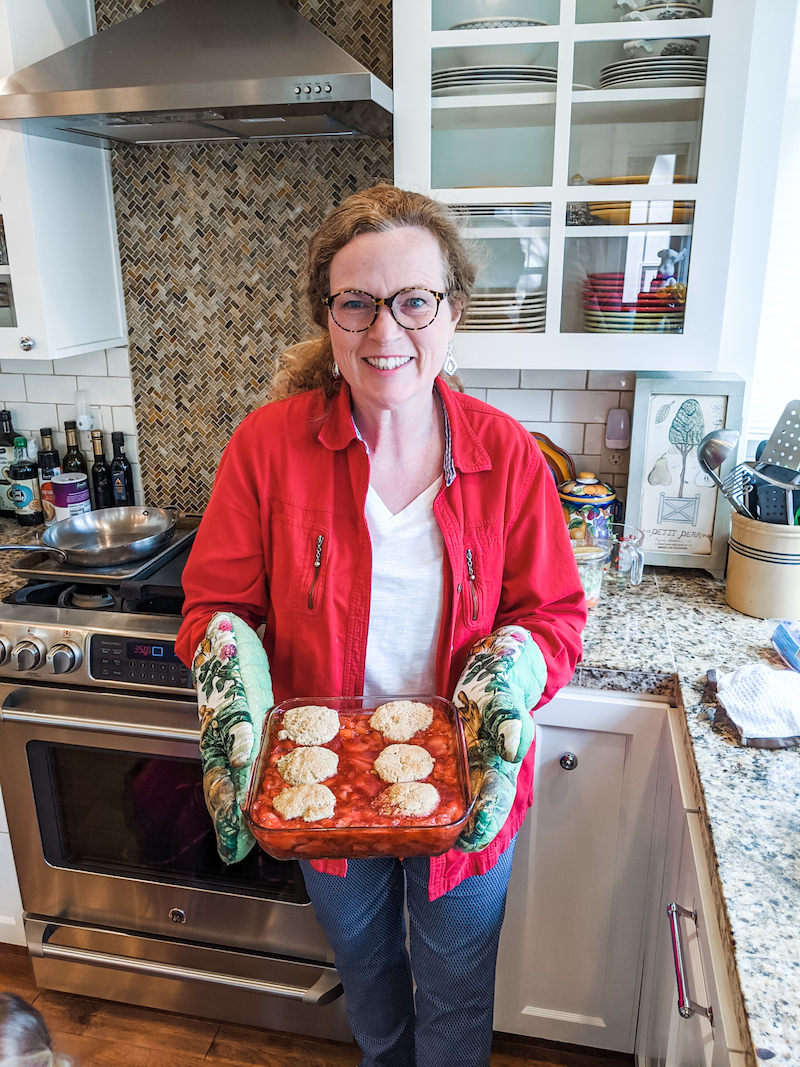 Here's the bottom line on my Healthier Strawberry Rhubarb Cobbler…If you're looking for a healthier dessert that's also delicious and easy to make, you've found it! Give it a try the next time you're looking for a healthy way to celebrate.
Print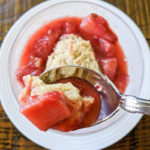 Healthier Desserts: Strawberry Rhubarb Cobbler
---
Author:

Yield:

6

servings

1

x
3 cups

chopped rhubarb (fresh or frozen)

2

pounds fresh sliced strawberries, tops removed (about

6 cups

)

½ cup

white sugar

4

t. cornstarch

1 cup

Kodiak Almond Poppy Seed Power Cakes Flapjacks & Waffle Mix

1

large egg, beaten

2

T sugar
---
Instructions
Preheat oven to 350 degrees
Mix cornstarch in a small bowl with 1 tablespoon water until smooth.  Place rhubarb and strawberries in a heavy-bottomed pot over medium-low heat.  Pour sugar and cornstarch/water mixture over fruit. Stir with a wooden spoon or spatula to distribute sugar evenly over fruit.
Simmer fruit over medium-low heat, stirring occasionally, until fruit becomes soft and syrupy, about 10-15 minutes.
Place Kodiak baking mix, 2 T sugar, and beaten egg in small bowl. Using a fork, mix thoroughly to create a fairly stiff dough. (If needed, add one or two teaspoons of water to get dough to hold together.)
Pour cooked strawberry rhubarb filling into an 8×8 glass baking dish or oven proof casserole dish. Divide biscuit topping into 6 equal portions and place on top of filling.
Place baking dish in hot oven for 20 minutes, until biscuit topping is cooked to a golden brown. Filling will be very hot, so allow it to cool for a few minutes before serving.