This post may contain affiliate links. Full disclosure policy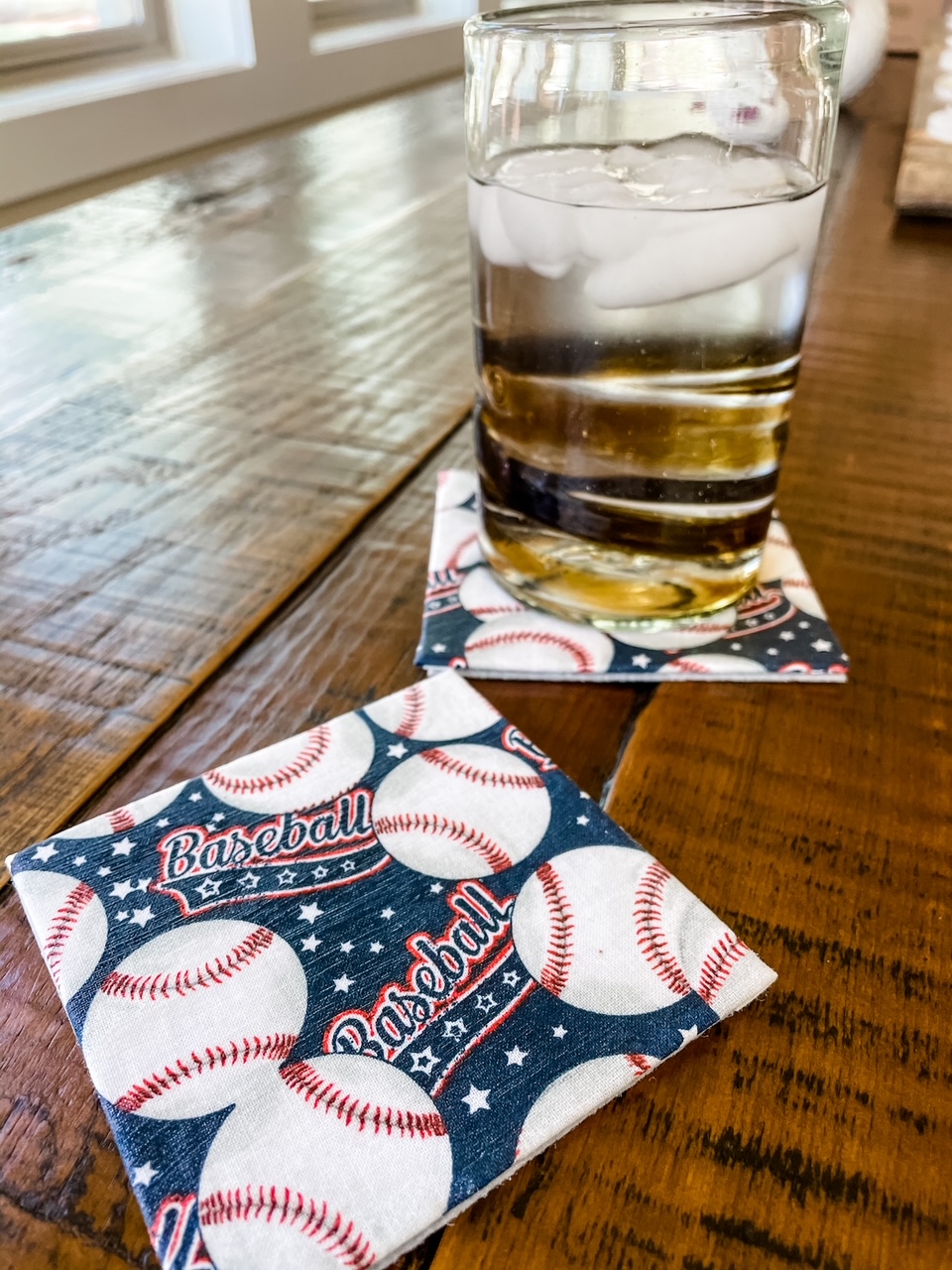 These Easy No Sew Craft Coasters are fun, simple-to-make gift for Father's Day or any day! You can customize them with the colors or novelty fabrics of your choice. A great craft to do with kids!
A Quick and Easy No Sew Craft
I've said it before and I'll say it again, store-bought gifts can't hold a candle to a gift that's made by hand.
But what if you just don't have the time, or the skills, to make a cute and useful gift yourself?
Then my Easy No Sew Craft Coasters are just what you've been looking for. No special skills, crafting talent, or sewing machine required. If you can use scissors or a rotary cutter, you can whip up a set of these coasters in just a few minutes.
And if you're looking for a kid-friendly craft so the littles in your life can make Dad a special gift for Father's Day, Easy No Sew Craft Coasters are perfect for you.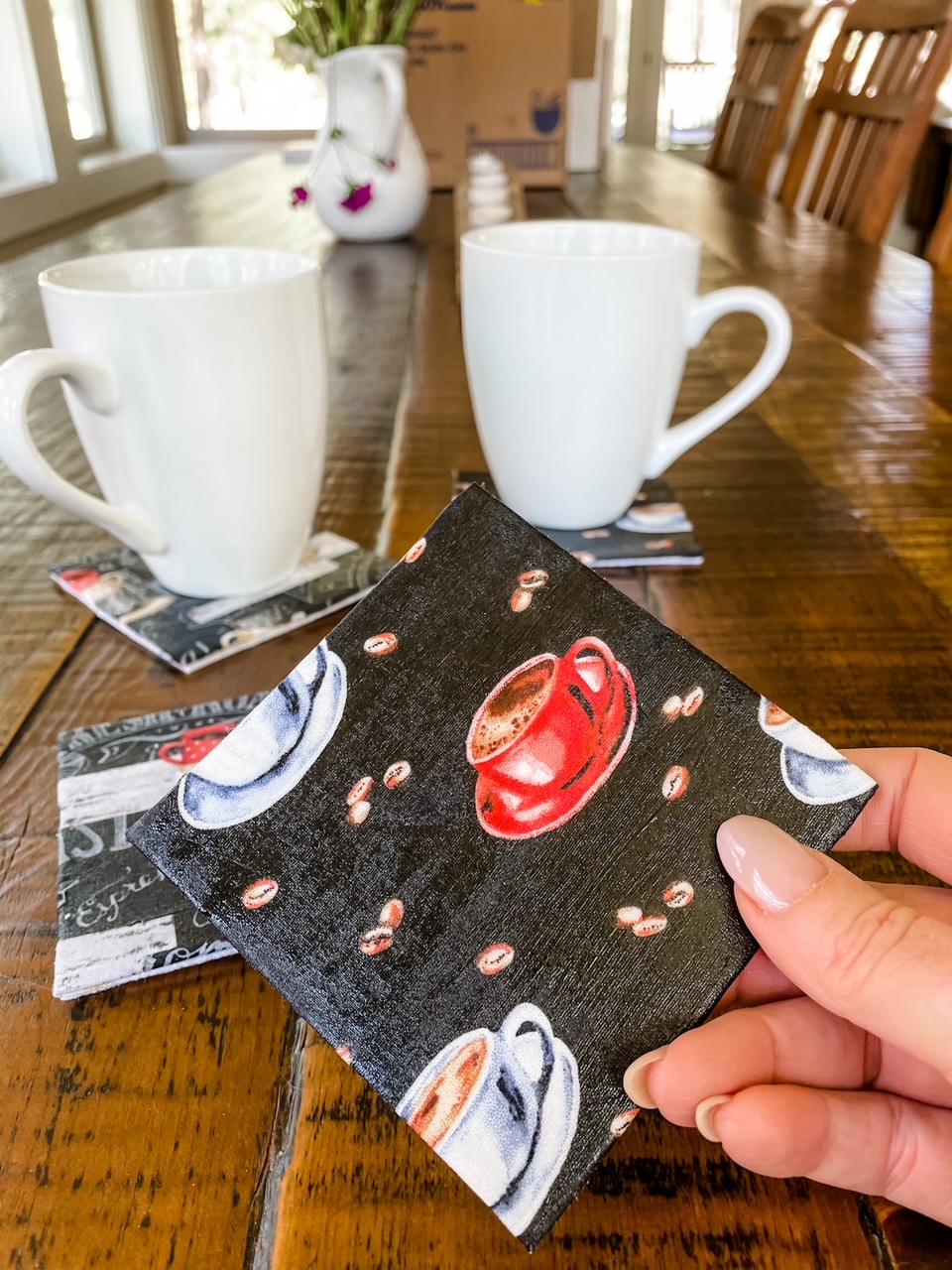 Easy to Make – Easy to Customize
My favorite thing about these Easy No Sew Craft Coasters is that you can easily customize them to suit the person to whom you're giving them.
If you've been to a fabric store recently, you know that there are fun, inexpensive novelty fabrics available to match just about any hobby, special interest, or sport.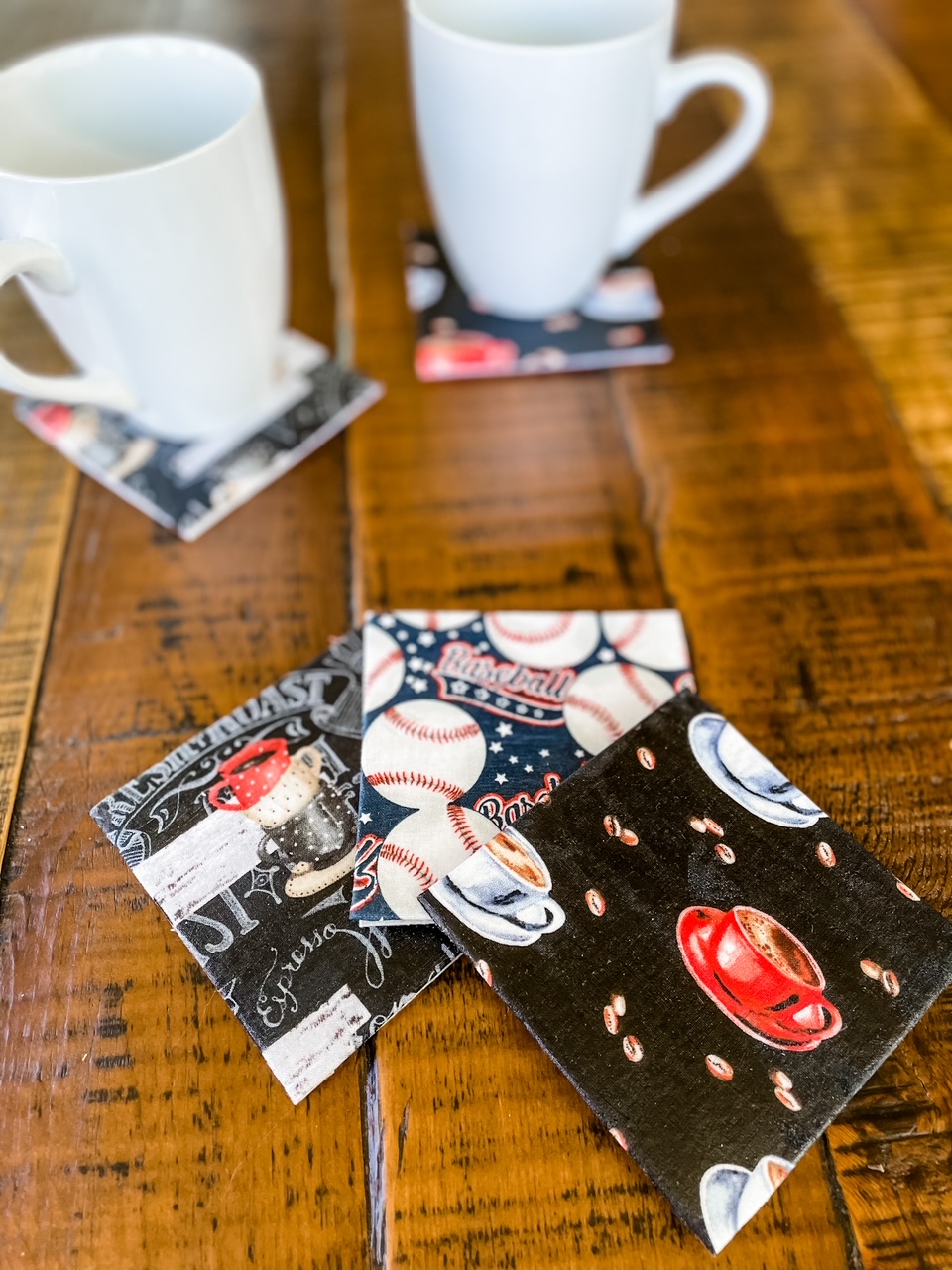 These Easy No Sew Craft Coasters made with baseball, football, basketball, hockey, fishing, hunting, or golf-themed fabric make great gifts for Father's Day. Most stores also carry fabric with the colors and logos of professional and college teams in that region.
Don't worry if sports aren't your thing. You can also find fabrics for coffee lovers, beer drinkers, wine aficionados, gardeners, and fans of Harry Potter, The Office, or Friends, as well as cat, dog, dragon, unicorn, mermaid, bird, or butterfly lovers.
Basically, if you've got a special interest, there's probably a novelty fabric to go with it. And if you don't see what you want at your local fabric store, a quick online search will likely reveal all kinds of options.
Supplies for No Sew Craft Coasters
Here's what you'll need to make 2 coasters:
2 5-inch squares of fabric
1 sheet self-adhesive felt (can also use stiff felt and apply spray adhesive)
Ruler and rotary cutter (can also scissors, ruler, and marking pencil)
Paintbrush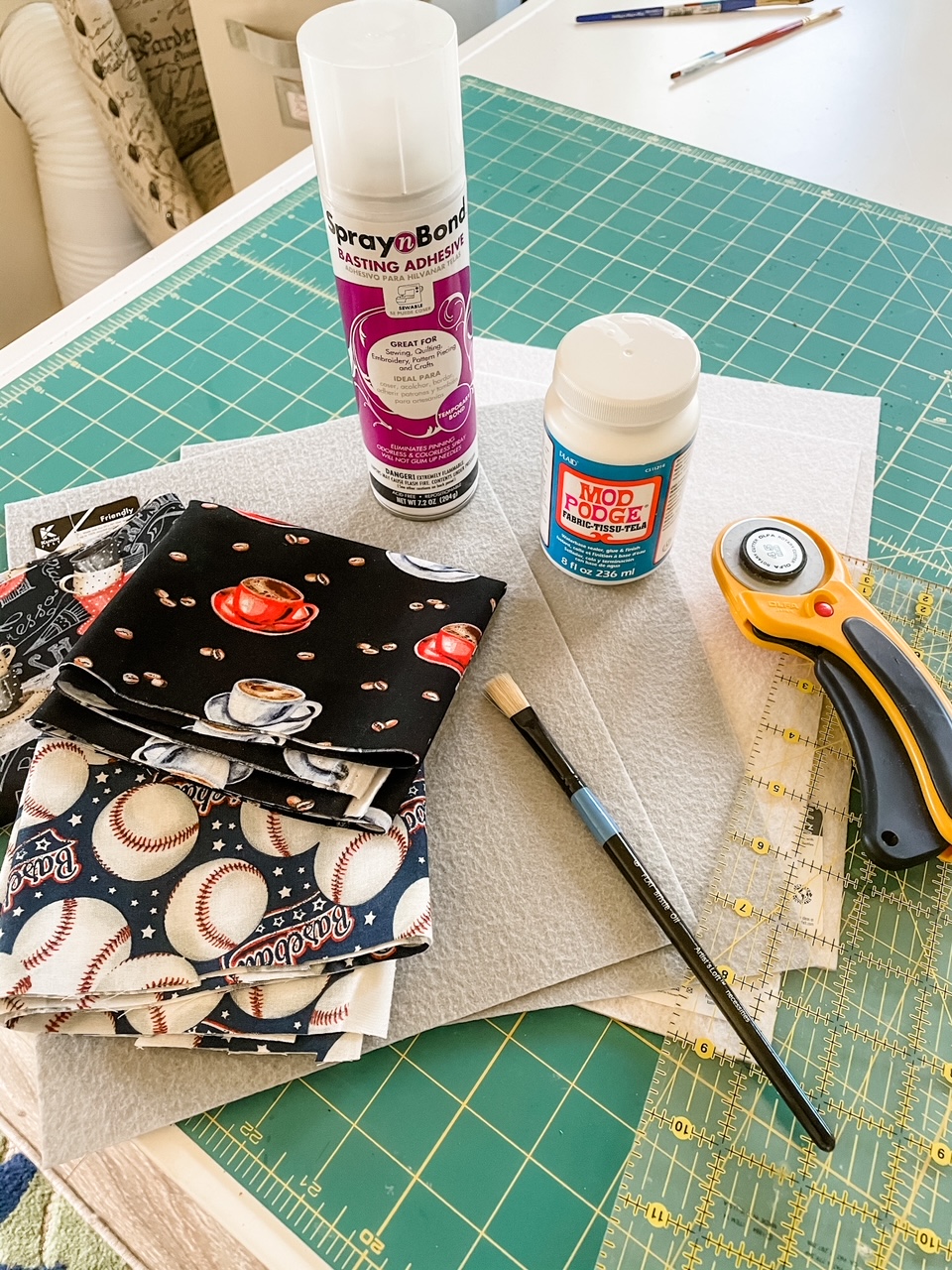 If you do any crafting at all, chances are good that you already have these supplies on hand. But they're all easily available at your local craft store or online.
I used two different kinds of Kunin brand felt, both from my local Joann's store.
The first was a self-adhesive type called "Stick'Rz". With this felt, you just peel off the backing and you're good to go. The second type I tried was a stiff Kunin felt called "Friendly". It's stiff and has a bit of texture to it that I thought would be good for a coaster. I sprayed some fabric adhesive, the kind used for quilt basting, onto the felt so it would stick.
Both types of felt were inexpensive, just $1.49 per sheet and both worked equally well. If you've already got stiff felt and spray adhesive on hand, you can go with that. But if you're going to buy your felt, then I'd purchase the self-adhesive kind, especially if you're crafting with kids. It's incredibly easy to use.
Mod-Podge will give your coaster and slightly shiny finish and make the fabric water and stain-resistant.
How to Make Easy No Sew Craft Coasters
Here's how to make your coasters…
Using a rotary cutter or scissors, cut 2 5-inch squares of the fabric of your choice. Also cut 4 4-inch squares of felt.
Place the fabric squares with the right side down on a table. If using self-adhesive felt, peel off the backing and press the sticky side onto the center of the fabric, leaving a half-inch border on all four sides. If using stiff felt and spray adhesive, place the felt squares onto a sheet of paper and spray on one side, coating the felt evenly. Then apply the fabric with the same method described for the self-adhesive felt.
Use a paintbrush to apply a thin coat of Mod Podge to two opposite edges of the fabric border. Fold the glued edges over the felt square and press down firmly. Paint the two remaining fabric edges with Mod Podge and fold over as above, making sure the corners are even and glued down firmly.
As in step 2, using self-adhesive felt or stiff felt prepped with spray adhesive, press another felt square, sticky-side down, on the felt side of the coasters, making sure all the edges are even. Press down firmly, especially along the edges.
Use a paintbrush to apply a thin, even coat of Mod-Podge over the front of the coaster, on the fabric side, and leave to dry for at several hours or overnight.
Looking for more easy crafts? Try my DIY Stadium Blanket!