This post may contain affiliate links. Full disclosure policy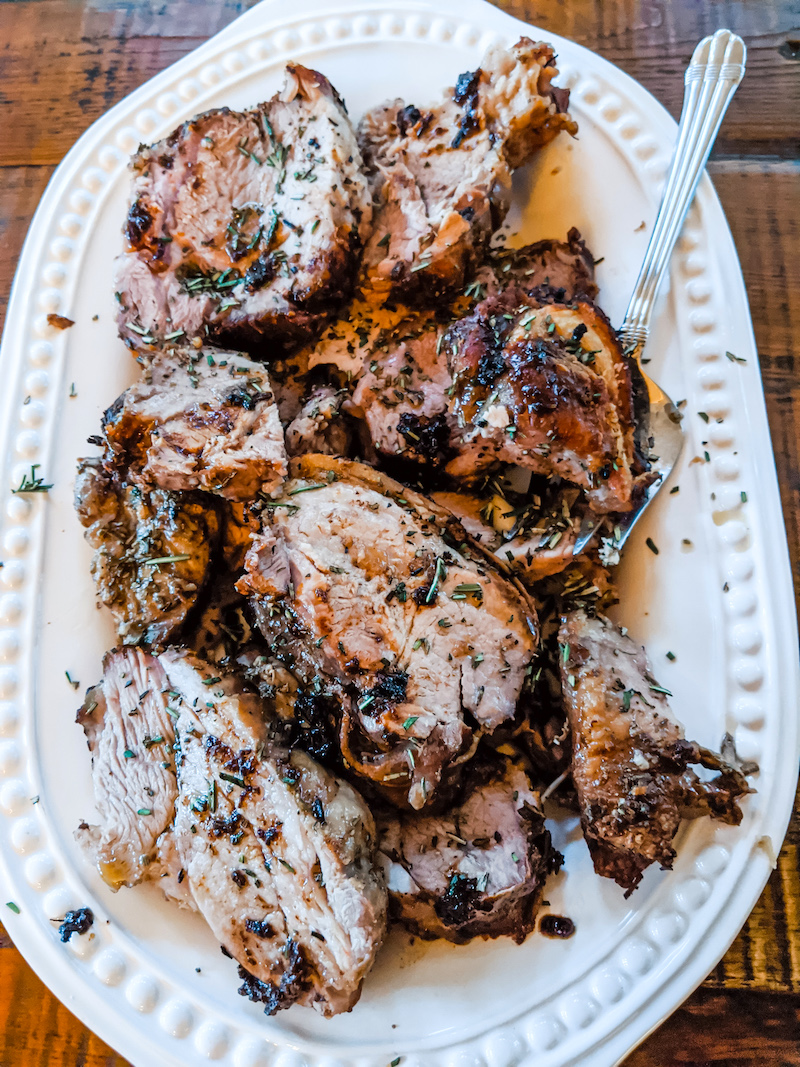 My Perfect Boston Butt Pork Roast is mouth-wateringly delicious and fall-off-the-bone tender. It's an ideal main course for a party, special family meal, or holiday dinner.
Boston Butt Pork Roast is Perfect for Dinner Parties!
This summer, back before things were quite so shut down and locked up, I gave a small dinner party for two friends who are very serious foodies. I know them as Sandy and Lori but the world knows them as Reluctant Entertainer and Recipe Girl, two of the most prominent names in the food blogosphere.
Sandy and Lori are as gracious as can be and I knew I didn't have to impress them. But I've had some amazing meals in their homes, so I really wanted to return the favor by making a truly special dinner.
At the risk of blowing my own horn, I'd say it was mission accomplished.
I don't often use the word perfect when describing one of my recipes but the Boston Butt Pork Roast I prepared that night really deserved the adjective. Lori pronounced it to be "restaurant quality" and everybody went back for seconds and even thirds, which is my mark for a successful dish. If people keep going back for more, then you know it's good.
That's when I decided that I'd be preparing it again at Christmas and waiting until December to share the recipe on the blog. Because during the holidays, we want a main course that will really knock it out of the park. And this Perfect Boston Butt Pork Roast is a real home run!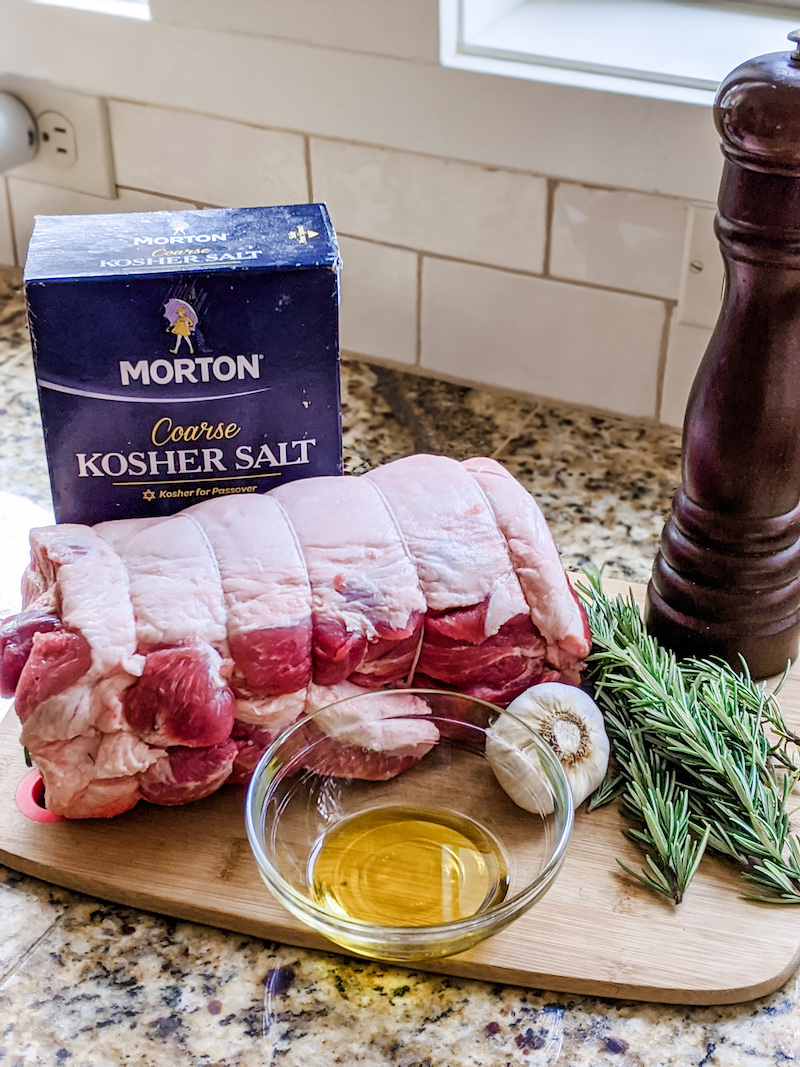 What is Boston Butt Pork Roast?
Oddly, this cut of meat isn't a "butt" in the way we think of the word. It's actually the upper part of the pork shoulder. So why is it known as Boston butt?
I'm glad you asked! I found an explanation the history nerds among us will appreciate, over at Applestonemeat.com.
"Apparently butts are named after the barrels pork used to be stored in around the time of the Revolutionary War; they were called butts. And the reason butts are often called Boston butts is they were considered a New England specialty. Infrequently you see them called a shoulder butt."
So there you have it. These butts are really shoulders.
What Makes A Boston Butt Pork Roast Such a Good Cut of Meat?
When people think about roasting pork, especially for company, they often think about pork tenderloins.
I am not one of those people.
These days, most pork tenderloins are so lean that they tend to be dry and tasteless. A good Boston Butt Pork Roast is going to have a nice cap of fat which makes it flavorful and tender. Serving it on a regular basis probably wouldn't be a good idea health-wise, but it's a wonderful treat for holidays and special occasions.
You do need to plan ahead when making my Perfect Boston Butt Pork Roast because the meat needs to marinate in the rub for a few hours before going into the oven. It also needs to cook for a long time and at a low temperature, otherwise, it will be tough.
But the actual preparation is super easy and the results are more than worth the wait. This really is the perfect main course to serve for a dinner party or holiday celebration.
Something else I love about Boston Butt Pork Roast is that it is a relatively inexpensive cut of meat. The Boston butt pork roast I'll be serving for Christmas dinner is less than half of what I would have paid for prime rib.
And it tastes even better!
How Do I Make Boston Butt Pork Roast?
My recipe really couldn't be easier.
You make a thick marinade with olive oil, minced garlic, Kosher salt, fresh ground pepper, and lots of chopped rosemary, then rub it on the roast. I also like to cut a few garlic cloves and shove them into slits that I cut in the meat.
When that's done, you let it sit in the refrigerator for several hours. The longer it sits, the better the flavor. I like to prepare the rub the evening before and let it sit overnight. After that, all you do is pop it in the oven for several hours, lowering and raising the oven temperature at the beginning and end of the roasting time.
You'll find the specifics in the recipe but that's the general idea. Simple, right?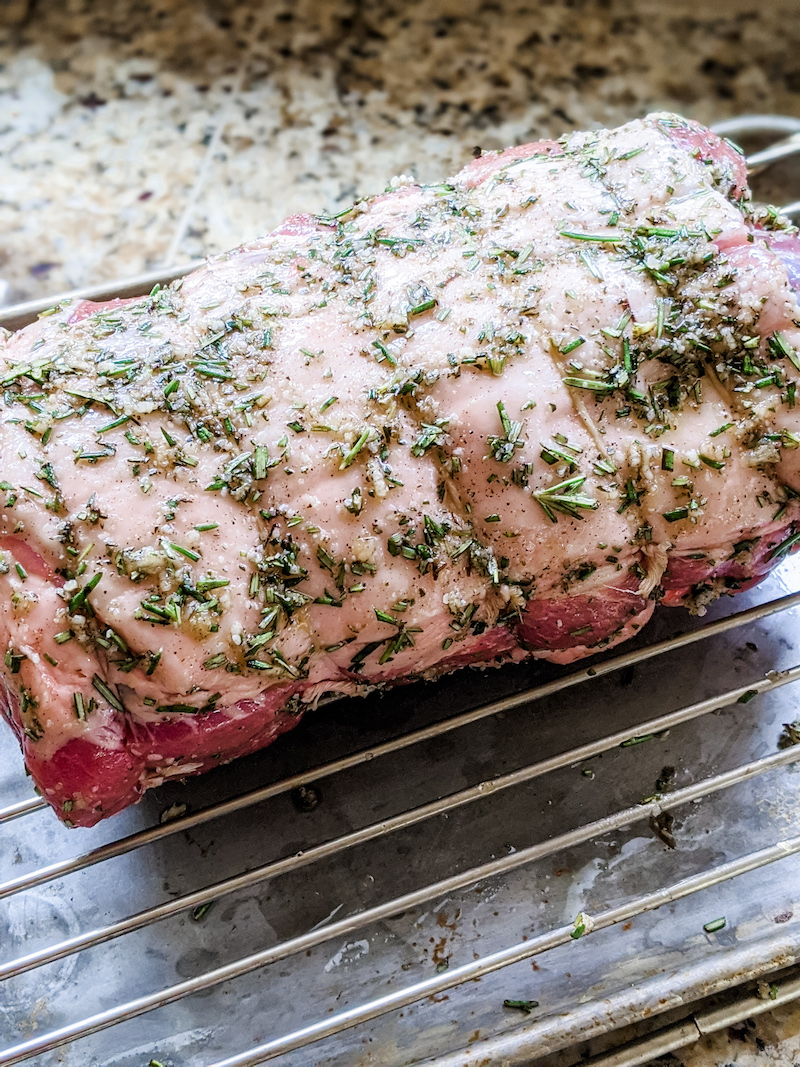 You will need a good meat thermometer on hand, so you'll know when the internal temperature of your pork roast has reached 180 degrees (yes, you read that right. 180 degrees. For this recipe, the meat should be thoroughly cooked). Here's a digital model I recommend, with nice big numbers that are easy to read.
What Should I Serve with Boston Butt Pork Roast?
Pork Roast goes well with so many dishes. However, a big green salad to start is a must in my book.
I don't think you can go wrong with my Farm Salad with Roasted Carrots or my Kale Salad with Fennel and Butternut Squash. They're both loaded with wonderful winter flavors and seasonal vegetables, balanced with beautiful citrus-based dressings that really wake up your taste buds.
For side dishes, I highly recommend some warm homemade applesauce and potato pancakes. They're such classic accompaniments to pork. I made my potato pancakes with a bit of parmesan cheese and they were a big hit. I plan to post a recipe soon.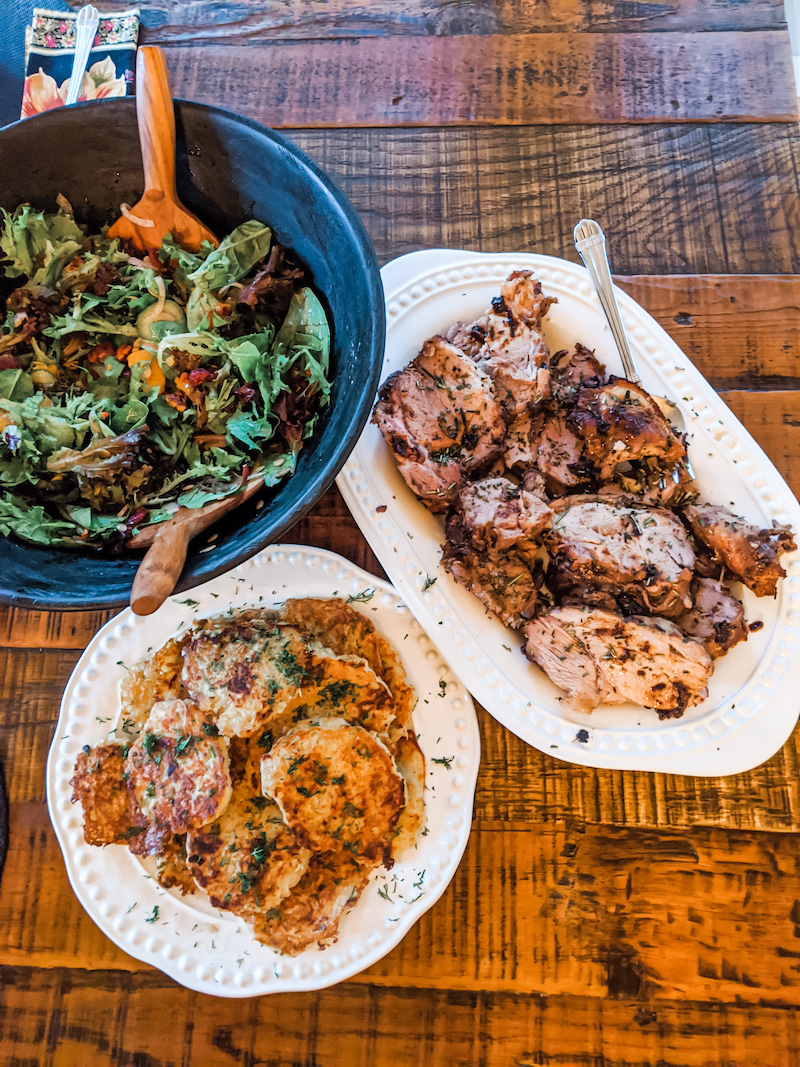 At my summer dinner party, Lori brought some homemade butterscotch pudding that was absolutely divine! I'm definitely thinking about serving her recipe with our Christmas dinner. But I'm also giving some thought to making Sandy's Pear Puff Pastry Dessert. It looks fantastic and I really love pears.
Maybe I'll make both? After all, Christmas only comes once a year.
A Special Dinner for a Special Day
The next time you're thinking about what main course to make for a holiday or family get-together, consider preparing my Perfect Boston Butt Pork Roast. It's a recipe that's will make a special occasion even more special!
Print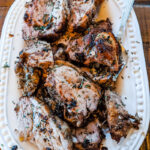 Perfect Boston Butt Pork Roast
---
Description
Place pork roast on a roasting rack. Place rack in a rimmed baking pan.
Stir olive oil, rosemary, minced garlic, salt, and pepper together in a small bowl. Rub rosemary/olive oil mixture over surface of roast on all sides/
Using a sharp knife, cut deep slits into roast. Push the garlic slivers into the slits. Place roast in refrigerator for at least 4 and up to 24 hours.
Remove roast from refrigerator to allow temperature to rise while pre-heating oven. Preheat oven to 450 degrees.  Cook uncovered roast in preheated oven for 30 minutes.  Lower heat to 250 degrees. Continue cooking for 6 to 8 hours, until internal temperature reaches 180 degrees.
Increase oven temperature to 450 degrees. Cook roast for an additional 15 minutes to brown the meat. Remove roast from oven. Allow the meat to rest for 20 minutes before slicing. Serve with pan juices.
---
3

to

6

lb Boston Butt Pork Roast

2

T olive oil

4

T chopped fresh rosemary

10

cloves garlic, peeled and minced

1

T Kosher salt

1 tsp

fresh ground pepper

4

–

6

cloves garlic, peeled and sliced in half lengthwise
---