This post may contain affiliate links. Full disclosure policy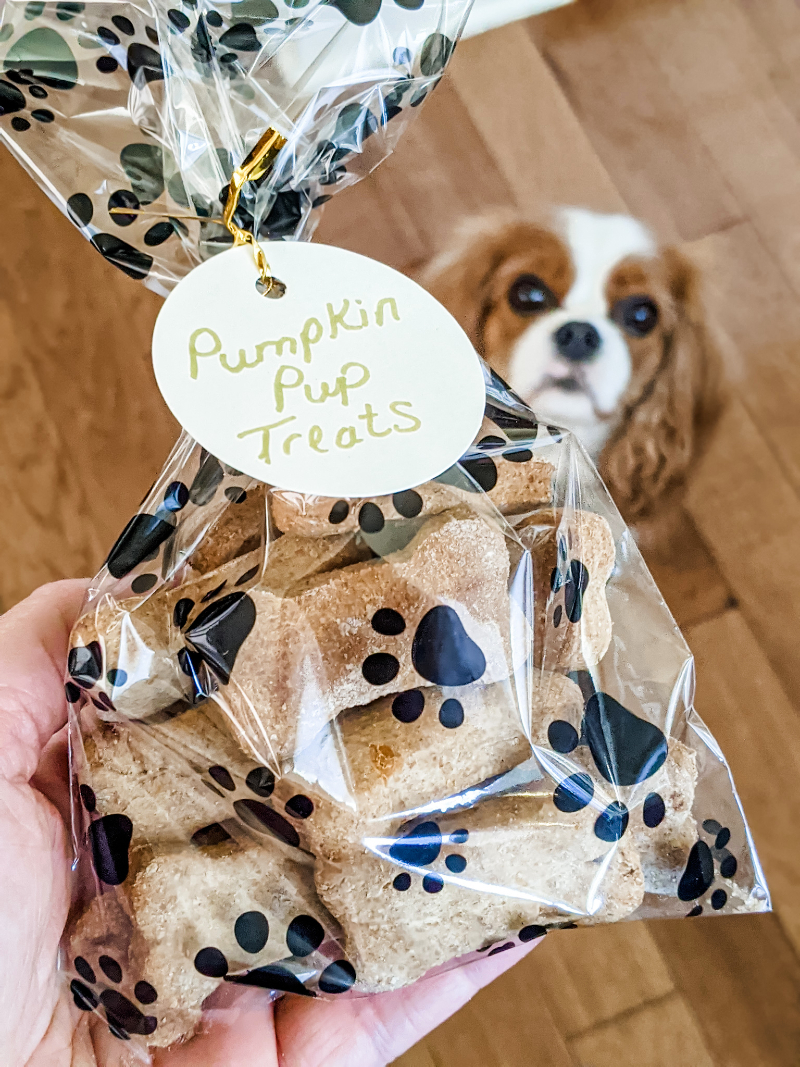 When the holidays come around, don't forget your four-legged friends! These Homemade Pumpkin Dog Biscuits are easy to make, fun to give, and Spaniel approved!
Easy Homemade Dog Biscuits with Pumpkin
With just a few simple ingredients and a little bit of time, you can bake a batch of healthy, homemade pumpkin dog biscuits that your pup will love!
These cute little dog biscuits are even easier to make than most cookies. You mix together a few simple ingredients, knead the dough, cut out the shape of the biscuit, and bake. That's it!
Besides being easy, making homemade pumpkin dog biscuits is a great way to use up leftover pumpkin during the holidays. Best of all, it's a fun way to make inexpensive gifts for the dogs and dog-lovers in your life.
Healthy Treats for Happy Hounds
Dogs love pumpkin, and that's a good thing. Adding a little bit of pumpkin (but not too much) to your dog's diet can help them produce firmer stools. That makes these homemade dog biscuits a healthy treat that your pup will love.
Besides pumpkin, these biscuits include whole wheat flour, eggs, a little peanut butter for protein, cinnamon, and salt. That's it!
When you bake homemade dog biscuits at home, you'll know exactly what's in them. No chemicals or weird, hard to pronounce additives – just simple, real food that bakes up into a biscuit your dog will love.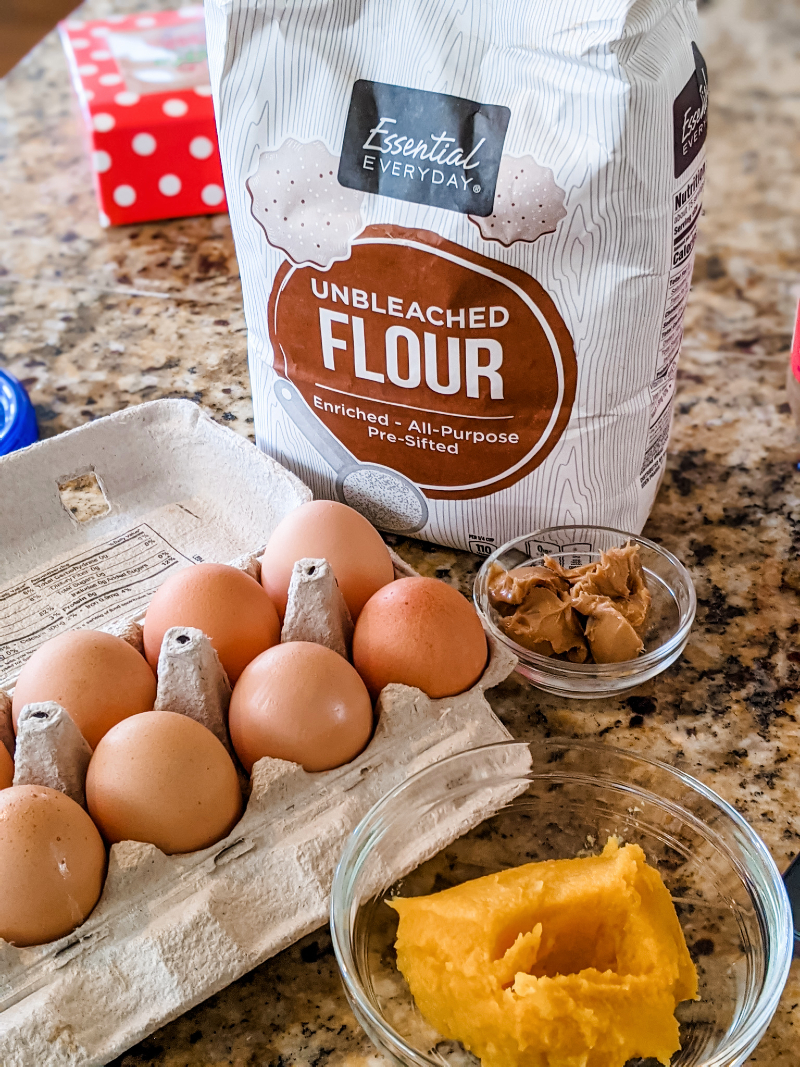 Cute Touches for Gift-Giving
If you wanted, you could use a knife and cut the dough into any old shape you wanted before baking the dog biscuits. Your dog would love them just as much.
But since I'm giving my Homemade Pumpkin Dog Biscuits as gifts, I decided to doll them up a little. Cutting them into dog-themed shapes and using pup-centric packaging makes them extra adorable!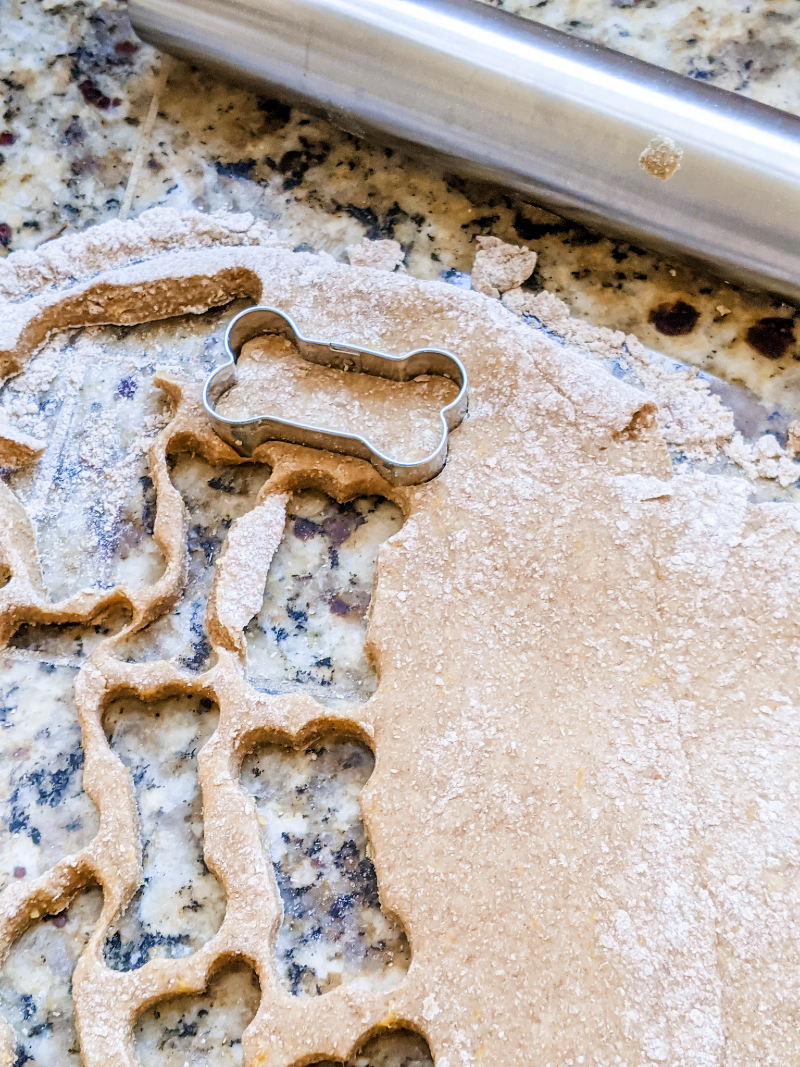 These bone-shaped cookie cutters from Ann Clark are just darling and come in 5 different sizes. I used the smallest size because my pup is a petite little lady and got 50 biscuits from the recipe. But wouldn't it be fun to make a few great big biscuits for the Mastiff, Great Dane, or Burmese Mountain Dog in your life?
I also ordered these cute cellophane paw print treat bags to package my dog biscuits for gift giving. There are 150 in a bag, so I'll have plenty to use in years to come.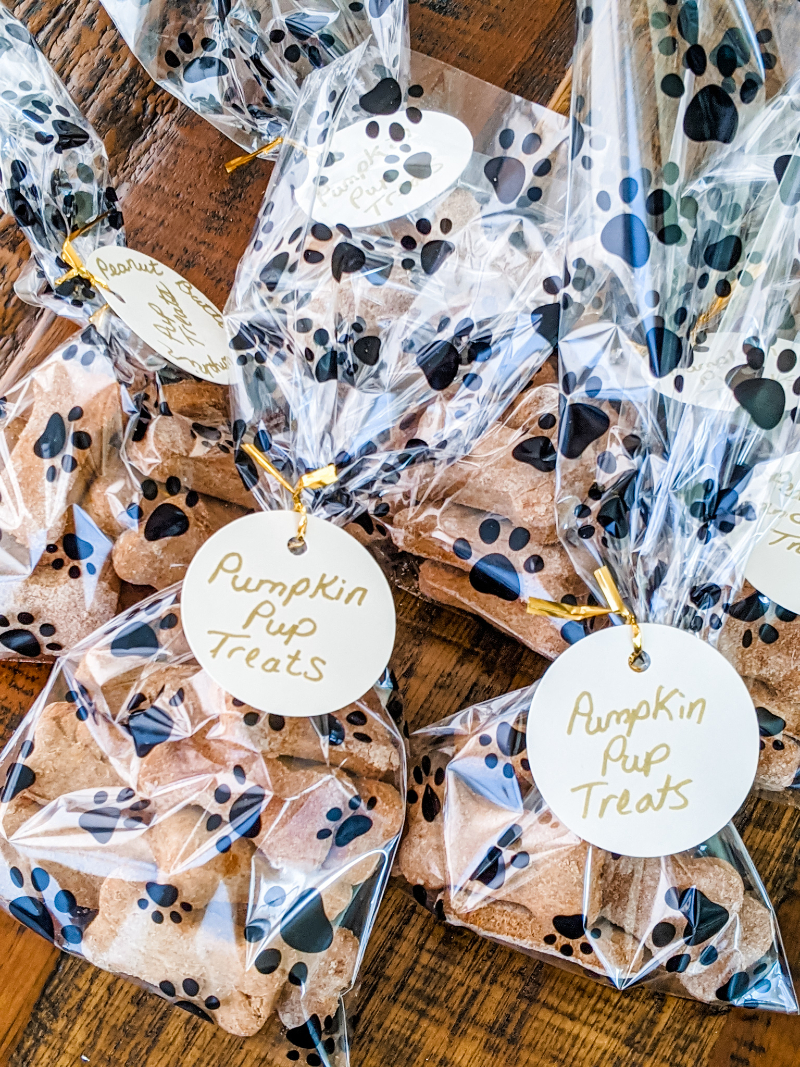 Tail-Waggingly Good!
These sweet little Homemade Pumpkin Dog Biscuits couldn't possibly be any cuter. But my little pup is kind of a princess. She won't eat just any treat, so I wasn't sure if she'd like them or not.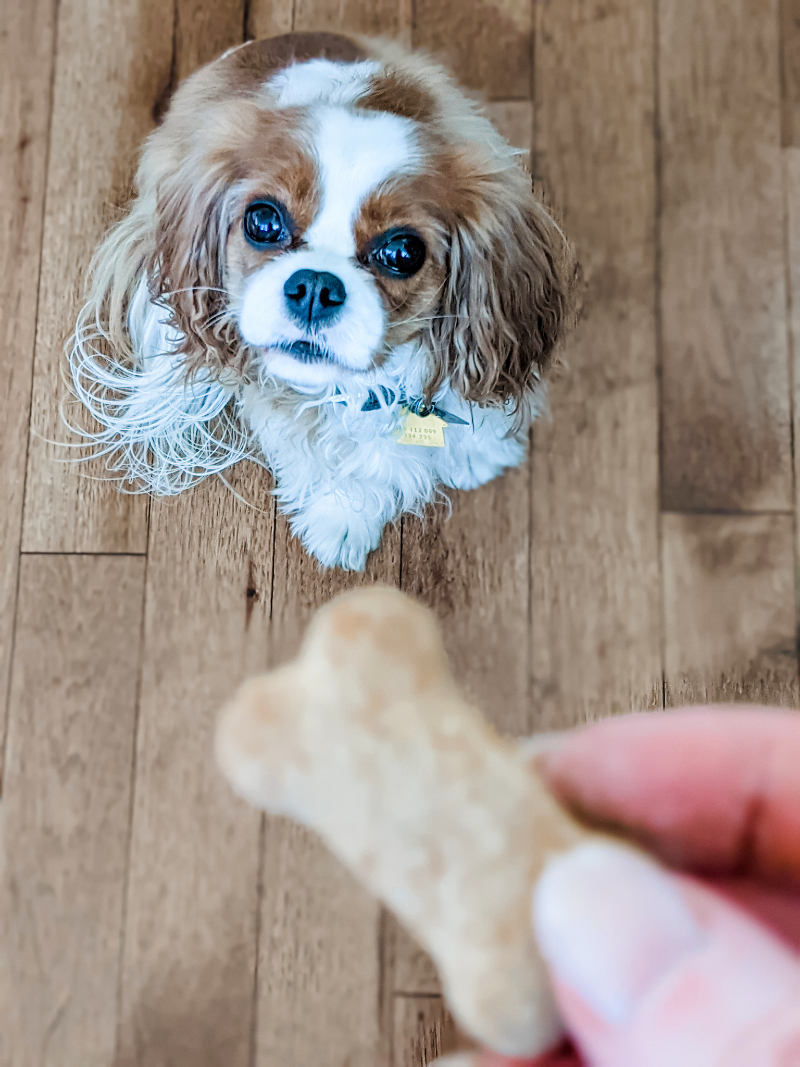 However, the taste-testing went well. Maybe too well? After she gobbled down three and "sat pretty" in hopes of getting some more, I had to hide the biscuits.
These pumpkin dog biscuits are 100% Spaniel-Approved. Bake up a batch of these healthy, homemade dog biscuits for your favorite furry friend soon!
Print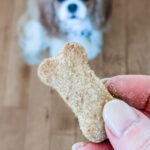 Homemade Pumpkin Dog Biscuits
---
2.5 cups

whole wheat flour

½ cup

pumpkin puree (just pumpkin, not pumpkin pie mix)

2

eggs

2

T peanut butter

½ tsp

salt

½ tsp

cinnamon
---
Instructions
Preheat oven to 350 degrees.
In a medium bowl, whisk together eggs, pumpkin, peanut butter, salt, and cinnamon. Stir in flour to make a stiff dough.
Turn dough out onto lightly floured surface and knead for two to three minutes. Roll out to about ½ inch thickness. Cut into desired shapes.
Place dough cutouts on a parchment covered baking pan. Bake for approximately 40 minutes, until the biscuits are hard. Cool on a rack.