This post may contain affiliate links. Full disclosure policy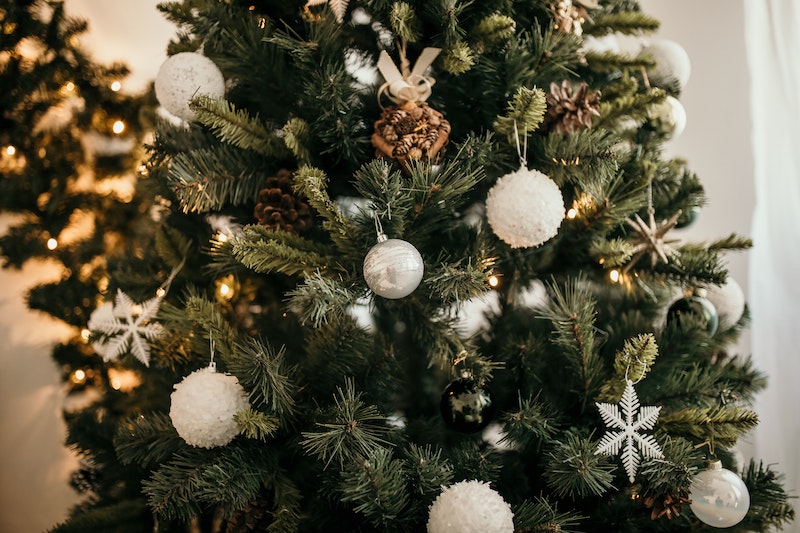 I'm sure you remember A Christmas Carol by Charles Dickens. During the course of this most classic of all Christmas stories, Ebenezer Scrooge learns to honor and embrace Christmas past, present, and future.
I've been thinking about that story a lot this week, and the lessons that can be drawn from it as we face one of the strangest holiday seasons we've ever known.
Most of us tend to think of our holiday traditions as set in stone. But the truth is that our Christmas and holiday celebrations do change with the passage of time. Knowing that can help us enjoy Christmas Present, just like old Scrooge did. In this post, I'll give you some ideas about ways you can make these very different holidays as merry, bright, and meaningful as those you've known in the past – even though you may celebrate from home.
But before I do that, allow me to share my own story of Christmas past, present, and future…
A Christmas Culture Clash
After my husband and I were married (as my kids would say, back in the days when dinosaurs roamed the earth) the differences in how my family and I approached the holidays and Christmas traditions were very different from my husband's family's approach.
My husband is an only child, surrounded by a handful of mostly unmarried cousins who are also only children. The only gift-giving he did was for his mother. Every Christmas, he sent her a card with a check. And she sent him? You guessed it, a card with a check. I put an end to that right away. I called up my mother-in-law, asked her what color her bathroom was, and bought her a set of fluffy new yellow towels. (She loved them, by the way.)
My husband conceded, a little grudgingly, that this was somewhat more in line with the spirit of the season. But his jaw dropped when I showed him the Christmas list for my relatives, all of whom were now his relatives too. I have six sisters, countless nieces and nephews, as well as aunts, uncles, cousins, and parents. Oh, and then there were neighbors and friends.
"We can't afford to give presents to these people!" he protested. Of course, he was right. We were newlyweds and basically broke. So I made 52 jars of strawberry jam and Christmas was saved. I also put up a tree and purchased a single, absolutely enormous wreath that I saw in the window of a florist shop. These were the only decorations we had in that first year of marriage.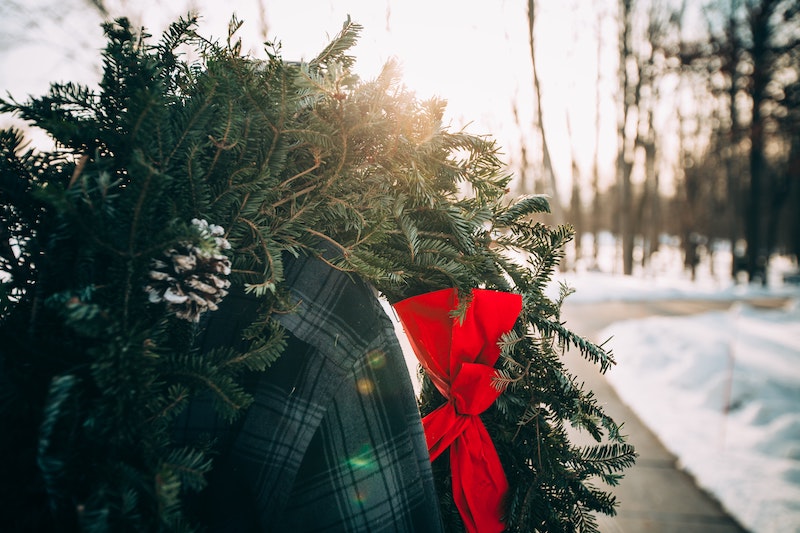 A New Family with New Traditions
As time went on and our family expanded, so did our Christmas traditions. The weekend after Thanksgiving, we would choose our tree and decorate it as Christmas music played on the stereo. Next, we'd decorate the house. There were creches, candles, wreaths, music boxes, quilted table runners, Christmas throw pillows, and a toy train set under the tree. Our decorations grew to about five wardrobe-sized boxes. And that didn't even count the fresh greens for the mantles and tables.
In addition to presents for family and friends, there were stockings for the children and any guests in residence. Christmas Eve dinner was simple but filling – a big bowl of stew or soup with bread, salad, and Christmas cookies. We would go to church as a family, usually to a candlelight vigil. Every child was allowed to open one gift before bed.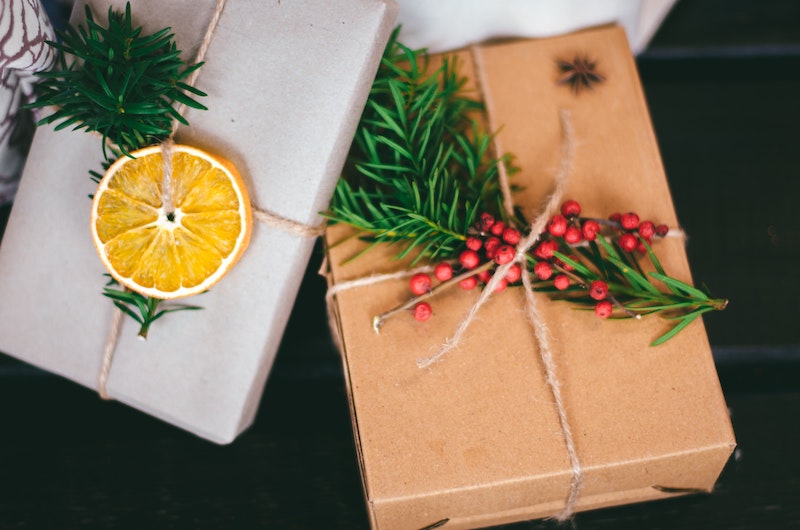 On Christmas morning, I would rise before the sun and go by myself to a sunrise service, then return home to serve a huge holiday breakfast to my family. After breakfast, stockings and presents were opened and enjoyed. Around noon, I would start cooking our usual Christmas menu – prime rib with all the trimmings, plus vegetables and plenty of homemade pie. There was music, and food, and gifts, and laughter, and happy chaos. At the end of the day, I'd drop into bed, exhausted, grateful, and content. It was wonderful.
Then, of course, things changed. They always do.
My boys grew up. They met wonderful women and started families of their own in faraway cities, too far away to allow us all to gather on holidays. I was happy that my boys were happy and thrilled they had found such wonderful life partners. This was my dream for them. But seeing the Christmas traditions I had taken such joy in begin to crumble was very, very hard.
Adjusting to My Empty Nest
Several years back, when my Christmas day ended in tears, I knew that something had to change and that something was me.
Oh, how I cherish the memories of those family Christmas celebrations past! That was a wonderful season for life for me and my family. But time marches on, and life seasons change. If we fail to adapt to those changes and cling stubbornly to the past, we are bound to become disappointed, sad, or even bitter. And that is no way to spend Christmas!
On the morning after that teary Christmas, I decided to do a total reset of our holiday traditions and my expectations of what Christmas should be. "I don't care what we do next Christmas," I told my husband. "As long as it isn't anything like what we've done in the past."
My husband agreed. The next year, we rented a condo in Hawaii during Christmas. My mother and our youngest son joined us. There were rules about presents; only two per person, nothing over $25, and small enough to fit in a suitcase. The only decoration was a paper cutout of a Christmas tree I had in my luggage. We went to a Christmas Eve service at a nearby hotel. For Christmas dinner, we grilled steaks on the barbeque, accompanied by a caesar salad, some baked potatoes, and a pie I'd bought from the store. After dinner, we watched a football game and went for a swim in the pool.
It was a very, very different kind of Christmas. And it was fun!
Finding the Value in Christmases of All Kinds
The memories of our Hawaiian Christmas are just as precious to me as those I collected when my kids were little. And it taught me a valuable lesson. Establishing family traditions is important, but as our families or our circumstances change, our traditions need to change as well.
As Christmas 2020 approaches, I'm so grateful that my husband and I have already had the opportunity to learn how to cherish Christmas Past while embracing Christmas Present and being open to Christmas Future. Having had a little practice in this area will make embracing this holiday season for what it is a lot easier!
But I know this is new territory for many of us.
Whether your traditions focus on the sacred, the secular, or some combination thereof, joyfully celebrating this very different Christmas requires an openness to trying different activities and creating new traditions. Rather than focusing on all the things that you did in Christmas Past and mourning that you can't do it this year, let's embrace Christmas Present and all the things we can do to celebrate Christmas from home.
Here are some ideas for how to do that.
Embrace Celebration: Celebrate Christmas from Home
While you may not be able to participate in parties and big family get-togethers the way you have in the past, Christmas Present still offers plenty of opportunities for fun. Here are a few ways that my family and I will be safe while we celebrate Christmas and the holiday season…
Movies and Must-See

TV:

A

big dose of Christmas Spirit is as close as your television! Pop some popcorn, heat up some hot cider, and sit down to enjoy a Christmas movie one of the upcoming Christmas specials on network and cable TV. (Not sure what movies to watch? Check out my recent post on some of the best!)

Virtual

Party:

No

, it's not the same as being together in person. But virtual get-togethers on Zoom or FaceTime can still be fun, especially if you get a little creative. What about an Ugly Christmas Sweater contest? Or a virtual Christmas Carol Sing-Along? Or maybe a cookie exchange, where everyone exchanges a favorite cookie recipe ahead of time, makes someone else's recipe and gets online to share the results and have a good gab. With a little thought and creativity, you can come up with lots of fun ideas to help you safely enjoy Christmas across the miles.

Music Makes the Season

Bright:

One

of my favorite things about Christmas is the music! Listening to Christmas carols and songs is something we can still do safely and I'm so thankful for that. If you're feeling a little low, singing along with your favorite holiday music is a sure way to lift your spirits.

Tour the

Lights:

Hopping

in the car and driving around the neighborhood to ooh and ahh over the local Christmas lights and displays is something that we can still do safely. Be sure to add to the ambiance by playing some Christmas music while you're taking the tour.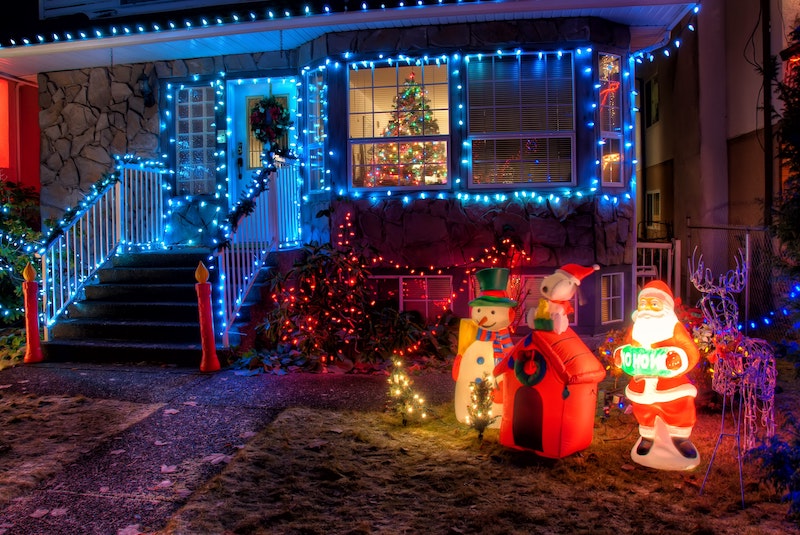 Deck the Halls Like Never Before
Speaking of Christmas lights, if there was ever a year to go overboard with your holiday decorating, this is it! Making the inside of your home as festive as possible with candles, greens, and a pretty tree will do so much to lift your spirits and serve as a boon while you celebrate Christmas from home. Even if you're the only one at home, that's no reason not to deck your halls. You're as deserving of holiday cheer as anyone else is, so go for it! If you can, make sure to put up some outdoor decorations too. Putting up a wreath, some pretty lights, or an outdoor display is a gift you can give to your whole neighborhood.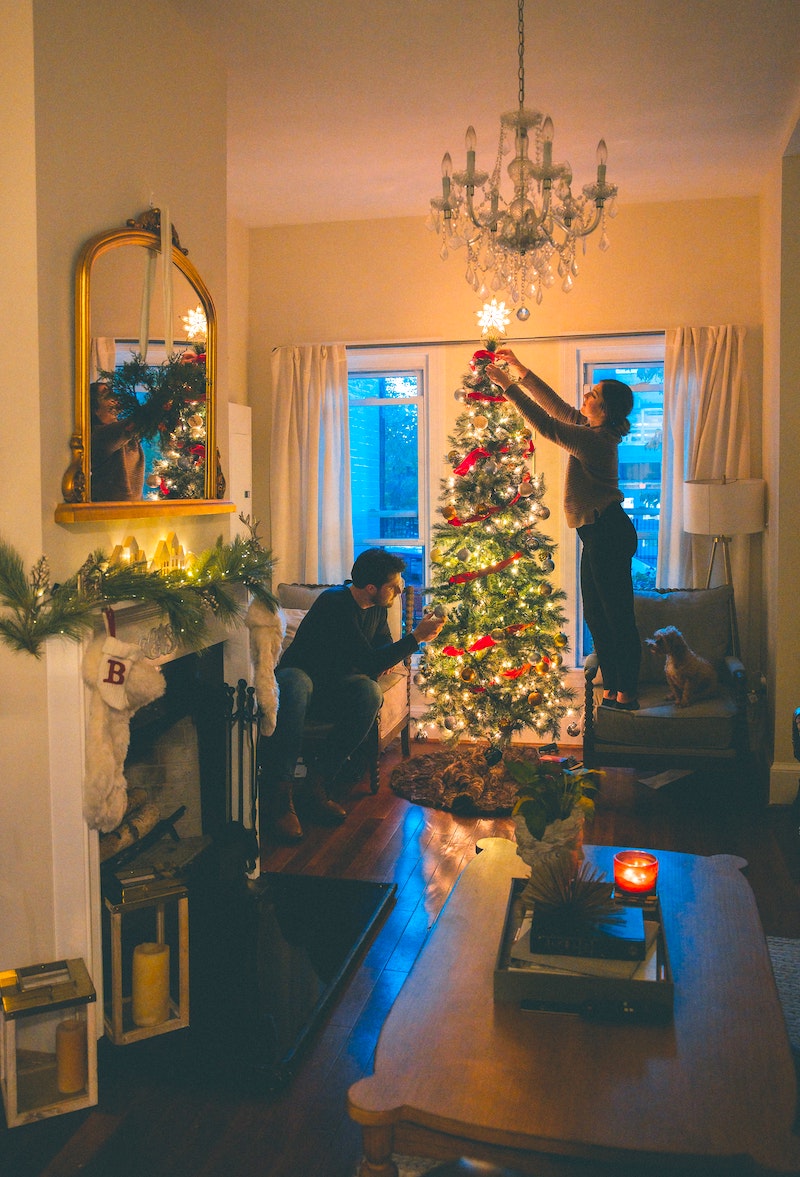 Spread the Joy
Christmas is the season of giving. Leaning into that fully and finding ways to encourage and lift up others is the best way I know to celebrate Christmas from home in the most meaningful and magical way.
Join the Elf Squad:

Many

years ago, some friends introduced me to something they called "

Elfing

". This family would make or purchase small gifts, drive around town after dark, and anonymously leave those presents on the doorsteps of people whose spirits needed lifting during the holidays. The gifts don't have to a big or expensive but the impact that comes from letting people know that someone cares can be huge! Is there someone in your community who needs encouragement? Maybe it's time for you to join the Elf Squad and help! A lot of times, local churches also have families you can sponsor as well.

Handwritten Christmas

Cards:

With so many of our usual holiday activities canceled, you may have a little more time on your hands year. Perhaps you could use that time to write out real letters or notes of encouragement along with your Christmas cards? In the age of email and texting, getting a handwritten letter from a friend is a gift in itself!

Support Local

Charities:

This

has been a tough year for so many people. Local food banks and charities are under a great deal of pressure, trying to meet the needs of people experiencing financial and food insecurity. If you're in a position to do so, financially supporting charities in your area is a wonderful way to spread some joy and make Christmas more meaningful for yourself and for the families who will benefit from your generosity. If your health and circumstances allows for it, volunteering is also a wonderful way to support local charities.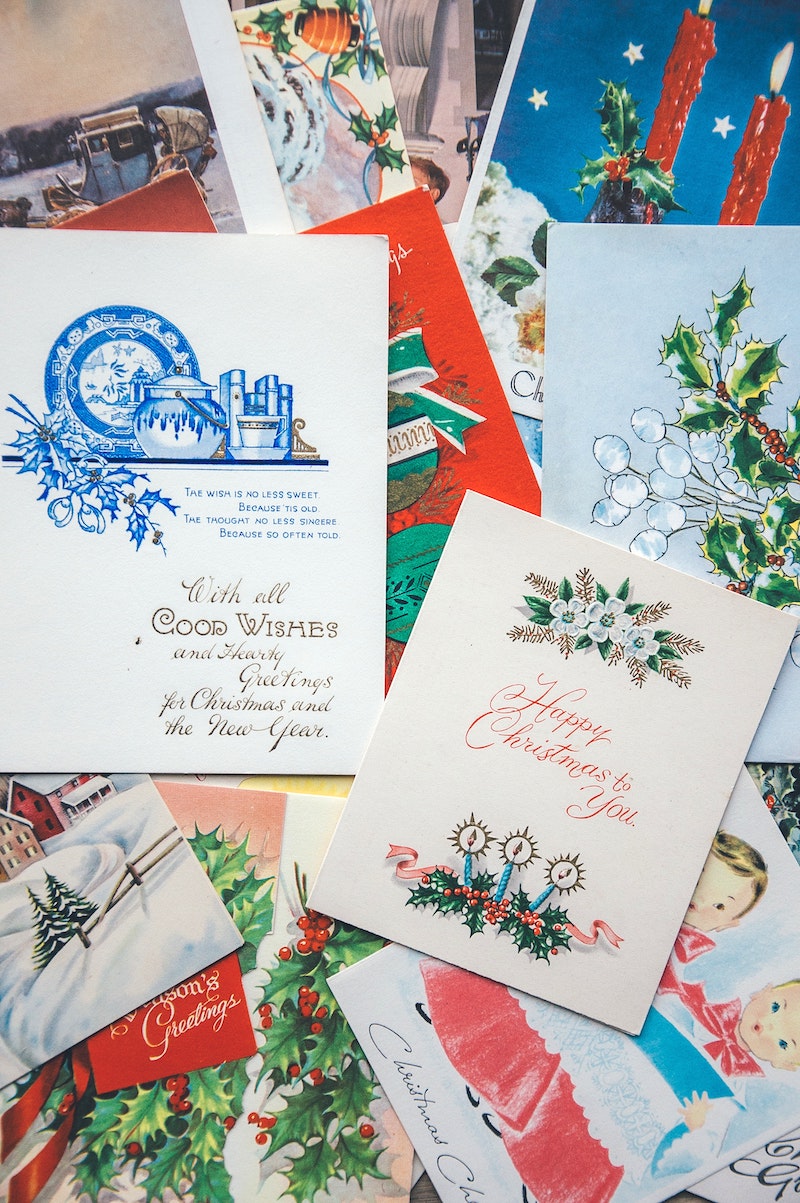 Celebrate the Sacred – While You Celebrate Christmas From Home
I love everything about Christmas – the decorations, the presents, the television specials, the reindeer, the elves – all of it!
But
my personal celebrations of Christmas
always put more emphasis on
the sacred than the secular. A few years back we added an Advent wreath to our decorations – you can find an easy
DIY you can try for yourself here
.
Having a brief daily
ceremony of prayer and lighting the Advent candles has added a beautiful, more meaningful dimension to
our
holidays
. During the season of Advent, I usually choose a spiritually focused book to read. This year, I'm enjoying Shadow and Light: A Journey
Into
Advent by
Tsh
Oxenreider as I celebrate Christmas from home
.
It's true. For most of us, this Christmas won't be like those we've known in the past. Nor will it be like those we'll know in the future. As Ebenezer Scrooge learned so long ago, when we embrace the holiday with an open heart, there is joy and meaning to be had in every Christmas, including this one.
Merry Christmas and Happy Holidays, my friends.