This post may contain affiliate links. Full disclosure policy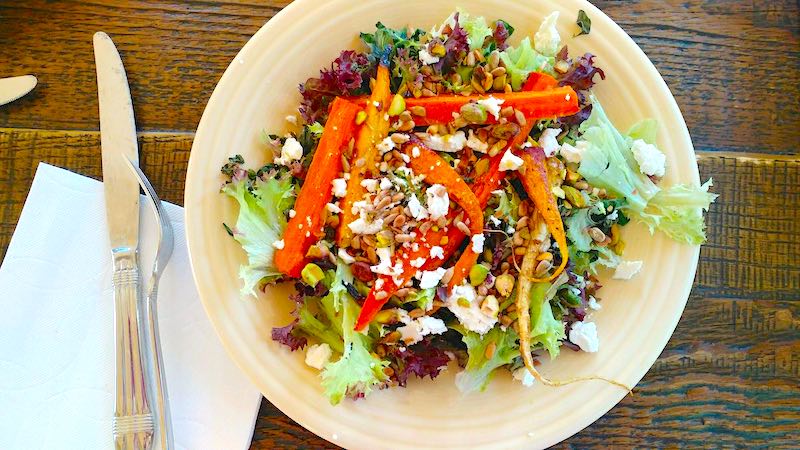 A couple of weeks ago my husband and I went to a long table dinner at Rainshadow Organics, a local farm.
The long table in question stretched along a wide, shady porch with a gorgeous view of the farm. After a glass of wine and some appetizers, all the guests were given a tour of the twenty-five acres by Sarahlee, the farmer who has spent the last eleven years of her life cultivating this land.

It took me about five seconds to develop a complete girl crush on the fascinating and colorful Sarahlee who – wait for it – is married to a professional rodeo rider. No kidding! She's an organic farmer married to a cowboy. How fabulous is that? She could have walked right off the pages of one of my novels!
Suffice it to say, it was an absolutely a
mazing evening. The surroundings couldn't have been more beautiful and the food, made entirely from organic ingredients grown on the farm, couldn't have been more delicious. I've had a farmgirl fantasy for decades so this was basically my dream date.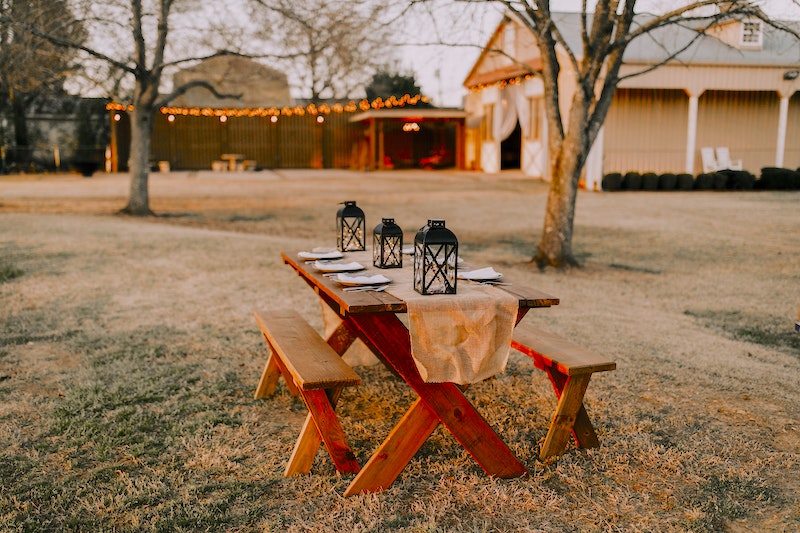 Taking my Farmgirl Fantasy to the Next Level
The next day, after discussing it with my husband, we decided to extend the dream by signing up for a CSA share at the farm. CSA stands for Community Supported Agriculture. By purchasing a share of the produce from the farm, I help support community agriculture and also receive a weekly share of fresh, organic, locally grown produce and meat.
CSA shares often sell out and the season had already begun, so I was disappointed but not surprised when I got on the Rainshadow Organics website and saw no listing for available shares. I sent an email to the farm, asking if there was any way I could purchase a small share for the season.
Lucky for me, the answer was yes!

I think it will turn out to be lucky for all of you as well. Receiving a mystery bag of freshly harvested, organic produce each week is pushing me to try new, healthy recipes. This week, my bag contained red leaf lettuce, baby zucchini, snow peas, kohlrabi, and some absolutely gorgeous carrots.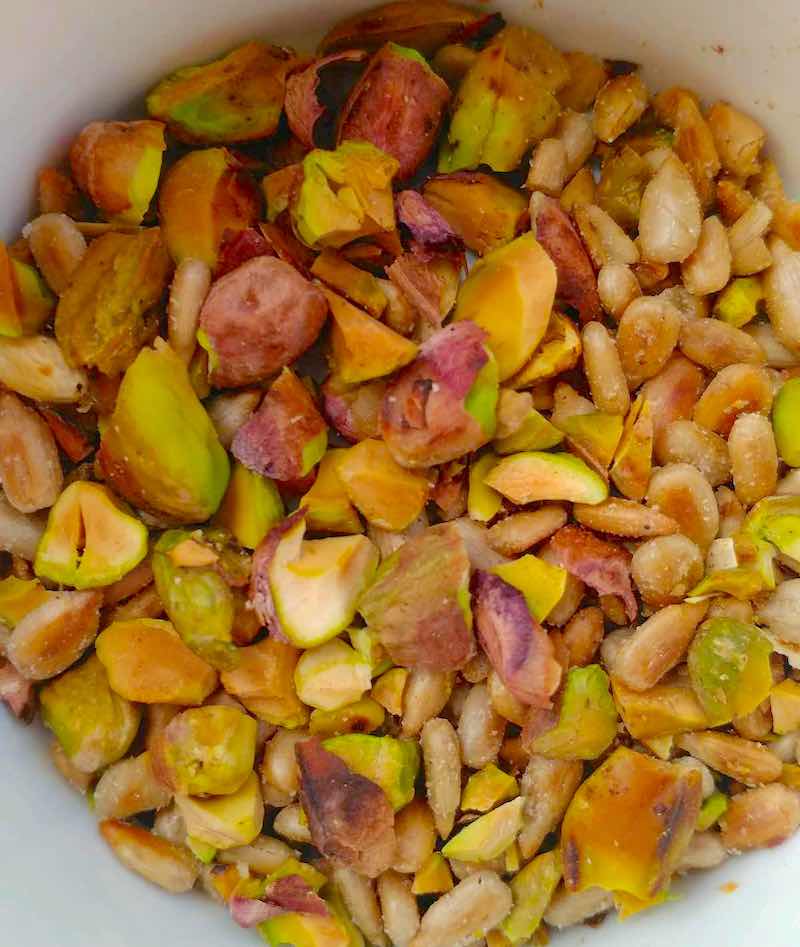 Roasted in the oven, served over greens with a homemade citrus salad dressing with toasted nuts and some creamy goat cheese, this salad was a feast for the eyes as well as the palate. It was hearty enough for a main dish and so healthy that I felt zero guilt about the homemade ice cream I had for dessert. Since I reached my goal weight, this is the perfect low-calorie delight to keep me on track.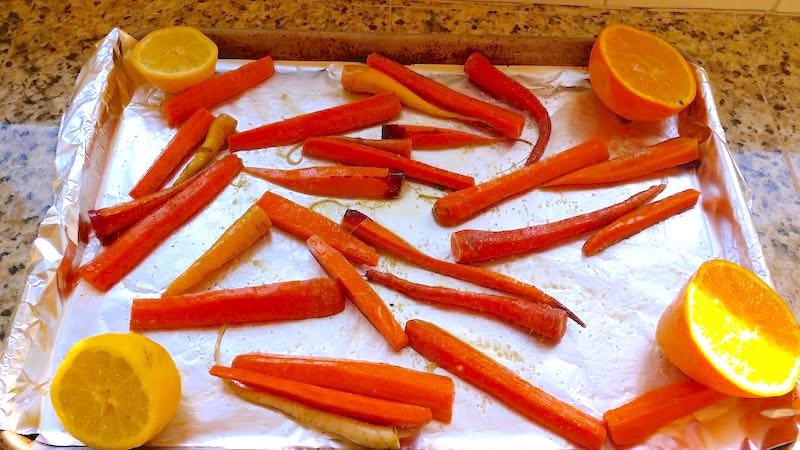 The Thing About Homemade Citrus Salad Dressing
The earthy carrots and tangy goat cheese are seriously set on fire with this gorgeous homemade citrus salad dressing. It's a vinaigrette technically, but it's basically the special sauce that makes this salad so incredible.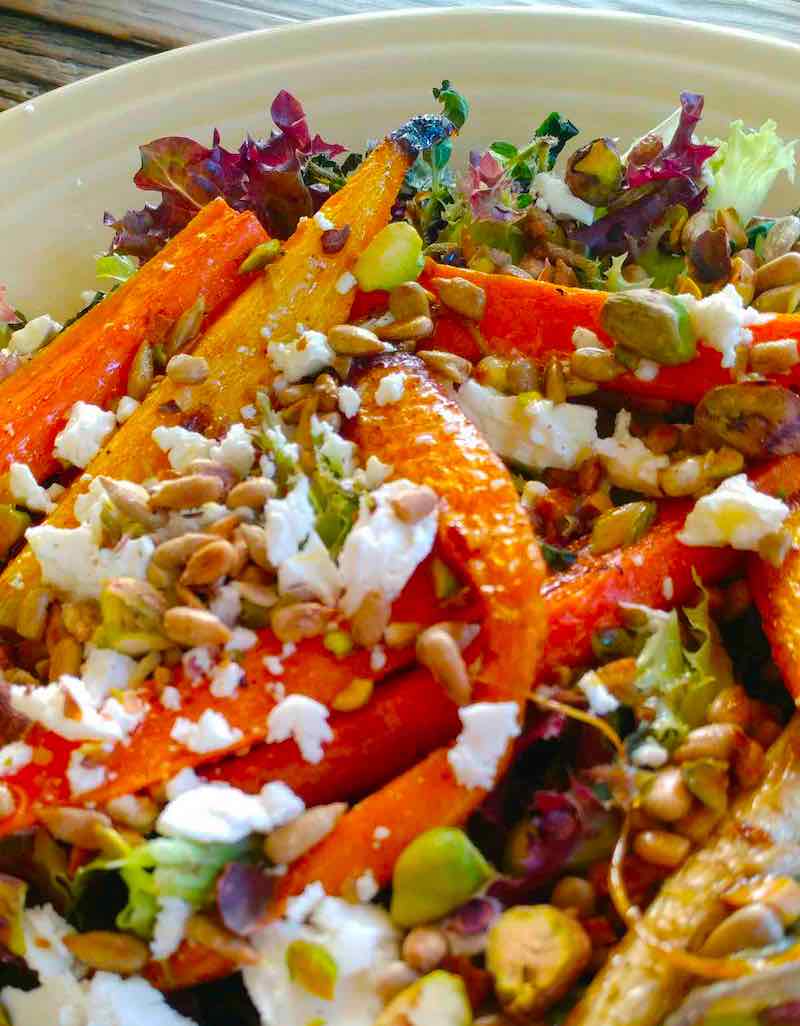 It's versatile, fresh, easy, and I almost always have the ingredients on hand. I am excited to try this same homemade citrus salad dressing on other fare this season!
Here's the recipe.
THIS POST MAY CONTAIN REFERRAL LINKS. IF YOU CLICK THROUGH AND TAKE ACTION, I MAY BE COMPENSATED, AT NO ADDITIONAL COST TO YOU.
Print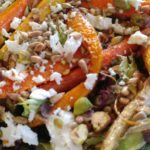 Farm Salad with Roasted Carrots and Citrus Dressing
---
Author:

Yield:

4

starter salads or

2

main course salads

1

x
3 Tbsp sunflower seeds
1/3 cup shelled pistachios
1 lb carrots, peeled
2 cups salad greens (use whatever is fresh and tender – lettuce, baby kale or spinach, arugula)
1 large navel orange
1 lemon
1/3 cup extra virgin olive oil, plus 2 Tbsp more
2 Tbsp apple cider vinegar
2 tsp smoked paprika
4 oz goat cheese
Kosher salt
Fresh ground black pepper
---
Instructions
Preheat oven, high broil.
In dry skillet over medium low heat, toast the sunflower seeds until they just begin to turn golden brown and smell fragrant – three to four minutes.  Take toasted sunflower seeds off heat and set aside. Toast the pistachios in the same manner, for about six minutes. Place pistachios on a cutting board to cool. Chop coarsely and place in a bowl with the sunflower seeds, adding a pinch of salt.
Slice any carrots larger than ¾ inch in diameter in half lengthwise. The smaller carrots can be roasted whole.  Cut lemon and orange in half. Place carrots on a foil lined baking sheet.  Drizzle olive oil over carrots, sprinkle generously with salt, pepper, and paprika. Stir to coat carrots. Place lemon and orange on pan, cut side up.
Place pan under broiler for about 10 minutes, stirring carrots halfway through. Carrots should be fork tender and charred in spots. Remove pan from oven to cool.
When citrus is cool enough to touch, squeeze lemon and orange to extract ½ cup of juice. Add cider vinegar, a pinch of salt and pepper. Whisk in 1/3 cup of olive oil to make citrus vinaigrette.
Divide greens on to plates. Top with roasted carrots, toasted nuts, and goat cheese. Drizzle with citrus vinaigrette.