This post may contain affiliate links. Full disclosure policy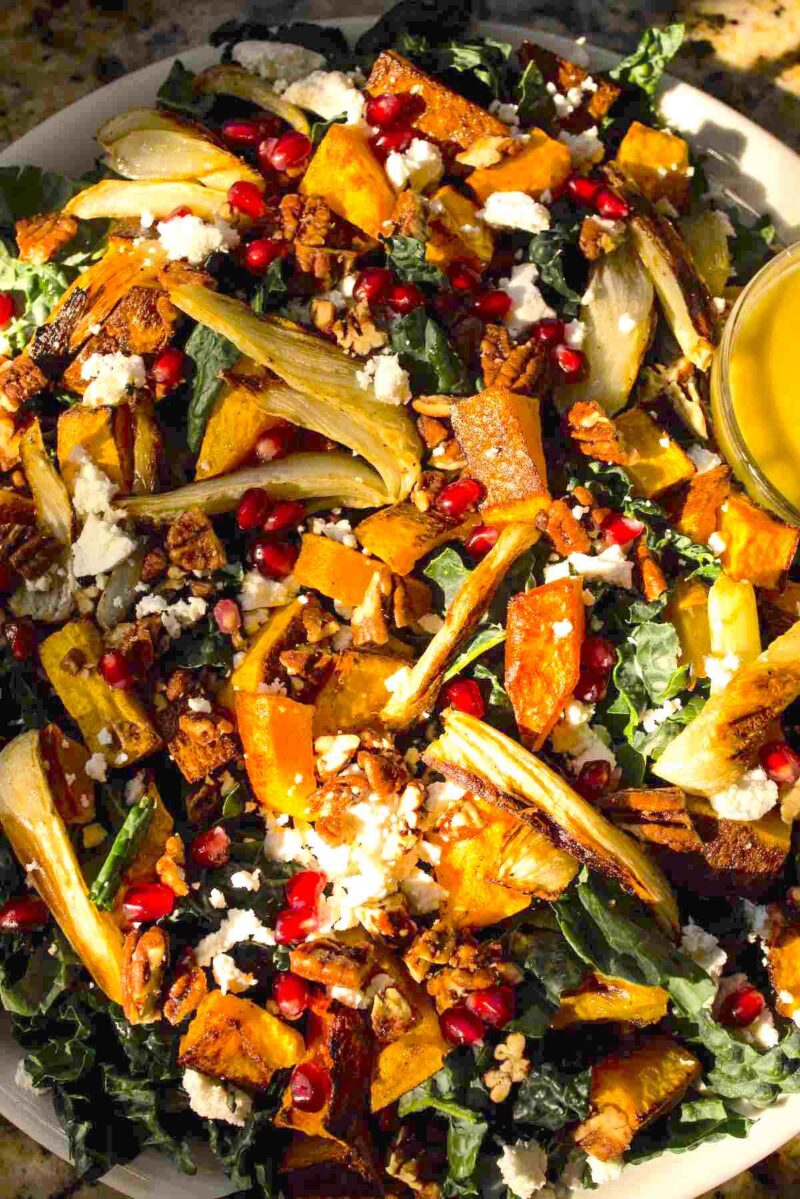 As summer turns to fall and winter looms on the horizon, my taste buds always undergo a transformation. Sometimes, this transformation can spell bad news for my health and waistline.
You know what I'm talking about, don't you?
During summer's heat, I am happy to feast on bright, refreshing salads for just about every meal. My preferred summer menus tend to be on the light side. When it comes to cooking, it requires little more than the tossing of lettuce and fresh veggies in a bit of dressing. No pots, pans, or stoves are needed or wanted. Cold foods pair perfectly with hot temperatures, especially salads.
Then the mercury plummets and everything changes.
The Most Wonderful Time of the Year (Except for our Waistlines)
This time of year, I find myself craving hot, hearty, stick-to-the-ribs fare. Cheesy casseroles, brimming bowls of chili or thick soup accompanied by fresh, hot from the oven bread. (I am making myself hungry just writing about it. A snack break may be required before I can continue.)
Our bodies have to work a little harder to maintain their temperatures when it gets colder. So it probably makes sense that we crave a few extra calories and that we want those foods to be hot. How else are we supposed to stay warm? The supply of fresh fruits and vegetables is also more limited than it was in the summer, and more expensive, so we might be eating less of them. And, of course, late November to early January sometimes seems like one big party, featuring so many irresistible but often unhealthy goodies.
You're not imagining this, Bunny. It really is harder to stick to a healthy diet in the colder months. You're fighting the growing season, biology, and Santa Claus. What's a health-conscious girl to do when faced by such powerful forces?
Winter greens and roasted veggies to the rescue!
Eat Seasonal, Eat Local
I really love winter greens – kale, chard, mustard, and the like. They're not as delicate as their summer cousins, all those lovely lettuces that make summer salads taste so light and bright. But winter greens can be very versatile and have a toothsome texture and fuller flavor that pairs so well with winter foods. Plus, they're incredibly good for you.
I so enjoyed getting a weekly CSA share of organic vegetables and meats over the summer that I signed on for the local farm's winter CSA too. This is a monthly program rather than weekly, featuring an abundant box of winter vegetables, including greens. It's always fun getting my box, filled with mystery vegetables, and then finding innovative ways to use them.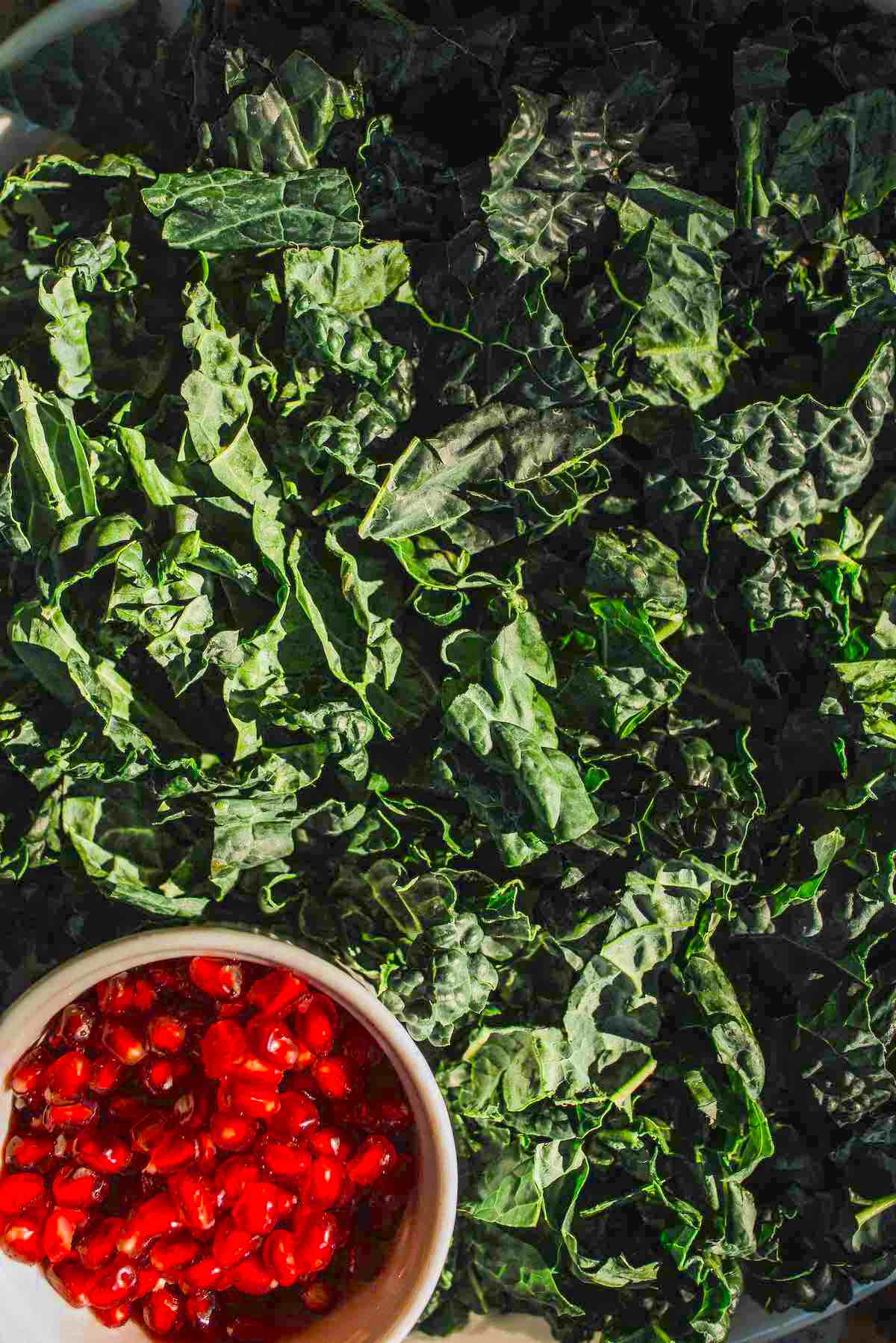 This month, I've been tossing chopped winter greens into soups for a healthy boost of flavor. I also like them sautéed with a little garlic, olive oil, and balsamic vinegar as a side dish for roasted chicken or pork. But my favorite way to enjoy winter greens is in a big salad, topped with oven-roasted vegetables. So delicious and so satisfying!
The Perfect Kale Salad Recipe to Balance Out Thanksgiving
The kale salad recipe I'm loving right now has a base of Tuscan kale, which you should be able to find in any supermarket. It's delicious and, unlike some kales, not at all tough to chew. But what really makes this salad stand out is the roasted vegetables.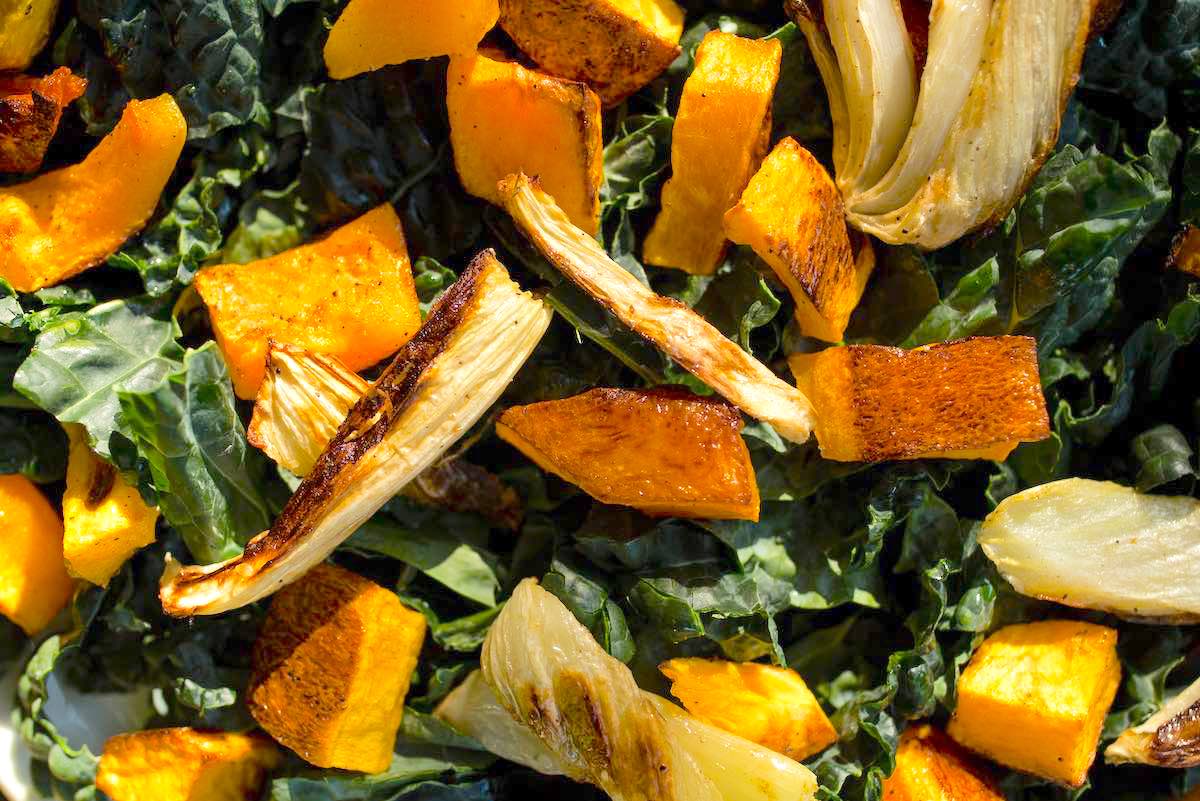 Butternut squash and fennel get caramelized and a little sweeter when they're oven-roasted, which is great for someone like me, who definitely has a sweet tooth. The candied pecans help too, but those can be left out if you have allergies or are watching your calories. The pomegranate arils (seeds) are sweet but tart and make this salad look so pretty. (Remember, we eat with our eyes as well as our mouths, so making a dish look appetizing adds to the enjoyment of it.)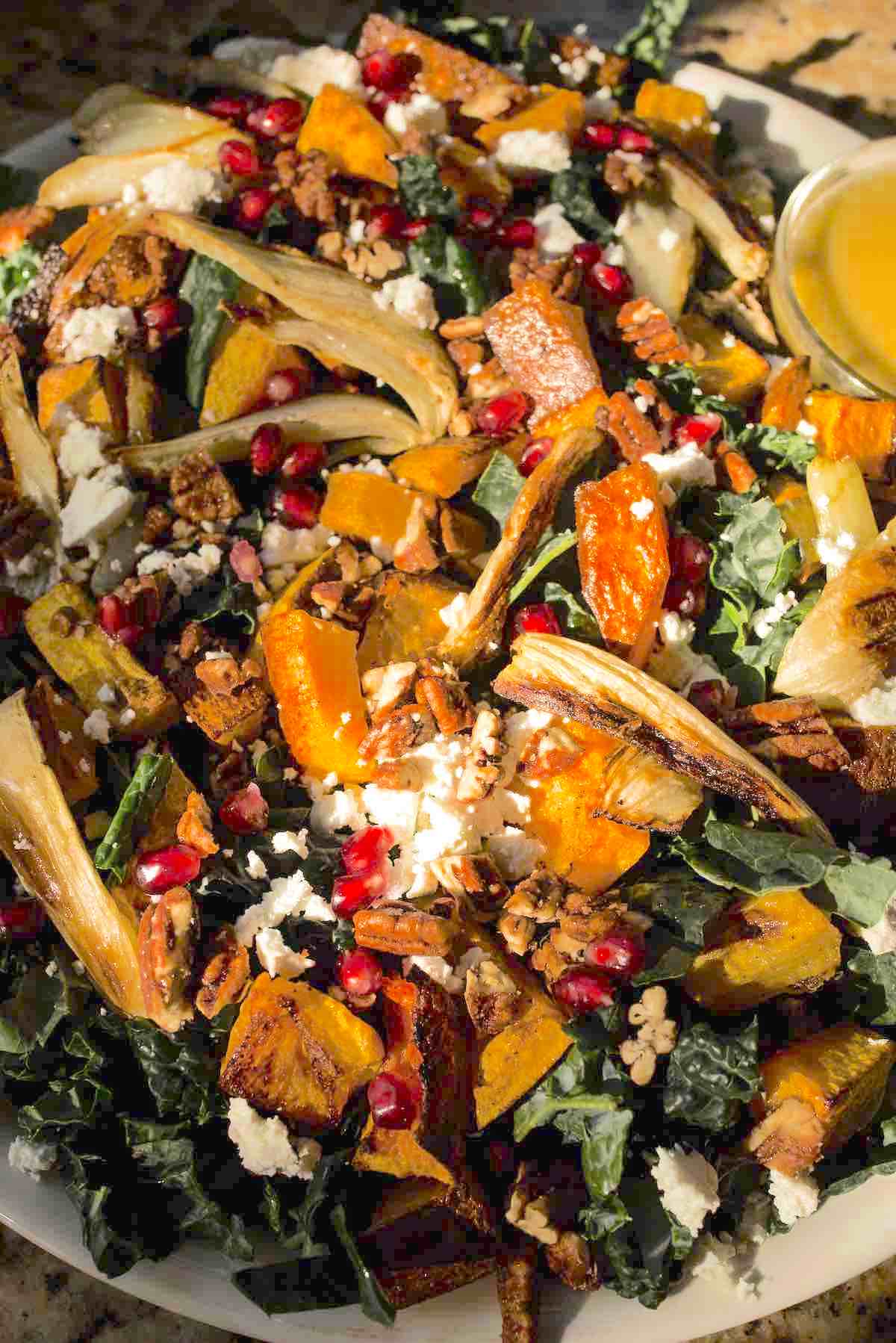 The final touch that makes this fabulous kale salad recipe really work is the tangy flavor of crumbled goat cheese and the bright, sweet-tart vinaigrette with orange, honey, and a dash of Dijon. Such a beautiful balance of colors and flavors!
Give my Kale, Fennel, and Butternut Winter Salad a try this month. It's satisfying enough to serve as a main course but would also be a great side dish for a festive holiday meal. If you're searching for a dish to bring to a neighborhood or family gathering over the holidays, look no further. This salad will earn raves!
Here's the (amazing) kale salad recipe.
Print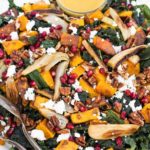 Kale Salad Recipe with Fennel and Butternut Squash with Orange Vinaigrette
---
Author:

Yield:

6

-

8

servings

1

x

Salad
1 medium butternut squash or other winter squash, cut into 1'' cubes
2 bulb fennel, cut into 1'' thick wedges
1/8 c olive oil
salt and pepper to taste
2 bunch tuscan kale, washed, spun, and finely chopped
1/4 c pomegranate arils
1/2 c goat cheese
1/2 cup candied pecans, roughly chopped
Orange and Balsamic Vinaigrette
6 tbsp White Wine or White Balsamic Vinegar
2 tbsp Dijon Mustard
2 1/2 tbsp honey
2 tbsp orange juice
1 1/2 tsp orange zest
1/3 c extra virgin olive oil
Kosher Salt to taste
---
Instructions
Directions:
Preheat oven to 450 degrees F.
Place butternut and fennel wedges on a large baking sheet (make sure to not overcrowd the sheet, you may need to use two baking sheets in order to give veggies enough room to brown) and coat with the olive oil, salt, and pepper. Toss with your hands until vegetables are evenly coated—try not to break the fennel layers apart too much.
Bake in the oven for about 40-45 minutes, or until veggies are tender and golden.
While the vegetables roast, cut, rinse, and spin the kale for the salad base. Make sure to remove the stems before cutting—they tend to be bitter and have an unpleasant texture.
In a medium mixing bowl, whisk together all the ingredients for the vinaigrette. Taste and adjust for salt, then set aside.
When the vegetables are done roasting, remove from the oven and allow to cool for about 5 minutes.
To assemble salad, place kale at the bottom of a salad bowl or large platter, then spread the butternut and fennel on top. Crumble goat cheese on top along with the pomegranate arils and candied pecans. Drizzle with vinaigrette or serve the dressing on the side.
Keywords: fall salad, healthy salad, weeknight dinner, kale salad ideas
Want more fierce salad ideas? Check out this roasted butternut squash salad or this savory and satisfying roasted cauliflower salad.