This post may contain affiliate links. Full disclosure policy
In the summer, when it's too hot to move and too hot to cook, I like to spend as little time in the kitchen as possible. So if there's a healthy summer salad recipe that takes all of 5 minutes to make, I'm all in. This watermelon salad has feta, arugula, lime and coconut to keep things interesting. As I was making it, I couldn't help but think that minus the feta and arugula, it would make a really knockout summer cocktail too! Lime, coconut, watermelon – these are the tastes of summer!
The Secret to Healthy Summer Salads
There's two secrets to making delicious summer salads. The first is finding the freshest ingredients possible. Like the roasted carrot salad I made recently, I find the best-looking produce around, either from my local grocery store or the local farm share program I signed up for. Papa Johns was on to something when they said better pizza, better ingredients. This is the same thing (only much, much healthier). Better ingredients, better salads.
The second secret is perhaps a little less obvious: use citrus juice as dressing at every given opportunity. This watermelon feta salad has a lime and olive oil dressing, while the roasted carrot salad had a homemade citrus salad dressing. Why is citrus so perfect, you ask? The bright acidic tones complement those farm-fresh ingredients as well as any grilling you might be doing. Plus, it's healthy!
An Ode to Watermelon
The star of this recipe is the punchy pink and perfectly sweet bites of watermelon. I love watermelon in its most basic form: by the slice and in abundance. I don't mind that I'm sticky afterwards. It's also delicious diced up and sprinkled with Tajin (if you haven't heard of that one, it's a Mexican spice blend that has lime and chili powder in it for a kick!).
What I love about watermelon the most is that it makes me feel like I'm having an indulgent treat when really I'm hydrating and having a healthy dose of vitamins. It's great for after a workout or when those afternoon munchies hit. Having watermelon on hand helps me make smart choices (thank you, Weight Watchers!).
Print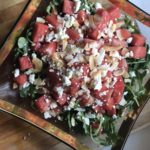 Healthy Summer Salad Recipe with Watermelon, Feta, Arugula, Lime & Coconut
---
1/4 cup fresh lime juice (about 2 limes)
1/4 cup coconut flakes
1/4 cup olive oil
6 cups arugula
4 cups seedless watermelon, 1-inch cubes
12 oz feta cheese, crumbled
salt and pepper to taste
---
Instructions
Preheat oven to 400.
Arrange coconut flakes on a baking sheet (I prefer the flakes over the shreds). Toast about 10 minutes or until golden brown. You might have to rotate the pan for even coloring. Keep an eye on this!
In a large serving bowl, arrange arugula. This is the base.
Add the watermelon chunks, the feta, and the coconut flakes.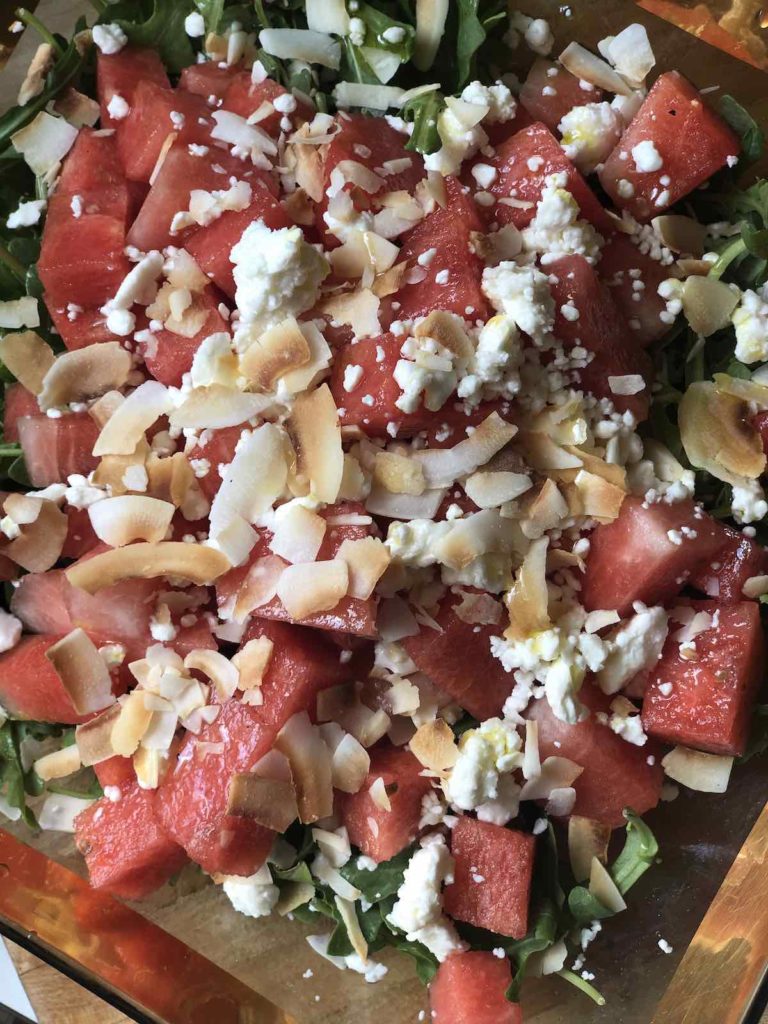 Squeeze the lime juice directly on to the salad, drizzle with the olive oil, and finish with a bit of salt and pepper.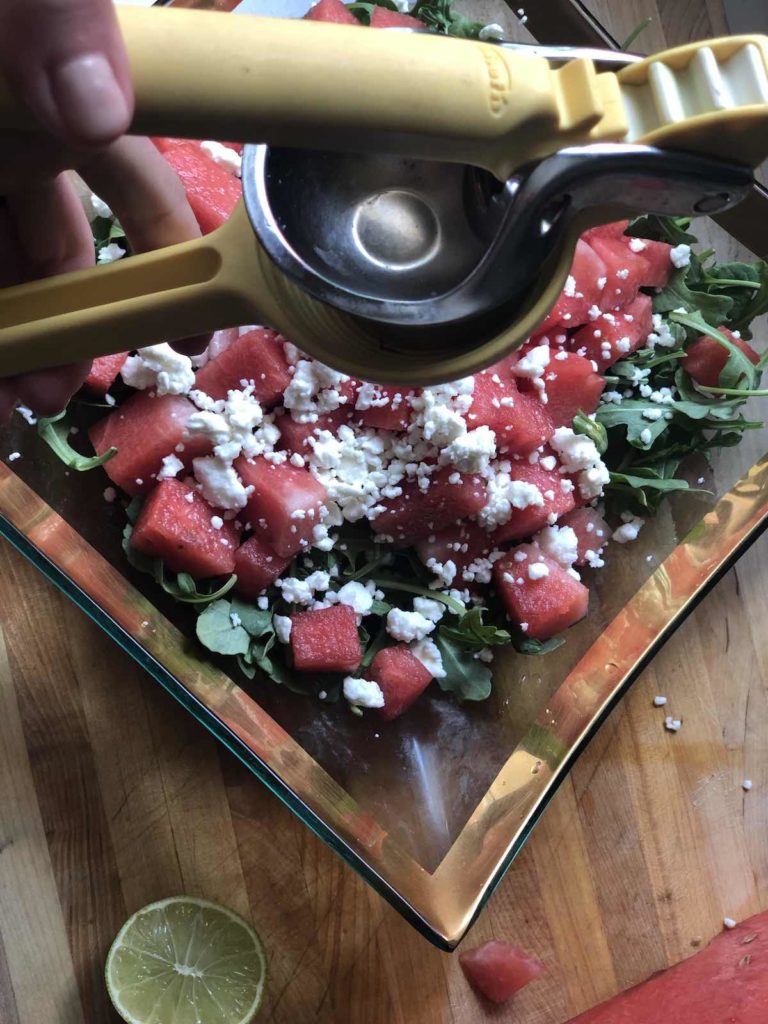 Toss.
Enjoy.