This post may contain affiliate links. Full disclosure policy
Taking my mother camping was high on my list of goals for 2019. In fact, I'd been eyeing this goal of mine in my Living Well Spending Less planner for months.
I know it might sound funny that something as straightforward as camping required so much goal setting and advance planning to accomplish but my mom is 86. Camping with her involves more than just loading up the car with sleeping bags, a tent, and a bag of trail mix; a few creature comforts are required.
Besides, while we both love the great outdoors, at this stage of life neither Mom or I are really interested in roughing it. Glamping is more our style. Much more.
What is Glamping Anyway?
If you haven't been living under a rock for the last ten years, you probably know what I'm talking about. But for any rock dwellers that might be out there, glamping is glamorous camping – basically the opposite of roughing it, enjoying the great outdoors with as many creative creature comforts as possible.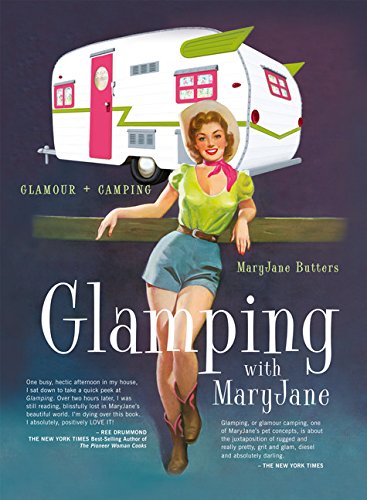 Glamping was, if not invented, then certainly popularized by MaryJane Butters, publisher of my favorite magazine, MaryJane's Farm, and many wonderful books, including Glamping.
I have copies of every single book MaryJane has ever written, most of them signed. MaryJane might just be my spirit animal. If I ever met her, I am sure we would become instant friends and spend time together weaving baskets, and canning organically grown pears, and tatting lace. (That is, assuming I didn't turn into a babbling, fangirl mess during the encounter. A distinct possibility.)
MaryJane is definitely a proponent of tents but trailer glamping is also perfectly acceptable, and even desirable. MaryJane actually refurbished a vintage Airstream trailer into a true glamping fantasy with ruffles and lace and reclaimed wood floors, as well as a treadle sewing machine and – wait for it – a clawfoot bathtub!
My RV Fantasy, Realized
Obviously, I couldn't match MaryJane when it came to glamping elegance but when I found a charming 19-foot Airstream for rent on Outdoorsy RV Rentals – #1 Trusted RV Rentals., I knew it would be the perfect trailer for my mother-daughter glamping trip. Redecorating with all the girly glamping touches I would have wished wasn't possible in rented trailer but I did find a few easy and inexpensive ways to enhance the ambiance of our glamping excursion.
For my full list of favorite glamping gear,  head on over to my list of best camping equipment for your next adventure.
Of course, I brought my own quilts along for the beds. And I think the dining table would have made MaryJane proud!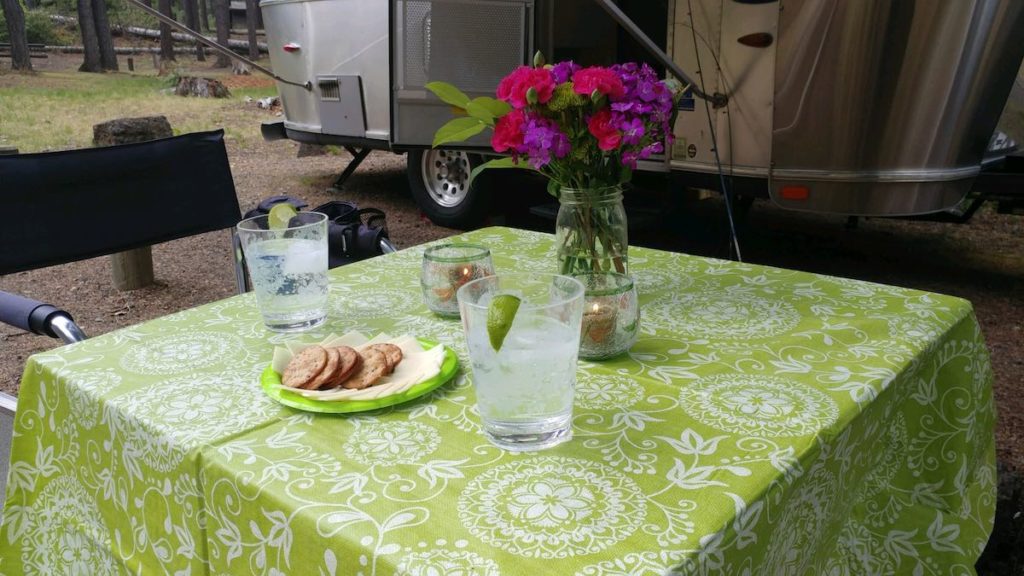 To start with, I bought this nifty, lightweight, easy to set up camping table and topped it with this pretty vinyl tablecloth as well as fresh flowers and votive candles. And because we were glamping, not camping, I served our meals on melamine plates and used proper silverware. (Yes, this did require me to spend a few minutes washing up after dinner but it was worth it to dine elegantly.)
By the way, there are so many gorgeous patterns of melamine dinnerware out these days! If you haven't checked it out recently, you should. They're pretty as well as practical, good enough for at-home dining and, since they're unbreakable, a very smart investment if you have children in your life.
Also, speaking of gorgeous, take a look at our view from the campsite!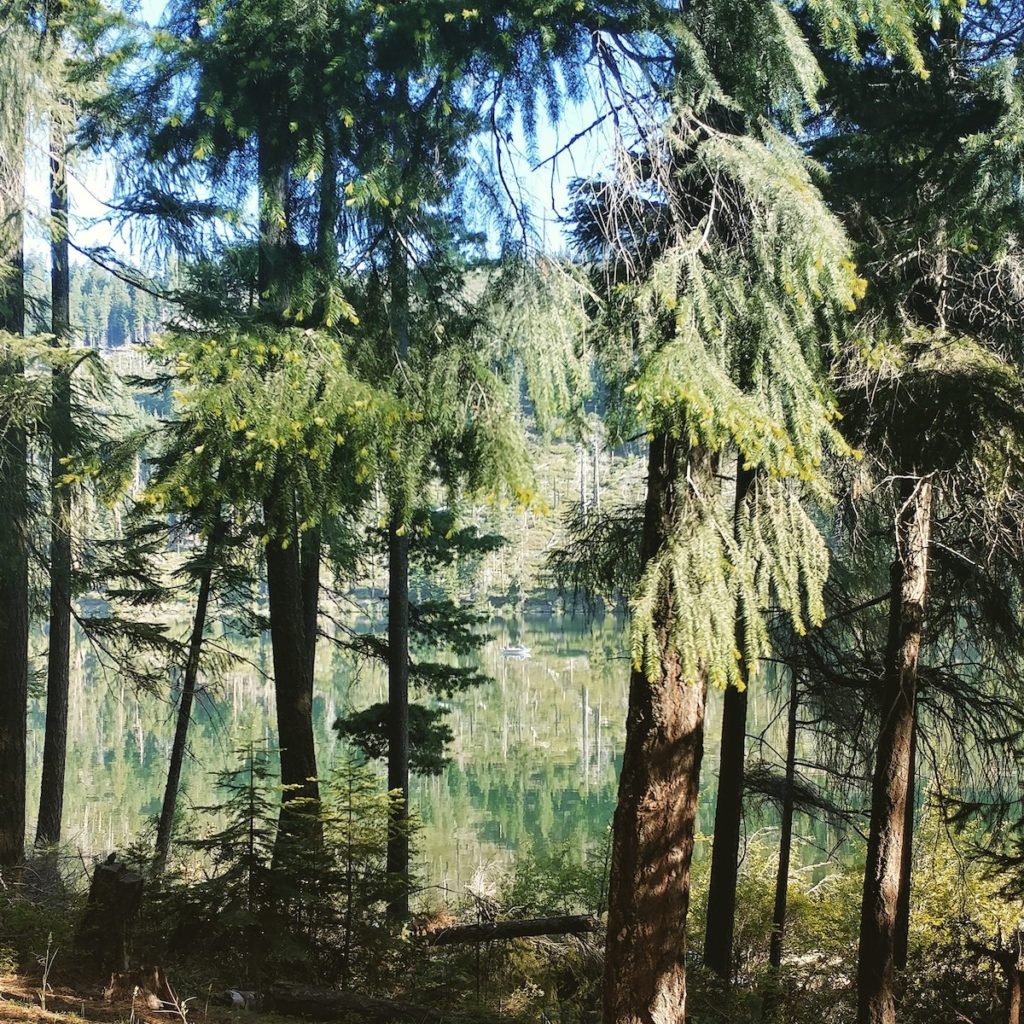 Glamping Food Ideas
The most important piece of any glamping playbook is the food. It should be plentiful, creative, and outdoorsy elegant without being too fussy or time-consuming to prepare. You want to spend the bulk of your glamping trip on hiking, fishing, birdwatching, napping, reading, and possibly crafting al fresco – not chopping carrots.
The secret to easy, stress-free, gourmet glamping menu is planning and preparation. That's where my Genius Gourmet Glamping Hack comes in.
But this is probably a good place to pause and tell you about my menu. While we were camping my mom and I enjoyed….
Campfire Tamale Pie with Caprese Salad Skewers
Overnight Oats with Blueberries, Yogurt and Chia
Turkey and Havarti Sandwiches with fruit cup
Vegetarian Campfire Curry
Mason Jar Chicken Salad
Southwestern Campfire Breakfast Skillet
And, of course, a nightly wine and cheese Happy Hour and post-dinner s'mores – essential elements for any successful glamping trip. I'll be sharing a few of my recipes in later posts.

The menu I chose wasn't just healthy and delicious menu that upheld my Weight Watchers goals, it involved recipes that could be mostly prepared in advance. I did as much chopping, measuring, and assembling of ingredients ahead of time as possible. That not only saved time but it ensured that I had all the tools and equipment I needed on hand. There's nothing worse than planning to serve an especially showy dish, Caprese Salad Skewers, only to get to the campsite and realize you forgot the skewers at home.
With so many meals to prepare, I was really concerned that I'd forget something. That's when I came up with what, in my humble opinion, might be the Most Genius Glamping Idea Ever….meal kits!
Gourmet Glamping Meal Kits
Before I packed my cooler, I assembled the necessary ingredients for every single meal and snack on my menu and put them all together into gallon-sized Ziploc bags, then wrote the name of the dish and the day I intended to serve it on each bag. With the exception of the Campfire Tamale Pie, all the ingredients for each dish easily fit in one Ziploc.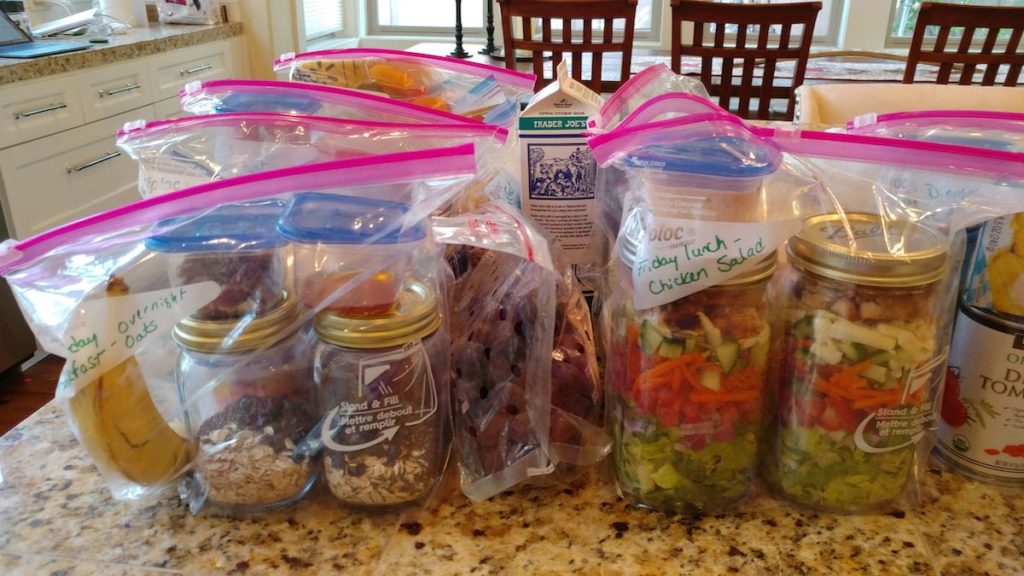 Creating meal kits did take a little time up front but taking that step ensured that no ingredient was left behind, saved space the trailer's petite refrigerator, and meant I had to spend minimal time in the kitchen once I got to the campsite.
I even made up a kit for the S'mores, putting my cute, telescoping marshmallow roasting sticks into the bag so they wouldn't accidentally be left behind.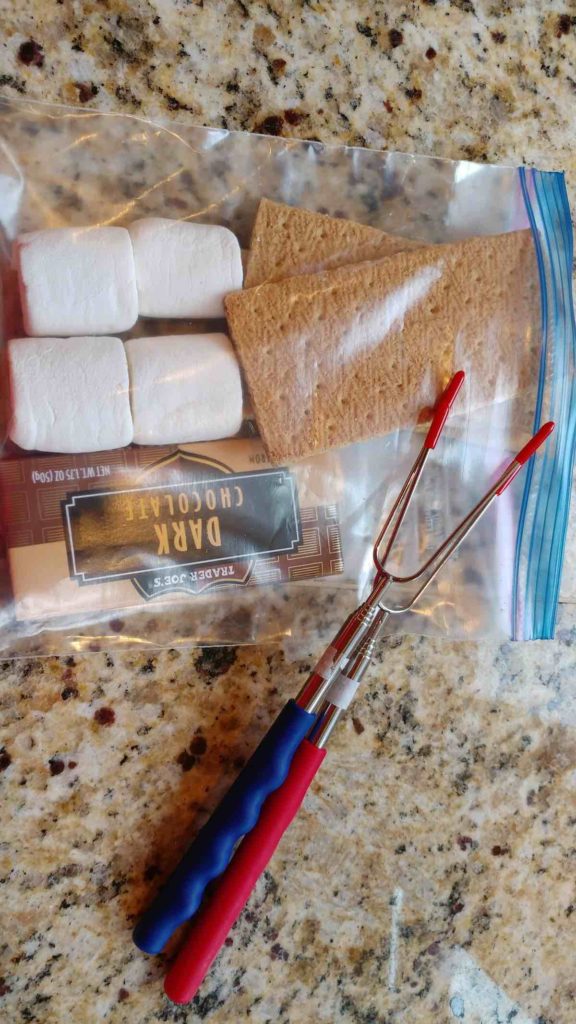 Mom and I had an absolutely wonderful time on our glamping adventure.
Look how happy she looks here!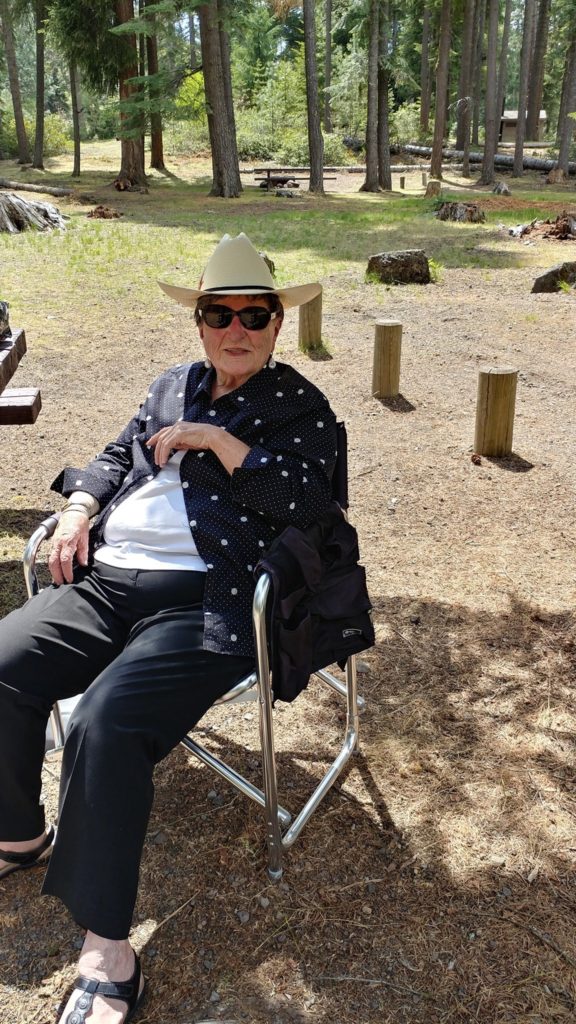 Now that camping season is officially upon us, I'm looking forward to sharing some of my special campfire recipes with all of you in future posts. But no matter what recipes you use during your next outdoor excursion, my Gourmet Glamping Meal Kits will make your trip easier and even more delicious!