This post may contain affiliate links. Full disclosure policy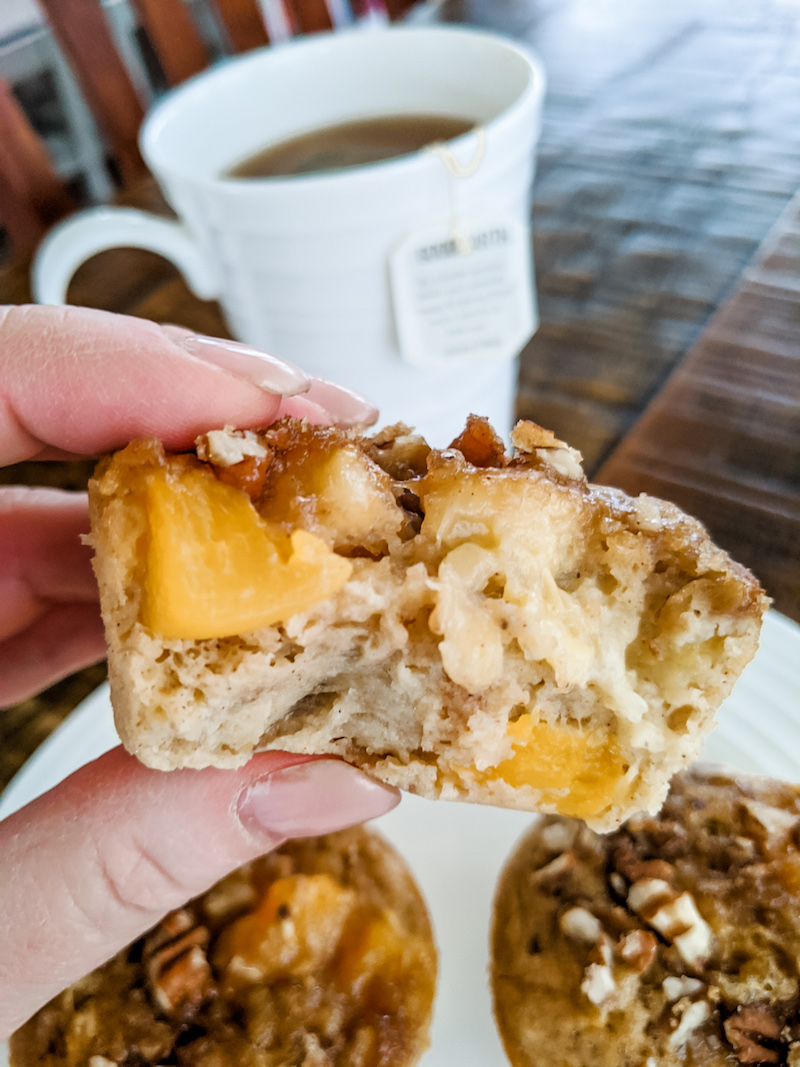 Recently, I realized it was time to revisit my original Miracle Muffin recipe. Why? Because the BEST Miracle Muffins are those you can make with easy to find ingredients that are already in your pantry – and still have yourself a healthy muffin. Also, because people can't seem to get enough of these delicious Miracle Muffins!
WHO KNEW?
When I published those first recipes, I had no idea they would take the Internet by storm. My original post has been pinned on Pinterest over 22,000 times. And hundreds of thousands of people have visited my blog to find the recipes. Yes, my friend, Miracle Muffins are that good
Not only are my Miracle Muffins delicious and crazy easy to make, they're high in protein and low in sugar. In fact, most of these full-sized healthy muffins have just ONE Weight Watchers Freestyle point! (That was the older version of WW. Since they split into 3 different programs, I've quit publishing the points. But whatever WW version you're on, these full-sized muffins are big on flavor and small on points.)
One of my favorite letters from a reader came from a grandmother of a little girl with juvenile diabetes, thanking me for creating recipes that allowed her granddaughter to enjoy a sweet treat as well as the joy of baking. It really warmed my heart to know that the recipes I'd created helped a little girl enjoy some of the same pleasures as other kids her age.
THE BEST MIRACLE MUFFINS? YES!
But as good as the original recipes were, these new recipes are even better. I've made close to a hundred batches of Miracle Muffins by now and tweaked the recipes in every possible way (including my Fiesta Miracle Muffins, a savory version that is delicious with soup, chili, or alone as an on the go breakfast).
But I can say without hesitation that my new recipes really are the BEST Miracle Muffins. The flavors are better than ever and they're even easier to make. Why? Because the "magic ingredient" is even easier to find.
THE "MAGIC" INGREDIENT FOR HEALTHY MUFFINS
Kodiak Baking Mix is definitely the "magic ingredient" in my Miracle Muffins. Nearly every flavor of Kodiak Mix comes in at just 6 WW Freestyle points per half cup, which is all you need to make 6 full-sized muffins. (See what I mean? Miraculous!).
My first recipes mostly used various specialty flavors of Kodiak Mix – lemon blueberry, peanut butter, almond etc. Those flavored baking mixes really are good, so are the muffins I made from them. But they can be hard to find in your local market.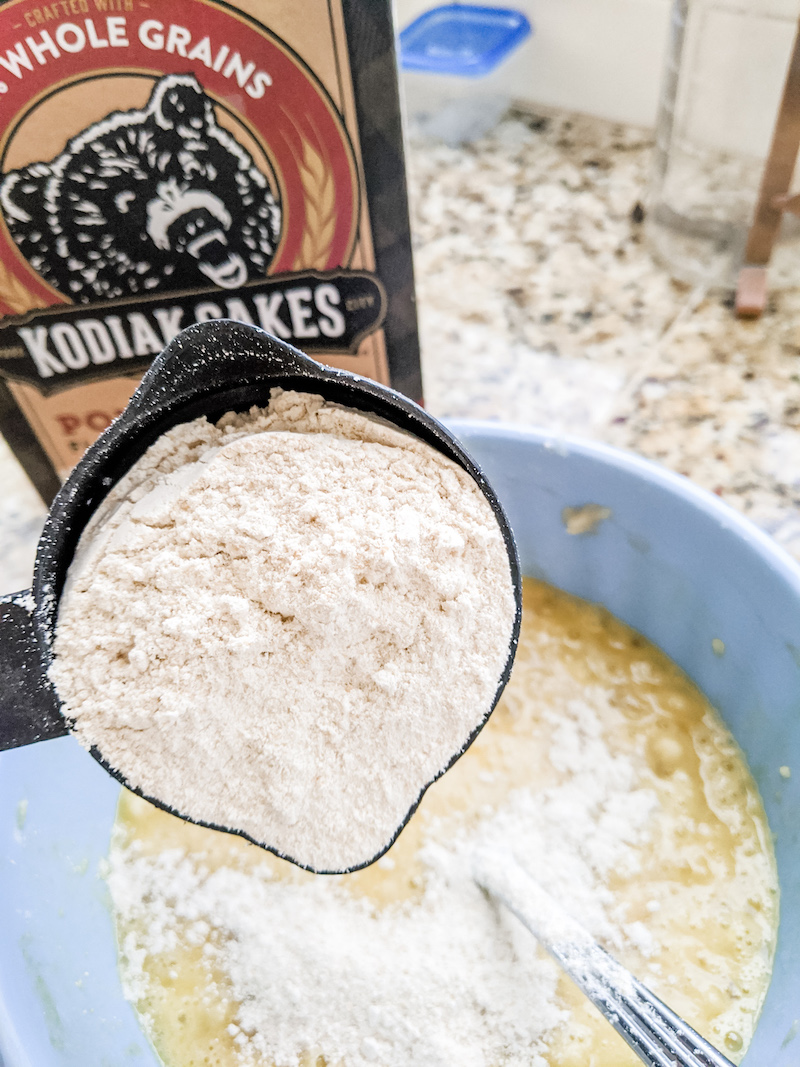 However, the basic Kodiak Buttermilk Flapjack and Waffle Baking Mix is available in almost every supermarket these days, and in Costco. That's why I decided to create three new, even more delicious BEST Miracle Muffin recipes, using the plain buttermilk mix
BASIC MIRACLE MUFFIN RECIPE
All of my BEST Miracle Muffins use an incredibly easy, 3 ingredient recipe to create the basic healthy muffin. Yes, you read that right – only THREE ingredients! To make six full-sized muffins, you only need…
2 eggs, beaten
2 very ripe bananas, mashed
½ cup Kodiak Buttermilk Flapjack and Waffle Baking Mix
Just mash the bananas, mix in the eggs, and stir in the mix. Then divide the mixture into 6 greased muffin tins and bake in a preheated 350-degree oven for 20-22 minutes.
That's it! 3 ingredients, 20 minutes, and you'll have 6 healthy, delicious, full-sized muffins!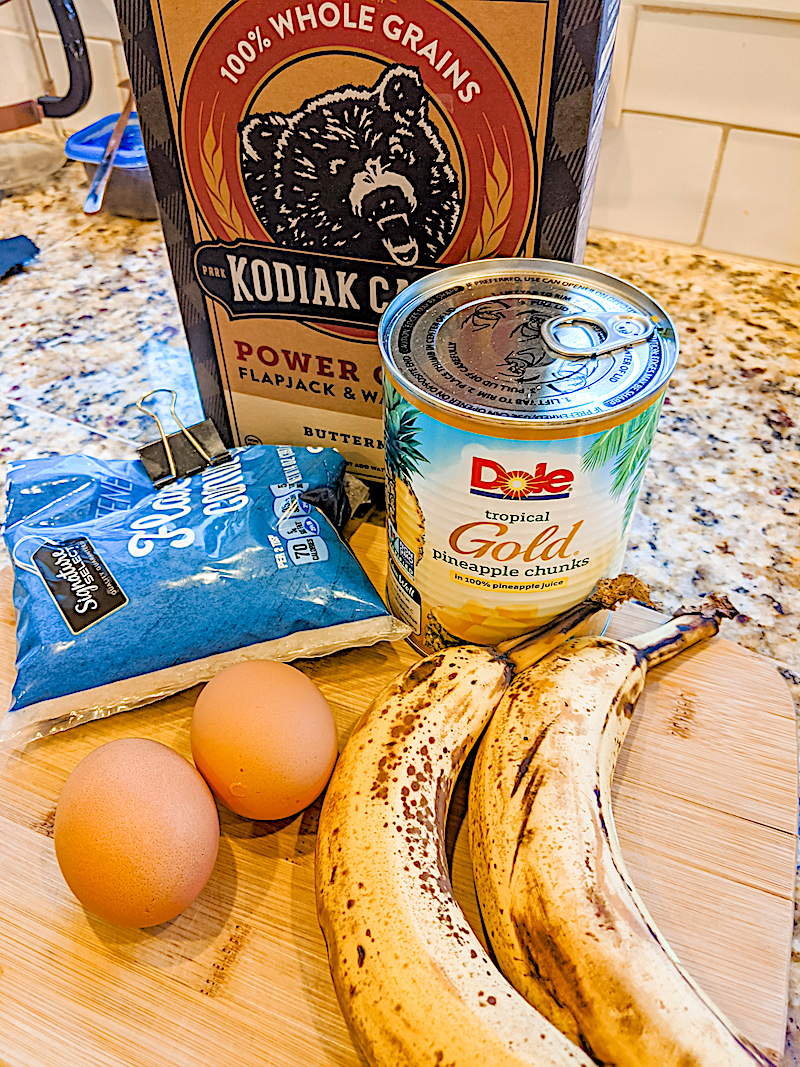 MUFFIN SHOP IN YOUR KITCHEN
The basic BEST Miracle Muffin recipe is really good as is. It's a slightly sweet, yummy banana muffin. However, I have come up with 3 "upgraded" versions of the basic recipe.
With just a few additional ingredients, you can create scrumptious muffins with flavors that will rival any bakery in town! My family can't get enough of my muffins. And the good news is that I can indulge them as often as they want. Loaded with healthy fruits and protein but low in sugar, my BEST Miracle Muffins can satisfy my family's sweet tooth without adding extra pounds or unhealthy fats and sugars. What's not to love?
THREE NEW VERSIONS
My three new BEST Miracle Muffins recipes all use the basic, 3 ingredient recipe but include additional fruit, spices, and other goodies to kick the flavor up a notch. Some of those goodies will add a little to the calorie count, but the amount per muffin is very small. Any one of these healthy muffins still qualifies as a healthy treat. However, as I said in my original post, have two with a cup of tea, not a dozen instead of dinner.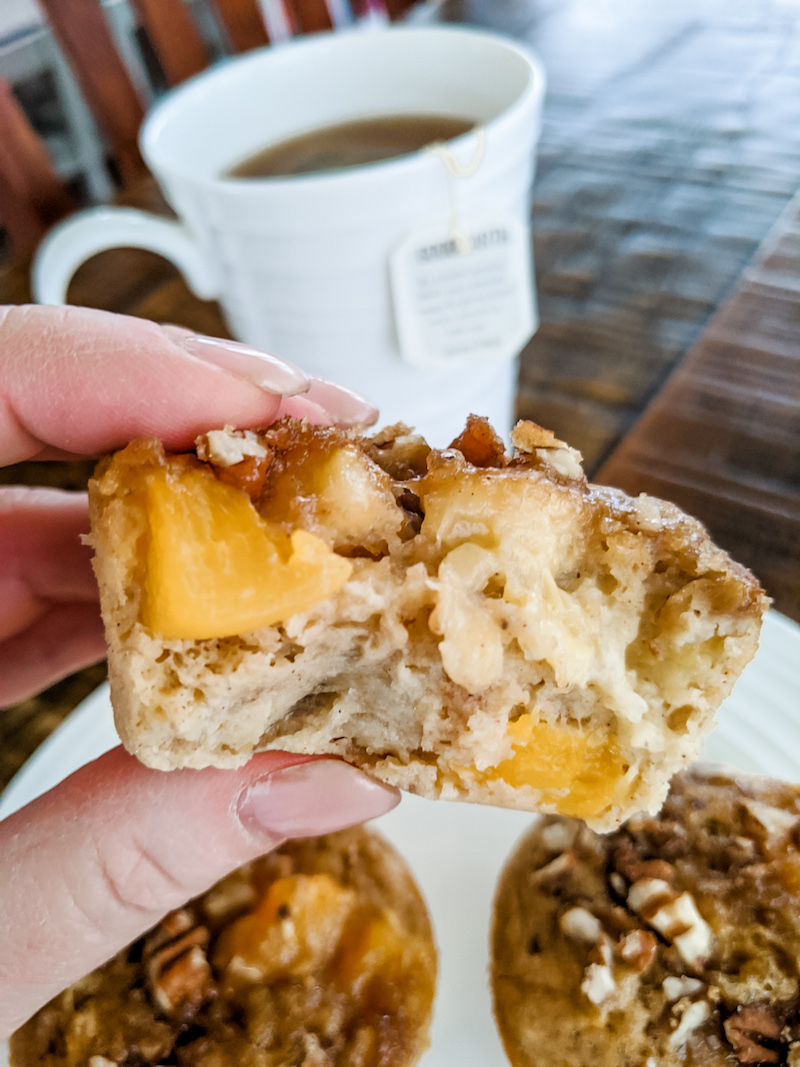 So, what ARE these wonderful new BEST Miracle Muffins? Glad you asked!
Read on to find the recipes for Apple Cinnamon Spice, Pineapple Aloha, and Ginger Peachy BEST Miracle Muffins!
Print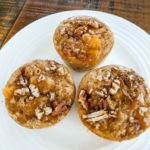 The BEST Miracle Muffins
---
Author:

Yield:

6

servings

1

x
2

eggs, beaten

2

very ripe bananas, mashed

½ cup

Kodiak Buttermilk Flapjack and Waffle Baking Mix
---
Instructions
BASIC RECIPE:
Preheat oven to 350 degrees. Spray muffin tin lightly with cooking spray.
Mash ripe bananas with fork in medium sized mixing bowl. Break eggs into mashed bananas and stir vigorously until well combined. Add baking mix to banana/egg mixture and stir to combine.
Divide muffin batter evenly into 6 prepared muffin cups. Place filled muffin tin into preheated oven. Bake for 20-22 minutes.
Miracle Muffins will be moister and a little denser than standard muffins. Store in refrigerator for up to 3 days.
APPLE CINNAMON SPICE MIRACLE MUFFINS
Add ½ cup peeled, fine chopped fresh apple (I like Fugi or Granny Smith), ½ t. ground cinnamon, 1/8th t. ground cloves, 1/8th nutmeg to the Basic Miracle Muffin batter. Bake as usual.
PINEAPPLE ALOHA MIRACLE MUFFINS
Add ½ cup canned pineapple chunks, chopped into very small pieces, ¼ sweetened flaked coconut, and ¼ t ground ginger to the Basic Miracle Muffin batter. Bake as usual.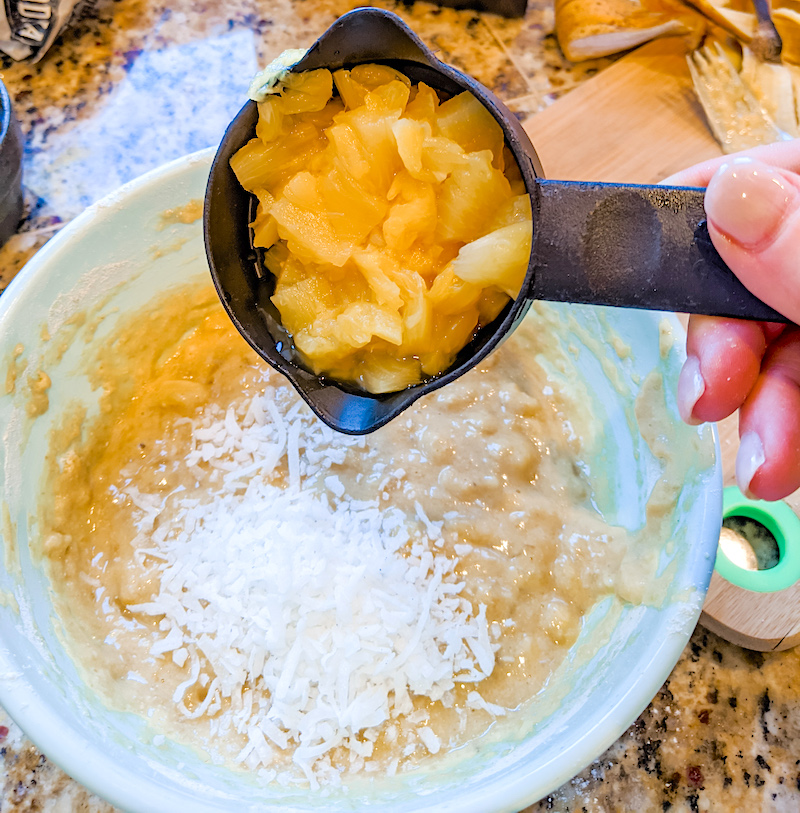 GINGER PEACHY MIRACLE MUFFINS (These are my favorite!)
Add ½ cup canned peaches, chopped into small pieces, and ½ t ground ginger to the Basic Miracle Muffin batter.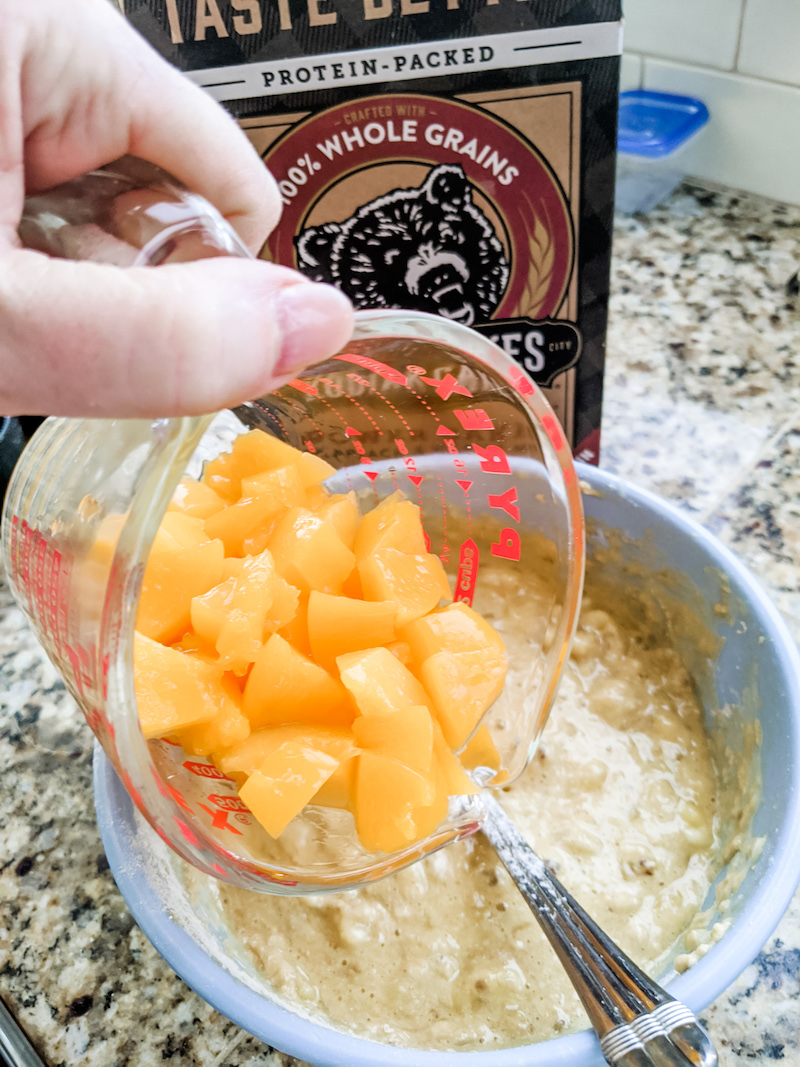 (Optional) If desired, mix 2 T chopped pecans with 1 T brown sugar to create a streusel topping. Divide topping equally, sprinkling over the tops of the filled muffin cups before baking.
Bake as usual.
Keywords: miracle muffins, weight watchers, healthy