This post may contain affiliate links. Full disclosure policy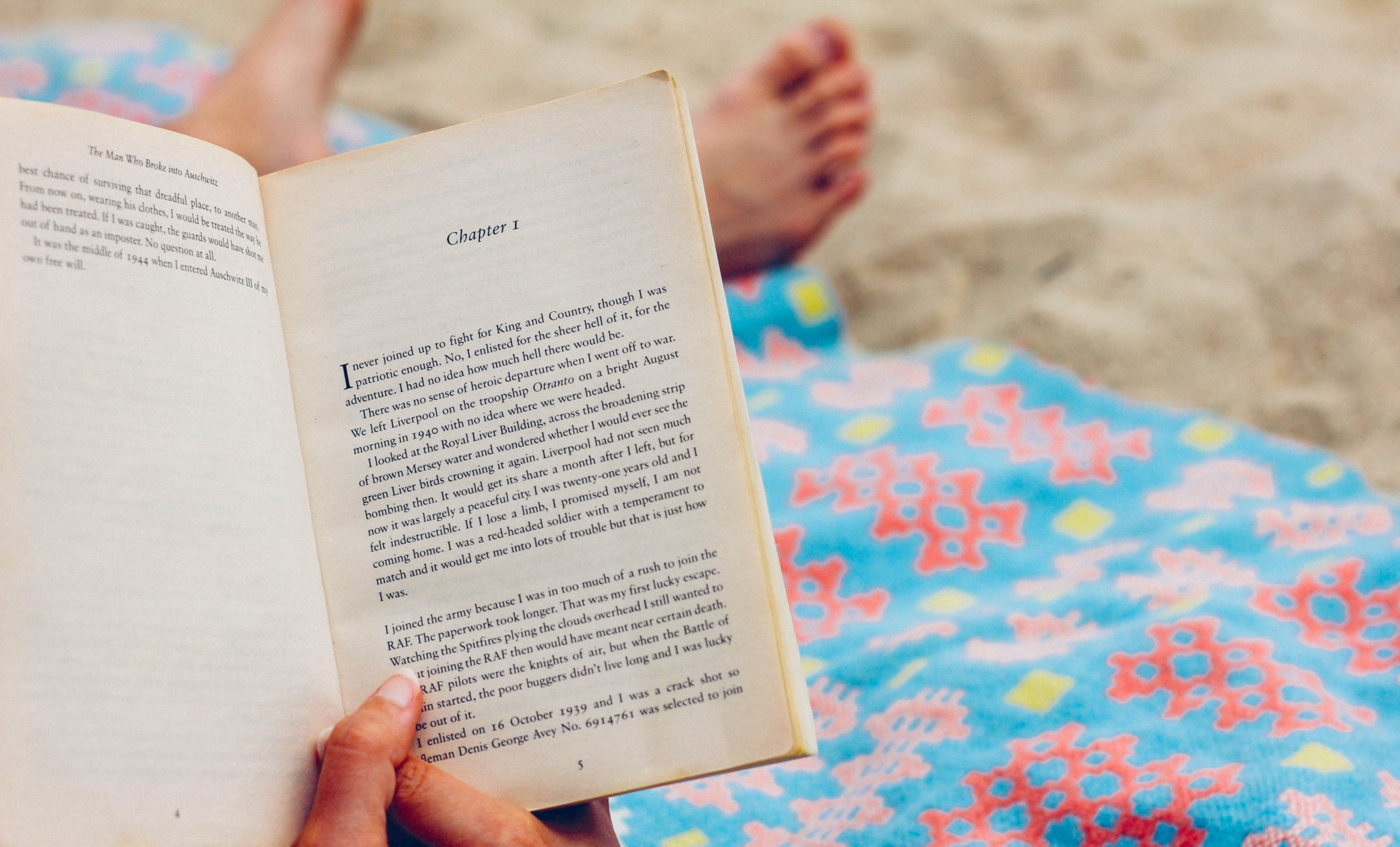 Is there ever a bad time to read?
Not in my book!
(Not in my book. Get it?! Sorry. Just a little Book Nerd humor. It was beyond my control.)
But of all the opportune seasons for reading, summer sits at the top of my list, which is why I've compiled a summer 2020 reading list for myself. Reading lists are a must for me. I know I'm not the only one who feels that way. Summer is the time when, at least theoretically, life slows down a little and we have more time for hobbies, like reading. That's why beach reads are so popular, even if the "beach" in question is your patio, deck, or balcony.
Some people are heading to the beach with a novel and a bottle of sunscreen this year. Others are taking a paperback to the porch and bringing along a pitcher of iced tea. Wherever you do it, summer is the perfect time to enjoy a book – especially books that feature happily-ever-after endings. (While I won't say that I never read books with sad or tragic endings, my personal motto is "life is hard but fiction doesn't have to be.") And with so many of us spending more time at home than we might in summers past, it also seems like the perfect time for me to share the titles on my summer 2020 reading list.
Here are some of the books I have read, am reading, or plan on reading as part of my Summer 2020 Reading List.
2020 Reading List: Women's Fiction and Literature
From Marie: This modern twist on Jane Austen's Persuasion that features a reality cooking show ticked off lots of boxes for me. Ashna is a lovable heroine and Sonali Dev's skillful writing brings the characters to life.
Chef Ashna Raje desperately needs a new strategy. How else can she save her beloved restaurant and prove to her estranged, overachieving mother that she isn't a complete screw-up? When she's asked to join the cast of Cooking with the Stars, the latest hit reality show teaming chefs with celebrities, it seems like just the leap of faith she needs to put her restaurant back on the map. She's a chef, what's the worst that could happen? Rico Silva, that's what.
Being paired with a celebrity who was her first love, FIFA winning soccer star Rico, the man who ghosted her at the worst possible time in her life, only proves what Ashna has always believed: leaps of faith are a recipe for disaster.
The competition on the show is fierce…and so is the simmering desire between Ashna and Rico. Every minute they spend together rekindles feelings that pull them toward their disastrous past. Will letting go again be another recipe for heartbreak―or a recipe for persuasion…?
From Marie: I've yet to crack the cover on this one but I never read a Kristan Higgins book that I didn't love so I'm confident in recommending it. Kristan has a gift for blending humor with pathos, crafting wonderfully readable stories that also make you think.
The Frosts are a typical American family. Barb and John, married almost fifty years, are testy and bored with each other…who could blame them after all this time? At least they have their daughters– Barb's favorite, the perfect, brilliant Juliet; and John's darling, the free-spirited Sadie. The girls themselves couldn't be more different, but at least they get along, more or less. It was fine. It was enough.
Until the day John had a stroke, and their house of cards came tumbling down.
Now Sadie has to put her career as a teacher and struggling artist in New York on hold to come back and care for her beloved dad–and face the love of her life, whose heart she broke, and who broke hers. Now Juliet has to wonder if people will notice that despite her perfect career as a successful architect, her perfect marriage to a charming Brit, and her two perfect daughters, she's spending an increasing amount of time in the closet having panic attacks.
And now Barb and John will finally have to face what's been going on in their marriage all along.
From Marie: Since I love crafting almost as much as reading, this book had me hooked from the cover copy. A romance about brothers who want to rescue their mother's knitting shop? Sign me up! Kwana Jackson is new to me and I'm just getting into this book, but I'm loving it so far.
Jesse Strong is known for two things: his devotion to his adoptive mom, Mama Joy, and his reputation for breaking hearts. When Mama Joy unexpectedly passes away, he and his brothers have different plans for what to do with Strong Knits, their neighborhood knitting store. Jesse wants to keep the store open. His brothers want to tie off loose ends and close shop…
Part-time shop employee Kerry Fuller has kept her crush on Jesse a secret. When she overhears his impassioned plea to his brothers to keep the knitting shop open, she volunteers to help. Unlike Jesse, Kerry knows the "knitty-gritty" of the business, and together they make plans to reinvent Strong Knits for a new generation.
But the more time they spend together, the stronger the chemistry builds between them. Kerry, knowing Jesse's history, doesn't believe their relationship can last longer than she can knit one, purl two. But Jesse is determined to prove to her that he can be the man for her forever and always. After all, real men knit.
2020 Reading List: Perfect Beach Books
From Marie: It's too early in the season for me to say what my favorite book of the summer will be, but Feels Like Falling is definitely in the running. It's heartwarming, witty, and more than a little wonderful.
It's summertime on the North Carolina coast and the livin' is easy. Unless, that is, you've just lost your mother to cancer, your sister to her extremist husband, and your husband to his executive assistant. Meet Gray Howard. Right when Gray could use a serious infusion of good karma in her life, she inadvertently gets a stranger, Diana Harrington, fired from her job at the local pharmacy.
Diana Harrington's summer isn't off to the greatest start either: Hours before losing her job, she broke up with her boyfriend and moved out of their shared house with only a worn-out Impala for a bed. Lucky for her, Gray has an empty guest house and a very guilty conscience.
With Gray's kindness, Diana's tide begins to turn. But when her first love returns, every secret from her past seems to resurface all at once. And, as Gray begins to blaze a new trail, she discovers, with Diana's help, that what she envisioned as her perfect life may not be what she wants at all.
Hello Summer by Mary Kay Andrews
From Marie: I loved how this story balanced family complications, a touch of romance, with a bit of suspense that kept me turning pages. Paired with relatable characters are realistic dialogue and polished writing, Hello Summer is the complete package.
Conley Hawkins left her family's small-town newspaper, The Silver Bay Beacon, in the rearview mirror years ago. Now a star reporter for a big-city paper, Conley is exactly where she wants to be and is about to take a fancy new position in Washington, D.C. Or so she thinks.
When the new job goes up in smoke, Conley finds herself right back where she started, working for her sister, who is trying to keep The Silver Bay Beacon afloat—and she doesn't exactly have warm feelings for Conley. Soon she is given the unenviable task of overseeing the local gossip column, "Hello, Summer."
Then Conley witnesses an accident that ends in the death of a local congressman—a beloved war hero with a shady past. The more she digs into the story, the more dangerous it gets. As an old heartbreaker causes trouble and a new flame ignites, it soon looks like their sleepy beach town is the most scandalous hotspot of the summer.
From Marie: Fans of the Beach House series will adore this reunion with the Rutledge family in the sixth book of the series. Though I think the story can stand alone, you might want to start at the beginning of the series. The multi-generational cast of characters and luscious, low country setting are charming. The environmental message about sea turtles is a plus.
It's been sixteen years since Caretta "Cara" Rutledge has returned home to the beautiful shores of Charleston, South Carolina. Over those years, she has weathered the tides of deaths and births, struggles, and joys. Now, as Cara prepares for her second wedding, her life is about to change yet again.
Meanwhile, the rest of the storied Rutledge family is also in flux. Cara's niece Linnea returns to Sullivan's Island to begin a new career and an unexpected relationship. Linnea's parents, having survived bankruptcy, pin their hopes and futures on the construction of a new home on Ocean Boulevard. But as excitement over the house and wedding builds, a devastating illness strikes the family and brings plans to a screeching halt. It is under these trying circumstances that the Rutledge family must come together yet again to discover the enduring strength in love, tradition, and legacy from mother to daughter to granddaughter.
28 Summers by Elin Hilderbrand
From Marie: This one should land in my mailbox any second. I've loved Elin Hilderbrand's other books. The characters always draw me in and I'm intrigued by the idea of a story lets me get to know them over the course of 28 Summers.
When Mallory Blessing's son, Link, receives deathbed instructions from his mother to call a number on a slip of paper in her desk drawer, he's not sure what to expect. But he certainly does not expect Jake McCloud to answer. It's the late spring of 2020 and Jake's wife, Ursula DeGournsey, is the frontrunner in the upcoming Presidential election.
There must be a mistake, Link thinks. How do Mallory and Jake know each other?
Flashback to the sweet summer of 1993: Mallory has just inherited a beachfront cottage on Nantucket from her aunt, and she agrees to host her brother's bachelor party. Cooper's friend from college, Jake McCloud, attends, and Jake and Mallory form a bond that will persevere — through marriage, children, and Ursula's stratospheric political rise — until Mallory learns she's dying.
Done! Your Summer 2020 Reading List
That's a wrap! I'll be working my through this Summer 2020 Reading, and I certainly hope you'll join me.
What books have you been eyeing for your summer evenings?