This post may contain affiliate links. Full disclosure policy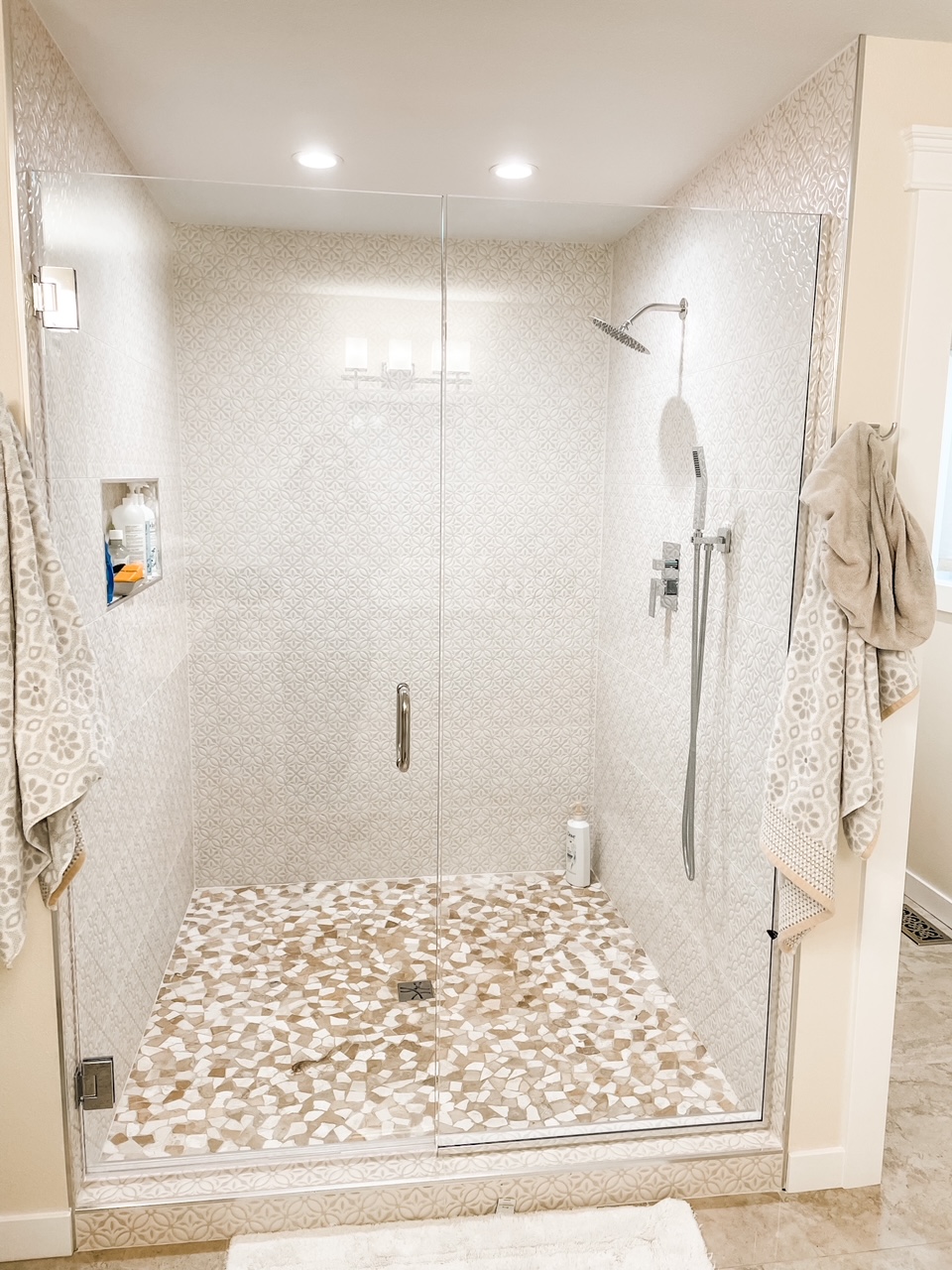 The garage to primary suite conversion we undertook after moving into our 1970s-era rambler was a big job! So big that the end result was more than I could share in one blog post – though you can check out part one here.
Today, I'm sharing the before and after of the second part of our garage to primary suite conversion – our beautiful new bathroom with his and hers closets. (Spoiler alert: it turned out great!)
Garage to Primary Suite Remodel: Where it All Started
The first step in our garage to primary suite conversion began last summer when we moved into our new home, a 1970s-era rambler. Though it wasn't quite to our taste, it had two marks in its favor – the yard was very pretty and the house was all on one level.
The rest of it?
Well, let's just say that we started a major but not quite whole house remodel almost as soon as we got the keys. In case you missed my other posts about this long, nearly completed remodeling road, you might want to read the following…
However, today we're talking bathrooms. So let's get to it!
Problems to Be Solved
When we moved into the house, it did already have a very nice sized primary bedroom with an ensuite bath. But there was a problem.
That bathroom had a very small shower and no tub at all, with only one sink and almost no storage space. It was perfectly adequate for a short-term resident, which is why we decided to turn that room into a guest suite.
However, that just wasn't going to work for us. My husband doesn't like sharing a sink with me any more than I like sharing one with him. Also, reading a book in the bathtub is one of my favorite things to do. And that single, not very spacious closet also by no means was going to work for us.
Fortunately, a two-car garage, tiny bedroom, and small bath on the opposite side of the house offered space and plenty of potential for doing a garage to primary suite conversion.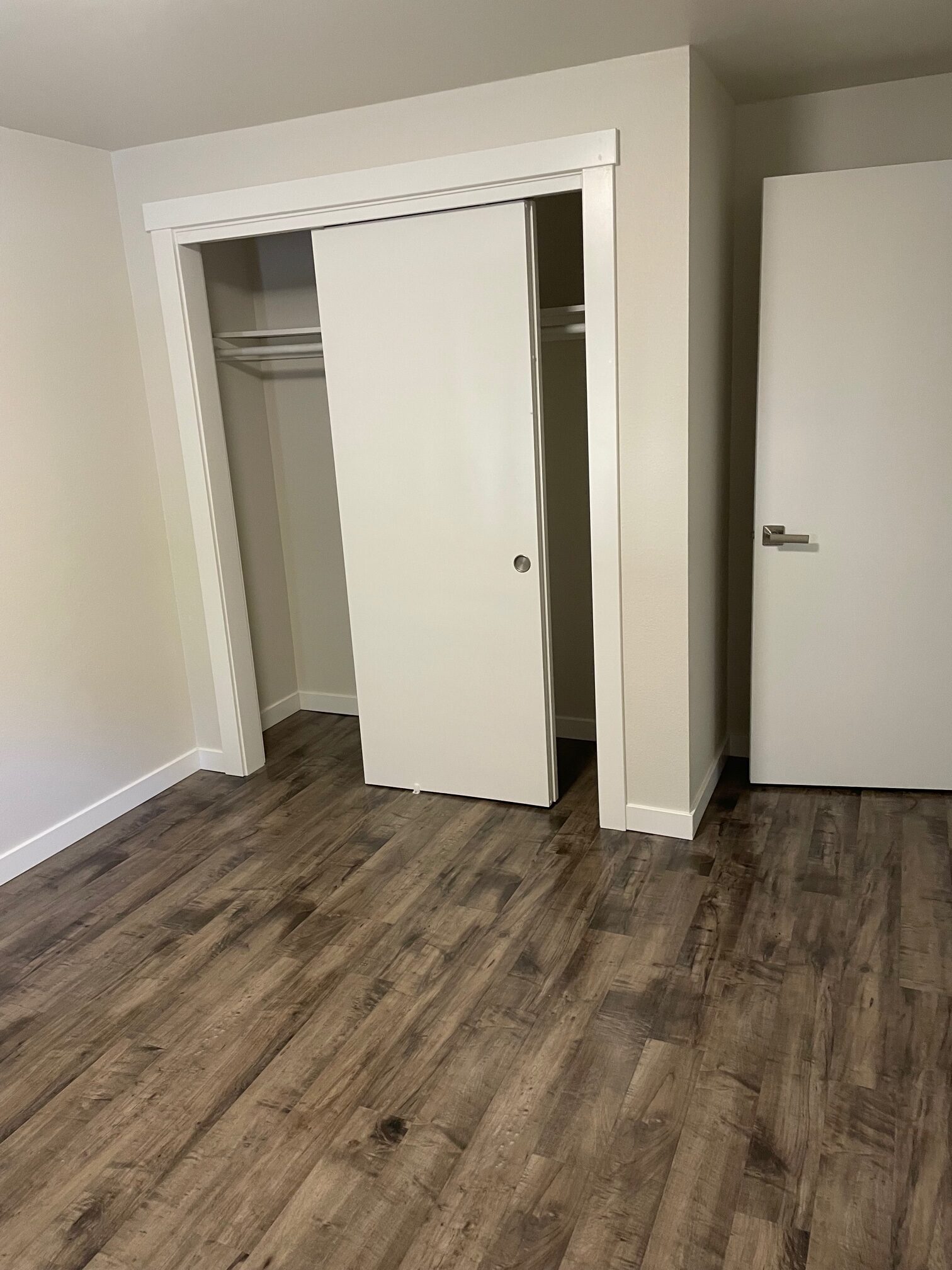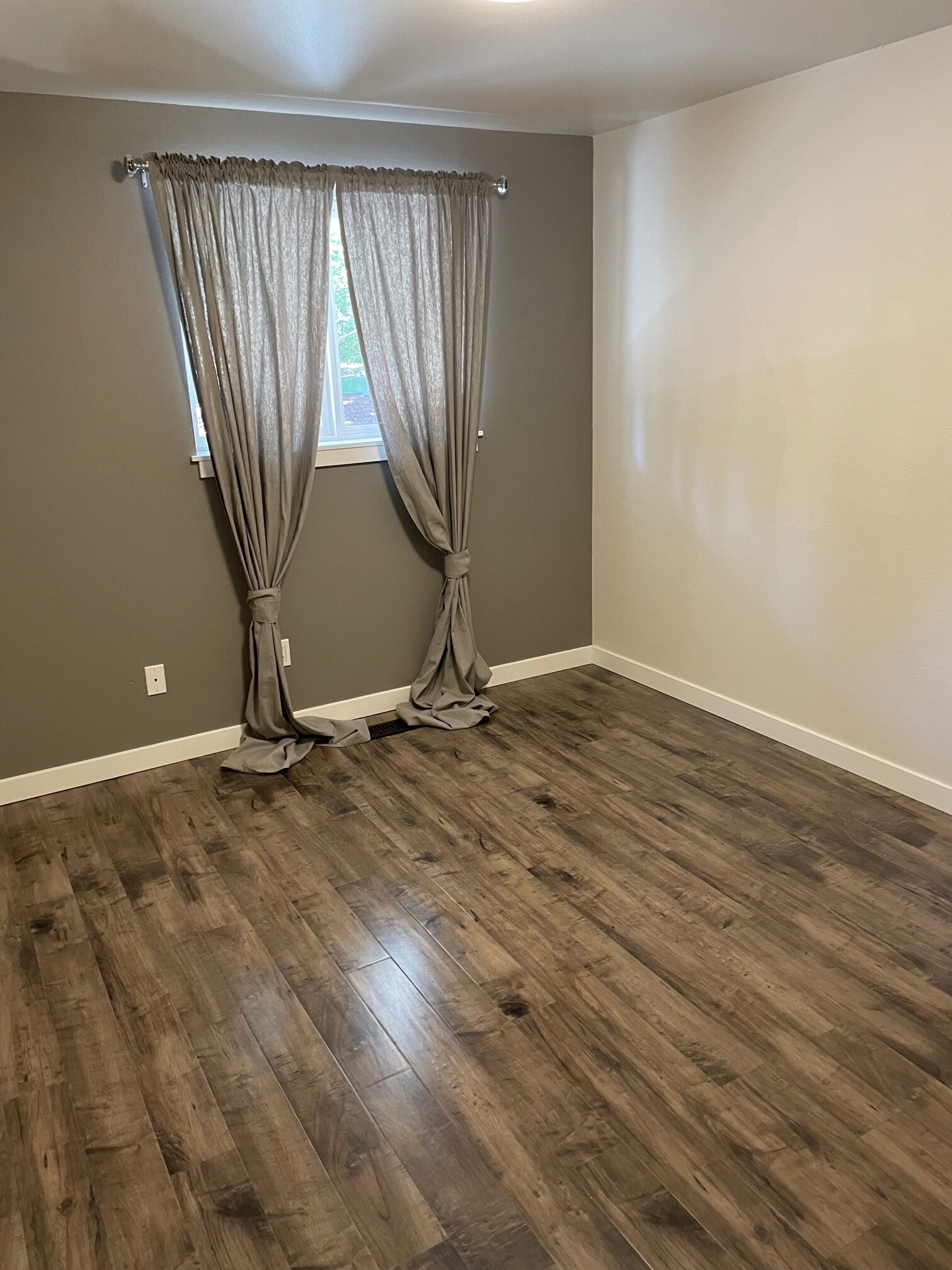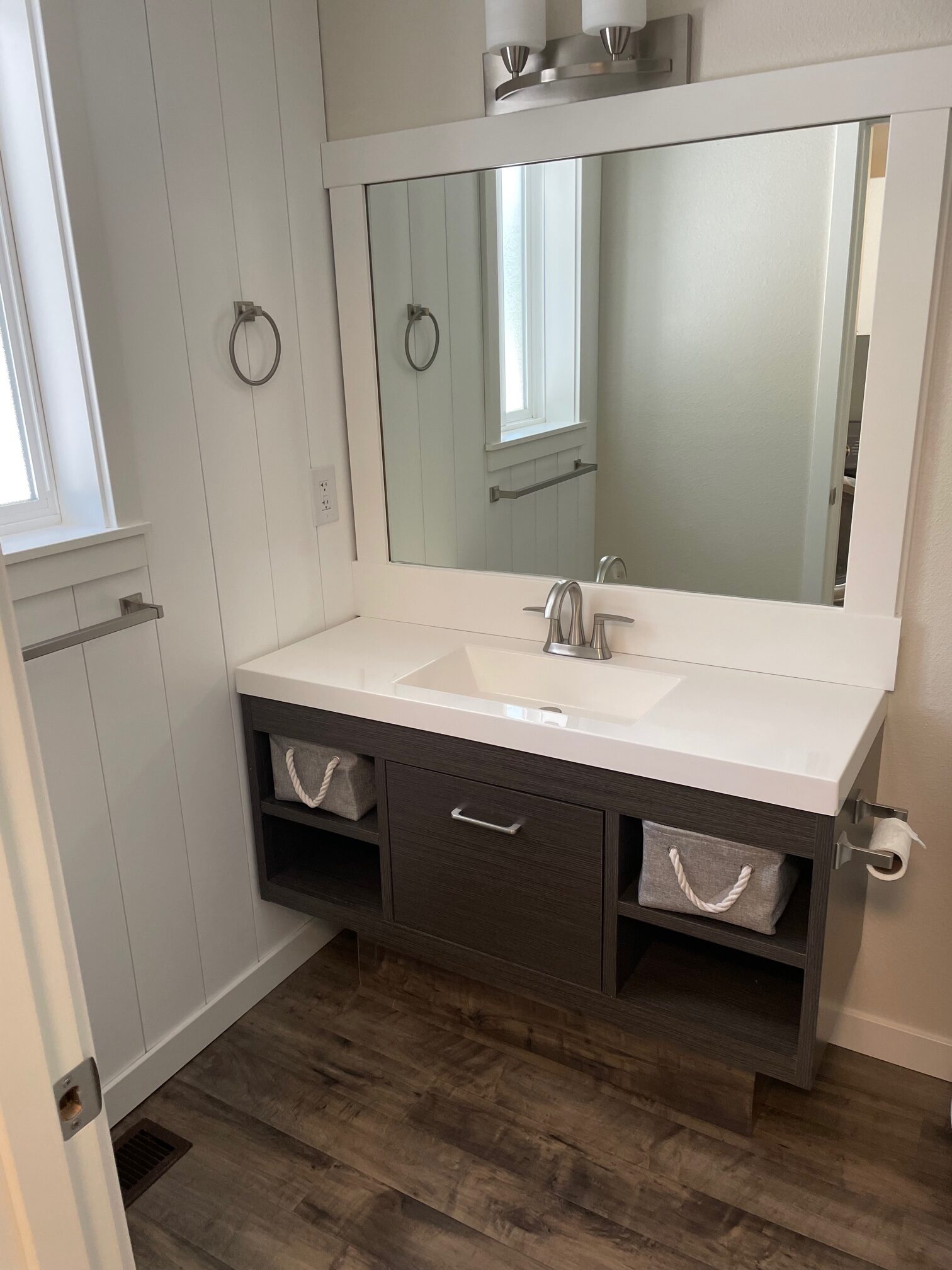 The New Layout for Out Garage to Primary Suite Remodel
Most of the old garage was devoted to our new bedroom but we did grab a little bit of square footage to use for the closets and bathroom.
However, a lot of the space we grabbed for the bathroom came from this dark, teeny bedroom and this small bath that connected to the laundry room. Knocking out the walls in those rooms and the garage gave us a lot of room to play with.
The fact that there was already plumbing going to the old bathroom saved time and quite a bit of money. But taking advantage of that did put some constraints on our options for the layout.
Running pipe for the sinks was fairly easy but we had to leave the toilet and shower drains pretty close to their original locations. Space constraints and drain positioning made coming up with a workable layout a bit tricky.
After many hours spent literally at the drawing board, I concluded that an L-shaped vanity was the only option that would give us the counter and storage space we wanted.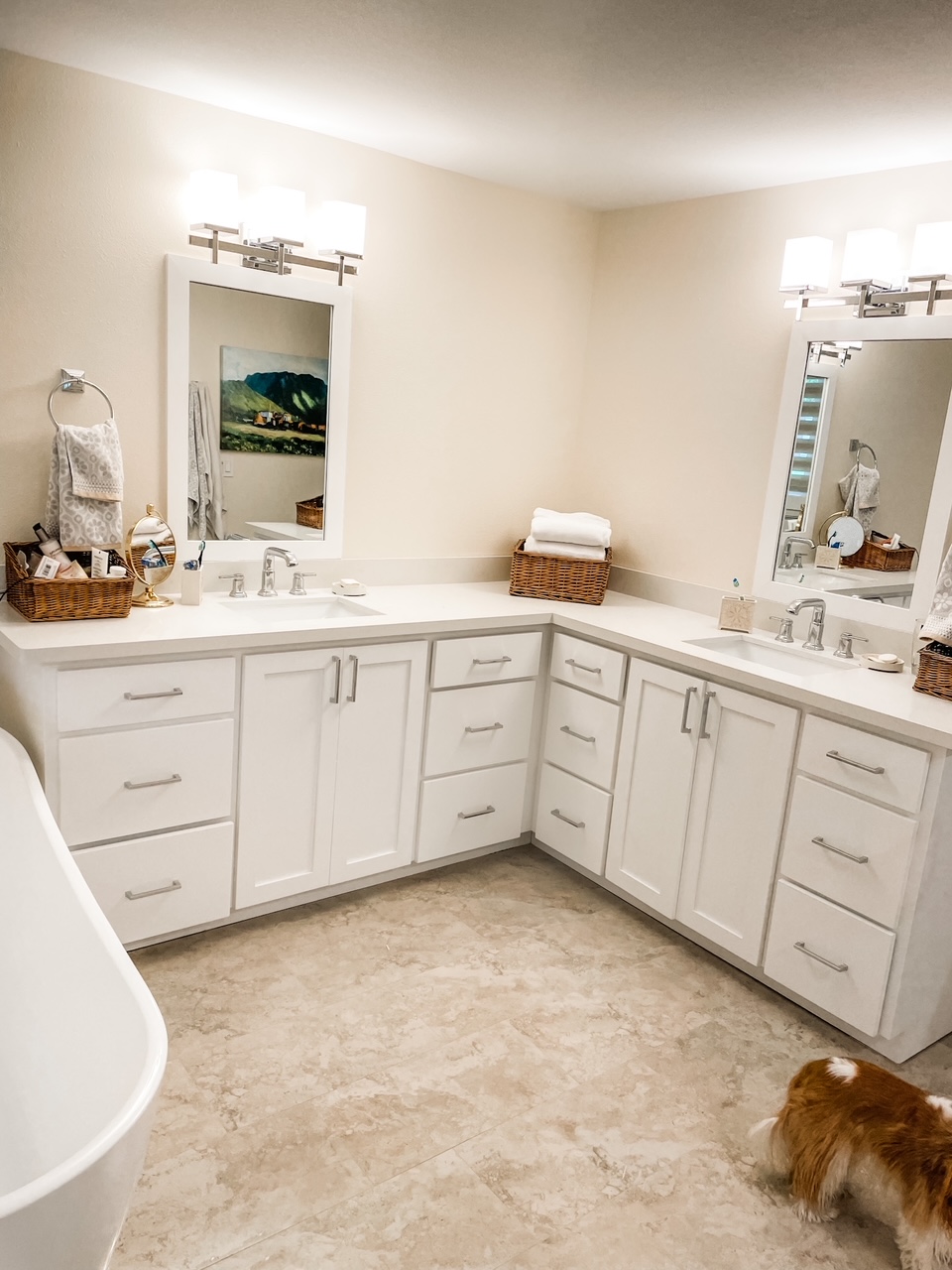 The Vanity and Tub
As you can tell, my husband and I both like having a lot of drawers.
We couldn't find an off-the-rack vanity with enough to suit us, especially in an L-shape. So we had ours custom built. It does just what we want it to and was actually a little less expensive than buying one ready-made.
During our kitchen remodel, we learned that using 2cm quartz for the counters instead of 3cm would save us thousands. They're perfectly strong and it's very hard to tell the difference visually. We did the same for our vanity counters. It saved us a lot and I'm pleased with the results.
We used simple rectangular shaped, under-mount sinks. The Kohler faucet model I chose was Numista in polished chrome. If possible, I do prefer Kohler brand products because they come with a lifetime guarantee. When a faucet in my last house failed, they were replaced right away with no questions asked.
With the current supply chain problems, you really need to be flexible. It took four tries before I found faucets that I liked in stock. Though it was frustrating at the time, I honestly don't remember what the first three choices looked like anymore and I love my new faucets.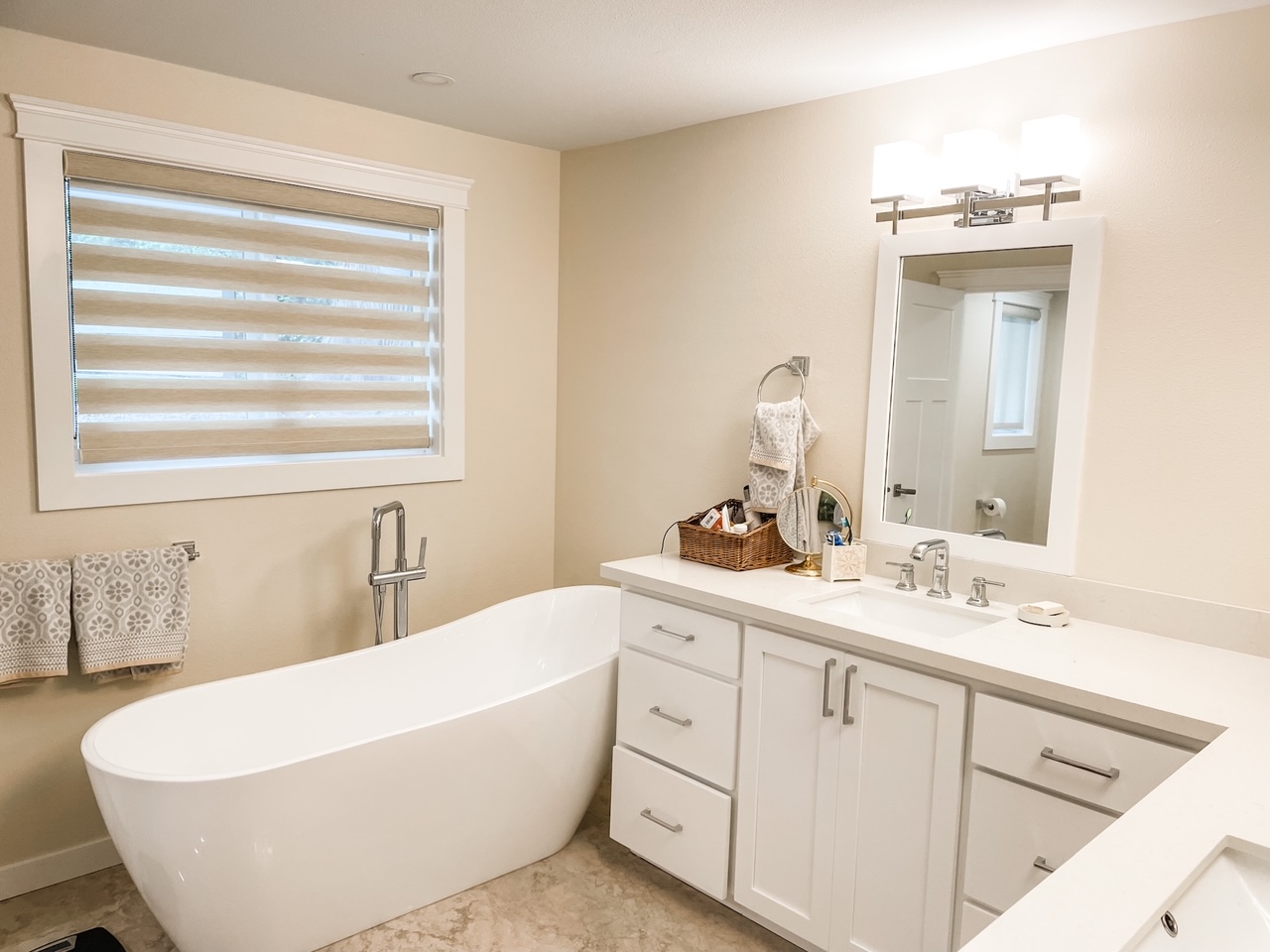 I also love my new soaking tub!
It took us a couple of tries to find an acrylic slipper tub of the right size in stock. That's why nobody can seem to remember the make or model. But it was budget and available, so we grabbed it.
The Toilet, Shower, and Tile
One thing we didn't have to spend money on what the toilet. We simply used the old one but turned it around 180 degrees. It's nice to have the privacy of a door.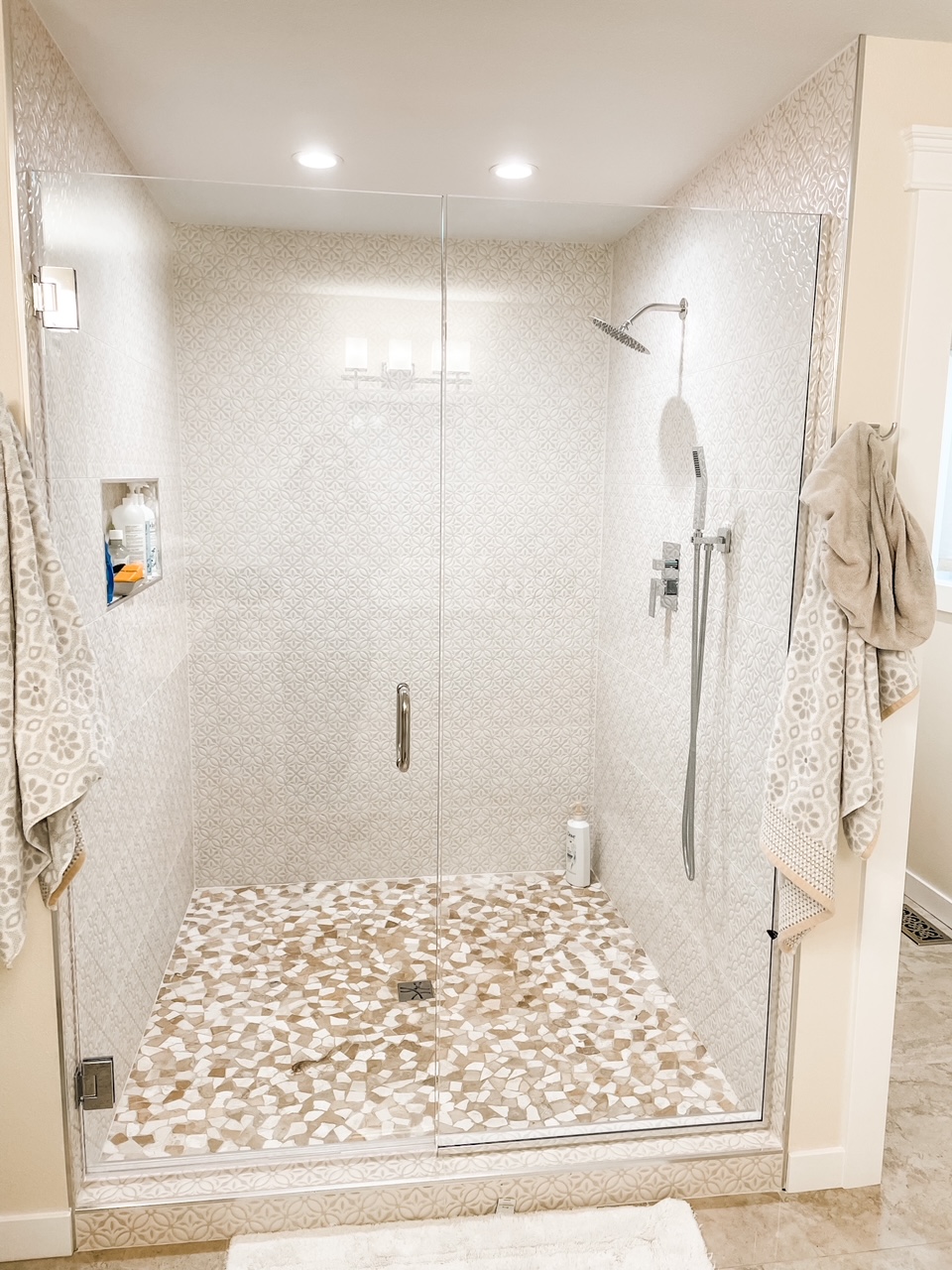 The shower ended up being just huge! We really didn't plan it that way to start with but there wasn't really another way to use the space so we went for it. Our shower system is by SR Sun Rise. Here's a link to a similar model, with a square shower plate instead of the round type.
Once again, choosing tile required me to be flexible. However, I am happy with what we picked. All of our tiles came from Floor and Décor.
For the shower, we used Solo River Pebble on the shower floor. We used Delano Cream for the shower wall. It reminded me of quilt blocks and I really like it! Just different enough. Do be aware that matching the patterns on the Delano Cream is going to require extra tile. Order accordingly.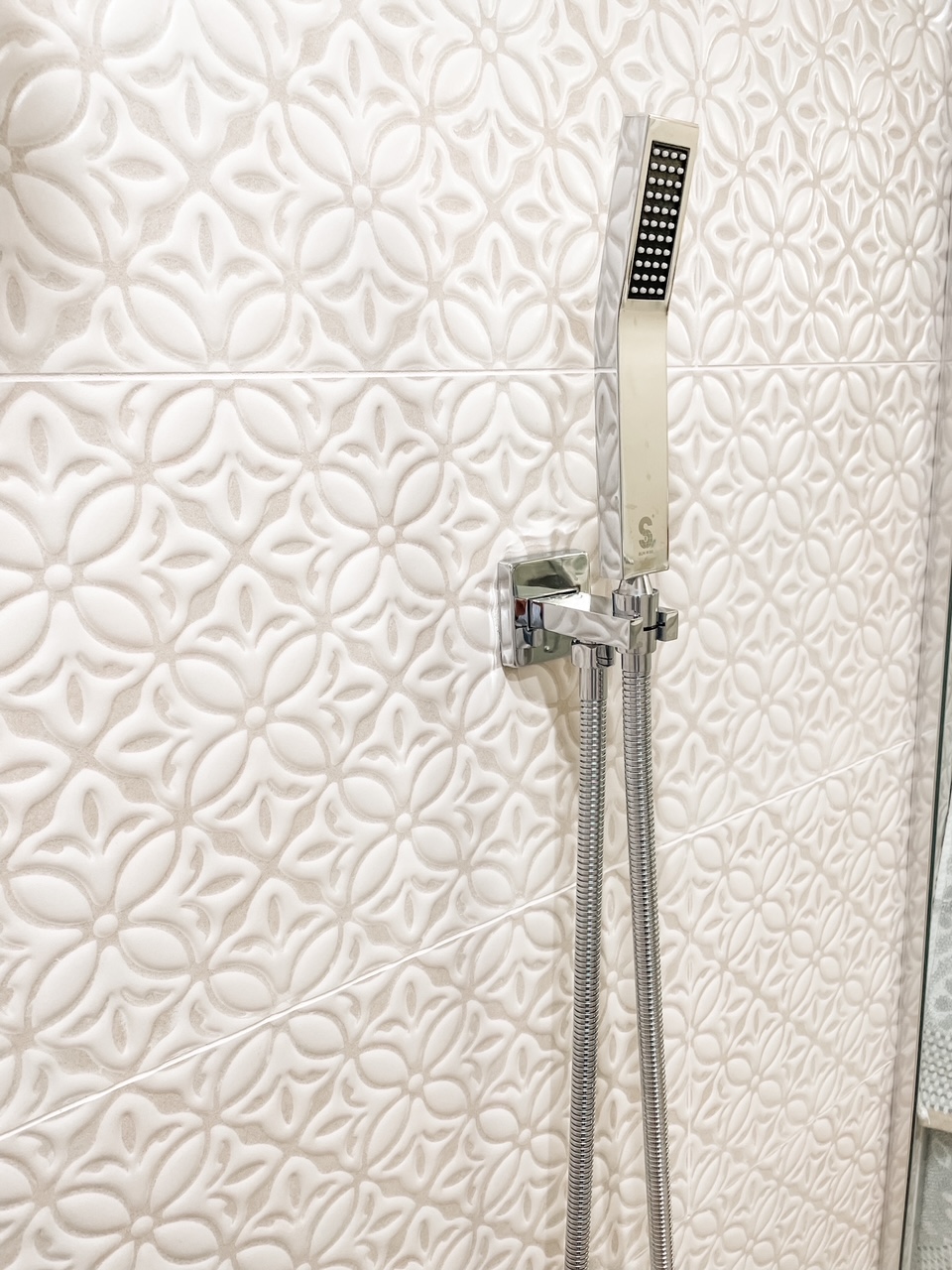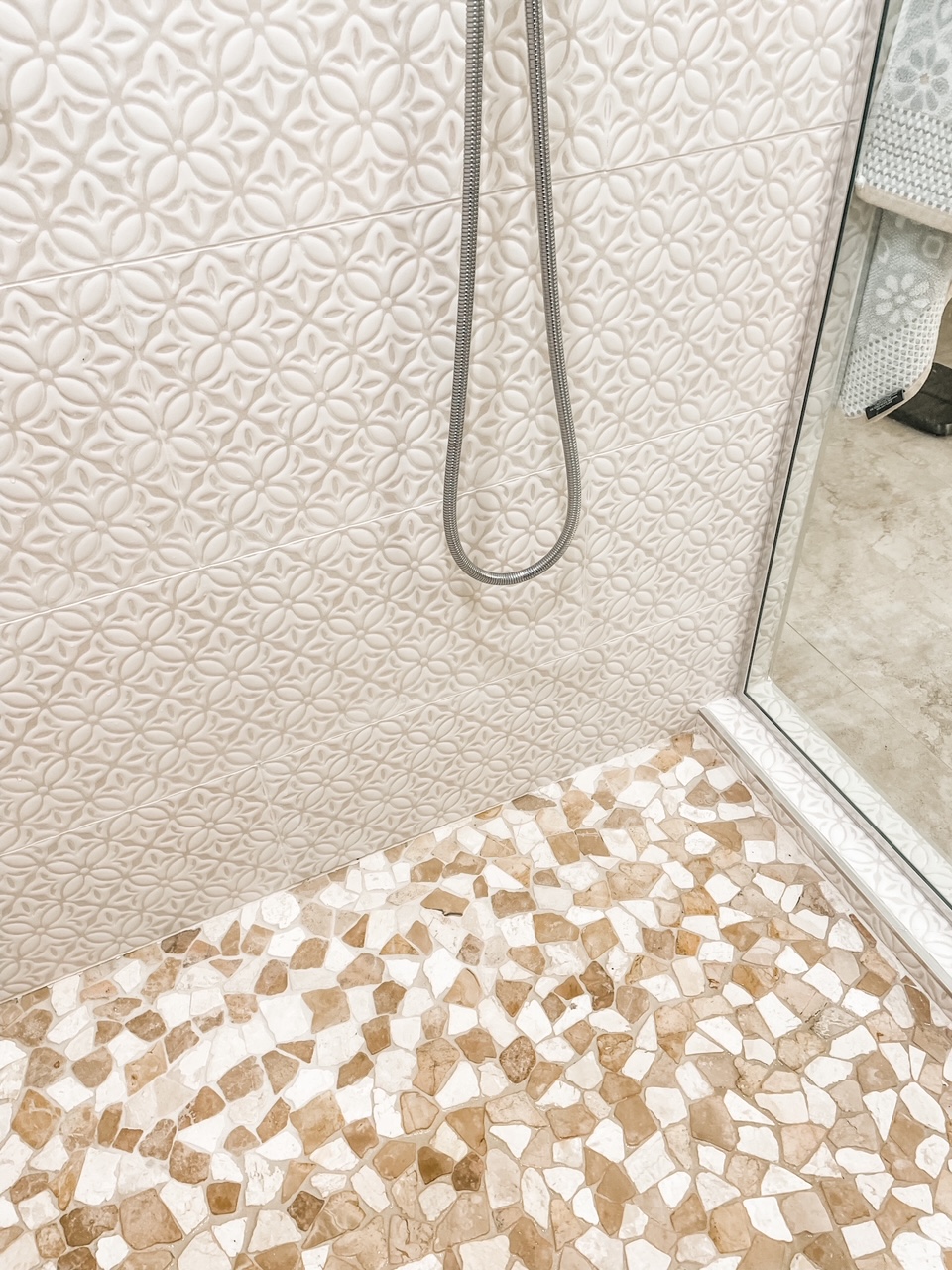 For the bathroom floor, we used Tarsus Almond II. It's just a simple polished tile, neutral without being boring, and affordable.
The Closets
The last part of our garage conversion to primary suite project involved getting new walk-in closets. We went with a his and hers option because it was the only layout that really would work. But I kind of like having my own space.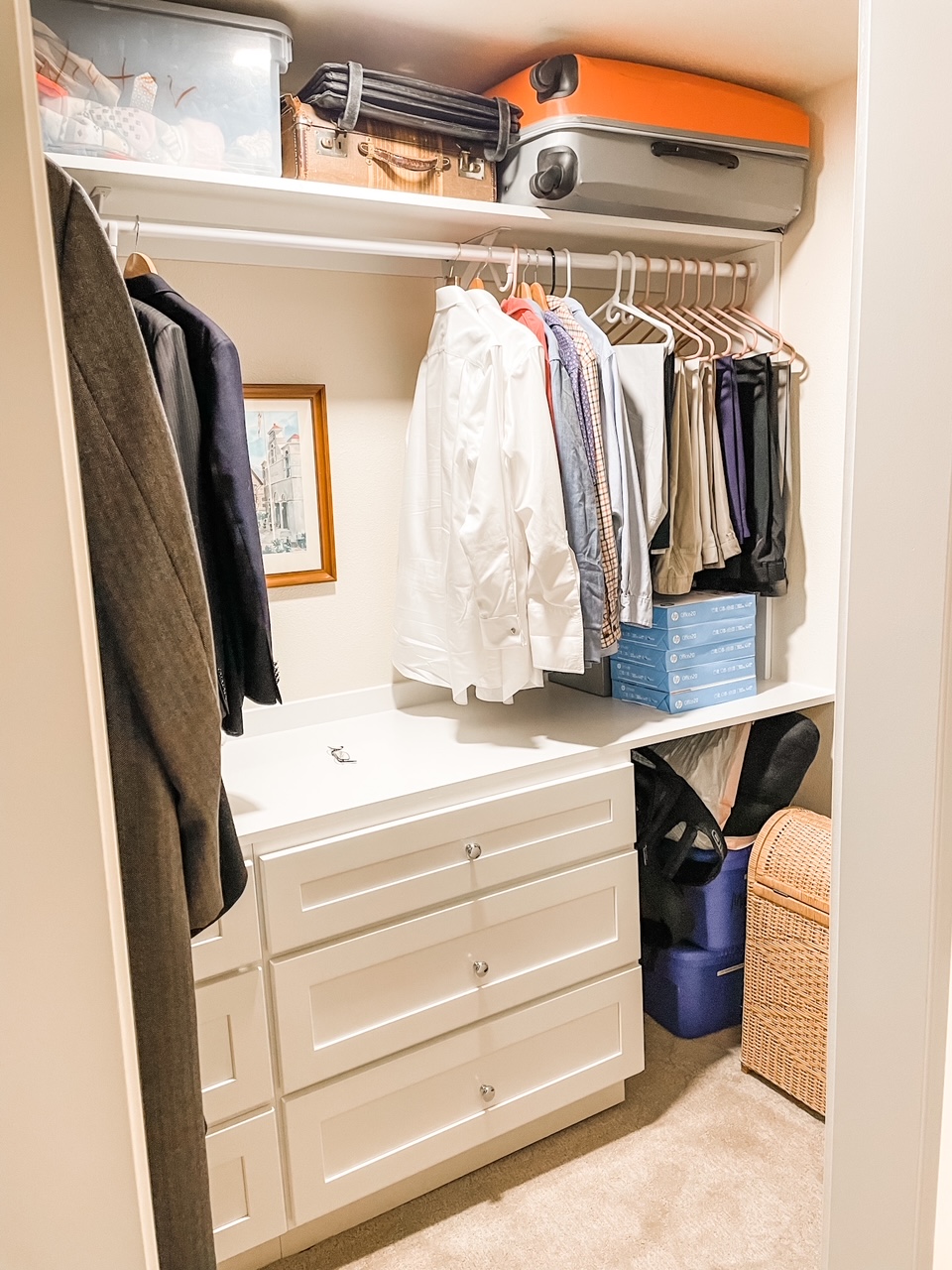 We'd originally planned for each of us to have a set of drawers. However, when the drawers arrived we realized they would eat up too much of my hanging space. So my husband got both. It works really well, giving him a nice countertop area, lots of drawers, and adequate hanging space.
Two inexpensive cabinets were repurposed to give me a couple of drawers, plus storage for shoes and sweaters. The U-shaped hanging space has double rods on two sides and a single rod on the third, so I have a place for dresses.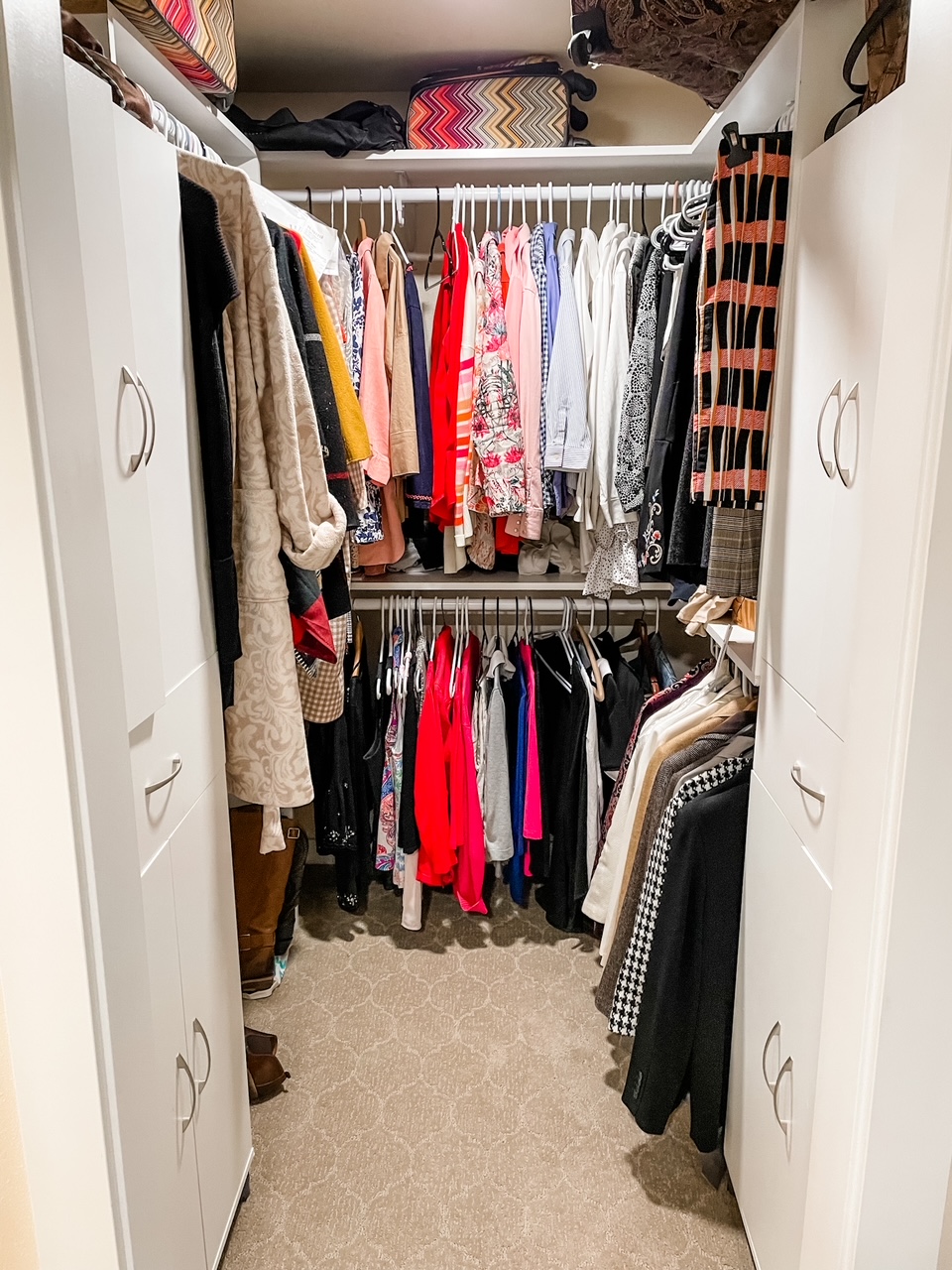 Finishing the bathroom and the closet portion of our garage to primary suite conversion did require patience and flexibility. But we're thrilled with the results!