This post may contain affiliate links. Full disclosure policy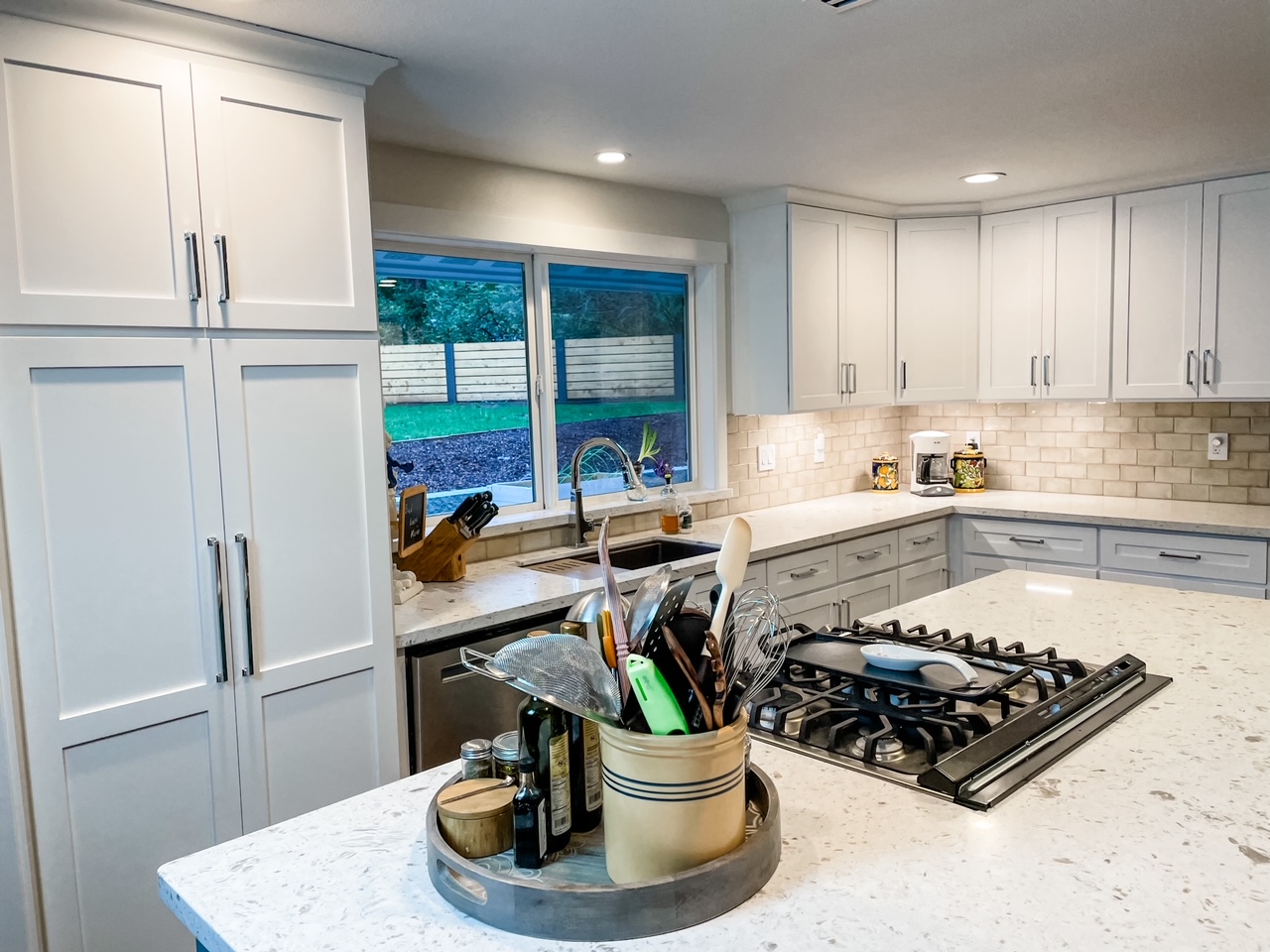 If you've been following my blog, you know that this summer, my husband and I sold the home we built and loved in Central Oregon and moved to Washington state, so we could be closer to some of our grandchildren.
Selling the home we designed and built to our own specifications was the easy part. Finding a new home that would suit our needs in Washington was a lot harder.
The Search Begins
My first thought was to build again, replicating our house in a new location. But ready-to-build lots were few and far between and cost a fortune so we quickly scrapped that idea.
That started us on the search for a preowned home. We were fairly flexible about the style and were open to a range of locations around Tacoma, Washington. But some things we were adamant about.
It had to have a decent-sized lot with at least some level areas for a yard and garden. Also, after my husband broke his ankle last year, we realized that having a single-level home is a very nice thing. So, we had a strong preference for a single-level home or at least a home with a bedroom on the main floor.
Both of these turned out to be harder to come by than we'd imagined. It pretty much took any new homes off the list. The lots were tiny and we couldn't find even one new home with a bedroom on the main floor. The only way that builders can use those teeny-weeny lots is by putting all the bedrooms upstairs.
It does make me wonder what's going to happen when the people who buy those houses reach an age where stairs are a challenge. But I guess that comes under the heading of stuff that's not my problem.
Finding That Diamond in the Rough
What was my problem was locating a house with a bedroom on the main floor. Finally, we found and purchased a 1970s rambler.
It wasn't at all our style and didn't have a proper primary suite or an office for me. And I strongly suspected that whoever had updated the kitchen had never actually cooked a meal. However, the lot was great, the house was all one level, and it had good bones and potential. And that was the stuff that mattered. The rest was fixable.
Would I have rather bought a house that was move-in ready? Absolutely. But I've undertaken many remodels in my time, so this wasn't my first kitchen remodel. Even so, it really has been a big job!
(Which is why this is, by far, the longest post I've ever written on the blog. You might want to set aside some time and get a beverage before you start reading.)
We were incredibly fortunate to find a really good contractor who was ready to begin shortly after we moved in. And, considering the difficulties of getting materials, this remodel has moved along very quickly.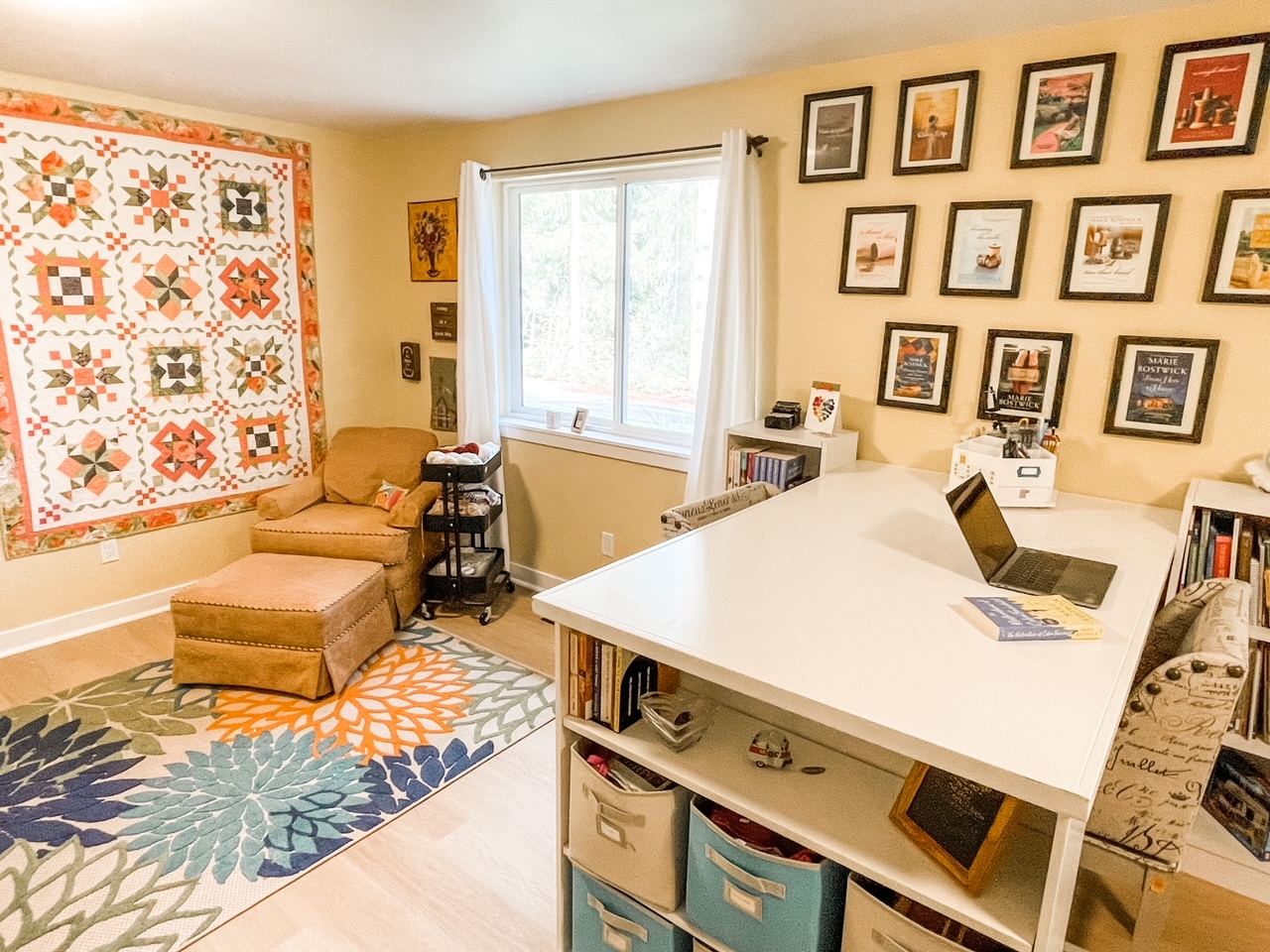 But if you've read my earlier Remodeling Before and After posts (click here to read about the new flooring, or click here for the office/sewing studio makeover) you probably know that things fell a little behind schedule.
Originally, I'd planned to post an update every month or so. Yes, well…that was wildly optimistic on my part. But today, at long last, I'm ready to share my Before and After Kitchen Remodel.
(Spoiler alert: it turned out GREAT!)
Kitchen Remodel – The Before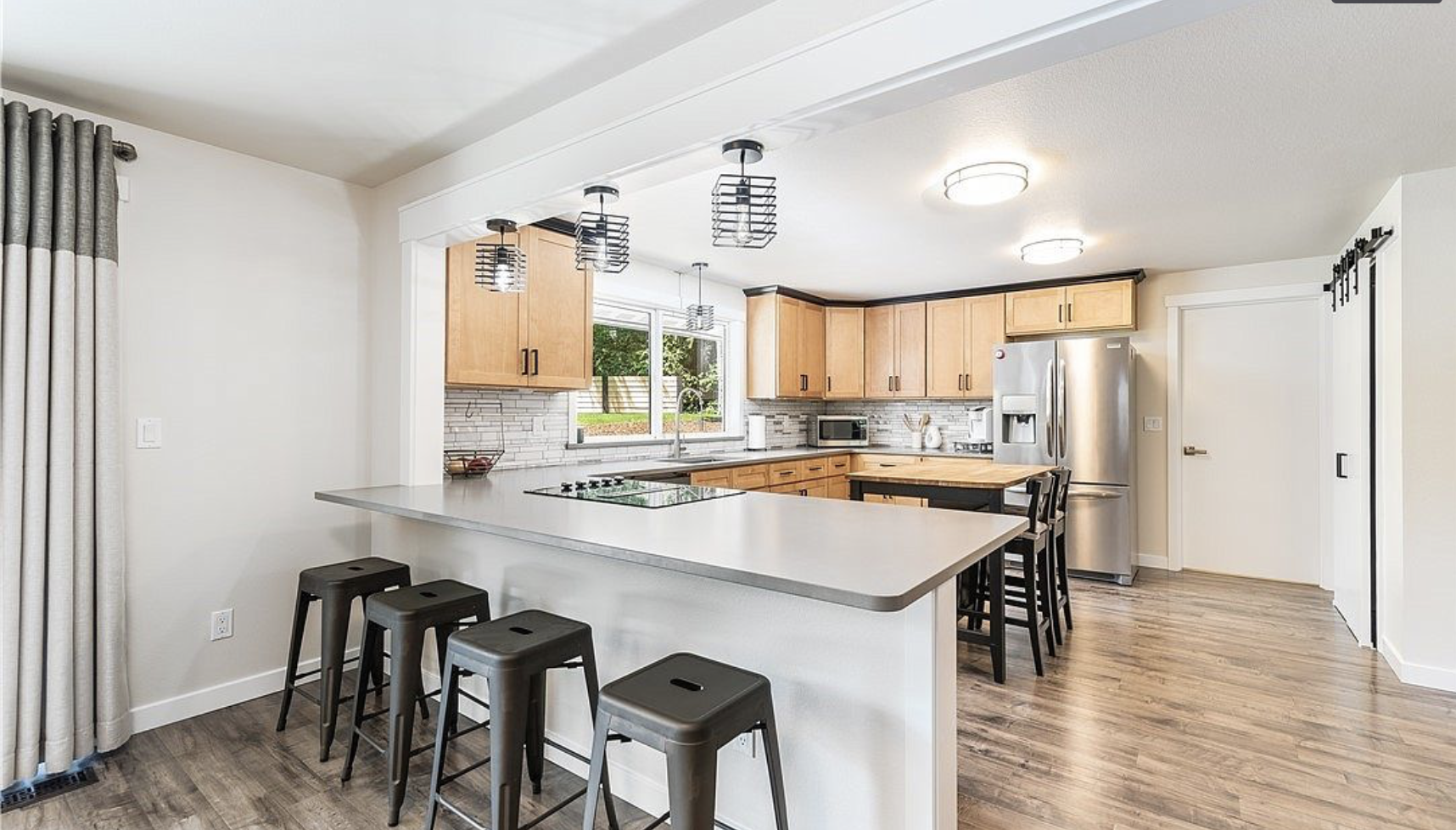 On the surface, the kitchen looked okay when we bought the house. The cabinets were fairly new and so were the appliances. But it was clear that whoever remodeled the kitchen was concerned with looks, not function.
For example, there were no drawers anywhere near the stove. If you were cooking anything, you had to walk across the kitchen to get a hot pad or utensil. And there was very little space to store baking pans or larger pots.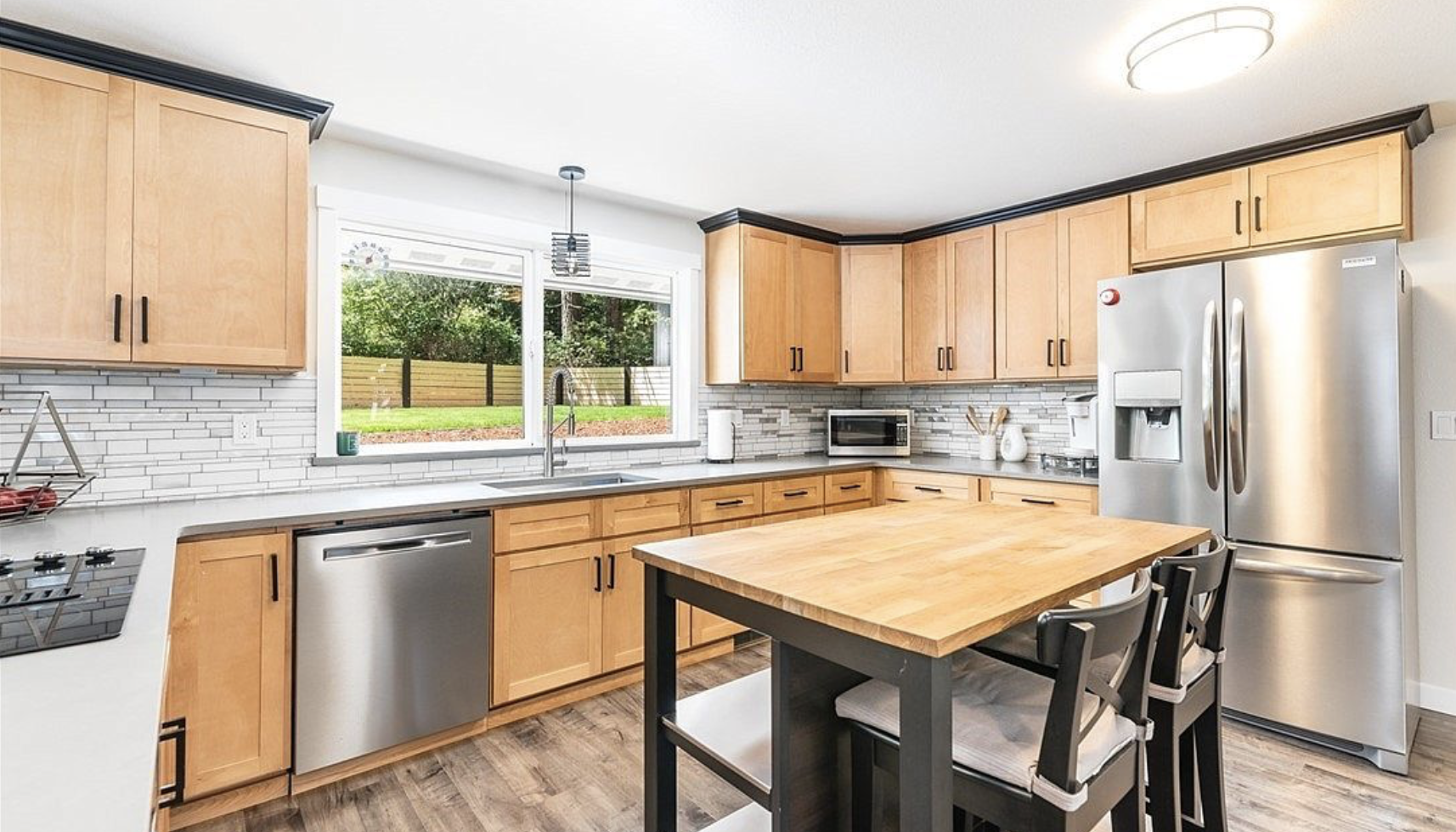 The stove and oven were new but of poor quality. I am just not a fan of glass cooktops. They scratch so easily. And since I spend a lot of time in the kitchen, the aesthetics of my surroundings matter to me.
And speaking of aesthetics, I just wasn't a fan of the lighting, flooring, gray backsplash with sparkles in it, gray countertops, black hardware, stainless sink, or the faucet. I'm sure it suits somebody's taste but it just wasn't me.
Also, the storage was simply inadequate for the amount of cooking I do. That movable island in the middle wasn't much use. Nor was the desk in the corner. And the peninsula with the stove was cutting the kitchen off from what could have been a really nice open dining/living area.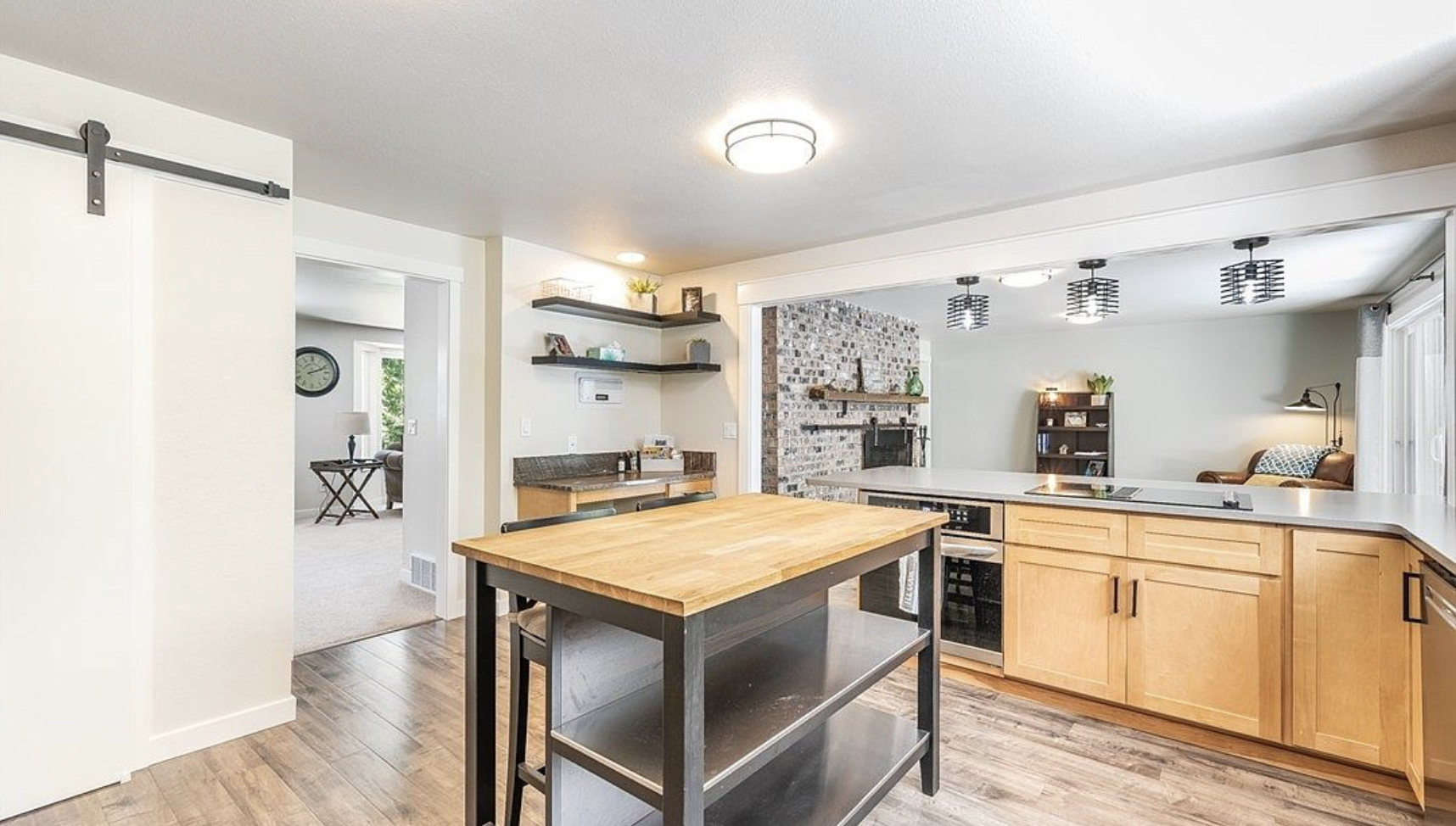 In fact, the biggest problem with this kitchen was the amount of wasted space. But this turned out to be a good thing and a great opportunity during the kitchen remodel!
Making the Most of Underutilized Space in a Kitchen Remodel
As soon as I walked into that kitchen, I knew that the peninsula and the non-load-bearing beam over it, as well as the corner desk area, had to go. Getting rid of them would turn the kitchen into a much more open, inviting area.
More importantly, it would allow me to build a very large, useful island with seating for four, give me room for a new, dual fuel stove, provide lots of conveniently located drawers, and add extra cabinet storage under the counter.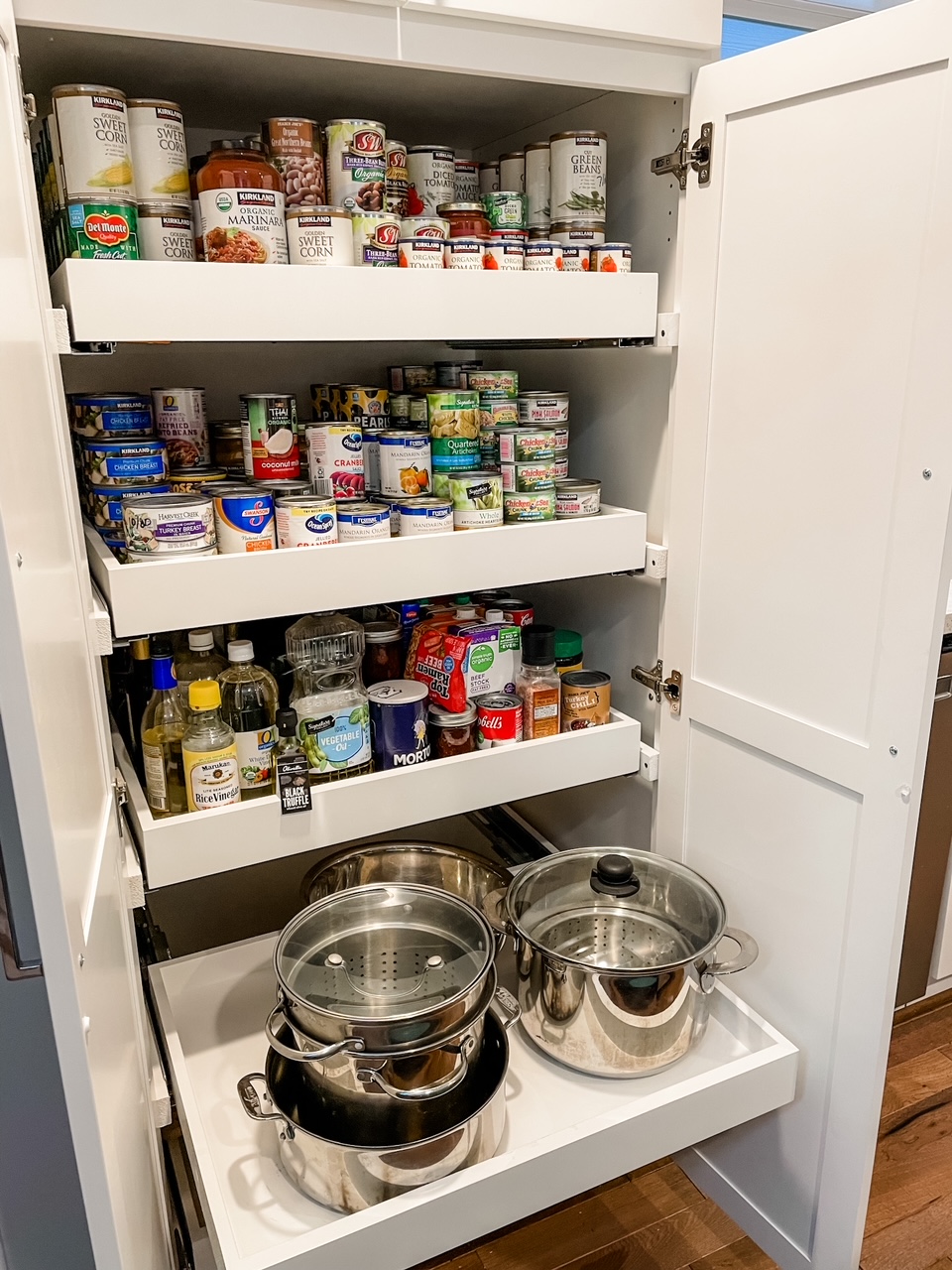 Additionally, doing this gave me room to install not one but TWO big pantries! One would be a pullout panty built to match the cabinets. The other would be a closet-style pantry with barn doors.
There was already one such closet-type pantry in the kitchen, which was one of the room's best features. Mirroring that on the other side of the door was visually appealing and much more affordable than building more cabinets.
Making a Good Start – But Nothing is Perfect
As you'll see when you keep reading, the end result of our kitchen was pretty terrific. But nothing is perfect and we did hit a couple of bumps.
One lesson learned is that we should have been more patient when installing the floors. We wanted to get it done before our furniture was delivered, which wasn't unreasonable.
But when the peninsula was removed, we couldn't just pop in new wood planks and make it match. A lot of the new wood floor we had installed in the kitchen area had to be torn out and reinstalled. That cost us time and money. It's a mistake I won't make again!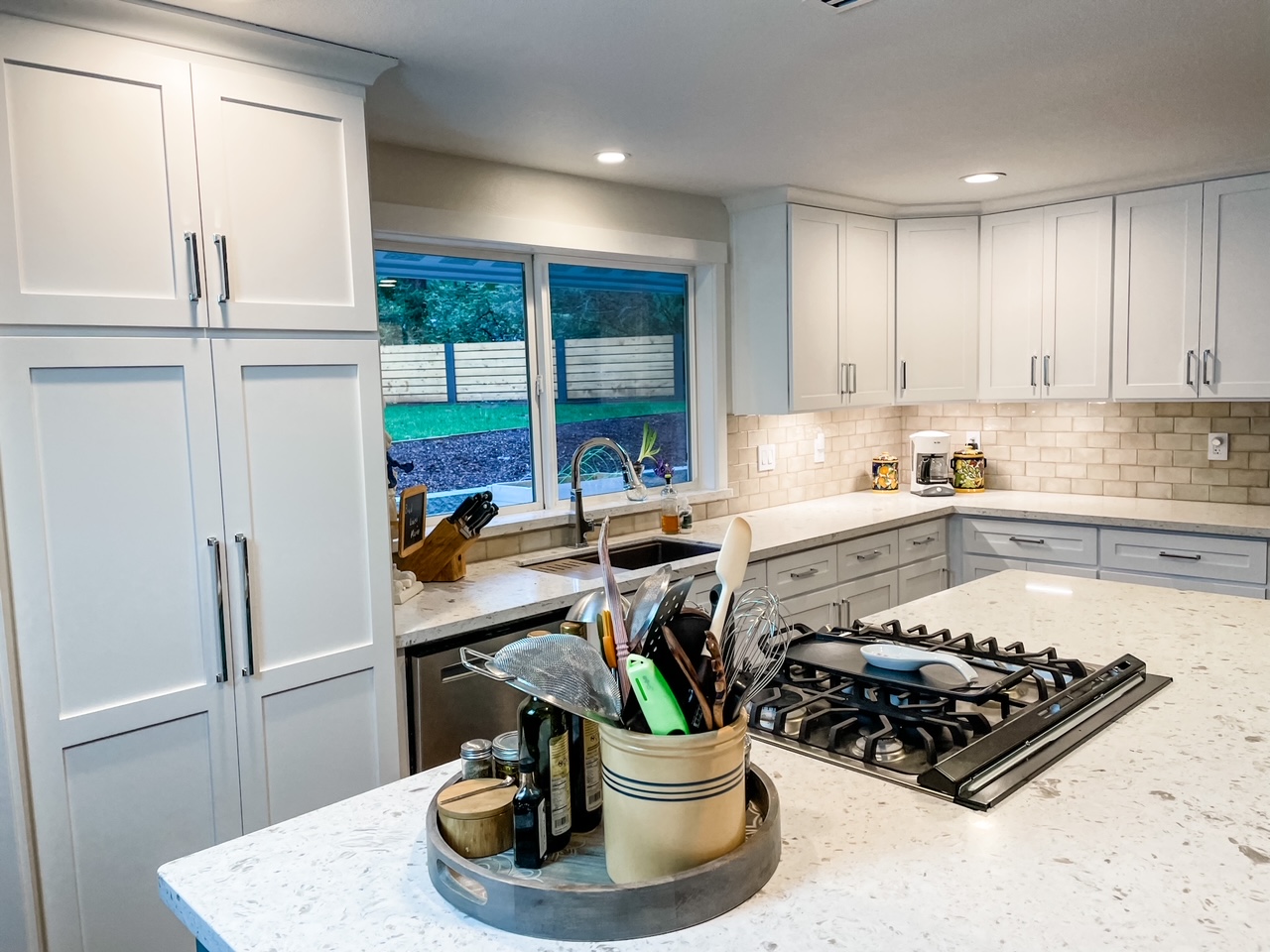 Another little bump was something I knew about in advance. Putting in the island was going to create a bit of bottleneck in the area between the stove and the dishwasher. The room was just a little tight. But it was still possible to get by if the dishwasher door was opened, and what we were gaining in space and convenience was worth it.
La Casa de Segundas Opciones
I like naming houses. Our last home was dubbed "The Pinery". This time, I've been very tempted to call our house, "La Casa de Segundas Opciones".
With the supply chain being the way it is, finishing this kitchen remodel more or less on time meant being really flexible about materials. Often, I had to go to my second, third, or even fourth choice because my first was out of stock. Luckily, I was still able to find things I liked.
If you're remodeling right now, I encourage you to be flexible. It can be disappointing when you don't get exactly the item you want. But we live in a world with many, many choices. Chances are there is something out there you will like almost as much if you keep an open mind.
In short, don't hold up the whole project just because the exact faucet you want isn't available. Even shorter? Don't let the perfect stand in the way of the good. This applies to lots more things than kitchen remodels!
Keeping in the Budget – But Getting What You Want
Kitchen remodels are usually one of the most expensive remodels out there. But there are things you can do to keep costs under control.
For us, that meant preserving as many of the existing cabinets as much as was possible and practical. Though the style of the cabinet was okay, I wasn't crazy about the color and decided to have them painted.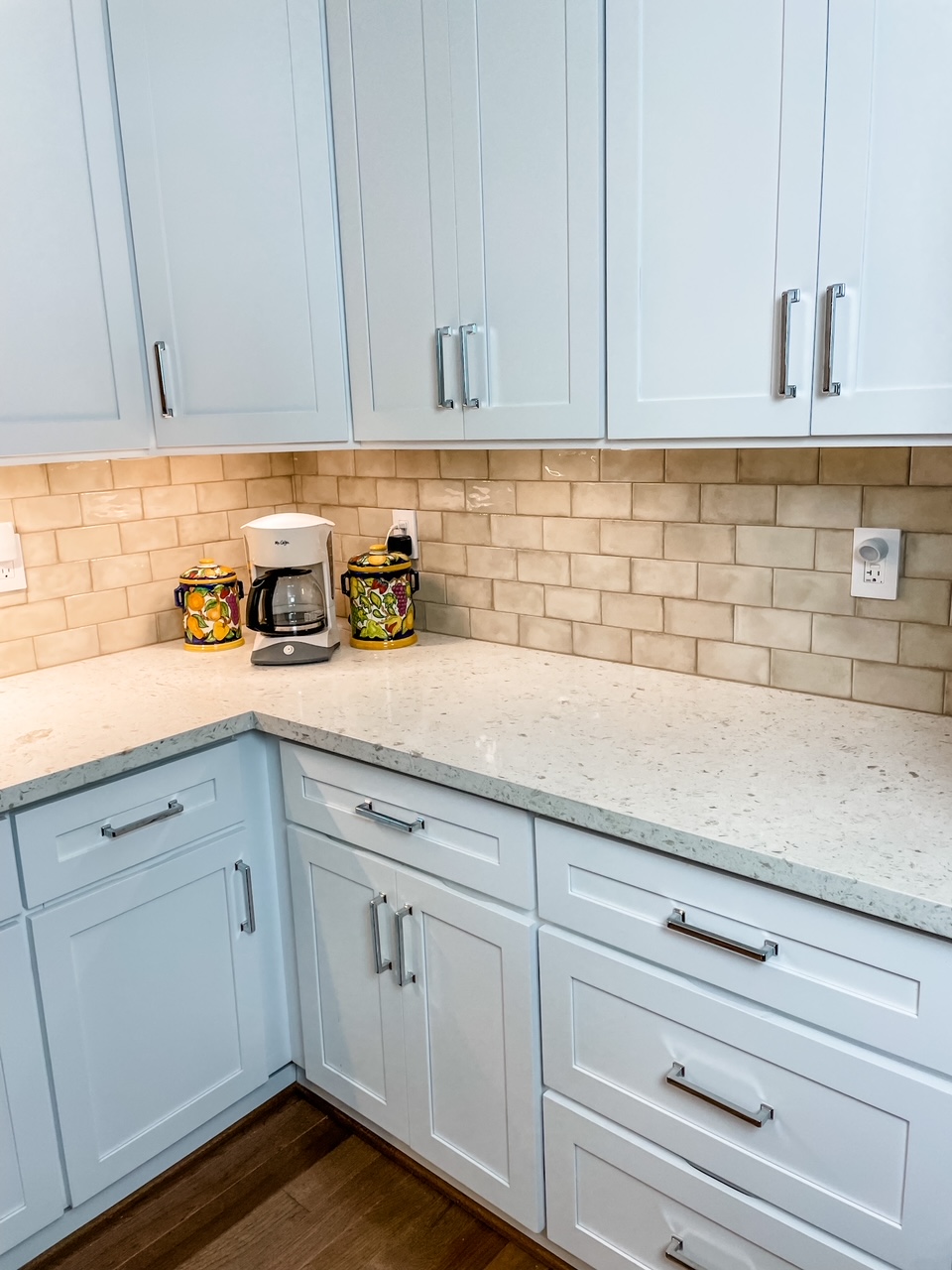 Navy blue cabinets are all the rage right now and I just love them. But at the end of the day, I decided to go for white. It really never goes out of style. However, I did elect to use teal on the island and I'm glad I did. I love that bright pop of color! Yes, it's possible that I'll tire of it someday but if that happens, it's easier to paint just an island instead of all the cabinets.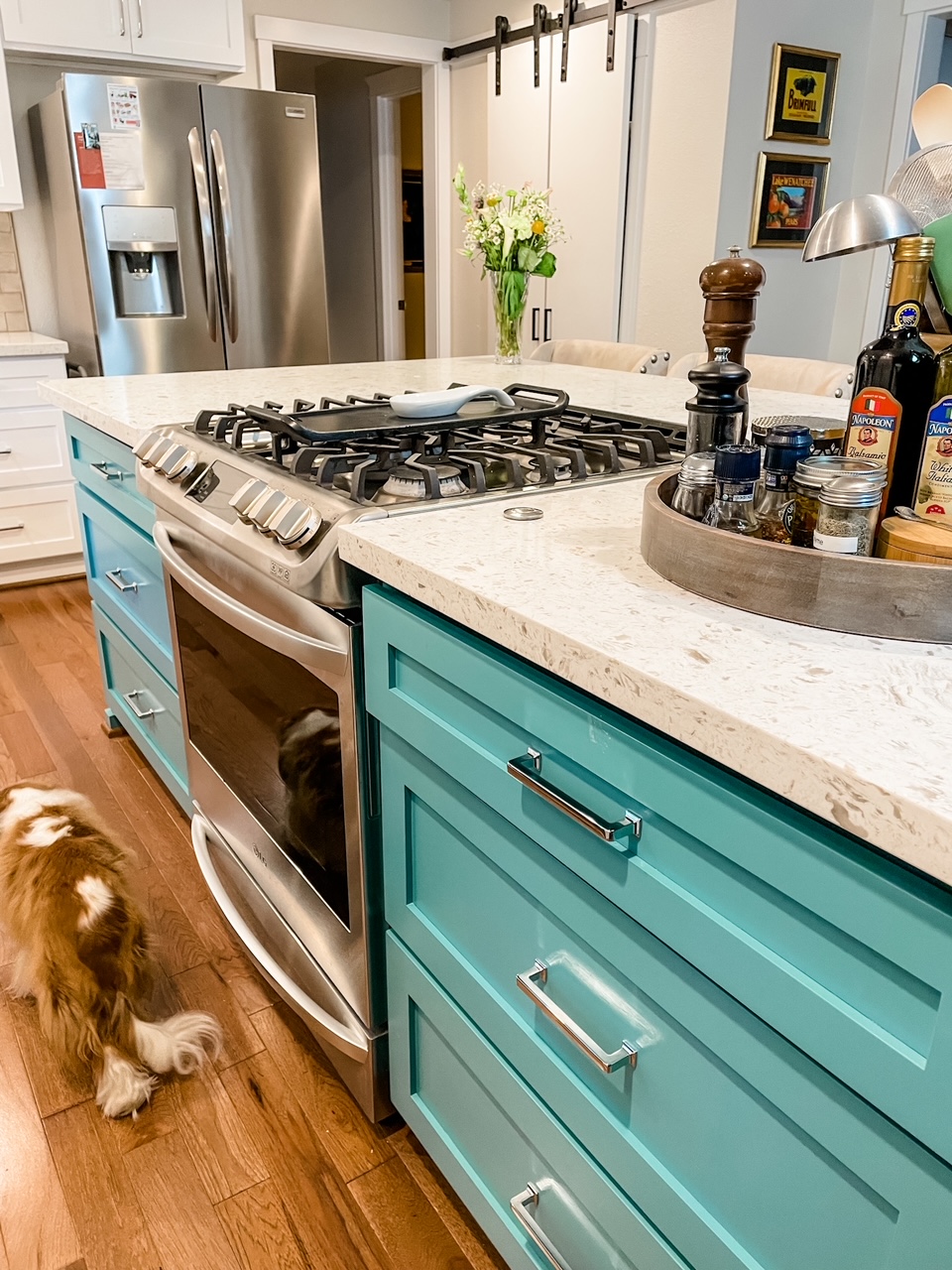 Another area where we saved ourselves some money was on the countertops. I really wanted a solid surface but we have a lot of counters now and it can be pricey.
However, on the advice of my contractor, I went with a 2cm quartz countertop. Most quartz counters are 3cm (cm refers to centimeters) but going with a slightly thinner countertop that I found in stock locally saved me thousands of dollars.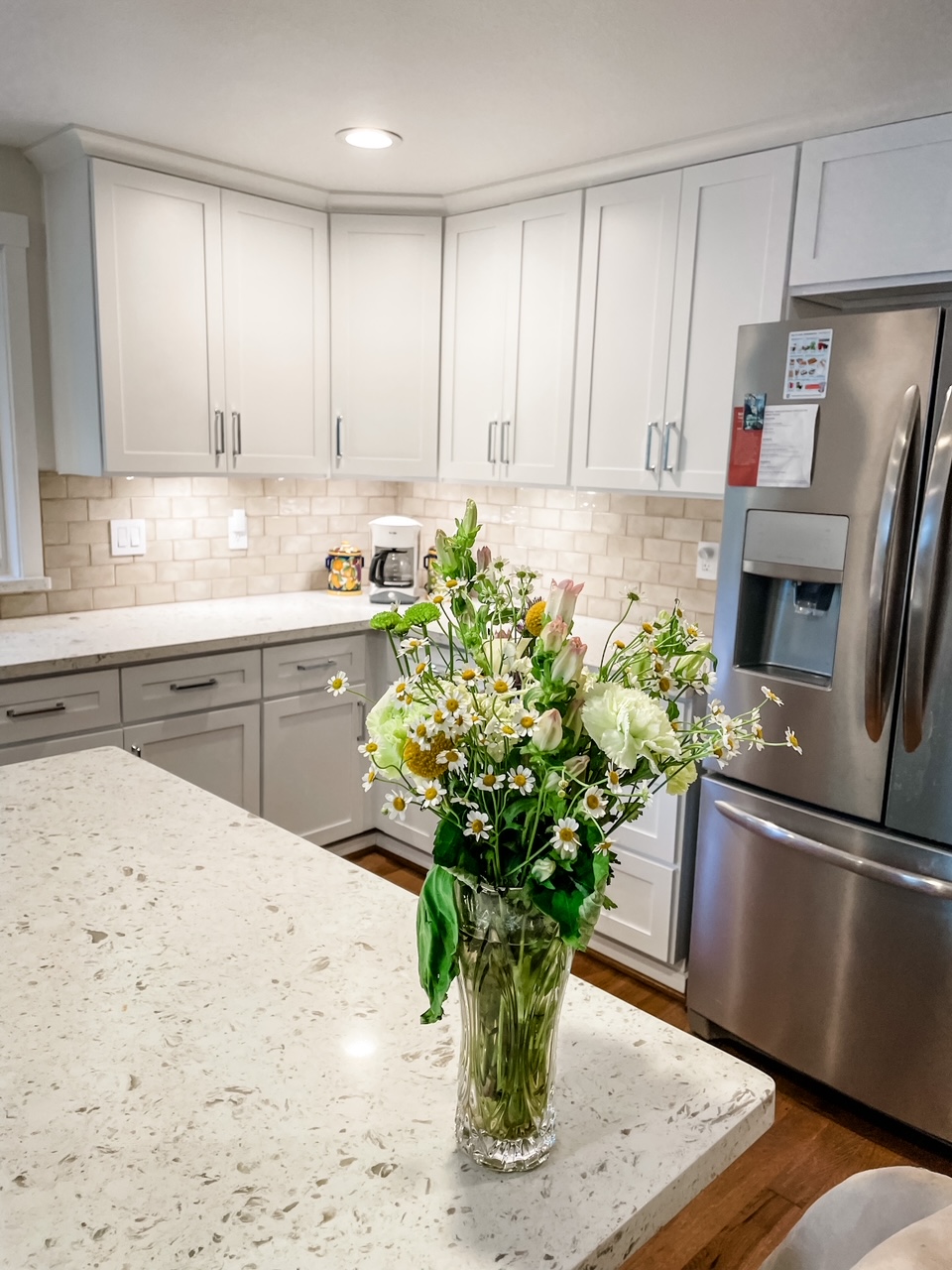 It looks just as good as the 3cm counters and while I've seen a few posts that try to raise concerns about the strength of 2cm (usually written by companies that make or sell 3cm), I'm not worried. Unless you're going to hit the counter with an anvil, there's no way you're going to break through 2 centimeters of stone. The counter I chose is called Crushed Ice.
One thing I was adamant about was having a dual fuel stove. Dual fuel means that the oven is electric, which is best for baking, and the stovetop was gas, which is best for cooking. We had to install propane to make it happen but this was a high priority for me.
Back in the day, dual fuel stoves were strictly for professional chefs and ran upwards of ten thousand dollars. Today, they're still more expensive than many stoves but within the reach of many home chefs.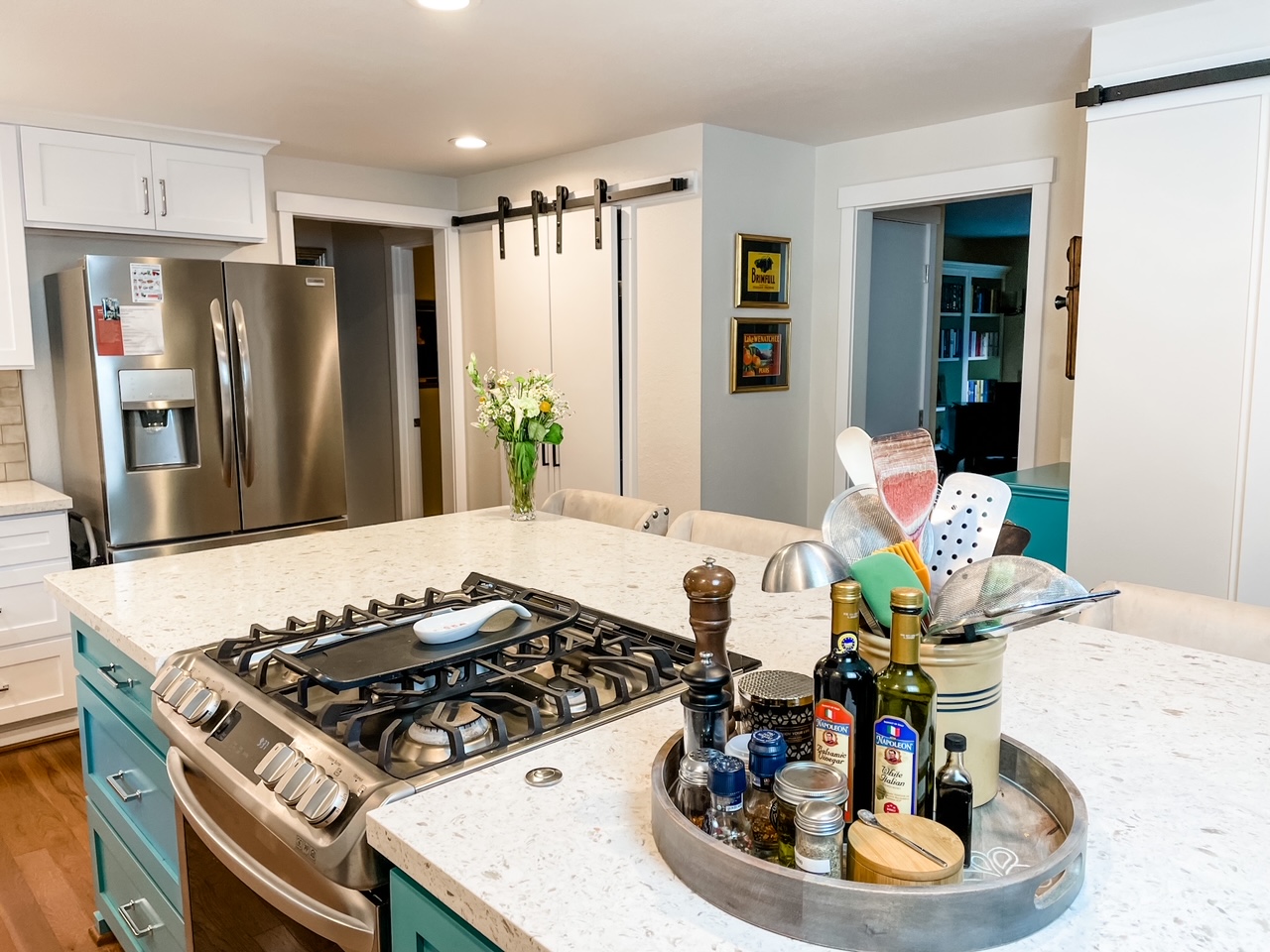 I chose an LG LSD4913ST, which was highly rated by Consumer Reports. I've loved it so far. The only thing that I'm not crazy about is the curved non-stick griddle. The shape is just kind of awkward and gets in the way when I'm using a big pan on one of the other burners.
A stove is a big investment so you should definitely do your research. However, I've been cooking with my LG since November and am very happy with my choice.
Kitchen Remodel: The Little Touches
Little things make a difference!
Originally, I'd planned to just keep the old backsplash but I really, really didn't like it, so I just bit the bullet and replaced it. We went with a rustic light tan subway tile, made by the Equipe company in Spain. The collection is called Splendours and the color is cream. I love it! Subway tile is a classic choice and the rustic, slightly uneven surface gives it some style.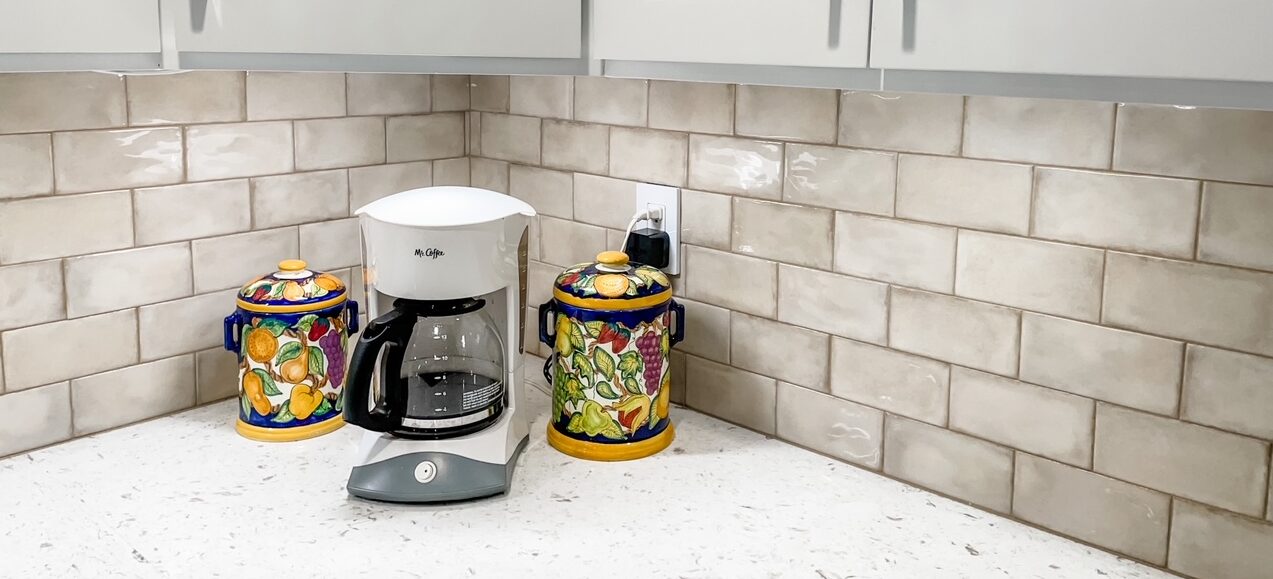 The new sink is another choice I'm very happy with. This house had SO much gray, which definitely not my cup of tea. If you live in a climate with a lot of gloomy days why bring even more gray into the house?
After getting rid of the old sink, I started looking for a replacement in dark brown, which I had in my other house. I settled on this granite composite Kraus Bellucci Workstation. I just love it!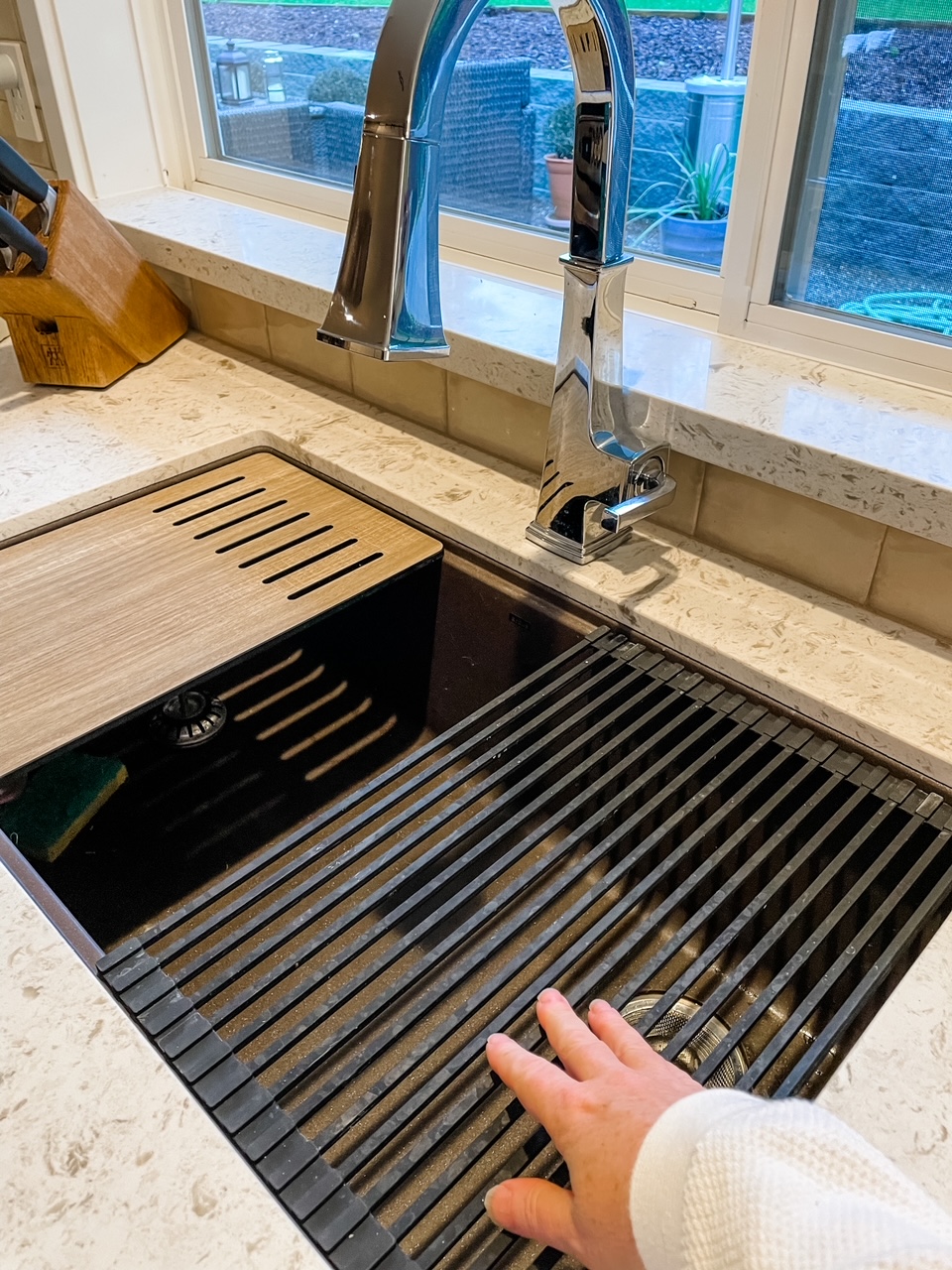 It comes with a removable cutting board and drying rack. I use them frequently; they make vegetable prep and dishwashing a breeze. I chose the undermount sink but there is also an overmount model. And if brown isn't your thing, it's also available in black, gray, or white.
The kitchen faucet is another small item that makes a big statement in kitchens. I knew I wanted to go with a Kohler product because they come with a lifetime guarantee. When the faucet in our last house ended up with a bit of a leak, they replaced it right away with no questions asked.
In the last house, I chose a Kohler Artifacts faucet. It was beautiful, functional and was right in keeping with the cottage style of the house. Our new house leans a little more modern, so I chose this gorgeous Kohler Riff faucet. I love the lines on this faucet, it's such a chic style and the pulldown sprayer is great. Polished chrome was my finish choice but there are lots of other finishes available.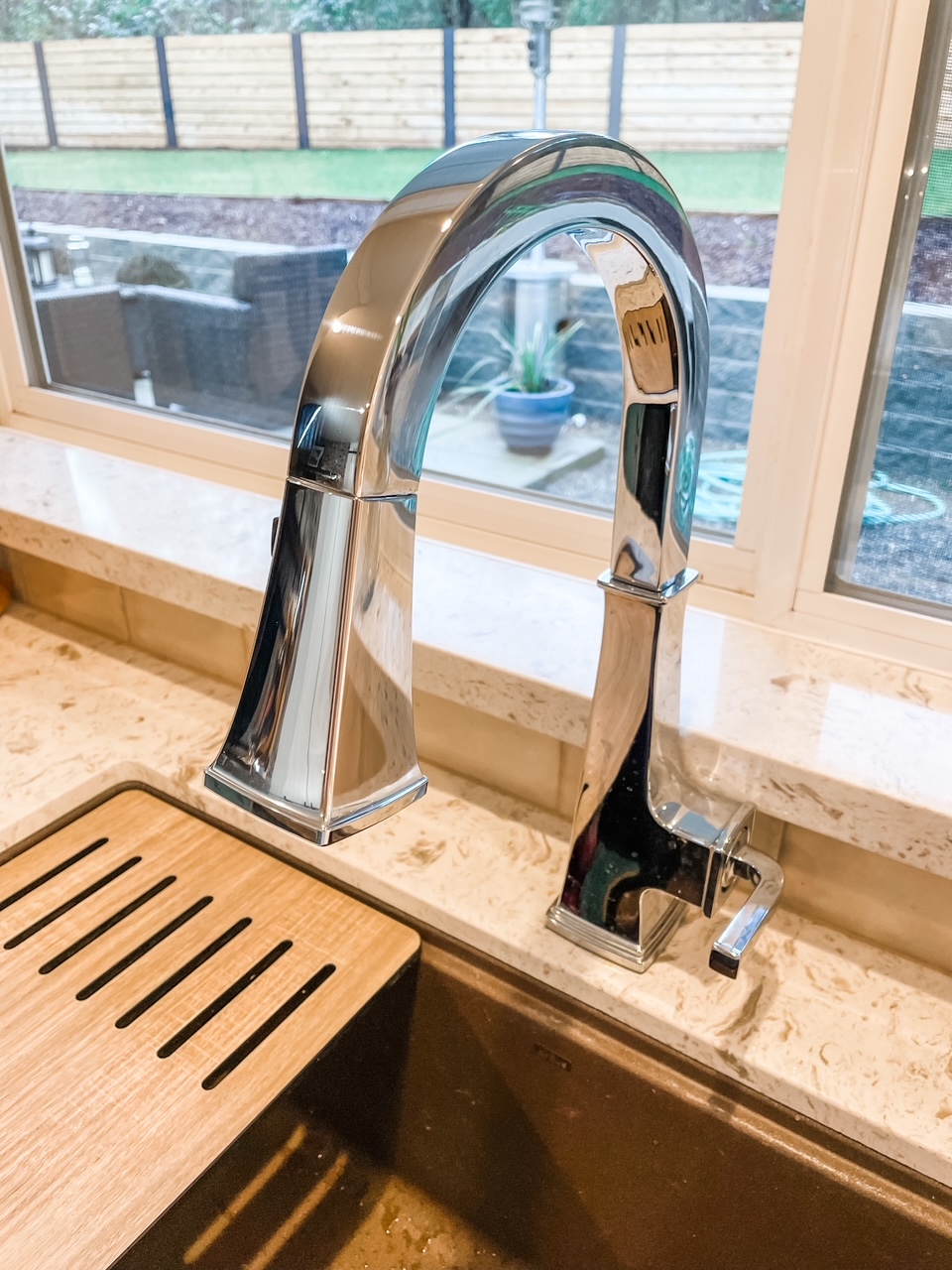 Drawer pulls are another small touch that makes a big difference. The model is called Transcend from Top Knobs. Again, I went with polished chrome but there are a variety of finishes available.
These Elfa white pull-out mesh drawers from The Container Store were something I installed myself. They make getting to items stored in the lower cabinets so much easier. I also installed a pullout 8-gallon trash can from the Container Store. It's nice to have the trash out of sight but still accessible.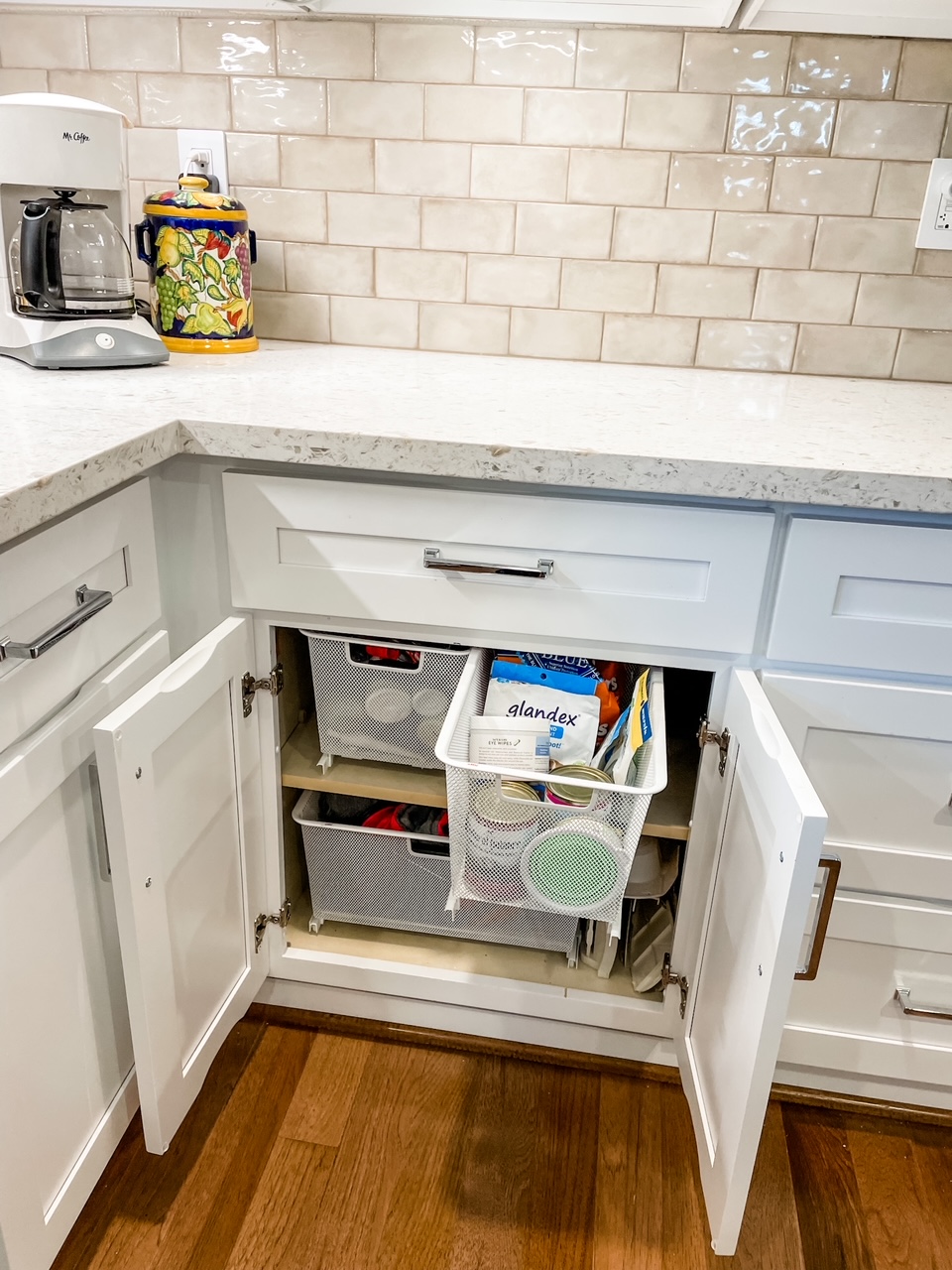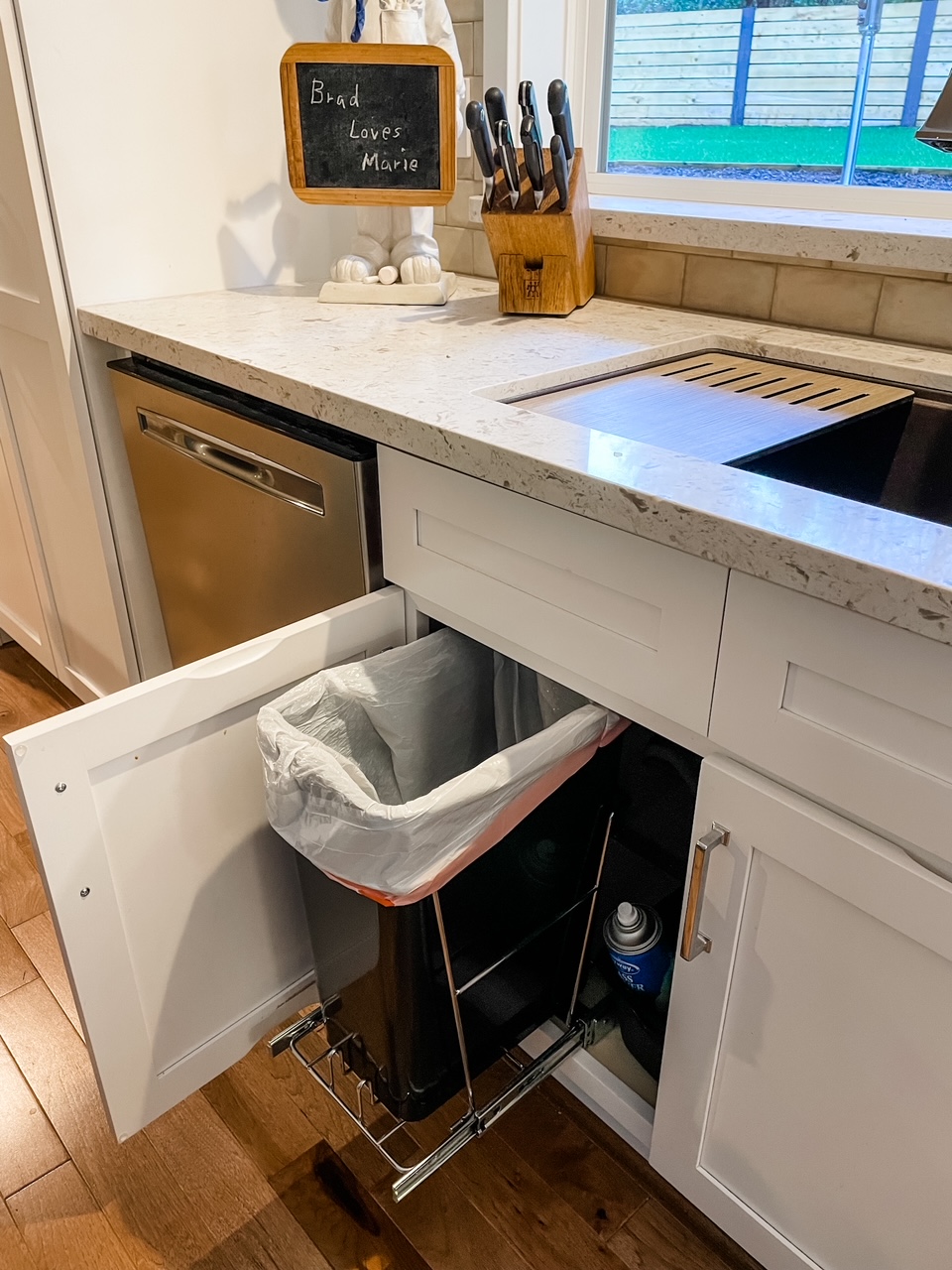 Oh, and one last little touch I just love? My contractor built these shelves for my cookbooks. It's so nice having them handy. And how great does the old telephone that hung in my husband's grandparents' house look in that spot!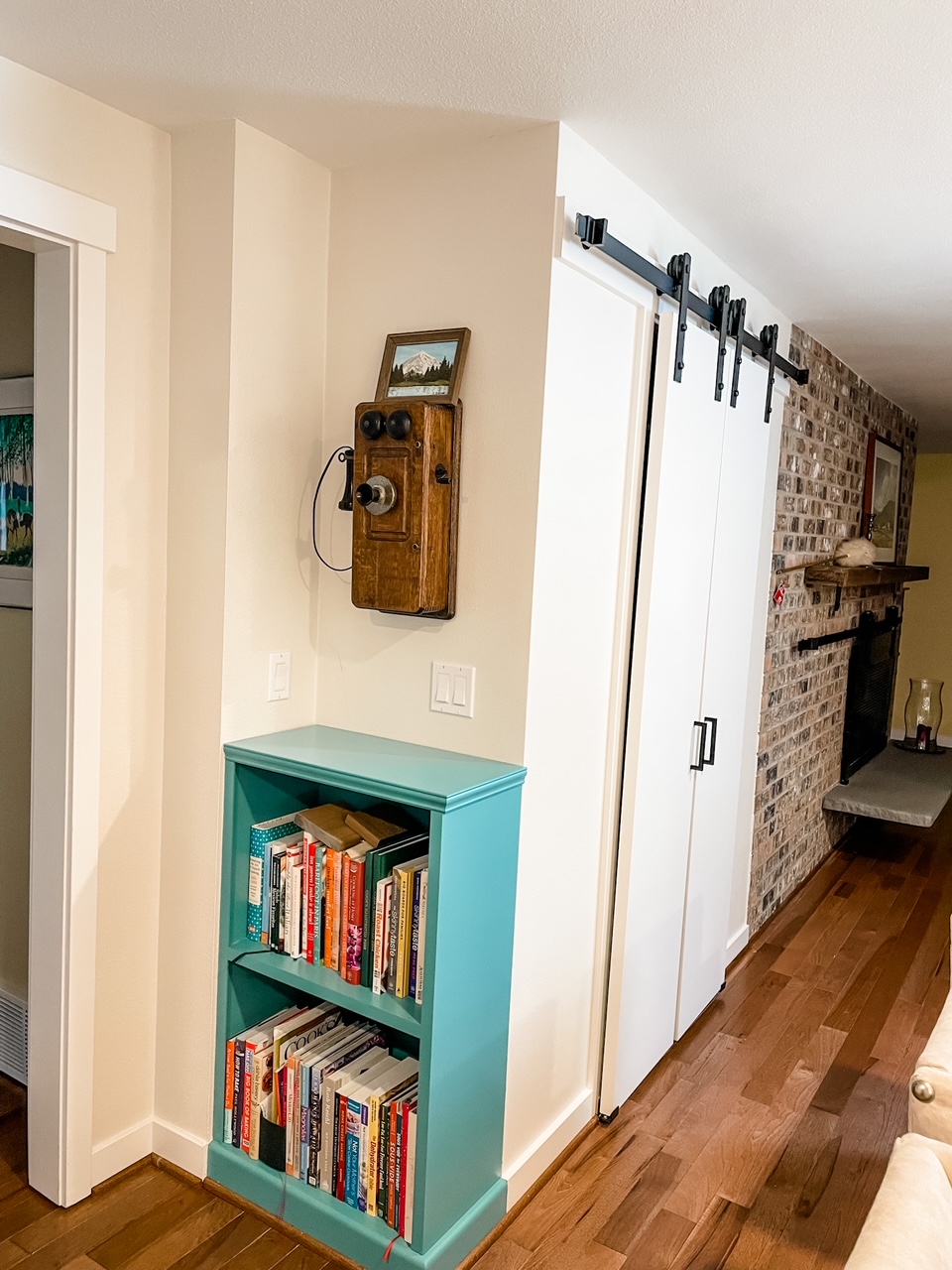 Kitchen Remodel: The Big Touches
By far the biggest change we made was adding the pantries and the island. It gave me SO much space! I love that everything in my new kitchen is organized with a place for everything and everything in its place. That makes cooking a pleasure.
And I love that I was able to customize my pantry with a shelf to store the microwave. I really don't like having anything on the counters that doesn't absolutely have to be there. He even built me a pullout mixer stand. That was something I got used to in my old house and I really loved it. I'm so happy to have a new one in this house.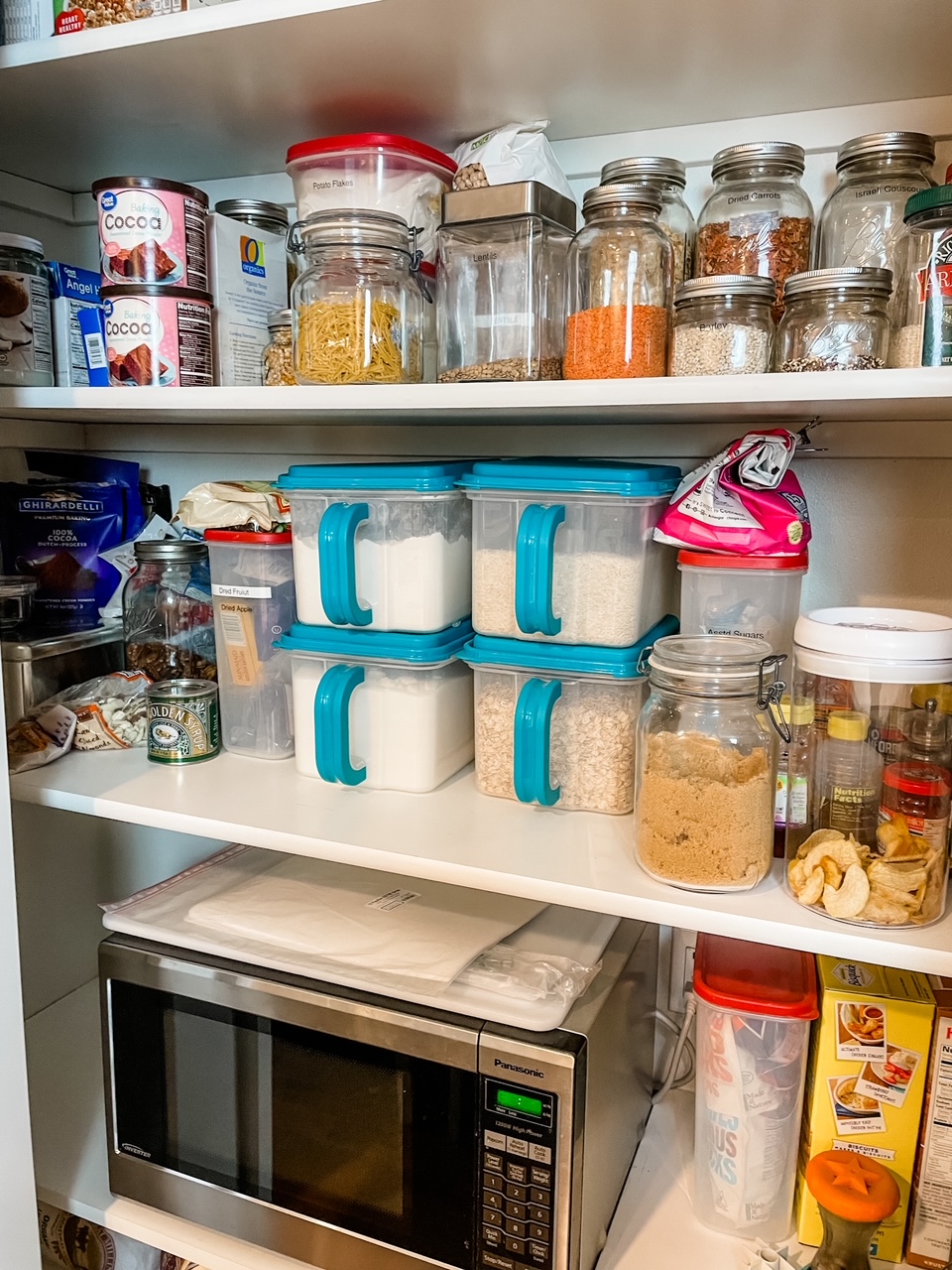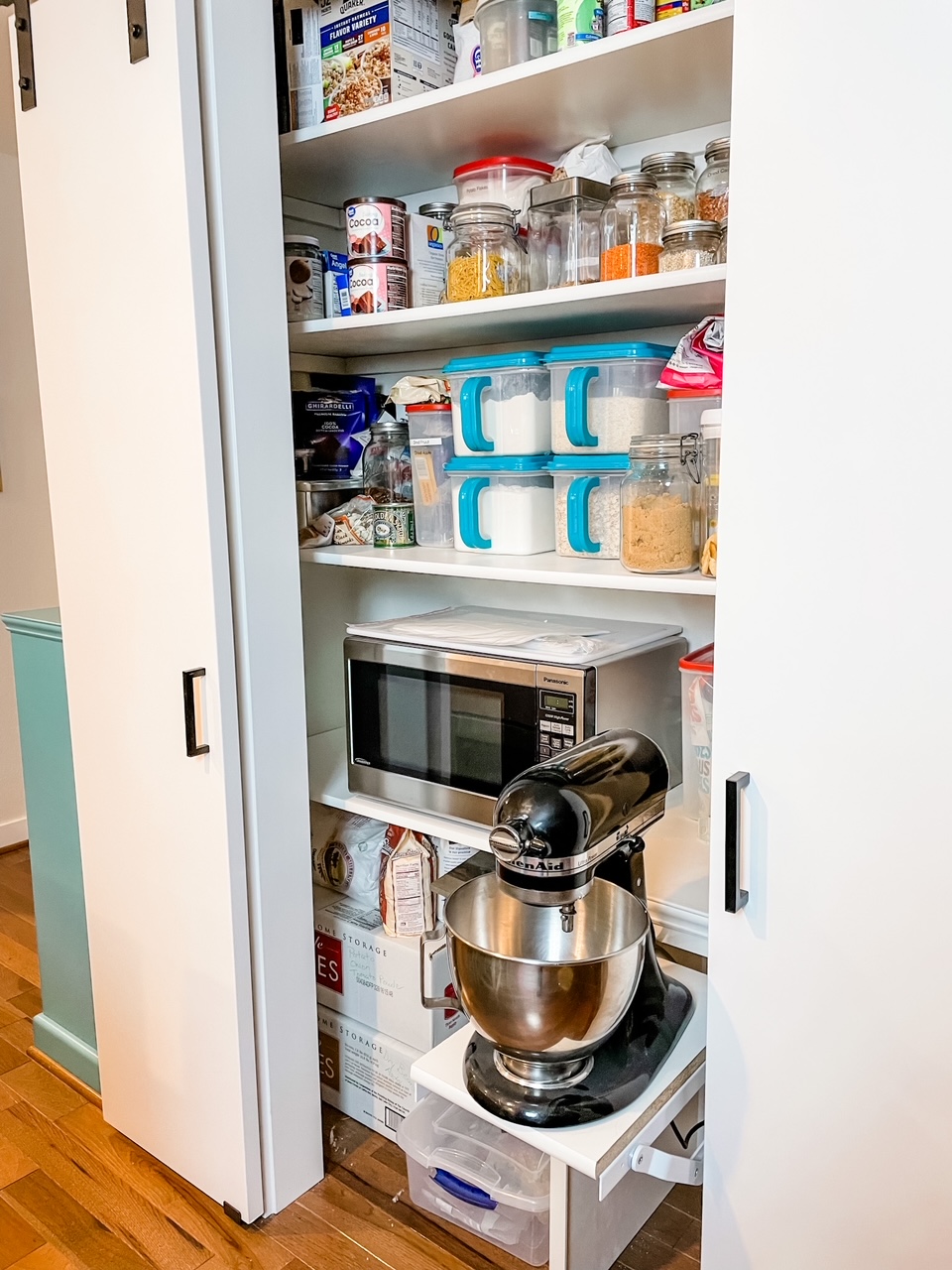 Figuring out what to do about the stove venting was tricky. With such low ceilings (ours aren't even quite 8 feet) I didn't want a big hood vent cutting up the room visually. The obvious solution seemed to be a downdraft vent that would fit in the island. But, for various reasons, that just wasn't going to work.
Finally, my contractor came up with the ingenious idea of installing some very strong, flush mount fans in the ceiling and venting them through the attic. They work great! A button installed next to the stove makes it easy to turn it on or off.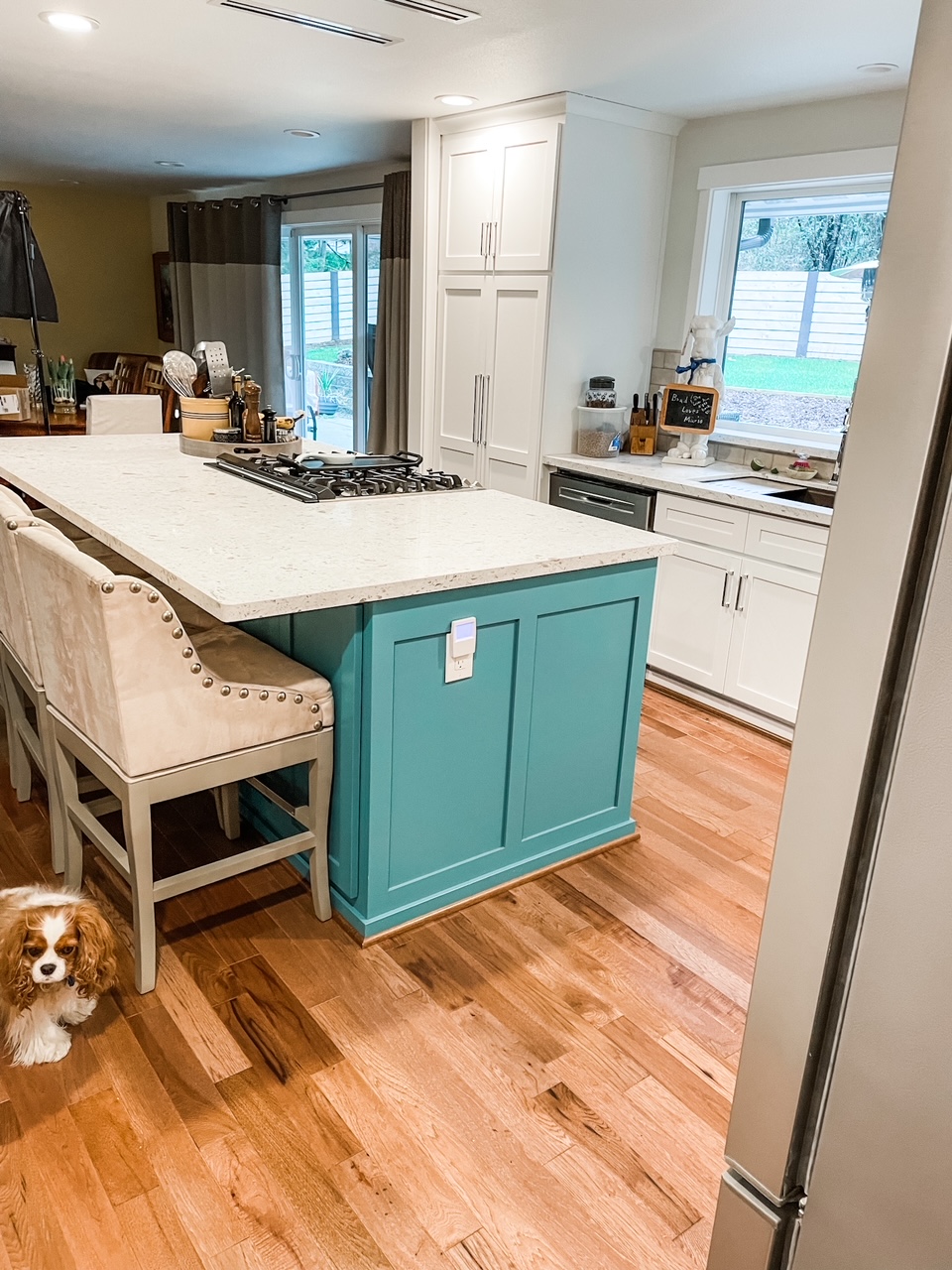 I asked my contractor to describe what he'd done and this was his answer. "It's an in-line fan motor connected to two custom-build boxes that house two linear diffuser vents." I still don't understand it but I know it works great and looks great.
Replacing the old light fixtures with lots of recessed lighting was one of the more expensive parts of this kitchen remodel. And it was worth every dime.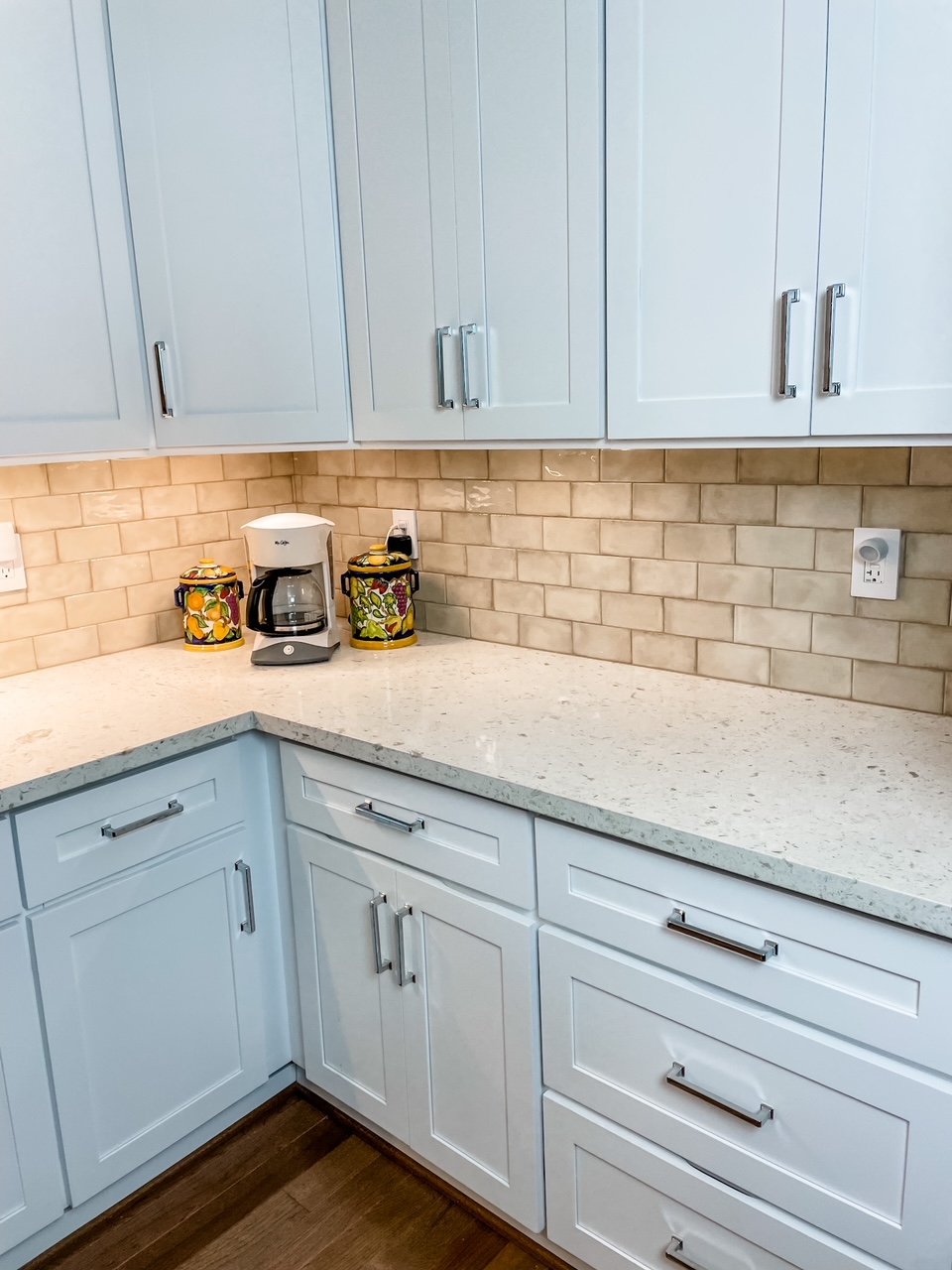 When you've got low ceilings recessed lighting can be truly transformative. I can't tell you what a difference it made, not only in how the kitchen looks, but how I feel when I'm in it. These lights have brightened my spirits as well as the room.
But, really, just about everything in my new kitchen makes me smile. It's been quite a journey but I love cooking here. For me, the kitchen really is the heart of the home.
Putting my own stamp on this kitchen has been a big step in the process of turning our new house into our new home.