This post may contain affiliate links. Full disclosure policy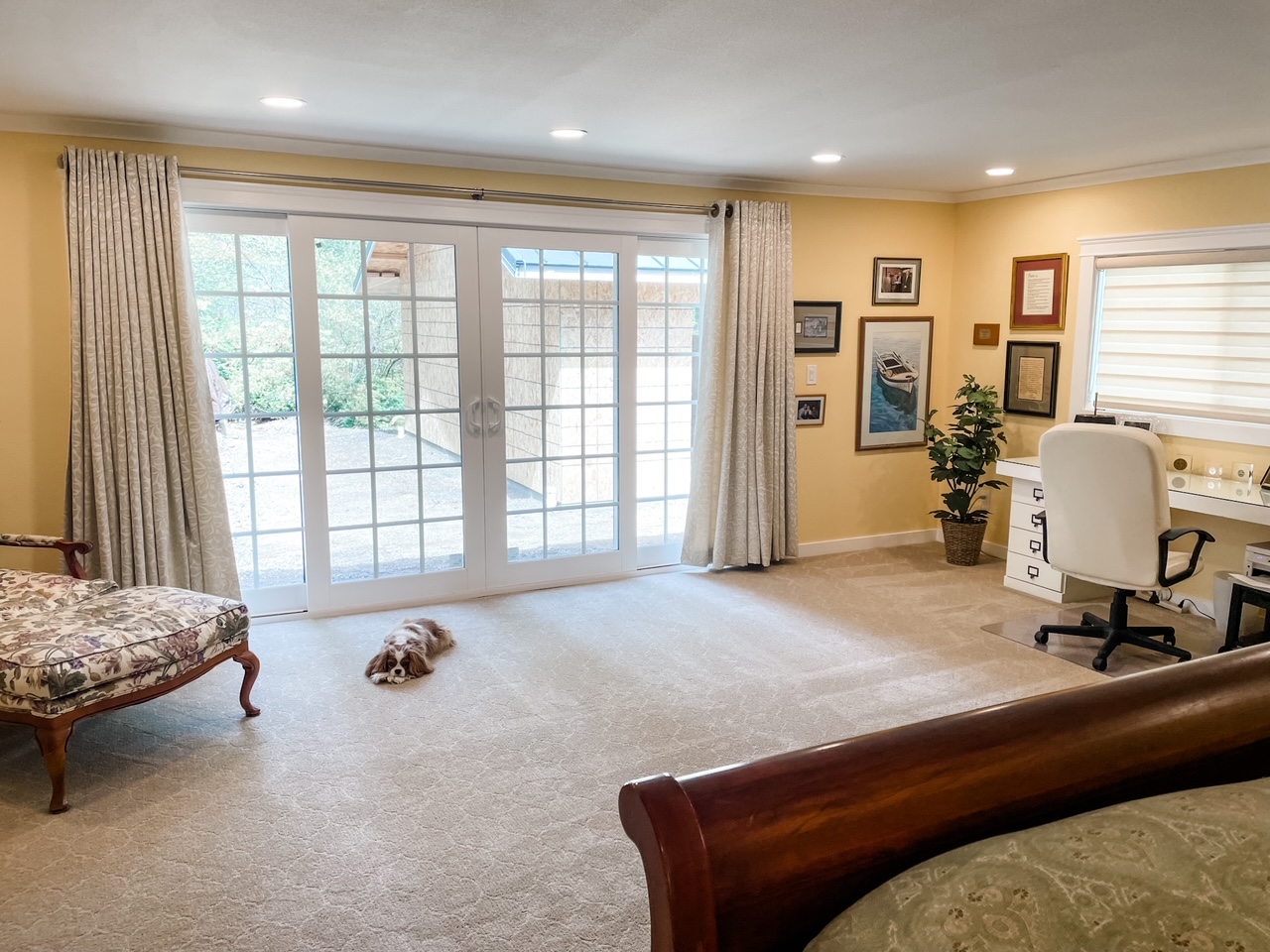 Our garage to a primary suite conversion took time, work, and money. And I'll be truthful; I had some doubts when we began the converted garage project. But now that we're finished, I think it will prove to have been a smart investment.
To begin with, it's added greatly to the livability and functionality of our home. And because the converted garage to a primary suite added about five hundred square feet to the footprint, we've also increased the value of our home.
We're not planning to sell anytime soon and, of course, housing markets fluctuate. But if we were to sell our house in the current market, we'd likely get back what we've spent on all our remodeling projects – kitchen, offices, etc. – because the house is so much larger.
That's a good feeling. However, the real reason we undertook this project was to increase our comfort and enjoyment of the house. On that score for this converted garage, it's definitely mission accomplished.
Finally, this feels, lives, and looks like our house!
The Journey from Before to After: Converted Garage
Though I know you're probably chomping at the bit to see pictures of our finished primary suite conversion, you'll appreciate them more if I take you back to the beginning.
We sold a house in Central Oregon and moved to Washington state during the summer of 2021. The housing market was red hot, and finding a place that came anywhere close to our requirements wasn't easy. And when it came to our wish list, we had to be flexible.
However, one item was make-or-break for us. After my husband broke his ankle last year, we knew we needed a single-story house. Or at least a house with a main floor bedroom. Also, because we both work at home and aren't ready to downsize, we needed a minimum of 2,000 square feet.
Finding a house that fit the bill turned out to be much more difficult than we would have guessed. Eventually, we found and bought a roomy, dated 1970's rancher on a really nice lot.
After the initial elation of submitting a winning bid faded, I nosedived straight into a bad case of buyer's remorse. Yes, it was one level, spacious, and had a pretty yard. But the inside was dated, dark, and not at all to my taste.
What had we done?
Remodeling Rescue – A Converted Garage
My panic was real but, fortunately, short-lived. As I walked through the house with an old friend who is also a decorator, I realized that even though it wasn't my style, the house had good bones.
With a little imagination and a lot of remodeling, it could be beautiful.
Almost as soon as we got the keys, we found a contractor and set out to help our rancher live up to its potential. Making that happen required a series of projects.
You can read about our first steps on the road to remodeling by clicking this link. See the transformation of two small bedrooms into my spacious writing and sewing studio here. And check out the before and after of the kitchen remodel here.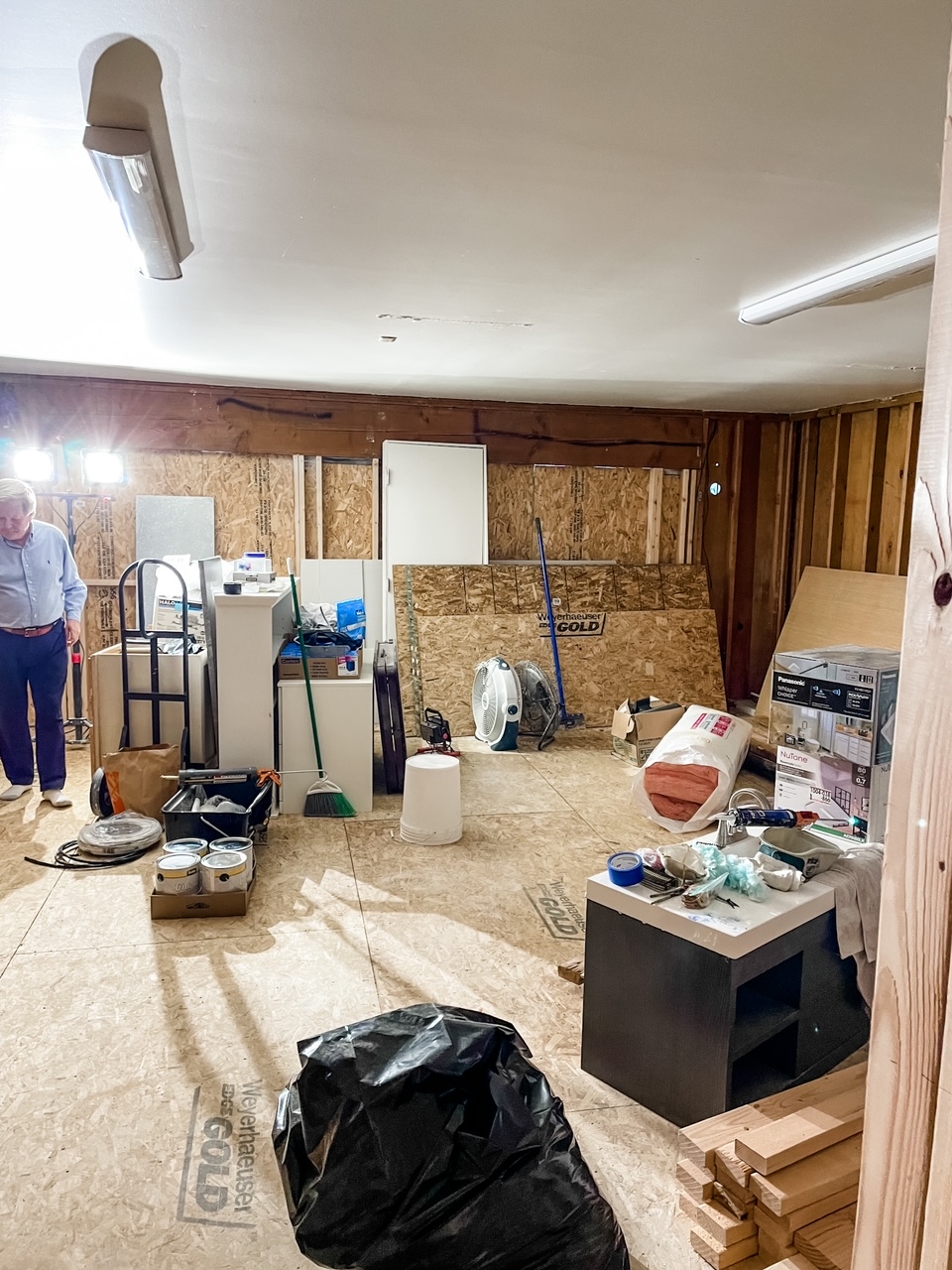 Our project started with an ordinary, two-car garage, plus a small, dark bedroom and a little bathroom at the back of the house.
I'll discuss the bathroom and closets in part two of my Converted Garage to Primary Suite post. Today, I'm just talking about the bedroom, which utilized the space from the old garage.
So let's get to it!
From Garage to Gorgeous – Making it Match
The first step in the process involved removing the double garage door and putting a brick half wall and siding in its place. We were at pains to make sure that the new bedroom wing looked like it had been there all along and not like…well, a converted garage.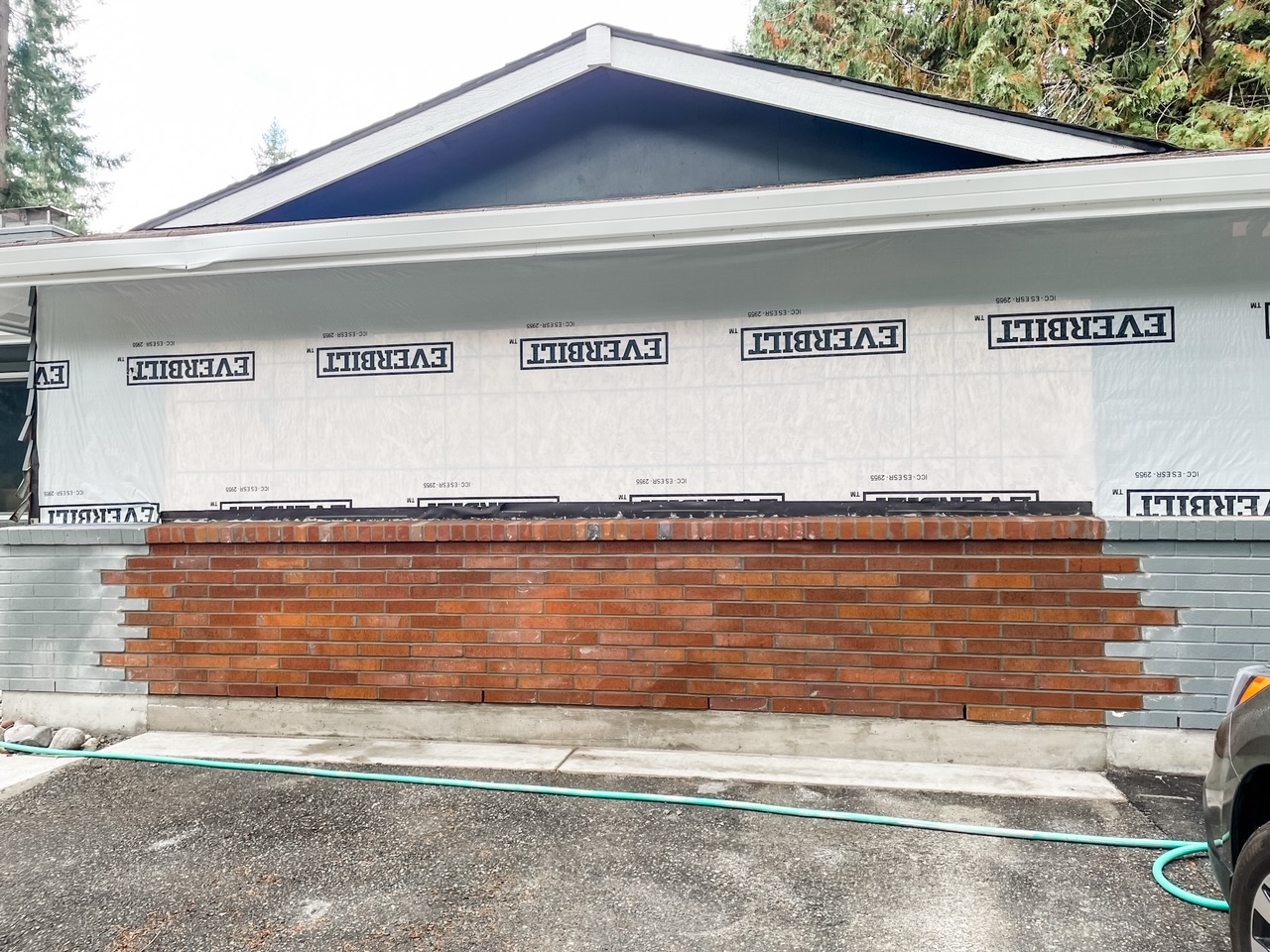 The fact that the footprint of the house was fairly symmetrical, with the size and shape of the garage mirroring the bedroom wing on the opposite end made that easier. The new brick half wall matched the other walls, and we decided to put in two windows to match those in the old bedroom area.
That was the plan.
Unfortunately, the garage header made it impossible to install windows that were as tall as the windows in the other bedrooms. So we went with windows that were slightly shorter but the same width. It worked out just fine in the end. I doubt most people will notice the difference.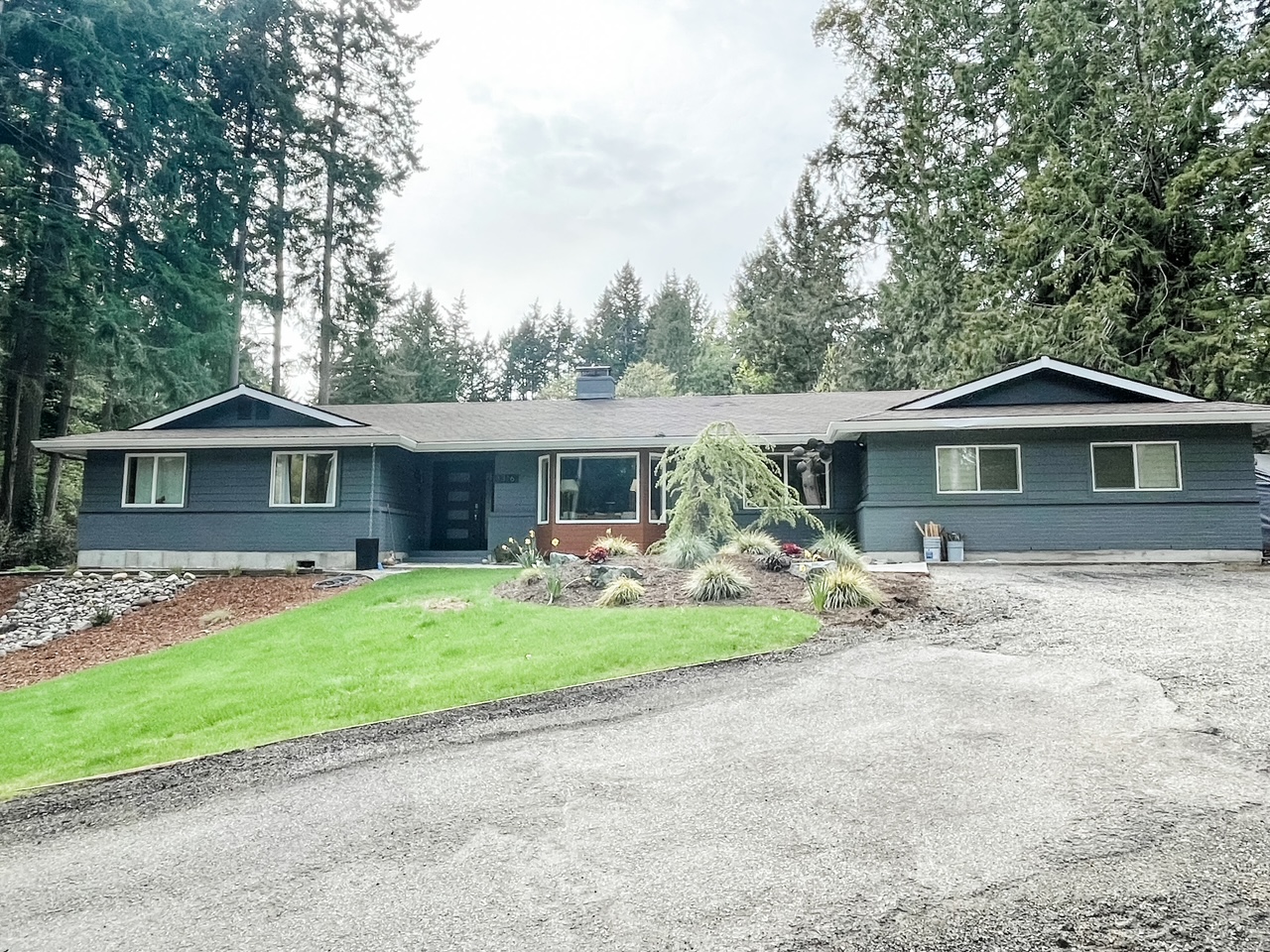 Let There Be Light
Those two windows definitely helped brighten up the space. However, an old double garage really is a big space. I wanted to bring in some more light. The best way to do that was to install glass doors.
I've always loved French doors. The divider panes are visually appealing and can add architectural interest to otherwise boring spaces. (Believe me, unless you jazz it up, nothing is more boring than an old garage.)
But the opening and closing required by French doors can eat up a lot of space where you might want to place furniture. Also, they didn't feel secure enough for a bedroom.
In the end, we decided to install twelve-foot sliding French patio doors. It marries the beauty of French doors with the practicality of a slider. They're attractive, bring a ton of light into the room, and use up zero floor space. Also, with the addition of security bars, hard to break into.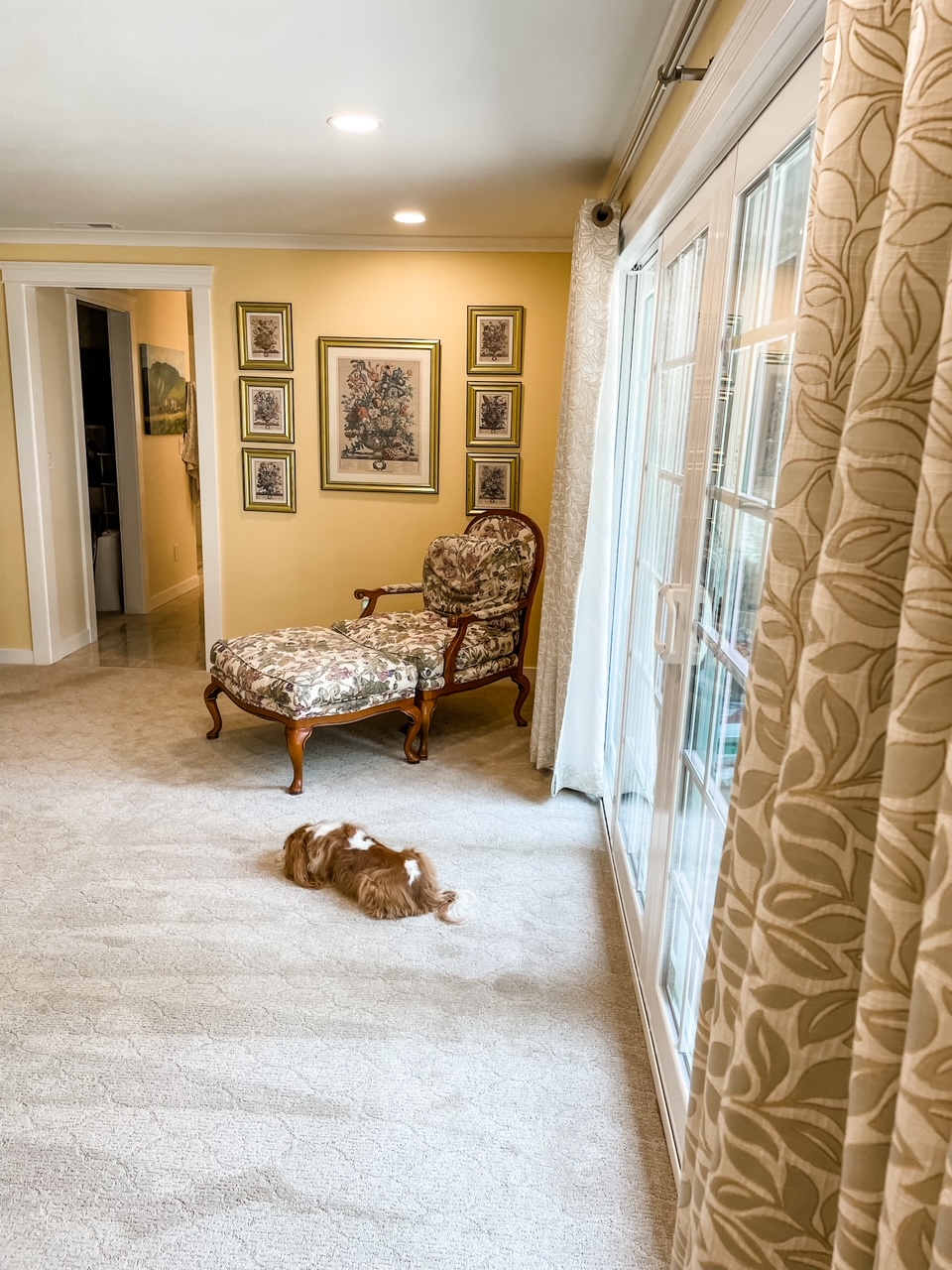 We special ordered our French sliding patio doors from Milgard. Delivery took five months. Because of that, installing the patio door was one of the very last things we did. For weeks, our bedroom "wall" was a piece of taped, reflective insulation.
However, the French sliders were definitely worth the wait! They're gorgeous!
The view from the window is pretty rugged at the moment but that will change before long. We're already working on a deck and garden design to be installed once the house projects are finished. And the new garage. And the new driveway…
(Home improvement really never ends, does it?).
Walls, Floors, and Lighting
With the exterior complete and the windows installed, the rest of the garage to primary suite conversion was pretty straightforward.
We floated a floor over the old concrete and added some insulation beneath. Once the wiring was in place, the walls and ceiling were insulated and sheetrocked. We also installed lots of recessed lighting, as we'd done when remodeling the kitchen.
In a house with low ceilings, recessed lighting can be truly transformational!
Home Office for Hubby
My husband works at home too and needed an office. Fortunately, our new bedroom has plenty of space.
I've used Original Home Office modular cabinets from Ballard Design in several of my offices. I love the look, functionality, and flexibility of these cabinets. They're easy to rearrange or reconfigure, making it easy to create an efficient, attractive design in virtually any space.
If you move as often as I do (or just like to redecorate now and then), flexibility is important!
I already had six Ballard cabinets on hand. I kept two to make a desk in my office. The other four were used to create an attractive and functional office for my husband. He's got lots of drawers and room for files, plus a big work surface.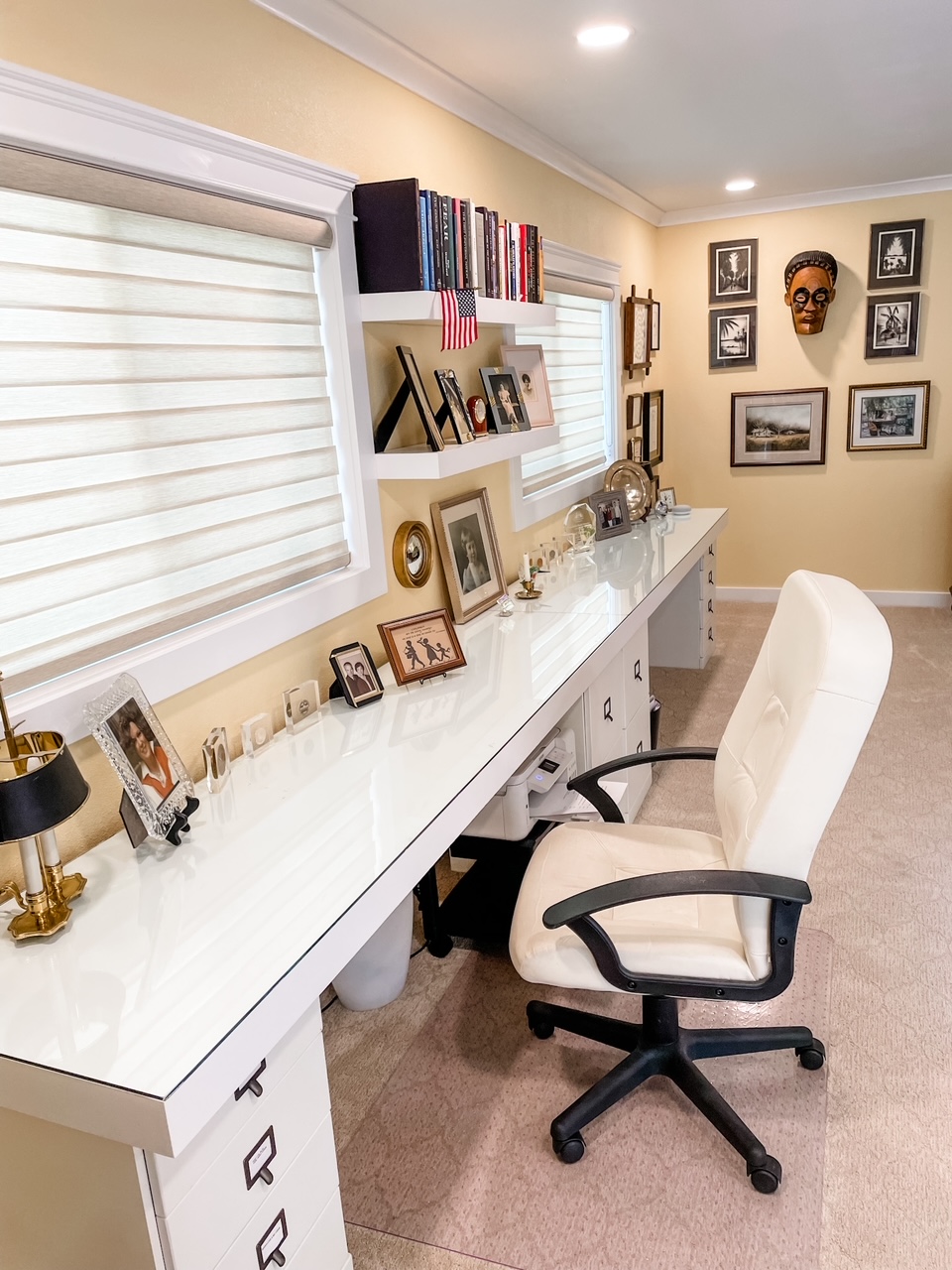 The Original Home Office Collection offers work surfaces in a variety of colors and materials. You just set them on top of the modular cabinets to create desks, credenzas, etc. I have a zinc surface on my desk and really like the look.
However, since my husband's work area was so long, our contractor built and painted a custom worksurface for him. We topped it with glass to prevent scratching and smudges.
A final touch for the office was to add some floating shelves between the windows. They're fairly sturdy but primarily decorative, giving him a place to keep a few books and photos.
I'm so happy with the way my husband's office turned out. And so is he!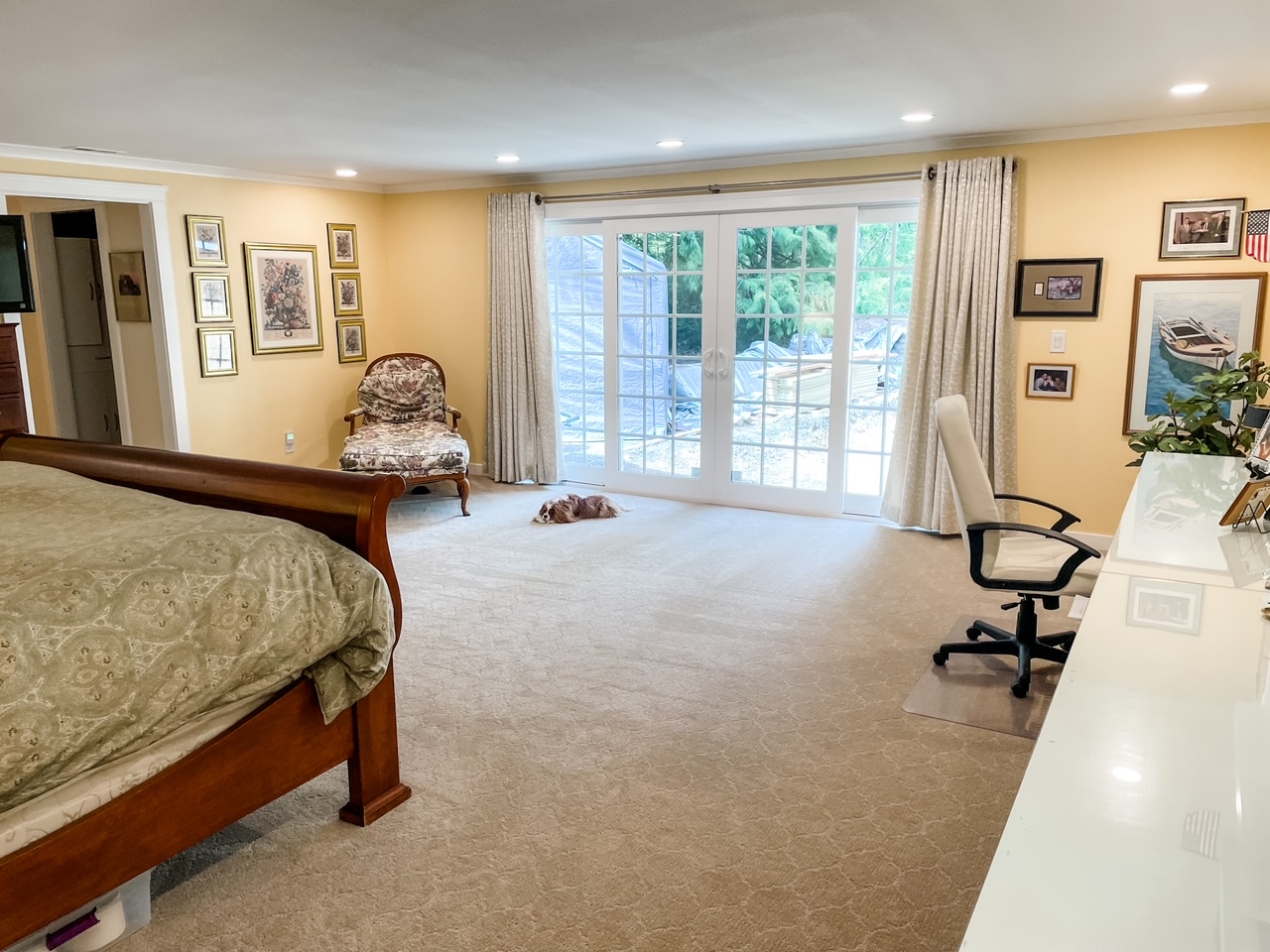 Decor and Done!
For the flooring, we installed tan carpeting with a simple geometric pattern. It's a little more interesting than a regular carpet without being overly busy.
As was the case in most of the rest of the house, we painted the walls a warm, medium shade of yellow. When you live in an area that gets as much rain as we do in Washington, having a cheerful color on the walls helps lift your spirits. The white painted ceiling and molding paint is a nice contrast against the yellow.
One of the last decisions I had to make was to add molding. Or not.
There isn't any upper molding in the rest of the house and some people say you shouldn't install molding if the ceilings are low. But the space is very large, so I thought it could handle it.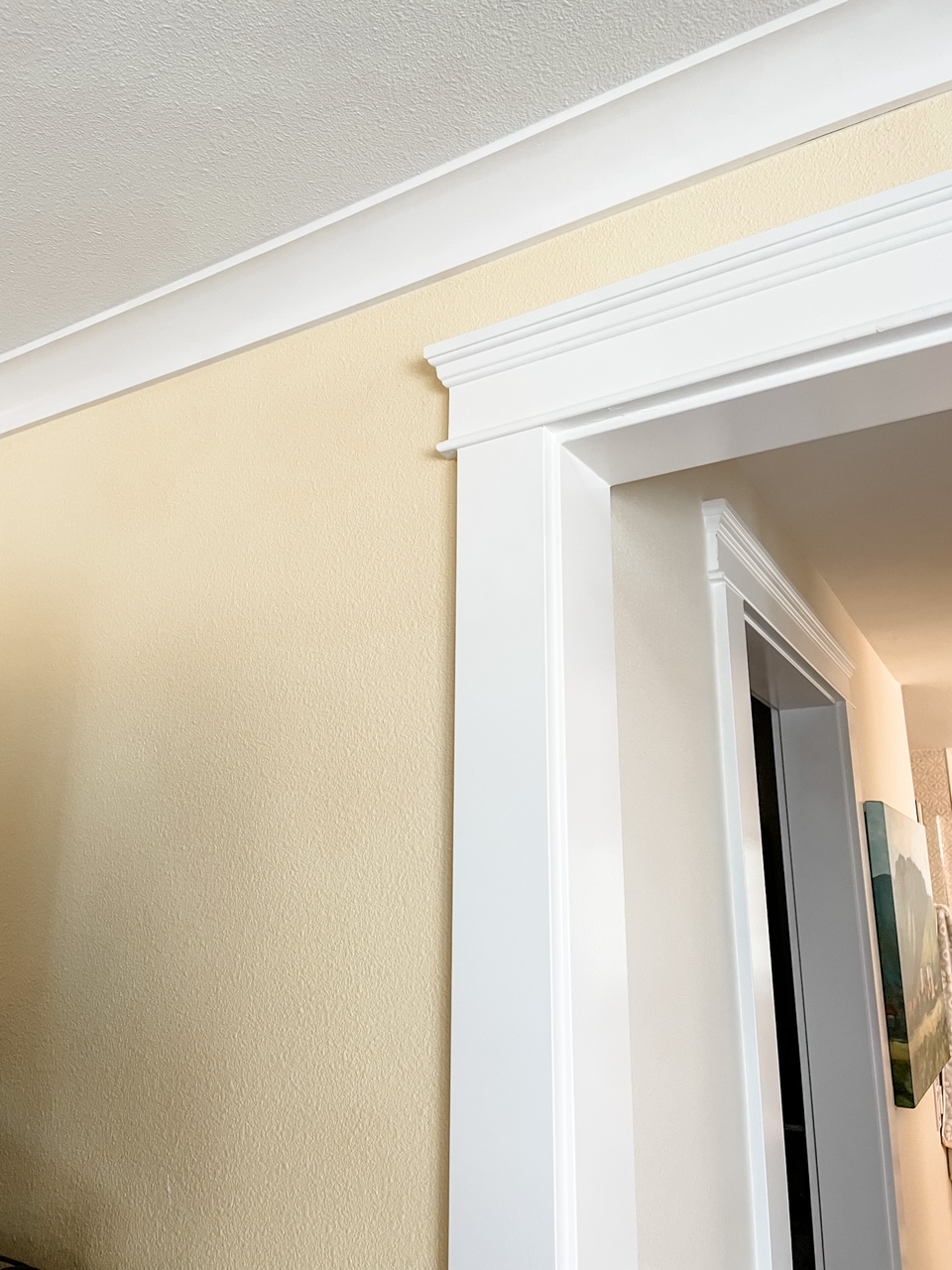 We went with a simple, four-inch cove molding on the ceilings, and added some extra trim to the tops of the doors and windows. I love the way it looks.
Now that it's done, I really love everything about our converted garage, or rather, new bedroom. It's pretty, bright, spacious, and functional. Most importantly, it's absolutely US!