This post may contain affiliate links. Full disclosure policy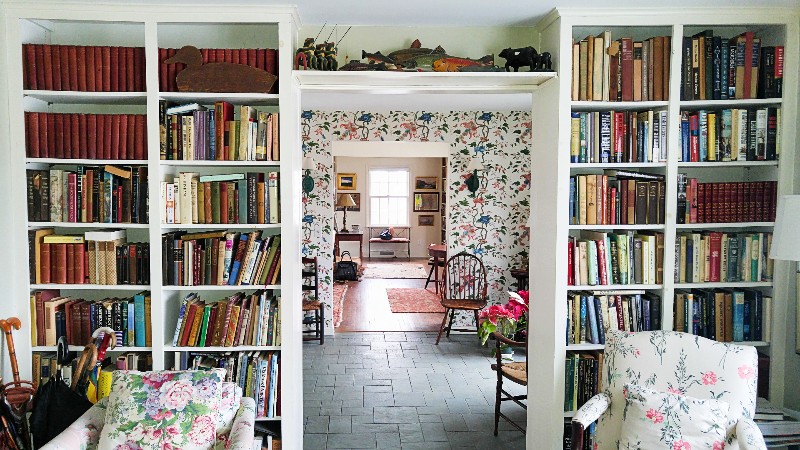 "I'm not going anywhere without my books."
The declaration I made in the early years of my marriage has held true through four decades and twenty-plus moves. And while I know that loads of people love their devices, reading on a screen doesn't cut it for me. Books are precious to me, so they go where I go.
Every true bibliophile knows that book collections grow quickly and finding book storage solutions is an ongoing challenge. As we're unpacking some of the final boxes from our move, I am challenged yet again. Where am I going to store these books?
Researching possible book storage solutions this week turned up some interesting and creative ideas. I know that many of you love books as much as I do, so I thought I'd share some of those ideas.
Read on book storage solutions that I've used in my own home, as well as some I'd love to try in the future.
Book Storage Solutions: Dining Room to Library
Formal dining rooms are often the most underutilized spaces in the house. For many people, the ideal book storage solution is letting the dining rooms do double duty as a library.
Personally, it's a look I love. Not only does it solve the book storage problem, but it also makes potentially cold spaces feel cozy and welcoming. And there are so many ways to do it!
I love this sleek, modern dining library I found on The Art of Doing Stuff. If you prefer a more formal look, you'll get lots of inspiration from this post at Creating This Life.
Our new home came with a small, fairly useless dining alcove. I elected to give it over entirely to bookshelves and my piano, creating a library/music room. I'm so thrilled with the way it turned out! Not only does it give me a lot of book storage, but it's also an attractive extension to our living room.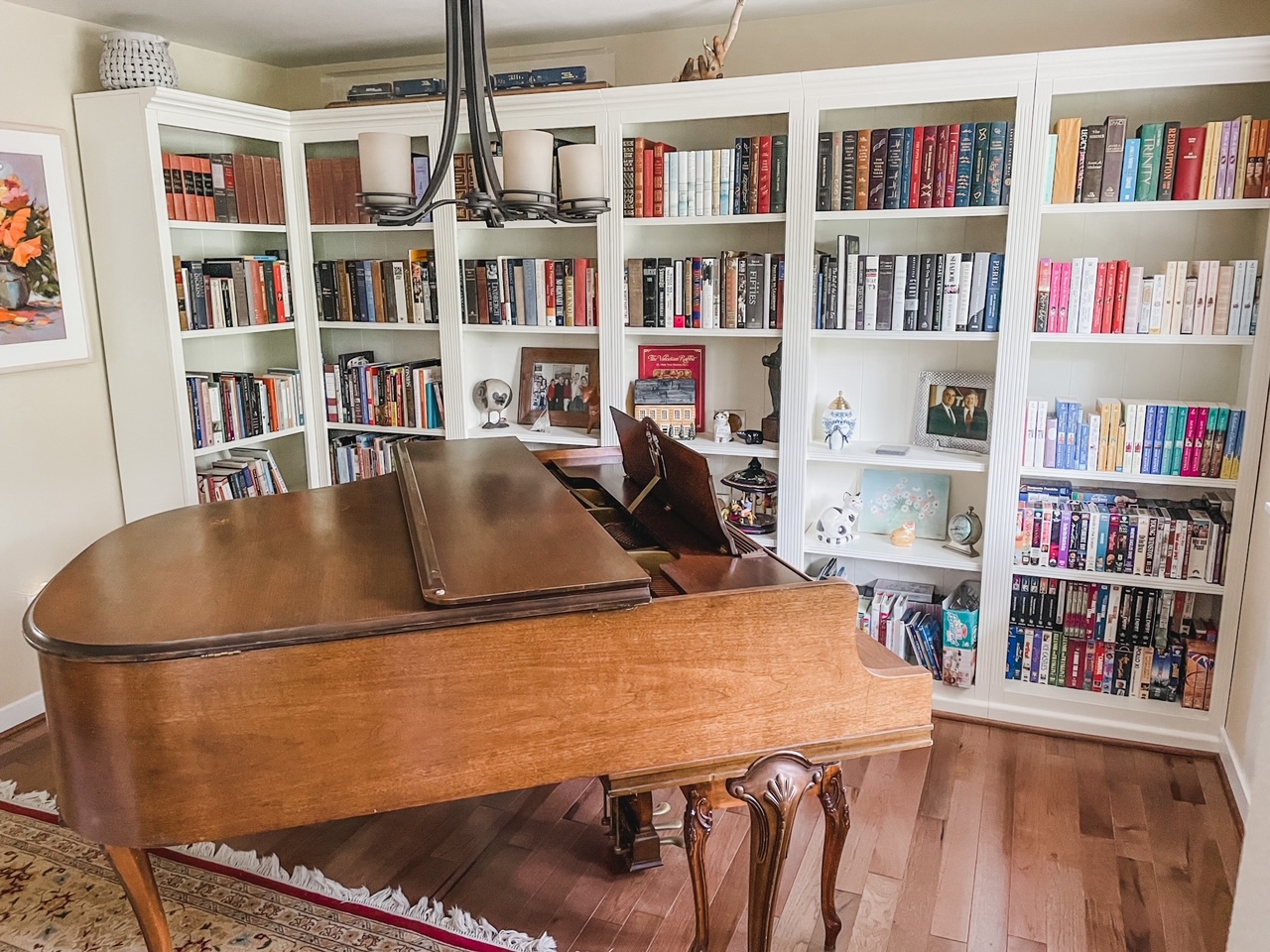 Book Storage Solutions: Bookshelf Doors
Installing bookshelf doors might be one of the coolest book storage solutions ever! There's something so magical about a hidden door behind a wall of books, don't you think? Because as any booklover knows, so many great stories start with a hidden door.
Bookshelf doors can be a little pricey at first glance, but they're actually not that much more expensive than purchasing a regular tall, high-quality bookcase. I like this one from Lowe's that you can paint or finish in any color you choose.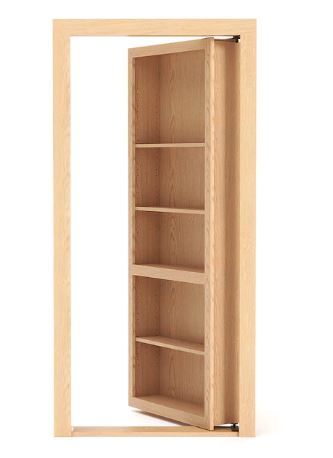 Book Storage Solutions: DIY Upgrades of IKEA Billy Bookshelves
If you love books, you probably know all about Billy bookshelves from Ikea. They're an affordable and practical book storage solution. I've used them for years. In fact, I just took delivery on three more sets that I plan to use in our guest bedroom.
Of course, the downside is that they look utilitarian and a little cheap. I mean, what do you expect from a $99 bookshelf?
But the internet is full of ideas for DIY upgrades of Billy bookshelves. One of my favorites is the gorgeous painted DIY library from Abigail Amira. I may borrow some of her ideas from our guest room shelves. Quite a bit of work but the results are so worth it!
Book Storage Solutions: Under the Stairs
Staircases are another potentially wasted space that can be terrific for storing books. It can also add a lot of architectural interest to the room.
This article from Small House Décor includes a lot of ideas for transforming below stairs area into all kinds of useful spaces – including offices, pantries, and playrooms. But the first photos give lots of inspiration for under stair bookshelves.
Book Storage Solutions: Cookbook Shelves in Kitchens
Though I've weeded them out in recent years, I still have a lot of cookbooks that I want close at hand. During our kitchen remodel, we added a built-in bookshelf to a small, potentially useless wall. It gives me plenty of cookbook storage while leaving room to display the antique phone that belonged to my husband's grandparents.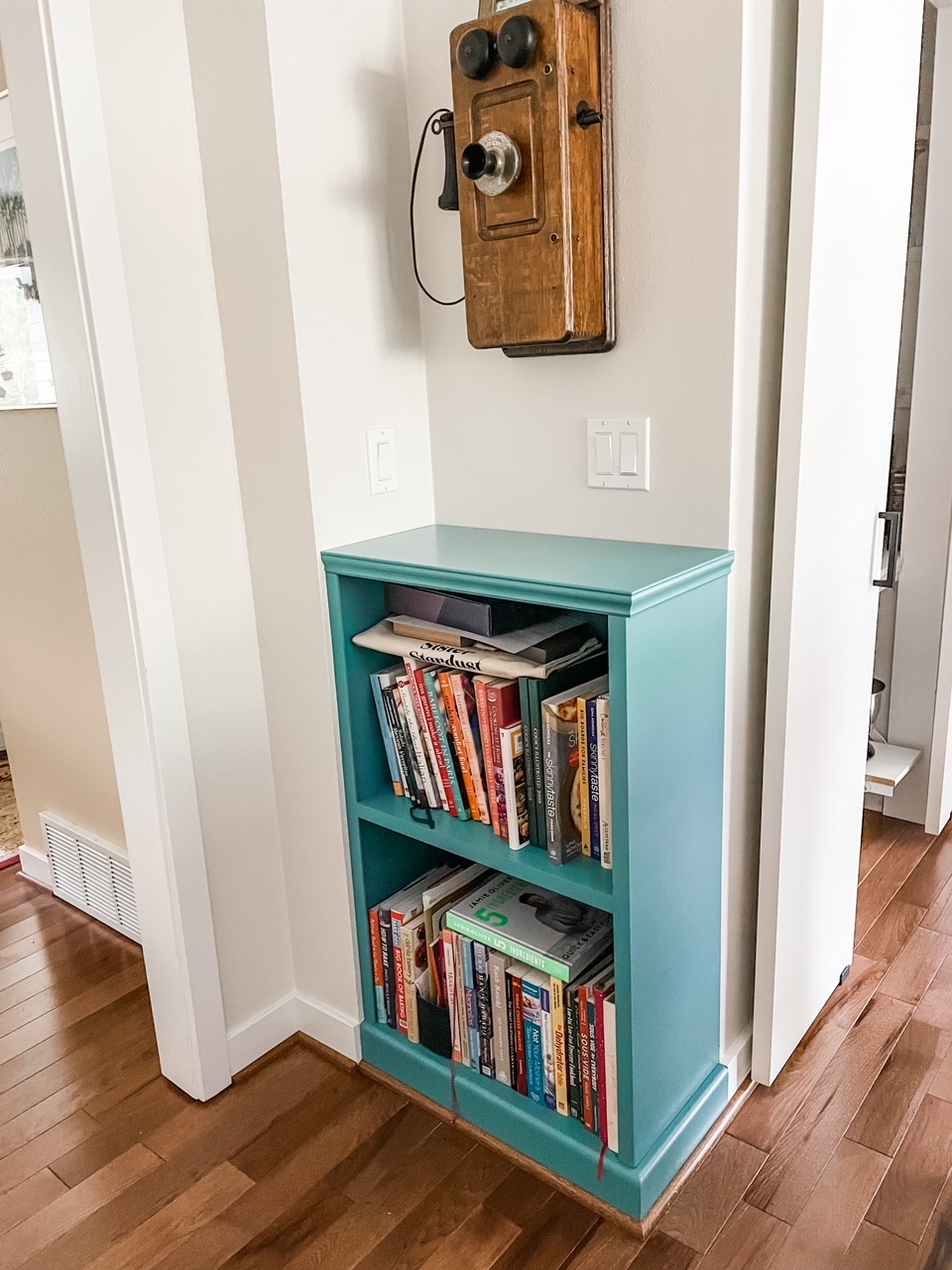 In our last house, we built the cookbook shelves into the island and I loved it. It's a really smart book storage solution. But not everybody can do that. I recently came across this photo from Décor Pad that shows how you can just tuck a standalone bookshelf under the lip of an existing island. Such a smart idea!
Book Storage Solutions: Bookshelf Room Dividers
Bookshelves aren't just for walls!
When my boys were little and sharing a bedroom, I used bookshelves to give each son a defined space and more privacy. In our old house in Connecticut, I used bookshelves to divide my office area from the rest of the family room.
If you've got a large space, using open bookshelves to definite is a practical solution to store books without making the room feel cut up. I really love this geometric open bookshelf from Wayfair. It's so pretty and a great way to store and display books as well as decorative accents.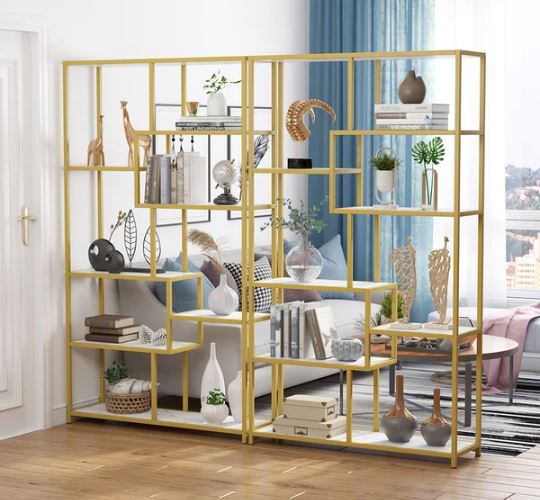 My Bathtub Bookshelf Fantasy
As a dedicated bathtime reader, I just adore the idea of having a bookshelf within arm's length of the tub! I'll probably never have a bookshelf like this on I saw at Décor Pad, but wouldn't it be great? This is the stuff Pinterest dreams are made of!
When it comes to bookshelf storage solutions, there's really no end to what you can do. But if you love books as I do, I hope this post gave you a little inspiration for fun, attractive, and practical ways to store your precious books.