This post may contain affiliate links. Full disclosure policy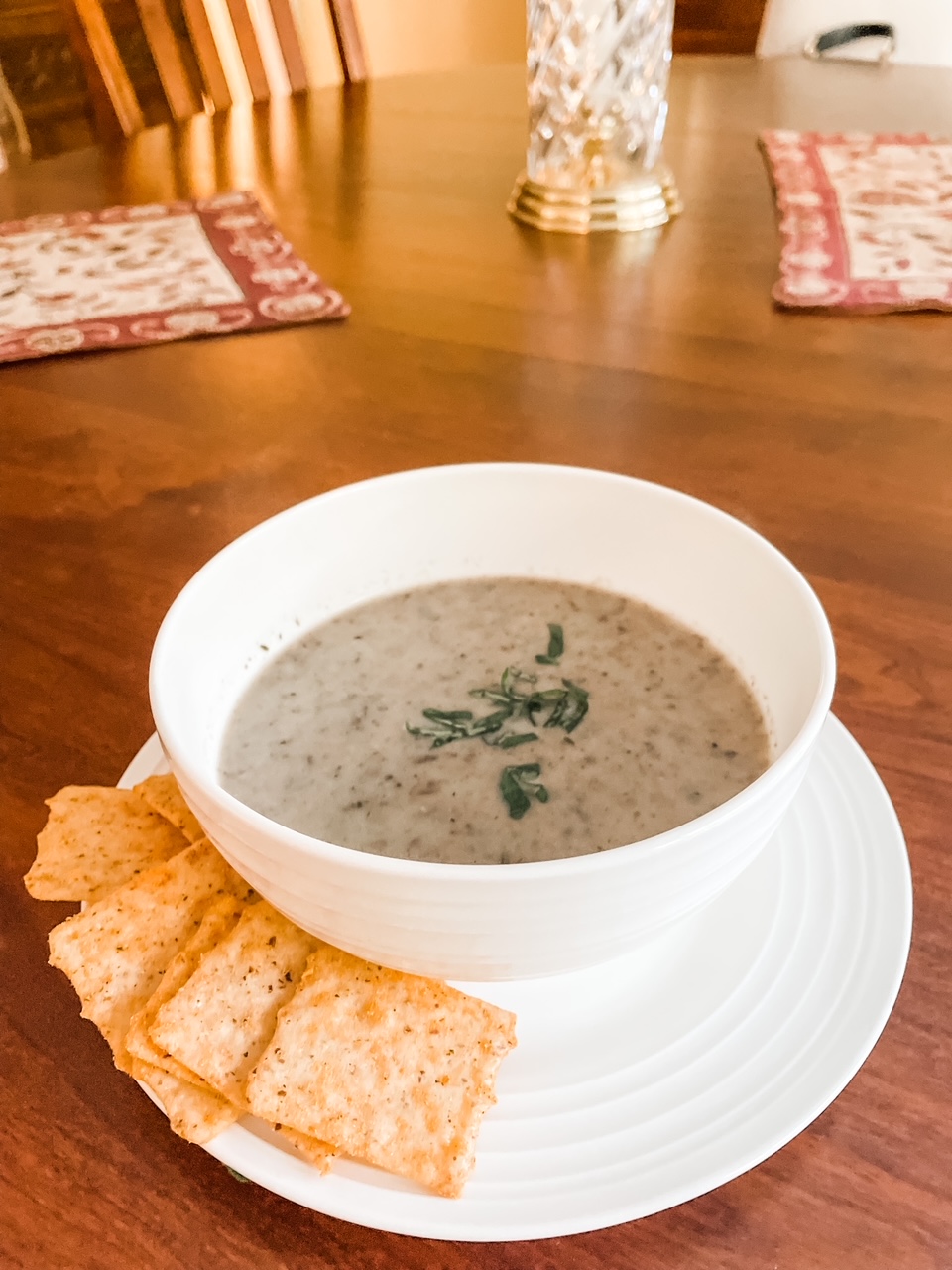 My Creamy Garlic Mushroom Soup recipe is savory and rich, loaded with earthy, garlicky mushroom flavor. A lighter take on the classic that's just creamy enough. Perfect for lunch or as the first course at dinner.
Not Your Grandma's Mushroom Soup
When you think of mushroom soup, chances are good that one of those red and white cans we all grew up with comes to mind.
You know what I'm talking about, right? That thick-enough-to-stand-a-spoon-in, barely tan "recipe soup" that our grandmothers used for casseroles.
Then and now, canned cream of mushroom soup serves its purpose. I still keep it on hand for some of my favorite comfort food recipes, including my Healthier Green Bean Casserole and Broccoli Rice Casserole with Chicken. Both are very popular at our house!
But when I want to actually have a bowl of mushroom soup, as opposed to adding some to a recipe, I definitely make it from scratch. Because the problem with the canned stuff is that it doesn't really taste like mushrooms.
Mushrooms do have a fairly subtle flavor. My Creamy Garlic Mushroom Soup brings it forward by using plenty of mushrooms and pairing them with ingredients that will complement the flavor, not overpower it.
Creamy Garlic Mushroom Soup – Lots of Mushroom and a Few Extras!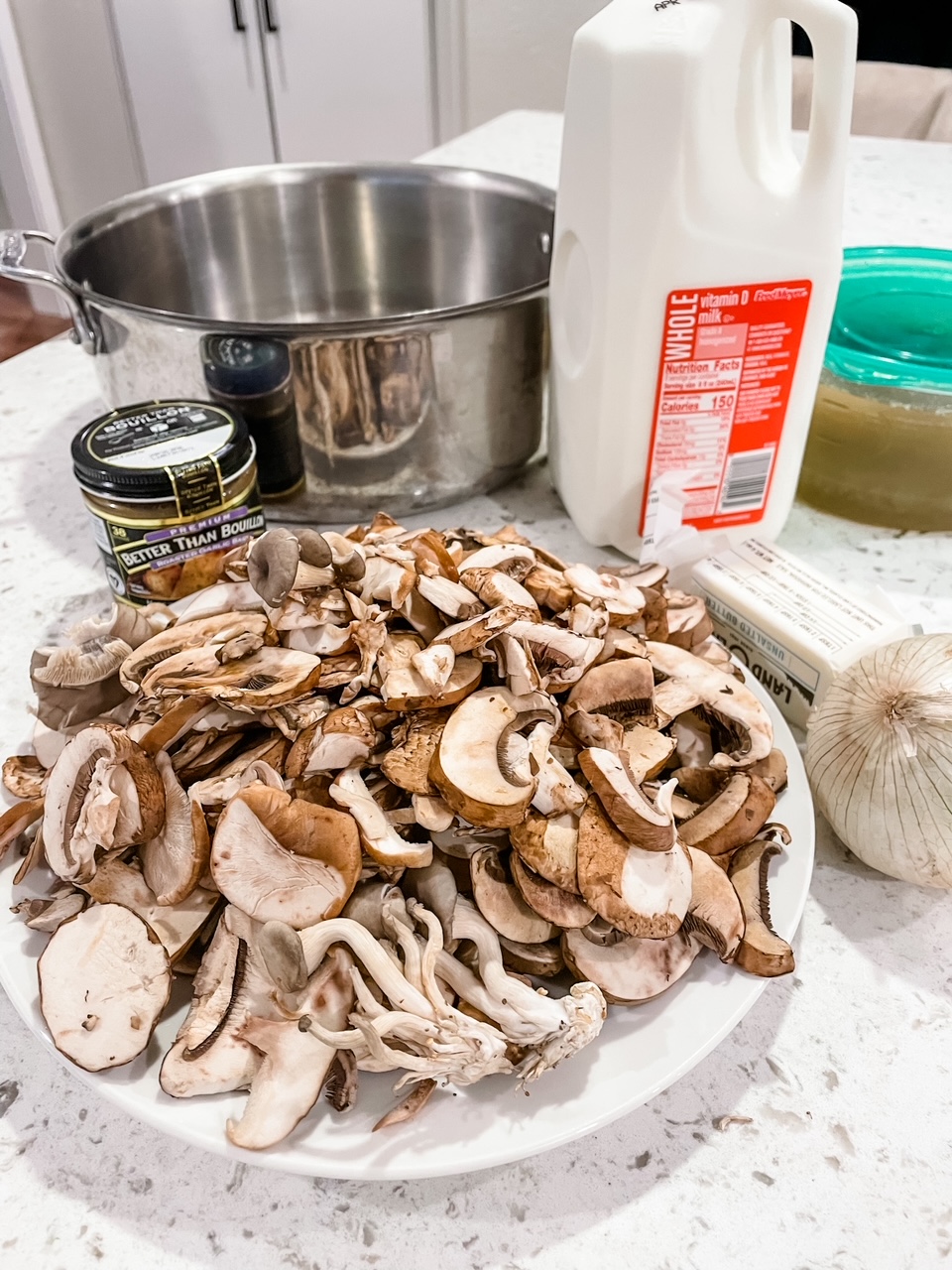 Naturally, the most important ingredient in my Creamy Garlic Mushroom Soup is the mushrooms. Don't be afraid to use a lot. And don't be afraid to mix it up.
White button mushrooms are available everywhere, but don't shy away from trying other varieties. Portabellas, shitakes, enoki, or oyster mushrooms would be great additions to this recipe. If you can find them, use them!
Herbs always add a lot of savory soups. For mushroom soup, I like to use dried thyme and a bay leaf. If thyme isn't your favorite, you could substitute oregano. Sage and rosemary could be nice too, though I would use a smaller amount as the flavors can be strong. If you decide to use fresh herbs instead of dried, you'll need to add more.
Other important additions to this soup are a touch of sherry or marsala. These fortified wines complement the mushrooms nicely. But resist the urge to add more than the recommended amount so you won't overpower the mushrooms.
An Extra Oomph to Your Creamy Garlic Mushroom Soup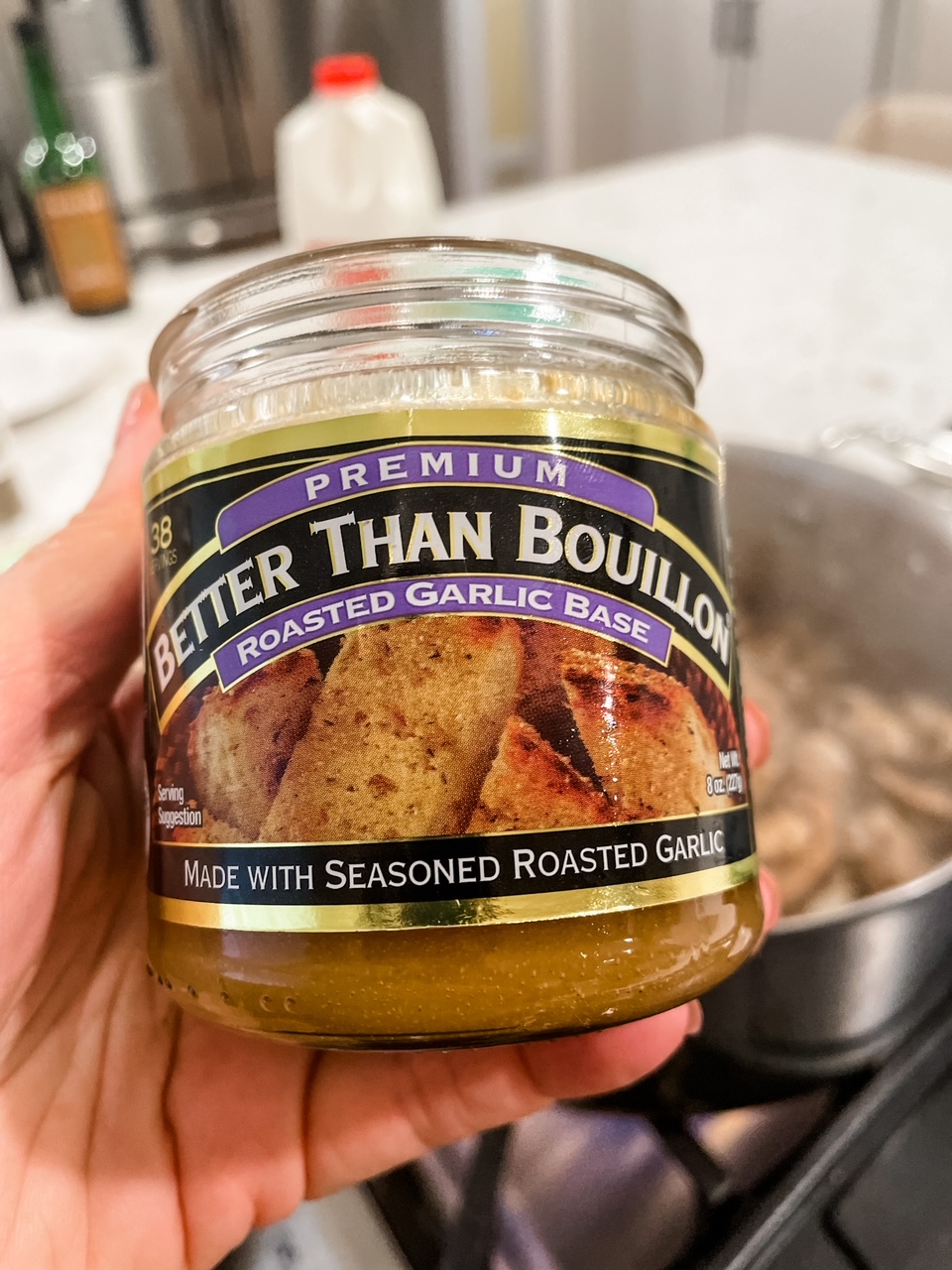 If you can get it, adding some Better Than Bouillon Base – Roasted Garlic, brings just a bit of garlic flavor that really works here.
I discovered Better Than Bouillon bases about ten years ago. Now I keep several the flavors on hand – beef, chicken, vegetable, garlic, and even fish. It's great for all kinds of soups, chowders, and sauces.
Using these bouillon bases is a time saver. But if you don't have the garlic base or can't get it, you can mince 2 or 3 large garlic cloves, and add them to the pan when you're cooking the onions in butter. Just be sure not to add them until the final minute of cooking, otherwise, the garlic might burn.
Creamy Garlic Mushroom Soup, Without the Cream
Generally, I like cream in soup. But not in mushroom soup.
The surest way to overpower the subtle, earthy flavor of mushrooms is to add cream. So, for this recipe, I left the cream in the carton and used other methods to cream a rich, slightly creamy soup.
Making a roux by cooking flour with little butter, then slowly adding broth and whole milk creates a base that thickens the soup and gives it a slightly creamy texture. Blending the soup at the end also creates a thicker texture.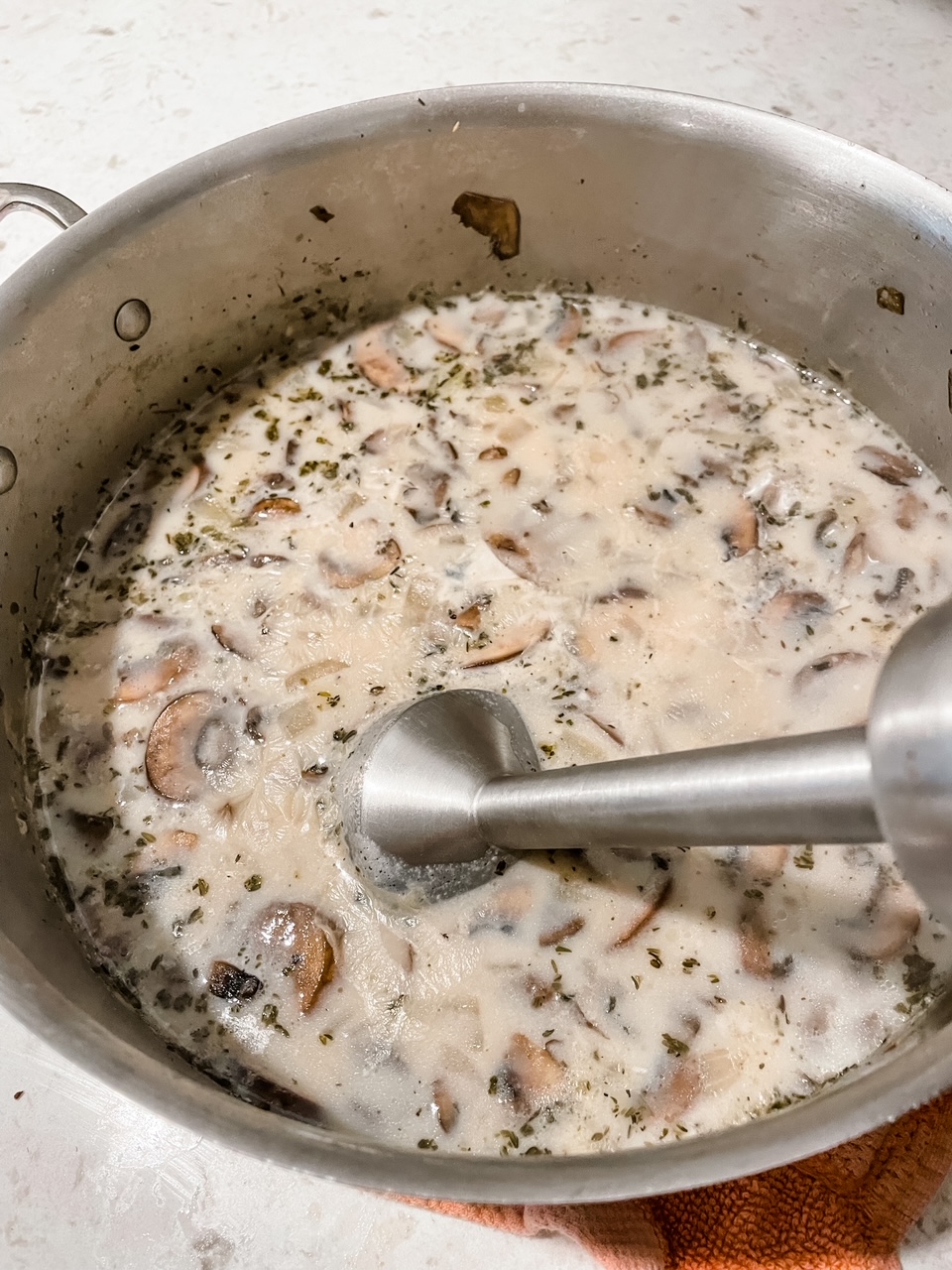 I like to leave some visible pieces of mushroom in my soup. However, if you'd like it to be thicker, then blend it into a puree. It's up to you.
This mushroom soup recipe is definitely "creamy" not "cream of". However, the result is a savory and satisfying soup that's great for lunch or as an appetizer.
Print
Creamy Garlic Mushroom Soup
---
Author:

Yield:

6

servings

1

x
1

lb sliced mushrooms

1

small onion, diced

6 cups

vegetable or chicken broth

1

T Better than Bouillon, Roasted Garlic base

1 tsp

dried thyme

1

bay leaf

1.5

T salted butter, divided

1 cup

whole milk

2

T flour
Fresh chopped herbs for garnish
Salt and pepper to taste

1

T marsala or dry sherry, optional
---
Instructions
Place half the butter into a soup pot over medium heat. Add onions and dried thyme. Saute them in melted butter until onions begin to soften and become translucent, about 4 minutes. Add mushrooms to pan. Stir to coat with butter and onions and cook for an additional 3-5 minutes, until mushrooms are soft and beginning to release liquid.
Add broth, bay leaf, and bouillon base to pot. Bring soup to a boil, then reduce heat and simmer for about 15 minutes.
While soup is simmering, make a roux by melting remaining butter in a nonstick pan over low heat, then sifting in flour and stirring vigorously. The result will be a firm but smooth, doughy mixture. Next, take a quarter cup of hot cooking broth from the soup pot and add it to the roux a little at a time, stirring vigorously to create a smooth, thick sauce. Add two more quarter cups of broth, one at a time, repeating the process. Finally, add a quarter cup of the whole milk to the sauce, cook and stir briefly to ensure the sauce is smooth and allow it thicken.
Add the cream sauce to the soup pot, along with the remaining milk. Simmer the soup of another 5 minutes so the liquid will become a bit thicker. (This a soup will be slightly creamy but not overly thick in consistency.) Remove the bay leaf.
Use an immersion blender or a countertop blender, working in batches, to puree the soup to the desired consistency.