This post may contain affiliate links. Full disclosure policy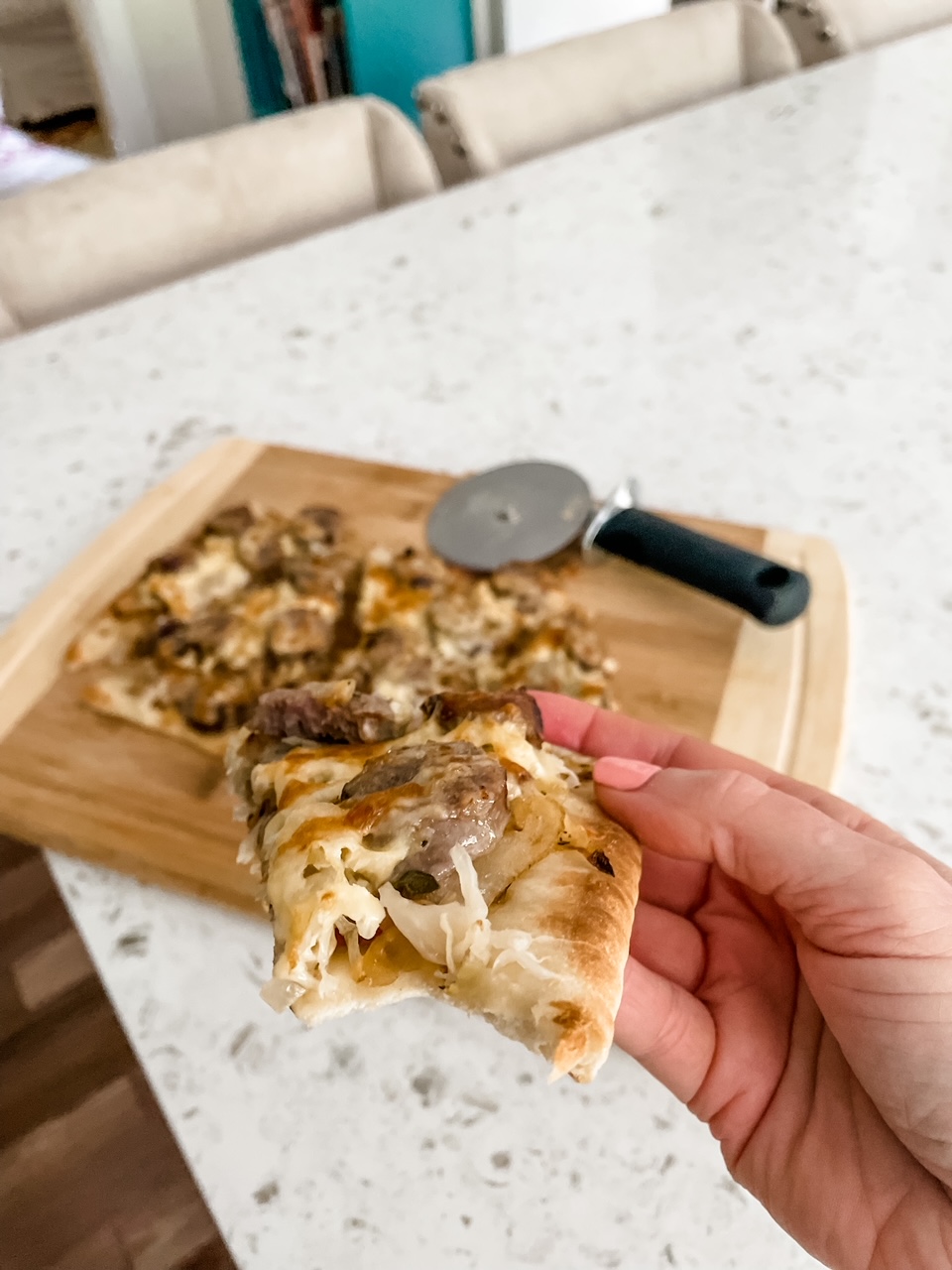 Savory sausage and tart sauerkraut, topped with creamy gouda cheese, make this flatbread a winner. This easy-to-make recipe is great for a quick dinner, lunch, or shareable appetizer.
Sausage, Sauerkraut and Gouda Flatbread – Surprising Ingredients for a Fabulous Flatbread
News flash. During a recent trip to Oregon, we went out to dinner with friends and had the most fabulous pizza.
I know that may not sound particularly earth-shattering but, the thing is, I'm not that crazy about pizza. If we were going out to dinner and you asked me what I wanted to eat, pizza would rank pretty low on the list.
But the toppings on this pizza were really different and absolutely delicious. It was a white pie with sausage, sauerkraut, gouda cheese, and onions. And it was so good that I decided to try and replicate the flavors at home.
The result is my Sausage, Sauerkraut and Gouda Flatbread. If I do say so myself, it's pretty darned fabulous.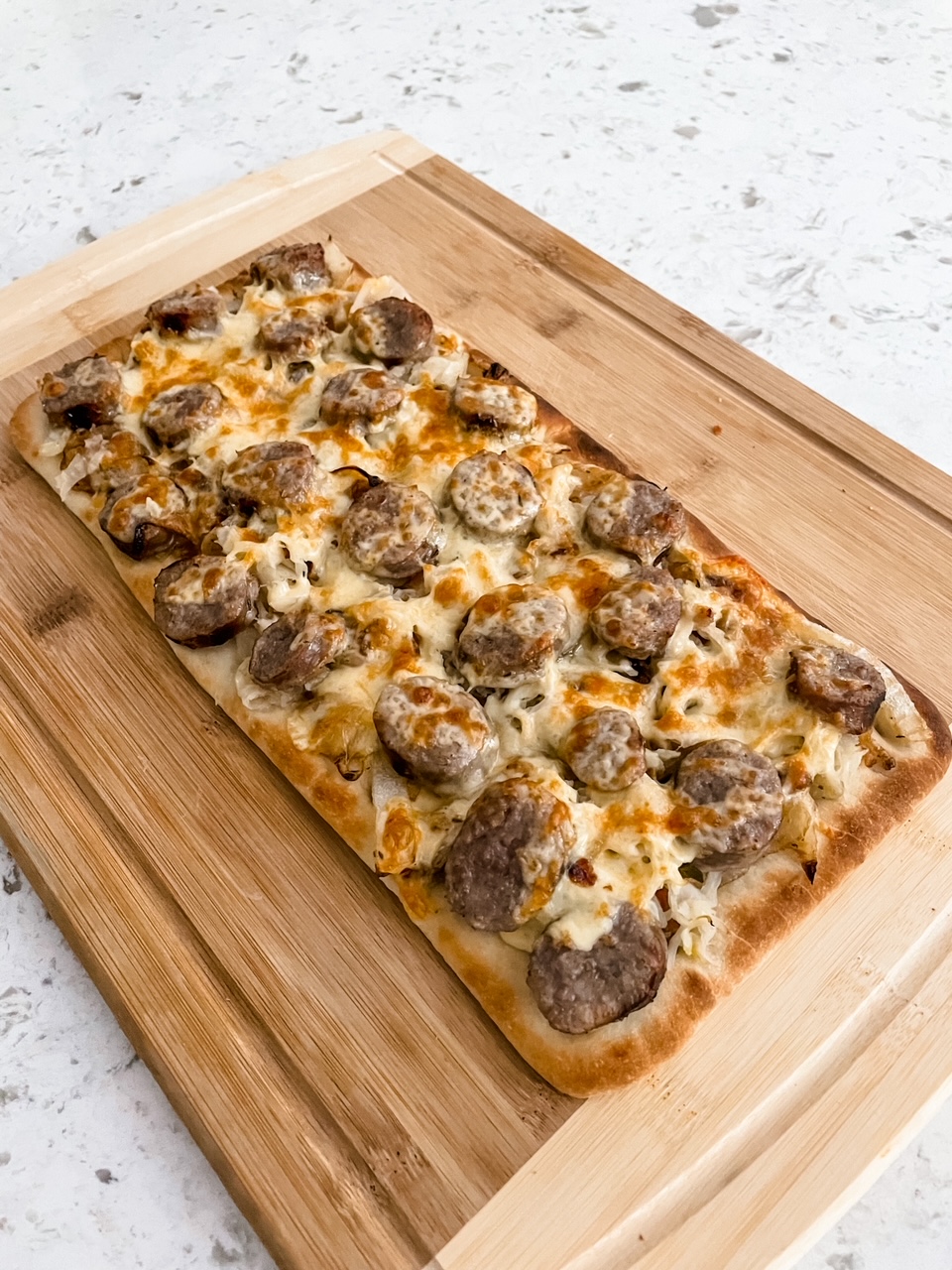 What Do You Need to Make My Sausage, Sauerkraut and Gouda Flatbread?
Besides the taste, the thing I love most about this flatbread is how easy it is to make. With a few simple ingredients plus a little prep and cooking time, you'll have a great dinner, lunch, or shareable appetizer.
Here's what you'll need…
Prepared flatbread (I like Stonefire brand)
Bratwurst (I prefer Johnsonville Beer Brats)
Sauerkraut
Gouda cheese
Yellow onion
Olive oil
Dried thyme
Salt and pepper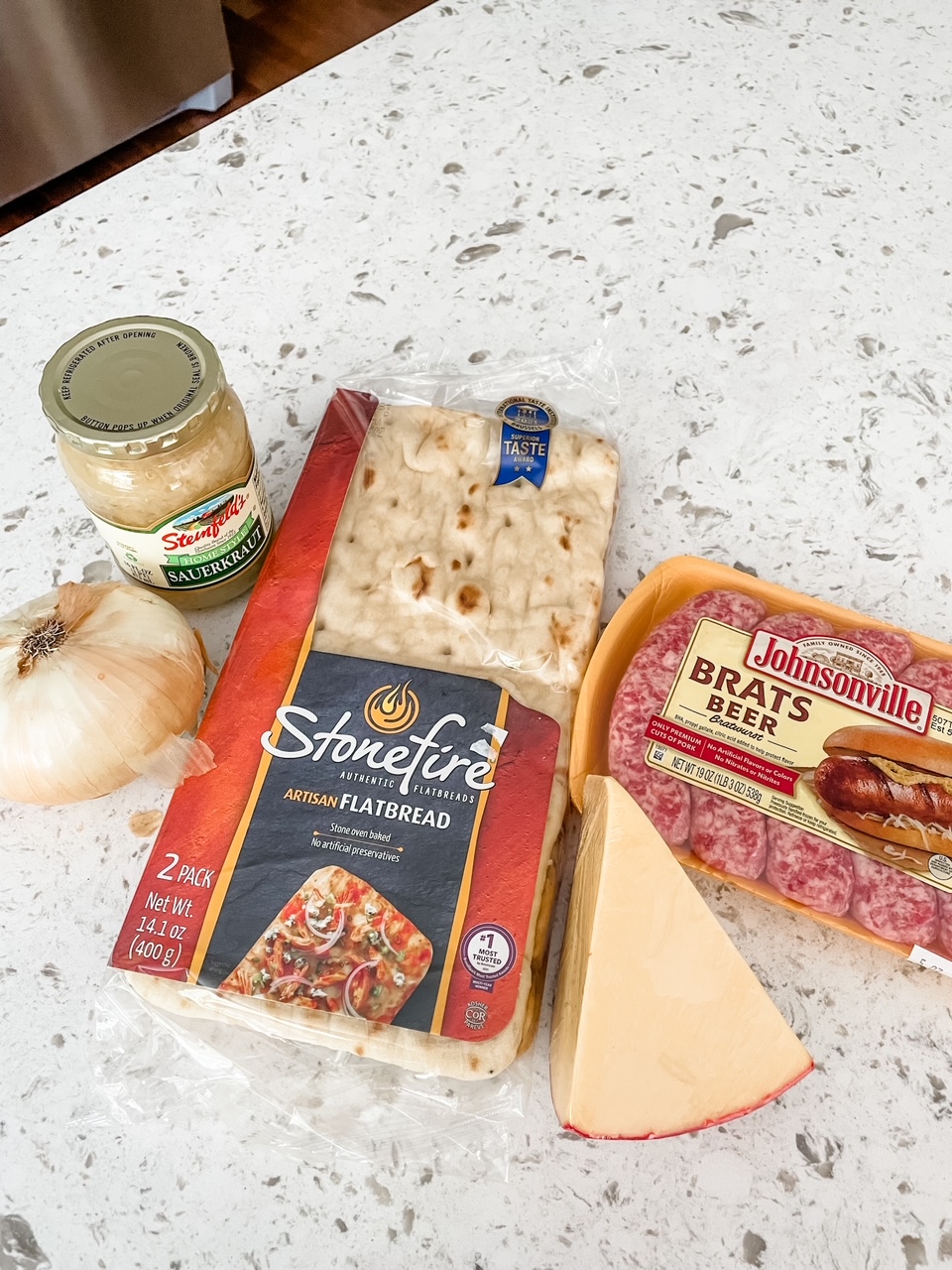 Tips for Your Flatbread
This is a super easy recipe but I do have a few tips for preparing it.
We're using a prepared flatbread here, and that's what makes this recipe so simple. You really don't have to do much except pile on the toppings and pop a pan into the oven. A few minutes later, it's time to eat!
However, if you prefer a crispier textured flatbread, brush it lightly with olive oil and toast it in a 400-degree oven for a few minutes before adding the toppings.
Your flatbread should be rectangular, about 12 by 6 inches. That's the perfect size to make two servings.
Let's Talk Toppings
The bratwurst and onions will be cooked on the stovetop. The onions should be sliced as thinly as possible. A mandoline or V-slicer works well but a knife will work if you take care.
You'll cook the onions with olive oil and seasonings until they are caramelized and turn golden brown. The bratwurst should be cooked alongside the onions, and turned frequently.
Cooking the brats and onions will take about ten minutes. When the brats are cooked through, slice them into rings about a quarter to half-inch thick. Don't worry if the brats are still slightly pink in the middle, they'll finish cooking in the oven.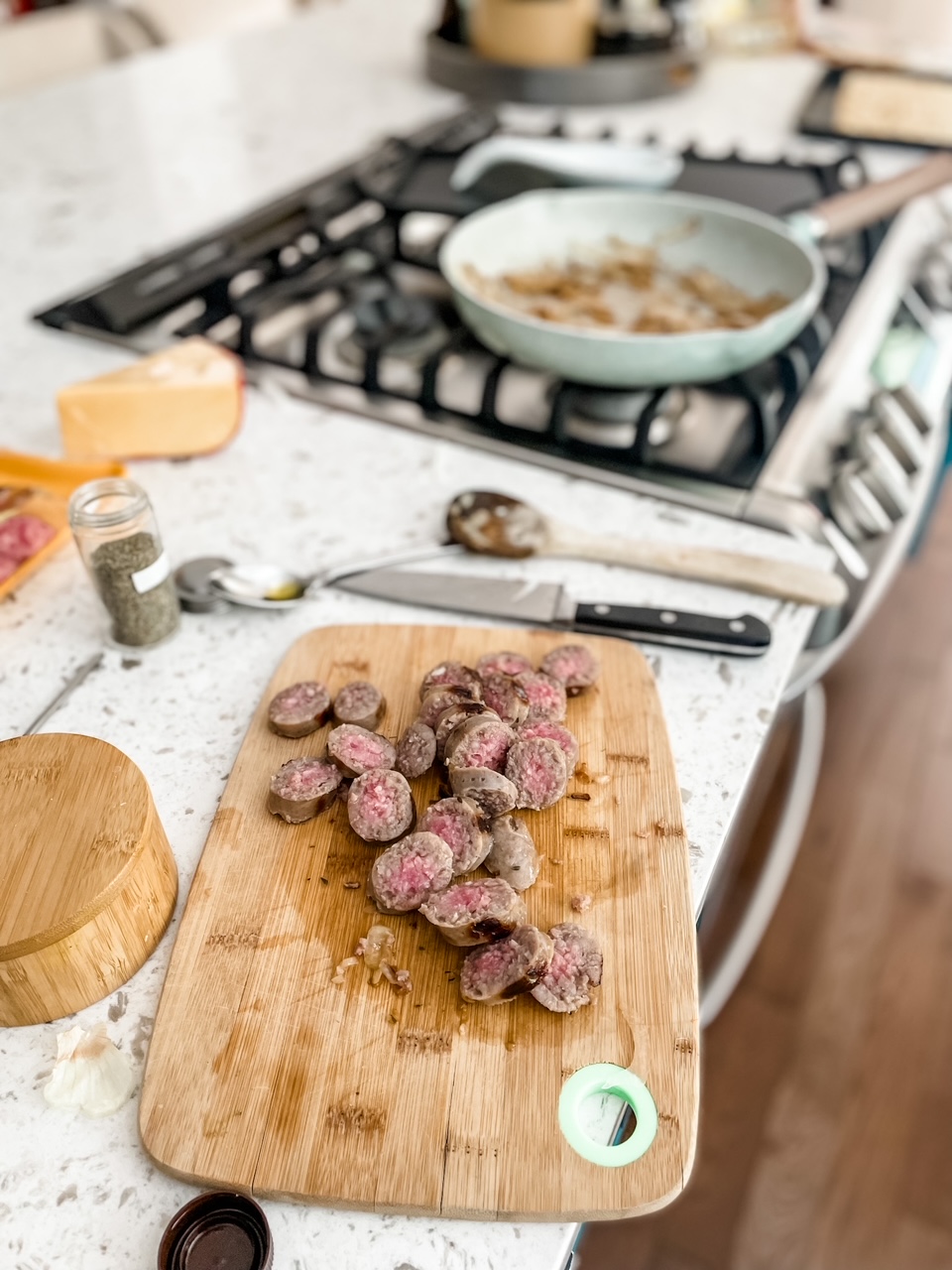 A generous helping of sauerkraut is what makes this dish so different, and so, so good. The tartness of the kraut is a terrific foil to the savory sweetness of the onions. Just be sure that you drain the sauerkraut very, very well before putting it on the flatbread. Nobody likes soggy flatbread!
After layering the cooked onions, sauerkraut, and sliced bratwurst onto the flatbread, you'll add a generous sprinkle of gouda cheese. Then you'll place the prepared flatbread under the broiler until the cheese melts and begins to turn golden brown.
If your oven has a low broiler setting, use that. And if you've only got one broil setting on your oven, just set the pan on a lower oven rack and keep an eye on it so the cheese doesn't burn.
That's really all there is to it!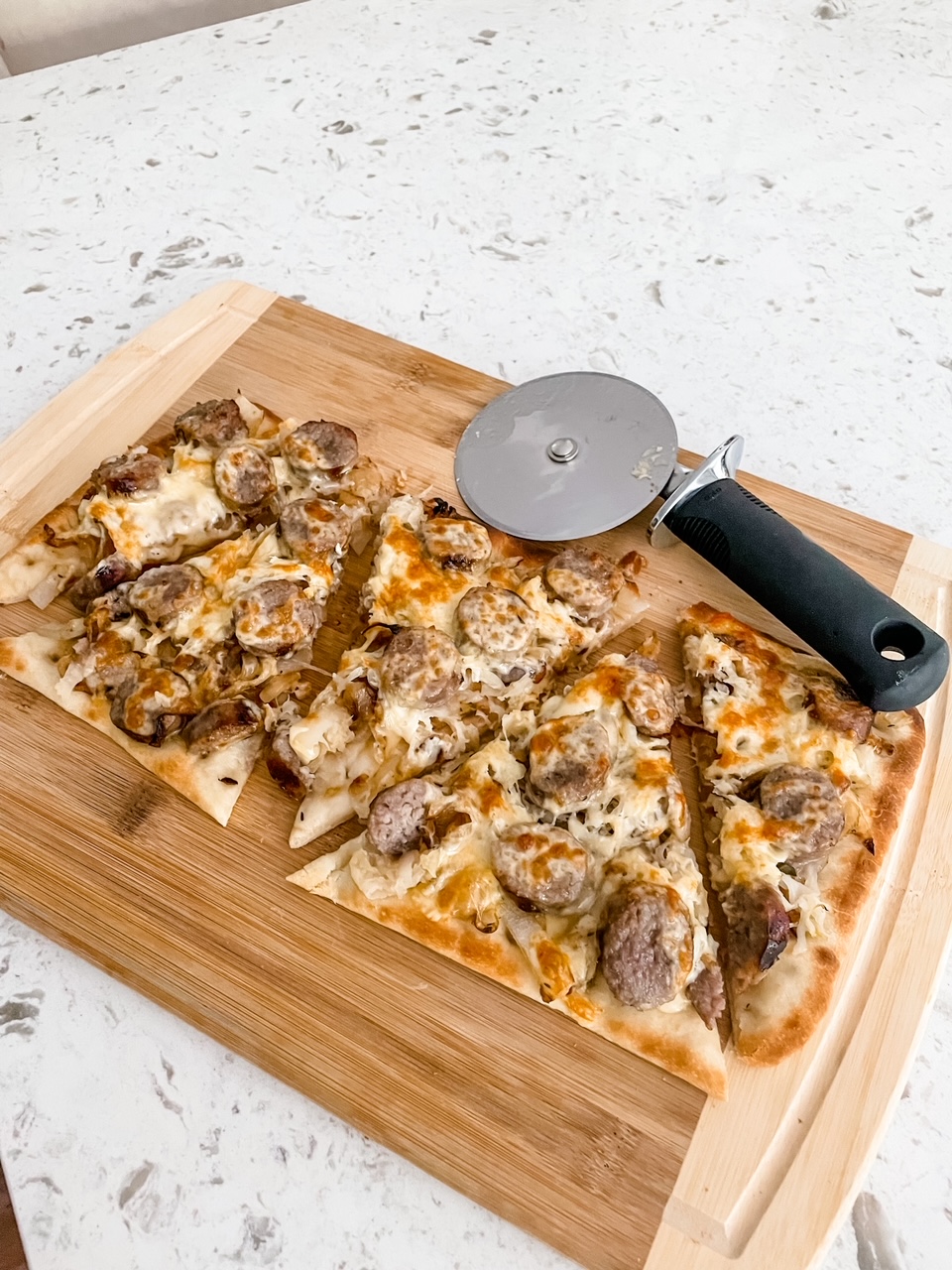 How to Serve Your Sausage, Sauerkraut and Gouda Flatbread
As I said, one flatbread will serve two for lunch or dinner. A six-inch square of flatbread may not seem like a very generous portion. But with so many toppings – including an entire bratwurst per person and plenty of cheese – it's very filling. A simple green salad is the perfect accompaniment.
This flatbread is also terrific to serve for a shareable appetizer or snack. It will serve six as an appetizer.
Print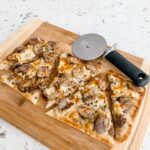 Sausage, Sauerkraut, and Gouda Flatbread
---
Author:

Yield:

Serves

2

as an entrée, 6 as an appetizer

1

x
1

prepared flatbread, approx. 12 by 6 rectangle (Such as Stonefire)

2

uncooked beer bratwurst (such as Johnsonville)

1

large yellow onion, peeled and very thinly sliced

2/3 cup

sauerkraut, well drained

1 cup

shredded gouda cheese

1

T olive oil

¼ tsp

dried thyme
Salt and pepper
---
Instructions
Place flatbread on a baking pan and set aside. (If you want crispy flatbread, toast first, according to instructions in blog post.)
Place oil in a heavy bottomed pan on stove over medium high heat. Add onion, thyme, and a pinch of salt and pepper to pan. Cook onions in oil until they begin to soften.
Add the bratwurst to the pan. Cook bratwurst with onion, turning often, until the onions are very soft and golden brown, and the bratwurst is cooked through, about 10 minutes. Remove pan from stove. Set onions aside. Slice bratwurst into approximately ½ inch circles.
Turn the oven broiler on low to preheat. (If there is no low setting, be sure to put pan on the bottom rack when it is time to cook the flatbread.)
Layer cooked onion onto the flatbread, then layer sauerkraut on top of the onion. Place cooked bratwurst on the flatbread in a single layer, then sprinkle on the cheese.
Place the pan with the prepared flatbread into the oven. Broil for approximately 4 minutes, until the cheese is melted and beginning to turn golden brown. Remove pan from broiler, allow to cool slightly, slice and serve.