This post may contain affiliate links. Full disclosure policy
Earlier in this week, I blogged about my short-lived fall off the weight loss wagon and outlined steps I've taken to get back on board.  One of those steps included searching for satisfying, delicious new recipes that will reinvigorate your commitment to healthy eating.
You don't need to go any farther than this blog to find all sort of inspiring recipes that will fit the bill.
How about Healthy, Zero Point Egg Salad? Or 3-Point Ricotta and Orange Crepes? 6-Point Chicken Parmesan? Or, one of my favorites, 4-Point Gruyere, Canadian Bacon, and Corn Frittata? Every one of these recipes is a winner – delicious, healthy, and oh-so easy to prepare.
And did I mention, delicious?  I did?
Well, it bears repeating. Because they are.
But now that the temperatures are dropping as quickly as the autumn leaves, I've had a craving for one of those hearty fall favorites that pair nicely with chilly nights and warm firesides – a thick, hearty and satisfying bowl of stew. Yum!
Low Point Foods Don't Have to be Boring
There's only one problem with stew, it often includes fatty meats, pounds of carb-laden potatoes, and sauces with hidden sugar and salt.  That kind of stew tastes good but it doesn't jibe with my WW Freestyle plan for healthy eating, especially since I'm trying to nip a little post-wedding weight gain in the bud.
My solution?
A Homestyle Chicken Stew that is low in points, huge in flavor, a super satisfying.
How did I achieve this magical combination?
I started by cutting up bite-sized pieces boneless, skinless chicken breasts (chicken breasts are zero points on WW Freestyle! Can you stand it?!) and browning them in heart healthy olive oil. Then I simmered them in the slow cooker for hours, infusing the tender chicken morsels with flavors from a delectable sauce highlighting rich tomato paste, fresh sage, and savory, smoked paprika.
Wait. There's more.
I also included a ton of gorgeous vegetables to add color and texture, fill your stomach, and satisfy your food-loving soul. Don't worry; I didn't leave out the potatoes. I mean, you can't make stew without potatoes, right? Not in my kitchen.  However, to keep the carbs under control I used fewer potatoes and filled the gap with other root vegetables that add a subtle complexity to the mixture.
Then, at the very end, I stirred in a few frozen peas for a splash of bright color and a touch of sweetness. Mmm-mmm.
Are you drooling yet?
Thought so. Wipe your chin and read on!
Print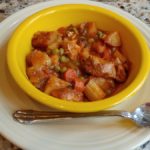 Homestyle Chicken Stew: Just 4 WW Freestyle Points!
---
¾ pound small red potatoes, cut into eighths.                              (9 points)
8–10 baby carrots (or 2 large), peeled and sliced                           (0 points)
2 parsnips (can substitute more carrots), peeled and sliced       (0 points)
3 celery stalks, diced                                                                            (0 points)
2 small onions, cut into eighths                                                       (0 points)
1 lb boneless, skinless chicken breasts, cut into 1 inch pieces    (0 points)
½ cup flour                                                                                           (6 points)
1 t. salt                                                                                                   (0 points)
½ t. fresh ground pepper                                                                  (0 points)
1.5 T olive oil                                                                                        (6 points)
1 T smoked paprika                                                                            (0 points)
¼ cup tomato paste                                                                           (2 points)
1 T chicken bouillon                                                                           (0 points)
3 cups chicken broth                                                                          (0 points)
1 t. sugar                                                                                                (1 point)
1 bay leaf                                                                                               (0 points)
¼ cup fresh sage, chopped                                                               (0 points)
½ cup frozen peas                                                                              (0 points)
Total points per recipe                                                                       24 points
Points per serving                                                                                4 points
---
Instructions
Layer peeled and cut up potatoes, carrots and parsnips in the bottom of the slow cooker.
Put flour, salt, and ground pepper in plastic zipper bag. Shake to distribute salt and pepper throughout flour. Place half of chicken pieces into bag and shake to coat chicken with flour. Remove coated chicken from bag. Set aside and repeat with the remaining chicken pieces.
Put half the olive oil into a heavy bottomed skillet. Heat oil over medium high heat. When oil is hot and sizzling, put half the coated chicken into the pan. Brown chicken pieces on all sides, then remove from pan and set aside. Repeat with remaining oil and chicken pieces.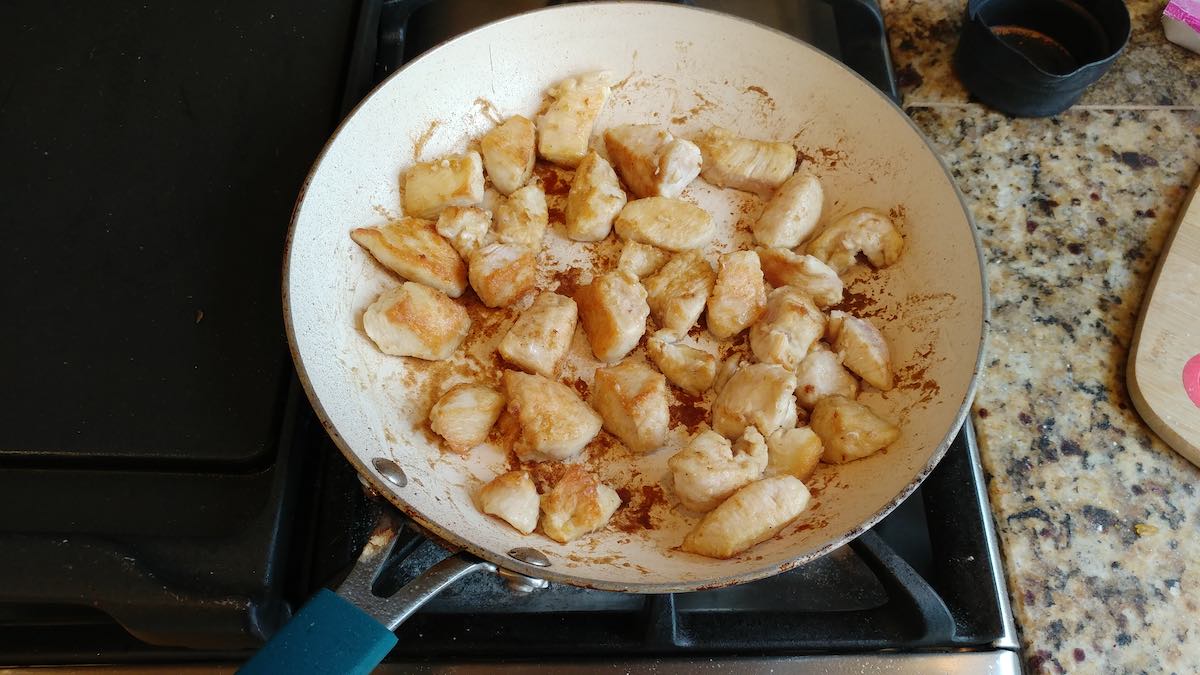 Place browned chicken pieces on top of vegetables in slow cooker. Layer onions, celery, chopped sage, and bay leaf on top of chicken.
Return the pan used to cook the chicken back to the stove, over medium low heat. Add chicken broth, chicken bouillon, smoked paprika, sugar, and tomato paste to pan.Simmer broth mixture in pan for 2-3 minutes loosen up any browned bits and mix tomato paste in until smooth.
Pour sauce into the slow cooker. Using a wooden spoon, stir the sauce through the chicken, onion, and celery mixture, trying not to disturb the potato/carrot/parsnip layer.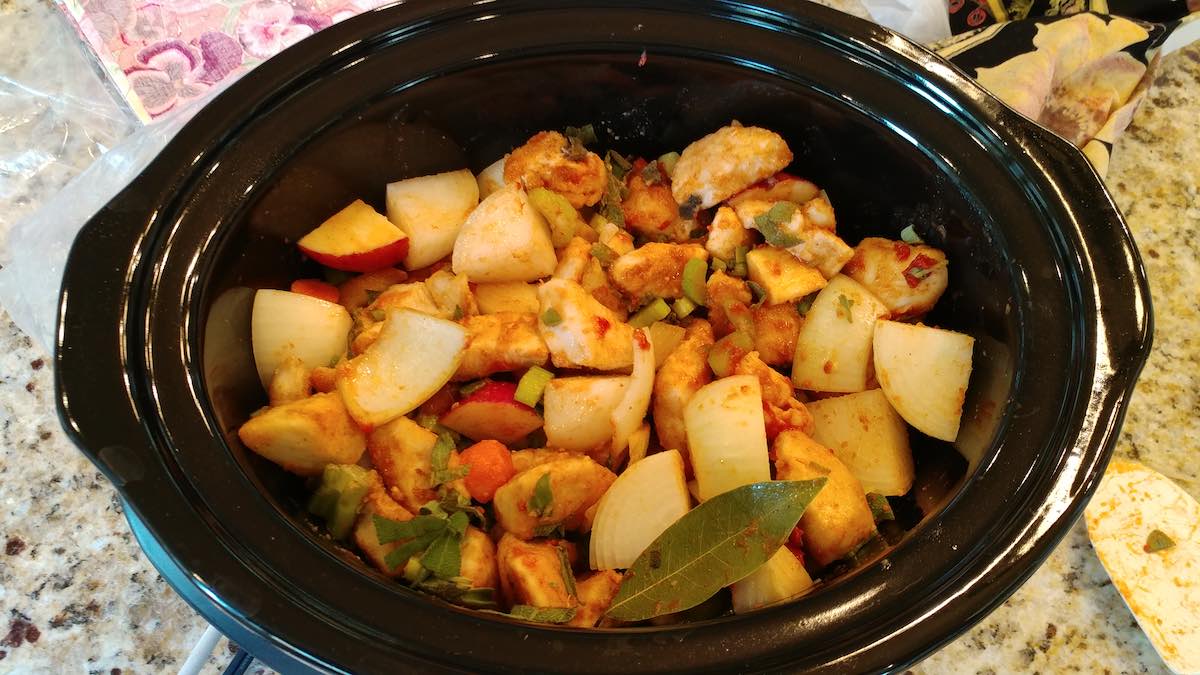 Place lid on slow cooker. Cook stew on low for 7 to 8 hours, or on high for 4 to 5 hours. In the last 15 minutes of cooking, add frozen peas.