This post may contain affiliate links. Full disclosure policy
When it comes to dining out, I'm a very loyal customer. Or possibly a creature of habit.
When my husband and I move to a new area, we spend a few weeks surveying local eateries, then settle on two or three that become "our restaurant."  It's not that we never dine out at other locations, but these are the spots we frequent on a regular basis.  The staff knows us by name, and vice versa, and we can almost always get a table, even in the high season.
One of our favorites is a delightful little Italian bistro. The food is good, the service friendly, and the prices are fair.  When we walk in the door, we're welcomed so warmly that we feel like family. Or at least members of the club.
I nearly always order the fish special. Not only is it tasty and fresh, I can be pretty confident it will fit nicely into my Weight Watchers eating plan. They also have a delightful four ounce filet mignon on the bar menu.  It's the perfect size for times when I want to satisfy an urge for red meat without going overboard.
The only downside to my favorite Italian bistro is that so much of the menu is devoted to…well, Italian food.  Dishes with mounds of pasta, loaded with mountains of cheese, and olive oil, and delicious, fattening, fried things.
At this point, I've disciplined myself to not even look at that side of the menu. But still, sow and again a girl just wants a plate of pasta.
The urge became even stronger for me this week, almost irresistible.  I think making tomato sauce last week was what put me over the edge. It's delicious all by itself but all that fresh, tomatoey goodness just cries out to be poured over something!
I couldn't stop thinking about it.
Taking matters into my own hands
I set out to see if I could recreate one of my favorite Italian dishes, Chicken Parmesan, without blowing the bank on my Weight Watchers Freestyle Points.
Since chicken breasts are a zero point food, Chicken Parmesan is an idea candidate for an Italian Freestyle Food Festival.
Do you know what other main ingredient of Chicken Parmesan is a zero point food? Tomato sauce! How great is that!
A word of caution, there are jarred sauces that will cost you points. Some include a lot of oil. So be sure to check that if you're keeping track of points.  (My homemade sauce recipe only includes a small amount of oil, about a teaspoon per serving.) But there are many prepared sauces, especially the canned variety, that are zero point foods.
Another point in favor of Chicken Parmesan is the cheese. Like all cheese, Parmesan is pretty heavy on points. But it has a lot more flavor than most other cheeses. A little bit goes a long way, allowing you to really taste that rich, sharp, nutty goodness.
The things that normally blow the top off the points meter for Chicken Parmesan are the breading and the oil.
My solution to the problem was to go light on the breadcrumbs and oven bake chicken with a little cooking spray.
The results were so much healthier than traditional Chicken Parmesan and really, really tasty.
Mangia!
Print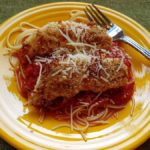 Mama Marie's Healthy Chicken Parmesan
---
Author:

Yield:

4

servings

1

x
½ cup bread crumbs – 8 points
1/3 cup shredded Parmesan cheese (reserve 1 T) – 4 points
½ t dried Italian seasoning – 0 points
¾ t salt – 0 points
1 egg – 0 points
20 oz chicken breast tenderloins – 0 points
2 cups tomato sauce – 0 points (check points on jar or can)
4 oz spaghetti, uncooked – 12 points
Cooking spray – 0 points
---
Instructions
Preheat oven to 425 degrees. Line a baking pan with foil and set aside.
In a shallow pan on plate, mix breadcrumbs, cheese (reserve 1 T for garnish), Italian seasoning, and ½ t. salt.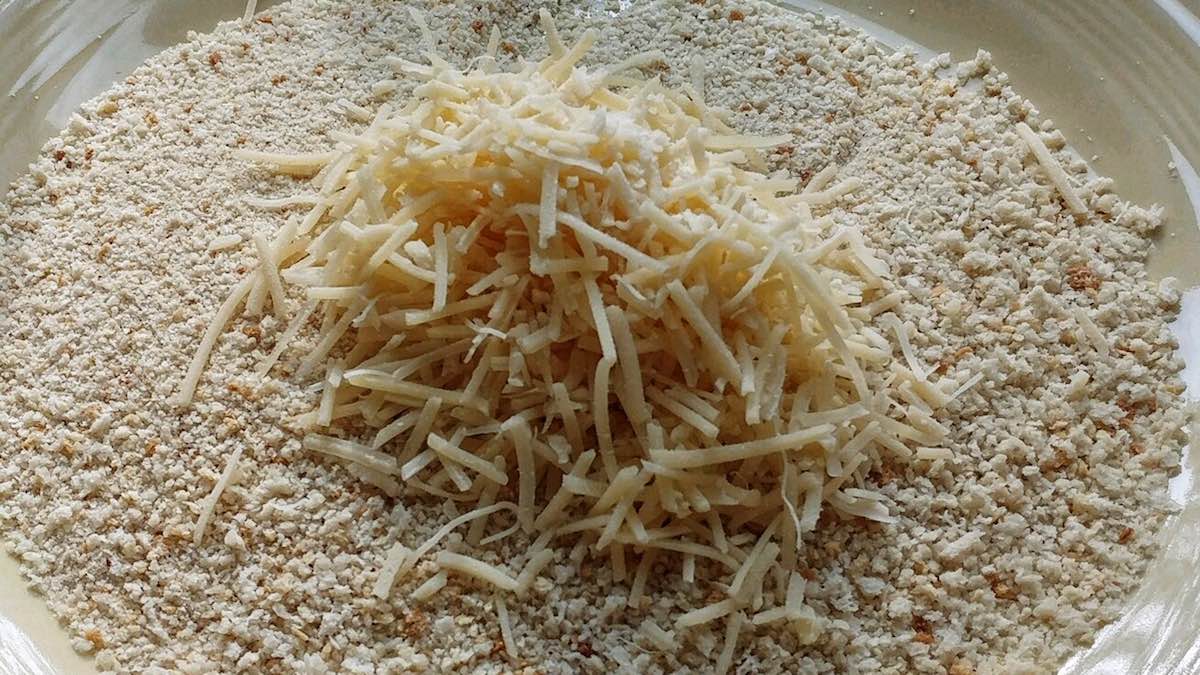 In a separate dish, whisk egg with a tablespoon of water and ¼ t. salt to create an egg wash.
Dip chicken tenderloins in egg wash, then dredge in breadcrumb mixture. You may need to gently press crumbs onto the chicken to get them to stick.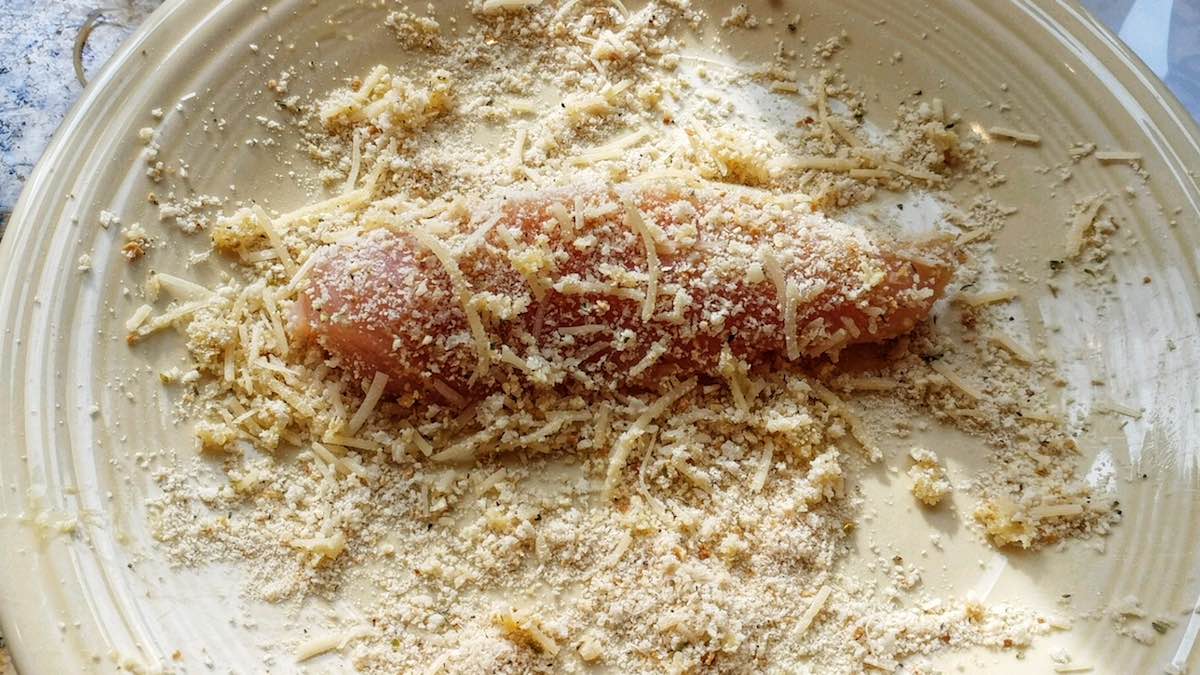 Spray the foil covered baking pan with cooking spray.  Place prepared chicken tenderloins on pan. Spray lightly with cooking spray before placing in the preheated oven.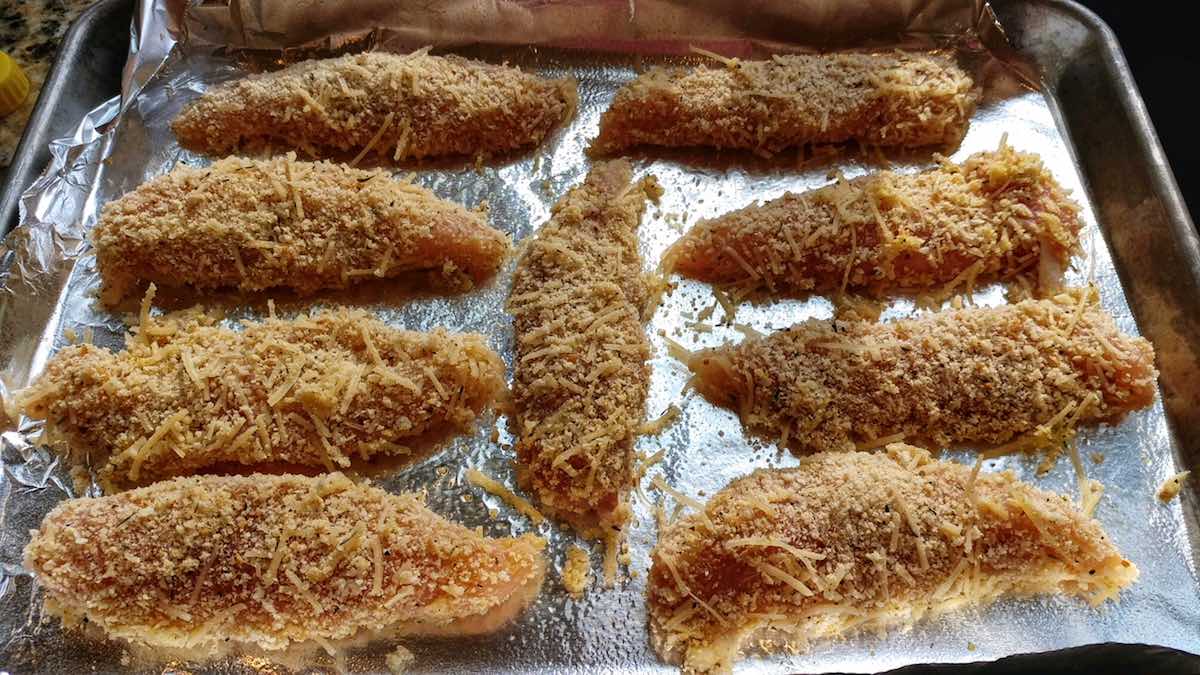 Cook prepared tenderloins for 20 minutes total, removing pan after first ten minutes and flipping chicken to other side.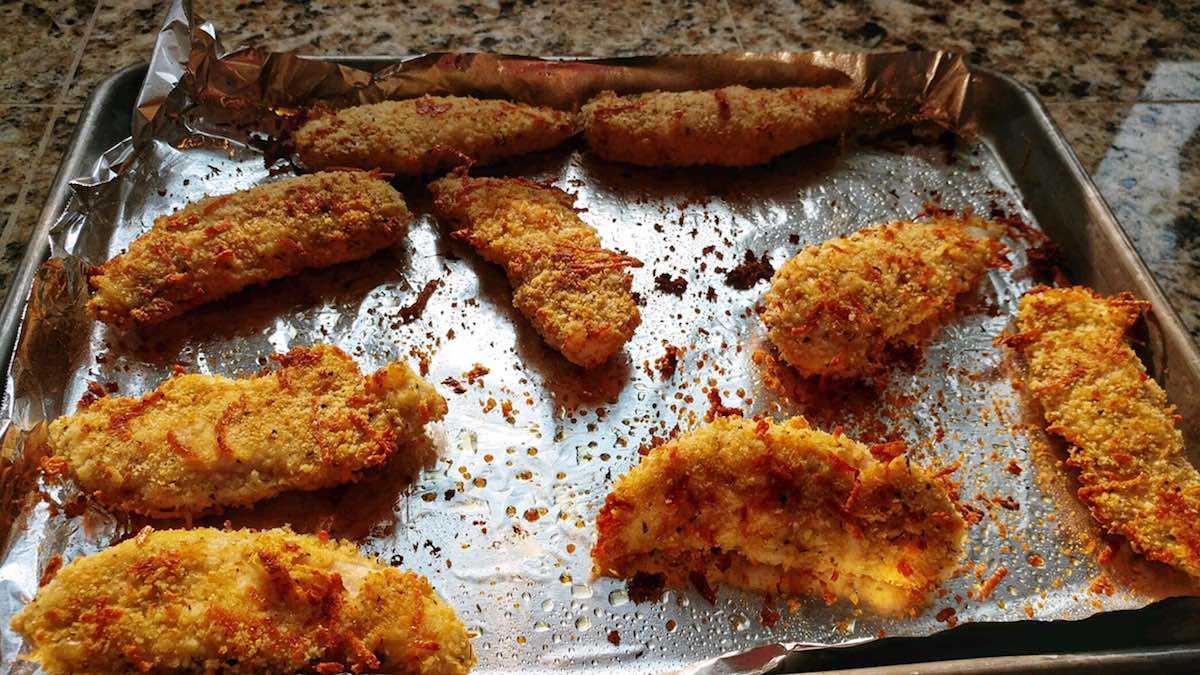 While the chicken is cooking, fill a pot with salted water and place on stove at high heat.  When water is boiling, cook spaghetti according to package instructions.  At the same time, in a separate pan, heat the tomato sauce.
When pasta is cooked, divide onto plates. Pour sauce over the pasta, top with chicken parmesan tenderloins, and sprinkle a little of the reserved cheese on top.
Serve immediately.
Notes
Each serving is 6 WW Freestyle points.
Category:

Dinner

Method:

Baked

Cuisine:

Italian
Keywords: weight watchers, weight watchers freestyle, healthy Italian, health chicken parmesan