This post may contain affiliate links. Full disclosure policy
These past few days, I've been enjoying time with two granddaughters, my eldest son, and his wife. I've mostly stuck to tried and true recipes, like my easy, make-ahead salmon skewers and my pesto chicken thighs, but today I wanted to blow their socks off with brunch.
But there was a catch.
How do I make something delicious that everyone will love without blowing all of my Weight Watchers Freestyle points for the day? It also needed to be easy, quick, and not too many crazy ingredients that I couldn't find at my local supermarket. Also, when you are cooking for various palates, like your grandkids, it's safest to stick with the basics.
But basic is boring! So I decided to take a risk.
Spoiler alert: the risk paid off.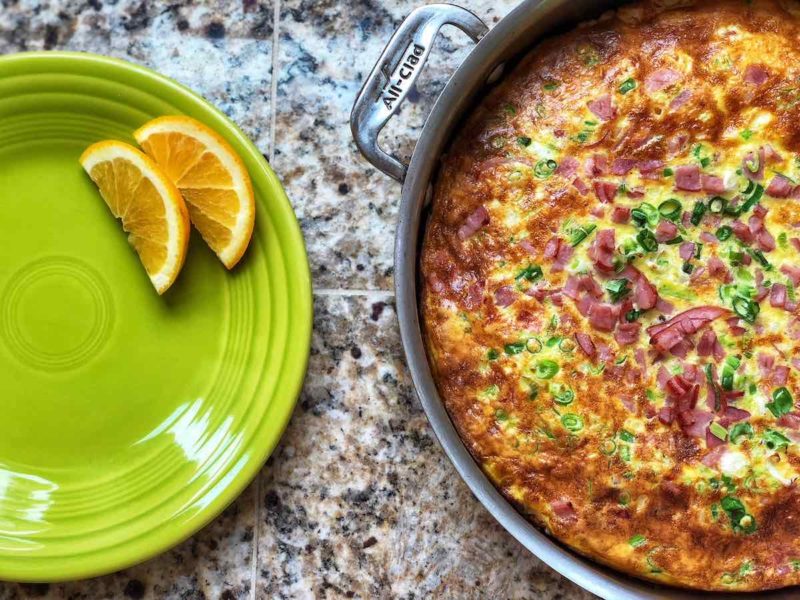 First, I wanted it to be high in protein, colorful, and appropriate for the season. With this late summer heat on my mind, I knew that something corny and cheesy was probably a good foundation for success. I opted for a frittata because 1) they are so easy, 2) they sound fancy, and 3) you can basically make them with anything you have on hand.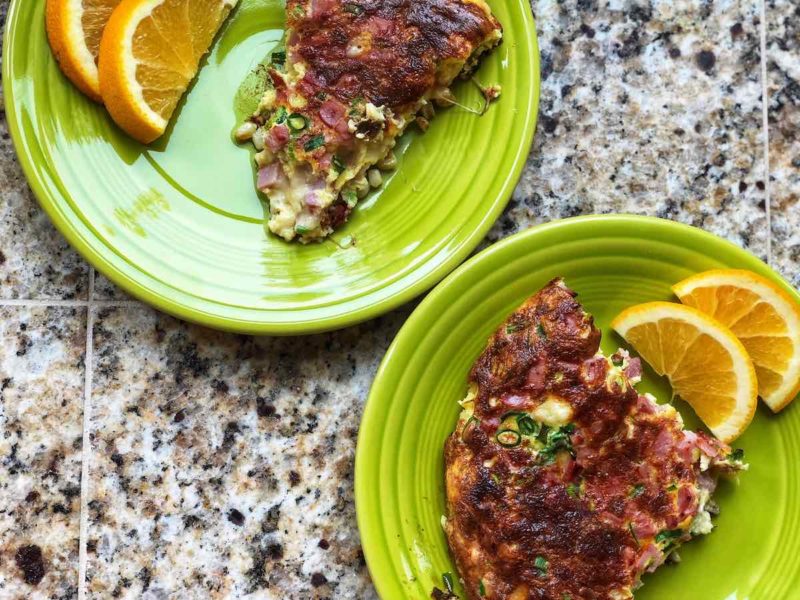 Flavors of Late Summer
Before we get into the recipe details, let's talk about the flavors first.
Corn is just so perfect for this time of year. It would be a shame to not put it in basically everything. Especially since its ZERO points. I even make sure to freeze some so I can enjoy the taste of August in the winter. I know. Genius, right?
And what goes best with corn? Eggs are a sure bet. Their flavors and textures and colors are just made for each other.
The nutty Gruyere is the perfect indulgence to add, although I would guess that cheddar would be a good substitute. Gruyere is sometimes a bit challenging to find at the store, but I did find it at my local Albertsons.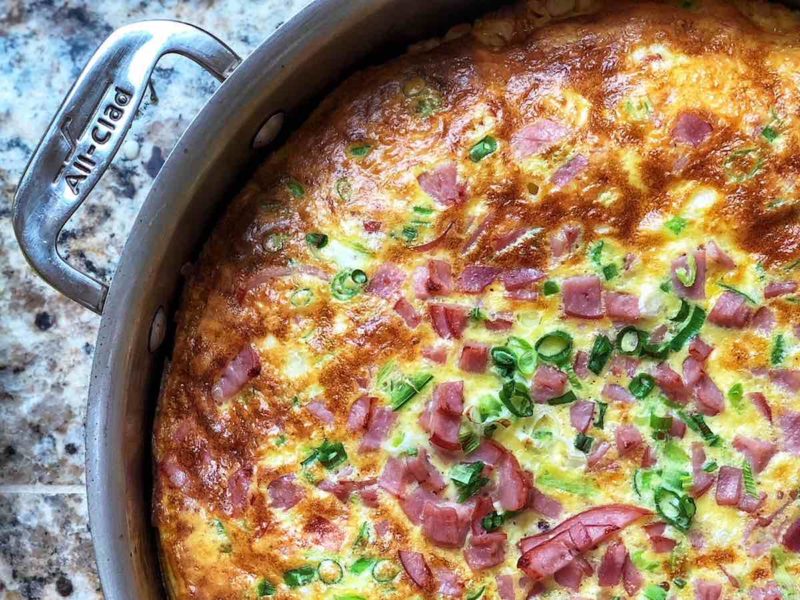 What Makes a Healthy Frittata Recipe?
Canadian bacon isn't just for Hawaiian Pizza after all! My first instinct was real bacon, but the truth is it doesn't need something that fatty when there's so much amazing flavor happening already.
The jalapeño brings a little heat, but not too much. My husband, who is basically spice-averse, didn't even notice the jalapeño. Another zero point winner right here.
I suspect that a 1/2 tsp of smoked paprika would be simply heavenly in this recipe as well, but I didn't try it myself. I certainly will next time.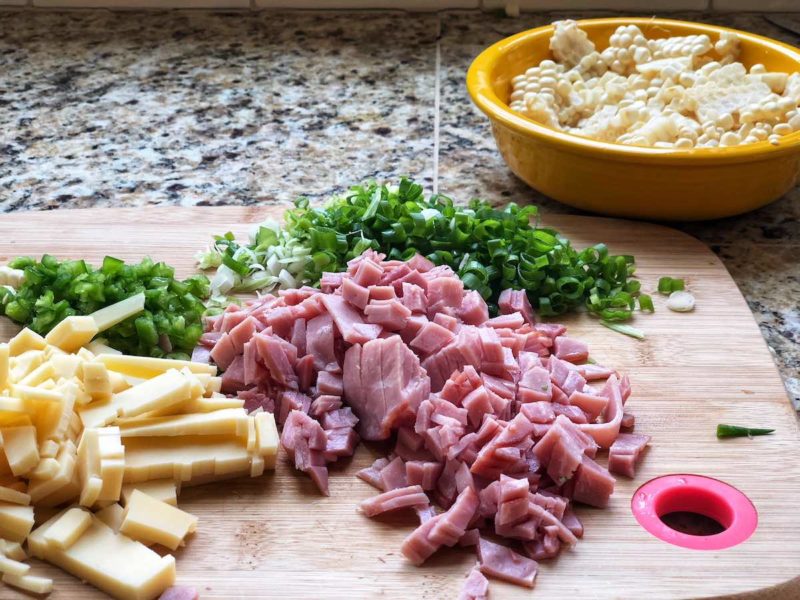 Alright, let's get down to it. Here's my recipe for a delicious, healthy, and weight watchers friendly frittata that your whole family will enjoy, at only 4 points per serving. Everyone in my household loved it. There wasn't even one slice left. Nada.
Print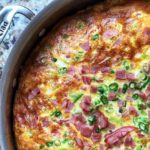 Healthy Frittata Recipe with Corn, Gruyere, & Canadian Bacon (only 4 WW points per serving!)
---
Author:

Total Time:

20

Yield:

6

servings

1

x
8 eggs
1/4 cup fat-free milk
4 ounces cubed Gruyère or Cheddar cheese, divided
kosher salt and freshly ground black pepper
cooking spray
5 oz Canadian Bacon, diced
1.5 cups fresh corn kernels
4 scallions, chopped plus more for garnish
1 jalapeño, seeded and diced
---
Instructions
Preheat broiler to high and adjust top rack to at least 6 inches from broiler.
In a large bowl, whisk together eggs and fat-free milk. Add half the cheese (2 oz) and season with salt and pepper. Set aside.
Heat a 10-inch oven-safe skillet over medium-high heat and spritz with 2 sprays of cooking spray. Add Canadian bacon and cook for 4 minutes. Remove from pan and set aside.
Spritz two sprays of cooking spray and add corn, scallions, and jalapeño in skillet along with 1 TBS water for about 4 minutes until veggies have softened and water has evaporated. Season to taste with salt and pepper.
Spritz veggies with one more spray of cooking spray to make sure the frittata will be easy to remove from the skillet.
Pour egg mixture into skillet and cook for about 3 to 4 minutes until the bottom and edges are set. Sprinkle the remaining cheese, bacon, and a bit of scallion over the top.
Place skillet under broiler and broil for about 5 to 6 minutes until top beautifully golden brown and the eggs have set.
Notes
4 Weight Watchers points per serving
Prep Time:

5

Cook Time:

15

Category:

brunch

Cuisine:

Italian
Keywords: corn, Canadian bacon, weight watchers recipe, healthy recipe, health breakfast, gruyere, brunch