This post may contain affiliate links. Full disclosure policy
THIS POST MAY CONTAIN REFERRAL LINKS. IF YOU CLICK THROUGH AND TAKE ACTION, I MAY BE COMPENSATED, AT NO ADDITIONAL COST TO YOU.
A friend of mine travelled to the Willamette Valley recently and was going on and on about this egg salad from Red Hills Market. I kept thinking to myself, surely it can't be that good? Egg salad is egg salad, right? But then she showed me the picture.
And it took my breathe away.
Heavenly, cloud-like whites with specks of bright yellow yolk, heavily spattered with fresh herbs, sea salt, cracked pepper, and a drizzle of olive oil. My friend said it wasn't saucy, heavy, gooey, or gluey. It was simply perfect.
Since I haven't had time to be whisked away to Willamette Valley (I've been too busy blogging, training for a triathlon, sewing quilts, and writing books), I decided to take on this challenge at home. My goal was to recreate this egg salad, just the way my friend enjoyed it, but with as few Weight Watchers points as possible.
The Power Lunch
Egg salad is just such a great thing to have on hand for lunches. Why,you ask? At 75 calories, each egg has 7 grams of high-quality protein, 5 grams of fat, and 1.6 grams of saturated fat, along with iron, vitamins, minerals, and carotenoids. It also possesses disease-fighting nutrients like lutein and zeaxanthin (whatever that is) and raises the good cholesterol in your body. So basically, it's a superfood.
Also, I'm always looking for health recipes that will keep me full and prevent me from mindlessly rummaging through my refrigerator or getting "hangry." Well guess what? Egg salad has lots of protein! Problem solved!
I also opted for non-fat Greek yogurt here because 1) lots of protein and 2) it has zero points.
How to Boil An Egg (It's Harder Than You Think)
When we lived in Connecticut, there used to be fresh eggs for sale at the end of the road, in a picture perfect barn on a beautiful property. Payment was on the honor system. You walked into the barn, opened the refrigerator, took out a carton of eggs, and left three dollars behind.
Those eggs had the most vibrant, sunny yolks and were so flavorful. But they were so much more difficult to peel after boiling them than store-bought eggs. What I've learned since is that fresh eggs are tricker to peel because they don't have the air pocket that develops later on.
For this recipe, I opted for my tried and true system for boiling eggs. Since they are the foundation of this recipe, it's best to do it right. Overcooked eggs get that tell-tale greenish ring around the yolk and weird smell. Not exactly appetizing.
First, I arrange the eggs in a single layer in a large pan and cover enough that an inch of water rests on top of the eggs. Next, I crank the heat and bring it to a full rolling boil, at which point I promptly turn off the heat, cover with a lid, and let sit on the warm burner for 12 minutes. When the timer goes off, the eggs head for an ice bath in the sink to stop the cooking.
Voila! Perfectly cooked eggs.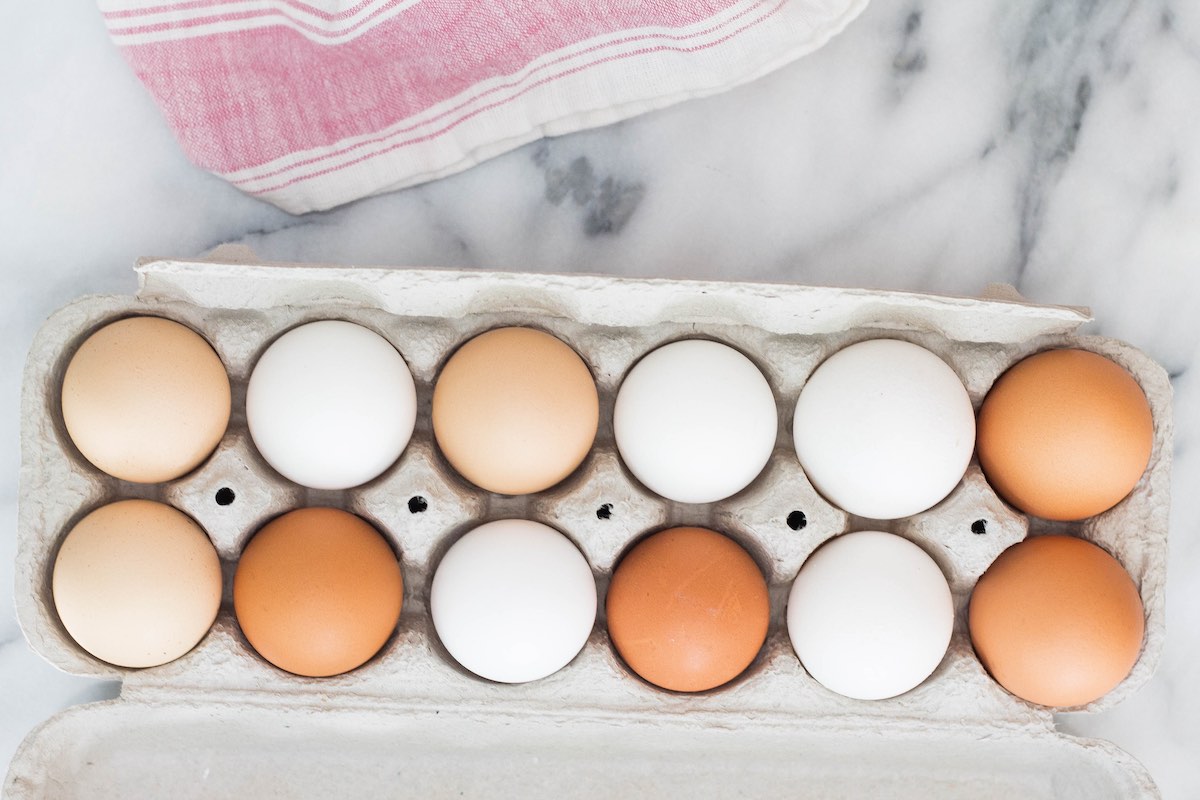 Alright, let's get down to it. Here's how to turn those perfect eggs into a perfectly delicious and healthy egg salad!
Print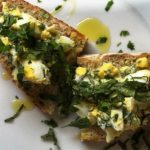 Healthy Egg Salad
---
Author:

Total Time:

5 minutes

Yield:

4

servings

1

x
Description
I used homemade bread here, which definitely added some Weight Watchers Freestyle points (but was oh-so good!). Since the salad itself has zero points, I felt like I could afford a little splurge. This also would be delicious on an English muffin (a half is probably about 2 WW points but check the package to be sure) or even just by itself. The teaspoon of olive oil is absolutely optional, and would add one point. Avocado slices would also add points but they are among those healthy fats we all need. For a little crunch, you could add chopped red onions and celery, which I bet would be delicious.
---
8 hard boiled eggs
1/4 cup no-fat plain greek yogurt
1 TB dijon mustard
1/2 cup chopped fresh herbs (I used basil, dill, parsley, and chives)
juice of half a lemon
sea salt and a generous twist of cracked black pepper
1 tsp olive oil (optional)
vehicle of your choice (i.e., toast, English muffin, etc.)
---
Instructions
Chop boiled eggs into roughly one-inch pieces.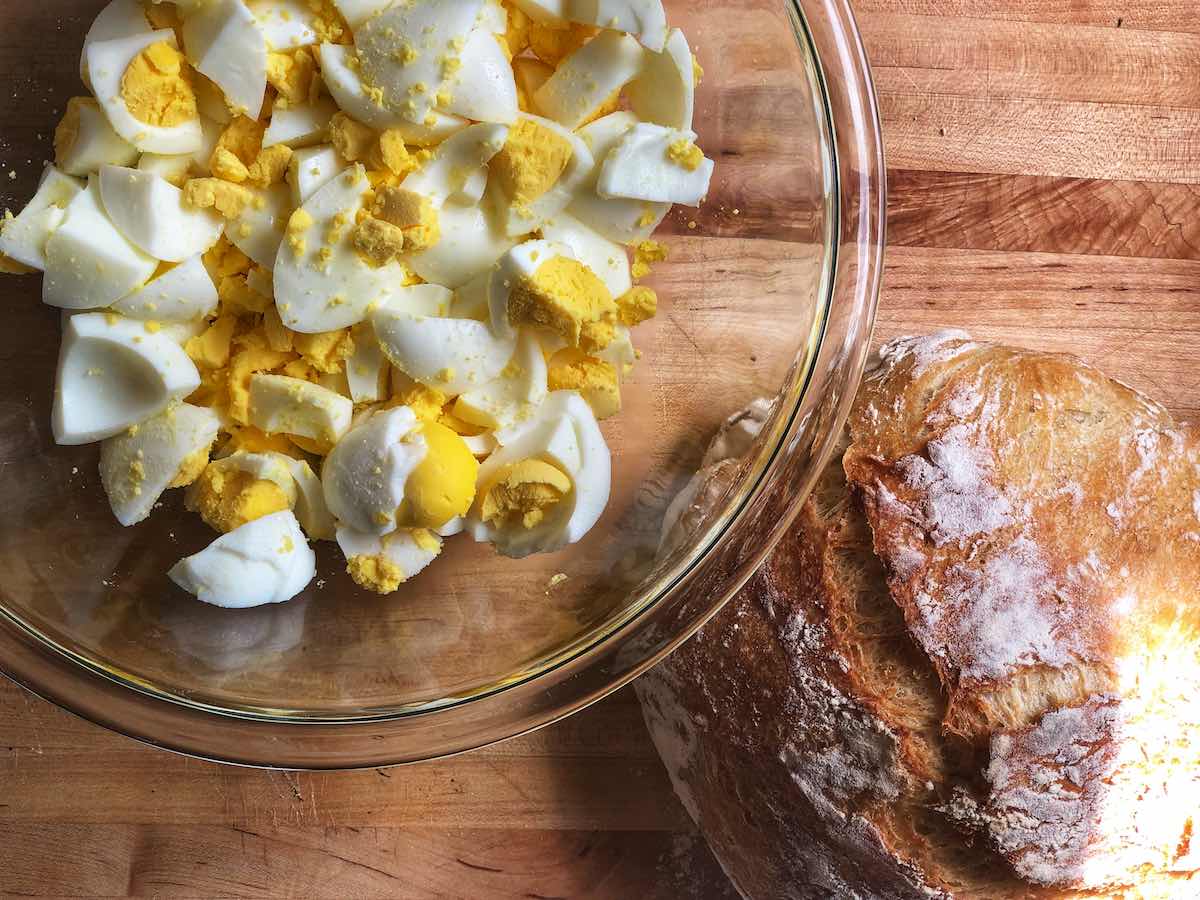 Add the rest of the ingredients (except a small reserve of chopped herbs and the olive oil for toppings). Mix well.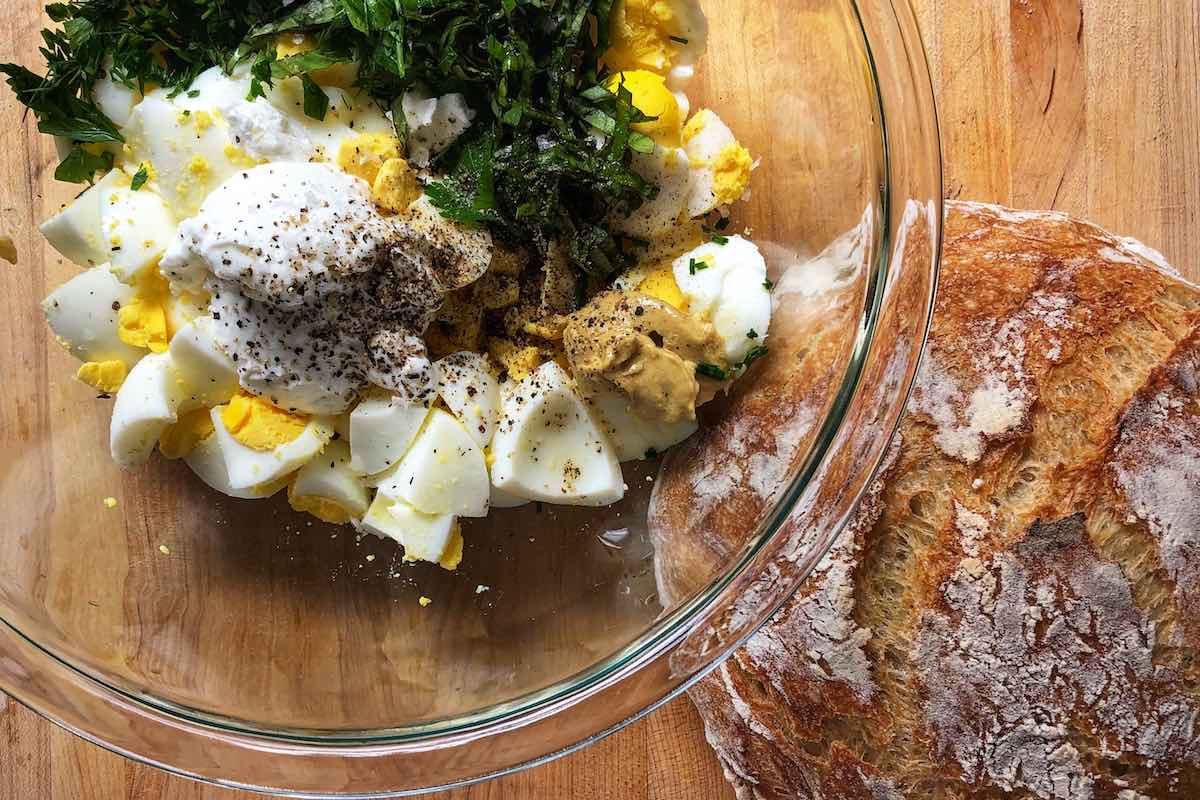 Serve on toast, English muffins, or a green salad. Top with fresh herbs and a drizzle of olive oil.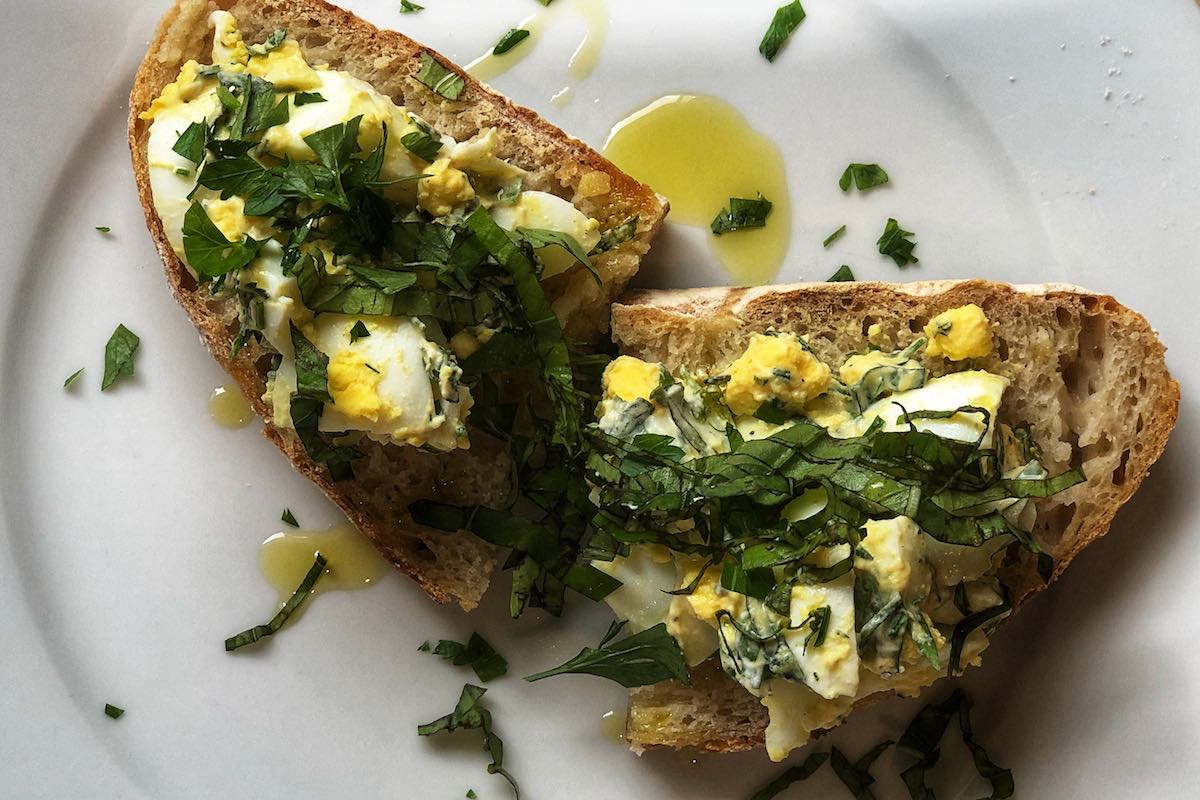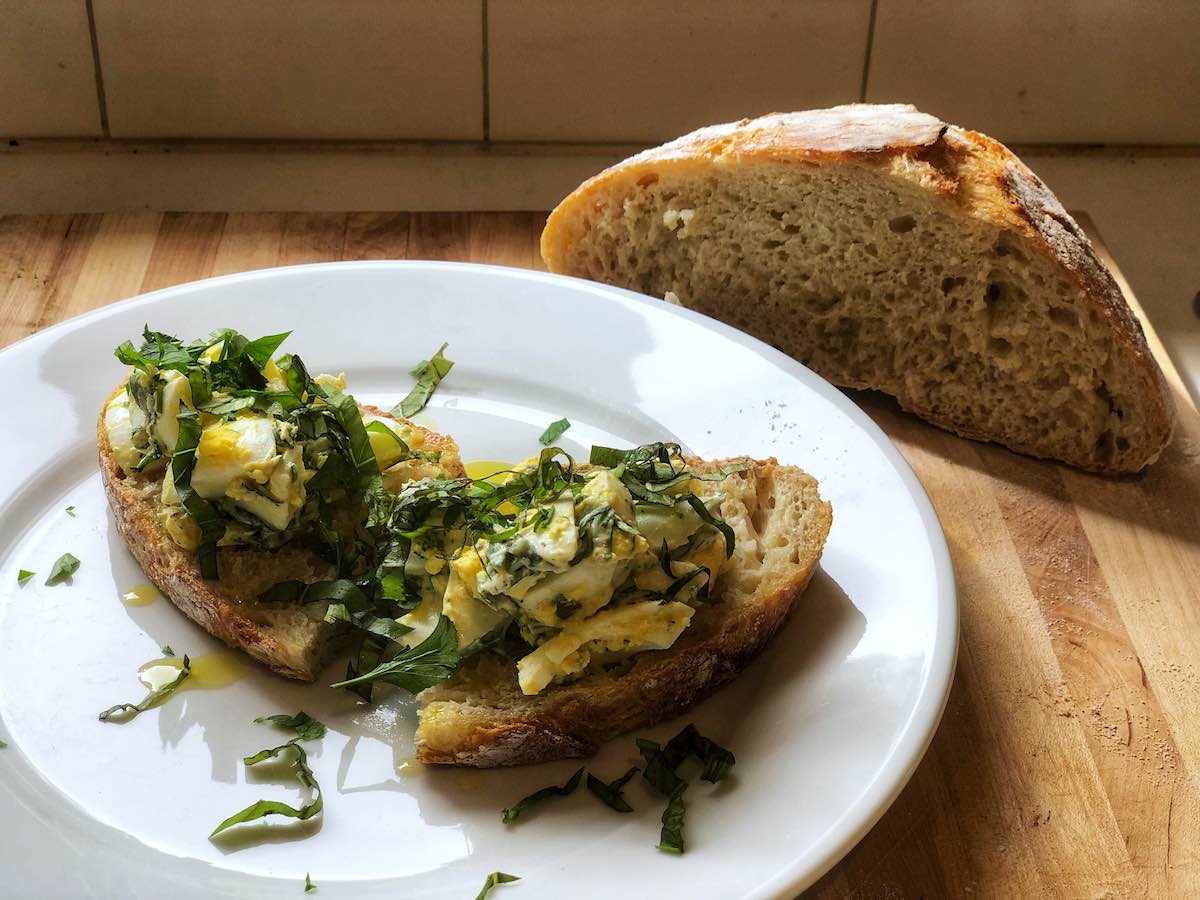 Notes
Not including any bread or the optional olive oil, this egg salad has ZERO Weight Watchers Freestyle points per serving.
Prep Time:

5

Category:

lunch
Keywords: weight watchers, healthy egg salad