¾ pound small red potatoes, cut into eighths.                              (9 points)
8–10 baby carrots (or 2 large), peeled and sliced                           (0 points)
2 parsnips (can substitute more carrots), peeled and sliced       (0 points)
3 celery stalks, diced                                                                            (0 points)
2 small onions, cut into eighths                                                       (0 points)
1 lb boneless, skinless chicken breasts, cut into 1 inch pieces    (0 points)
½ cup flour                                                                                           (6 points)
1 t. salt                                                                                                   (0 points)
½ t. fresh ground pepper                                                                  (0 points)
1.5 T olive oil                                                                                        (6 points)
1 T smoked paprika                                                                            (0 points)
¼ cup tomato paste                                                                           (2 points)
1 T chicken bouillon                                                                           (0 points)
3 cups chicken broth                                                                          (0 points)
1 t. sugar                                                                                                (1 point)
1 bay leaf                                                                                               (0 points)
¼ cup fresh sage, chopped                                                               (0 points)
½ cup frozen peas                                                                              (0 points)
Total points per recipe                                                                       24 points
Points per serving                                                                                4 points
---
Instructions
Layer peeled and cut up potatoes, carrots and parsnips in the bottom of the slow cooker.
Put flour, salt, and ground pepper in plastic zipper bag. Shake to distribute salt and pepper throughout flour. Place half of chicken pieces into bag and shake to coat chicken with flour. Remove coated chicken from bag. Set aside and repeat with the remaining chicken pieces.
Put half the olive oil into a heavy bottomed skillet. Heat oil over medium high heat. When oil is hot and sizzling, put half the coated chicken into the pan. Brown chicken pieces on all sides, then remove from pan and set aside. Repeat with remaining oil and chicken pieces.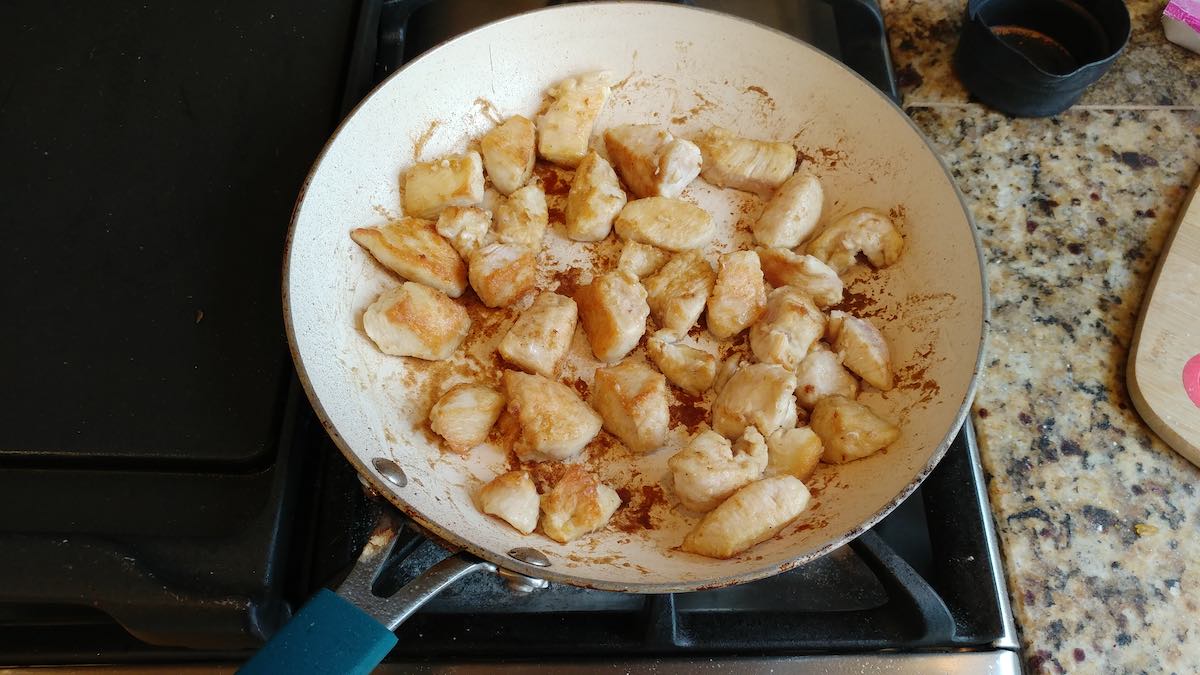 Place browned chicken pieces on top of vegetables in slow cooker. Layer onions, celery, chopped sage, and bay leaf on top of chicken.
Return the pan used to cook the chicken back to the stove, over medium low heat. Add chicken broth, chicken bouillon, smoked paprika, sugar, and tomato paste to pan.Simmer broth mixture in pan for 2-3 minutes loosen up any browned bits and mix tomato paste in until smooth.
Pour sauce into the slow cooker. Using a wooden spoon, stir the sauce through the chicken, onion, and celery mixture, trying not to disturb the potato/carrot/parsnip layer.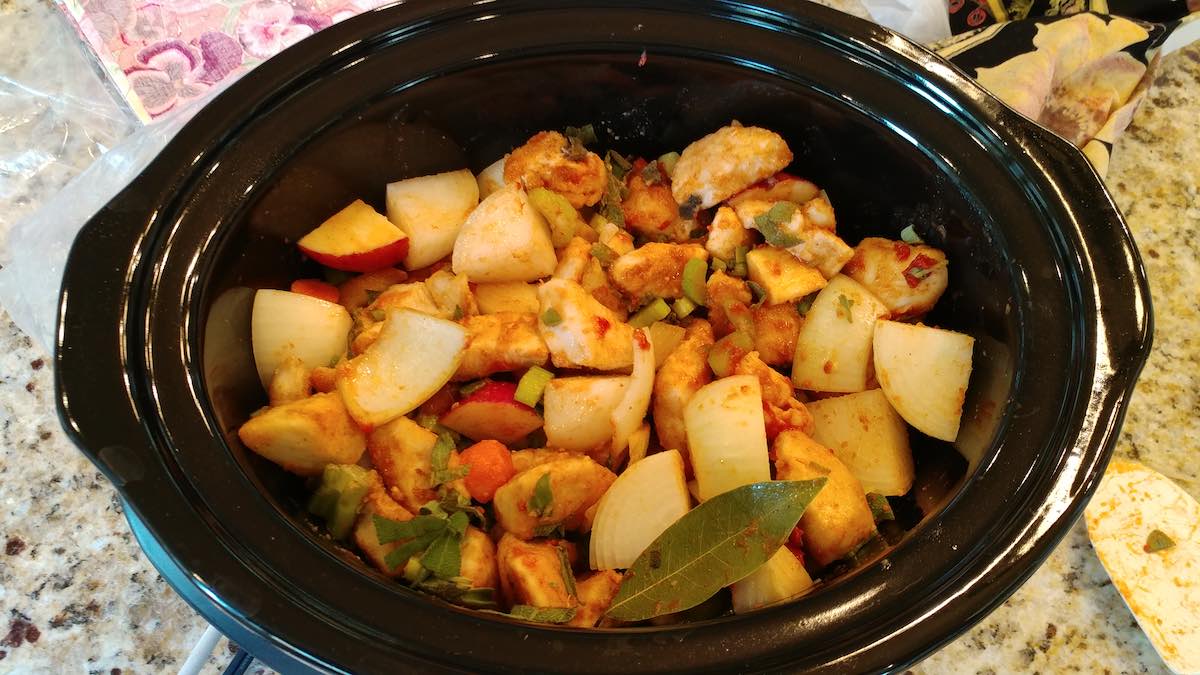 Place lid on slow cooker. Cook stew on low for 7 to 8 hours, or on high for 4 to 5 hours. In the last 15 minutes of cooking, add frozen peas.