This post may contain affiliate links. Full disclosure policy
Broccoli salad seems like it should be healthy, right? After all the main ingredient is broccoli! The vegetable mothers have been trying to convince children to eat since the beginning of time!
I'm sure those moms were the ones who came up with the classic preparation of broccoli salad, the delicious concoction that is a staple of deli counters and picnic tables everywhere. And I'm clearly on a kick with summer salads lately. Have you see the
watermelon feta
or the
vegetable quinoa salad
or the
tomato couscous
? I think I might have a problem…but that's a topic for a different post.
Back to Broccoli
Well, I hate to be the bearer of bad news but our mother's and grandmother's broccoli salad is the farthest thing from healthy. In fact, with a cup of nuts, a cup of mayo, and dried cranberries loaded with sugar, the classic preparation clocks in at 17 Weight Watchers points!
Nope, I'm not making that up. A cup of regular mayonnaise is worth 53 WW points alone. But there are plenty of other high point ingredients in the classic broccoli salad we've all been kidding ourselves in to counting as health food.
18 points! For broccoli? Thanks, but no thanks.
If I'm going to spend 18 points on something, it's going to be pie!
Still, I really do enjoy broccoli salad. It's delicious as a side dish and very versatile, pairs beautifully with chicken, beef, or pork. I also like it all by itself for a quick lunch. But…18 points! Does that mean I should never eat broccoli salad again?
Not at all. With a little ingenuity and a few healthy ingredient substations, there's always a way! My lightened up version of the classic salad is full of flavor and very close to the original, but will only cost you 5 WW points! (Maybe you've even saved room for a bite of that pie!)
Print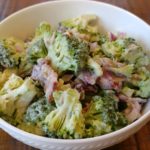 Broccoli Salad, Made Healthy
---
Author:

Yield:

6

servings / 5 WW points per serving

1

x
Description
This isn't your grandmother's broccoli salad. With a few easy changes the unhealthy recipe she passed down to you becomes fresh and new while still tasting as yummy!
---
6 cups broccoli florets, cut to bite sized
6 pieces of bacon, cooked crisp and drained
1/2 red onion, diced
1/3 cup sunflower seeds
1/2 cup reduced sugar Crasins (dried cranberries)
1 cup non-fat, plain Greek yogurt
2 T white wine vinegar
1 T white sugar
---
Instructions
1 – Start by cooking the bacon. The best way to cook bacon is in the oven. I know, it sounds crazy. But it's cleaner and you get a more even cook.
It's simple. Heat oven to 400 degrees, line a baking sheet with aluminum foil and lay out bacon in strips, not overlapping or touching.
Cook 15-20 minutes, depending on your oven. Voila!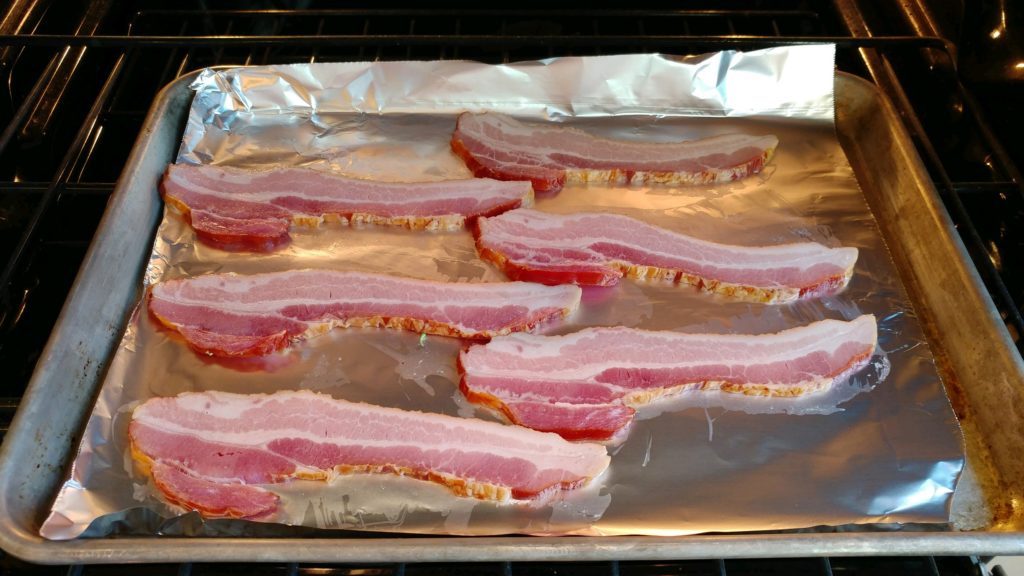 Let the bacon cool, and dice.
2 – Combine diced bacon, red onion, sunflower seeds, chopped broccoli and Crasins in large bowl.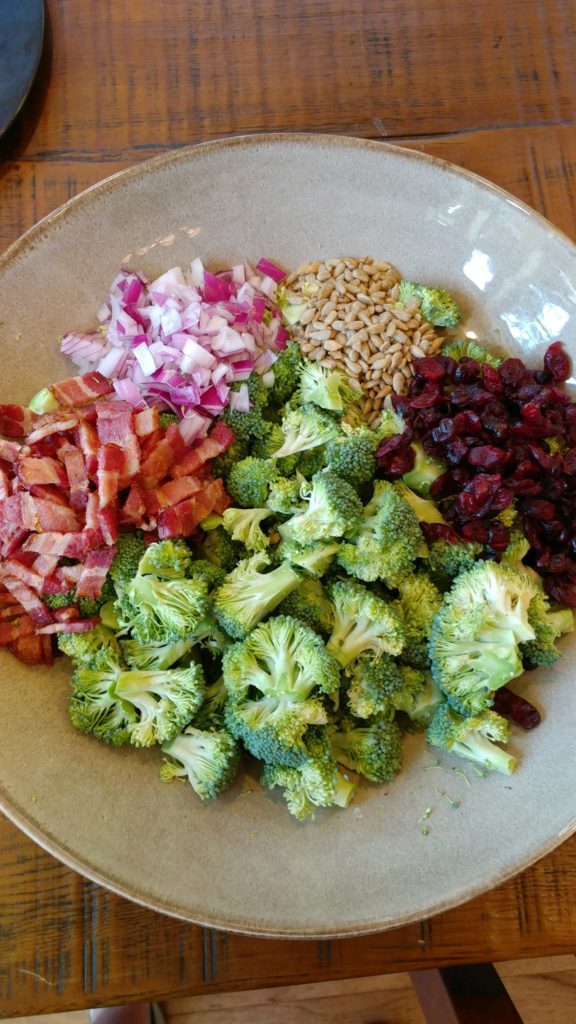 3 – In separate bowl, place yogurt. You might consider straining the yogurt, the thicker the better. Whisk together with vinegar and sugar.
4 – Pour the yogurt glaze into the large bowl. I recommend chilling the salad for 30-60 minutes before serving, but it's not required.