This post may contain affiliate links. Full disclosure policy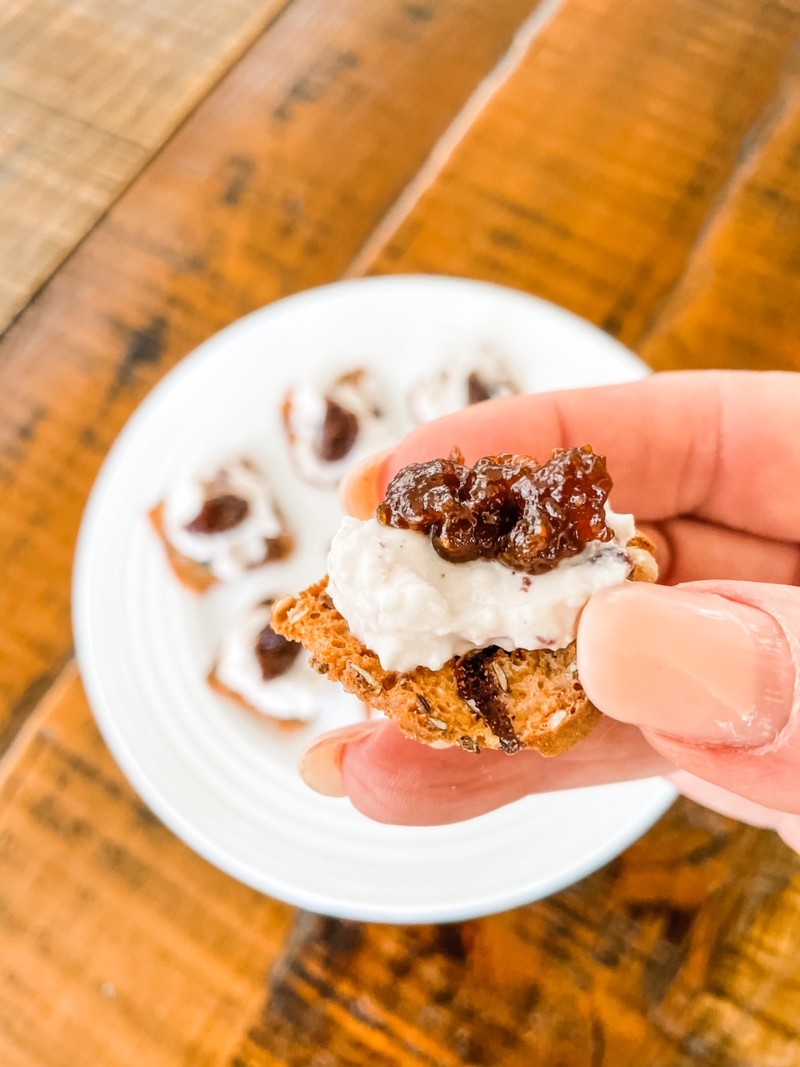 My Whipped Feta Appetizers are a delectable, quick-to-make snack for when you're short on time. The tart-savory-sweet flavor combination of feta, olives, and figs will earn raves from your family and guests. So good!
Trader Joe's Inspiration for Whipped Feta
Trader Joe's is pretty much my favorite grocery store. The prices are great and so is the quality. And they have a lot of interesting and tasty Trader Joe's brand products that you can't find anywhere else.
I listed a few of my favorite TJ's winter selections in a post I wrote last year. Some of those items were only available seasonally (the fact that there are always seasonal items to check out is something else I like about shopping at Trader Joe's) but most are in stock year-round, including the Bite-Sized Everything Crackers.
My family loves those crackers so we always keep a couple of boxes on hand. But we like a lot of their other crackers too.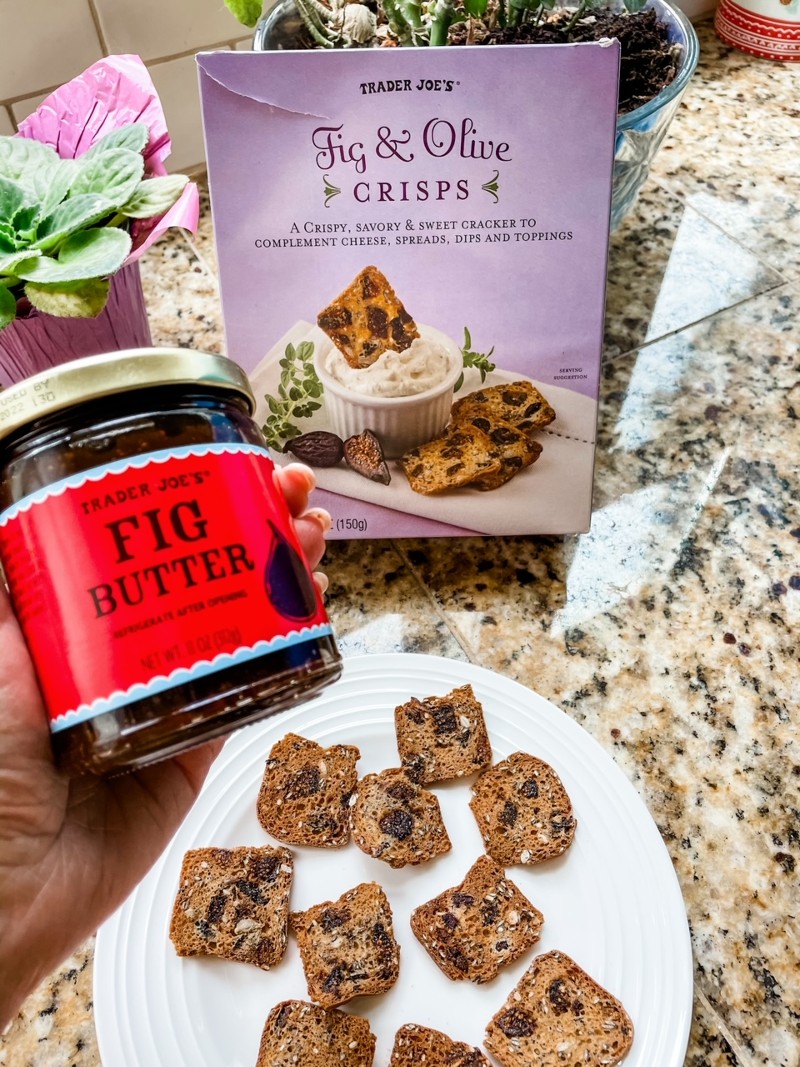 Trader Joe's Rosemary and Raisin Crisps and Fig and Olive Crisps are thin, savory-sweet little morsels that great for snacking or to use as a base for appetizers. They're very similar to some crackers I've found in my local fancy-schmancy gourmet grocery store but are about a third of the price.
While I was munching on a handful of the Fig and Olive Crisps a while back, I looked in the refrigerator, spotted a package of feta cheese, and had an idea.
It turned out to be a really good one!
Raiding the Pantry
Another place I often go to for recipe inspiration is my own pantry. It's so great to pull together something quick and delicious from the items you already have on hand.
My Whipped Feta Appetizer is super simple to make and builds on the flavors that were present in the yummy crisps I was munching on – olive and fig. It's a terrific combination, a beautiful, tasty balance of sweet, salty, and savory.
When you pair the olive and fig flavors with feta and a little Greek yogurt, it adds a lovely touch of tanginess to the recipe. Really good. And really easy to make!
Making the Whipped Feta Topping
There's no real cooking involved in making my Whipped Feta Appetizers. The whole thing comes together in just a few minutes and doesn't require you to do anything besides chop some olives and run the mixer. It's that simple.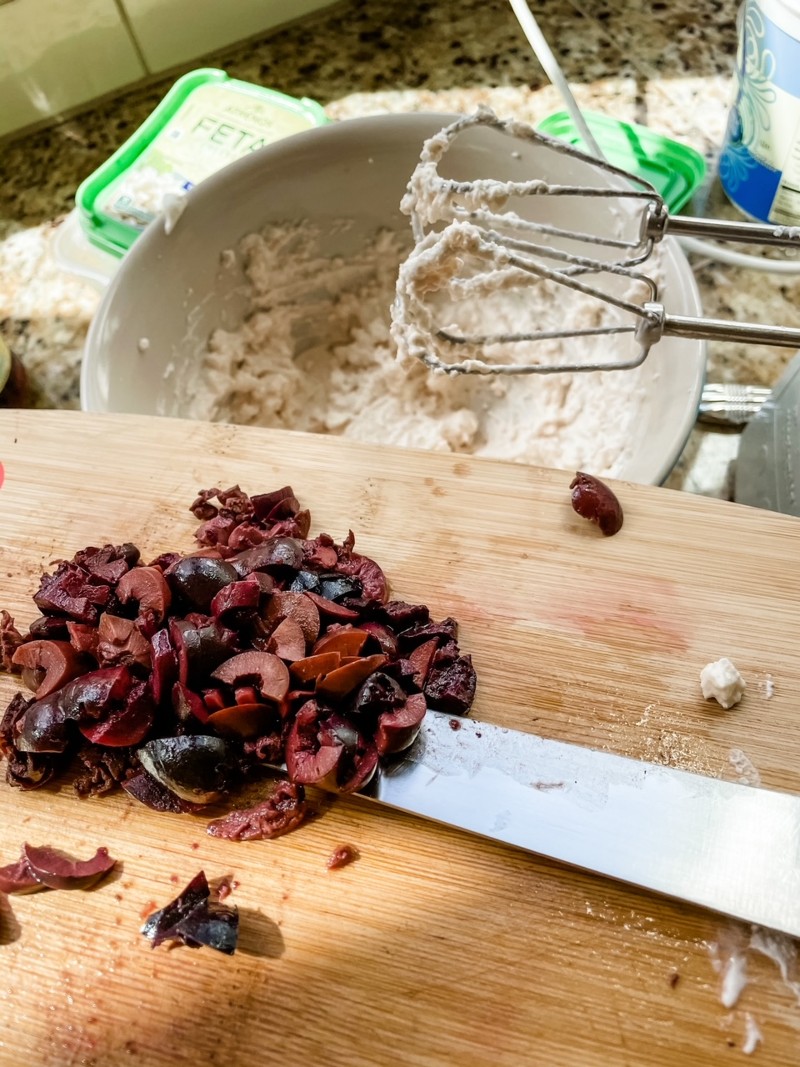 I used Kalamata olives for my recipe but I think just about any type of firm, flavorful olive would work. However, I'd stay away from the black olives that come in aluminum cans. The flavor is so mild that I don't think it would come through.
You'll roughly chop the olives and put them aside, reserving some of the olive juice. Using a hand mixer or food processor (even a large fork will work but the mixture probably won't be as light and fluffy), you'll whip the feta together with olive juice and some Greek yogurt, then stir in the chopped olives.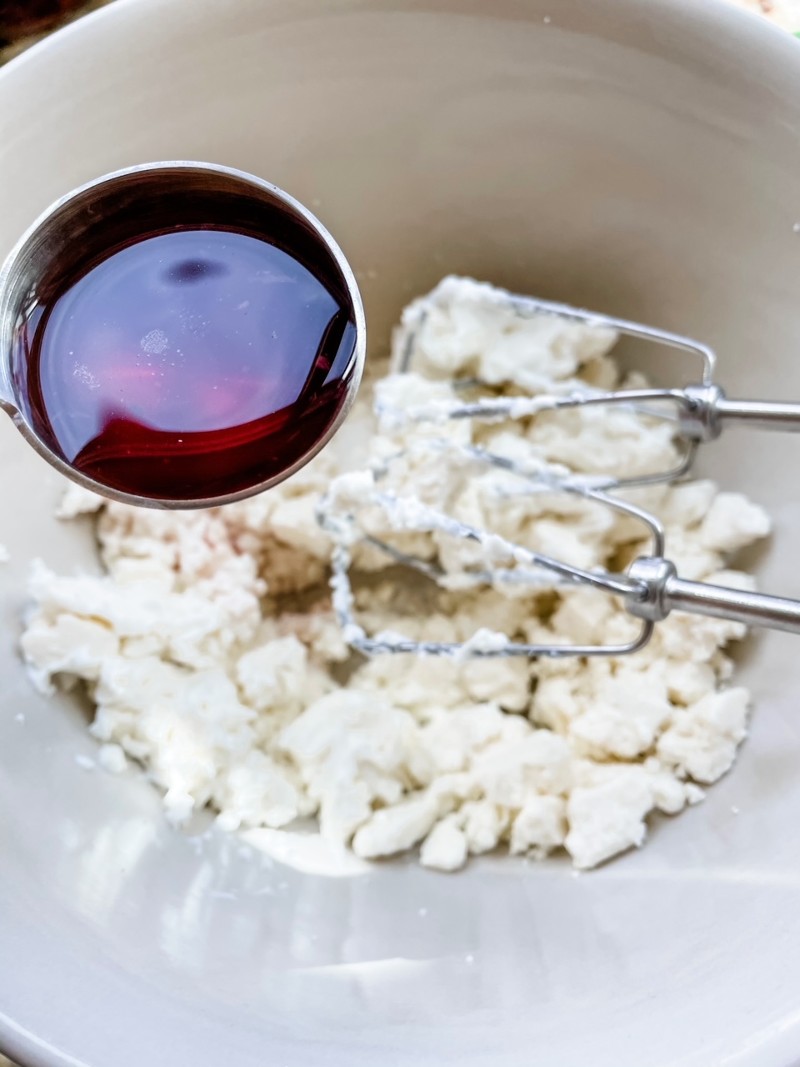 Finally, you'll spread the whipped feta mixture onto the crackers and top each one with a little dab of fig jam.
That's all there is to it!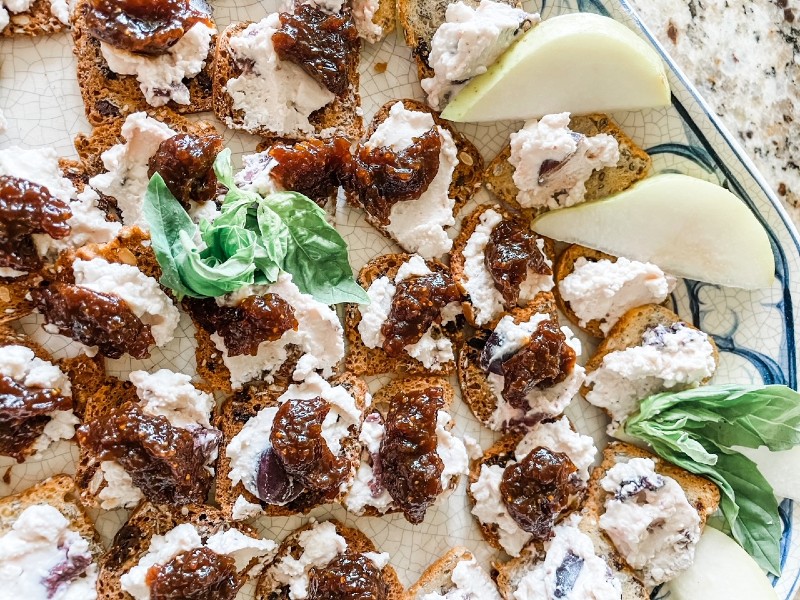 So Easy. And So Good!
I've made Whipped Feta Appetizers three times for guests so far. People gobbled them down every time and then looked around for more.
When it comes to entertaining and recipes, that's my measure of success!
Make up a batch of these easy and delicious Whipped Feta Appetizers for your family and friends this week!
Print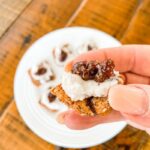 Whipped Feta Appetizer
---
8 oz

feta cheese

16

jarred kalamata olives

2

–

4

T kalamata olive juice

1/3 cup

nonfat Greek yogurt
Fig jam
Trader Joe's Fig and Olive Crisps
---
Instructions
Roughly chop the kalamata olives. Set aside, reserving the juice.
Place feta cheese and Greek yogurt into a medium sized mixing bowl. Beat together with a hand mixer until well combined.
Add olive juice to the feta/yogurt mixture one tablespoon at a time, beating after each addition, until you reach the desired consistency. Feta spread should be thick but smooth and creamy.
Stir chopped olives into the mixture. Cover bowl and place in the refrigerator.
Assemble the appetizers just before you're ready to serve. Spread a thick layer of the feta mixture onto each crisp. Top with approximately a quarter teaspoon of the fig jam.
 Serve immediately.