This post may contain affiliate links. Full disclosure policy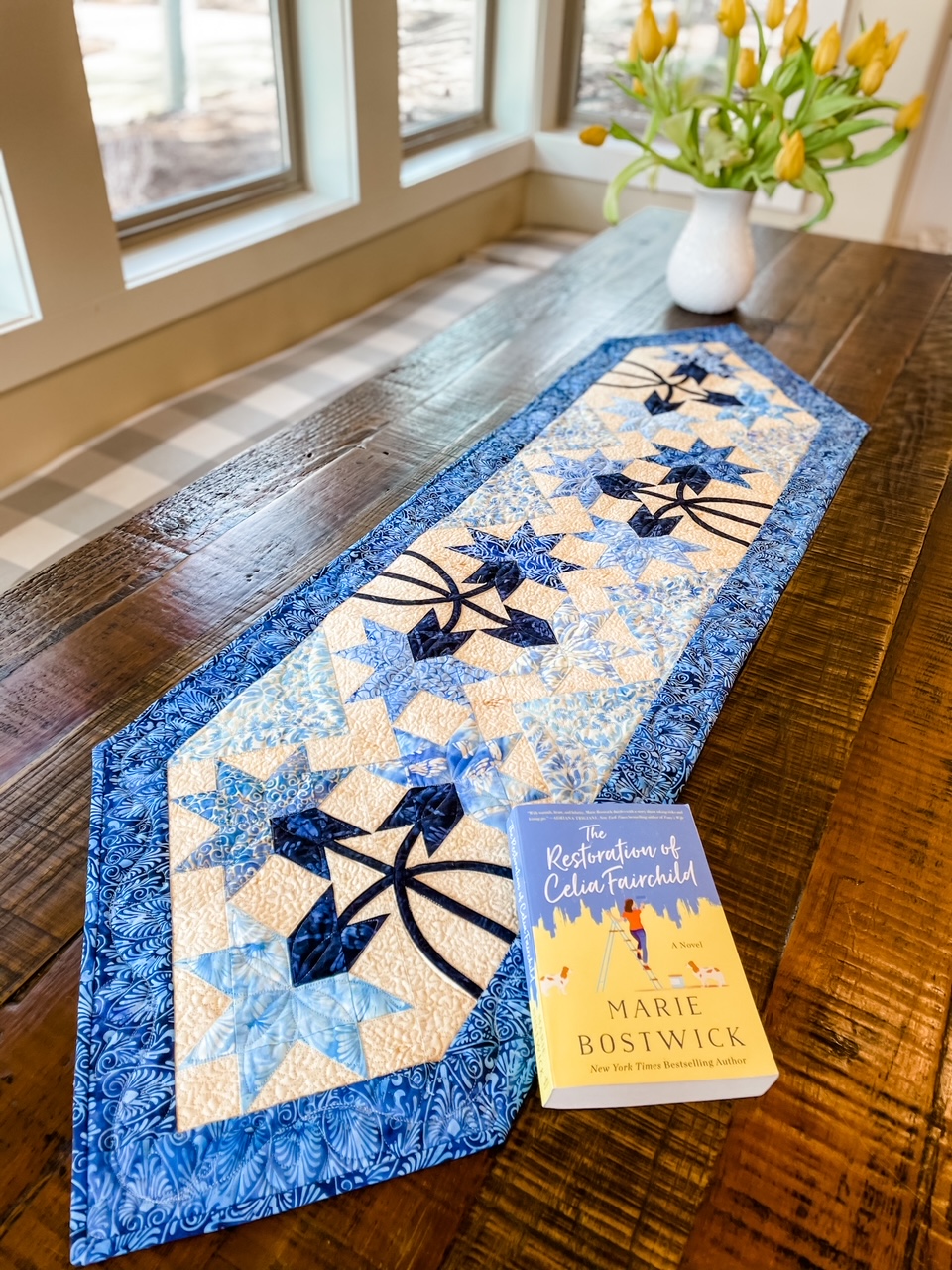 This Charleston Lily Quilted Table Runner, inspired by the setting and cover colors of my latest book, offers a fresh take on a classic quilt block. Made with cheerful blue and yellow batiks, this pretty runner adds a touch of spring to any table!
New Friends, Old Friends, True Friends
Last month, I introduced you to Rohn Strong, a talented new friend who designed the Celia Fairchild Knitted Baby Blanket, inspired by the blanket Celia makes in my new novel, The Restoration of Celia Fairchild.
As I said in that post, one of the things I love about releasing a new book is the opportunity it gives me to meet new people and make new friends. During my nearly month-long book tour, I had the chance to make and meet up with a lot of new friends, including Rohn.
New friends are great! But so are old friends. As Celia said in the story, "Old friends remind us of who we are and what we've become. New friends hint at who we could be and inspire us to move forward."
If you like to think in hashtags, you can mark that quote as #truth.
An Old Friend and A New Pattern
While I was on tour, I was also able to meet up with Deb Tucker, an old and cherished friend who is also an incredibly gifted quilting teacher, toolmaker, and pattern designer with the best job title I've ever heard – Creative Kingpin of Studio 180 Design.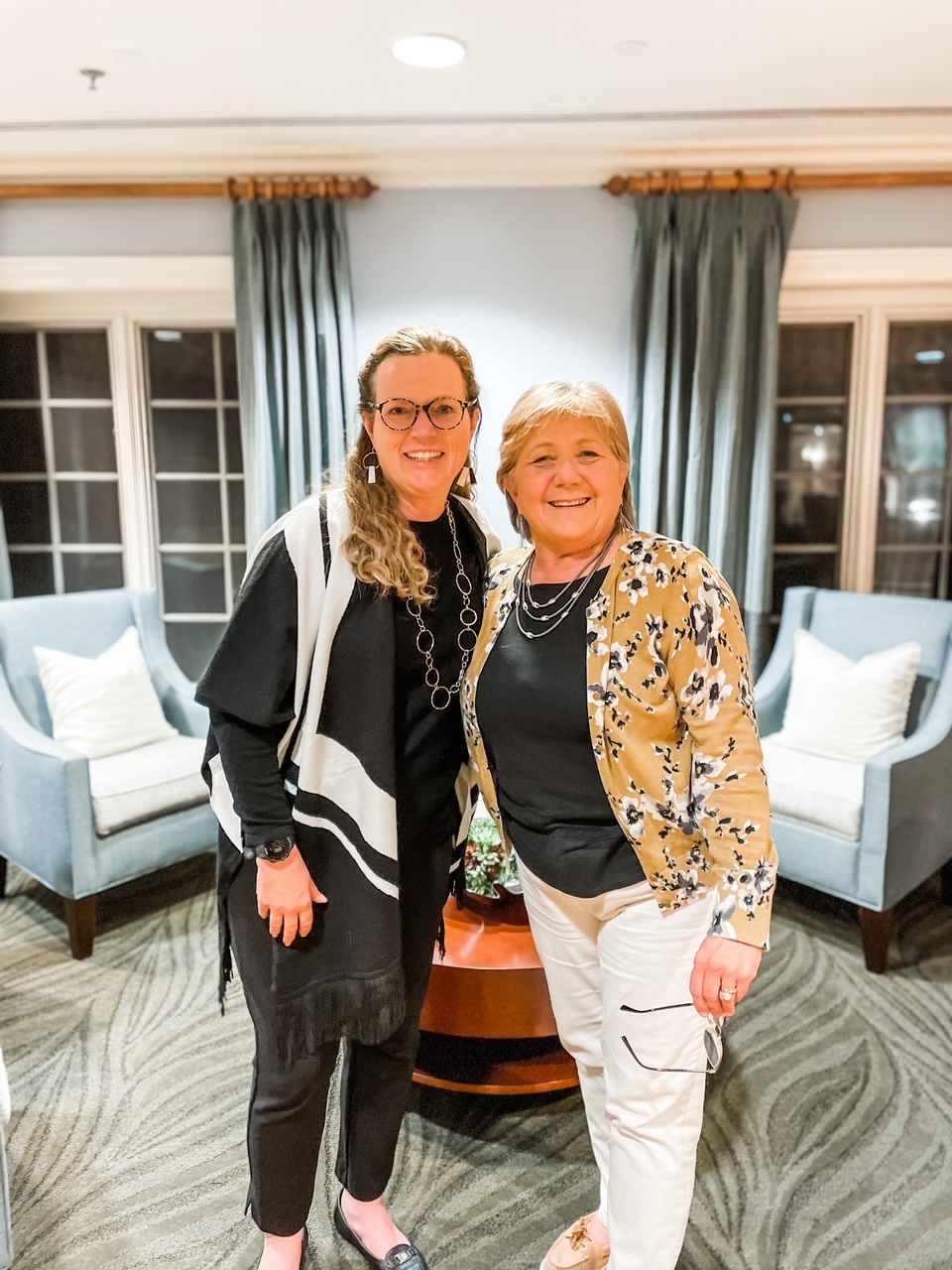 It was so wonderful to get together for dinner in North Carolina. The time was too short, as it always is, and there wasn't a moment of awkward silence that evening. But, it's always been that way between Deb and me.
Deb and I met back in 2009. As so often happens when you find your people, especially when those people love quilting as much as you do, we became instant friends.
Now, I really do love quilting, but my talent for my favorite fiber art doesn't begin to match Deb's – not even close. She's a talented lady and those considerable talents are always very much in demand. So, when I asked my then still new friend to design a companion pattern for my second Cobbled Court novel, A Thread of Truth, I would have understood if she said no.
Lucky for me, and for the many thousands of readers who have benefited over the years, she said yes!
Since then, Deb has designed nine companion quilting patterns to go with my books! All of them are beautiful, fun to make, and available as free downloads on my website. (She's also designed many larger versions of those patterns, which are available for purchase at Studio180Design.net. Just go to the shop and look for Cobbled Court Patterns under the Specialty Collections category.)
But, honestly, I think the Charleston Lilly Quilted Table Runner free pattern might be her best one yet. It's definitely my new favorite table runner!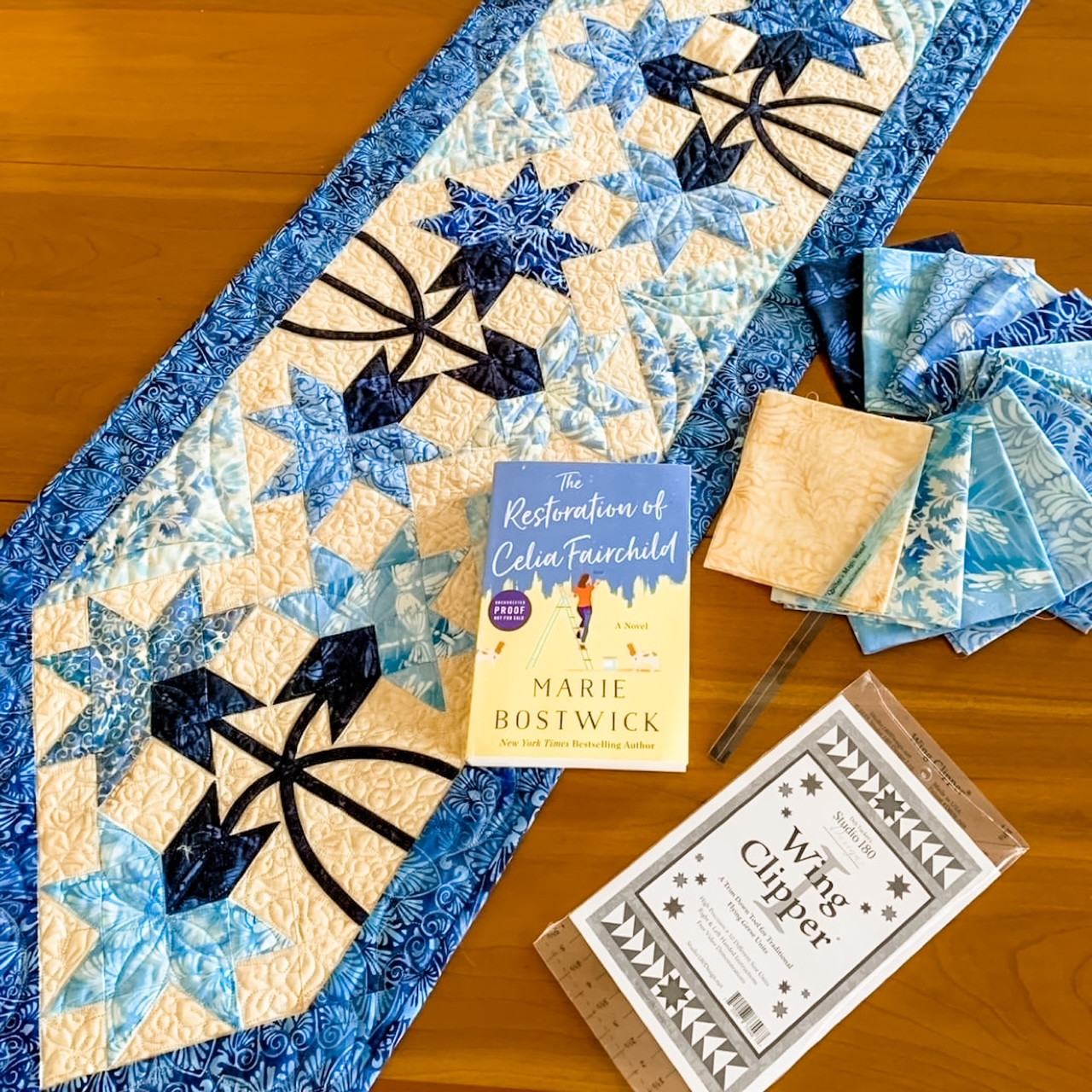 A Fresh Take on A Classic Block: Quilted Table Runner
Isn't it gorgeous!
The central focus of this pattern comes from a quilt block you might have been before – the classic Carolina Lilly block. (However, since The Restoration of Celia Fairchild is set in lovely Charleston, South Carolina, we decided to play that up when naming the Charleston Lilly Quilted Table Runner.)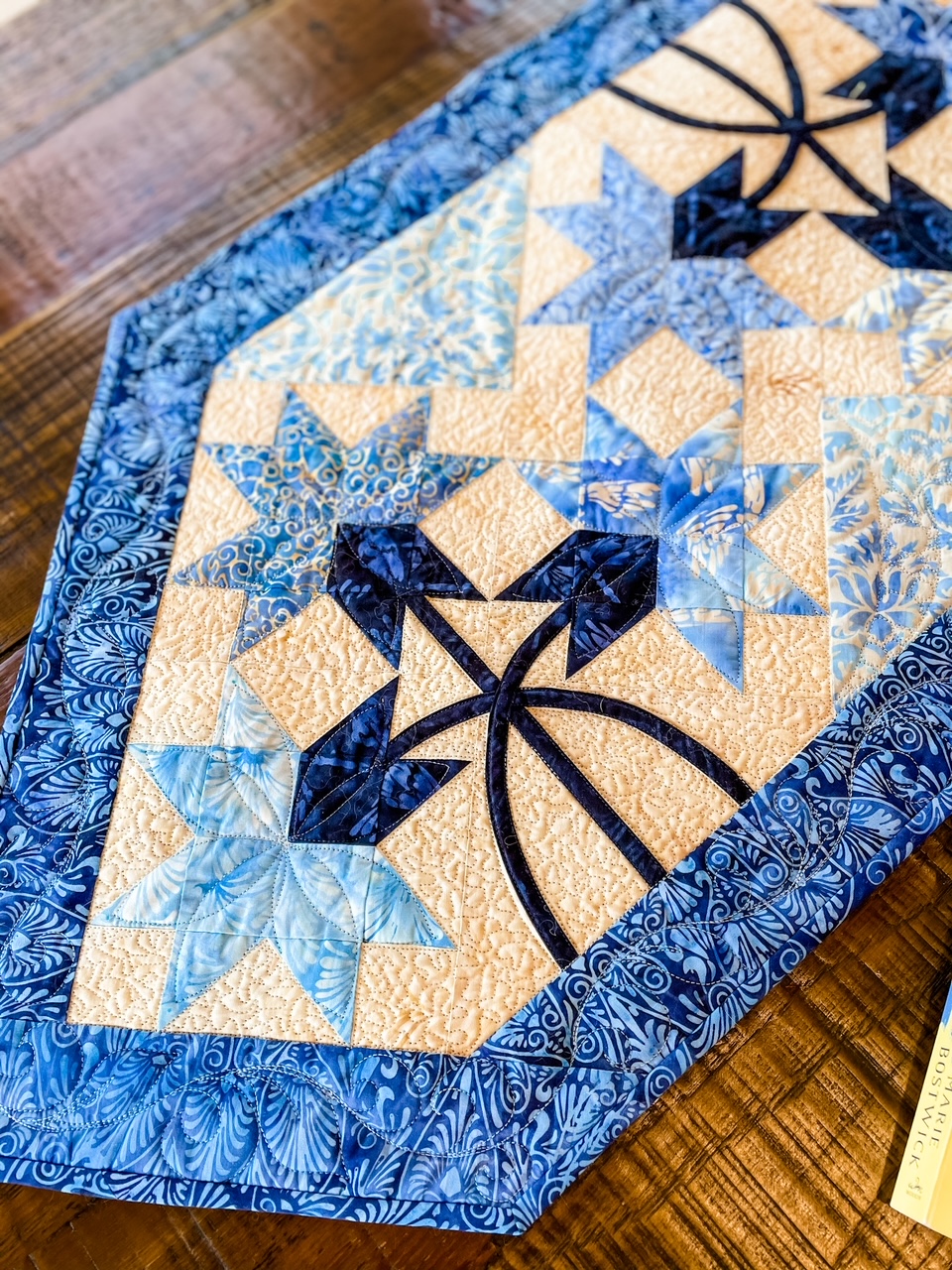 This block has been around for a long while and it's one I've always loved. But what I really adore about this quilted table runner is the unusual layout Deb chose for her design. The asymmetrical points on the ends make it interesting, surprising, and more appealing visually than a standard symmetrical finish.
And at approximately 60 inches in finished length, it's really the perfect size for just about any table.
Colors that Sing of Spring!
But one of my favorite things about the beautiful Charleston Lilly Quilted Table Runner is the fact that it's made with a bright, fresh collection of blue and yellow batik fabrics. These are colors that simply sing of spring! (And they look pretty good with my book cover too!)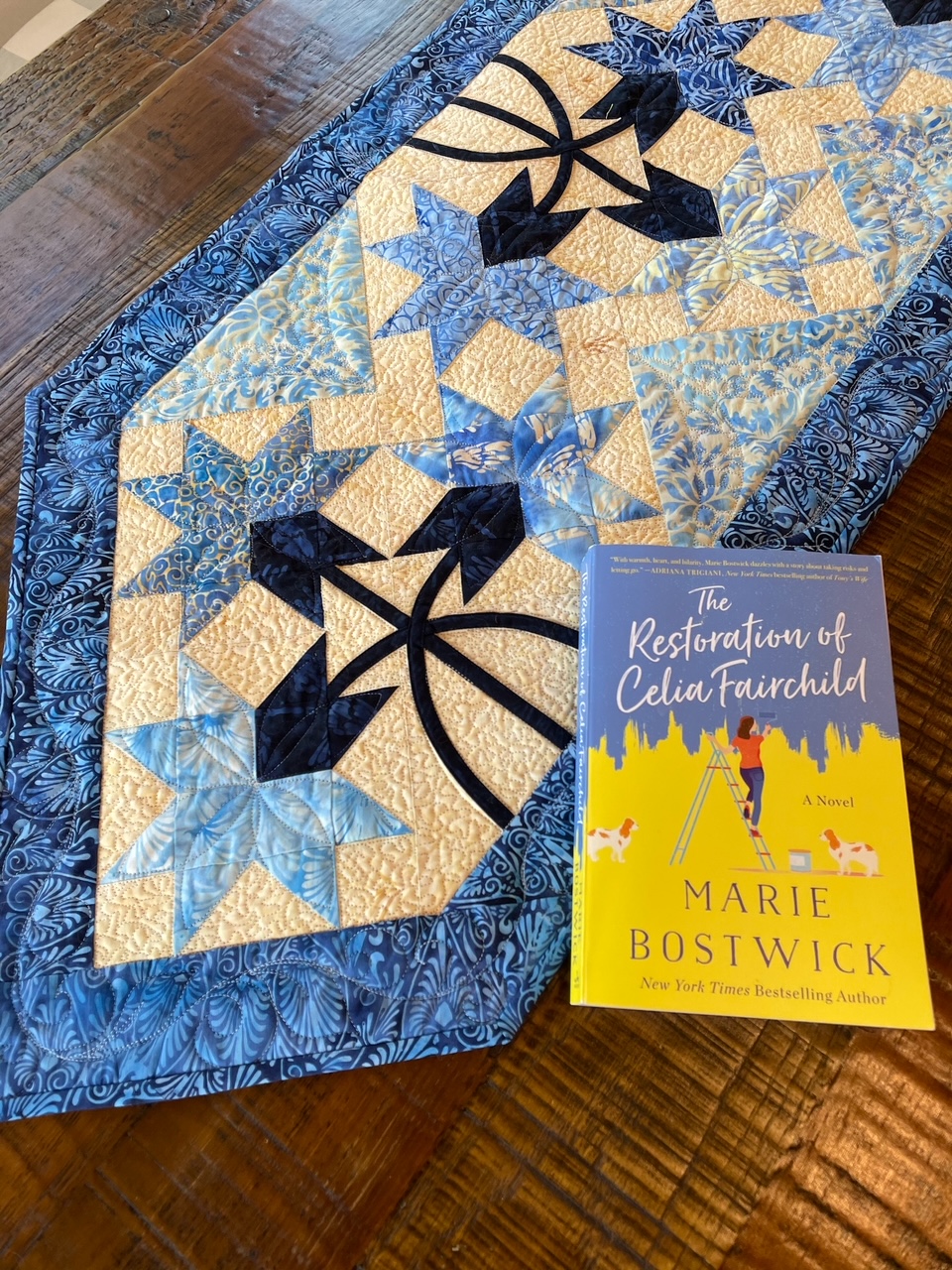 I love these colors! But no worries if blues and yellows aren't your thing. Deb created a second colorway for the pattern, with a range of fabrics on a white background. And she used vibrant, high-quality fabrics from Island Batiks, which is my go-to choice when sewing with batiks.
Deb used the Buttercup collection of fabrics – you can look for them at a local quilt shop or use Island Batik's finder shop to locate a shop that carries their brands.
My Gift to You: Free Quilted Table Runner Pattern
The Charleston Lilly Quilted Table Runner is a fun to sew project that will look great on any table.
Get your free copy of this companion pattern to The Restoration of Celia Fairchild today. Just click the link below, scroll down to enter your email when asked, and download the pattern for your personal use. It's my gift to my readers, and I hope you enjoy it!