This post may contain affiliate links. Full disclosure policy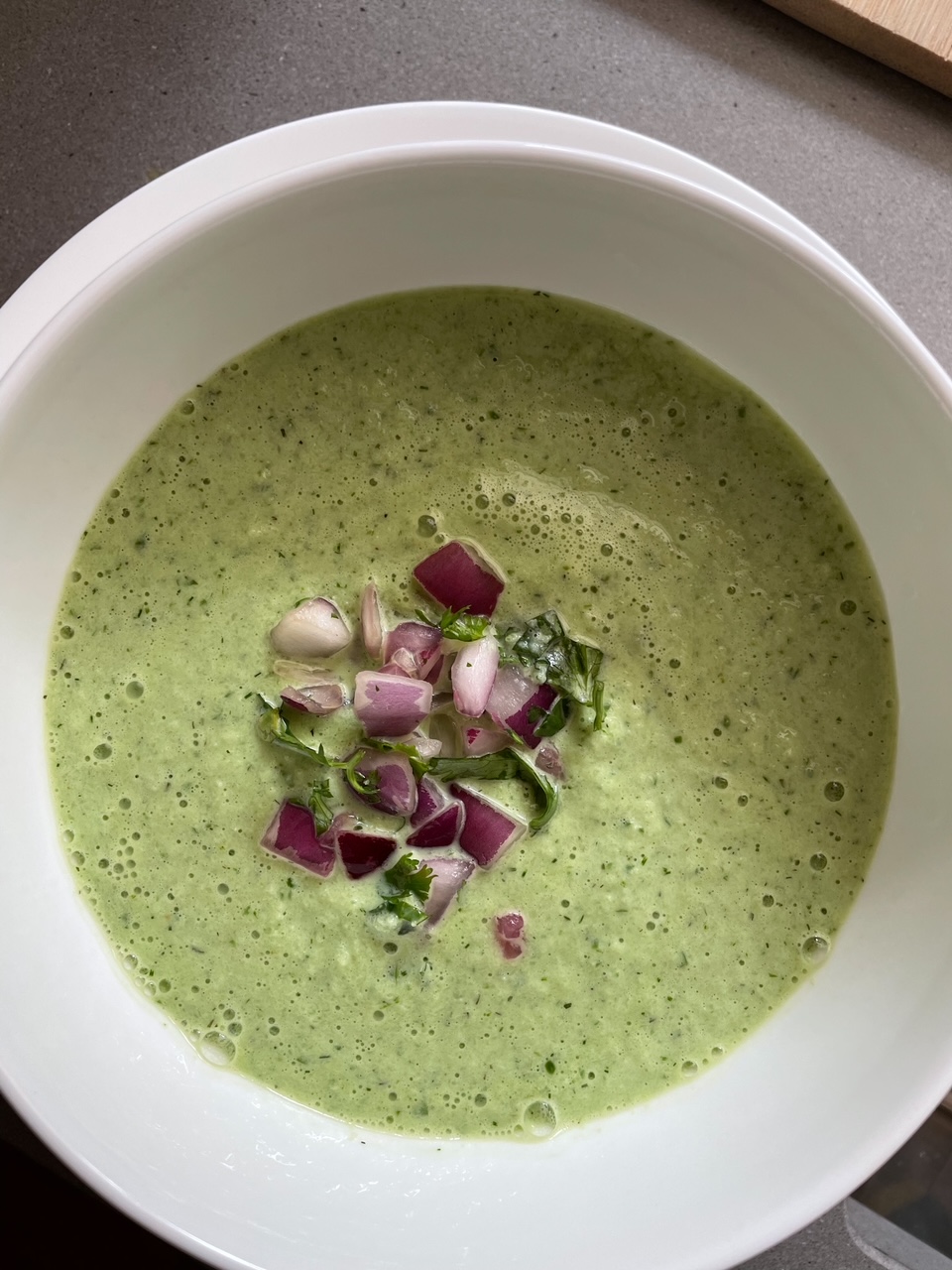 When it's too hot to cook, pull out the blender and make my Cold Cucumber Soup Recipe. A light, fresh, healthy recipe with no cooking required. The perfect soup for summer!
When It's Too Darn Hot, It's Time for Cold Cucumber Soup
A quick peruse through the recipes in my blog will tell you that I love a good soup recipe. Soup is something I enjoy cooking and eating all year round.
However, if you've been reading the news lately, you know that the Pacific Northwest has been experiencing record-breaking heat. And since our new house doesn't have air conditioning, it's just been too hot to cook.
Even so, no matter how hot it is, people still need to eat. And when the mercury soars, a fresh and delicious cold soup is the perfect dinner.
My cold cumber soup recipe is light, refreshing, and loaded with delicious tasting, good for you vegetables. It's also incredibly easy to make with no cooking required. The whole recipe is made in a blender.
On a blazing hot day, what's not to love about Cold Cucumber Soup?
Nothing, my friends. Absolutely nothing!
What are the Ingredients for Cold Cucumber Soup?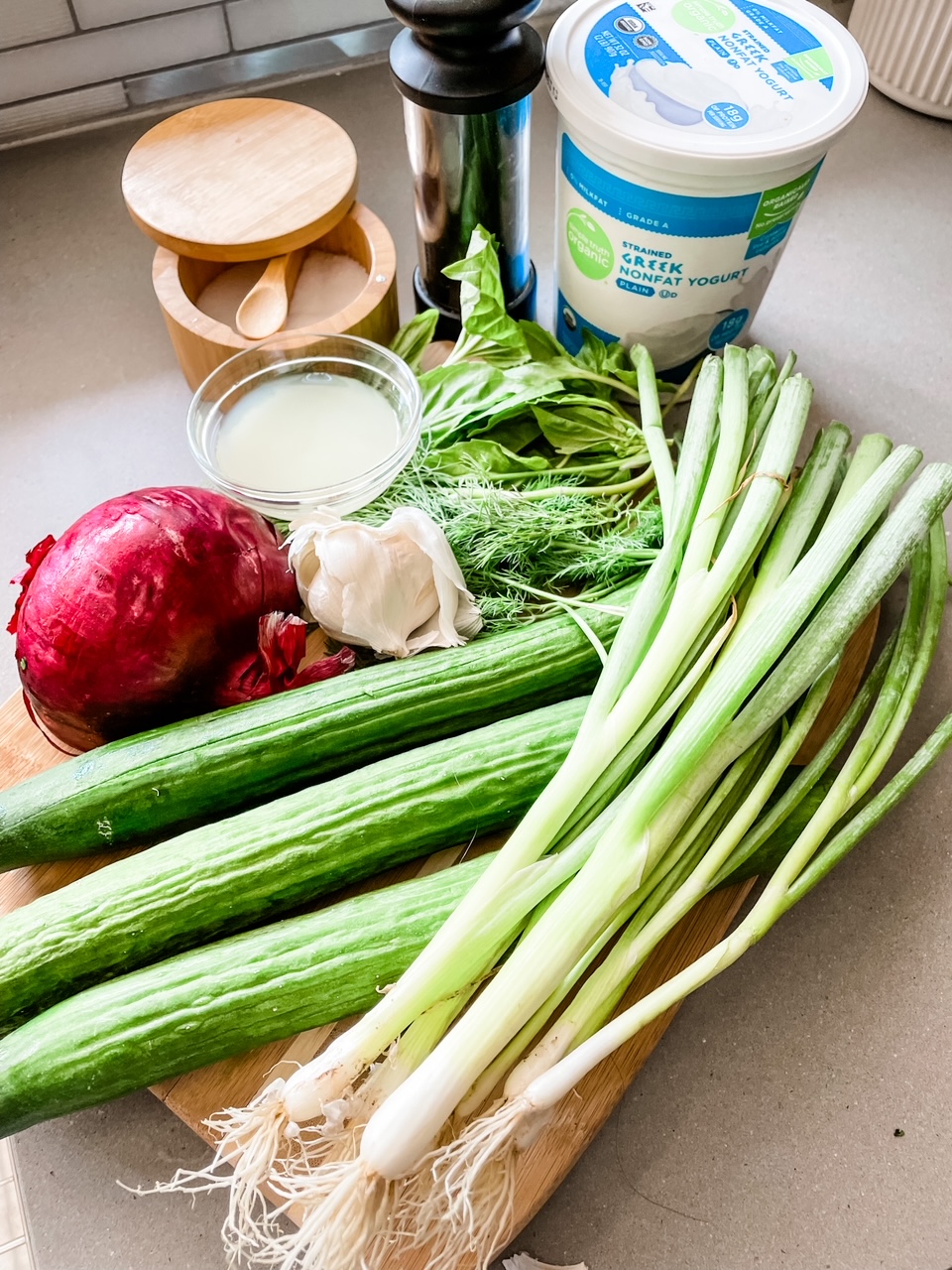 English Cucumbers
Dill
Basil
Green Onion
Greek Yogurt
Garlic
Lemon Juice
Olive Oil
White Balsamic Vinegar
Salt
Pepper
Red Onion
As you can see, the ingredient list is pretty straightforward. Chances are good that you have much of this on hand already. But let's talk about those ingredients for a minute, starting with the most important one – cucumbers.
For this cold cucumber soup recipe, I really recommend the English variety of cucumbers. English cucumbers tend to be longer and thinner than the standard variety. The skins are much thinner too and they contain fewer seeds. Because of that, they'll blend up into a beautiful, smooth puree more easily than other types. You can find them in just about every grocery store.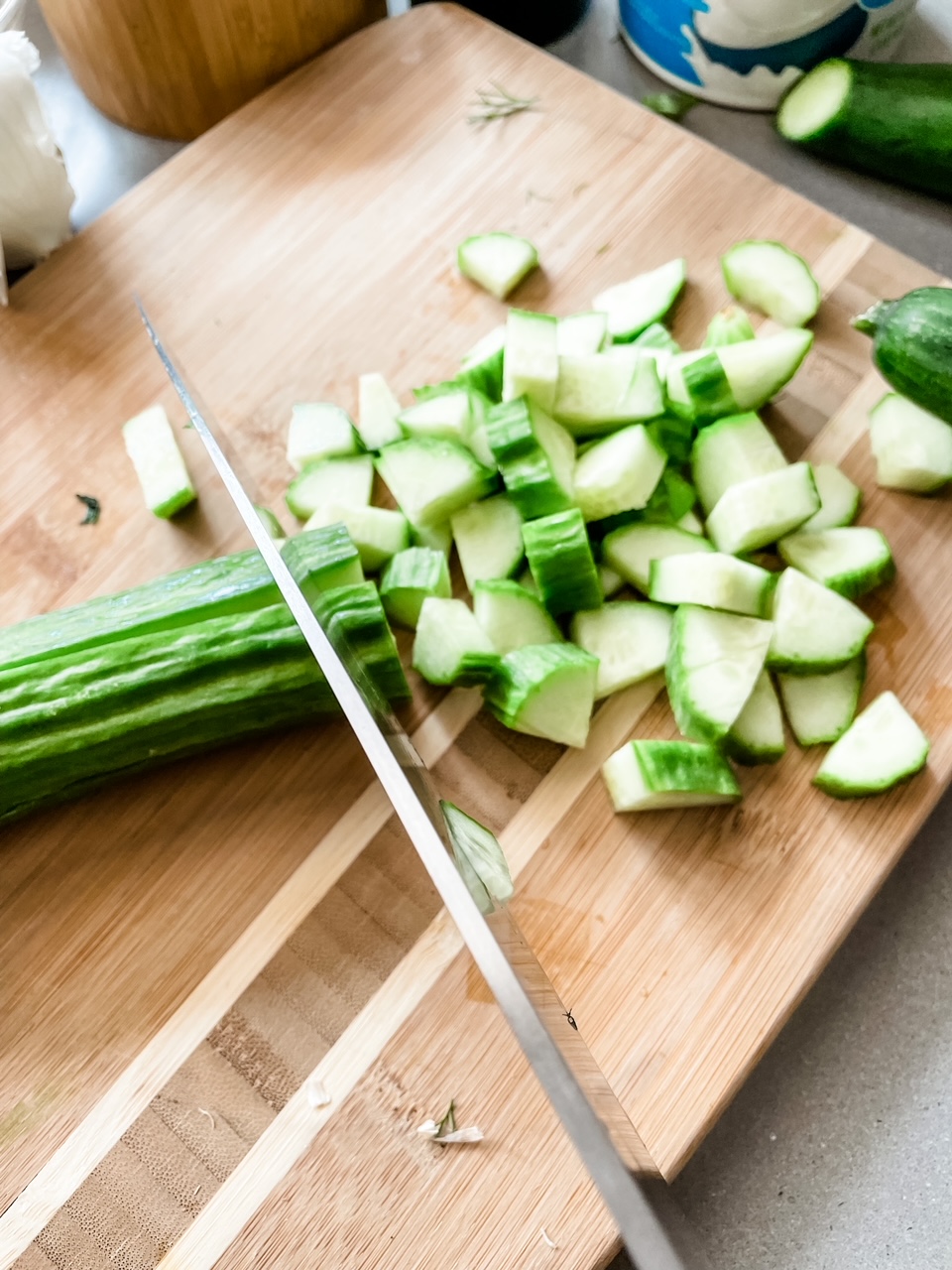 However, if your store is out of English cukes if you have a lot of cucumbers from the garden that you need to use up, you can substitute. Just peel the skins off and remove the seeds before putting them in the soup.
The Other Ingredients?
Greek yogurt is what makes this cold cucumber soup recipe taste rich, smooth, and slightly tart. It pairs beautifully with the cucumbers and has lots of protein too, which means you can even serve this soup as a main dish on a hot day.
It's up to you but I find there's very little difference in flavor between the non-fat and full-fat Greek Yogurt, so I prefer using the non-fat variety. I'm trying to shed a few post-Covid pounds, and non-fat Greek Yogurt is a zero-point food on the WW blue plan. So, each serving of my cold cucumber soup recipe is just ONE point on WW blue. Still more reasons to love this soup!
I really prefer to use freshly squeezed lemon juice when possible. However, I was all out of lemons and it was just too hot to get in the car to go to the store. I used bottled lemon juice instead and it still tasted terrific. However, fresh herbs and garlic are a must in my mind.
There are two optional ingredients, the white balsamic vinegar and the red onion. The white balsamic vinegar adds a nice depth and extra touch of sweet-tart flavor to this soup. It's not an absolute must, but if you've got some then use it. The red onion is a garnish, but I love the bit of texture and bite it adds. Again, not required but a good addition if you've got one on hand.
It's also nice to reserve a little of the chopped basil to sprinkle on top.
How Do You Make Cold Cucumber Soup?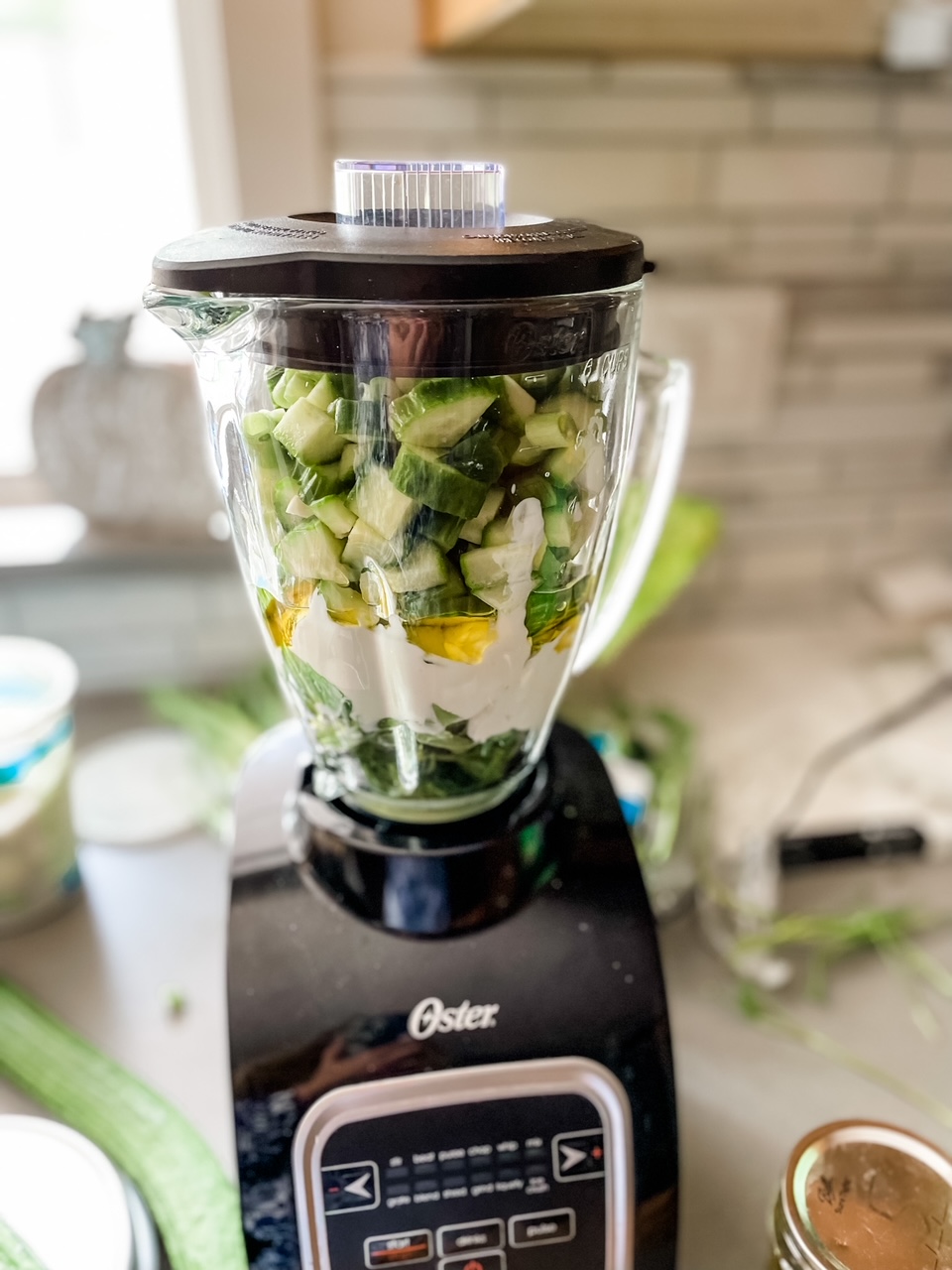 Put the ingredients in a blender and push the "on" button.
Seriously, it's that easy.
The only thing you really need to know apart from that is that you'll only be able to put half the cucumbers in on the first go-round. After the first half of the cukes are pureed, you'll have enough room in the blender to add those that remain.
The flavor of the soup becomes slightly richer if you chill it in the refrigerator for a day before you serve it. But it's also really tasty served immediately.
With Cold Cucumber Soup, Soup is Perfect All Year Round
As far as I'm concerned, there's no wrong time to serve soup. Especially during those too-hot-to-cook days, my Cold Cucumber Soup is the perfect meal. Blend up a batch this weekend!
If you're looking for other great summer soup recipes, be sure to check out my Last Minute Garden Gazpacho or Lemon Chicken Soup!
Print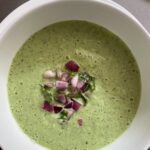 Cold Cucumber Soup Recipe
---
Author:

Yield:

Makes approximately

six

one-cup servings

1

x
4

medium English cucumbers (about

2

pounds total), coarsely chopped

1/3 cup

fresh dill, loosely packed

¼ cup

fresh basil, loosely packed (reserve a few leaves for garnish)

2

green onions, white and firm green parts, coarsely chopped

2 cups

non-fat Greek yogurt

3

T lemon juice

2

T olive oil

2

small garlic cloves

1

T white balsamic vinegar (optional)
Salt
Pepper

6

T red onion, medium diced
---
Instructions
Add fresh herbs, yogurt, lemon juice, olive oil, green onion, garlic, vinegar (if using) and half of the cucumbers to a 6-cup blender jar. Puree at high speed until smooth.
Add remaining cucumbers to blender and puree. Taste and adjust seasoning, adding salt and pepper to taste. Blend again.
Either serve immediately, garnished with red onion and a chopped basil leaf, or cover soup and chill in refrigerator overnight.