This post may contain affiliate links. Full disclosure policy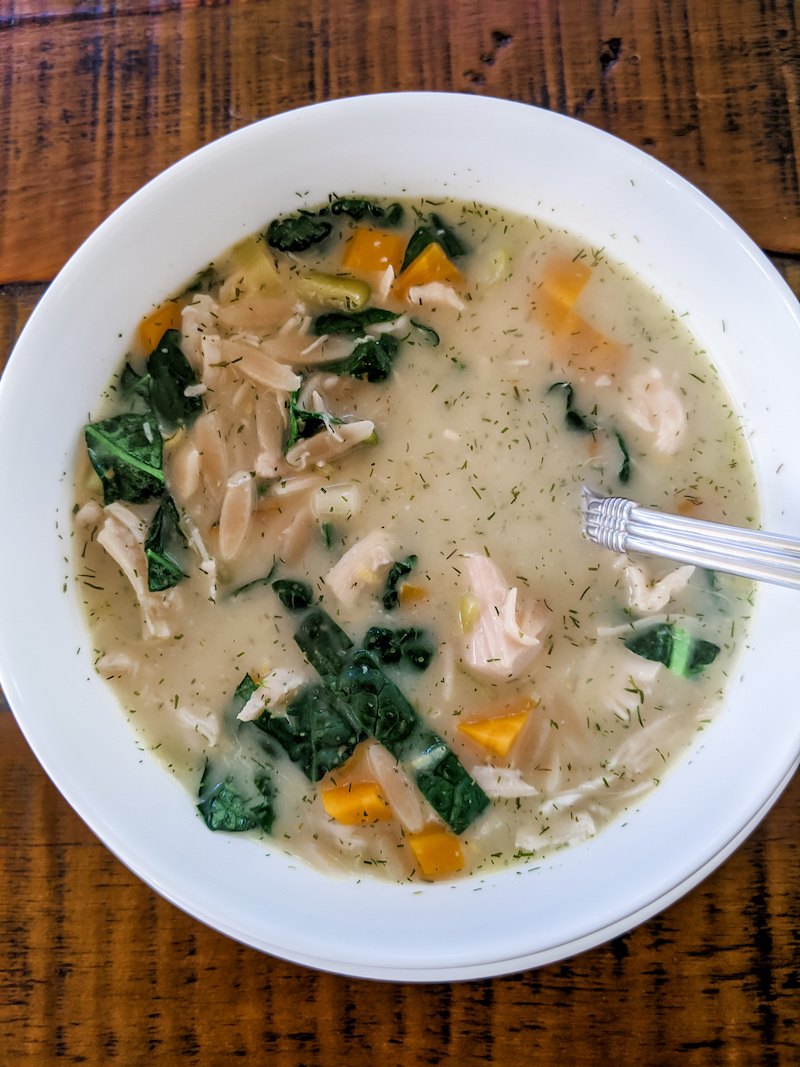 It's a rare week when I don't make a big pot of homemade soup. A lot of people think of soup as a fall or winter meal. But soup is one of my very favorite things to eat and to cook all year round. And with all the fresh-from-the-garden vegetables available now, it's the perfect time for a big bowl of summer soup.
The key to a good summer soup it to keep the texture light and flavors bright and fresh. My Lemon Chicken soup ticks off all those boxes and then some. It's light, healthy, and packed with garden-fresh flavor!
If you enjoy Greek cuisine, chances are good that you've had lemon chicken soup before. My Lemon Chicken Soup recipe is inspired by that classic Greek version. However, I tweaked it to pump up that beautiful light and bright lemon flavor and included more of the summer veggies that are in season.
But before we get to that, let's talk about chicken.
Fresh Summer Vegetables and Some Hearty Chicken
My Lemon Chicken Soup is a great way to use up any leftover chicken you've got on hand. A grocery store purchased rotisserie chicken works well here too. However, I actually used canned chicken this time. Canned chicken and turkey are something I always keep in my pantry. It's great for casseroles, soups, and salads and comes in SO handy when it's five o'clock and I suddenly realize that I forgot to take the chicken out of the freezer – again. (Please tell me I'm not the only one that does this!).
And was I ever glad to have all that canned poultry on hand during these last few months! If there is one thing that I've learned since March, it's that life is full of surprises. So keeping prepared pantry is really a smart idea. (Click here for my post on how to create a Prepared Pantry for your family.)
Putting the Lemon in Lemon Chicken Soup
Not surprisingly, another key ingredient in my Lemon Chicken Soup is lemon. The citrusy tang of fresh lemon juice is what makes this soup so very delicious. I use the juice of two big, fresh lemons in the recipe. However, I also use the zest from those lemons. Doing so really kicks up the flavors and gives your taste buds a happy and slightly surprising jolt.
And, of course, I use a lot of fresh veggies in my Lemon Chicken Soup. Carrots, green onions, dill, and fresh greens. Spinach is a classic choice in this soup but almost any kind of greens will work. Kale, chard, collards, or even bok choy would be good here. The CSA box I get from my local organic farm always features lots of greens, so I'm always looking for ways to incorporate them into my recipes.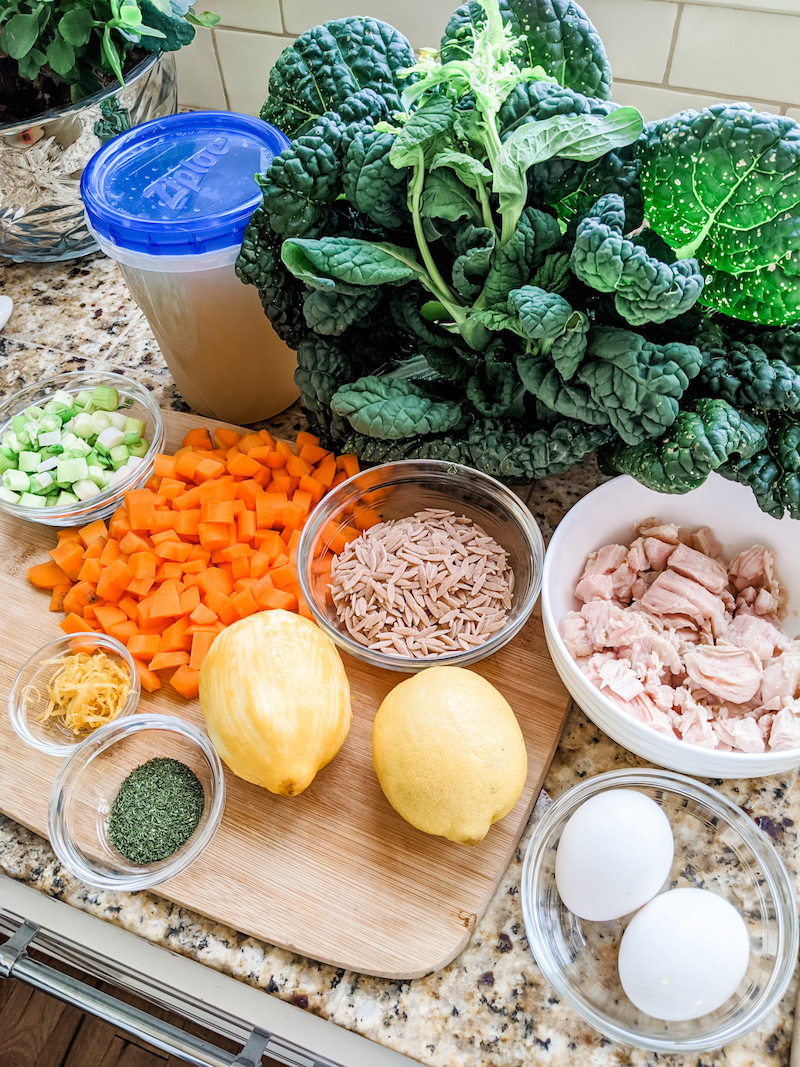 Adding a few Extras for a Special Summer Soup
My Lemon Chicken Soup is light but adding some orzo pasta makes it filling enough to be a meal. I used whole wheat orzo for my recipe but regular orzo would be fine. If you don't have orzo on hand, you could substitute cooked white rice.
You don't often see eggs on the ingredient list for a soup recipe. However, tempering two beaten eggs and adding them to the pot gives my Lemon Chicken Soup a lovely richness and almost silky taste without the addition of cream, milk, or butter. That makes it a great choice for people who can't tolerate dairy.
Tempering Eggs: The Basics
If you've never done it before, tempering eggs is easy. It just requires a little patience.
Adding the eggs directly into the soup would result in scrambled egg soup. Definitely not what we want! Instead, take one tablespoon of the hot soup broth from the pot and whisk it in the bowl with your beaten eggs. Then add one more tablespoon of broth, and whisk again. Repeat the process for as many times as it takes to warm the egg and broth mixture. Then add the mixture to the soup pot off the heat and stir.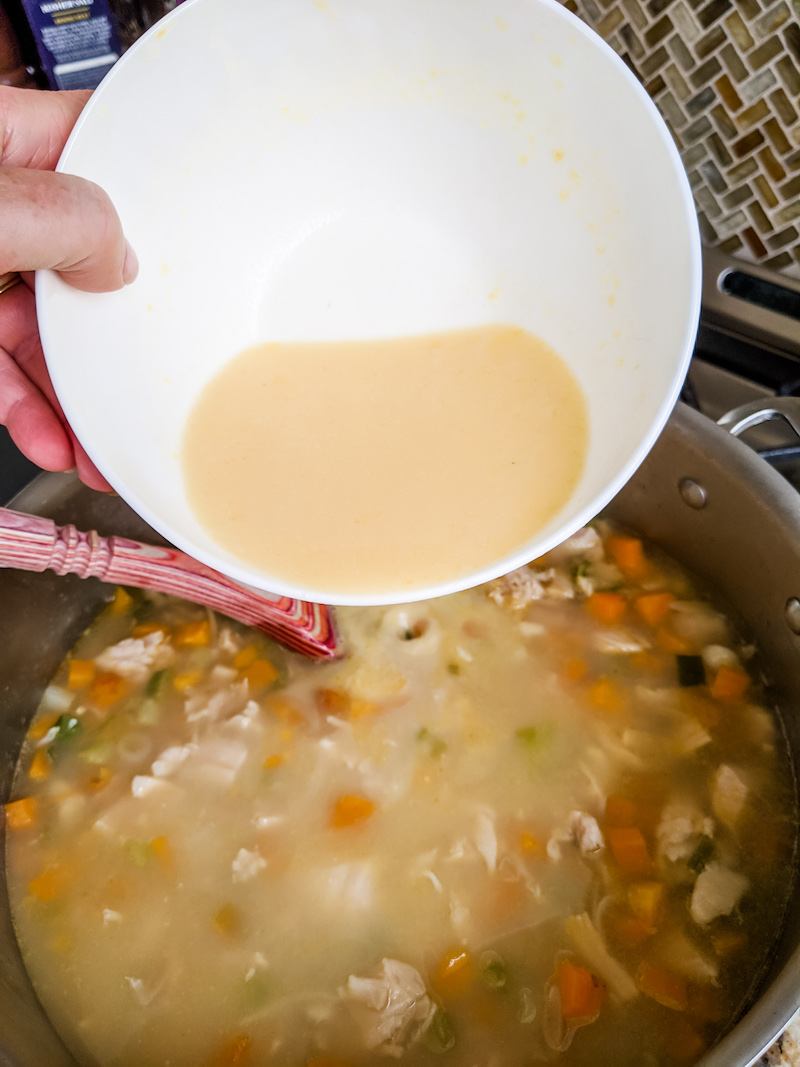 Voila! Rich, slightly creamy soup that doesn't use any cream. Genius!
Whether you serve it with a slice of thick, crusty bread, a fresh green salad, or all by itself, my Lemon Chicken soup is delicious. It's also the perfect soup for summer!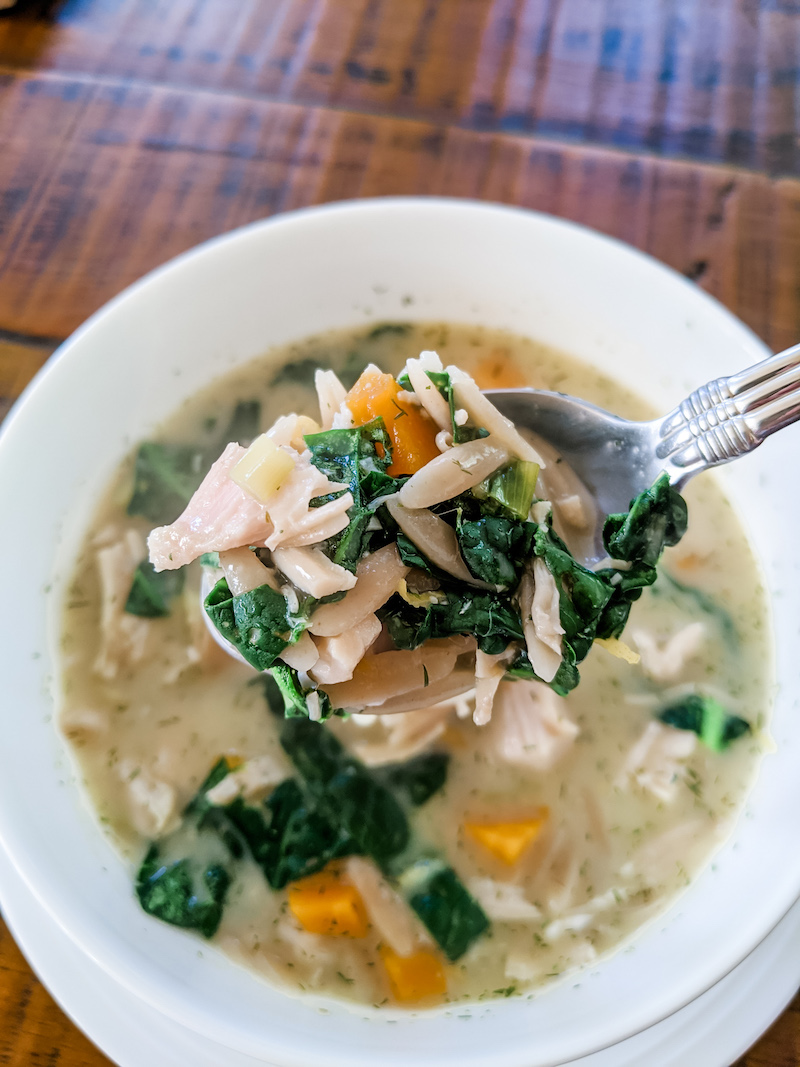 Print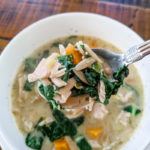 My Lemon Chicken Summer Soup
---
Description
Heat olive oil in heavy-bottomed pot over medium heat. Add carrots and onions. Cook 3 to 5 minutes. Add garlic. Cook an additional minute.
Add chicken broth to pot. Increase heat until soup is boiling, then lower to a simmer. Add orzo. Simmer for about 10 minutes or until orzo is cooked.
Add cooked chicken, lemon zest, lemon juice, dill, salt, pepper, and greens to the pot. Simmer until the greens are just wilted, 3 to 4 minutes. Remove the soup pot from heat.
In a separate bowl, beat two eggs. Add a tablespoon of the soup broth to the eggs and whisk to combine.  Keep adding the broth as above, one tablespoon at a time, until the egg/broth mixture is warm. Pour the warmed egg/broth mixture into the soup pot and stir to slightly thicken the broth.
Adjust salt and pepper according to taste and serve.
---
8 cups

chicken stock or broth (homemade is best!)

3 cups

cooked chicken

1 ½ cups

diced carrots

1

bunch sliced green onions, white and green part

6

to

10

large leaves of fresh greens, sliced (spinach, chard, kale, collard, or other greens)

2

cloves garlic, minced

1 cup

uncooked orzo (whole wheat or white)

2

large fresh lemons (use zest and juice)

1

T dried dill (double the amount if using fresh)

2

eggs

1

T olive oil

1 ½ tsp

salt

½ tsp

fresh ground pepper
---