This post may contain affiliate links. Full disclosure policy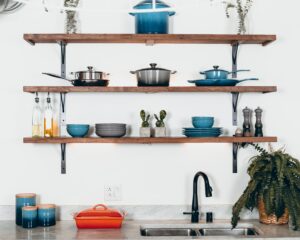 Having the right tools for the job is essential, especially in the kitchen. Read on for a list of the Essential Kitchen Tools I use over and over again and wouldn't dream of cooking without.
My Kitchen Tools and Must-Haves
Let me say it upfront. I own a LOT of kitchen tools and appliances.
That's part of the reason I'm doing a partial kitchen remodel in our new house. There simply isn't room enough to store my kitchen tools in the current space. And I have no intention of weeding out my collection any further.
I actually undertook a pretty clear-eyed assessment of my pots, pans, and kitchen paraphernalia before we moved. And a few boxes went off the Habitat ReStore as a result. But as much as I cook, I really do need and use a wide variety of kitchen tools and appliances.
But with a kitchen remodel in the offing, there isn't much point in unpacking all the boxes of kitchen tools and appliances right now so I've only unpacked the stuff I really, really need. Having to choose which things I use on a daily basis has given me a clear picture of my kitchen must-haves.
Kitchen Basics vs. Essentials
Of course, every well-equipped kitchen should have certain basic items. Those include pots, pans, roasting and baking pans, mixing bowls, a basic collection of whisks, spatulas, ladles, and the like, plus a few simple appliances.
For purposes of this post, I'm assuming you already have all that. So when I say Essential Kitchen Tools, I mean items that go beyond the basics, things that I use on a regular basis to make cooking easier, better, and more enjoyable.
Over all these years of cooking, I've learned a lot about the difference between kitchen gadgets and the tools that actually get used. And I thought it would be nice to share what I've learned with you.
Ready?
Read on for my list of 15 Essential Kitchen Tools and Appliances.
Wusthof Knives
Twenty-Seven years ago, a friend who is also an outstanding home chef saw my pathetic knives and shrieked in horror. Then she schooled me about the importance of investing in an excellent set of knives and said Wusthof was the best.
Initially, I balked. Back then, a set of the Wusthof classic knives was pretty much a car payment. They still are. But 27 years and thousands of meals later, my Wusthof knives are still going strong. These knives are the most essential tool in my kitchen and one of the best investments I ever made. Find them here.
Glass Prep Bowls
I first learned about using glass prep bowls about 20 years ago, when I attended cooking school. The French call them mis en place, which means "everything in place". They're a great way to keep organized when cooking. Measuring each ingredient into its separate prep bowl before you begin prevents you from accidentally leaving anything out and speeds the cooking process. You can grab them here.
Large Glass Measuring Bowl
I've got multiple sets of small measuring cups but I use my large measuring bowl all the time. Being able to measure, mix, and pour in one bowl saves me time and clean up. Here's the one I use.

Instant Read Thermometer
Whether you're grilling or roasting, an instant-read thermometer is a must for cooking meat or poultry. It does exactly what it says – tells you the interior temperature instantly and accurately so you'll never over or under cook meat again. Find it here.
Silicone Spatula
A good silicone spatula is an absolute must for any cook. They're long-lasting, strong but flexible, and useful for cooking, mixing, baking, and many other tasks. Here is one I love.
Citrus Juicer
My son and daughter-in-love got me a really good citrus juicer for Christmas and it quickly became one of my favorite and most frequently used essential kitchen tools. Fresh squeezed citrus makes such a difference in so many recipes. And a juicer like this makes adding it cleaner, quicker, and easier. You can order one for your kitchen here.
Salt Box
I bought myself this dual compartment salt box last year and I just love it! I keep regular salt in one side and kosher salt in the other. The built-in spoon makes it easy to get only as much salt as I need. It's attractive, handy, and far less wasteful than a salt shaker! Here it is.

Pepper Grinder
Fresh is always best. And fresh ground pepper improves the flavor of just about any dish. A good quality pepper grinder that lets you adjust the coarseness of the grind is a must for any cook. Here's the one I recommend.

V-Slicer
I've had my V-slicer for years and I just love it. It slices or juliennes vegetables quickly and safely. It comes with different blades so you can adjust the slicing thickness, is easy to use and clean. Grab yours here.

Garlic Press
My garlic press is another kitchen tool that I use almost daily. I like a good sturdy press like this one, that's easy to use and clean. The attached wiper blade makes it easy to scrape the pressed garlic into whatever you're cooking. Find it here.

Salad Spinner
Let's face it, salad is really just a vehicle for salad dressing. But if the lettuce is wet, the dressing won't cling to the leaves. So making sure your lettuce is clean and dry before you pour on the dressing is crucial. A good salad spinner like the model from Oxo definitely qualified as an essential kitchen tool. Grab yours here.
Yogurt Strainer
If you've been following the blog, you know I often use "yogurt cheese" in my recipes. It's made by putting plain non-fat yogurt in a strainer so the excess liquid drains out. The result is very thick, almost like cream cheese, but with fewer calories and zero fat. Here's mine.
Immersion Blender
Using an immersion blender makes pureeing soup so much easier, faster, and safer. You can do so right in the pot, without having to pour hot soup into the blender in batches. I also use my immersion blender to make smoothies, pancakes, whisk eggs, and mix batter. I've had my Mueller Austria model for 3 years and highly recommend it. It's sturdy, easy to clean, and affordable. Find one here.
Slow Cooker
Life is way too busy to live without a slow cooker! I use mine all the time to make soup, stews, stock, and entrees. I love starting my slow cooker in the morning and having a hot meal waiting at the end of the long day. Black and Decker makes great slow cookers. I love this pretty teal model!
Rice Cooker
I can make lighter than air souffles, flavorful pork roasts that practically melt in your mouth, and any number of other complicated dishes. But no matter how hard I try, I can't seem to make rice without burning it. We eat a lot of rice around here so getting a rice cooker was a game changer for me. No kitchen should be without one!
Here it is.